Advertising Disclosure
Advertising disclosure:
Our partners compensate us. This may influence which products or services we review (also where and how those products appear on the site), this in no way affects our recommendations or the advice we offer. Our reviews are based on years of experience and countless hours of research. Our partners cannot pay us to guarantee favorable reviews of their products or services.
Are you struggling to keep your business's content organized and updated? Do you feel like you're wasting time trying to find important documents? As content becomes ever more relevant in a business, it is essential that businesses have a system in place to manage and manage content effectively. This is where Enterprise Content Management (ECM) software comes in.
ECM software can help streamline your content management processes and save your business time and money. It's an industry projected to grow to $92.5 billion by 2027. Content fuels digital transformation and contains vast information about your company and customers. ECM software systems are becoming more and more popular as businesses strive to become more efficient.
However, most businesses struggle to harness this wealth of information due to fragmented data management processes and a lack of digitized content. "Content chaos" becomes increasingly challenging as a company's content volume grows. This article explores the top ECM software to help businesses manage their content and harness the possibilities it brings.
---
Top ECM Software Your Business Needs in 2024:
---
What Is Enterprise Content Management (ECM) Software?
ECM is a system that allows businesses to store their digital assets in a single repository. This includes document management, records management, web content management, digital asset management, and more. An ECM system provides a comprehensive suite of features that enable businesses to collaborate on projects, store important documents securely and automate processes. A cloud-based platform or on-premise server can be used to easily access these files. Additionally, the software provides tools for creating new content as well as editing existing content. This makes it easy for teams to collaborate on projects without worrying about tracking down multiple versions of the same file.
ECM software helps organizations manage and distribute content across their entire organization, making it easier to find and distribute content across different platforms. It also provides a central platform for managing all types of content, making it easier to find, organize, and publish content online.
---
Benefits of Using ECM Software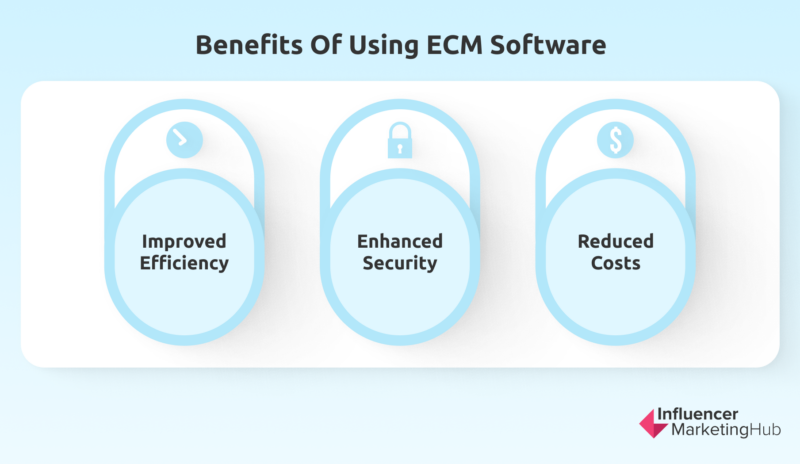 Improved Efficiency
One of the greatest benefits of using ECM software is improved efficiency. Having all your content in one place makes it much easier to find what you need.
For example, if an employee needs access to a document they don't have saved locally, they can simply search the repository instead of tracking down the original author or another team member who has access to it. This eliminates wasted time searching through countless emails or different hard drives for the document they need.
Enhanced Security
Another benefit is enhanced security. By storing all your business's information in one secure location, you don't have to worry about different versions being shared or stored on unsecured devices or networks.
The software also gives you complete control over who has access to which documents and allows you to set up user roles with various levels of permissions based on their job duties within the organization. An ECM ensures that only authorized users can view confidential information or make changes to sensitive files.
Reduced Costs
Finally, using ECM software can help reduce costs associated with document storage by eliminating paper copies and other physical storage methods such as CDs and USB drives.
It also eliminates manual data entry processes since all documents are stored digitally and accessible from anywhere at any time—even if there's no internet connection available. This means less time spent manually entering data into databases.
An ECM saves money on labor costs and materials needed for physical storage solutions, such as filing cabinets or boxes full of paper documents that take up space in an office environment.
---
Best ECM Software in 2024
Here are the best ECM software solutions for small, medium, and large enterprises.
Top
enterprise content management software
2024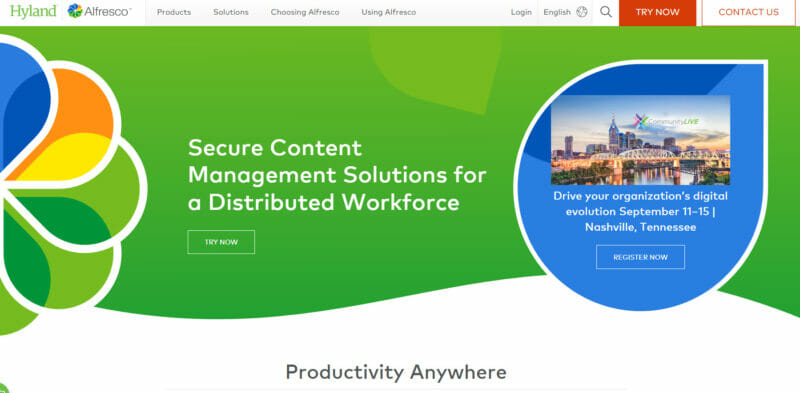 Alfresco is a cloud-based document management system that helps businesses streamline their content management processes. With clients across industries from publishing, government, healthcare, insurance, and financial services, to name a few, it makes it easy for users to access and maintain files from anywhere, anytime, and maintain version control depending on your business and compliance requirements. It's a full-service ECM tool that encourages collaboration across multiple parties and provides AI-driven data classification.
Alfresco was recently acquired by content services provider Hyland. With this acquisition, Hyland further expands its global footprint by adding additional customers, partners, and employees with extensive industry experience. In addition to expanding Hyland's content service offerings, Alfresco's solutions provide new ways to collaborate with the open-source community on product development. Customers will be able to seamlessly leverage other Hyland products like the Hyland Experience Platform and Hyland Experience Capture in future versions of Alfresco.
It can intelligently group similar content under one folder and deliver valuable insights about the content it receives. It's one of the top ECM platforms that large organizations, such as NASA, the US Navy, and Harvard Business Publishing, use.
Features:
Document management

Document scanning and capture

Enterprise Collaboration

Business intelligence, analytics, and insights

Process Management

Case Management
Ideal if: You need an ECM smart enough to run your content management process on auto-pilot
Pricing: Available upon request
---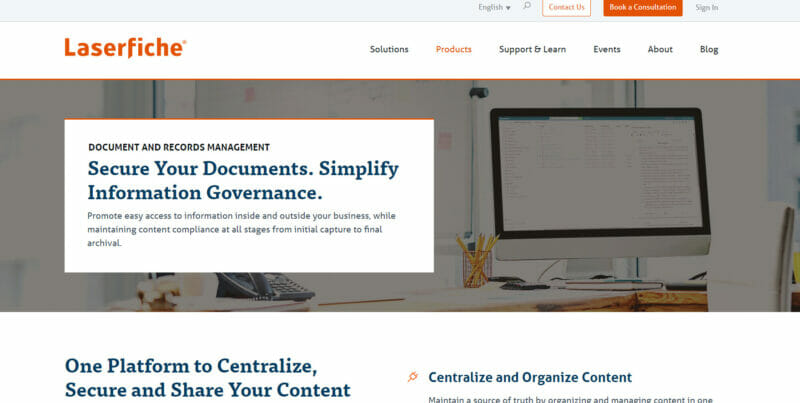 Laserfiche is the perfect ECM tool to quickly transform all of your unstructured data into streamlined, organized digital content. With features such as Intelligent Content Capture, automation workflows, and records management, you can swiftly digitize documents, extract critical information from them in a flash, and follow up on tasks and approvals with lightning speed, all while capturing meaningful analytics for insights.
Moreover, Laserfiche provides essential tools for integrating enterprise content and efficient processes. This way, you can avoid the hassle of switching between applications and spend more time on what really matters. Also, if you are looking for templates to serve as guides or actual content for use, the company has its own solutions marketplace where you can find a variety of ready-to-go content to use. Finally, with its AI and machine learning capabilities, you can create personalized content experiences tailored to the needs of your customers or employees.
Features:
Simplified content management

Automatic file organization

Records compliance

Seamless connection with Microsoft 365

Customizable public portal
Ideal If: You want an easy-to-deploy content management software that can manage large volumes of data
Pricing (per user per month):
Starter – $50

Professional – $69

Business – $79
---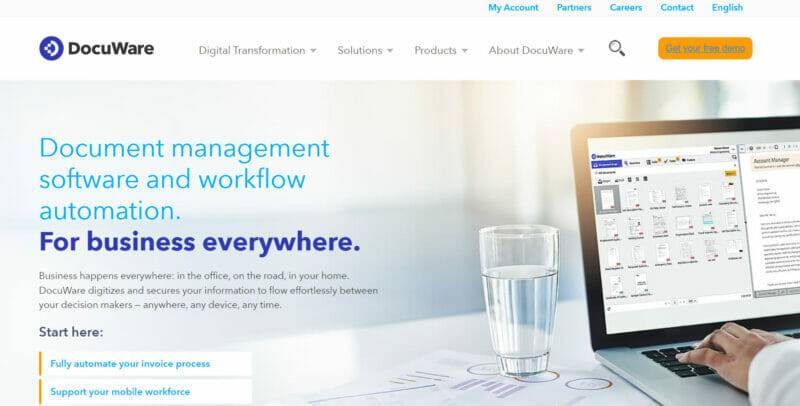 DocuWare helps businesses cope with the challenges of data management in a predominantly remote-first workforce. DocuWare offers amazing cloud document management solutions and workflow automation software for businesses of all sizes. With it, you can quickly set up digital workflows that are tailored to your specific processes, whether they be simple or complex.
DocuWare is very effective at managing crucial and sensitive documents like invoices, sales records, and personal information. They put a lot of work into document archiving. This helps you to keep your files secure and organized, as well as quickly access all the information you need. It also offers powerful search capabilities and analytics that can give you insights into how efficiently your team is working. Moreover, this ECM system has reliable integration with popular business applications like Microsoft Dynamics 365, Oracle, and SAP. Finally, you can take advantage of the unlimited cloud feature that allows you to store your files anywhere and at any time, without having to worry about space restrictions.
It solves common challenges associated with digitizing invoice processing, sales and marketing, and HR processes. It also caters to small to medium businesses looking for a solution to transform their growing operations digitally.
Features:
Smart document control

Invoice processing

Employee management

Secure document archiving

Intelligent indexing

Electronic forms and signatures

Email integration
Ideal If: You have a primarily remote workforce that needs an easy solution to digitize content
Pricing: Custom pricing
---

Microsoft 365 is one of the leading cloud-based ECM software systems that allows businesses to manage their content across multiple channels. The platform's Office 365 suite includes SharePoint, OneDrive, and Microsoft Teams. Microsoft products like MS Office, MS Excel, and MS PowerPoint remain to be the largest and most widely used content creation software worldwide. The tools' ability to work across devices without issue makes them ubiquitous for various users.
With Microsoft 365, users of the Microsoft Office Suite can take advantage of cloud-based software to help them store their content on the cloud and share and collaborate with other users. Other features of Microsoft 365 include security scanning and compliance management. These features help protect sensitive business data from malicious attacks. Using OneDrive, users can securely save and access their documents from any device.
Microsoft 365 is a versatile product that caters to personal, small business, and enterprise users. For enterprise users, it contains a wide range of various apps that help with work management, analytics, security, collaboration, and content creation.
Features:
Works with different devices and OS

Top-notch productivity apps

Access to thousands of templates, fonts, icons, and photos

Easy collaboration with other users

Advanced security and compliance capabilities

Robust analytics to help you understand how your enterprise functions
Ideal If: Your team uses Microsoft office products daily
Pricing:
Business Plans (per user per month)
Business Basic – $6

Microsoft 365 Apps – $8.25

Business Standard – $12.50

Business Premium – $22
Enterprise Plans (billed annually, per user per month)
Microsoft 365 E3 – $36

Microsoft 365 E5 – $57

Microsoft 365 F3 – $8
---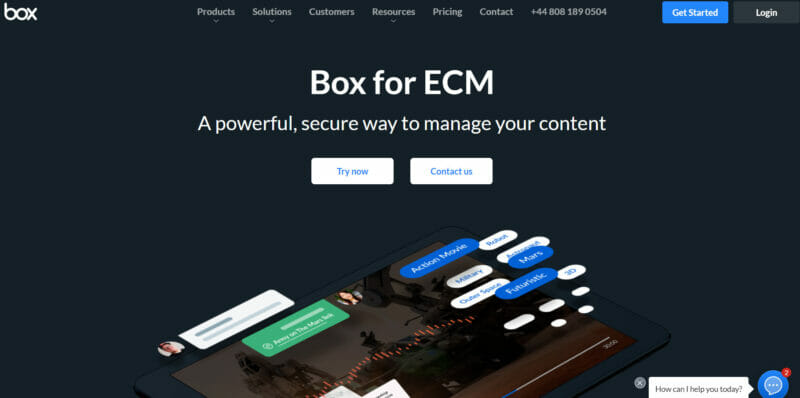 The Box is a cloud-only SaaS platform that's best for companies that need a collaboration-ready tool that can be quickly implemented out of the box. The platform integrates with Microsoft 365, G-Suite, and Slack and has a clean, intuitive UI that increases user adoption.
Box is an innovative, API-first ECM system that allows businesses to streamline the way they manage and share information. It provides a secure platform for collaboration with its analytics capabilities and built-in automation workflows for support, retention, and security, among others.
Box has come a long way from its humble beginning as a document collaboration tool in 2005. Today, it offers collaboration, workflow management, and security under one solution. Box is easy to use and offers an intuitive user interface. It also integrates with a wide range of tools, including cloud storage solutions such as Google Drive, Dropbox, Slack, and Microsoft Office 365, making it easier to manage content in one place. Additionally, the platform allows users to capture content on any mobile device, which provides more flexibility and accessibility.
Features:
Unlimited file storage for business plans

Has a Box Shield that protects against data breaches

Unlimited organization-wide and external

collaborations

Data loss protection

Version histories and file locking
Ideal if: You're a small or medium enterprise looking for a robust and easy-to-scale ECM platform
Pricing (per user per month):
Business Starter – $7

Business – $20

Business Plus – $33

Enterprise – $47

Enterprise Plus – custom
---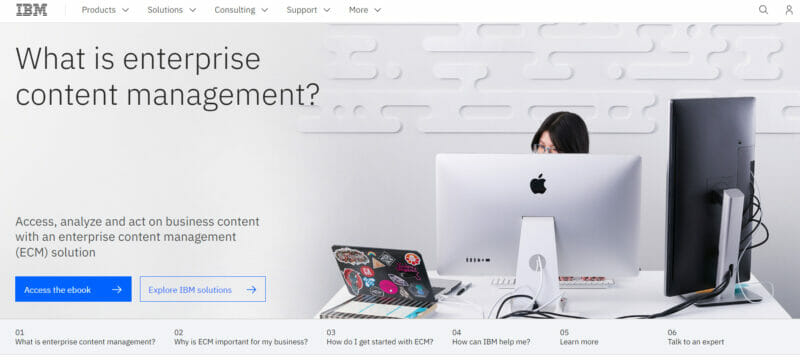 IBM is one of the most popular enterprise content management tools that help companies take advantage of the wealth of customer data in their stored documents. IBM is an advanced ECM that lets you capture, archive, distribute, and automate content. It provides a comprehensive suite of ECM software, including IBM FileNet Content Manager, IBM Content Collector, and IBM Content Integrator. These solutions provide robust scalability for your content management needs. They also offer secure data storage and comprehensive access control.
It has an AI engine that helps analyze content to provide companies with new information that can help them improve how they engage and serve their customers. IBM also helps automate business processes and enhance collaboration among team members. Moreover, the company's ECM solutions include the IBM Cloud Pak for Automation, which delivers powerful automation capabilities for managing content across various platforms.
Features:
Content management

Secure collaborations

Cloud or hybrid solution

Document capture and imaging

Automatic document classification

Automatic data extraction

Automated workflows
Ideal If: You're a large enterprise that needs advanced features to increase customer engagement and improve employee productivity at reduced costs
Pricing: Available upon request
---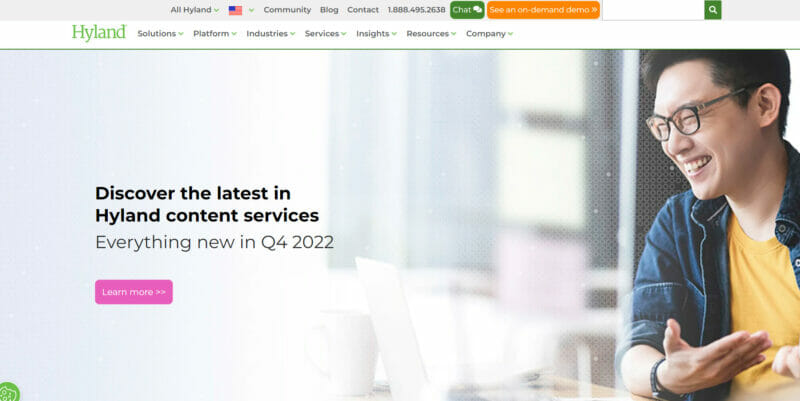 The 2022 Gartner Peer Insights recognizes Hyland as the Customer Choice for content services platforms. Hyland can be the right partner for unlocking the full potential of enterprise content. With a deep understanding of customer experience, Hyland provides the ability to securely store and access information from anywhere with its cloud-based platform. The system is easy to use and can be integrated into various applications, making it easier for businesses to manage digital assets. Additionally, it also provides comprehensive security capabilities that protect against data leaks.
They also have a reputation for getting to know their customers deeply, so they can recommend the right products and solutions to support their businesses. As such, Hyland can create customized solutions that help companies efficiently manage content and retrieve them instantly.
Hyland also offers features such as automated workflows, metadata management and analytics that can help improve collaboration and productivity. Moreover, the company helps users maintain regulatory compliance through its document lifecycle management solution. This is a very powerful tool for businesses looking to ensure their content remains secure and compliant with evolving standards and regulations.
Features:
Secure and easy sharing and collaboration of files

Deep insights and analytics

On-premise, cloud, or hybrid software deployment

Streamlined workflows

Document capture and management
Ideal if: You need a customized ECM for your organization's specific needs
Pricing: Available upon request
---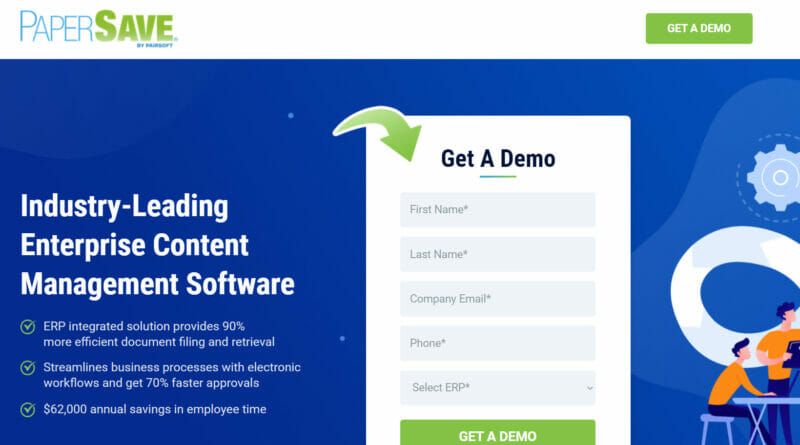 PaperSave helps organizations manage their digital files by providing a convenient way to capture documents, securely store them in a digital repository, and integrate them into a seamless workflow. The software then automatically indexes all the captured information for easy retrieval.
The system decreases approval time, increases employee productivity, and improves customer satisfaction. PaperSave also integrates with thousands of third-party solutions like ERP, CRM, and productivity tools.
Features:
Secure cloud deployment

Intuitive web and mobile app

Version histories, regardless of system volume or complexity

Robust search functionality

Consistent workflows
Ideal If: You have a lot of physical documents that must be digitized on an ongoing basis
Pricing: Available upon request
---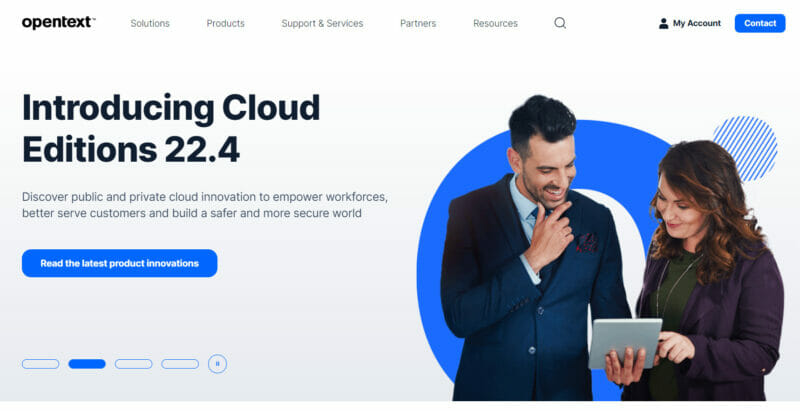 OpenText is another leading ECM provider that can handle large volumes of data. It is the bridge between information and enterprise success, connecting data with teams who need it for optimized productivity
OpenText is recognized as a global leader in ECM by Gartner, evidenced by thousands of clients who trust the platform for their digital transformation needs. OpenText serves companies in banking, insurance, healthcare, manufacturing, supply chain, and many others. It has a variety of features to help you manage content more effectively, such as content management system (CMS) functionality and analytics. Easy to use and integrated with other business software like Microsoft and SAP, OpenText is an essential tool in any business arsenal. This is because it has powerful search capabilities, scalability, and customizability, as well as an extensive set of features to help you manage content more easily.
It offers robust solutions for those who need an on-premises content management solution and those who need to migrate to the cloud for a fully remote experience. OpenText can also guide organizations transitioning from on-site to the cloud with their fully managed services.
Features:
Easy-to-configure platform

Smart AI capabilities

Sophisticated analysis

Secure data exchange

Process automation
Ideal If: You're a large enterprise that needs support for employees working across the globe
Pricing: Available upon request
---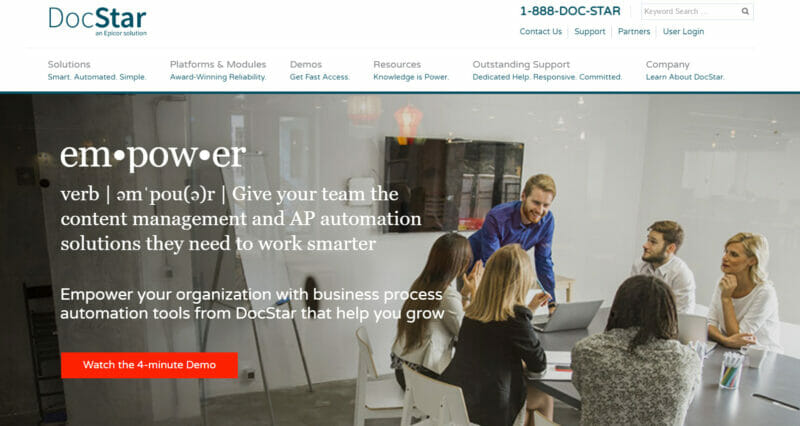 DocStar is a smart and robust ECM software that intelligently identifies and eliminates errors in captured documents to improve their quality. It has tons of advanced features aside from the usual capturing, classification, and indexing of documents.
You can also create customized and automated workflows to improve your team's productivity. DocStar helps you automate accounts payable, create electronic forms, and efficiently manage HR documents. You can also automate sales documents and conveniently manage data in the cloud.
Features:
Intelligent data capture

Secure electronic forms

Streamlined workflows

On-premise, cloud, or hybrid deployment

AP, Sales Order, and HR Documents Automation
Ideal If: You're a small or medium enterprise that needs an automated document management tool
Pricing: Available upon request
---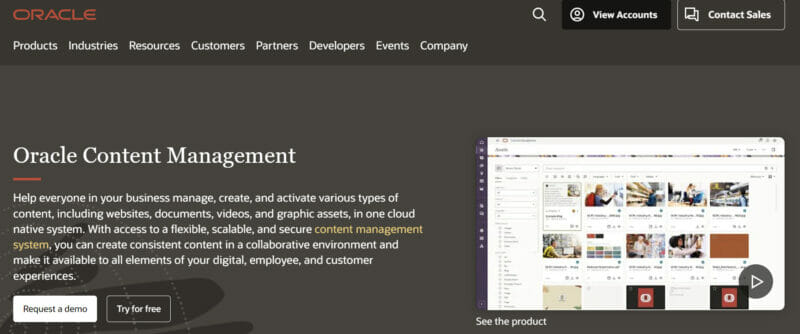 Oracle is not new to the content management and marketing space, having been around since the 1970s. This is one of the leading solutions that allow its comprehensive clientele to manage their digital assets in an organized, secure environment. The ECM suite consists of Oracle Universal Content Management (UCM), Oracle Universal Records Management (URM), and other software products that can help you handle document, web content, digital asset, and records retention projects faster and more efficiently. With its user-centric design, users can quickly search for content and access documents with just a few clicks. It also has a comprehensive analytics dashboard that provides insights into usage patterns, allowing for better collaboration and decision-making.
Oracle's ECM suite also integrates with Oracle's cloud infrastructure and applications. This makes the product a powerful solution for enterprises looking to unify their content and maximize productivity.
Features:
Delivers a universal asset hub for the enterprise
Useful for

creating and managing any content type

User-friendly
Secure enterprise publishing workflows
Cloud native
Ideal for: Organizations of any size that require robust document management solutions to ensure compliance with industry regulations.
Pricing: Available upon request
---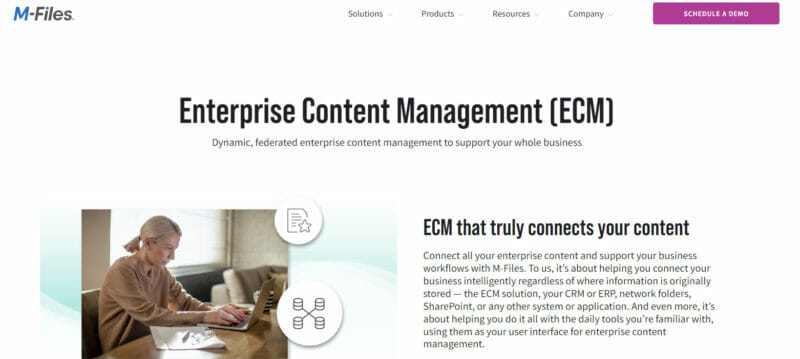 Cut through the complexity of enterprise content management with M-Files. The company's ECM system can help you intelligently connect all your business information, no matter where it's stored because you can deploy the tool in the cloud, on-premise, or a combination of both. The version system you and your team use are always up-to-date, safe, and secure.
M-Files features a range of automation tools that can help you streamline business processes and quickly capture data from documents to make your workflow more efficient. Furthermore, this software solution has strong search capabilities with AI technology built in for quick access to the information you need. In the modern workplace where systems have increasingly become a necessity for real-time content collaboration and management, M-Files can help you streamline operations and increase efficiency.
Features:
Collaboration Tools

Content Management

Document Management

Digital Asset Management

Third Party Integrations

Workflow Management
Ideal for: Businesses looking to streamline their workflows by centralizing the management of data from multiple sources across the company in one place.
Pricing: Available upon request
---
Key Features of an ECM Solution
Here's a list of key features you should consider when evaluating an ECM solution.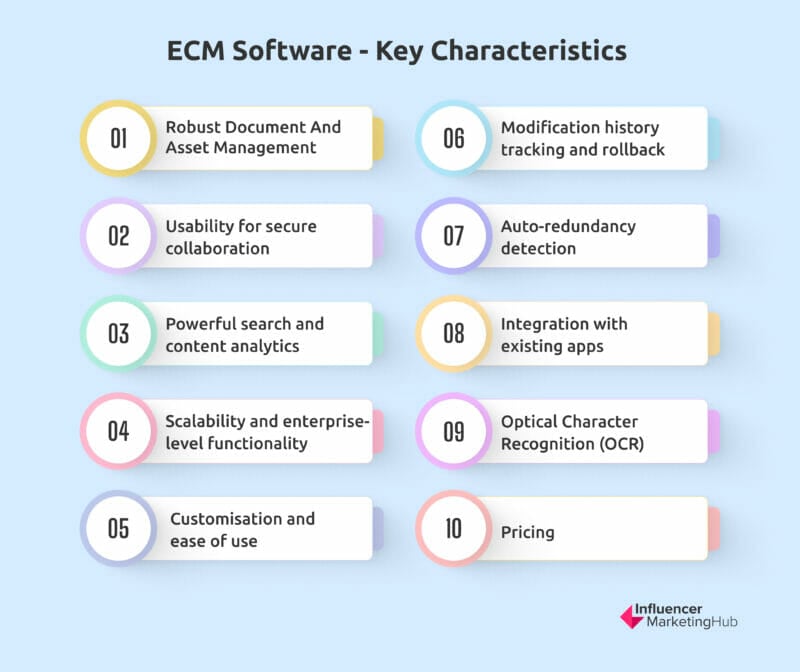 1. Robust document and asset management
A reliable ECM helps you manage and track all your documents, from emails to reports. It should make it easy to share and collaborate on documents with clients and team members. It should also provide a secure location to store digital assets like images, videos, and audio.
---
2. Usability for secure collaboration
An ECM system that allows users and stakeholders to securely collaborate on projects and business documents is critical. This encourages transparency and collaboration between team members, while also protecting business information. In addition, ECM systems often come with a workspace that allows you to review documents in real time. This kind of content management software encourages collaborative workflows that save time and money because teams are able to stay on track with fewer conflicts.
---
3. Powerful search and content analytics
ECM software should offer powerful search capabilities so that you can quickly find the information you need. It should also provide insights into how team members are using content, helping to optimize workflow and improve productivity. If you can find a system that helps you manage and analyze content more effectively, it will provide you with valuable insights that can assist with your business direction and overall strategy.
---
4. Scalability and enterprise-level functionality
As your business grows, you will likely need to add new content management capabilities to your system. ECM software should be scalable enough to accommodate the increasing needs of your team while still providing the features and security that you require. It should also come with enterprise-level functionality like full automation tools and governance controls so that you can manage content more effectively overall. Optional access to mobile devices can also be a valuable addition.
---
5. Customization and ease of use
An ECM system should be easy to use so that you can quickly get started with content management tasks. It should also provide customizable features so that you can tailor the software to your specific business needs. In addition, it should be scalable so that it can grow as your business does. By providing flexibility and ease of use, an ECM system with add-ons helps you save time and money while ensuring high-quality content management for your team members and your clients.
---
6. Modification history tracking and rollback
Tracking content modifications and rollbacks is an essential part of effective content management. It helps ensure that all changes are tracked and can be reverted if needed, as well as keeping track of who made which changes on which pages. This way you'll know exactly where the original content came from and whether any alterations were made without compromising its integrity or accuracy.
Furthermore, it makes managing your content across different channels easy—whether you're using a desktop computer, laptop, tablet device, or mobile phone app. Lastly, tracking modifications also allow for quick identification of issues related to content, making it easier to resolve them. This is because they are managed before they become major stumbling blocks in your business growth path.
---
7. Auto-redundancy detection
Auto-redundancy detection is an extremely crucial feature of an ECM system. It ensures that data can be recovered in the event of a disaster and that files are stored safely and securely. Consider an ECM that provides backup and restores capabilities, so your data is never lost and can be retrieved quickly.
---
8. Integration with existing apps
Integrating content management software into other business applications is a critical part of creating a holistic system. By coupling an ECM solution with enterprise resource planning (ERP), sales automation, customer service software, and more, businesses can ensure that their content and other digital files are properly managed and easily accessible from anywhere in the business.
Consider the availability of an API so that the solution can be integrated with your app without any additional programming required. Some of the most popular and go-to integrations are with Microsoft, Salesforce, Oracle, and SAP. Whatever tools you have, integration is key, especially for content that needs to be consistently updated and accessed by multiple team members.
---
9. Optical Character Recognition (OCR)
Adding optical character recognition (OCR) functionality to an ECM system is a helpful way to help manage content more effectively. OCR software can automatically scan documents and identify the text within them, making it easy for team members to access and update records in the repository system.
---
10. Pricing
Most tools that have a robust and comprehensive content management system do not come cheap. While ECM systems can have a number of features and functionality that may be worth the investment, pricing can vary widely depending on the specific software solution being considered. It is wise to do your research and compare pricing options in order to make an informed decision about which ECM system is right for your business. If there is an option to go through a demo and free trial, take advantage of it.
---
Final Thoughts
In this day and age where Facebook, Twitter, and other social media sites are increasingly becoming the go-to sources of information for businesses, it is no surprise that enterprise content management software has become an even more significant part of business operations. Investing in enterprise content management software is a wise decision for any business looking for improved efficiency and better security when managing digital assets across multiple departments or locations within an organization. By providing users with quick access to data from any device at any location, businesses can save time and money while maintaining control over who has access to sensitive files.
Evaluate your current needs and decide which ECM is best suited to your organization. Make sure you invest in a system that will help you manage changes, optimize content, and track performance metrics. With a system like this in place, you will be able to quickly address content management challenges and keep your business running smoothly.
Frequently Asked Questions
What is the future of ECM?
ECM has a bright future ahead as organizations move to a cloud-based and hybrid work environment. The past years have shifted how people view work, and with it comes the need for better and more secure data management.
With technological advances in AI and big data, we can expect that ECM will continue to evolve to be more than just a central data repository to become a more powerful business tool.
What is the best ECM?
These are the best ECM software for 2024:
Alfresco – best for running workflows on auto-pilot

Laserfiche – best for easy-to-deploy ECM

DocuWare – best for a predominantly remote workforce

Microsoft 365 – best for a company that relies on Microsoft products

Box – best for small to medium enterprises

IBM – best for large enterprises

Hyland – best for customized solutions

PaperSave – best for those with huge volumes of physical documents

OpenText – best for enterprises with a global workforce

DocStar – best for automated ECM

Oracle - best for organizations of any size
M-Files - best for businesses looking to streamline their workflows
What are examples of ECM applications?
ECMs are used for the following functions:
Digitization of content

Document management

Compliance with data policies and regulations

Knowledge management

Secure collaborations across teams from multiple locations