Advertising Disclosure
Advertising disclosure:
Our partners compensate us. This may influence which products or services we review (also where and how those products appear on the site), this in no way affects our recommendations or the advice we offer. Our reviews are based on years of experience and countless hours of research. Our partners cannot pay us to guarantee favorable reviews of their products or services.
Branded content is 22x more engaging than display ads and other types of advertisements. Why? Because it tells a story, creates an emotional connection with the audience, and feels more authentic than your typical commercial.
However, there is an art to creating branded content. And that's why you're here—because you're interested in learning more about branded content, what it is, why it's so beneficial, and, more than anything else, how to create top notch branded content.
Let's get started.
---
What Is Branded Content and How It Can Help Your Business:
---
What is Branded Content?
Branded content is a marketing strategy that involves creating and sharing content across several media that discuss your brand's values and mission, often evoking emotions in your viewers or readers.
An example of branded content is the partnership between media company Vox and money transferring app Zelle "The Science Behind Scams." Using Vox's platform and Zelle's financial savviness, they created a branded educational series helping their audiences avoid costly scams.
While still promoting their brands, they were able to create content that doesn't talk about their product or service, but instead teaches their audiences about something important—both to their audiences and their brands.
---
Branded Content vs. Content Marketing
In just a few words, branded content is one facet of an overall content marketing strategy. Content marketing, however, still includes highly promotional and product-centric content, like knowledge bases and content sharing product updates.
However, brands should also include a section of their content marketing strategy that focuses exclusively on creating and distributing branded content as yet another way to get their brand's name out there—without being overly promotional.
---
Benefits of Branded Content
Branded content is very different from traditional advertising, and statistics show that it's much more effective. With stats showing us that branded content generates 59% more brand recall than other digital ads and that it elicits a 62% more positive response than commercials, there are several obvious benefits to this strategy.
However, that's not all. We've got four major benefits that you need to keep in mind when deciding whether or not to invest in branded content. (Although with 74.5% of marketers including branded content in their content campaigns, you'll be the odd man out if you don't.)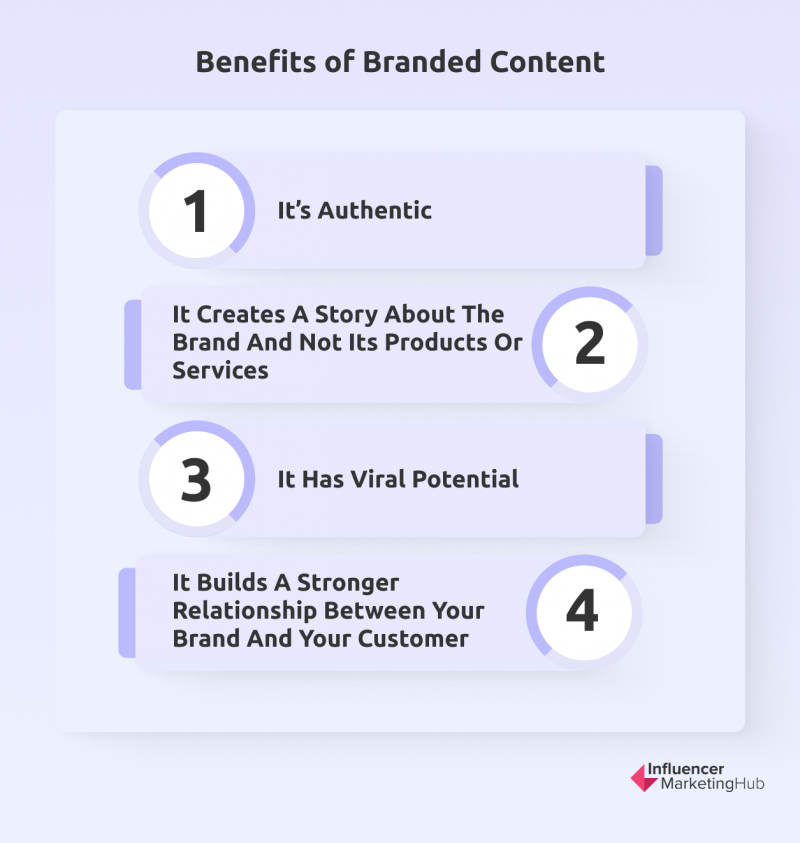 It's authentic
One of the biggest reasons to use branded content is because it's one of the more authentic types of content to share with your audience. It's always about sharing your brand's mission, whether it's body positivity, financial advice, wanderlust, etc.
It easily appeals to others interested in these topics without being promotional or invasive. The key here is that you don't want your branded content to just "appear" non promotional—the goal is to keep it completely non promotional.
By creating authentic and noninvasive content, you're simply resonating with or educating your audience while simultaneously building an emotional connection. Those that enjoy your branded content will automatically start gravitating towards your brand when they actually need your products or services.
---
It creates a story about the brand and not its products or services
Your branded content is never about your products and services. Instead, it focuses on issues in your industry, educational tips, or even just fun lifestyle content that appeals to your target audience.
For example, energy drink Red Bull does a great job of creating lifestyle branded content surrounding adventures and sports. By doing this, they're connecting with their target audience about something other than their product.
This strategy helps create a story around your brand and is a compelling form of native advertising. Stop talking about your product. Start finding common ground with your audience and build your story that way.
---
It has viral potential
Certain branded content formats tend to lend more virality to the piece of content. For example, a TikTok or short-form YouTube video, a meme, an Instagram post, etc., are all quick bites of content that have major potential to go viral.
---
It builds a stronger relationship between your brand and your customer
The entire point of branded content is to create content that resonates with your customer. It builds an emotional connection. It helps them sympathize with your brand. It excites them and makes them want to support your business through their own purchases and by referring you to their friends and family.
---
How to Create Your Own Branded Content
Now that you know the importance and benefits of creating branded content, it's time to learn how to get started with this marketing strategy. Let's walk through step-by-step how you can take advantage of this type of content.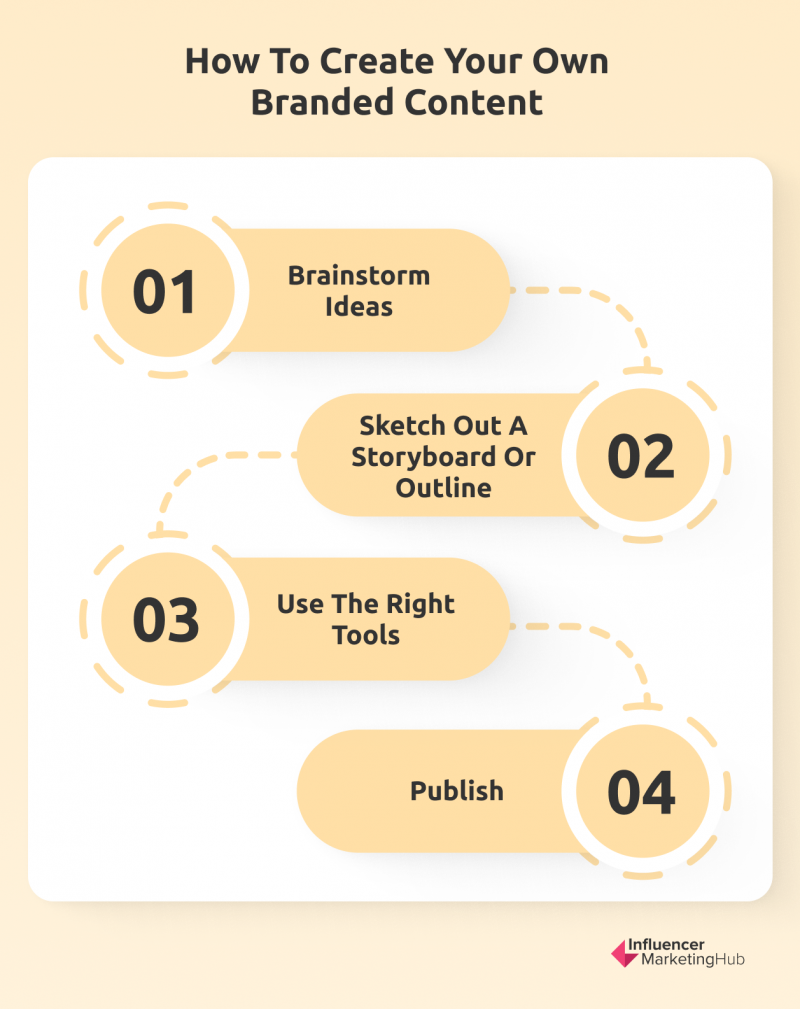 1. Brainstorm ideas
The first step is to brainstorm ideas for your branded content. How can you best support and resonate with your target audience?
A few ideas to consider are:
Creating an educational online course

Putting together an organic user-generated content campaign with influencers

Filming a video series with strategic product placement throughout

Building a campaign surrounding a social cause your brand supports

Designing a series of memes that poke fun at something your audience will appreciate
There are endless possibilities; these are only a few ideas. Essentially, the point is to create content that your brand publishes but that isn't focusing on your actual product or service. Instead, the content should be relevant to your industry or your target audience's interests. But by having your brand name attached to it, you're helping to facilitate that deeper connection.
---
2. Sketch out a storyboard or outline
Once you have your idea, it's time to flesh it out. This will keep you organized as you build out your branded content campaign.
If you're planning on creating a branded video marketing campaign, you'll want to start by creating a storyboard. This will help you sketch out your video ideas scene by scene, ensuring you cover everything you're aiming to cover.
Utilize a storyboard template like the one below:
Whether you create editorial content that you plan on inserting strategic product placement, an educational video series, or a series of short-form, humorous videos, a storyboard is a must.
If you're planning on creating a course or a series of educational articles, you'll need to start with an outline. Create a Google Doc and start outlining each of the chapters or articles you want to cover.
You can also take advantage of project management software to help manage this process. This can be a great way to map out your influencer campaigns, meme generation, or social cause campaign.
---
3. Use the right tools
Once you've fully fleshed out your idea and you know what type of content you're going to create and what you're going to cover, it's time to look into tools to help you get started. We're going to walk through various tools and companies that can help with the different types of branded content campaigns you might be considering.
Influencer marketing campaigns
Working with influencers to create authentic user-generated content is a great idea for your next branded content campaign. But it can be a process, which is why using the right tools to find, hire, and manage your influencer partners can be a major help.
---
---
---
---
---
---
---
---
---
---
---
---
---
---
---
4. Publish
Once you've used your tools of choice to create your branded content, it's time to publish. Share your branded content on social media, on your website, on your blog, on your YouTube channel, via your email newsletter, or anywhere else it makes sense.
While your branded content won't be promotional in nature, there's nothing wrong with promoting said branded content in order to reach as many people in your target audience as possible.
---
Create Your Own Branded Content Strategy Today
Start investing in branded content and propel your business forward. Discover even more ways to improve your content strategy and start reaching new audiences. Use your brand to tell a story, incorporate strategic product placement, and create branded content that doesn't feel promotional.
Frequently Asked Questions
What does branded content mean?
Branded content is the process of creating marketing and advertising content that doesn't feel like the customer is being marketed to. It's about creating content that tells a story, that creates an emotional connection, that resonates with the target audience in order to build brand recognition and customer loyalty.
What is an example of branded content?
Examples of branded content include podcasts, blog content, YouTube videos, short films, user-generated content, and other types of content that aren't meant to directly promote a brand and its products and services, but that do so simply by providing valuable and resonating content to their audience.
What is branded content on social media?
On social media, branded content might look like a YouTube series, educational Instagram Reels or TikTok videos, LinkedIn articles, and similar content that is useful and engaging for viewers but doesn't outright promote the brand.
Why is branded content successful?
Branded content pulls on emotions more than regular promotional content does. It creates a connection between the customer and the brand, leading to better customer loyalty.
What is the difference between branded content and content marketing?
Branded content is just a single facet under the entire content marketing umbrella. Content marketing encompasses so much more than just branded content, including knowledge base articles, product updates, product-led content, tutorials and how-to's, and more.