Advertising Disclosure
Advertising disclosure:
Our partners compensate us. This may influence which products or services we review (also where and how those products appear on the site), this in no way affects our recommendations or the advice we offer. Our reviews are based on years of experience and countless hours of research. Our partners cannot pay us to guarantee favorable reviews of their products or services.
Branded content is a surefire way for businesses to resonate with their audience and elevate brand recognition. It tells a story in just about any format possible, like a video or an in-depth blog post, building trust and brand awareness that entice the audience to learn more about the services or products offered.
Arguably, the difference between content marketing and branded content may be difficult to pinpoint, even for the seasoned marketer. In this article, we'll discuss the differences between branded content and content marketing, along with the best tools and software to use for branded content creation. We will also go over a simple guide on building branded content for your business to stand out from the crowd.
---
8 Branded Content Tools and Software:
---
What is Branded Content?
Branded content is any piece of content that captures the story and image behind your business. In the simplest of terms, branding translates what your business values or envisions into a representation that's distinct from other competitors out in the market.
The goal of branded content is to tell a story and resonate with the target audience. It aims to associate the brand with the common values and aspirations of the audience.
Today, media and marketing are overwhelmed with advertisements and other marketing content that push the buyer to make a purchase. Branded content addresses this by nurturing trustworthy, loyal relationships rather than mere transactional exchanges between customers and businesses.
---
Content Marketing vs. Branded Content Marketing: How Do They Differ?
Content marketing focuses on increasing conversions and generating leads, whereas branded content marketing establishes rapport with the target audience and builds brand awareness.
A business showcases its expertise in its field through content marketing. It can be in any type of media, such as catchy videos, comprehensive blog posts, or static advertisements. In content marketing, the products or services offered by a business are the highlight, with the goal of attracting customers.
On the other hand, branded content marketing is a much more subtle approach. In branded content marketing, content does not overtly advertise any product; rather, it builds a story around the brand's vision and values.
This form of content may engage audiences better. Emotion is a powerful purchase driver, and branded content marketing strategies, even without product focus, can lead to an increase in sales.
Content marketing also takes more time and effort to reap results. A content marketing strategy for this month's campaign may require a surmountable number of blog posts, articles, and static ads to promote the latest line of products available.
Meanwhile, branded content can be delivered with just one major campaign. A captivating experience in the form of a series of videos or articles encourages fans to discover more about the business.
Content Marketing vs Branded Content: Their Differences
| | |
| --- | --- |
| | |
| Informs the audience about what an enterprise has to offer | Tells a story in relation to the values and goals observed by an enterprise |
| Drives sales conversions and lead generation | Builds rapport and increases brand awareness |
| Lengthy and complex process to reap results | Campaigns shared across social media and other platforms deliver results faster |
| Content caters to a niche following | Content can be distributed across social media and publication channels for mainstream consumption |
| Prompts for a call-to-action (CTA) | Evokes emotional response among the audience |
---
The Best Branded Content Tools and Software to Use in 2023
Branded content is crucial to establishing brand recognition and engagement. Get through the challenges of delivering branded content that is timeless yet relevant, transparent, and authentic to your business with some of the best branded content tools and programs available.
Influencer marketing proves to be an effective method for developing and sharing quality content, with GRIN as one of the best platforms to recruit and onboard rockstar content creators. This creator management platform makes use of a strategic matchmaking process to help businesses find the ideal brand ambassador.
Business owners can recruit influencers similar to those they previously worked with and expand their influencer network. GRIN nurtures connections with automated project activation, recruitment, and proactive outreach tools.
Finally, GRIN makes branded content marketing a breeze. Businesses and brand ambassadors enjoy marketing tools for easy sharing and management of content across organic and paid channels.
Services: influencer marketing, affiliate marketing, PR and communication, branded content
Features:
Customizable content rights agreements

Extensive list of content management tools

Multi-channel promotion and content distribution

Detailed reporting and analytics overview

All-in-one campaign management and influencer relation management platform
Pricing: Custom quote

Key Features: Content Amplification, Search/Discovery, Influencer Lifecycle Management, Influencer Relationship Management, Content Review, Content Library, Campaign Management, Campaign Reporting, Influencer Analysis, Audience Analysis, E-commerce Tools, Product/Gifting Tools, Forms and Compliance,
Channels: Facebook, Instagram, TikTok, Twitter, Twitch, YouTube
---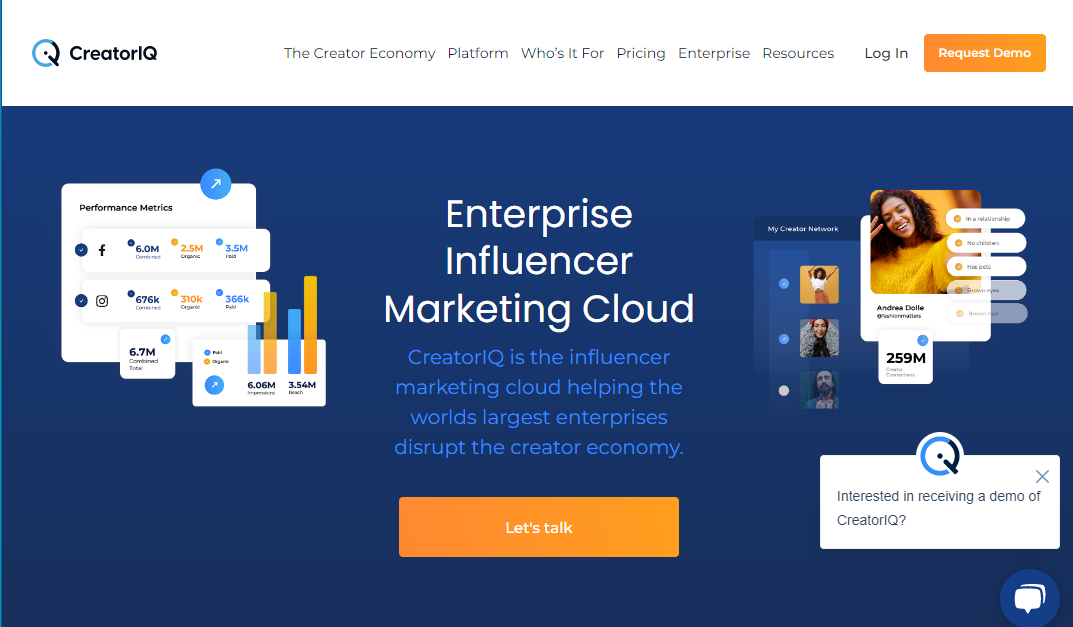 Invest in the industry's top-performing brand ambassadors with CreatorIQ, the data-driven creator marketplace and campaign optimization platform. CreatorIQ helps businesses deliver content that stays true to their vision and values with industry-grade marketing campaign models.
If you are looking into publishing branded content that speaks to your audience, CreatorIQ is the best marketplace to explore. Take advantage of scientific models to determine the next best marketing strategy and the ideal brand ambassador. CreatorIQ emulates business performance amid the complex world of marketing based on your goals to introduce you to the best content creators available.
Finally, CreatorIQ offers a safe space for businesses to establish their creative network. Gather all your creator data in one place for easy reference when looking out for new creators to welcome in your branded content strategy.
Services: creator search, influencer marketing, PR and communications, branded content strategy
Features:
Content approvals

Data-driven campaign models

Algorithm-based creator search

Thriving space for private creator communities

CRM stack integration

Real-time reporting and campaign configuration
Pricing: Custom quote

Key Features: Search/Discovery, Automated Recruiting, Influencer Relationship Management, Content Review, Campaign Management, Campaign Reporting, Influencer Analysis, Audience Analysis, E-commerce Tools, Product/Gifting Tools, Forms and Compliance, Fake Follower/Fraud Detection, Payment Processing,
Channels: Facebook, Instagram, Twitter, YouTube, Pinterest, Twitch, Blogs
---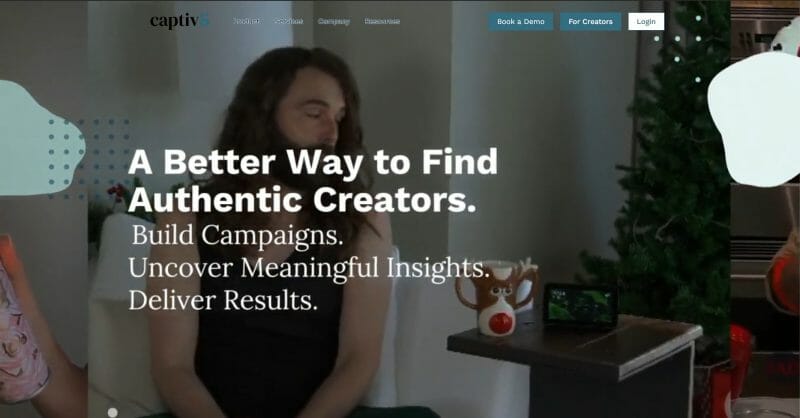 Experience a new spin to influencer marketing and content creation with Captiv8, the AI-powered marketing platform. Captiv8 boasts a community of over 30 million talents. Its AI search engine runs more than 500 filters for the perfect creator match.
Captiv8 uses the power of AI to run data analytics, sentiment analysis, performance reports, and more to elevate branded content across channels and deliver them where the target audience is most active. With 100% uptime service support, content creators are assured to have their content live and gaining traction.
Captiv8 also supports competitor analysis and social tracking. This allows businesses to streamline campaigns accordingly and differentiate themselves from the rest of the industry.
Services: competitor tracking, AI-powered data analysis, content creation and distribution, brand authentication, creator discovery
Features:
AI-driven creator matching

Tailor-fit dashboards

Verified reporting for fraud prevention

Creator network growth

Social listening and competitor analysis

Authentic storytelling and content sharing
Pricing: Custom quote
Key Features: Search/Discovery, Influencer Relationship Management, Content Review, Campaign Management, Campaign Reporting, Influencer Analysis, Audience Analysis, Payment Processing, Social Listening,
Channels: Instagram, Facebook, Twitter, YouTube, Pinterest, TikTok
---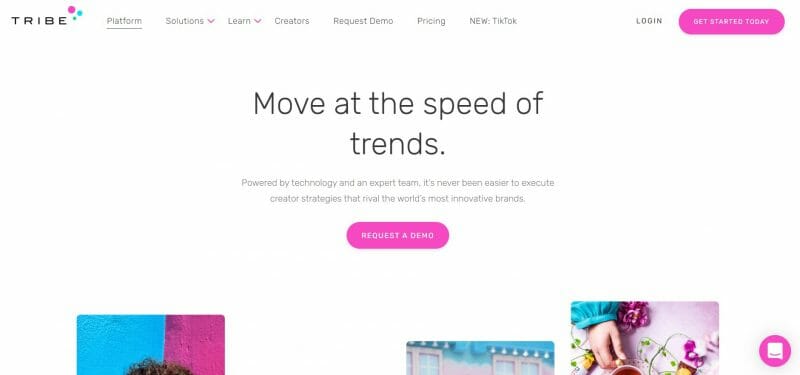 TRIBE dedicates its platform to solving troubles businesses face amid today's marketing trends: branded content creation and distribution. TRIBE is a creator marketplace with over 7,000 talents ready to boost brand reach.
Should you already be working with a full team of creators, consider maximizing campaign success on TRIBE for easy management and automation of workflows. TRIBE nurtures creator relationships for you with features such as product sampling, legal processing, and payment processing all from one platform.
If you prefer to discover creators by the numbers, TRIBE also features data-centric discovery and audience analysis. Receive real-time overview of a creator's performance and audience demographic from top social networking sites such as TikTok, Instagram, and Pinterest.
Services: creator discovery, campaign management, industry benchmarking, branded content creation
Features:
Marketplace of proactive content creators

Campaign optimization

Creator community development

Legal content use and agreement customization

Cross-channel branded content promotion and distribution
Pricing: Custom quote
---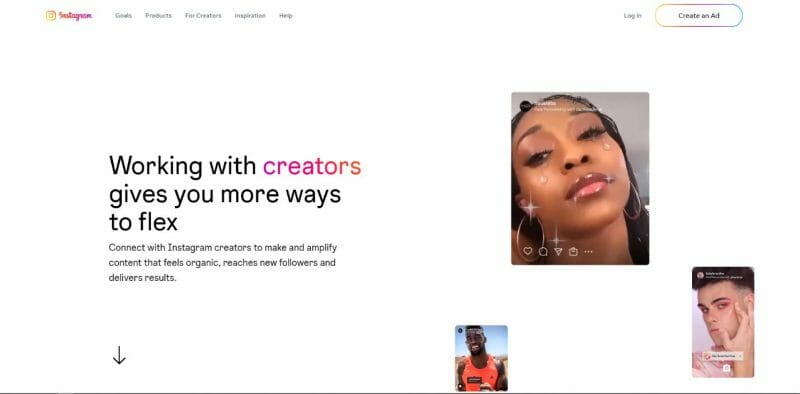 Wondering how Instagram influencers are tagging established brands on their posts? It is all thanks to the handy in-app Branded Content Tool. Instagram introduced its Branded Content Tools to help business owners and content creators keep track of paid partnerships.
Instagram's branded content tools promote transparency in the partnerships that brands establish with content creators. Creators promote their authenticity and accountability as brand ambassadors, while businesses can monitor individual performance of branded content posts and boost those with exceptional reach.
Instagram Branded Content is available for creators and businesses who meet the eligibility standards:
Operates an Instagram Business or Creator account;

Content creators have an established presence on the app;

Content creators agree and comply with the Community Guidelines; and

Content creators are not officiating members of any government agency.
Services: paid partnerships, branded content ads, product tags
Features:
Transparency over paid partnerships between businesses and content creators

Advanced performance tracking

Authenticity check
Pricing: Free, in-app feature
---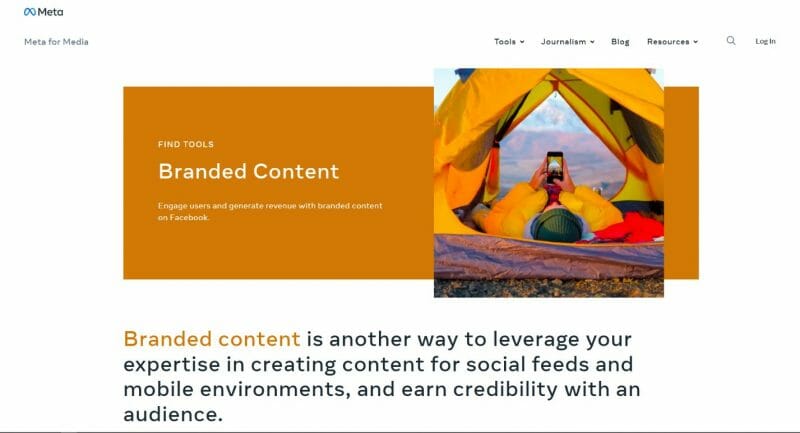 Tech and media conglomerate Meta released Branded Content support for Facebook as well. The Facebook Branded Content Tool operates similarly to the Instagram Branded Content Tool.
Brand ambassadors publish branded content with a Branded Content tag to prove their authenticity as advocates for the products or services offered by a certain business. Branded content tags enable both business owners and brand ambassadors to monitor audience reach and other post insights.
The Brand Collabs Manager is a recent addition where content creators can increase the discoverability of their paid partnerships. Businesses on the lookout for branded content promotion can connect and collaborate with creators to increase engagement from the audiences of both business partners and content creators.
Services: Branded content management, branded content tagging, brand collaboration
Features:
Branded content insights (impressions, weekly average reach, etc.)

Sponsored activity tracking

Collaborative space for businesses and creators to launch paid partnerships
Pricing: Free, in-app feature
---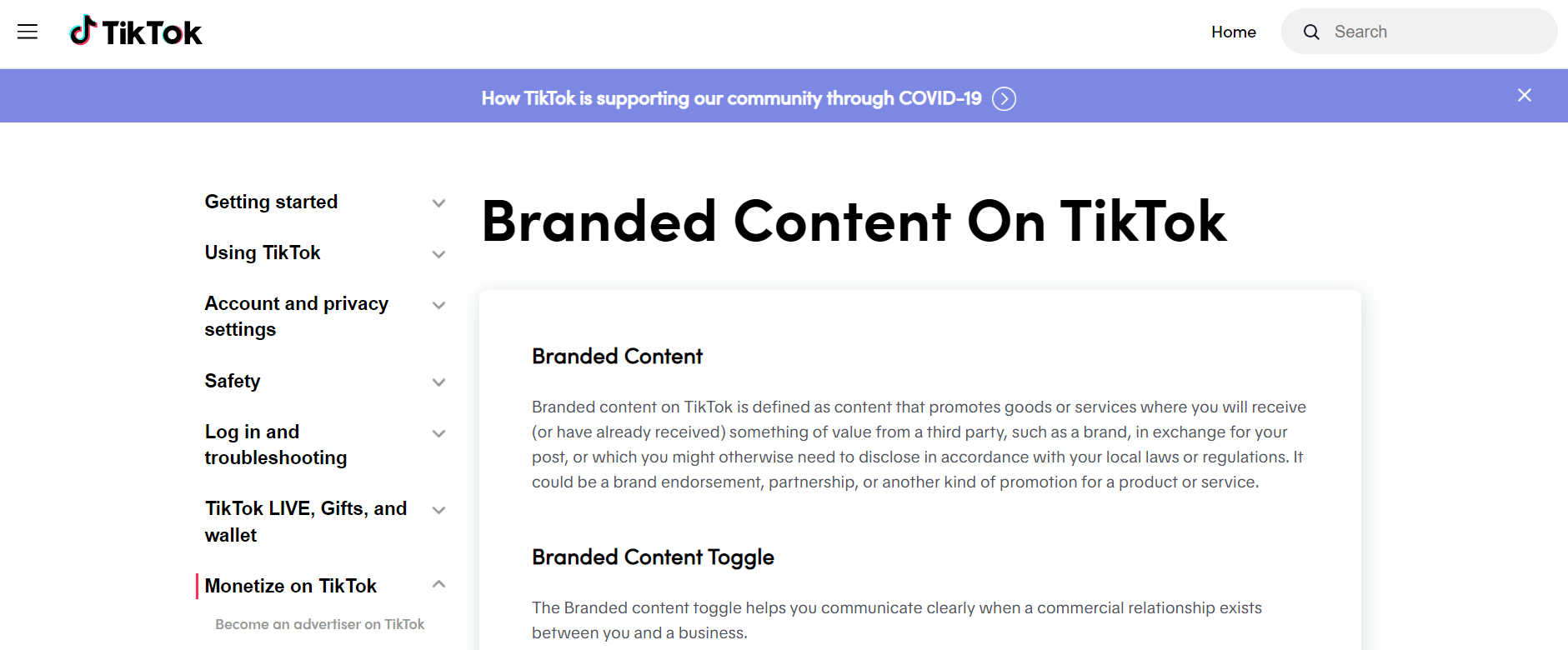 Video-sharing site TikTok also introduced branded content into the platform with Branded Content Toggle. This feature complies with the Branded Content Policies in place so creators and businesses may showcase full transparency about promotional posts. By toggling on Branded Content where appropriate, videos may be pushed more frequently onto the For You section of the target audience.
Services: Branded content filtering and tagging
Features:
Transparency and authenticity over influence in sponsored posts

Legal paid partnership support from TikTok
Pricing: Free, in-app feature
---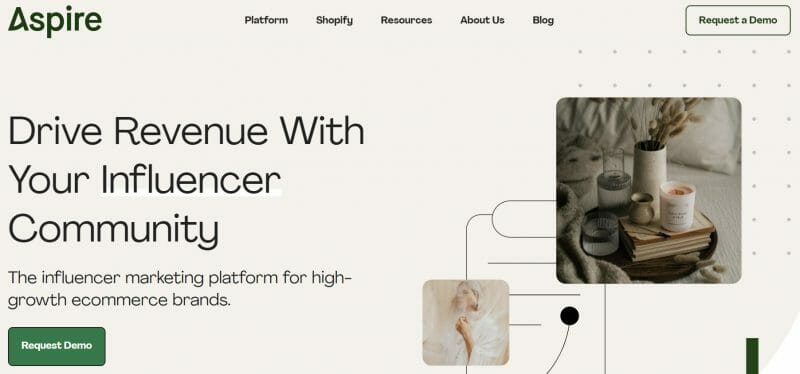 Influencer marketing platform Aspire is a diverse marketplace for businesses and creators to collaborate and set the ideal pace for the next marketing campaign. With Aspire, businesses don't have to wait any longer than a week for branding champions to turn in their proposals.
Aspire allows businesses to discover, analyze, and manage influencer relationships in one intuitive platform. Additionally, content creation and organization allow for flexible distribution of branded content. Content licensing, boosted content, and content approval ensure brand ambassadors are promoting content that meets business standards and marketing objectives.
Services: influencer marketing, relationship management, content management and creation
Features:
All-in-one platform for content management and brand ambassador relations

Transparent reporting and analytics of campaign progress and sales growth

Influencer whitelisting

Customizable content usage rights agreements
Pricing: Custom quote

Key Features: Search/Discovery, Influencer Relationship Management, Influencer Marketplace, Team Collaboration Tools, Content Review, Content Library, Campaign Management, Campaign Reporting, E-commerce Tools, Product/Gifting Tools, Forms and Compliance, Payment Processing, Social Listening, Competitor Research, Visual Discovery, Influencer Content Amplification,
Channels: Instagram, YouTube, Facebook, Twitter, Pinterest, Blogs
---
How to Toggle Branded Content on TikTok
Businesses from all industries are flocking to TikTok where the impressionable youth actively engage in online discourse. For a business to remain on top of a customer's mind, its marketing strategy must be less about selling, and more of evoking an emotional response from the target audience. TikTok's short-form content is an excellent way for businesses to experiment with publishing branded content that will be remembered by many.
The Branded Content Toggle of TikTok is an indispensable tool to allow content creators to reach more viewers without necessarily changing the type of content they produce. For businesses, this feature helps them gauge the traffic and buzz their brand stirs on the app.
Below, we will discuss how to tag TikTok posts as branded content. This feature is not locked behind business profiles, therefore anyone with an account on TikTok has access and can use the Branded Content tag whenever necessary.
1. On the Post section, click on More options.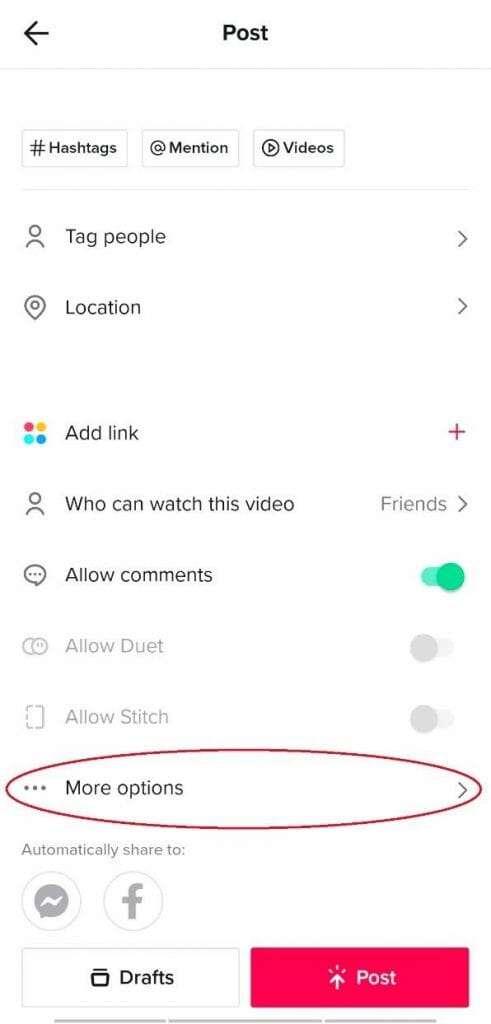 2. Click Branded content and ads.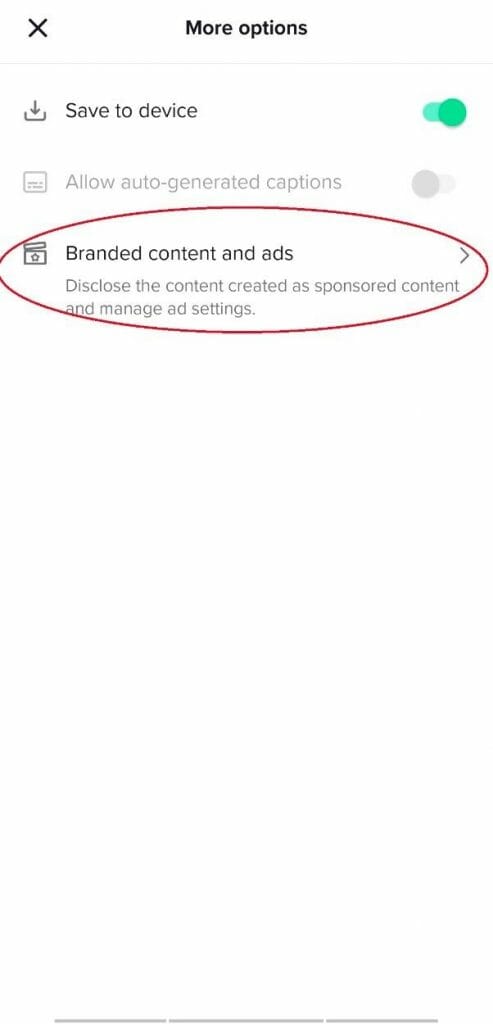 3. Enable Branded content. Several prompts will pop up to confirm your agreement with enabling this feature. Adjust ad settings as you see fit, then tap Save to proceed with uploading the new post.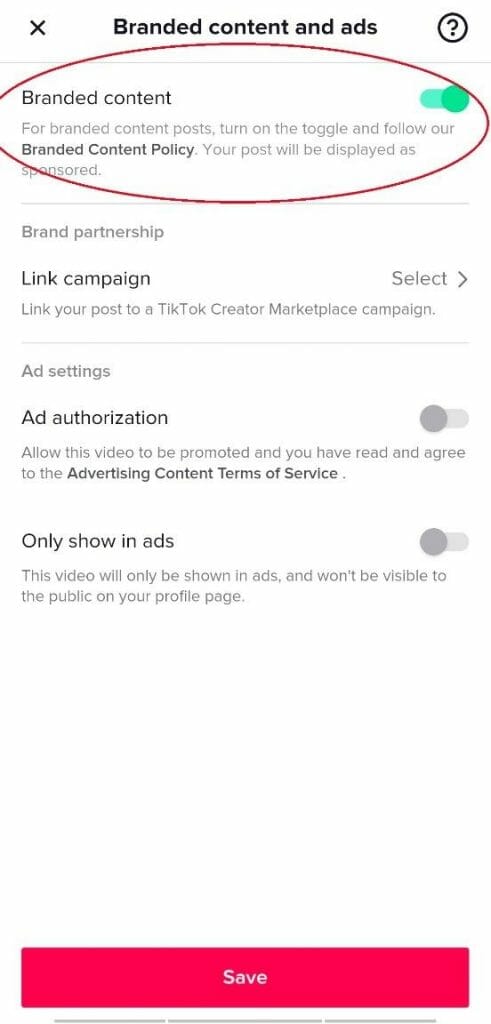 ---
How to Build a Branded Content Strategy
Branded content is a game-changer for a business aiming to establish its brand identity amid a saturated marketplace. With branded content campaigns, businesses nurture trust more easily than they would if they had approached the audience from a content marketing approach.
---
Build Brand Trust with Branded Content
The flexibility of branded content allows businesses to explore untapped marketing channels and audiences, whereas content marketing is a rigid process of crafting multiple iterations of content for the same, niche community time and time again. Leverage online presence and reach with sentimental, empowering, and most of all, entertaining, branded content.
Frequently Asked Questions
What are branding tools?
Branding tools help you build and refine your company's reputation, image, visibility and awareness. The best branding tools can help with all of these at the same time.
What are the brand management tools?
Brand management tools can help brand managers, marketing teams, sales team, and more build your brand image. Here are the most powerful brand management tools:
Grin

Aspire (formerly AspireIQ)

CreatorIQ

Captiv8

TRIBE

Instagram Branded Content Tool

Facebook Branded Content

TikTok Branded Content Toggle
What is a brand management platform?
Brand management software platforms are a type of marketing software that helps organizations maintain standards and control their brand image. Brand management platforms help keep content in one place and manage assets for employees.
Should I use branded content?
Branded content is an excellent way to connect with your target audience and share your brand's stories and message. The size of your business or the budget doesn't matter – you can tell brand stories with branded content on a budget.