Content creation is the cornerstone of marketing. It's a way to get your message out to the world and create a buzz about your brand, product, or service.
For it to get results, though, it needs to resonate with your audience. And, to achieve this, you need to understand where they are coming from and what they want to read.
So, to be a successful content creator, you'll need to know much more than simply how to take a photo, write a blog post, or capture a video. You need to keep up with trends and know how to research.
If the idea of research didn't scare you, continue reading to find out how you can join this exciting, fast-paced industry. We've scoured the web to summarize the main steps and included a couple of tips to help you set yourself apart from the competition from the get go.
---
Steps and Tips to Becoming a Content Creator in 2024:
---
Which Types of Content Creators Do You Get?
As mentioned earlier, content creation is not limited to the written form and so there's not just one type of content creator that you can become. In the digital marketing space, content creators manage different digital "departments". While some companies may use a dedicated content creator for a specific type of medium, others may use one to manage all avenues. Here are some of the main types of content creators that you get and a brief look at their job description: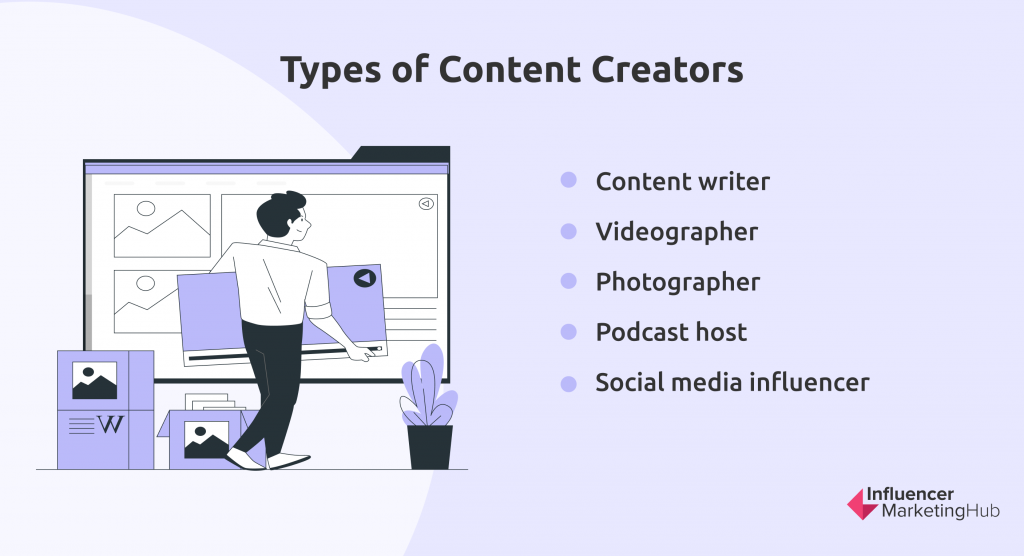 Content writer
Content writers create original and engaging written content that can be used on various platforms. They are often also tasked with creating text for the company's various marketing channels, such as social media, and email. That said, blogging is usually the most common channel used by content writers.
Videographer
Videographers are in charge of filming and editing video content. It's their responsibility to ensure that the video content is up to the company's standards. YouTube has become the preferred platform for video content creators, but with increasingly more video content getting shared on sites like Instagram, Facebook, and TikTok, there are multiple platforms where videographers can share their craft.
Photographer
Photographers are the creatives behind many of our images on social media and on websites. They use their skills to create compelling photos that tell stories or capture the world's beauty around them. From fashion to beauty to food to fitness, you'll find photographers in many different fields. While they have a lot of creative control over what they shoot, they also have to consider what their client wants them to shoot. This means that at times they might have to tackle a less interesting project like shooting product photos.
Podcast host
Podcasts are a great way to share messages. As a podcast host, you often have to act as the middle or neutral party between the guest and the listeners. You'll be responsible for conducting interviews, providing commentary, and, ultimately, creating an engaging experience for listeners.
One of the most important responsibilities when hosting a podcast is interviewing the guests and asking them relevant questions to keep the interview interesting. So, podcast hosts often work with scripted content ideas. This can be difficult because you need to think of questions on the spot, but it is also rewarding to learn more about your guests and meet interesting people along the way.
Social media influencer
Social media influencers have a significant and loyal following on social media. They use their following to promote products and services or convey their messages.
There are many different types of social media influencers that include:
Nano influencers who have a following of 1,000 to 10,000 followers

Micro-influencers who have 10,000 to 50,000 followers

Macro influencers who have 500,000 to 1 million followers

Mega influencers who have over 1 million followers
Some examples of the content that social media influencers can create and share include:
Posting pictures on Instagram or Facebook

Creating YouTube videos

Creating live streams on Twitch

Hosting podcasts

Writing blog posts

Hosting webinars

Providing one-on-one digital coaching sessions
---
​Essential Steps to Becoming a Successful Content Creator
Whether you decide to focus on video, blog posts, or podcasts, the following steps will help you to carve your rightful place. While you don't necessarily need to complete the steps in this exact order, there are certain things, like establishing your target audience, that you'll need to do first before you can move on to the next step.
1. Identify your audience
Knowing who your target audience is, is crucial to the success of your content and marketing strategy. A brand needs relevant and innovative content to pique the audience's interest. Though, it doesn't stop at grabbing their attention, you'll also need to find ways to keep it. And, knowing what they'll resonate with will make this challenge much easier.
---
2. Choose a platform
The benefit of using social media platforms is that they already have a loyal following of users. Just take Facebook with over 2 billion active users, for example. The picture looks pretty much the same for YouTube (with 2.6 billion users), WhatsApp (with more than 2 billion), and Instagram (with an estimate of 2 billion users). So, social media is a good place to start as you already have a captive audience.
It's all good and well to be on all platforms (and it's probably worthwhile for more exposure to the brand), but choosing one or two platforms will help you to concentrate your efforts and energy on making that a very successful source. After all, there's no point in using Snapchat or TikTok, if your ideal audience is B2B business owners.
Also, not all social platforms are created equally. Not only do they attract different audiences, but some platforms have been created for a specific type of content. WordPress is synonymous with blogs. YouTube is the home of video. You get the idea.
Here are some examples of the social and digital platforms that content creators often use to help boost their reach: ​
YouTube
YouTube is perfect for vlogging (video blogging). Content creators can utilize the platform for a wide range of videos like how-to videos, product reviews, unboxing videos, tutorials, etc. Not only is YouTube versatile, but video content is also one of the leading forms of digital entertainment. When people have limited time, they would often much rather watch a short video than to read a long article.
Instagram
What's easier and faster to digest than a short-form video? A picture. After all, a picture is worth a thousand words and this is especially true for Instagram. Sometimes you can't type everything you want to share, but in many instances you can do just that with the perfect picture.
Businesses can also use the platform to promote products or sell products directly. Plus, arguably the biggest advantage offered by Instagram is that posts are easily shared, making it perfect for engagement.
Facebook
Facebook has always been a flexible option for businesses as it allows various marketing methods. From posting short articles, sharing and reposting stories, video content, and loads more, it's a great way to promote a brand or service.
---
3. Design the content plan
A content plan can be viewed in some ways as a business plan. It sets the brand up for various scenarios and how to work through each. Best of all, it improves coordination.
If you'll be working as part of a bigger marketing team, a content plan is a must as it allows teams to work seamlessly together, and ensure everyone is on the same page. There are a number of great project management software tools like Monday.com, Asana, and Trello that can help you to keep things seamless and communication on a roll.
Using an effective content plan also helps to prepare you for each month's topics and events. For example, if you'll be focusing on social media specifically, there are a number of social media content calendar templates that you can make your own. Even if you'll be running the show on your own, a unified calendar helps you to look at your posts from a strategic vantage.
---
4. Establish the business/brand voice
The brand's voice is how the business speaks to its target audience. To help you find and establish your voice, you may need to complete customer surveys and polls. These efforts will help you to identify the age, gender, profession, and geographical area of your target audience. This is a good example of where you'll first need to complete one step (identify your target audience) before you can move to the next one (establishing your unique brand voice).
---
5. Invest in third-party tools
When you invest in essential content tools like Grammarly and Canva, it goes a long way in helping you to refine your content even more. Some of the most popular third-party tools trusted and loved by content creators are:

SEMrush is a must-have tool for any content creator who's looking to establish their online presence. The tool provides valuable feedback that helps improve SEO, PPC, PR content management, marketing insights and keyword research to name only a few of its features. It basically does it all, making it extremely convenient and cost-effective.
---

Canva is another exceptional content tool that will help craft great-looking presentations, graphics, infographics, posters, and loads more. Not only is it affordable (it even has a generous free plan), but it's also very intuitive thanks to its drag-and-drop editor.
---

If you'll mainly be working as a content writer, a professional grammar checker, like Grammarly, is a must-have tool. As a matter of fact, even if you'll not be using the written form as your main medium, it's still a good idea to invest in such a type of tool. After all, basically every piece of content that you'll create for the web has a written component to it, whether it's a short caption or a longer video description. There are many grammar tools and their prices differ from one to the other, but, overall, Grammarly offers some of the best value for money.
---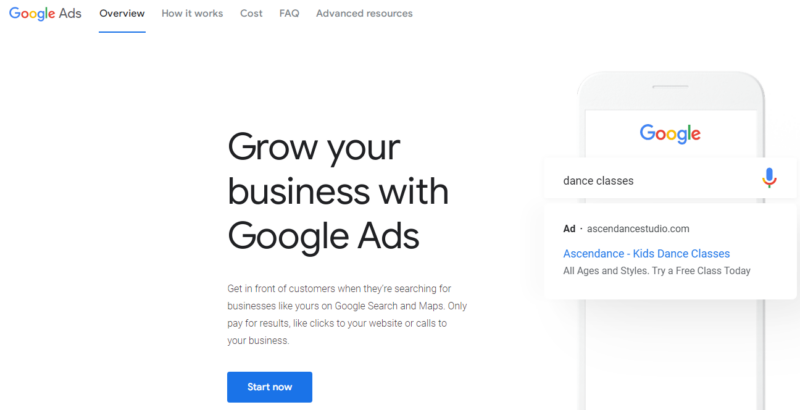 For example, Google Ads are excellent for revenue generation, and Google Drive gives teams the liberty to collaborate on simultaneous projects in real time. Then, you can also check out Google My Business and Google Trends.
---
6. Make a portfolio
All businesses need a portfolio to show off experience, talents and what other happy clients have to say. If you're working in the content creation industry, it's even more important to take the time to create a portfolio that really manages to communicate your expertise and unique selling points. In addition to including examples of your most successful completed projects, you can also include information similar to an About us page so that potential clients can get a sense of your brand voice and style.
---
​7. Market yourself
If you create content, having a website and business cards are just some of the more traditional ways that you can use to market yourself. Digital networks and social platforms will also help to boost your online presence needed to thrive in this day and age. Even if you don't plan on working as a content writer, a blog can be a helpful resource to get the word out about your content creation services (but a little bit more about that later).
---
8. Grow a following on social networks
Social media serve as digital lines that you can use to establish an authentic connection with your target audience. With a solid social media presence, you can reach your audience and increase the credibility of your services. Even if you don't plan on becoming a social media influencer, it's still important that you devote some time to creating content to advertise your own brand on social platforms like Instagram, LinkedIn, Facebook, etc. Plus, it can be a great way to generate social proof.
---
Do You Need a Qualification to Become a Content Creator?
The good news is that you need no degree to make high-quality content or to be called a content creator. Still, taking extra courses to sharpen your skills and insights is worth the investment.
Aspiring content creators may consider courses about digital marketing, copywriting, content strategy, social media content creation, and content management to name just a few. While there are loads of paid courses online, there are also many free courses offered by credible platforms like Udemy, LinkedIn Learning and Hubspot. For example, yours truly offers a 10-module introduction course to influencer marketing for those of you aspiring to become social media influencers.
---
Can you Make Money?
Finally, the question that's been on your mind all this time. Will becoming a content creator pay off? Can you make money?
Whether you tackle content creation full time or you're a freelance content creator, there's definitely revenue potential. It will take some time before you start seeing fruits (just like with any other business), but if you're disciplined and you improve and expand your skills continuously, there's a market.
To give you an idea, the top content creators on YouTube are making millions. Though, we're not saying that you'll earn six figures, but there's definitely earning potential.
---
Extra Tips for Becoming a Successful Content Creator
For successful content creators, creating content forms part of their lifestyle. After you've completed the key steps discussed above, there are a few other things that you should do on a continuous basis to ensure that you can continue to churn out content that's relevant and gets results. Here are some key habits that you can develop:​
1. Create content continuously
Consistency is a critical part of being a successful content creator, no matter what niche you're serving. All content creators must post regularly. Not only will this ensure that your skills remain sharp, but it will also help to keep you at the top of search engines and boost brand awareness.
2. Measure success through KPI tracking
Keeping track of key performance indicators (KPIs) is important as it will empower you to see what type of content is working and what isn't. Metrics that you want to measure include follower count, average social media engagement rate, and post reach.
One of the features that social media content creators can use is a link-in-bio tool. There are a number of tools available, but Beacons offers serious functionality to help creators monetize and engage with their audiences.
3. Start a blog
Blogs are great for SEO. Not only will it help to establish your online presence, but you can also repurpose the blog posts as an infographic, Instagram post, email newsletter, etc. later on.
---
Wrapping Things Up
The above-mentioned steps and tips offer a useful and holistic approach to content creation. Not only will it help you to create better content more often, but it will also make the process less labor-intensive.
At the end of the day, there are many ways to create content, but they all rely on the same basic principles. Know your target audience, know thyself (aka your brand), and know the goals to which you're working. Even if you don't make millions like Ryan Kaji, it can be an extremely fulfilling career that you can start today.
Frequently Asked Questions
What is a content creator?
A content creator is someone who produces entertaining or educational content aimed at a specific target audience that can be enjoyed online and offline. They can work on various channels like YouTube, Instagram, etc. and can create many different types of content. These can include:
Blog posts
Email newsletters
Infographics
Videos
Podcasts
Social media posts
What makes a great content creator?
There are a number of traits that set great content creators apart from amateur ones. Firstly, they know and understand their target audience. They know what drives them and what interests them. Secondly, they stay up to speed with their industry and trends. Thirdly, they continuously improve their skills, whether it's writing or photography. Last, but not least, they understand the role that keywords play. In other words, they know how to write for search engines as well as human audiences.
What are some of the habits of successful content creators?
There are a number of key habits that you can adopt to make you a better content creator. These include:
Writing regularly
Getting to know your target audience better
Remaining curious and up to date with the latest trends (especially in marketing)
Improving your research skills
Measuring key performance indicators (KPIs)
Sharing the work of other creators on social media
Blogging
What are some popular article ideas for a blog?
One of the things that make blogs so attractive and useful is that there are so many different topics that you can write about. Here are some of the most popular blog post ideas that you can try:
How-to posts
Listicles
30-day challenges
Case studies
Overcoming challenges
Strange stories
Book or product reviews
Trending rumors
Industry-relevant news
Personal experiences
Frequently asked questions
Success stories
How can you make your content easy to read?
To check the readability of your content, you can, for instance, use the free online Hemingway Editor. It will basically highlight sentences that are hard to read and other common writing errors that can make your text harder to read, like highlighting phrases that have a simpler alternative. It can also help with word choice by making recommendations for which adverbs to leave out. As passive voice should be kept to the minimum when you're writing web content, it will also highlight which sentences should be changed to active voice.