Being a successful content creator is one of the ultimate thrills for those who are passionate about creating visuals, playing amateur film directors, or trying their hand at writing. Get it right and you can educate or entertain (or even both) your target audience with amazing content through digital mediums like social media.
Not only can a career in content creation offer real job satisfaction, but there's also a huge market. In today's day and age, content is always front and center!
In the State of Content Marketing 2022 Global Report, marketers noted that 73% of them spent up to 70% on their content marketing. Plus, companies have sat up and taken notice too. More than 70% plan to increase their content marketing budgets this year.
This definitely bodes well for content creators. Though, while it's relatively a stress-free job (apart from chasing the deadlines), there's one thing that no one wants and that's that sudden hiccup when you're suddenly faced with writer's block, or when it feels like the muse has definitely left the building!
So, how do you prevent this from happening? What are the quick fixes that you can apply to stay strong in your content creation game?
Here's the secret, though. It's never about quick fixes!
Rather than trying to get quick solutions, you need to put key habits in place for your writing. Content ideas don't just appear magically (although that would, of course, have been convenient). You really need to have good habits in place that will stick and keep you focused on your writing and your career.
Whether you're a freelance content creator geared towards helping your clients connect and engage with their target audience, a creative professional working in digital marketing or an influencer who's always busy creating the next high-performing post, we've put together a cheat sheet. Continue reading to uncover some of the habits that successful content creators follow without fail. It could be the inspiration you need to evolve your content creation skills further.

| # | | @username | Followers | Engagement Rate | Avg. Views | Growth Rate |
| --- | --- | --- | --- | --- | --- | --- |
| 1. | | | 370M | 1.38% | 5.2M | 40% |
| 2. | | | 370M | 1.38% | 5.2M | 40% |
---
15 Habits of Successful Content Creators:
---
15 Habits of Successful Content Creators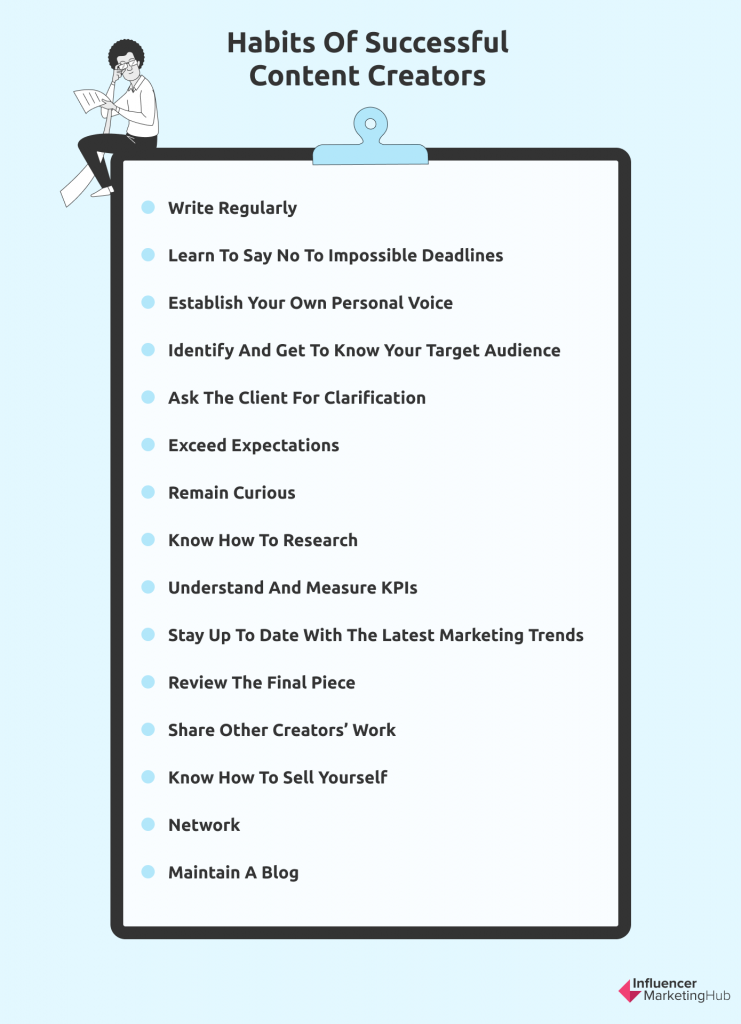 1. Write regularly
You might think but this is what you do every day! This is true, but have you considered how often you give your creative muscles a good workout?
Successful content creators write non-stop and it shows. They might have blogs of their own (more on that further down in this piece) or simply set time aside every day to let the creative juices flow.
A big benefit of writing regularly is that it will allow you to establish when you're at your best to write clear, concise copy. Are you an early morning riser that can generate copy like a boss while everyone's still slumped over their coffee cups? Or, is it the afternoon when your creative spark is at its strongest?
Once you've pinpointed those precious "golden hours" of clarity, you'll be set for successful content creation. Plus, you'll find yourself more at ease with the content creation process too.
---
2. Learn to say no to impossible deadlines (and avoid topics you're unfamiliar with)
So often, especially for those in the social media and digital marketing space, content creators are faced with the following:
Being expected to churn out thousands of words in limited time frames

Getting asked to do a massive writing task in one day

Receiving a writing brief about a topic we know nothing about
The list can go on, right? And, ironically, we can spend days writing about that.
In an ideal world, content creators can zoom through copy like it's no one's business. Though, the reality is, successful content creators know when it's time to draw a line in the sand and say, hold up! Plus, they know when to say no when they're unfamiliar with specific topics.
Let's get real. Creating a great copy is not a rushed process. It doesn't need to slog on for days, but it needs to fit into realistic slots to truly hit those key messages. And, if you're a content creator with a boss or manager breathing down your neck, it can be easy to cave and just get on with it.
Stop doing that.
Earn your right to align deadlines according to what's doable. If you truly want to be a successful content creator, you need to claim your truth. Really, you can man up and say something will take a certain time – you've earned the cred to say so.
Also, louder for the freelancers: you do not have to say yes all the time. If you simply cannot do financial writing, have no idea what to say, or would rather strangle a real bear, politely decline. It's as easy as that.
---
3. Establish your own personal voice
How often do you browse through social media feeds or blogs, looking for content inspiration? Or, how often do you get asked by one of your freelance clients to "match the tone" of a competitor they saw online?
Perhaps you're an influencer wanting to connect with your target audience, but you aren't sure whether you should just be doing what everyone else is doing?
Here's the thing. When you establish your personal voice, you are:
More authentic

Seen as trustworthy

Have more credibility

Will likely have more engagement with your target audience
Successful content creators not only practice making their personal voices heard, but they also infuse every piece of content with it.
And, when it comes to blog writing, they know the importance of how their personal voice adds value. In other words, they know how to use their signature industry knowledge in certain fields to ignite interest.
So, don't try to be the other guys when you create content. They're already there. Instead, be yourself, unless you can be better. Then, be better.
---
4. Identify and get to know your target audience
Mindlessly churning out content for the sake of it is a big rookie mistake. No target audience appreciates being served content that simply has no value for them (or being talked at instead of having a two-way street of communication). They want content created for them and they want to engage in a conversation with you, not feel like you don't "get" them.
In short, successful content creators put in the effort to get to know their target audiences.
They know:
What age bracket they are writing for

The demographics and genders of their target audience

What the pain points are that they need to address in their writing

What language nuances speak to their target audience

How to keep their target audiences engaged

What types of content immediately attract their target audience's attention
In the content creation process – whether they do it for their own personal channels or for bosses – they write with an end goal. They know that they need to delight those reading their writing! So, put your target audience first. It's one thing to be a good writer, but a great one truly delivers the goods of perfectly packaged content!
---
5. Ask the client for clarification
How often have you, as a social media content creator or freelancer, stared at your screen with no idea what a client wants? It can be easy just to forge ahead to save face, but any successful content creator will tell you that is a big mistake.
If you are uncertain, you need to ask for clarification. You will be doing yourself and your client a disservice if you didn't check all the details only to deliver a copy that missed the mark completely.
Ensure that you have clarification about every part of the task at hand. This includes the target audience, expectation, and deadline. Successful content creators are never afraid to ask, but they do know that asking the right questions is where it counts!
So, when that brief lands on your desktop or table, immediately flag anything that you are uncertain about. Draw up your questions, shoot them through via email or do a quick Zoom call to chat through the brief. Never be shy to ask. Make it a habit!
---
6. Exceed expectations
Are you ready to take it a step up and exceed expectations? Successful content creators always put in that extra effort. They know that "OK" can always be better.
So, go beyond what is just expected. From perfectly polished copy, well-researched topics and interesting points, make your content as amazing as it could be. Show your insights into topics and wow your audience by providing something that not everyone is doing.
Remember, readers, clients, or even your boss, all expect the copy to be good. However, when it is amazing, you truly hit the bull's eye!
---
7. Remain curious
Do you know what is happening in the world around you? Do you constantly read and expand your knowledge of current affairs? Or, do you remain in a blissful bubble where life is comfortable and uncomplicated?
Successful content creators consume resources on a daily basis. They:
Listen to podcasts

Read industry-related blogs and sites

Keep up to date with the news (even if it's just the highlights)

Aren't shy to read up on topics that are new to them
Being curious as a content creator is a great move for another reason. You also enhance your knowledge on a certain subject that allows you to write with authority.
Even if your hours are packed with writing every day, take the time to feed your curiosity.
If you are a freelancer working on specific freelance platforms, for instance, make it your goal to at least once a day watch a video on YouTube relating to tips on working on those sites. And, if you are a digital marketer, why not subscribe to newsletters of digital marketing or content marketing sites that will ensure that the hottest tips and leads are delivered to your inbox?
---
8. Know how to research
Successful content creators know that trustworthy research for writing pieces is about more than just grabbing the first result on Google and calling it fact. They look at various information sources, from blogs, websites and news websites to videos to get information that is well-rounded and unbiased.
Because, that is truly what happens when you simply consult minimal resources for your writing. You end up churning out biased content! And, your target audience will definitely not appreciate any piece that is written out of context.
Also, content creator pros know that when they do research, they have a specific goal that needs to be reached. They are aware that their writing needs to answer certain questions that their readers will have.
Therefore, to be a successful content creator, you need to:
Always consider various angles and create content that is true and authentic

Take the time for research and factor in the time your research will take

Consider using online platforms that can summarize large content sources for you
---
9. Understand and measure KPIs
Successful content creators are always aware that they need to achieve certain results with their writing.
For instance:
A blog writer might have the goal to grow their follower base

An eCommerce content writer needs to help a client to increase sales

A digital marketer needs to secure leads and take customers through the sales funnel

An influencer could be looking at increasing reach and engagement
As you can see, no two content creators have the same goal in mind. Their content creation can be linked to business goals and KPIs, or it can be geared towards business opportunities. Ultimately, if you want to be the best content creator that you can be, you need to understand what your KPIs are, and how to measure them.
Want to ensure traffic is being driven towards your website? Invest time in Google Analytics.
Unsure whether your social media posts are getting the right traction? Deep-dive into your stats and analytics to see which of your posts performed the best.
Benchmark your goals, document what you achieve with your writing and see where you can improve – it will definitely enhance the types of content you create.
---
10. Stay up to date with the latest marketing trends
Digital marketing keeps on evolving and new types of content formats are constantly popping up. This means that if you truly want to be a content creator pro, you need to put in every effort to become familiar with the latest marketing trends.
Social media content creators, in particular, can't afford not to be on top of the types of content that are making big waves in the marketing realm. After all, you don't want your competitors to beat you with a new content trend and then look like you're just piggy-backing on their success.
Start making it a habit to:
Daily read up on websites with the latest digital marketing news

Take notes of features that you could use

Trying out new features in your social posts that are growing in popularity
Always remember: a successful content creator knows that he/she can do more, know more, and discover more. They remain curious (remember that point above) and they never stop learning.
One of the features that social media content creators can use is a link-in-bio tool. There are a number of tools available, but Beacons offers serious functionality to help creators monetize and engage with their audiences.
---
11. Review the final piece
How often have you fired off a content piece with a sigh of relief just after writing it only to get a scathing review immediately? Experienced content creator professionals know that there is more to writing than just adding that last full stop.
There is, indeed:
Spell Checking

Grammar checking

Readability checking

Plagiarism checking

Word count checking

Checking if hashtags are relevant in social media posts
And the list goes on!
Reviewing the final pieces must go beyond just a quick spell check. Take the time to use apps like Grammarly or Hemingway to ensure your content is neat and error-free.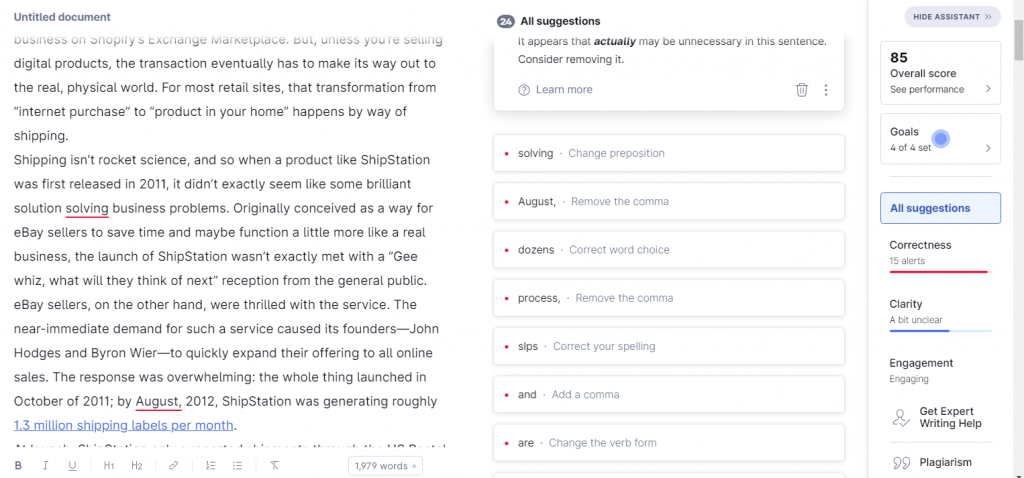 Putting this effort in will ensure that you are seen as a credible writer and not someone that is simply rushing through a task to get it done.
---
12. Share other creators' work
Did this point just make you do a double take? Was your first reaction that we're suggesting that you plagiarize content!?
Relax. What we are trying to convey is that sharing content from other sites or profiles, especially in the social media field, with insights of your own provided, can add some credibility to your content when it makes sense to do so. For example, say you are writing social posts for the interior design niche. You see a stunning post about a retro-kitchen reno and think your followers will dig it. So, why not share, tag, and comment about how much you like this incredible post. Ideally, you need to ask permission, so ensure you have all the boxes ticked and give credit to whom it's due. Your fellow content creator is sure to appreciate the exposure and might just return the favor further down the line.
---
13. Know how to sell yourself
No one is you and that is your superpower. When it comes to writing, successful content creators know that their unique selling points are what makes them credible and authentic.
You might know every part of dismantling an engine or how to bake a three-layered chocolate cake, but the fact is you have expertise that others might not have. So, whether you are selling yourself in an interview to a potential employer or need to attract clients to your freelance business, make your key strengths shine. This will allow you to truly step up your game and show the world what you are made of.
---
14. Network
Successful content creators are likely to tell you that a big chunk of their writing triumphs is due to their mentors and network. They learn from the greats and take their advice to heart. They see their successes and take notice (and notes).
So, whether you start small with your immediate work circle, join social media groups or network in person, find your tribe and let them inspire your writing.
---
15. Maintain a blog
Now, this is certainly one writing endeavor that any successful content creator will tell you is the most fun (and it is probably the reason why we saved this one for last on our list).
A blog offers an incredible opportunity to truly make a writing piece your own. Whether you are writing for a specific brand, in your capacity as an influencer, or for your own personal website, a blog can really get the creative juices flowing! Also, maintaining a blog helps you to build a connection with your target audience and establishes your presence (or that of your client) online with ease.
What's more, as there are many blog ideas that you can explore, blogs are rich content sources for social media posts, and once you've written a piece, you can pull small chunks out for your social posts. In other words, blogging will help you work smarter for your social content too.
---
Wrapping Things Up
When you strive daily to produce quality content and incorporate key habits to curate great content, your path to becoming a successful content creator is set. So, consider the habits we've mentioned above to inspire your content creation process and digital marketing strategies. Become the writing pro you're meant to be, and always go the extra mile to delight your target audience.
Frequently Asked Questions
What are some ideas for a blog post?
There are many different topics that you can explore via a blog. Here are some of the most popular blog post ideas that you can try:
How-to posts
30-day challenges
Case studies
Strange stories
Book or product reviews
Industry-relevant news
Personal experiences
How can you improve the readability of blog content?
You can, for example, check out the Hemingway Editor if you're looking for a tool that can help you to improve the readability of your blog posts. In short, the free online app will highlight sentences that are hard to read and other common readability errors. It can also help with word choice by making recommendations for which words to replace. As passive voice is usually discouraged when you're writing for the web, it will also mark which sentences should be changed to active voice.
Is content writing and copywriting the same thing?
Content writing and copywriting are very similar services, but there's a slight difference. One of the main differences is that content writers are usually responsible for creating longer types of content pieces with the goal of informing readers. On the other hand, copywriters typically create shorter pieces that concentrate more on marketing than simply offering information.
That said, many content writers and copywriters categorize themselves as both.
What's the best free graphic design tool for visuals?
You can, for example, check out Canva which is one of the most popular design tools. It's easy to understand and use thanks to its drag-and-drop graphic design platform. What's more, you can use it to create a wide range of visuals that include infographics, Facebook posts, LinkedIn banners and YouTube channel art. It also offers a huge selection of templates that you can tweak which makes it straightforward to ensure that every visual asset that you create matches your branding.
How can you monetize your blog content?
For blogs that don't get a lot of traffic, you can, for instance, check out a blog advertising network such as Media.net that doesn't have a minimum traffic requirement. All in all, they're a good alternative for smaller or newly established blogs. According to their site, they're the second biggest contextual advertising business across the globe based on revenue. Alternatively, you can consider selling subscriptions or even trying a site like Patreon.