For many brands, content marketing means producing a great amount of content in a short span of time. This can be taxing for marketers, who may not always be able to churn out new ideas on a daily basis. Moreover, the rise of user-generated content is shifting the content marketing industry's focus from volume to usability.
Content curation offers a solution to these challenges. It allows you to turn the volume of published information into usable content. By sourcing and sharing topics that are relevant to your audience, you get to nurture a more personal connection with them. This ultimately improves your customer experience, trust, and loyalty.
But content curation is more than just sharing materials from outside sources. In this complete guide, we'll discuss why you need a content curation strategy this 2024 and how you can leverage it to amplify your credibility in your field, ease your workload, and boost your engagement.
---
The Ultimate Guide to Content Curation in 2024:
---
What Is Content Curation?
Content curation is the process of evaluating, selecting, and sharing quality content from other sources onto your website or social media pages. Some examples of curated content include images and videos, statistics and infographics, quotable quotes from industry experts, links to blog articles, and social media posts from fellow content creators.
Brands use content curation to support their created content. But this doesn't mean that you can share just about any information that you stumble across. Instead, you need to carefully select which topics or posts would be valuable for both you and your audience.
There are five types of content curation:
The most common type of content curation, this allows companies to gather all relevant content about a topic in one place.
Brands present a curated timeline of events to trace the evolution of a specific trend.
Created and curated content come together to create a fresh and unique perspective on the topic.
Marketers highlight only the best insights about a trending topic. These usually come in the form of embedded tweets.
Curators synthesize relevant social posts and add their own insight.
But while content curation should supplement your content creation strategy, it shouldn't replace it. HootSuite recommends marketers share 60% curated content and 40% created ones. The goal of this strategy is to offer additional resources and discussion points for your followers to engage in. There are many advantages to using this marketing approach.
---
Why Should You Use Content Curation?
Time and Cost Saving
According to a report by the Content Marketing Institute, 49% of business-to-business (B2B) marketers agree that content creation stagnates their content marketing efforts. From research and writing to publishing and engagement, creating new posts simply takes time. And for 55% of marketers who have their own content creation team, it also costs a lot of money.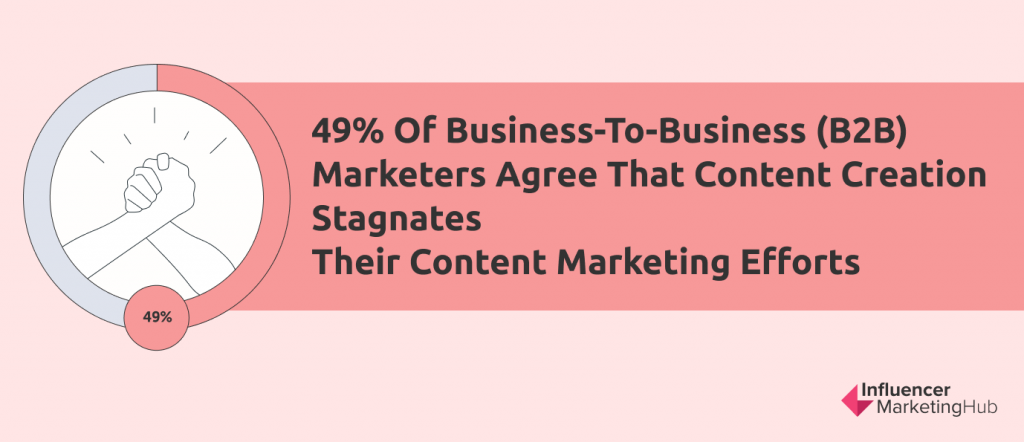 On the contrary, sharing articles and media is fast and convenient. Plus, you get to keep up with the volume of content that you need to produce as well as remain visible in your audience's feed for little to no cost. You can even repurpose your curated content into newsletters and emails.
---
Networking
Partnership marketing has been a fitting model for many brands these past two years. It not only widens a company's reach but also increases its revenue without further risk. Whether it's through commission-driven channels or B2B partnerships, more companies will leverage other people's content in 2024.
Content curation is a great way to give outbound links, which can impact your search engine optimization (SEO). This can be an opportunity to get noticed by brands that you want to network with, especially when you credit a post of theirs that you've just shared. And although you shouldn't expect a backlink in return, this can still spark a conversation that can potentially lead to a partnership.
---
Authority Building
One of the recent shifts in the marketing industry is its focus from brand name and product quality to audience needs. More brands want to position themselves as thought leaders or as a go-to source of information in their industry. Authority is also one of the key drivers of SEO and just about guarantees a first-page spot on search engines.
Providing industry-level insights through content curation helps establish your brand as a trusted filter for relevant information. It signals to audiences that you are in the know about topics that they care about, thereby improving your credibility within your field. This is an important position during this time, as the content arms race is louder than ever.
Now that you know how content curation can impact your brand, here are some ways to help you properly and effectively implement it.
---
How to Curate Content
Types of Content Curation Tools and Software
A survey by Curata finds that almost half of B2B marketers waste a lot of time curating their content from scratch. Using content curation software can help free up tedious tasks so that you can focus on the more creative and strategic aspects of content curation. These platforms for curating content come in different shapes and sizes.
RSS-based tools
These are software tools that aggregate content from various websites into a single location. Traditional RSS readers offer the most relevant results, which users must sift through for the most valuable content. Many RSS-based content curators return with targeted results that have been prioritized based on the needs of the brand.
An example of an RSS-based tool is Feedly. The platform introduces Leo, an artificial intelligence (AI) research assistant. You can "teach" Leo which topics are relevant to your brand, and the AI will curate the most useful content for you. Leo not only reads each article on your list but also prioritizes the most valuable keyword, trend, topic, and content.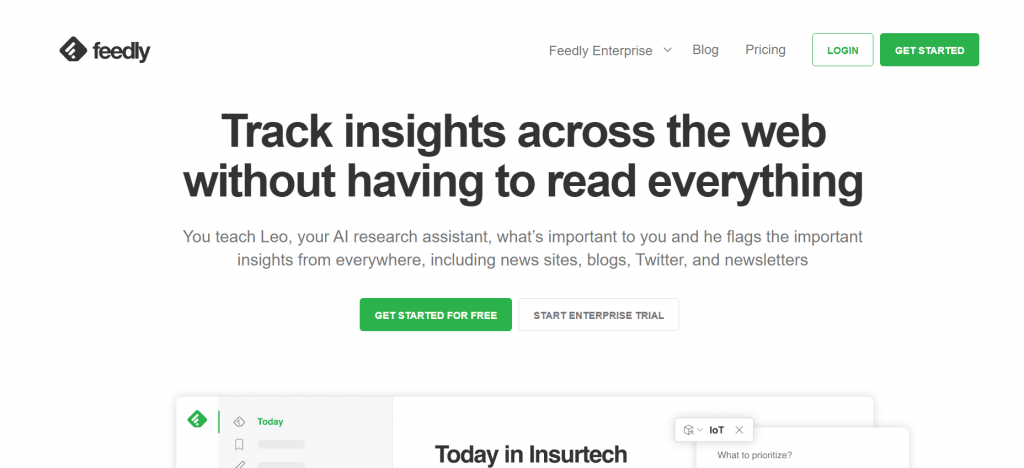 ---
Social bookmarking sites
These are platforms that allow users to tag websites, articles, and media with a browser-based tool so that they may revisit them later. Bookmark-based content curation software gathers content based on the websites that you've bookmarked or saved.
Scoop.it is an example of this. Using this advanced content engine's Bookmarklet page, you can add a piece of content to your browser bookmarks. You can categorize these bookmarked content and edit them by adding your own insights before publishing them to your page.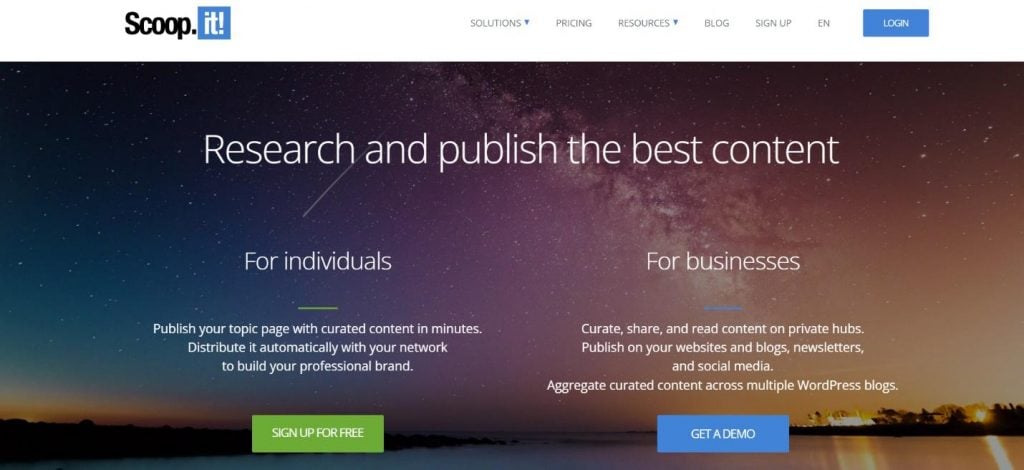 ---
Automated curators
Other types of software collate relevant pieces of content but still leave the curation to the users themselves. Automated curators, on the other hand, go the extra mile and curate the relevant articles themselves.
Case in point is UpContent. This content curator will analyze millions of articles each month and filter the best ones for your brand. You can narrow your searches through the platform's custom search parameters and even personalize your content shares. Moreover, seamless integrations within the platform make it easy for you to share your content.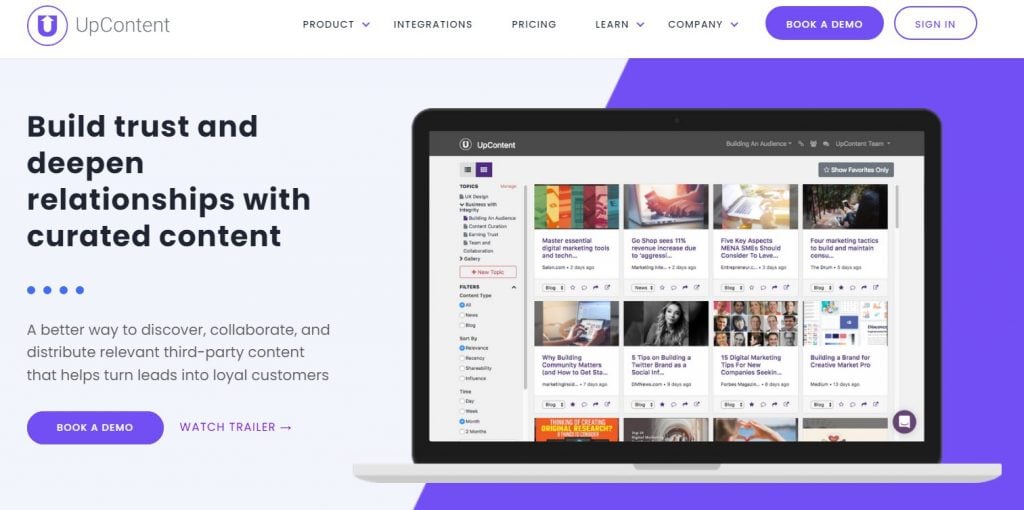 ---
Curated content generators
With millions of content out there, where should you start? This kind of platform helps you find content to curate, generating a list of valuable articles or media based on your keyword searches. These tools can even filter the most recent and updated pieces of content.
One example of this type of platform is SocialPilot. This software offers a list of content pieces to help you generate unique ideas for your content curation strategy. You can even filter the most recent content that's relevant to your audience. In addition, the platform has flexible scheduling options to help you share your curated content at the best possible time.
---
Publishing platform
Publishing curated content in a timely manner should be a priority if you want to increase your engagement. There are content curation tools that can help you publish your curated articles without the use of third-party social media platforms. These platforms can also help streamline the process of sharing across websites.
As a self-learning engine, Curata helps you discover the best content, organize them with just a few clicks, and publish them anytime and anywhere. This software even gets smarter over time, improving your search results according to the content you share and your satisfaction rate.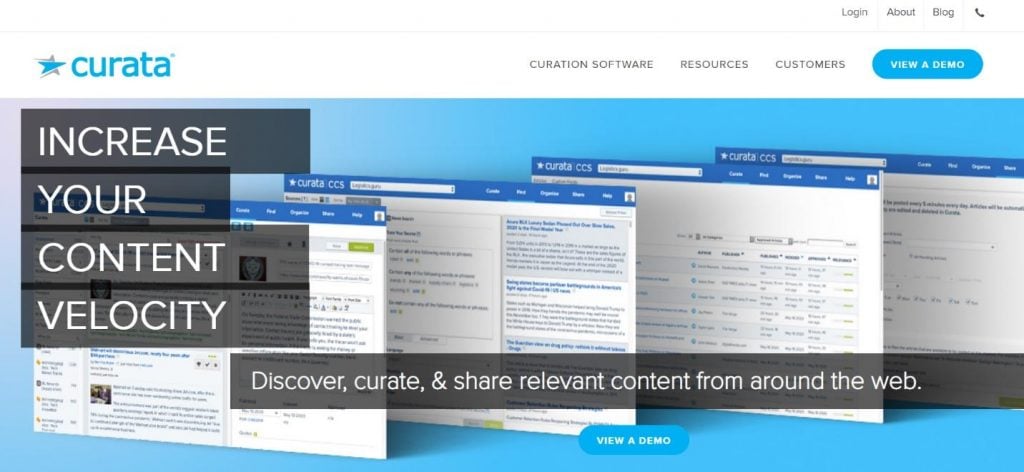 ---
Social media dashboards
You can also opt for an all-in-one platform that no longer requires you to navigate through an entire system. An example is ContentStudio. This social media management tool can help you explore the most relevant content through its Content Discovery module. You can even curate, publish, and promote your content through the same platform.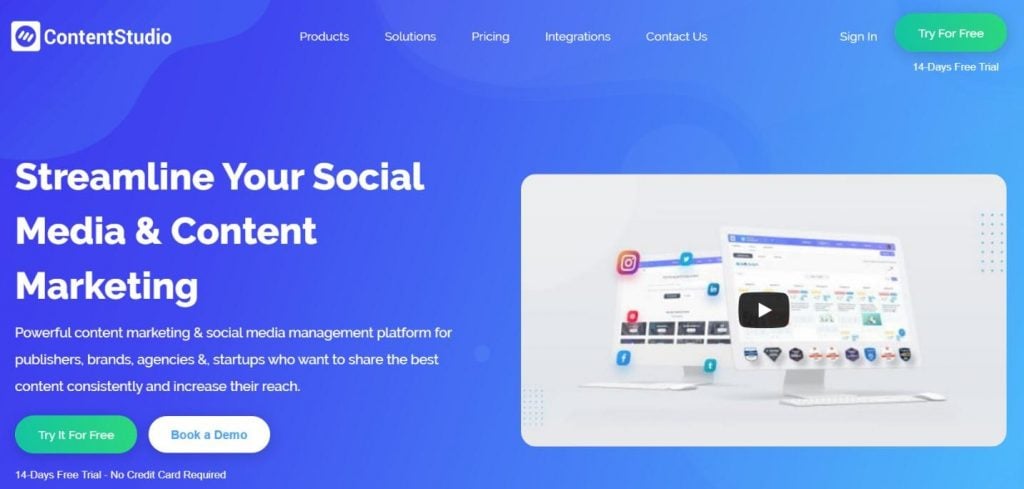 Frequently Asked Questions
What is content curation?
Content curation is the act of finding and sharing content across the internet with your own followers. Thanks to content curation, companies can deliver a wide selection of content to their customers. You can keep them engaged with well-organized and meaningful material.
What is an example of content curation?
Curated content is content from other brands and other people that you share on your own accounts. Examples of content curation include sharing a link to your blog post, created a round-up post of your industry experts, or even sharing someone's social media post.
What are the 3 pillars of content curation?
The 3 pillars of content curation and content marketing include strategy, creativity, and promotion.
What do content curators do?
What do content curators do? Well, a content curator will create original content. They will also curate content that's already out there, organize it, shoot it through their unique perspective, and then publish it.