What is a creator? Don't worry, this isn't a philosophical think piece about religion and spirituality. We're talking about content creators here. You've probably heard the term before, but what does it actually mean? Who counts as a creator and what is it that they do?
Content is vital to creating a strong online presence for your business and it can really make a difference to your bottom line. For instance, marketers who put effort into blogging are 13X more likely to see a positive ROI from their marketing efforts (HubSpot). And, according to Oracle, content marketing generates 3X more leads per dollar spent.
Content creators can help your brand boost awareness, get more leads, and increase sales. In this article, we're going to share exactly what a creator is and the types of creators available.
---
What Is a Creator and How to Improve Your Content Creation Skills:
---
What Is a Creator?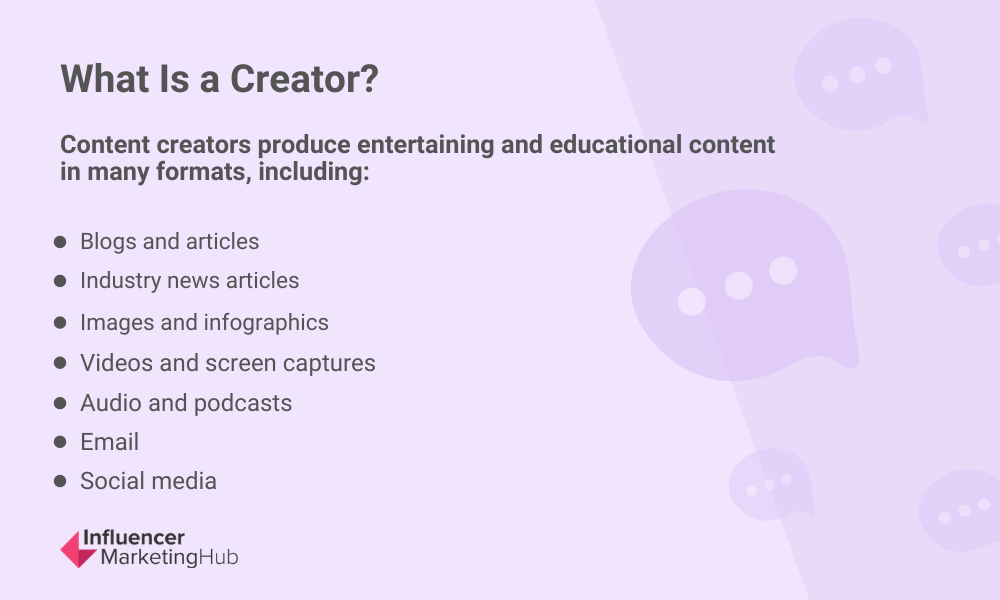 A content creator is someone who produces entertaining or educational content that meets the interests and overcomes the challenges of a specific target audience. This content can take many forms including:
Blogs and articles

Industry news articles

Images and infographics

Videos and screen captures

Audio and podcasts

Email

Social media
Content creators can create both online and offline content, but in this article, we'll be focusing on digital content creation.
Experienced content creators know that your brand's content has to align with your brand strategy and match your brand's voice. These creators are well-versed in creating performance-based content that will help your brand build trust, authority, and credibility while reaching the ultimate goal of generating more sales or conversions.
---
📌 Types of Creators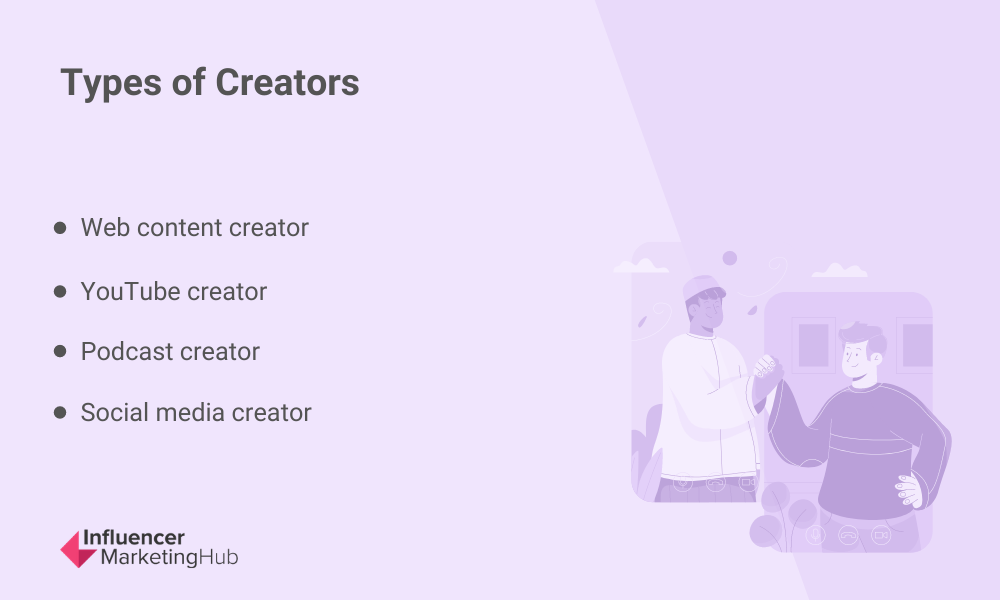 Creators cover a wide range of platforms, channels, and approaches to creation. We're going to cover 4 broad types of creators:
Web content creator

YouTube creator

Podcast creator

Social media creator
---
🌐Web Content Creator
When we talk about web content creators, we're referring to those who use written content like landing pages, blog posts, sales copy, and more. These creators could be generalists who work across content types or they could be specialists who opt to write only a specific type of content.
Each type of content has its own purpose, but at its core, written content is intended to inform and educate readers about a product or service, share why it's useful and how to use it, and push the reader towards a conversion (either directly or indirectly). Most of the time, creators repurpose content into other types of content to generate more leads and interest.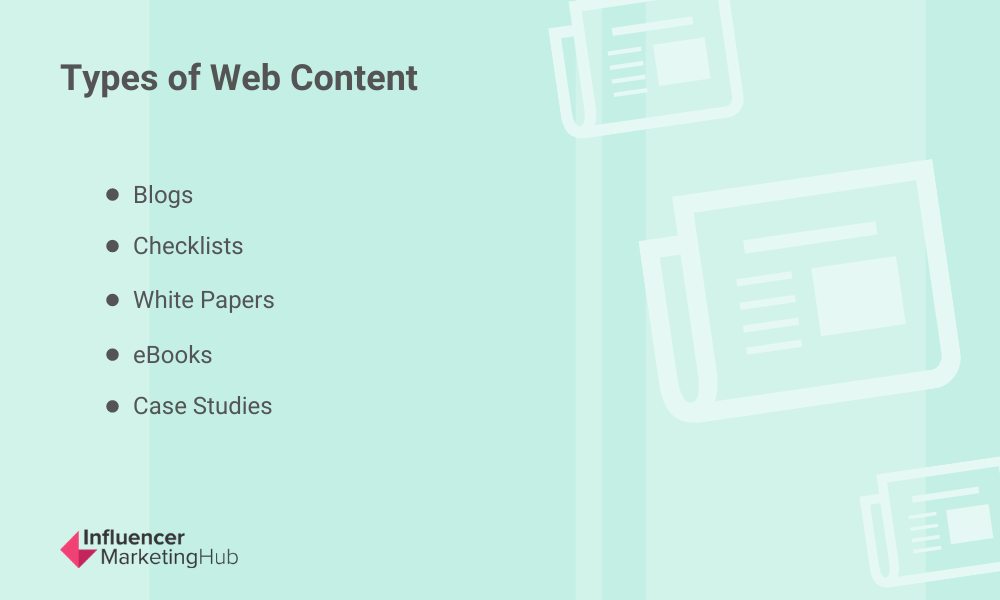 Here are a few types of content that web content creators might work on:
Blogs
Blogging is the most common type of web content. Businesses use their blogs to improve SEO and increase the chances that their site will be found in web searches for relevant keywords. Blogs can also be monetized using on-site ads or affiliate marketing.
Checklists
Checklists are user-friendly content that creators use to provide step-by-step instructions or easy to follow guides for readers about a specific process. Presenting complex processes in a checklist makes it feel more approachable and increases the likelihood that readers will be able to successfully complete a task.
White Papers
White papers are typically longform content that's used to provide detailed information to potential customers as well as to set up the writer (or their company) as an authority on a subject.
eBooks
Similar to white papers, eBooks are another type of longform content that provides value to your audience. While white papers can be used as sales tools, eBooks generally are not. Instead, they're used to provide value and build trust.
Case Studies
Case studies are another common type of web content. They feature a specific client who has enjoyed success with a business's products or services. This is done by revealing the real-life application of a product or service. Case studies are a form of social proof that show potential customers the successes that your customers are having with your products and services.
---
▶️ YouTube Creator
YouTube started in 2005 as a collaboration between 3 former PayPal workers and has grown to be the second-largest website on the internet, after Google. YouTube is also the second-largest search engine on the internet, again, after Google. It's become the go-to platform for video content creators and there are several YouTube influencers who have made a name for themselves on the platform.
YouTube creators vary widely in the topics they cover, how they integrate into the YouTube community, and the way they approach content creation. Here are a few things to consider when looking to become a YouTube creator or trying to find one for your brand:
Size
YouTube channels managed by YouTube creators range from single-digit subscribers to subscribers in the tens of millions. What really matters for YouTube creators is having an active account. This means posting regularly and engaging with your viewers consistently.
Channel Focus
YouTube creators can either be the star of their shows or run things from behind the scenes, but it's most common for YouTube creators to be on-camera.
Production
While some YouTube creators have production teams with writers, editors, animators, and marketers, most YouTube creators take those roles on themselves, producing, recording, editing, and promoting their own content.
Partnerships
Many YouTube creators seek out partnerships with others on the platform as well as with brands and sponsors.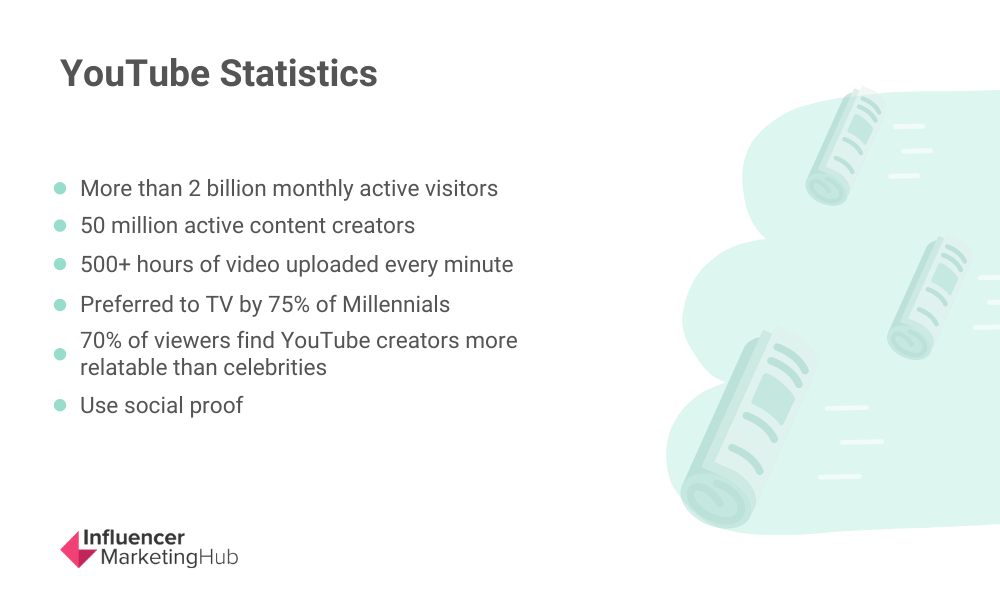 So, basically anybody can create a successful YouTube channel, but it's certainly not easy. YouTube has more than 2 billion monthly active visitors, 50 million of which are actively creating content. More than 500 hours of video content is uploaded to the platform every single minute. This makes the platform ridiculously competitive. But, given that YouTube has paid out more than $2 billion to YouTube creators over the years, the platform clearly understands the value of YouTube influencers.
And people love YouTube creators. In fact, 75% of Millennials prefer watching YouTube to watching television. This is, in part, because 70% of YouTube subscribers find YouTube creators to be more relatable than celebrities. Given that most YouTube creators are the faces of their channels and working with small teams or solo, this shouldn't come as a surprise.
---
🎙️ Podcast Creator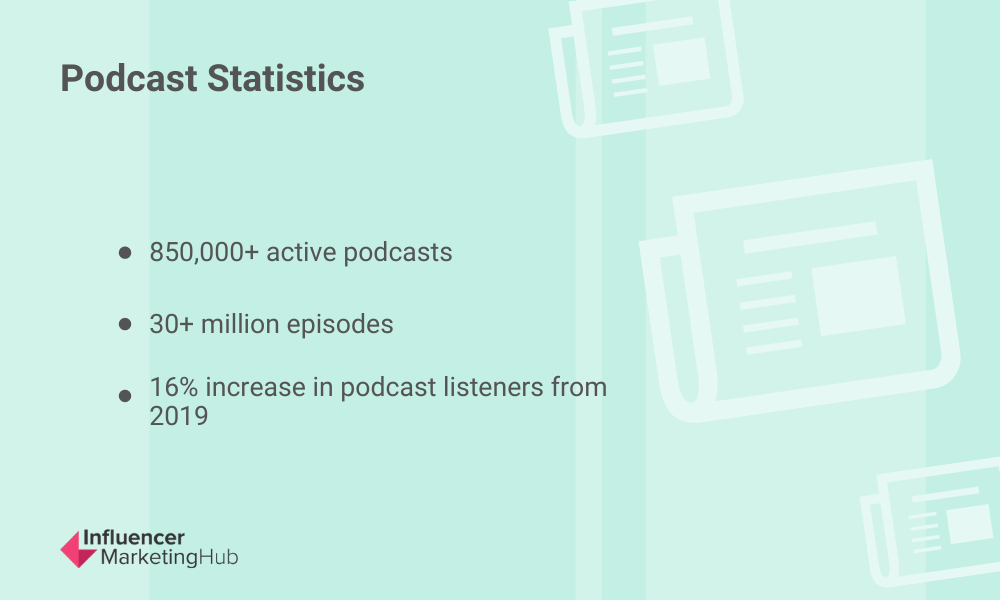 If it seems like everybody has a podcast these days, that's because they do. There are currently more than 850,000 active podcasts with more than 30 million episodes, according to Podcast Insights (2020). Plus, monthly podcast listeners increased by 16% from 2019 to 2020 (Edison Research, 2020). It's safe to say that podcasts are here to stay.
Similar to YouTube creators, podcast creators vary widely in the topics they cover, the way they engage with their listeners and the podcast community as a whole, and the way they approach podcast creation. Additionally, podcast creators can be entirely solo acts or have a team that works on production for them.
---
📱 Social Media Creator
There are few things that have changed the way we engage and communicate with each other the way social media has. According to We Are Social, there are more than 3.4 billion active social media users who spend nearly 2.5 hours on social media platforms, browsing and messaging every day (GlobalWebIndex).
Social media creators, broadly known as influencers, are great at building up engaged lists of followers. This makes them the perfect vehicle for sharing your marketing messages.
The type of content social media creators actually create will depend on the platform they favor. Instagram influencers, for example, tend towards beauty, health, fitness, and fashion because Instagram is such a visual platform. This makes it really easy to show off the beautiful imagery typically involved in those industries. Twitter, on the other hand, is an excellent platform for bloggers, politicians, comedians, and news sites due to its primarily text-based nature.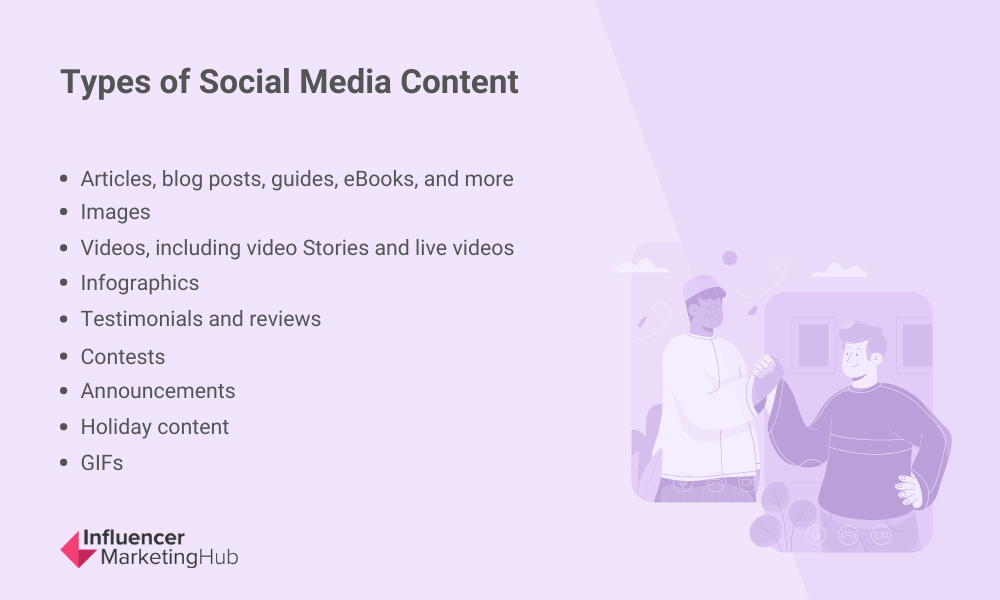 Here are a few of the different types of content social media content creators produce:
Articles, blog posts, guides, eBooks, and more

Videos, including video Stories and live videos

Testimonials and reviews

Contests

Announcements

Holiday content
---
👍 What Makes a Great Content Creator?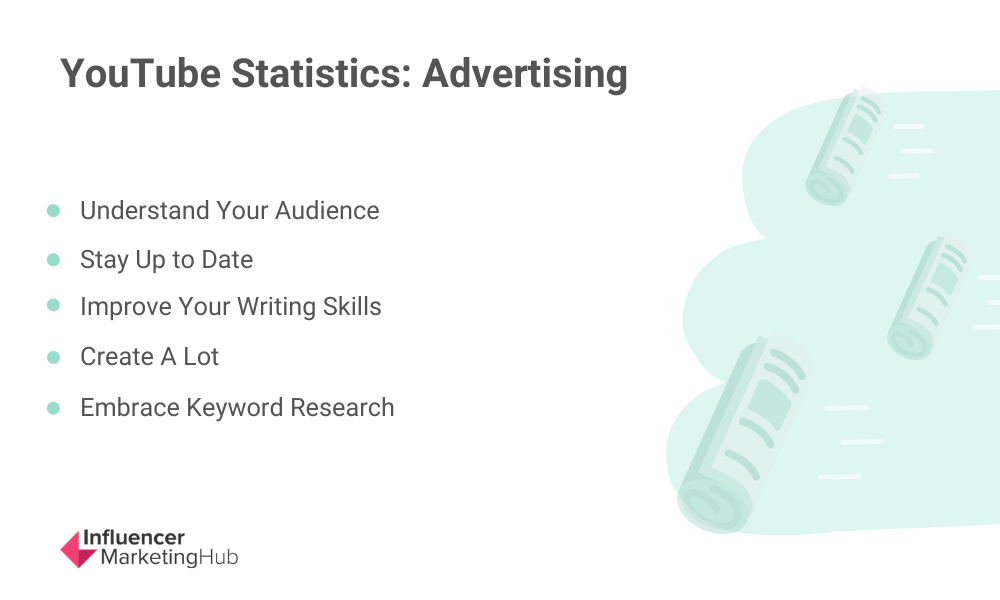 Now you know what a creator is, but what makes someone a great content creator? Here are 5 things we've found to set "okay" creators apart from those who are in demand as thought leaders.
1. Understand Your Audience
The most important thing you can do as a content creator is to fully understand your target audience. This goes deeper than demographics; you need to get into what drives the people you're creating content for. When you understand their interests and motivations it makes it all the easier to create content that really resonates with them.
You should also talk about your target audience instead of yourself. With your content, especially if you're trying to sell a product, you're really selling your audience the best version of themselves. And you can't do that if you're not talking about them, using your content to show them that you understand their pain points and can help them solve them.
2. Stay Up to Date
When you're a content creator, you have to be current and knowledgeable about your industry, including regulations and trends. This allows you to connect the dots between what's happening in the industry and how that plays out for your clients. You can stay up to date by following thought leaders on social media, setting up Google alerts for the latest news, and reading any trade publications relevant to your chosen niche.
3. Improve Your Writing Skills
No matter what type of content you create, you need to be a decent writer. Fortunately, there are tons of books and other resources that exist solely to help you become a better writer. Tools like Grammarly and Hemingway will give you key insights into your grammar, spelling, and word choices while Strunk & White's Elements of Style is a great style guide.
Don't stop at just improving your research skills and writing mechanics, though. Storytelling is wildly important for content creators. Stories That Stick by Kindra Hall is a book specifically for content marketers that's all about using storytelling to captivate and influence your target audience.
4. Create A Lot
More content = more traffic = more conversions.
Creating content for yourself isn't something you do only when you have the time. The more content you produce, the better your chances of getting found by potential clients. According to HubSpot, brands that publish blog posts 16 times per month get nearly 3.5 times more traffic than brands that only publish up to 4 times per month.
Even if you don't blog, you should take the time to create and publish in your chosen medium as much as possible. You want to be seen as a thought leader in your niche, right? How can you do that when you don't have a body of work that gets you showing up in search results for Google, YouTube, and more? Creating a content calendar is a great way to stay on track.
5. Embrace Keyword Research
Creating content doesn't happen in a vacuum. You need to first know what type of content to create and how to make it appealing to readers and viewers. But you also need to make it appealing to search engines. Improving your writing skills, as mentioned in #3, is a great first step, but you also need to work on search engine optimization (SEO). This helps you be intentional about the keywords people use to find you and your content.
When you're creating content for yourself, think about what a potential customer would search to find you. If you're a creator in the beauty industry who focuses on organic or green products, for example, you'd probably want to target keywords like "organic skin care," "green skin care," or "sustainable skin care" and not simply "skin care." A subtle change can make a huge difference.
There are SEO tools that will make this process a lot easier and help you target the "high search volume, low competition" keywords that will really get your content ranked. We recommend SEMrush, but Ahrefs, SpyFu, and even Google's Keyword Planner are all great and helpful tools.
---
Creators Facilitate Conversation, Community, and Conversions
Content creators, regardless of the type of content they create, play an important role in marketing. For brands, the right content creator can put them closer to their target audience and help them develop and maintain high-quality relationships.
Frequently Asked Questions
What does a content creator do?
A content creator creates educational or entertaining content that meets the interests and tackles the problems of a specific target audience. The content that they create can be used offline or online. They can work on a wide range of channels and platforms such as social media, podcasts, YouTube or websites. Some of the most common types of content that they can create include blog posts, eBooks, YouTube videos, podcasts, guides and infographics.
What are the benefits of working with a content creator?
Content creators can help you to improve brand awareness, get more leads and boost sales. Content is key to creating a strong online presence for your business. Plus, good content can really make a difference to your bottom line. According to HubSpot, marketers who concentrate on blogging are 13 times more likely to see a positive ROI. With the right content creator, your brand will be able to develop and maintain closer high-quality relationships with its target audiences.
What makes a content creator good?
Firstly, good content creators understand their target audience and are knowledgeable about the industry. They know what drives their target audience and can create content that resonates with them. Secondly, they embrace keyword research. Great content creators know how to make their content appealing to readers as well as search engines. They are intentional about the keywords that they use and most likely will use SEO tools to help with this process. Lastly, they are also decent writers.
Are blogs effective for marketing?
Blogging is the most common type of web content and can boost SEO to increase the chances that a website will be found in the web searches for relevant keywords. According to HubSpot, brands that publish blog posts 16 times per month generate almost 3.5 times more traffic than brands that publish only four times per month. Blogs can also be monetized by using affiliate marketing or on-site advertisements making it a very valuable and effective tool.
Is it difficult to create a successful YouTube channel?
While virtually anyone can create a YouTube channel, it definitely is hard to create a successful one. The main reason for this is the fierce competition. YouTube has over 2 billion monthly active visitors of which 50 million are actively creating content. To add to that, more than 500 hours of video content get uploaded to YouTube every single minute. You might also need a production team with writers, editors, marketers and animators to help you produce, record and market high-quality content.