GIFs as a marketing tactic? Yes, please!
For too long, GIFs have been seen as merely a way to add color to your marketing content. But, did you know that GIPHY, and other GIF search engines like Gfycat and Tenor, have special accounts for brands, agencies, and artists?
But why bother with a GIPHY brand account? Don't worry, we'll answer that question in a minute. You'll also find out why you should create a GIF strategy, how to create a brand channel on GIPHY, how to get started with GIPHY advertising, and more.
---
How to Use GIFs and GIPHY Marketing to Boost Brand Awareness:
---
What Is a GIF Search Engine?
A GIF search engine is a search engine that returns relevant GIF results. GIF search engines give brands the chance to create and distribute GIF content to interested users.
Every day, GIF search engines serve more than 10 billion GIFs to users across Facebook Messenger, WhatsApp, Tinder, iMessage, Slack, and more.
What Is GIPHY?
GIPHY is a GIF search engine serving more than 7 billion GIFs and stickers to 500+ million users every day. GIPHY powers GIF searches for many message and social media apps like Facebook, Instagram, TikTok, Twitter, and more.
---
Why Create a GIF Strategy?
People love GIFs.
More than 70% of people living in the United States use emojis, GIFs, and stickers in their daily communications (Harris Poll, 2017). The largest GIF platform? GIPHY. GIPHY's more than 700 million daily active users share more than 10 billion GIFs every day on the platform and other places where GIPHY is embedded (Variety, 2019).
Some brands like Red Bull, Jolly Rancher, Absolut, Benefit Cosmetics, and Gucci, to name a few, have already jumped into marketing partnerships with GIPHY. GIPHY provides brands a unique way to boost brand awareness. You just create a GIPHY brand channel and upload funny, relevant GIFs featuring your logo or product.
On board? In the next section, we'll walk you through getting set up on GIPHY.
---
How to Use GIPHY Marketing for Brand Awareness
As we've mentioned, many big name brands have already started working with GIPHY to boost their marketing efforts. Now it's your turn.
Here's how to get started with GIPHY marketing for brand awareness so you can leverage some of those 10 billion daily GIF impressions.
---
Create a GIF Brand Channel
---
Target the Right Keywords
---
Create Your GIFs
---
Track Your GIPHY Marketing Performance
---
4 Tips for Optimizing Your Brand's GIPHY Channel
GIPHY search results pages are themselves indexed by Google. Here's what comes up when you search for "dancing gif:"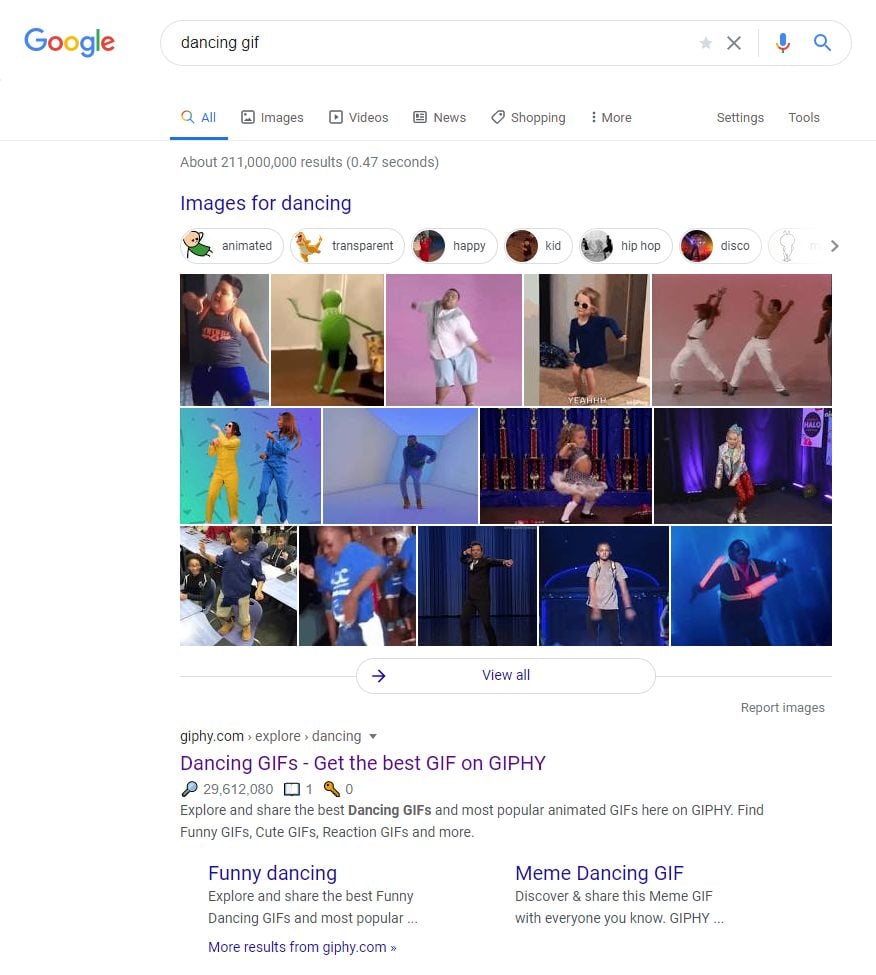 Notice that the very first result after the image results is from GIPHY.
This gives you a unique opportunity as a brand to turn your GIF marketing into an effective way to boost brand awareness even when people don't search directly on the GIPHY site.
Here are 4 tips you can use to optimize your GIFs and successfully use GIPHY marketing for brand awareness.
---
1. Use Relevant Tags
GIPHY's search algorithm can't read images. It relies on the keywords you use when tagging your GIFs to understand a GIF's context.
GIPHY recommends including brand names, the action that's happening in the image, and proper nouns when you're adding tags to your GIFs.
This is pretty helpful in terms of keyword research.
When you're searching for relevant tags to add to your GIFs, pay special attention to keywords that are descriptive of the content, used naturally, have a decent search volume, and are relevant to the GIF.
---
2. Limit the Number of Tags
Yes, we just told you that you should be using relevant tags for your GIFs and now we're telling you to limit how many tags you use.
Think of your GIF tags as meta data. While you want to include as many relevant search terms as possible, you're limited with what's going to actually be able to help you.
GIPHY recommends using 10 tags for each GIF and no more than 20.
---
3. Spy on Your Competitors
If you're running out of ideas for ways to tag your GIFs, you need look no further than your competitors on the platform.
This doesn't necessarily mean your product competitors, though that can give you some amazing ideas, too.
What we're talking about is your topic competitors or those who are competing for other tags that you're using.
Let's take a look at the tag "confused" on GIPHY. We'll go ahead and just click the first GIF that shows up for that keyword: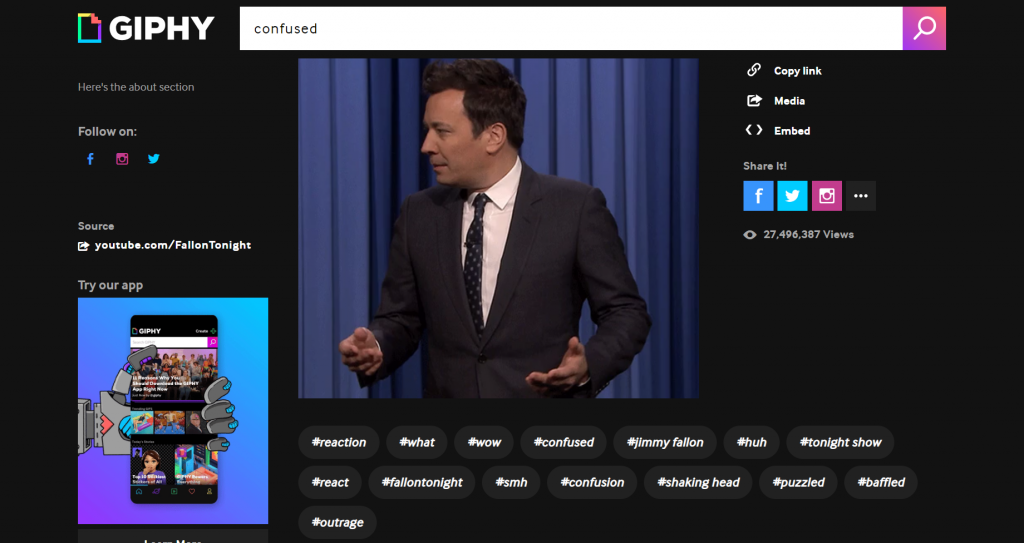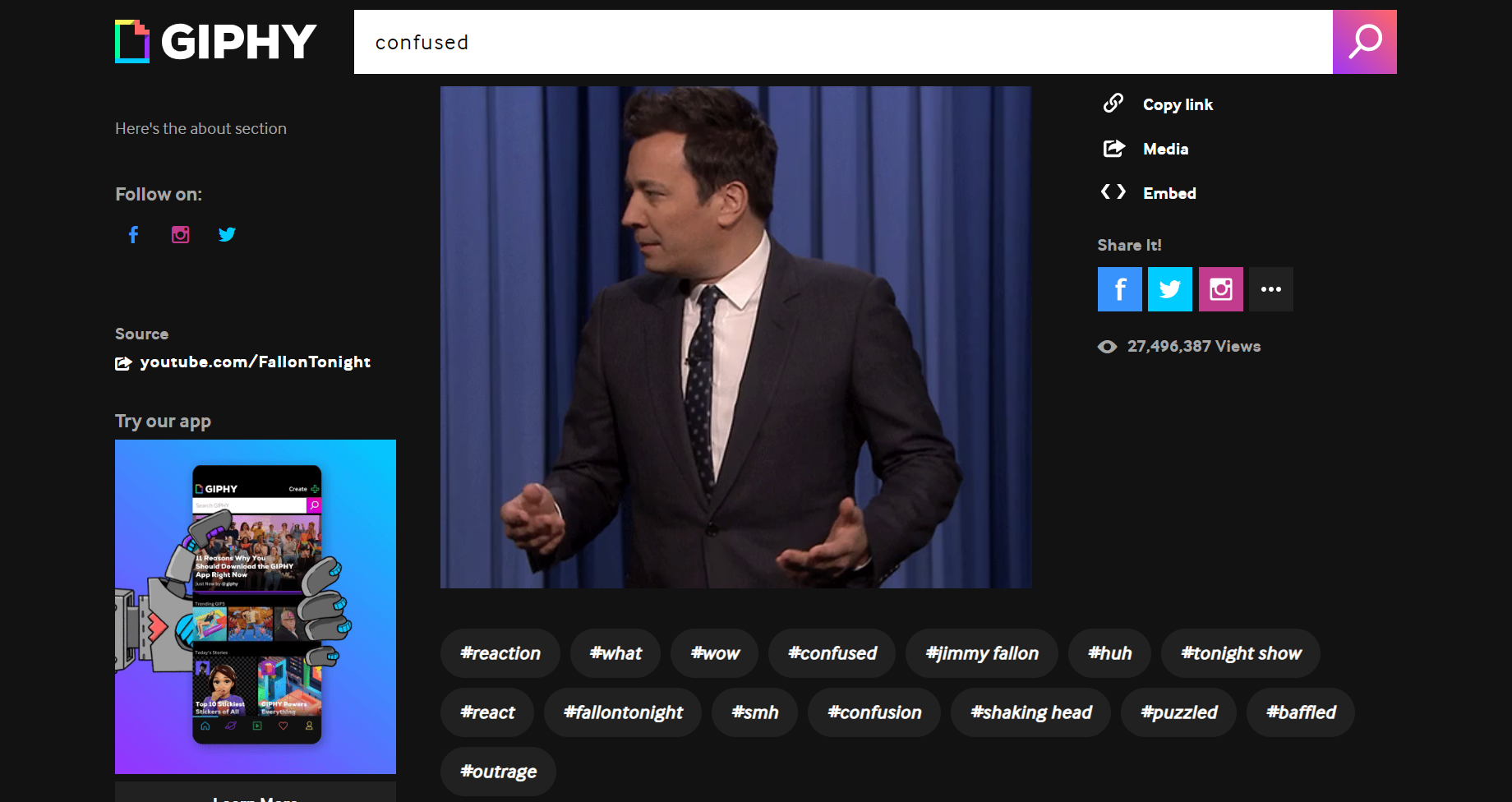 Underneath the GIF, you'll see the tags that were added to this GIF. From there, you have several ideas that you can use to tag your own GIFs.
---
4. Use Popular Branded Keywords
Typically, people aren't going to be searching your branded keywords in GIPHY. However, if your brand name and branded keywords get a decent number of monthly searches on Google, you're going to want to include them on your GIFs.
This could be your exact brand name, variations on your brand name, slogans and taglines, or even keywords related to your brand culture.
Take a look at your social media to see how followers are engaging with you on there. Are there keywords they're using that you could incorporate into your GIF marketing strategy?
---
Use GIPHY for Innovative Brand Awareness
You may not have considered using GIPHY marketing for brand awareness until a few minutes ago, but that doesn't mean it's too late to start.
GIF marketing is a fantastic opportunity to get your brand in front of millions of people every single day. And, you can use what you already know about marketing to create a solid GIF marketing strategy.
GIFs offer a fun and fresh approach to marketing. So, have fun with it!