Every marketer wants to improve their campaigns to make them more eye-catching and engaging. More and more, marketers are turning to GIFs to make that happen. Why? GIFs are a quick way to add attention-grabbing animations to your emails, landing pages, blog posts, and more!
In this article, we'll show you how to find the right GIFs to convey your message (or how you can create your own from scratch). We also have 15 GIFs for marketing tips that will help keep your GIF marketing on point and appropriate.
---
The Complete Guide to GIFs: How to Source Them and Use Them in Marketing:
---
What Is a GIF?
GIF stands for Graphics Interchange Format. It's a type of image file format that can store multiple image files and deliver them sequentially, creating an animated effect. GIFs were created by U.S. software developer Steve Wilhite in 1987 when he was trying to use animated images that didn't have a prohibitively large file size.
That's right, GIFs have been around more than 30 years—longer than the internet itself.
GIFs were an immediate internet sensation and have only gotten more popular since then. They're compatible with different operating systems and browsers and use an infinite loop that autoplays upon loading.
---
Benefits of GIFs in Marketing
GIFs are more interesting to the eye than static images. They add movement to your content and, if you use them the right way, make it a lot easier for your content to stand out in emails, ads, social media feeds, blog posts, and more.
More importantly: consumers love them. More than 700 million GIF-lovers use GIPHY, a GIF search engine, to share more than 10 billion GIFs every day on the platform and other places where GIPHY is embedded (Variety, 2019).
Why do consumers and marketers love GIFs so much? It really comes down to 3 things:
They're Mobile-Friendly
Remember, GIFs were initially created because Wilhite wanted to use animated images without enormous file sizes. Instead of adding tons of videos to your site, slowing your site's speed, and potentially negatively impacting the user experience, you can add GIFs. GIFs small file sizes will keep the engagement of videos without such a large bandwidth footprint.
They Enhance Learning
GIFs are backed by science. According to Psychology Today, visual learning is important and the brain is actually built to process images more quickly than it does words. In fact, according to research by the University of Minnesota, the brain processes images 60,000 times faster than words. So, if you're trying to teach your customers something or help them understand, GIFs are a much better way to do it than using text instructions.
They're Fun
Bottom line, GIFs are fun. Consumers love them. Using GIFs makes your brand seem more relevant and fun, too. So, while it's important to focus on those things that directly increase your click-through rates and drive traffic, GIFs will make your consumers happy. This, in effect, leaves them with a positive feeling about your brand that will end up doing all the things that you want your marketing to do.
---
How to Create Your Own GIFS
GIFs are animated images. That has to be hard to create, right? Nope! You don't need any filmmaking experience or anything like that to make GIFs that look amazing and boost engagement with your users. Here are 2 easy methods you can use to create GIFs of your very own.
---
Use a GIF Maker App
GIF maker apps are quite prolific. There are dozens that you can use to create your GIFs right on your smartphone. For free. With these tools, you upload images and use the GIF maker app to create a custom GIF. Plus, you can add other fun and engaging elements like filters, backgrounds, text overlays, images, emojis, and a lot more.
The process is also really simple. You create your account, upload images, set up how quickly you want the images to cycle, add any filters or overlays you want, and export your GIF. GIPHY even has its own GIF maker called GIPHY Cam.
---
Create a GIF From Video
But, what if you already have a video? How do you convert it into a GIF? Fortunately, there are tons of video-to GIF converters available via website or smartphone app. They vary in cost and features, but any one of them will help you get your video (or a snippet of your video) into GIF format.
---
Where to Find the Best GIFs
Not interested in making your own GIFs? That's okay, too! The internet is chock full of GIF search engines and libraries that host billions of GIFs you can use for marketing. Here are a few of our favorites:
1. GIPHY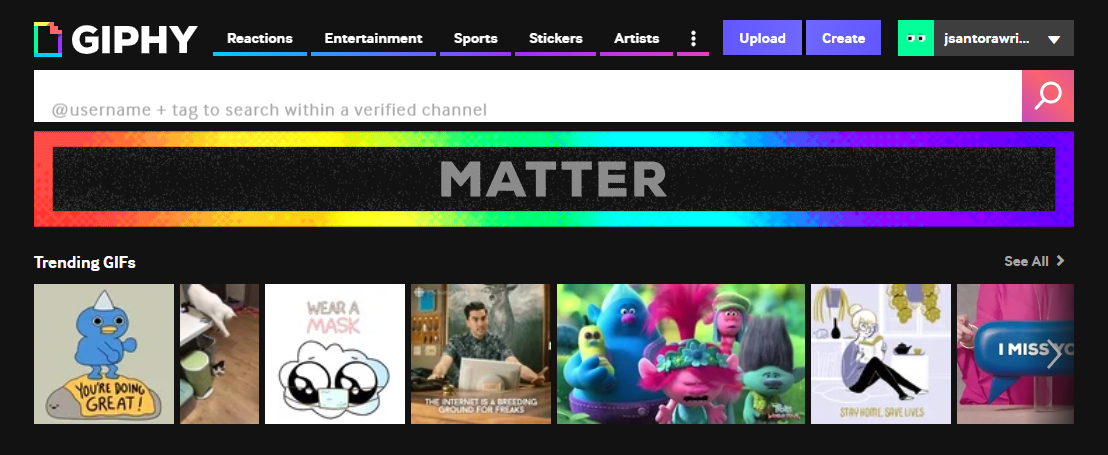 GIPHY has billions of GIFs and makes it really easy to find just the right one. You can search based on different categories or search for a specific keyword using GIPHY's search function.
---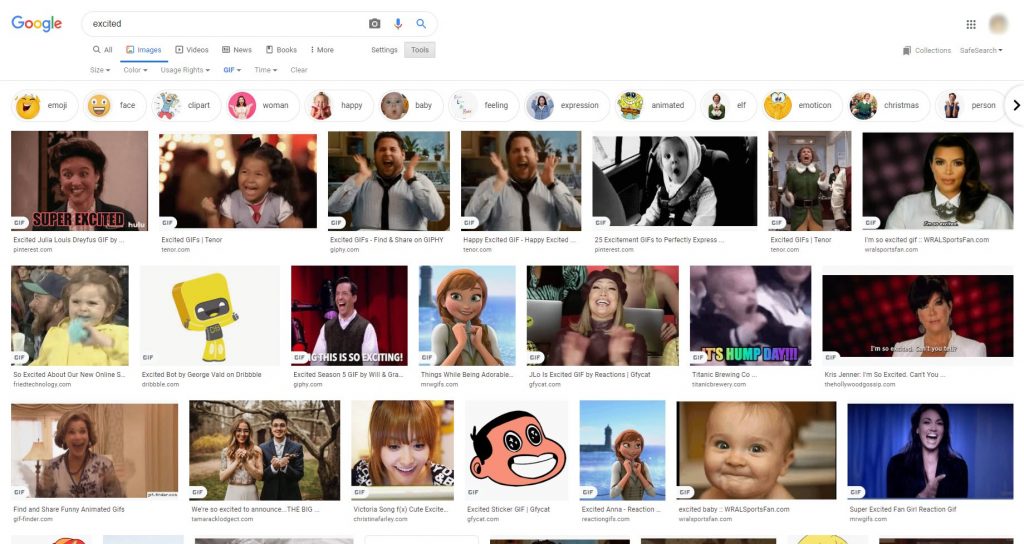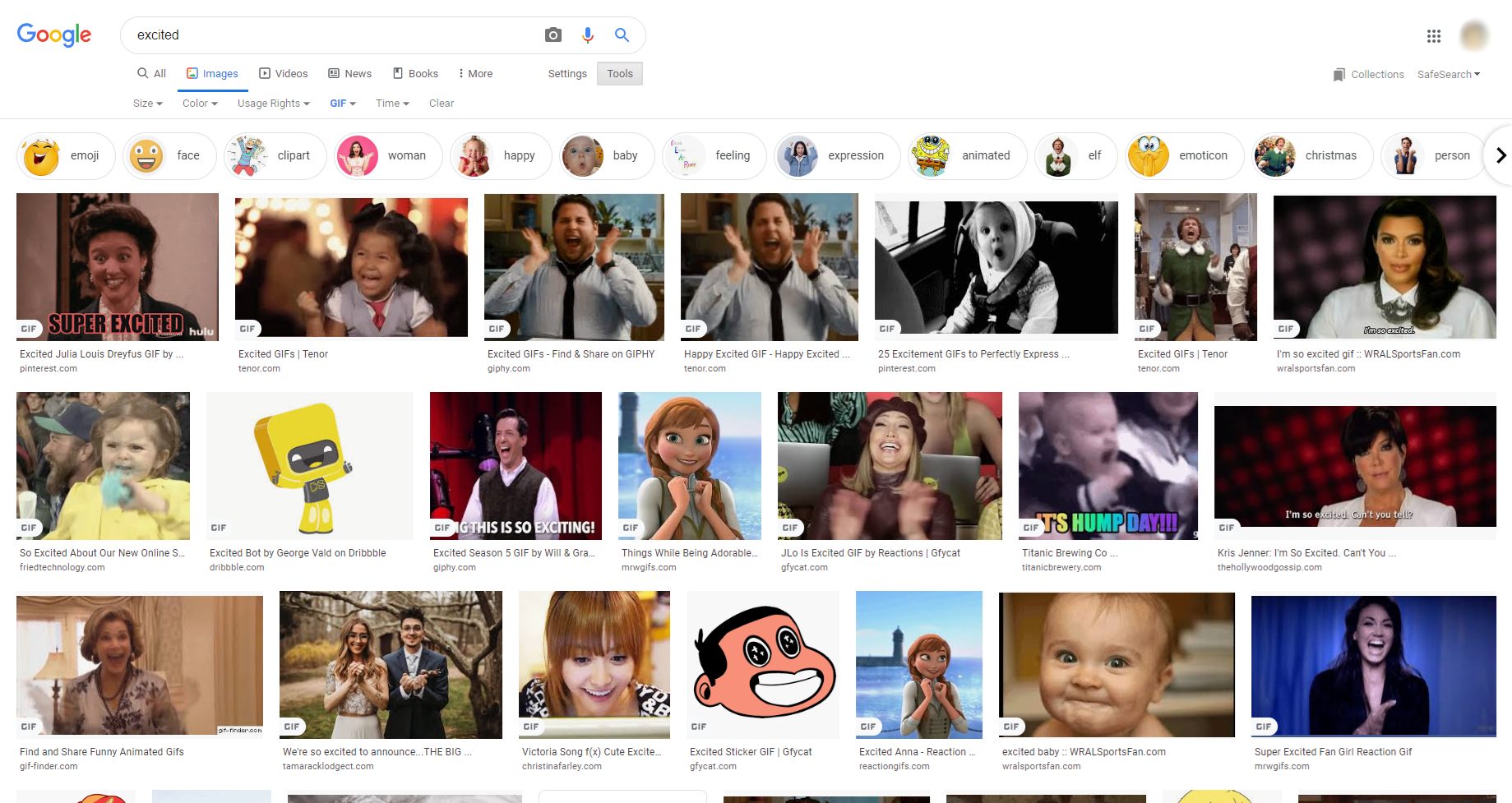 Google Image Search is great for finding just the right GIF. Simply search for the keyword you want to find and you'll get tons of images. To make sure you're only seeing GIFs, just click Tools under the search bar and choose GIF from the Type dropdown.
---
3. Tumblr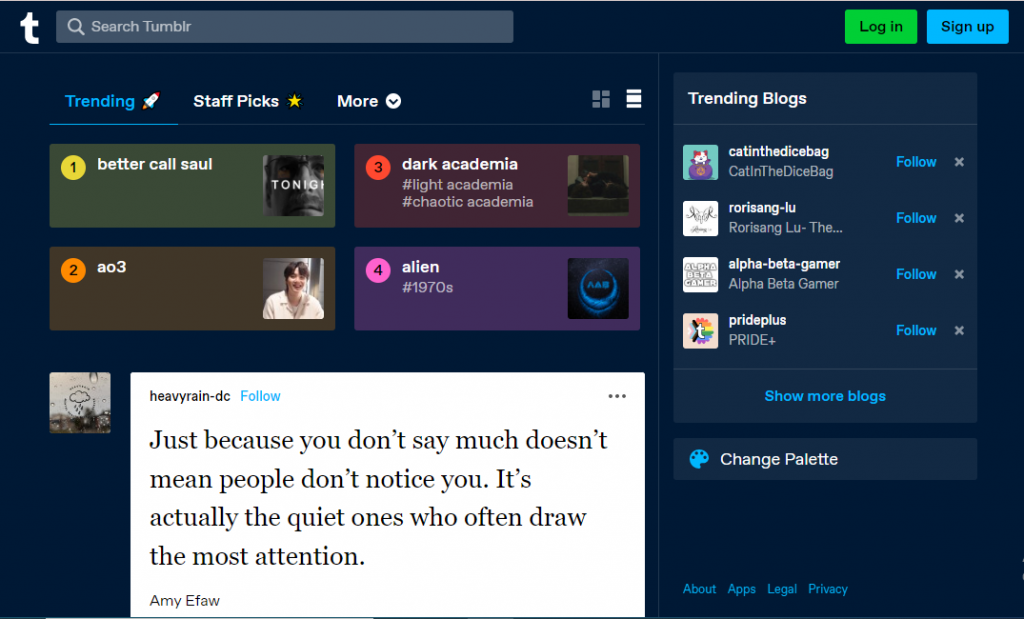 Tumblr is a great option for those times you want a GIF that isn't already used a million times in marketing campaigns everywhere. You can search for whatever keyword you want and you're sure to find tons of new and well-loved GIFs to choose from.
---
4. Imgur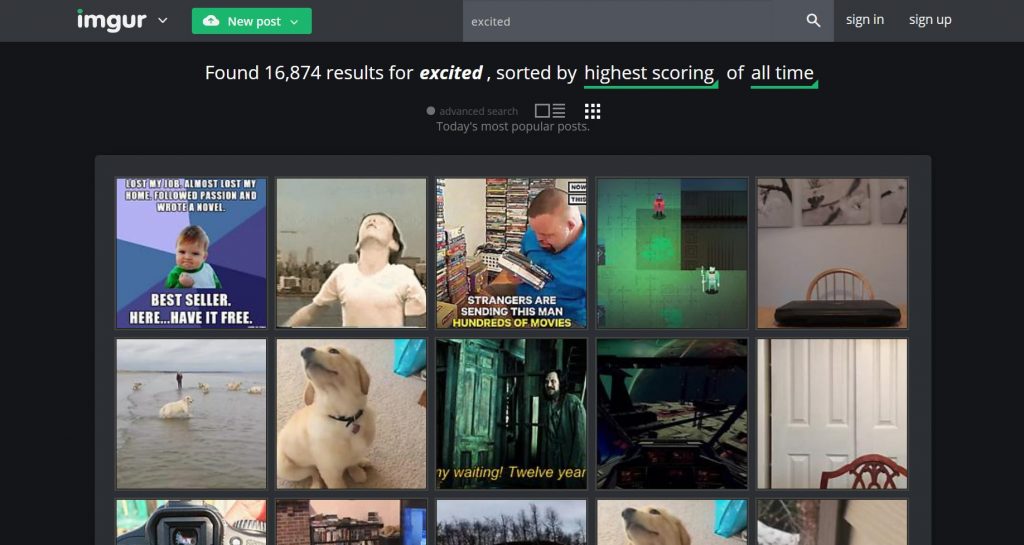 Imgur is a popular photo, video, and GIF site that has more than 150 million monthly users. You can check out the items that show up on the front page of Imgur, explore the tags along the top, or search by keyword.
---
When to Use GIFs for Marketing
Should you use GIFs in your marketing efforts? Many marketers say that it depends on your audience and even your industry. Apparently, it might be in poor taste for a funeral home to use GIFs.
via GIPHY
Having said that, you
know your audience
better than anyone else. So, would your audience appreciate GIFs? If you're targeting a tech-savvy audience (typically Gen X, Millennials, or Gen Z fall into this category), GIFs are something you should definitely explore. If you do decide to use GIFs, the sky's really the limit to what you can do with them. Here are 15 ways to use GIFs in your marketing.
---
1. Use GIFs to Show Your Brand's Personality
GIFs give brands a great opportunity to show off their distinctive brand personalities through animated images. There are several brands already doing it. Just a quick look at Pop-Tarts GIPHY channel, for example, shows us that Pop-Tarts is a quirky brand targeting the Gen Z market:
Denny's is another example of a brand personality clearly demonstrated through its use of GIFs. They're now known for their wacky social media presence and share tons of GIFs like this:
via GIPHY
---
2. Use GIFs to Show Off Your Products
If you want to show off your product, no matter what that product is, GIFs give you a fun and interesting way to do it. Starbucks does a great job of this with their GIFs:
via GIPHY
It also can make your product seem even more appealing to consumers than a standard image. Nike uses GIFs like this which shows off products in a high-energy way:
via GIPHY
---
3. Use GIFs to Show Users How to Do Something
Remember when we talked about how the brain processes visuals compared to text? That makes GIFs perfect to show users how to do something. You can use them to illustrate a process, give a tutorial, or even run through a recipe.
HuffPo uses GIFs for many things, but we really loved their GIF yoga series:
via GIPHY
---
4. Use GIFs to Thank Your Customers
Customers like to be appreciated. What's really cool is that you can say thank you with a simple GIF. Literally, a really simple GIF like this one from U by Kotex Brand:
via GIPHY
---
5. Use GIFs as a Mini Presentation
GIFs may be short, but they can pack a punch. NowThis, The Center for Investigative Reporting, and others use GIFs to share news stories and entice users to learn more:
via GIPHY
---
6. Use GIFs for Storytelling
Thanks to their animation, GIFs can be very effective and poignant when used to tell stories. Rebecca Mock creates powerful storytelling GIFs. Her work has been featured in The New Yorker and The New York Times. Here's a particularly poignant GIF of hers from NYT entitled "Main Street Blues:"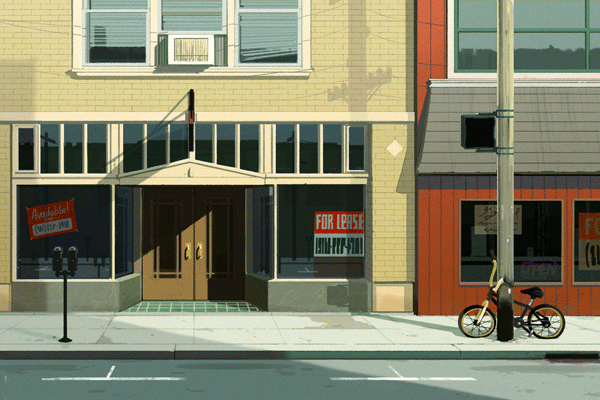 Such a simple GIF, but you can feel the desperation that Mock is trying to convey about small towns that have lost most of the businesses that made their main streets once so vibrant.
---
7. Use GIFS as Ads
Many brands are turning to GIFs as a way to create subtle brand placement ads. Converse partnered with actor Millie Bobby Brown (Stranger Things) to create a series of GIFs geared toward younger people who faced myriad emotions at the thought of heading back to school. The ads don't sell Converse, per se, but instead relies on product placement:
via GIPHY
Of course, you can also use GIFs in any of your
social media advertising
to give your ads an edge.
---
8. Use GIFs to Animate Your Data
Do you have charts and graphs that you want to share, but you want them to be more engaging? Turn them into GIFs! Your readers will appreciate the visual appeal of watching your charts and graphs take shape. Harvard regularly uses GIFs to animate data, but this tactic is also used by news outlets and other businesses across industries:
via GIPHY
---
9. Use GIFs to Tease a New Product or Offer
If you want to give users a sneak peek at a coming product, tease a big announcement, or stir up excitement over an upcoming sale, GIFs can help you do it. Here's an example of how you could use a GIF to announce a "mystery sale:"
---
10. Use GIFS to Show Your Company Culture
Who are you as a company? What's your team like? GIFs are a lighthearted and energetic way to show off your company culture and can go a long way to endear your followers to your brand.
Sleeknote is a brand that does this really well. They use custom GIFs in their emails and other marketing pieces, mostly featuring Rikke, their head of email marketing. If you follow their marketing, you'll get little gems like this that show you how fun-loving and excited (excitable?) their company is about marketing: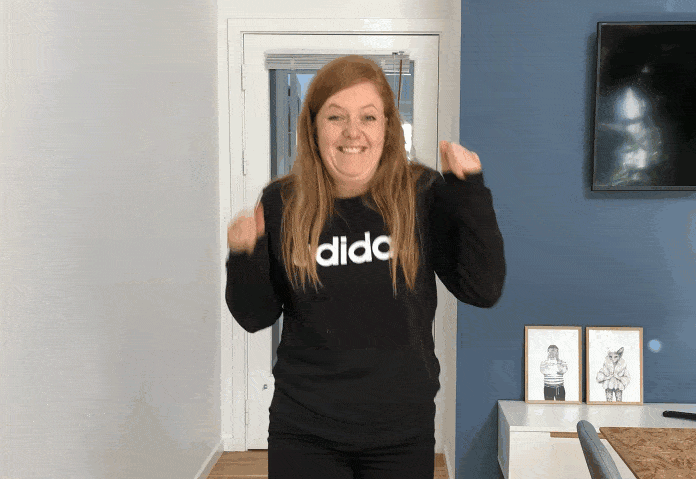 ---
11. Use GIFs in Customer Support
Customer support is an oft-overlooked place for brands to use GIFs to connect with their customers, but it's a social media trend that's gaining popularity. GIFs can save you a lot of time while still conveying a friendly and quick response to your customers. Since many businesses already use social media to provide customer support, it's only logical that using GIFs would follow.
Not only can you use GIFs to share easy-to-follow instructions (see #3, above), you can also use funny GIFs to show customers that your brand is made up of real people who want to help solve their problems. And what better way to say, "Your problem should be solved now" than this:
via GIPHY
---
12. Use GIFs in Community Management
If you run a Facebook Group or host Twitter chats, GIFs are a nice way to inject a little personality into your interactions with participants. While you don't want to use GIFs for every response, GIFs can be a fun addition to the discourse.
---
13. Use GIFs in Your Blog Posts
Images make your blog posts easier to read and understand because they break up the monotony of walls of text that can contribute to reader fatigue. While you probably already use a combination of custom graphics and stock images, adding GIFs to the mix will be a nice change of pace for your readers. Plus, they go a long way to let readers know who you are and what your brand's about.
---
14. Use GIFs in Your Email Marketing
Email marketing is one of the most effective marketing channels. And, it's a perfect place to start including GIFs that will keep people reading without bogging your emails down with huge file sizes. You can use GIFs in email marketing to show off your products, keep readers engaged, and so on.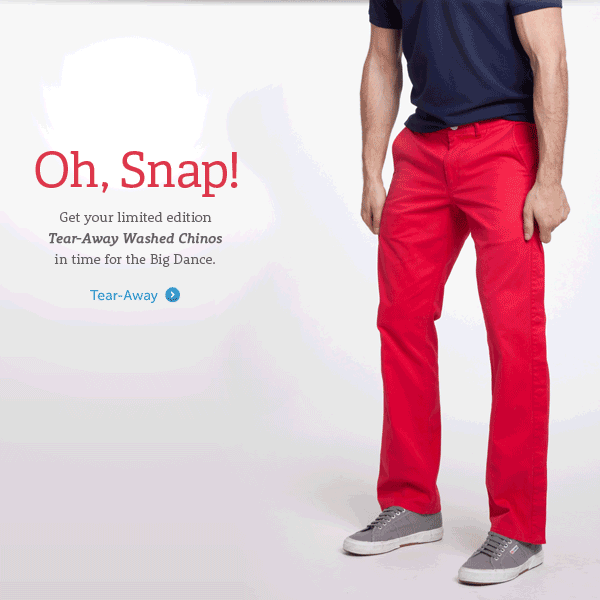 ---
15. Use GIFs to Highlight Your Call to Action
GIFs grab attention. That's what makes them so useful in marketing. And you can use GIFs to complement your calls to action, leading users deeper into your emails or further down a page on your site. Here's a great example from Ann Taylor: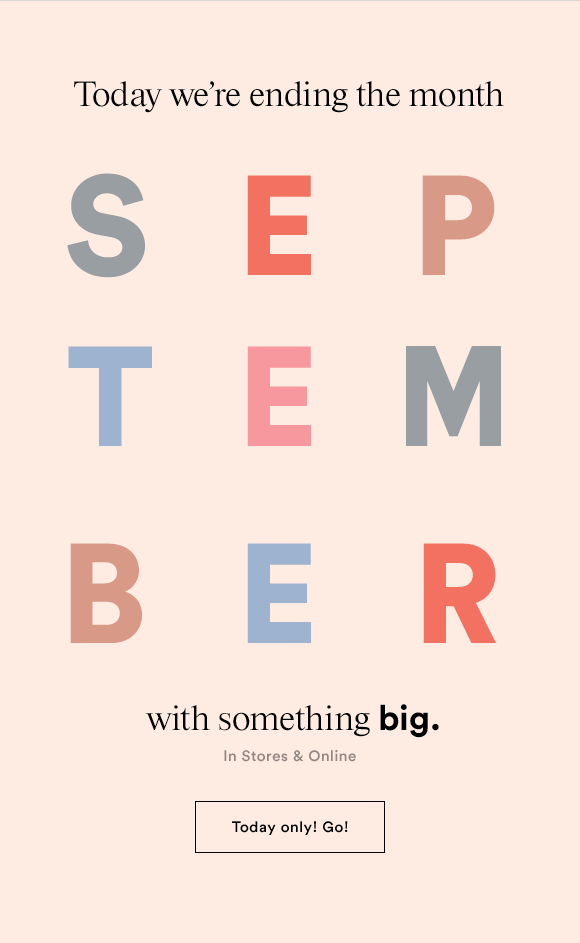 ---
Wrapping Up
As you can see, GIFs are valuable and versatile tools that you can add to your marketing toolkit. They're easy to make, small in size, and offer an affordable alternative to using videos. And, if you're not sure you can make awesome GIFs yourself, you can always hire a digital marketing agency to create GIFs your brand can use to drive conversions.