GIPHY artists are brilliant at giving life to static images, making them so much more engaging and entertaining. In this article, we're highlighting our 21 favorite GIPHY artists on the web.
What Is a GIF?
A GIF (pronounced "jiff," according to the person who created them) is just an image file. Just like JPEG or PNG file formats, the GIF format can be used for static images. What makes GIF a particularly special image format, though, is that it can also be used to create animated images.
You may be wondering why they're called "animated images" and not just "videos."
It's because GIFs aren't actually videos. They really are just a series of static images put together to look like a video.
They weren't even created to create animated images; that was just a happy accident.
GIF files hold multiple images at the same time. Then people discovered that the pictures could load sequentially.
The GIF was first published in 1987 and last updated a couple of years later in 1989.
Yeah, you read that right.
GIFs came before even the internet and haven't been updated since, though they quickly became the go-to visuals for just about every website created in those early days.
Can you even imagine a world without GIFs? We can't either.
Why Do People Use GIFs?
GIFs are another tool in your visual content toolkit. Static images break up the monotony of text and videos can help marketers get out complicated messages to the masses in an easy to digest way, but GIFs… GIFs are… art, quick reactions, bite-sized entertainment.
Does Your Business Need a GIPHY Marketing Strategy?
Probably. Here's why...
People love GIFs. According to a Harris Poll from 2017, 70%+ people living in the United States use emojis, GIFs, or stickers in their daily communications.
GIFs are a quick way to convey emotion and build a connection. And, since GIFs are animated images, they grab readers' attention and get them to engage.
Billions of GIFs are posted to social media every day. So, how do you find the best GIPHY artists? Easy! You check out this list of the 21 best GIPHY artists we're loving right now.
---
Top 21 GIPHY Artists Creating Awesome Content Right Now:
---
GIF Uploads:

924

GIF Views:

33.6B
Megan Motown is a Los Angeles-based illustrator and "gifluencer" with clients like Snap, GIPHY, Stitch Fix, Netflix, and more. She does custom animations and animated GIPHY packs for a fee and was named GIPHY Artist of the Year in 2019.
---
GIF Uploads:

328

GIF Views:

28.9B
Chris Timmons is an NYC-based director, designer, and Emmy-winning animator who loves making GIFs. Chris started at Nickelodeon before going on to work for Disney Channel, Cartoon Network, NBC Sports, and others. He does freelance work making animated GIFs and stickers for social media, as well as animating photos.
---
GIF Uploads:

686

GIF Views:

37.6B
Nora Fikse is a designer and GIF artist based in Norway. She makes illustrations, animations, and typography. She's worked with clients like Amazon, MTV, Kylie Cosmetics, Clif Bar, Proper Whiskey, and more.
---
GIF Uploads:

893

GIF Views:

16.1B
Ai was created by Peter Draw and inspired by Hanyu Pinyin. The name Ai represents the ideas of sorrow (哀) to love (愛). Peter created Ai after his grandfather passed away suddenly in 2000. He used the sweet character to provide love and encouragement for disaster survivors who lost loved ones in Costa Rica, Indonesia, Taiwan, China, and more.
---
GIF Uploads:

464

GIF Views:

15.9B
Sarah Palmer is a photographer and designer based in Santa Fe, NM. She has worked with clients like Giphy, Instagram, Google, Hulu, Skillshare, Warby Parker, Mercedes-Benz, Clinique, The Academy Awards, Burger King, and more.
---
GIF Uploads:

934

GIF Views:

10.2B
Jillian Adriana is a graphic designer from Kitchener, Ontario, Canada. She doesn't have much of a web presence, but in addition to graphic design, you will find her teaching others how to create.
---
GIF Uploads:

1.9K

GIF Views:

12.9B
Mert Keskin (a.k.a. Haydiroket) is an Istanbul-based creator. He mainly works with GIF, video, and collage and has worked with MTV, Converse, and Tumblr. His work has also been on display at Smithsonian's National Air and Space Museum, Museum of the Moving Image, and others.
---
GIF Uploads:

355

GIF Views:

9.5B
Romy of Muchables is an illustrator from the Netherlands, living in Auckland. She offers editorial illustrations, product design, murals, surface patterns, and illustrations for children's books.
---
GIF Uploads:

332

GIF Views:

10.3B
Trevor Holmes is a freelance video creator, illustrator, and animator based in Los Angeles. He's worked with clients like Wistia, Mozilla, Later, Arcadia Power, and more.
---
GIF Uploads:

134

GIF Views:

2.1B
Mia Page is an artist born and raised in Southern California. She loves all forms of art but has recently been working on comics and illustration. In addition to illustrations, comics, and animations, she also produces paper mache and ceramic pieces.
---
GIF Uploads:

122

GIF Views:

1.3B
Hilbrand Bos is a professional fashion illustrator and designer based in Amsterdam. His clients include Universal Studios, National Geographic, Monster, and more.
---
GIF Uploads:

253

GIF Views:

118.5M
Patakk is an artist and programmer from Zagreb, Croatia. His work is mostly generative art, but he's also done motion graphics with clients like Stella McCartney, Panda Bear, and others.
---
GIF Uploads:

79

GIF Views:

25.4M
Carl Burton is an animator, 3D artist, and illustrator. He finds inspiration from the world and current events around him.
---
GIF Uploads:

69

GIF Views:

6.2M
Matthew T. DiVito (a.k.a. Mr. Div) is a freelance motion graphics designer based in Boston, MA. He focuses on geometric shapes with interesting plays on light to great effect.
---
GIF Uploads:

459

GIF Views:

5.3B
Cindy Suen is an illustrator, animator, and GIF artist from Hong Kong, currently residing in New York. Her clients include Tumblr, Google, Disney, Cartoon Network, Nickelodeon, Sydney Opera House VIVID, Subway, General Electric, Nordstrom, Skippy Peanut Butter, KitKat, and more.
---
GIF Uploads:

23

GIF Views:

49.9M
Rafael Varona is an illustrator, animator, and art director based in Berlin and Amsterdam. His clients include Pepsi, Google, Intel, Adobe, Yelp, Snapchat, Bacardi, Washington Post, World Health Organisation, and others.
---
GIF Uploads:

117

GIF Views:

125.5M
Max Litvinov is a Russian game designer who transforms color pencils drawings into animations. Animator and illustrator Simon Buijs calls Max's style "playful weirdness," which is a pretty accurate assessment. He's worked on a short loop compilation (Aperitifs) and a short film (L'hydre d'Or).
---
GIF Uploads:

595

GIF Views:

247.4M
Zack Dougherty is a multidisciplinary artist based in Portland who runs the blog hateplow. He works with photography, project, and digital media. He brings life to lifeless buildings, paintings, and sculptures. He started created GIFs from his own photographs, doing things like stop-motion and 3D-style work.
---
GIF Uploads:

148

GIF Views:

212M
Christina Lu is a designer and animator born and raised in NYC. She works in motion, video, and identity. She has a background in graphic design and is currently a motion designer for Genius. Her clients include Beyoncé, Casper, Coca-Cola, Instacart, MTV, Playstation, Nike, and more.
---
GIF Uploads:

164

GIF Views:

818M
Julian Glander is a Brooklyn-based visual artist working in animated GIFs, comics, video games, interactive toys, short films, and illustrations. His clients include New Yorker, [adult swim], Disney, NYT Thanksgiving, VICE, and just a ton more.
---
GIF Uploads:

135

GIF Views:

73.3M
Robin Davey is a British illustrator, animator, and director based in Berlin, Germany. He works across print, digital, and broadcast media for a long list of clients including Apple, Google, Wired, Nickelodeon, TIME, Wall Street Journal, The Atlantic, and more.
---
How to Use GIFs for Marketing
Now that you've gotten a taste of the top GIPHY artists available, are you ready to add GIFs to everything?
If you're still not sure how you would use GIFs in your marketing efforts, here are a few ideas:
1. Use GIFs in Your Email Marketing
How do you capture and keep the attention of your email list? This is one of the most challenging aspects of email marketing.
If you're an email marketer, you need to understand your audience and know what's going to draw attention and get more sales.
We're here to tell you that GIFs can help.
GIFs add a little something (animation!) to an otherwise static message. They grab your readers' attention and hang on to it.
Here's an example of how Converse used a GIF in an email marketing campaign to show off their new product line: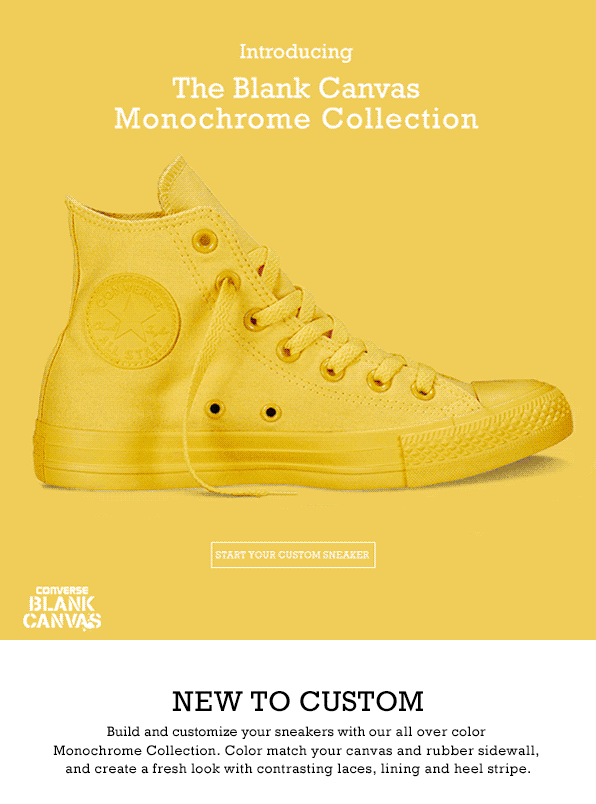 Talk about setting yourself apart from your competitors!
---
2. Use GIFs to Show Off Your Products
As with email marketing, you can use GIFs for product marketing. In fact, many brands already do
GIFs are perfect for not only demanding attention but also for focusing the viewers' attention on what you want to make sure they see.
Take a look at this GIF for an example of GIF product marketing: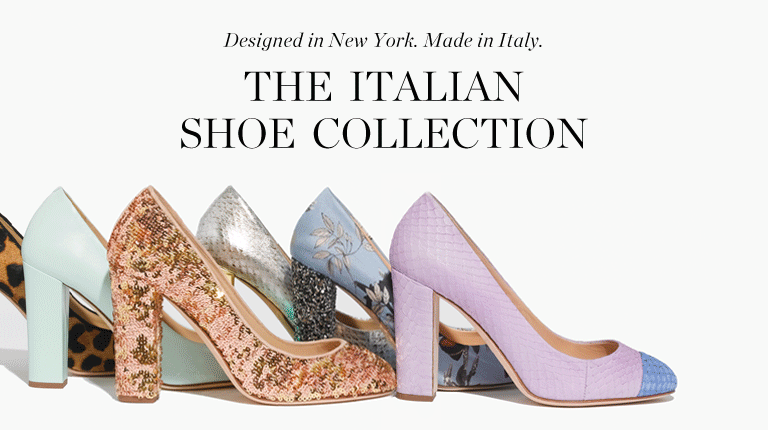 This brand shows off its product line, complete with side and rear views, in a single image file.
---
3. Use GIFs as Quick Explainer Videos
Instead of written instructions, many brands rely on GIFs to show users how to do less complicated processes using their equipment and tools.
Think about the last time you got a new smartphone. How did you know what the plug looked like and where you should plug it into your phone to start charging your battery?
You probably didn't read anything. But you did see an image on the phone's screen that probably looked a lot like the GIF here: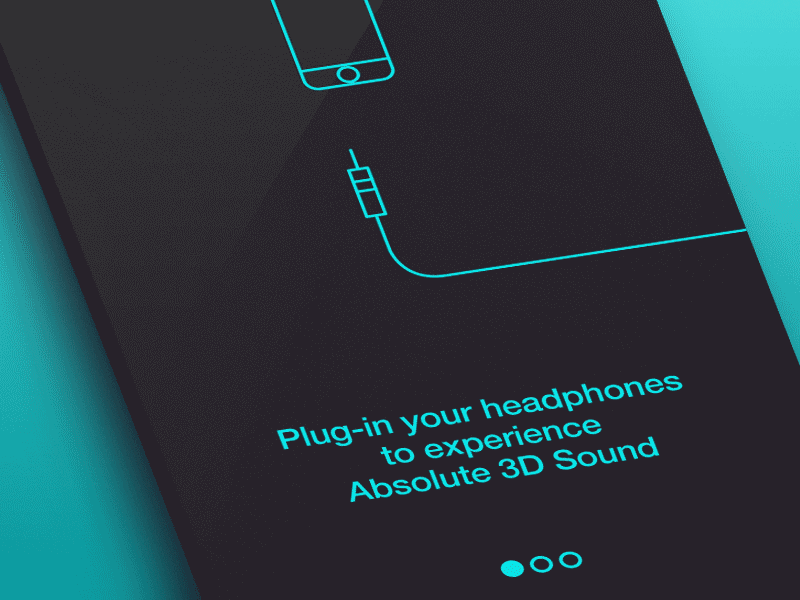 While static images would be helpful, a GIF gives you the unique opportunity to show the process smoothly, with the user needing to shuffle through paperwork.
---
4. Use GIFs as a Call to Action
Subscribe! Click Here! Sign Up! But make it disco: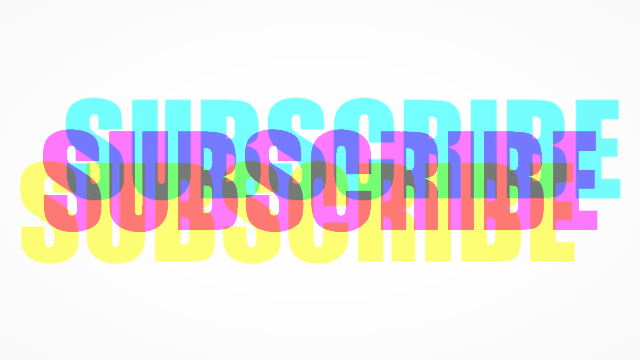 As a business owner, you know that you have to drive customers to do what you want them to do. If you don't, you're going to lose them.
When your site's visitors aren't given the next step, they're going to leave your site.
That's why a call to action is vital.
But, how do you make sure they see it?
Disco, like we said before.
A GIF can turn your missable call to action into a click.
---
5. Use GIFs on Social Media
GIFs and social media go together like peanut butter and jelly. And brands can join in on the fun.
Posting GIFs to your feed makes your brand feel more human and personable. Since people like to buy from brands that make them feel good, using GIFs could be an easy way to boost sales.
Just make sure your GIFs are entertaining and relevant, like the one DiGiorno uses in this tweet:
Hungry? Here's my GIF to you. pic.twitter.com/Jebpub14R1

— DiGiorno (@DiGiorno) May 6, 2015
Check out our social media marketing hub to learn more using social media for marketing.
---
Wrapping Up
People love GIFs. We love them so much that we've drawn a line in the sand between GIF-lovers who say "jiff" and those you say "it's not Jraphic Interchange Format!"
It's no wonder brands began adopting them in their marketing campaigns. It's not too late for you to join in the fun! Any one of the GIPHY artists on this list could build you custom GIFs to make your brand pop.