GIFs are a crucial part of internet history and culture. When they burst onto the scene back in 1987, few could have imagined GIFs would gain as much attention or live as long. Today, they are an internet mainstay. According to statistics website W3Techs, 22.7% of all the websites online use GIFs.
---
9 Websites to Visit for Amazing GIFs:
---
What is a GIF?
The first GIF known to man appeared in '87 and was created by Steve Wilhite. GIF stands for "graphic interchange format". GIFs are animations based on timed delays. They are also set in loops, a touch many will agree makes them all the more enjoyable.
---
GIFs are Versatile
The great thing about GIFs is that there's one for every moment. Sure, you wouldn't use a kitten GIF in an important business presentation, but you could create a stunning visualization to showcase data, like this one from Gifer:
And beyond presentations, GIFs can be used on social media and in emails. In fact, one of the more popular ways of driving clicks to sites is by using video GIFs in emails. They're engaging and demand interaction. Dell's research into the power of GIF in email found that they:
Can boost open rates by 6%

Can increase click rates by 42%

Drove a 103% increase in conversions

Grew revenue by 109%
---
Where to Find The Best GIFs
Finding the best way to communicate a specific message can be challenging, especially if you're trying to find a GIF that resonates with your audience, tone, and topic. Which is why we've curated a list of the best websites to find GIFs. Our list includes nine sites we've found to be filled with all the best GIFs to get your message across in style. We've also included a collection of interesting facts and figures about each site.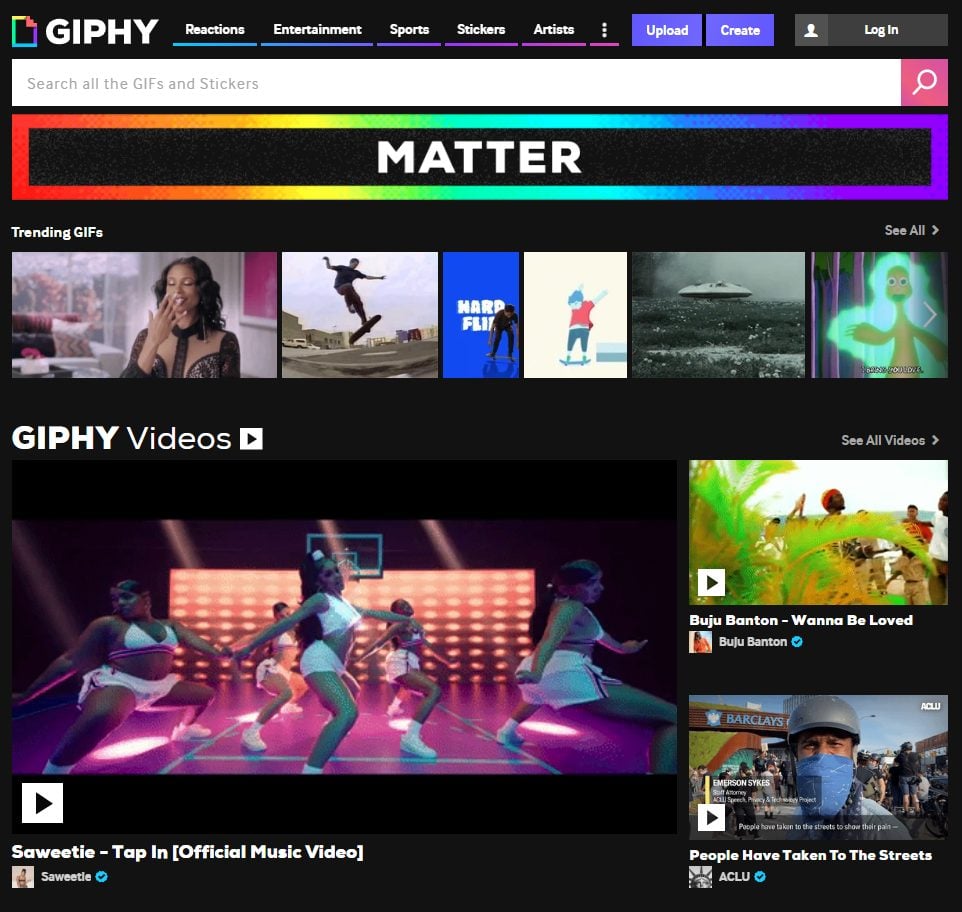 Giphy was founded in 2013 by Jack Cooke, Alex Chung and Henry Lockwood. Together, they created what we think is one of the most important GIF platforms in the world. Giphy's collection includes reactions, entertainment, sports, food/drink, animals, action, anime, cartoons, emotions, and gaming. While these categories are accessible through the main menu, clicking on the Categories link gives you access to everything from action to news and politics GIFs.
Giphy's also done more than most other GIF providers have to make their content accessible. By partnering with brands and various platforms, you can easily access GIFs from Giphy's extensive database, giving you a world of options to express yourself.
Giphy facts and figures:
---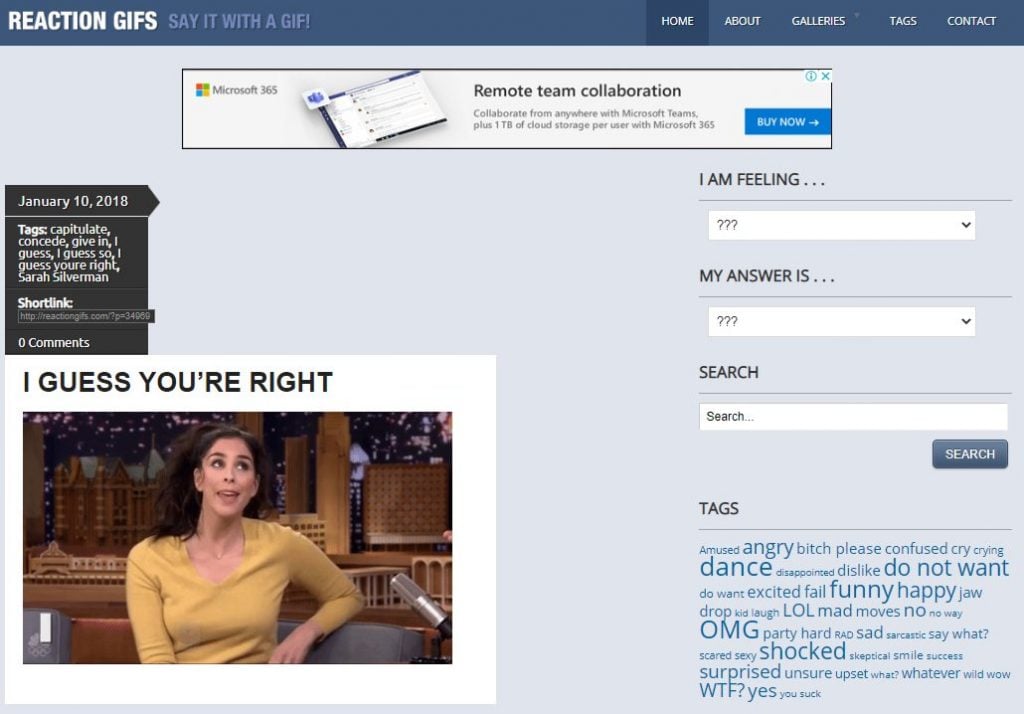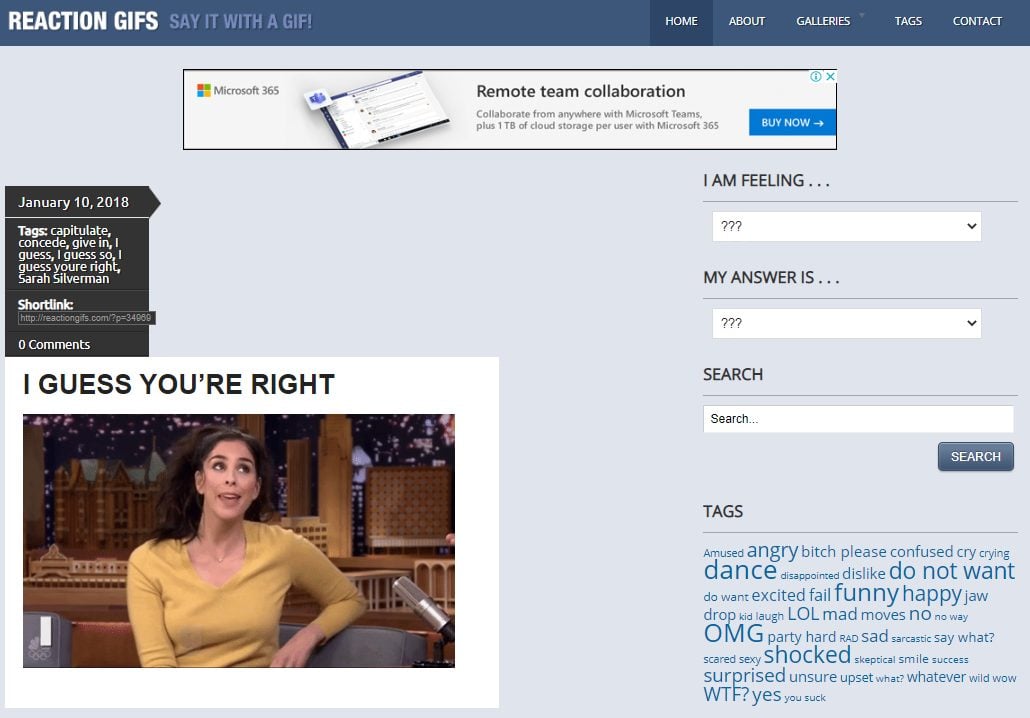 Reaction GIFs was founded in 2011. While little is known about the company online, they have some serious pull. You'll likely see main categories (Yes, No, OMG!, Dance Party, PopCorn GIFs, Lol, Love, and WTF?), but Reaction GIFs has more to offer. You'll find GIFs for everything in categories that range from "Abandoned Thread" to "Yuck". And if that's not enough to help you find the perfect GIF, you can use the "I am feeling…", "My answer is…" and search fields.
Reaction GIFs facts and figures:
Over 30% of all visitors come from the U.S.
---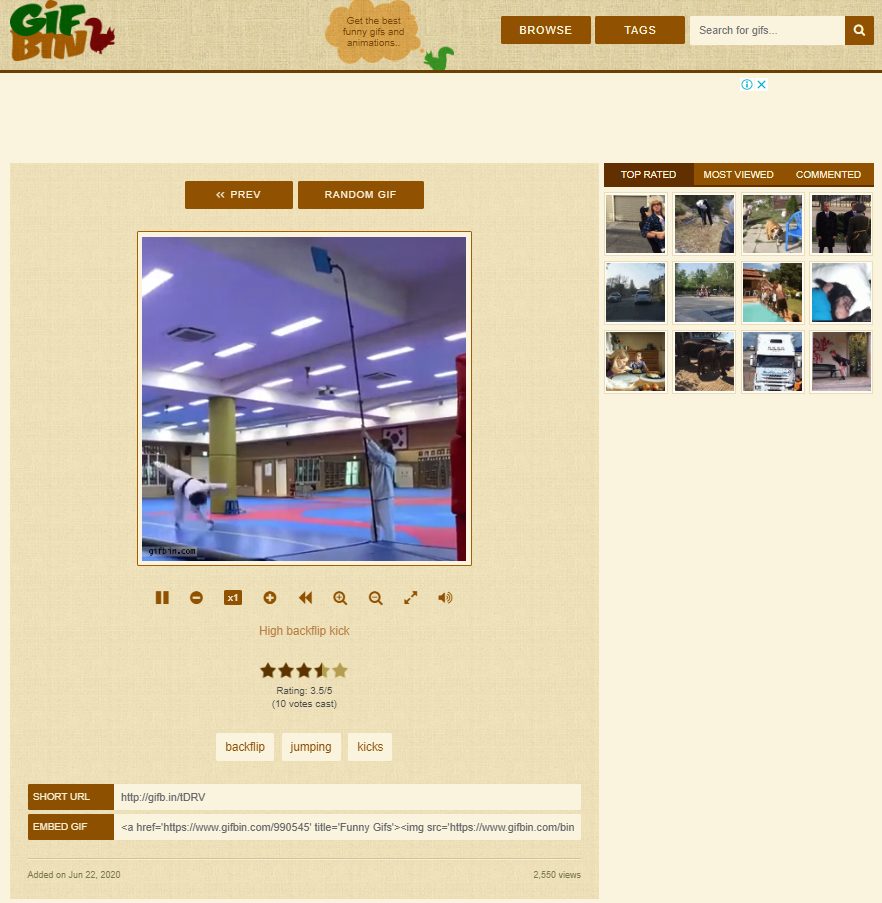 GIFBin first appeared online in early 2009. Since then, the site has been home to some of the most entertaining GIFs on the web.
GIFs are grouped by tag, and you can easily find almost any kind of GIF on this site. GINFBin also offers random GIFs. Similar to Google's "Feeling Lucky" feature, users looking to be entertained can click on the "Random GIF" button to be pleasantly surprised. If you're looking for the most popular GIFs, try the "Top Rated", "Most Viewed", and "Commented" tabs.
GIFBin facts and figures:
GIFBin staff create some of its GIFs

France and the U.S. make up a third of GIFBin's most frequent visitors
---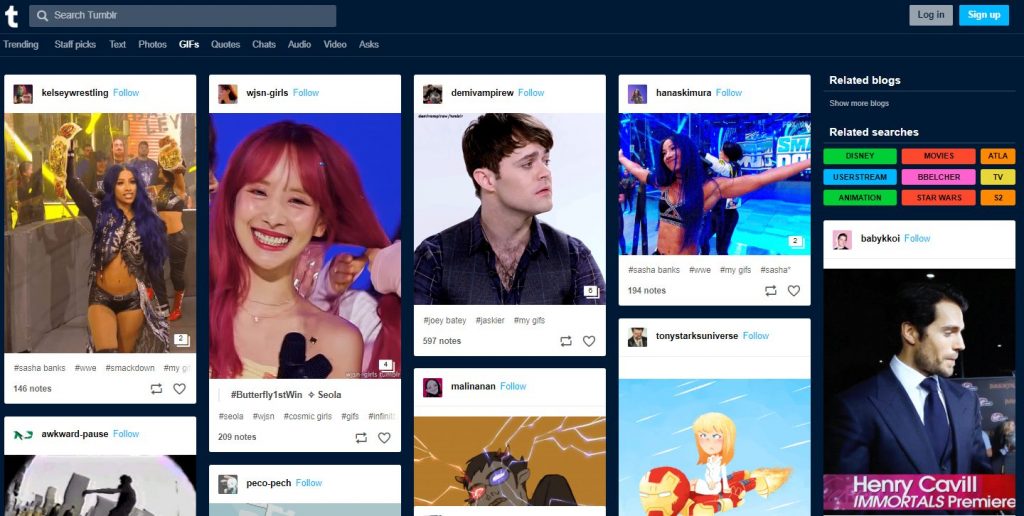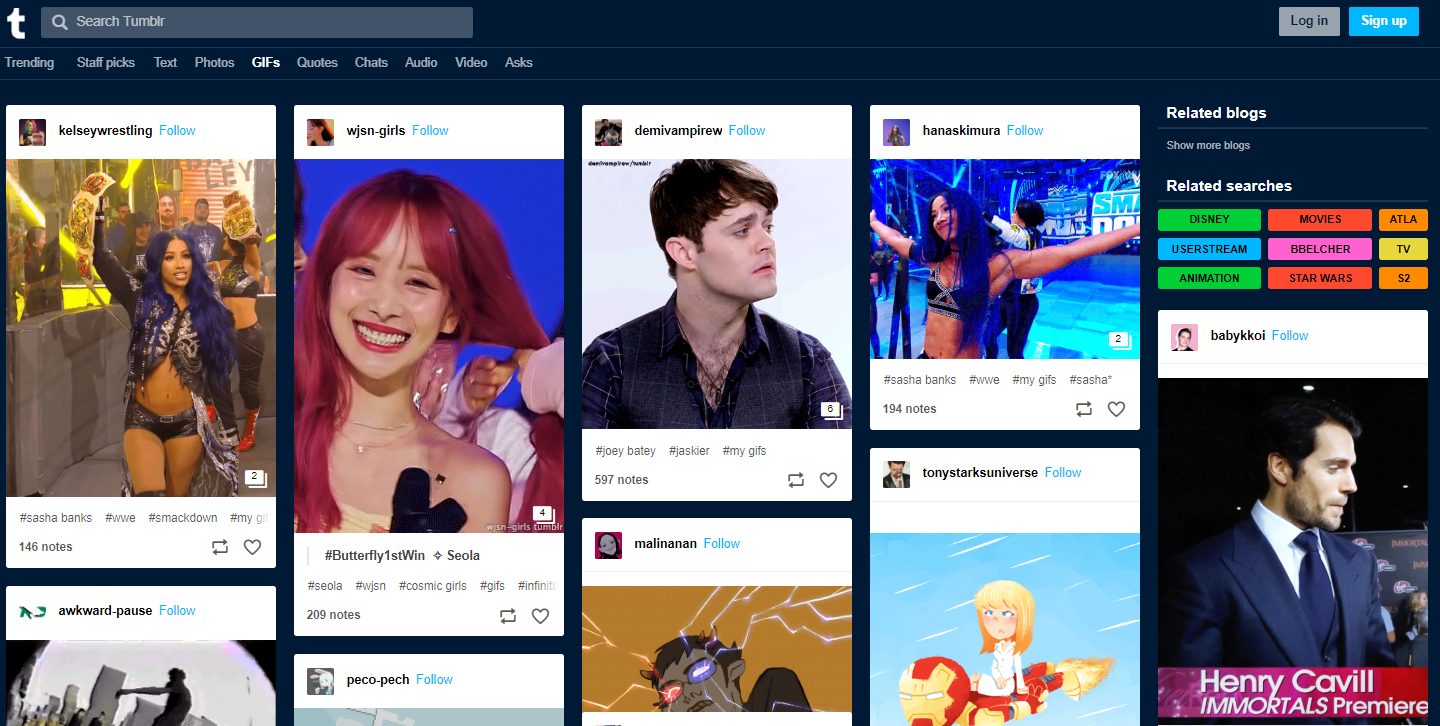 Tumblr was created in 2007 by David Karp. The platform is designed to operate as a hybrid of a microblogging and social media website. It's also home to more than microblogs and GIFs. You can use Tumblr to find quotes, photos, audio and videos. The site also comes with an "Asks" category. Through it, users can post a question for members to answer.
Tumblr facts and figures:
Over 15 million posts are published each day

Users can post text, photos, GIFs, videos, live videos, and audio

Available as iOS and Android apps
While Tumblr wasn't designed as a dedicated GIF resource, it's still a powerful tool. With over 500 million blogs and 15 million+ daily posts, you're able to search for GIFs for almost any occasion.
---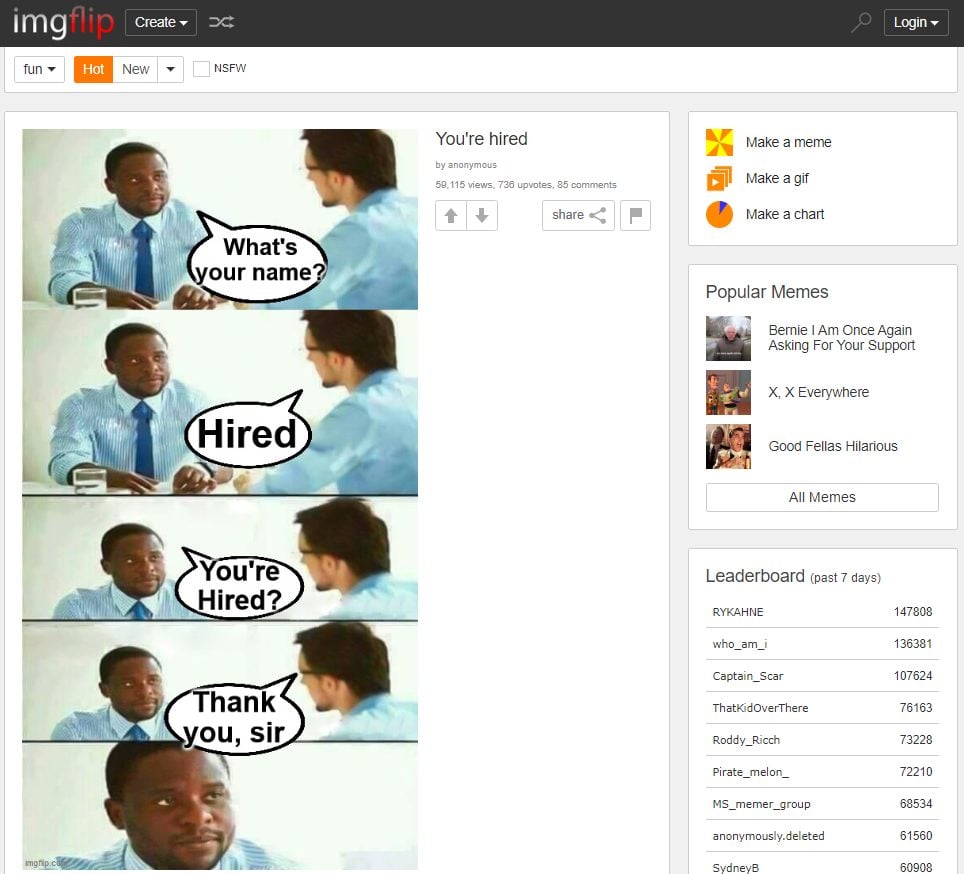 Imgflip first appeared online in 2011. The site allows users to create images, GIFs, and charts using their propriety online content generator. They've also built-in a social element that allows users to share content with friends. Imgflip offers a Pro plan, too. It gives users the ability to remove the Imgflip watermark from content, disables advertisements while on the site, provides more storage, better image quality, and longer videos.
Imgflip facts and figures:
Offers API and Slack integration
---


Gfycat was founded in 2013 by Robert Rabbat. It's a site dedicated to creating the best possible GIF experience on the web. Gfycat does this by investing in a solid infrastructure, including robust CDNs and some smart technology to optimize GIFs. Altogether, you'll gert a faster load time for GIFs, the ability to edit, analyze each frame, pause, reverse, and even slow down or speed up animations. Gyfcat GIFs also come in multiple formats.
Imgflip facts and figures:
Available as iOS and Android apps
---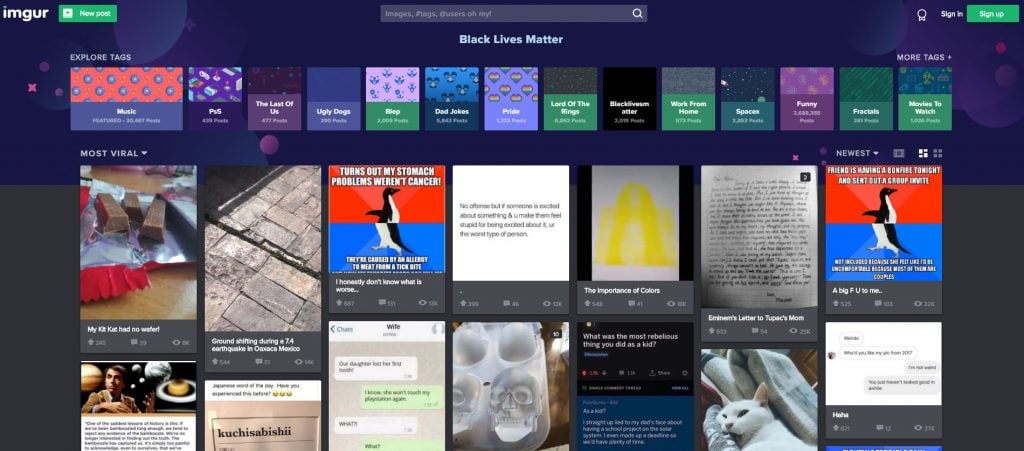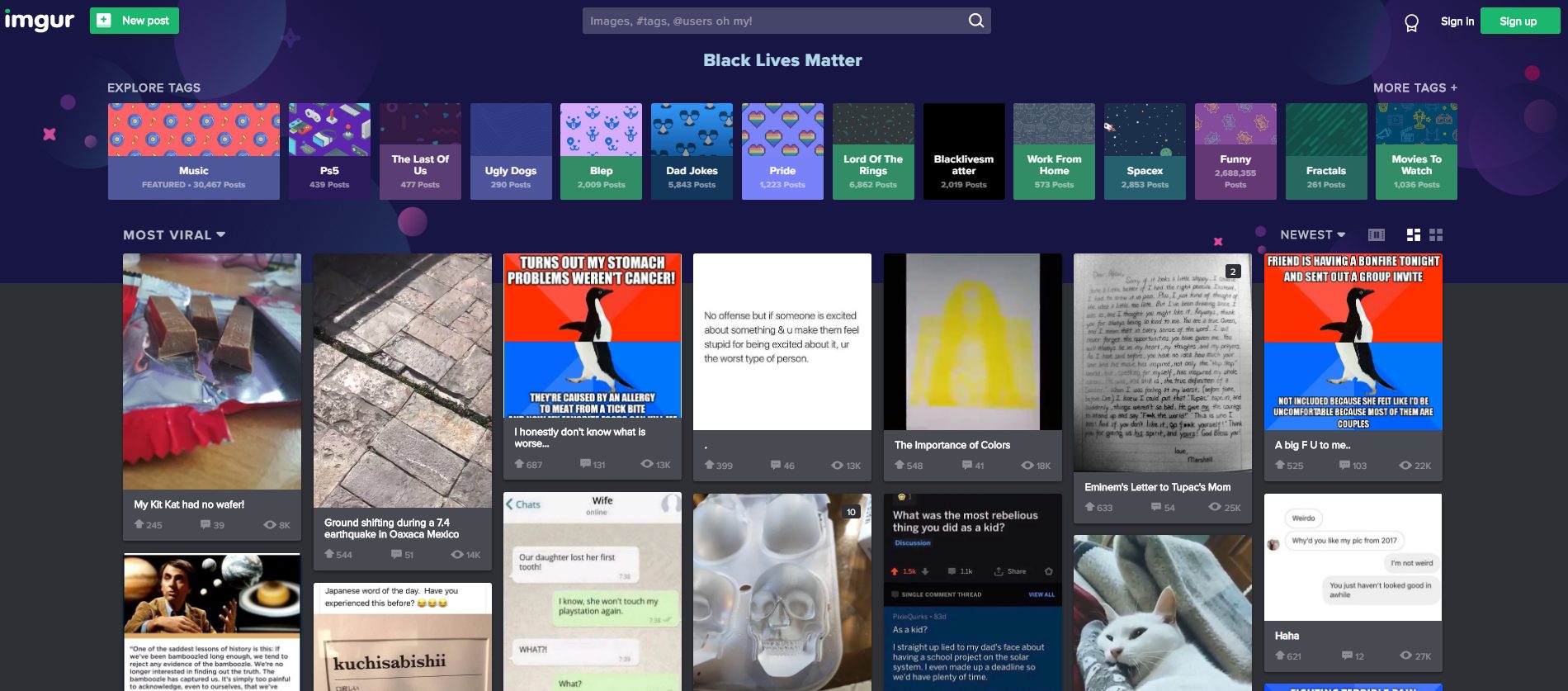 Imgur was created by Alan Schaaf in his Ohio University dorm room back in 2009. It has dubbed itself as "the easiest way to discover and enjoy the magic of the internet". Through GIFs and visual stories, it's managed to draw a sizable crowd and create a passionate community of users from around the world. Like other community-based platforms, Imgur also offers paid advertising opportunities.
Imgur facts and figures:
Receives over one billion post views each month

Ranked as the 15th top site in the U.S. by Alexa

Offers Imgur Emerald, a subscription service, ad-free experience and premium perks

Was listed as a 2018 "website that shaped the internet as we know it" by Gizmodo
---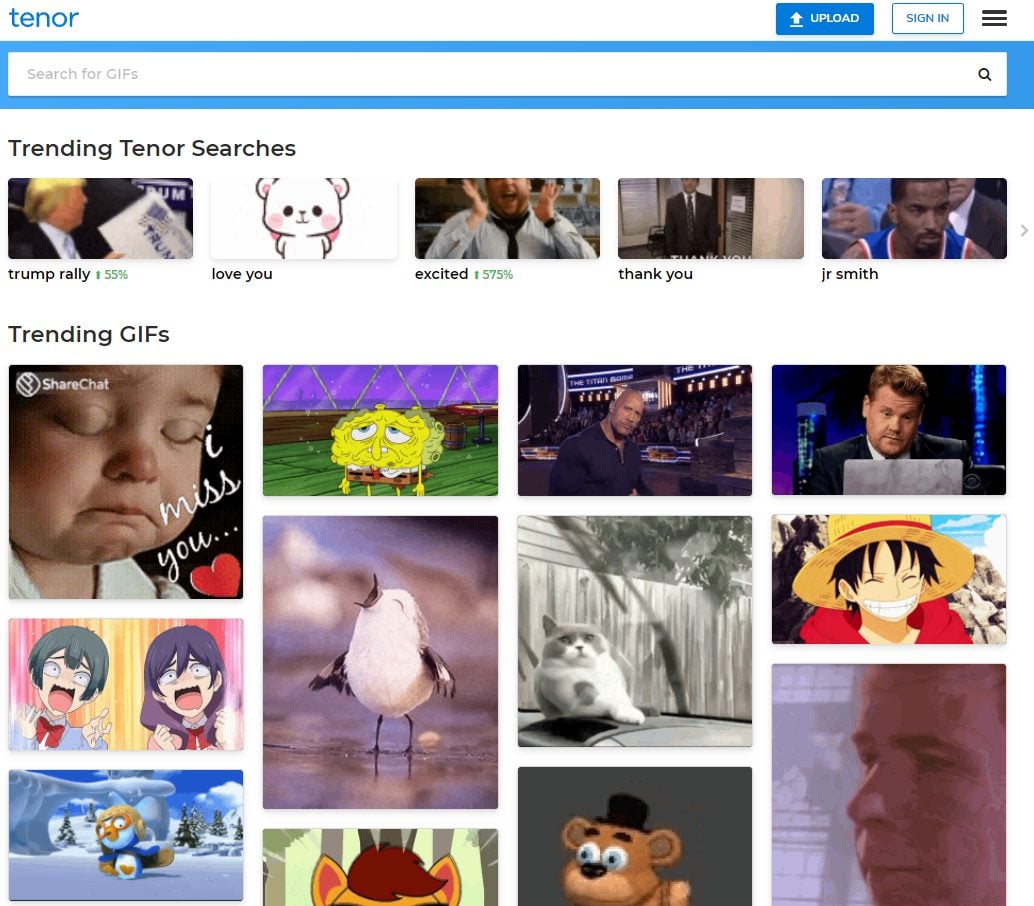 Tenor was founded in 2014 by David McIntosh, Erick Hachenburg and Frank Nawabi. The platform is one of the most popular on the web. It gets millions of visitors each month, and billions of searches. It also includes one of the more advanced features we've seen rolled into a GIF platform in the form of an analytics dashboard. Tenor Insights offers real-time analysis and visualizations. Together, these features give content creators and marketers a clearer picture of how people use GIFs.
Tenor facts and figures:
300 million monthly users

12 billion searches per month

Available as iOS and Android apps
---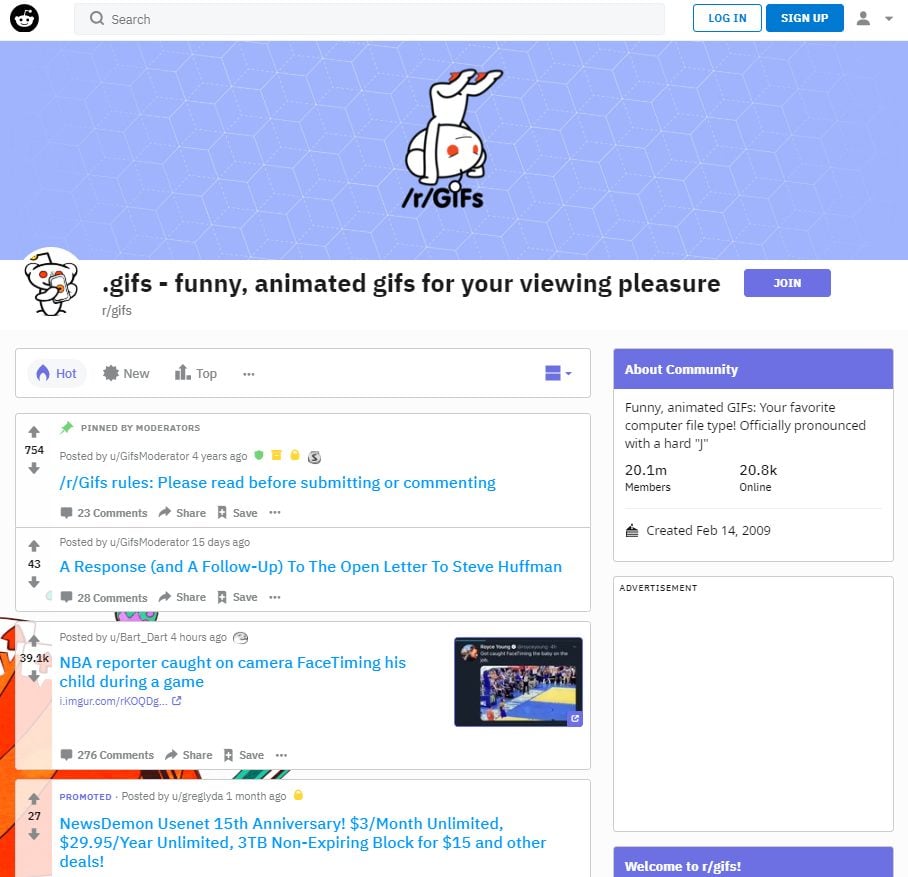 Almost everyone has heard of Reddit. It was founded in 2005 by Steve Huffman, Alexis Ohanian, and Aaron Swartz. It's also referred to as the front page of the internet. And when it comes to GIFs, while Reddit was never meant to be a GIF resource, in true form it became one. Reddit's model of creating communities saw one develop around GIFs.
Reddit's GIFs community facts and figures:
Created in 2009

21 million members

Supports gif, .gifv, .ogg, .mp4, and .webm file formats

Available as iOS and Android apps

Also has sister Reddit's for many other categories
---
GIF Away
Finding the perfect GIF just got simpler. While our list does not include all GIF websites on the net, it covers the most popular. With access to these sites, you'll also be able to flex your creative muscles. Through online GIF tools, you can create, edit and share your own GIFs. And if your GIF requirements are a little more sophisticated, be sure to look at sites on our list that offer analysis tools. With them, you can learn more about how people use GIFs, and create and use more that elevate your content to help you better engage your audience.