YouTube is certainly a 21st Century sensation. Alexa ranks it as the #2 website in the world, only trailing Google (who, of course, own YouTube and operate it a subsidiary). Millions of people enjoy YouTube videos every day. So is it any surprise that YouTube is a highly important place where brands can find influencers?
Our list is loosely based on YouTube subscribers. Some of the most subscribed YouTube channels are not really suitable to be considered influencers for brands. We have excluded YouTube's own genre channels, such as Music, Gaming, and Sports (these are actually the three channels with the most subscribers, more than 97 million subscribers opt for YouTube's music channel). We have also chosen to exclude official music channels for musicians, many of them VEVO channels.
The 25 YouTube influencers certainly demonstrate that this is truly the World Wide Web. Let's jump in!
---
Top 25 YouTube Influencers
---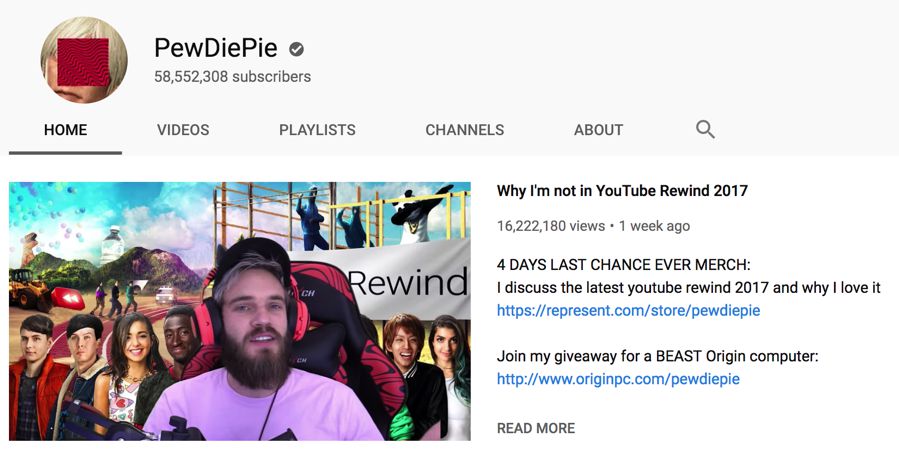 We have regularly reported on the ups and downs of YouTube #1 influencer, PewDiePie, aka Felix Arvid Ulf Kjellberg. Despite bad publicity due to the decidedly non-PC content of some of his videos, he is still hugely popular with his loyal followers. This bad publicity did ultimately lead to the departure of some of his sponsors, though, and his dumping by the multi-channel network, Disney-owned Maker Studios.
PewDiePie refers to his fan base as the Bro Army. The bulk of his videos follow a simple, but clearly popular formula. He plays games and commentates on them as he plays, making each commentary sound like he is spending time with his Bro Army friends.
If there is one lesson to be learned from PewDiePie's recent controversies it is that brands wanting to work with YouTube influencers need to first do their homework. You have to ensure that your brand and any influencers you work with are a perfect fit. PewDiePie is popular with his audience because he gives them exactly what they want - being non-family friendly and politically incorrect.
---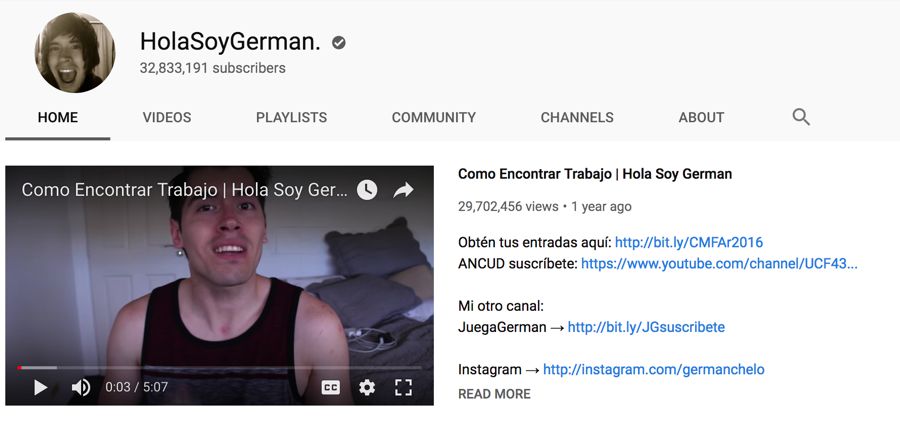 HolaSoyGerman is one of two YouTube channels operated by Chilean comedian, musician, singer and writer Germán Alejandro Garmendia Aranis. His other channel is JuegaGerman. He holds the distinction of being the first YouTuber to gain two Diamond Play Buttons (for achieving10 million subscribers on each of his channels).
The channel, HolaSoyGerman, which was created in 2011, currently has more than 31 million subscribers, making it the highest-ranking Spanish language channel.
The videos uploaded tend to be about common teenage/adult issues. His videos talk about everyday issues but in a funny and unique manner.
---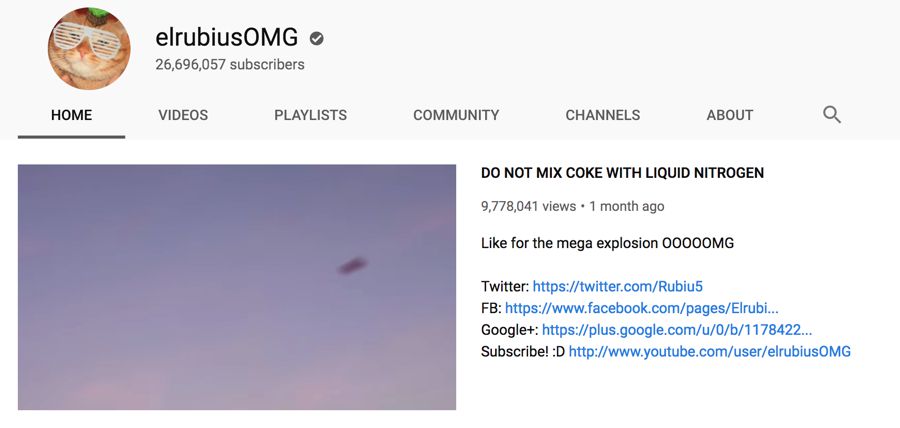 ElrubiusOMG, aka Rubén Doblas Gundersen, is the second most popular Spanish YouTuber. The focus of his channel is on gameplay and vlogs.
He began in 2008 with the channel elrubius, covering Skyrim gameplay, although he ran into copyright issues with this channel. Three years later he set up the elrubiusOMG channel, again covering Skyrim gameplay, and has gradually grown his fan base since then.
In April2016, ElRubius received the "YouTuber of the Year" award.
---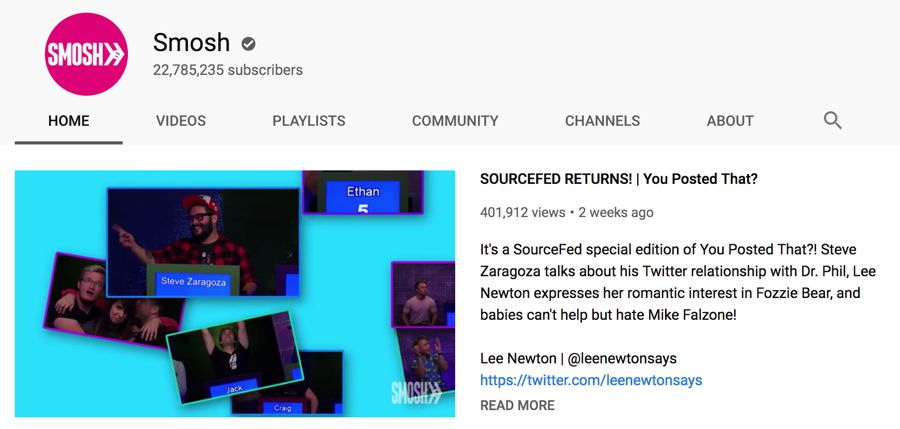 Smosh is one of the more-established YouTube channels, having been around since 2005. Its focus is on sketch comedy. Anthony Padilla and Ian Andrew Hecox are its founders and they were originally also the main stars of the videos. Since 2015, however, they have been in a position to use actors in their videos.
The name was coined in 2002 by Anthony Padilla based on a friend mispronouncing the phrase "mosh pit". The first video they uploaded in 2005 was on a Power Rangers theme. The video that made their name was a Pokemon themed one, which set YouTube records before it was taken down by Nintendo's Pokemon Company for copyright reasons.
At various times between 2007 and 2013, they managed to reach Number 1 on the Most Subscribed YouTube Channels list.
---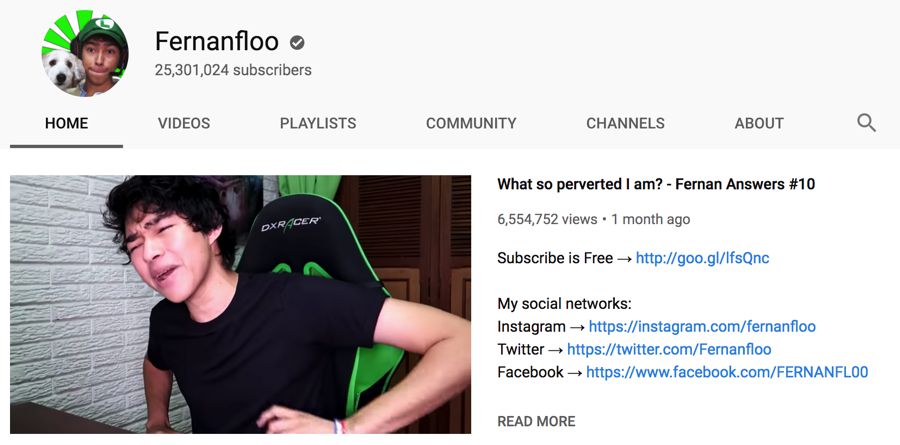 Luis Fernando Flores began his Fernanfloo channel in May 2011. He comes from El Salvador. The bulk of his videos are on gaming, vlogs, and occasionally comedy sketches.
His first video was a parody of Star Wars, featuring dogs fighting like Jedi. As time as gone by, though, more of his videos have featured gameplays of indie games. It was a series of GTA V gaming videos in 2013 that really began to make him known, leading to his subscriber numbers rapidly increasing.
Fernanfloo benefits from being one of the highest paid YouTube gamers on YouTube and is gaining views rapidly, now exceeding PewDiePie on a view count.
---
Vanoss is the online alias for Evan Fong. He set up VanossGaming in September 2011. The channel has grown quickly in popularity during that time, and it currently enjoys more than 20 million subscribers.
Most of Vanoss' videos show him and his friends playing GTA V Online and Gmod. His band of fellow cast members go by the names Moo Snuckel, I AM WILDCAT, Daithi De Nogla, Ohmwrecker, Lui Calibre, BasicallyIDoWrk, Mini Ladd, Terroriser, Mr Sark, fourzer0seven, BigJigglyPanda, and H2O Delirious.
VanossGaming is known for having a more positive fanbase than most, meaning that feedback tends to be friendly, and online arguments between his supporters are rare. He also has a wider base of supporters than many sites, with his subscribers being a mix of children, teenagers, and adults.
---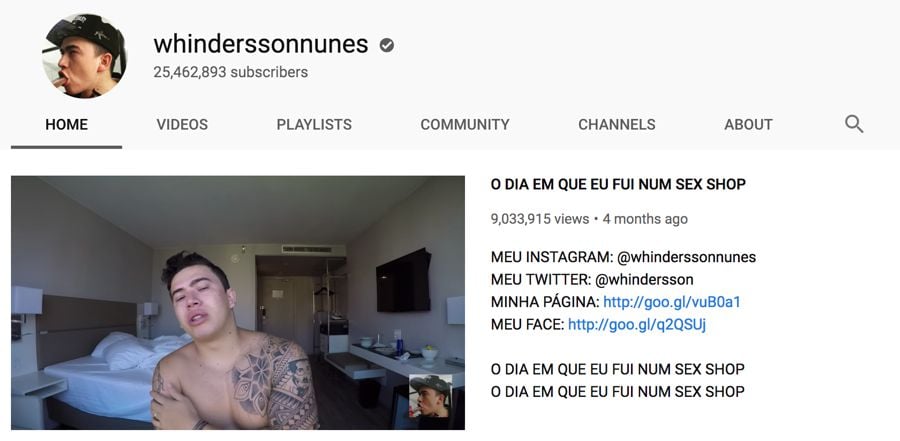 The number of successful South American YouTubers with successful channels is really quite astounding. Whindersson Nunes Batista (Whinderssonnunes) is Brazil's most famous channel holder. The bulk of his videos are comedy vlogs.
Whindersson is a comedian and singer, and he uses both of these talents in his videos. He started playing around on YouTube when he was 15 (he is currently 22). He launched a parody Alô vó, tô reprovado, in 2012. In a week this reached five million views, and at the time the parody turned viral. Since then he has built up his channel and it now has more than 20 million subscribers.
---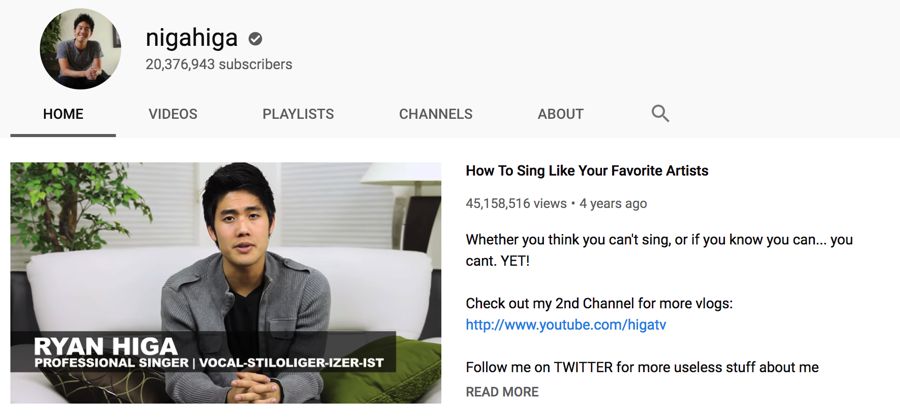 Nigahiga had the honor of being YouTube's most subscribed channel for a couple of periods during 2008-2011. During that time he was the first to reach 2 million subscribers in 2010, and 3 million in 2011.
The NigaHiga channel was initially set up in 2006 by Ryan Higa (of Japanese / American descent from Hawaii) and Sean Fujiyoshi, while they were still at school. Their videos initially showed them lip syncing to songs, although they suffered from some copyright takedowns. Since then, Ryan Higa has composed mostly his own music.
Eventually, Ryan moved to Las Vegas to go to university, and the videos were mainly solo.
In 2012 he put together a production company, Ryan Higa Production Company, to make the videos. Sean Fujiyoshi became part of this team.
---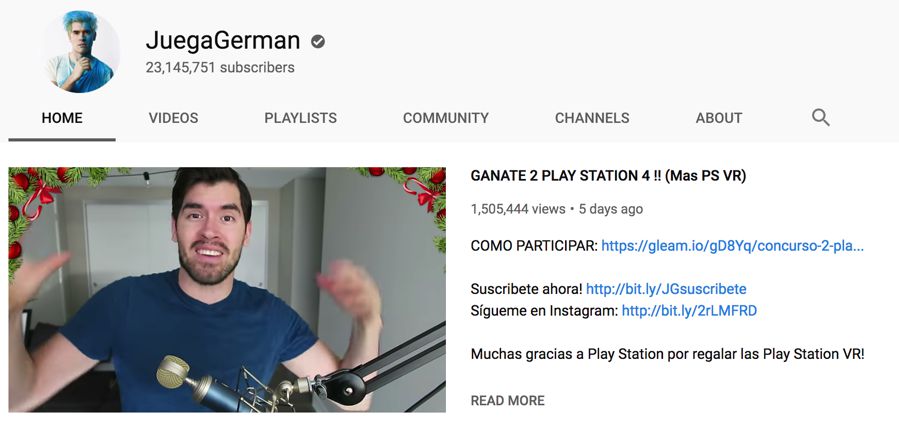 JuegaGerman is Germán Alejandro Garmendia Aranis' second YouTube channel, which he created in 2013. He uses this predominantly as his gaming channel. His first upload was of him playing Slender. Since then he has uploaded numerous videos of him playing popular games.
This channel has helped German break many records for somebody who operates two channels. It is gaining both viewers and subscribers rapidly and has now had more views than his main HolaSoyGerman channel (although it has yet to catch it in terms of subscribers).
As with German's main channel, JuegaGerman is in Spanish, and to really understand his jokes you need to be able to speak Spanish.
---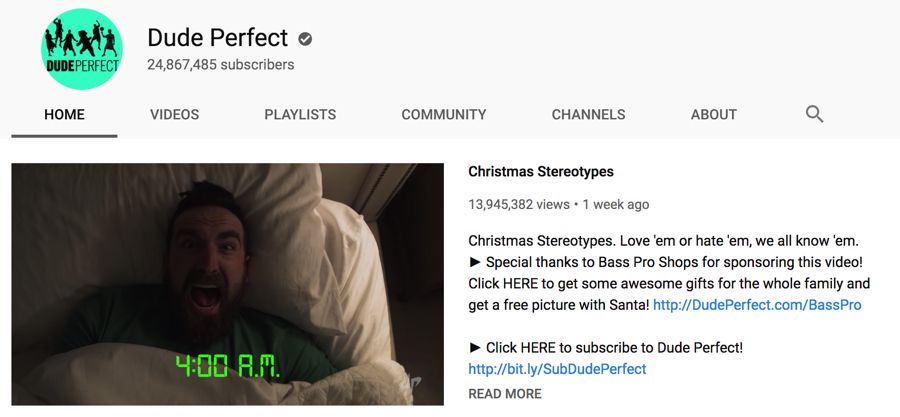 As its name indicates, Dude Perfect is a channel set up by a group of "dudes" - Coby and Cory Cotton (who are twins), Garret Hilbert, Cody Jones, and Tyler Toney. Their specialty is trick shot videos, and this is one of the most-established trick shot channels, having been started in 2009.
They reached their first million subscribers in May 2013, and their popularity has continued to grow since. They recently exceeded 18 million subscribers, gaining their last million subscribers in just 25 days.
One of their more popular series of videos has the five dudes competing in battles, for example, a Nerf Battle.
---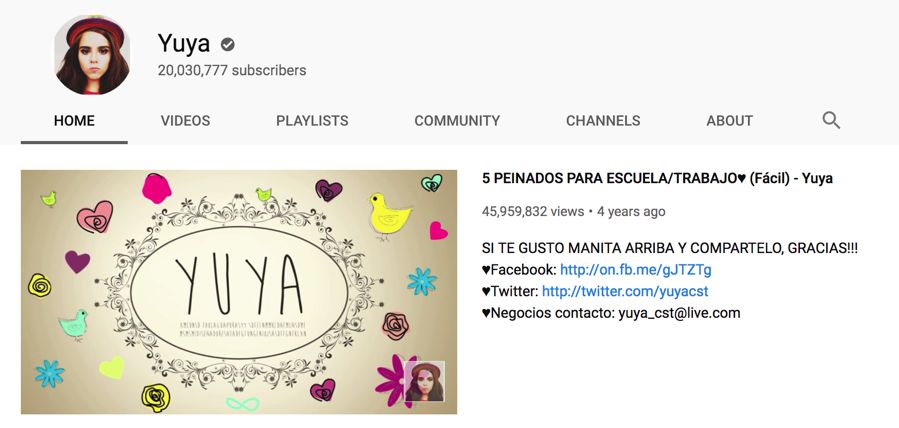 Yuya, aka Mariand Castrejon Castañeda, can lay claim to being the most popular woman on YouTube, currently having over 18 million subscribers. She is a Mexican YouTuber who mainly makes makeup videos and vlogs documenting things in her life.
Although she registered her channel in 2009, it was not until the next year that she uploaded her first video - "peinados faciles y lindos" (Easy Hairstyles That Are Cute). Since then she has uploaded more than 460 videos to YouTube.
Financially she is very successful on YouTube, receiving more than $41,000 per month from her channel's activities.
---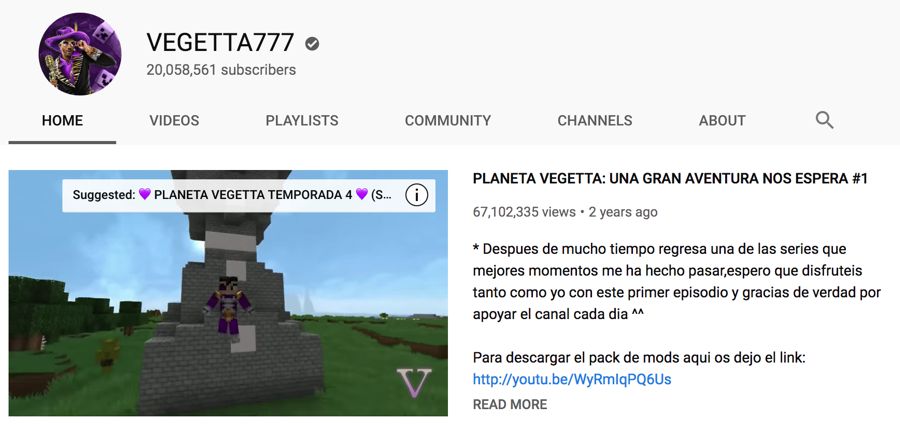 It is amazing how successful uploading videos of people playing Minecraft has been. There are several YouTube sites devoted solely to this. Vegetta777 is Samuel de Luque's Spanish YouTube channel.It focuses on video commentaries of Samuel playing Minecraft, Battlefield, Saint's Row, Garry's Mod, and a few other games.
His point of difference (apart from being a Spanish channel, obviously) is that he tries to create histories from his videos and make them like a movie. He has a fan-base covering both Spain and across the Latin American region.
---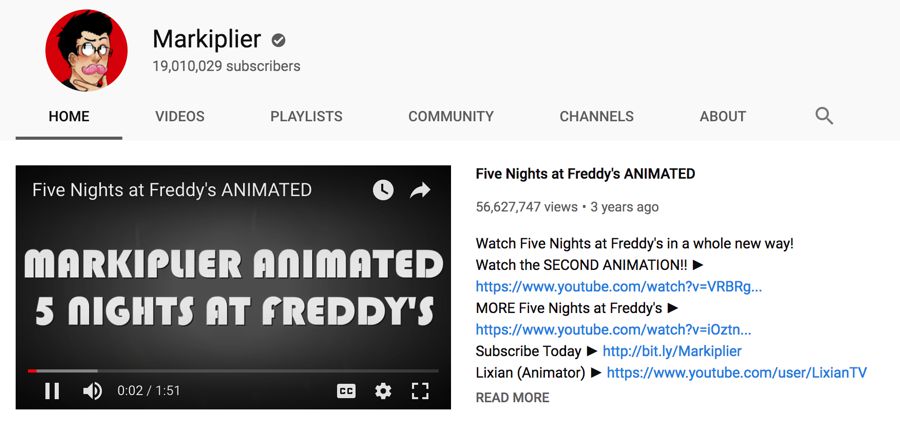 Like a surprisingly large proportion of the top YouTubers (particularly those in the gaming genre) Mark Edward Fischbach, aka Markiplier, is currently 27. He uploads the games he plays, along with an in-game commentary.
He has a particular love for horror games, and his videos reflect this, with uploads of him playing Neverending Nightmares, Amnesia: The Dark Descent, SCP – Containment Breach, and Five Nights at Freddy's among others.
He has currently reached 17.5 million subscribers. Every time he passes another million subscribers he makes a special video thanking his fans and telling him his plans for future projects.
---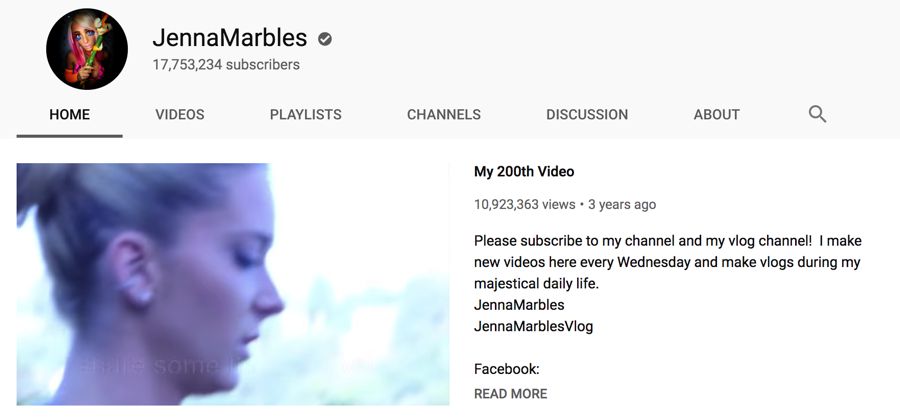 The JennaMarbles channel is named after its owner, Jenna Nicole Mourey, and her dog, Marbles. Jenna is American and specializes in vlogging-style videos. Some of her videos have become very popular, with "How to Avoid Talking to People You Don't Want to Talk to" receiving over 36 million views and "How to Trick People Into Thinking You're Good Looking" reaching 66 million views, 5.3 million in its first week alone.
She includes her three dogs (including the titular Marbles, a chihuahua) in most of her vlogs. Her main channel has over 2 billion total video views, making her the second-most popular woman on YouTube.
Her videos are known for being a candid reflection on life and are at times full of raunchy humor and profanity.She comes across to her fans as being an ordinary person, just like them, and that is clearly one of the reasons for her popularity.
---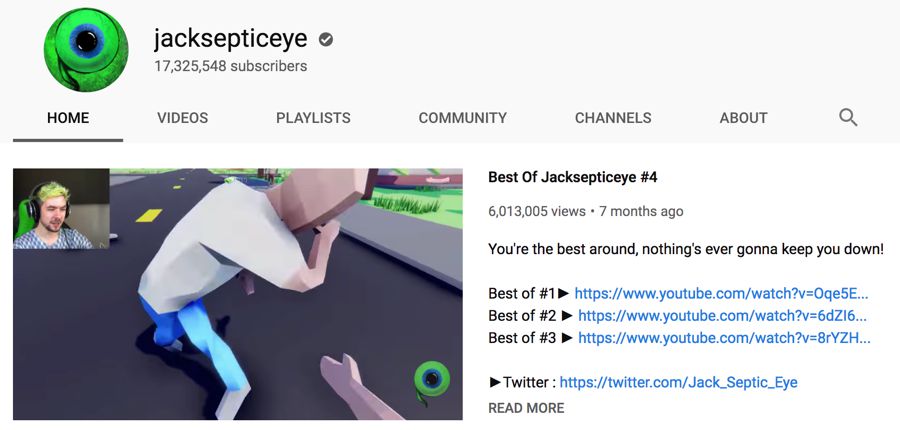 As his bright green hair symbolizes, Jacksepticeye (Jack to his video friends) is an Irish YouTuber, known in the real world as Seán William McLoughlin. He has been uploading videos to his gaming channel since 2012 where he has been making loud commentaries on games as he plays them.
Of course, there is another possible reason for the green-haired image. While Sean may be Irish (and possesses a very distinctive Irish accent), Jack describes himself as being "the last remaining Bossatronio from the planet Bossatron (Spore)". Both the nicknames, "Jack" and "Septic Eye" date from Sean McLoughlin's childhood.
He puts together series of videos covering particular games, with a real love for adventure games.His favorite game is apparently Shadow of the Colossus.
Jacksepticeye reached 15 million subscribers in March 2017 and 7 billion video views a month later.
---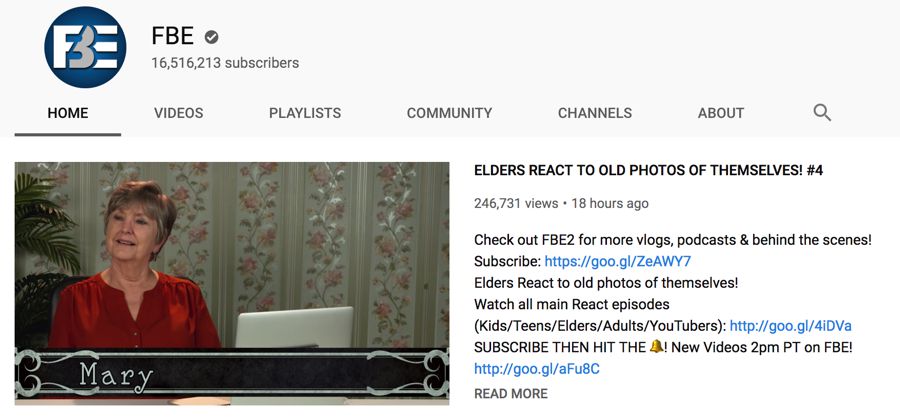 FBE have gone through several YouTube names over the last decade, but are currently known as Fine Brothers Entertainment. Benny Fine and Rafi Fine make up The Fine Brothers. Being aged in their early-mid thirties makes them quite old for this group, in fact, they have been known as the "uncles" or "grandparents" of online video.
They created a React series of videos, e.g. Kids React, Teens React, Elders React, YouTubers React, and Adults React, which have been highly popular since 2010. They also create many other videos, and now have more than 1,000 online.
They made something of a misstep in 2016 when they tried to trademark the word "React" in relation to videos. This upset others on YouTube as it meant that nobody else could make reaction videos. They actually lost 500,000 subscribers in aweek because of it. The brothers quickly apologized and rescinded their trademark applications.
---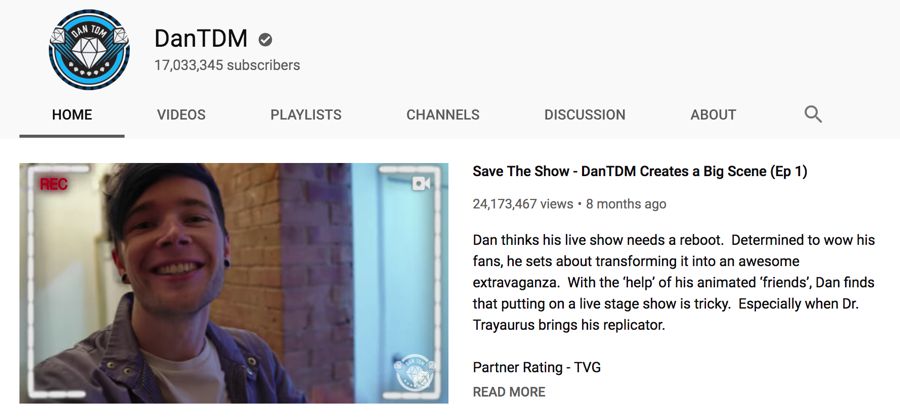 DanTDM is another popular gaming channel, exceeding 15,000,000 subscribers. The TDM in the channel's name refers to TheDiamondMinecart. The Dan refers to the channel's owner, Daniel Andrew Middleton. It is mainly known for its extremely popular Minecraft videos.
Daniel is English. His first YouTube channel was devoted to Pokemon, and he was known as PokemanDanLv45. In 2012 Daniel set up a children's gaming channel, calling it The Diamond Minecart. He has twice had to change the channel's official name, due to the number of fake channels using similar names.
He certainly takes his YouTube channel seriously. To date, he has uploaded more than 2,450 videos. He has become enough of a celebrity to be able to make a couple of book tours to the United States.
Daniel uses a wide variety of characters to populate his Minecraft World for his videos. These include Dr. Trayaurus, Grim, Melbot, Craig The Mailman, McDuck, Denton, Terrance, and Iron Man (an Iron Golem).
He makes a point of doing something special whenever he reaches a subscriber milestone. He first showed his face online on reaching 100,000 subscribers. His most recent, for reaching 15,000,000 subscribers, was throwing a party on Hypixel's housing.
---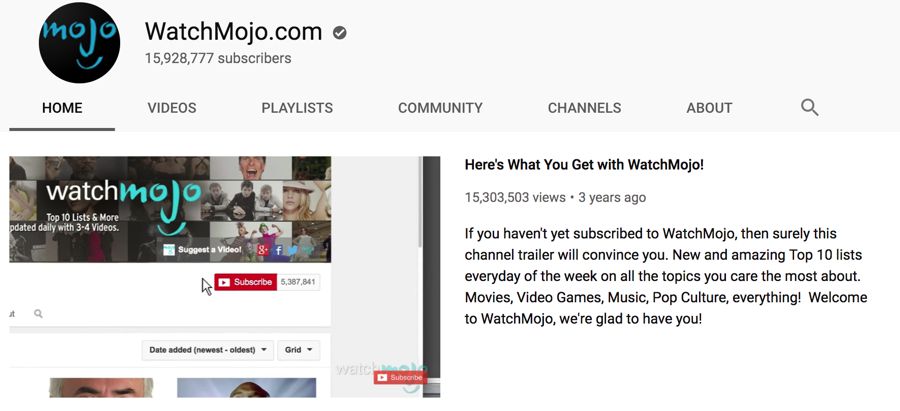 As it's name suggests, this is the official video channel for the website, Watchmojo.com. This is a Canadian website, set up by media executive and entrepreneur Ashkan Karbasfrooshan, along with Raphael Daigneault and Christine Voulieris.
Their videos have covered a number of topics over the years:
Categories: (2006-09), for example, auto, business and technology, comedy, education, fashion, film, health and fitness, history, lifestyle, music, science and space, sports, travel, and video games.
Themes: (2009-11), for example, Biographies, Top 10s, Profiles, How To's, Versus, and Interviews.
This Day in Video: (2011-12), covering important Births, Deaths, Anniversaries and Releases on the date of their anniversary.
Viewer Suggestions: (2013–present). These voted on by other viewers and those selected are then converted into videos.
WatchMojo.com is a prodigious content creator, producing up to 100 new videos each month. They make videos in English, French, and Spanish. The company has a mission to "inform and entertain", covering the "people, places and things that have shaped pop culture" with their 5-10 minute videos.
---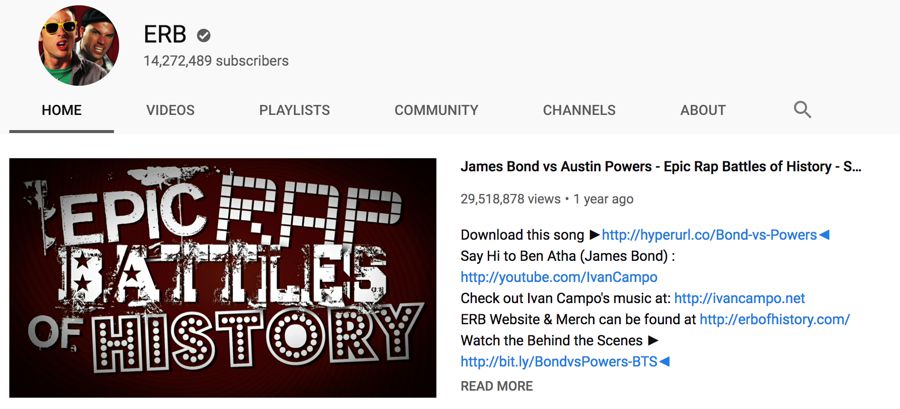 ERB is short for Epic Rap Battles of History and is the highest-ranking independent male-presented USA YouTube channel. The videos are created by Peter Shukoff and Lloyd Ahlquist (aka Nice Peter and Epic Lloyd).
The key point of difference in these videos is that they pit famous historical or pop culture figures against each other in a rap battle. Some of the rappers are actually fictional characters. Nice Peter and Epic Lloyd have played a number of the characters in these videos themselves. However as the videos have gained in popularity, quite a few other people have taken on roles, including some real famous people, such as Arnold Schwarzenegger.
The videos are produced as seasons (just as with normal tv) and ERB has produced five seasons to date.
---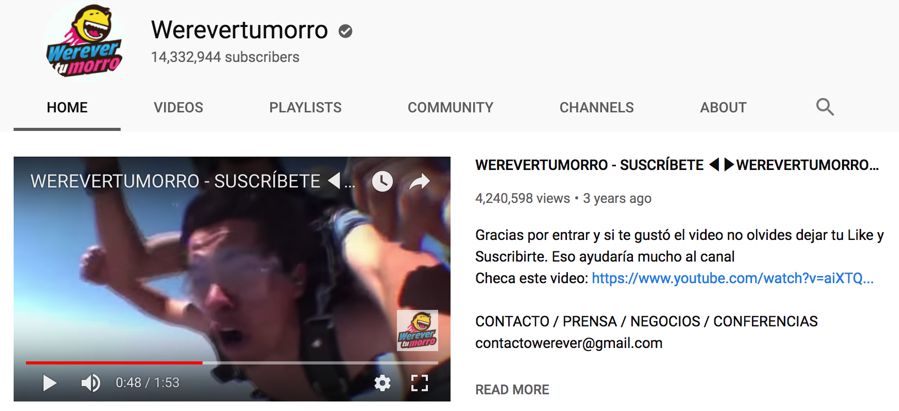 Outside of YouTube, Werevertumorro is more commonly known as Gabriel Montiel Guiterrez, a Mexican vlogger and gamer. He produces sketches with the w2m Crew, a group of 13 friends who each have their own channels and enjoy making videos together.
Despite all 13 crew members making videos together and posting them on their personal channels, Werevertumorro has turned out to be the most popular one with the fans, having now reached 13 million subscribers.
---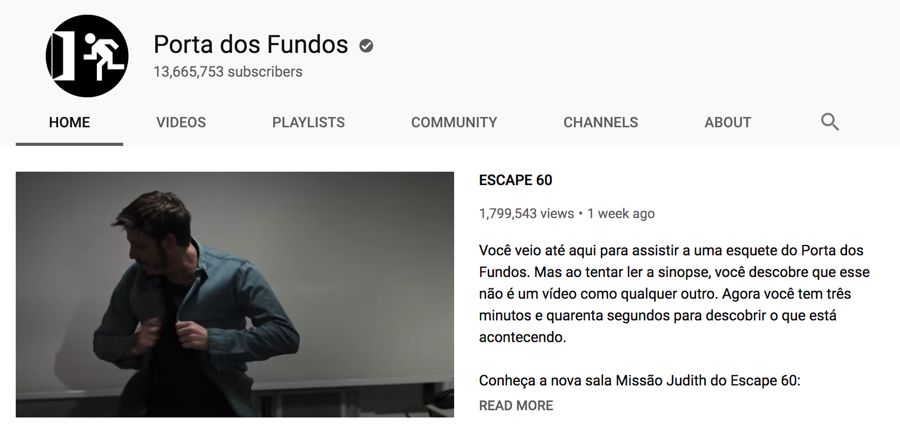 Porta dos Fundos is one of Brazil's most successful YouTube channels. It was created in August 2012 and has uploaded more than 670 videos since then.
It is a creative collective, founded by Antonio Tabet, Fabio Porchat, Gregorio Duvivier, Ian SBF and John Vincent de Castro, five friends who were dissatisfied with the lack of creative freedom on Brazilian television. They decided to set up a channel of humor skits on YouTube. They have built up a large cast and crew, and are clearly popular with Brazil's fans of humor.
---

In some ways, FailArmy has to be YouTube's most depressing channel - it celebrates all of humanity's failures. In saying that, failure has become a success to FailArmy, as they have gathered over 11 million subscribers, all interested in seeing other people doing things worse than themselves. With more than 220 videos, they certainly have plenty of evidence of mankind's follies. Each month they spotlight a Fail of the Month.
---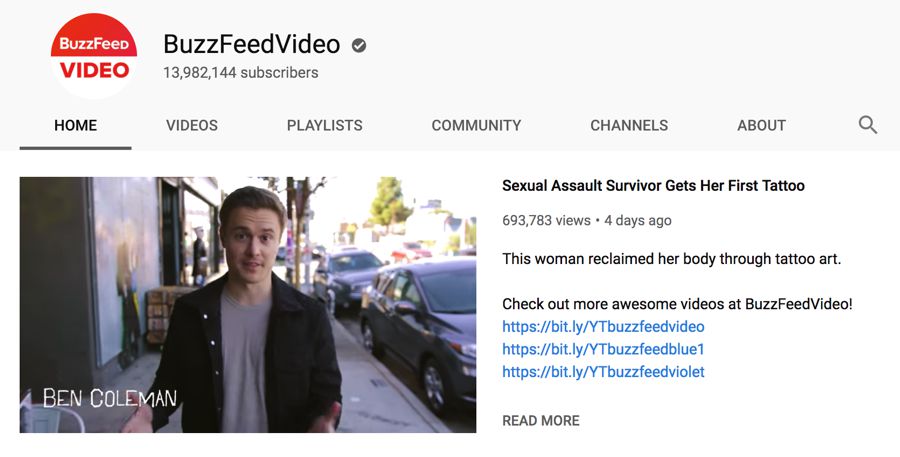 BuzzFeedVideo is the YouTube channel operated by the popular website BuzzFeed. BuzzFeed's short sharp articles, aimed at going viral, are an obvious good fit with YouTube's video style. As with the BuzzFeed website, their YouTube channels include snappy content on a wide range of topics.
There are actually quite a few BuzzFeed channels, however, their main one currently claims nearly 12.5 million subscribers. They see this as their flagship channel, focusing on creating and showcasing original content.
---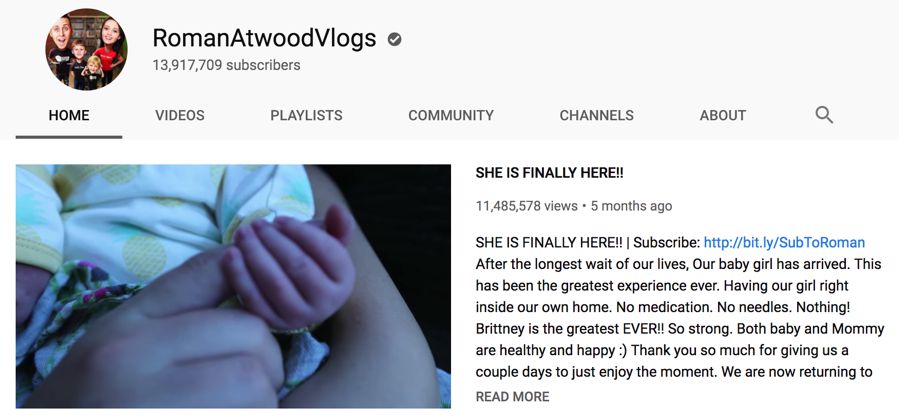 Roman Atwood operates two YouTube channels - RomanAtwood which focuses on prank videos, and RomanAtwoodVlogs, which, as its name suggests, is his vlogging channel. Both channels perform well, with the prank channel exceeding 10.4 million subscribers and the vlog channel having more than 12.4 million subscribers.
He has operated his prank channel since 2009 and his vlog channel since 2013. Three of his best-known pranks are the Pee Prank, the Ferrari Prank, and the Anniversary Prank.
---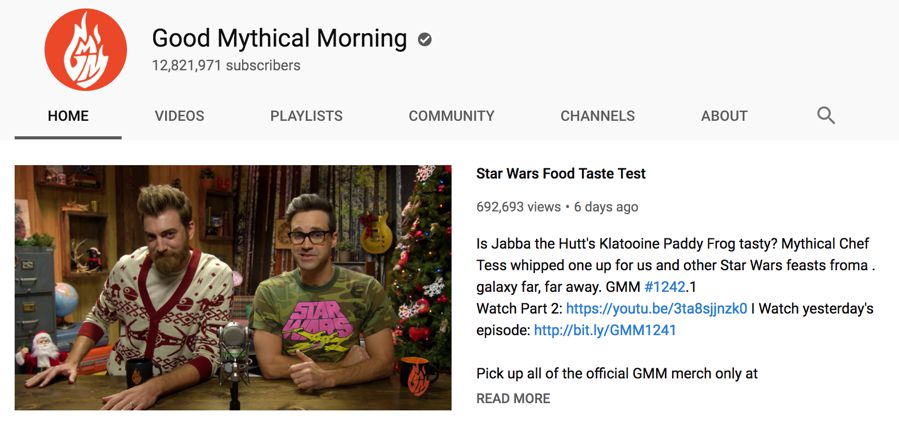 Good Mythical Morning is made to be like a daytime talk show, hosted by Rhett and Link (aka Rhett McLaughlin and Charles Lincoln). They refer to themselves as "internetainers". This is just one of their YouTube channels, although with 12 million subscribers it is their most successful one.
Rhett and Link began Good Mythical Morning in 2008 and have now uploaded more than 1,000 videos over ten series.
The focus of Good Mythical Morning is to look at the somewhat unusual lives of Rhett and Link. They also talk about videos that they make for their other channels. Although many of the episodes cover random topics, episodes on Thursdays and Fridays follow a seasonal theme.