Influencer marketing is big business. But with hundreds or even thousands of creators on every social media platform, you may be wondering how you can make your personal brand stand out. In this article, we're going to take a look at 20 influencers who wondered that exact thing and found the answer: influencer merch.
That's right, influencers are now designing merch and opening online stores in addition to entertaining us on social media. Before we dive into our picks for the best influencer merch on offer right now, let's talk about who exactly buys the merch that influencers create.
---
20 Best Influencer Merch Stores and the Products We Love Right Now:
---
Who Buys Influencer Merch?
In today's digital world, most engagement and sharing happens online. But this can create a lack of connection between influencers and their followers. While we're sharing more than ever before, the digital nature of communication doesn't really allow for physical manifestations of devotion. After all, how do you get a concert tee for an influencer who doesn't tour?
Gen Z, Millennials, Xennials, and even some Gen Xers are looking for new ways to engage with the people they admire and follow online. Selling merch is a great way for influencers to give their followers the physical connection they want. And, many of the people who follow influencers hope to become social media influencers themselves. This means that buying and unboxing merch from their favorite social media personalities is likely to be highlighted on their own social media platforms.
To keep followers beyond the 7-second attention span, it's important to create influencer merch that's high-quality and attention-grabbing. Let's talk about some of the influencer merch stores that are hitting the mark right now.
---
20 Best Influencer Merch Stores
Influencers on any social media platform can use merch to boost their income and add another income stream to complement the money they're making from sponsored posts. Here's the top influencer merch on offer right now to offer inspiration for your own branded merchandise dreams.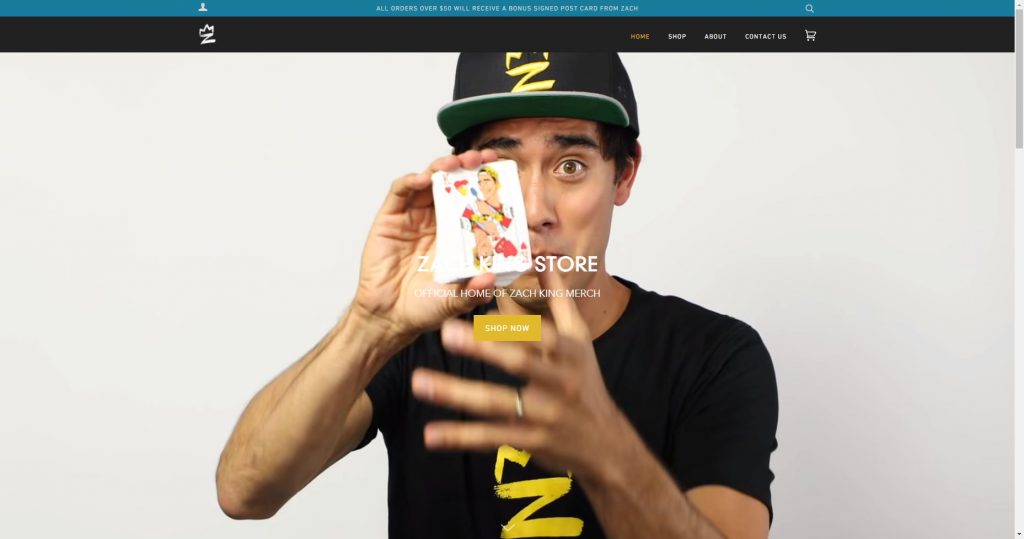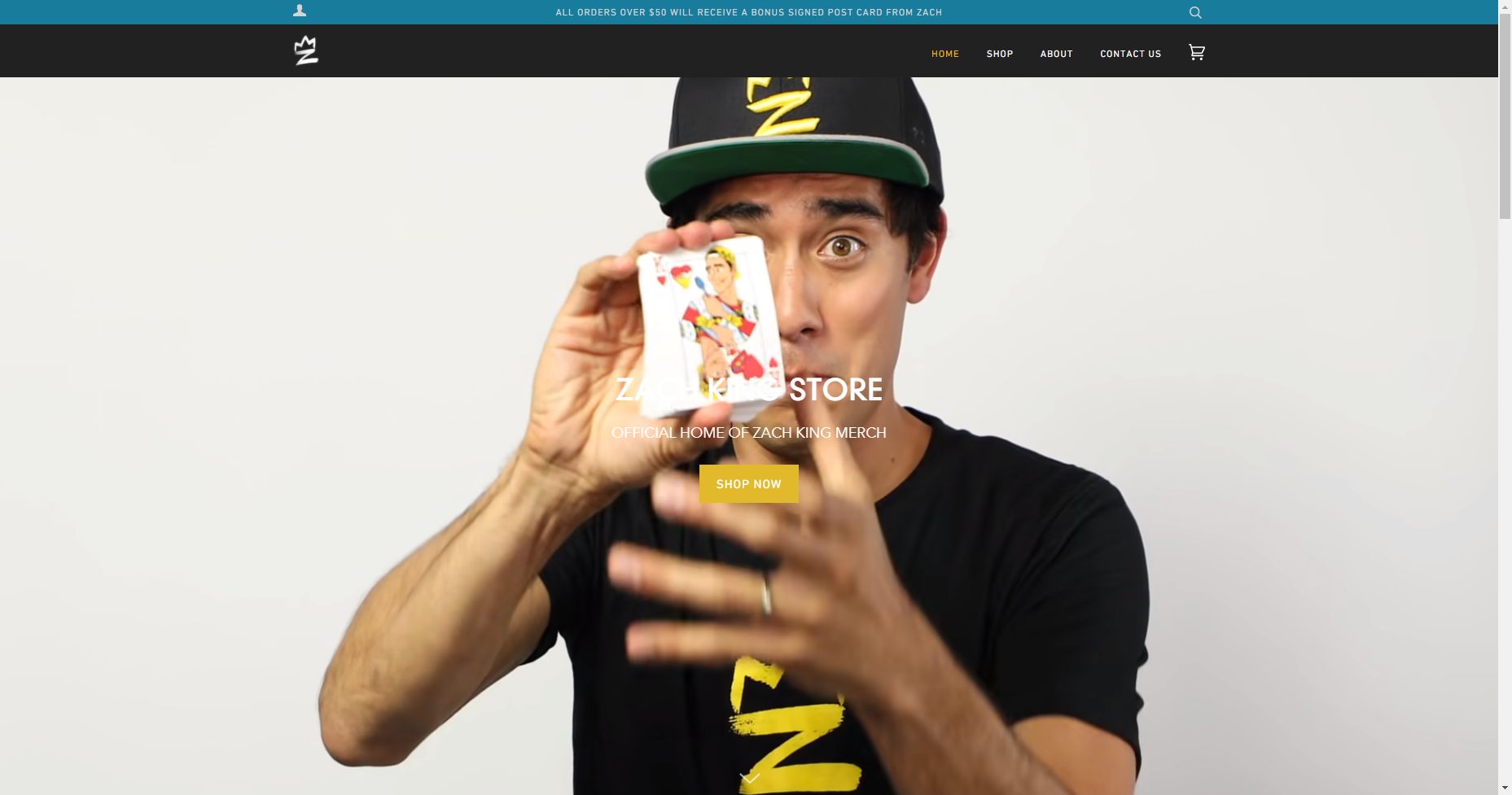 Zach King started his journey towards virtual fame at the age of seven after his parents handed him a video camera. Zach started creating videos for his family—and they were quite an eager audience. When he was a freshman in college, Zach created the video "Jedi Kittens" and went viral, getting more than a million views in under 24 hours. Zach took the opportunity to share his stories with a larger audience and continued creating content for his YouTube channel. When Vine hit, Zach started sharing his magic videos on the platform, racking up more than 4 million followers, and becoming known as the Digital Magician. Zach now has more than 25 million fans on various platforms.
His influencer merch store includes the usual subjects like tees and tanks but also has a few nods to his Digital Magician nickname with a custom card deck and comic books. Our favorite product, though, has to be the Christmas Sweater:
---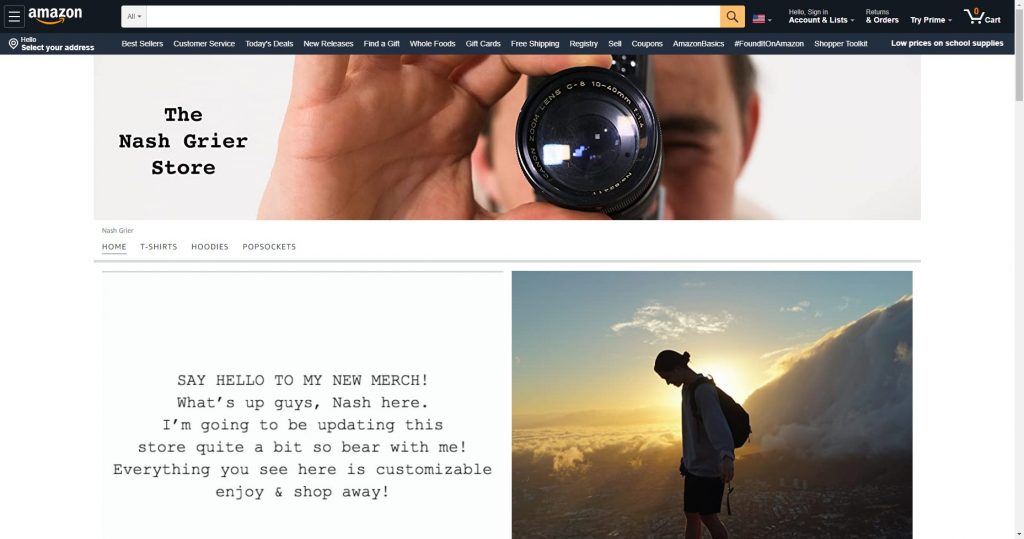 Nash Grier made a name for himself in 2013 on Vine, when he was just 15 years old. Since then, he's released mobile games and social media apps including Mobli, Challenged, and Cash Dash. Nash's Amazon store includes tees, sweatshirts, and PopSockets. Our fave? This Please Stand By t-shirt:
---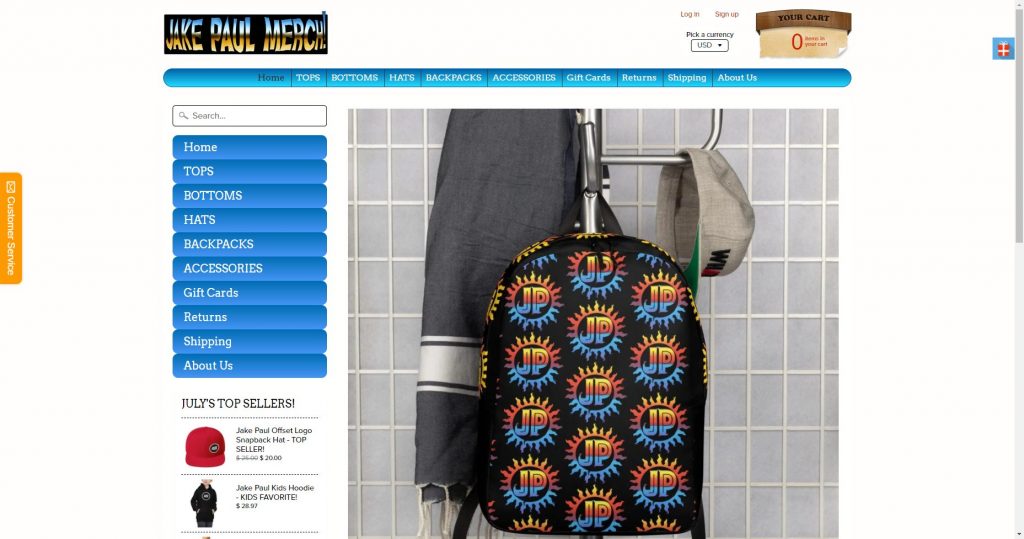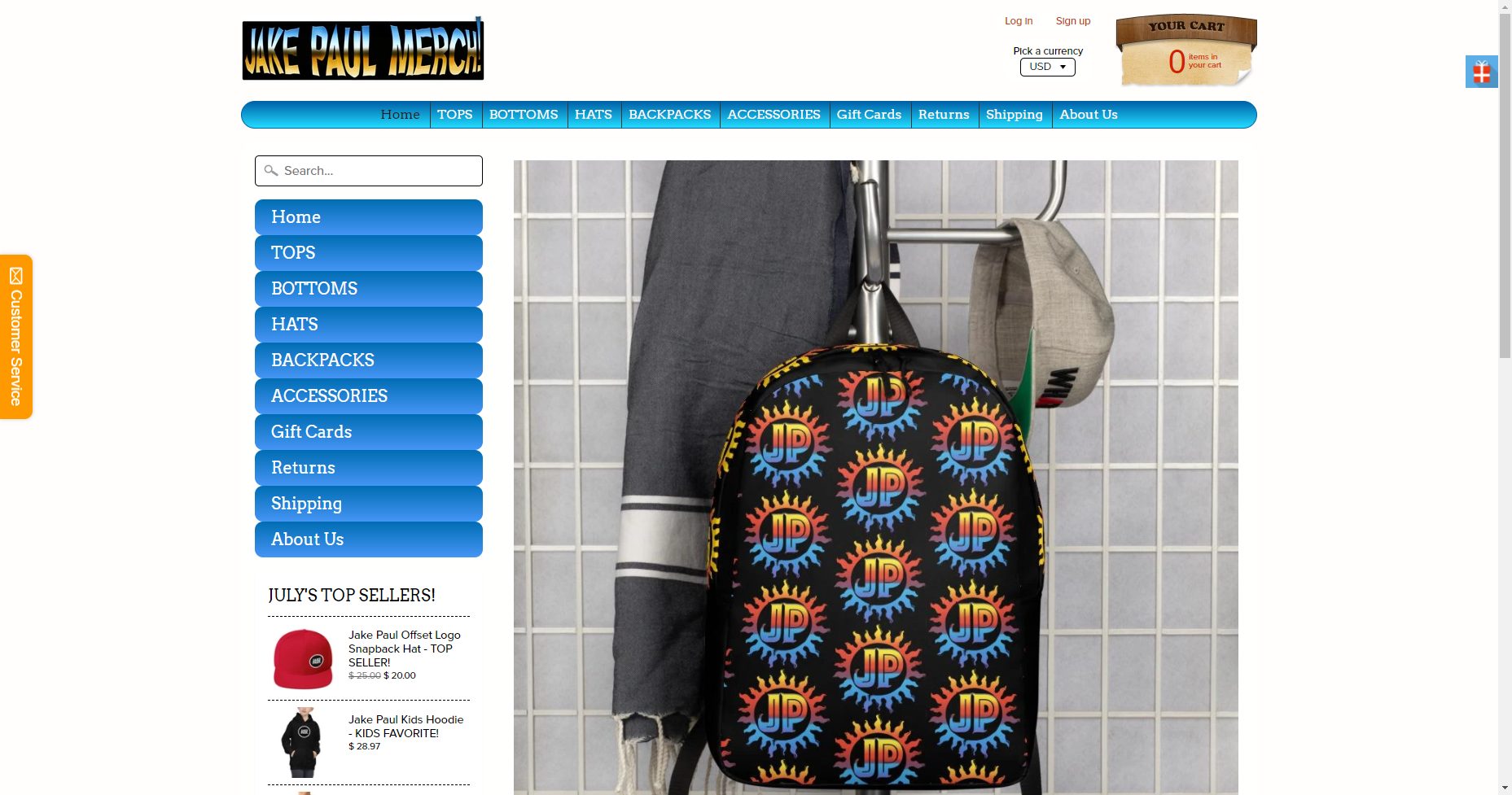 Jake Paul is another influencer who got his start on Vine while also building up a strong following on YouTube. Jake was cast in Bizaardvark, a Disney sitcom, taking his fame offline. Jake specializes in making comedy videos but if you follow him on Instagram, you'll get a glimpse into what goes on in his everyday life. While Jake's merch store isn't the prettiest, he has tons of influencer merch on offer, from clothes to hats to backpacks. Our favorite is this emoji backpack:
---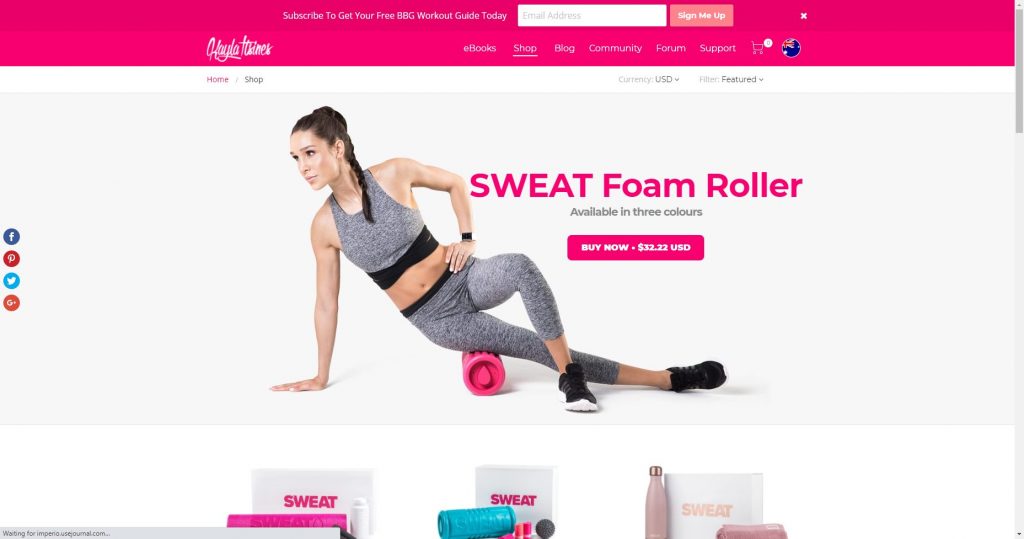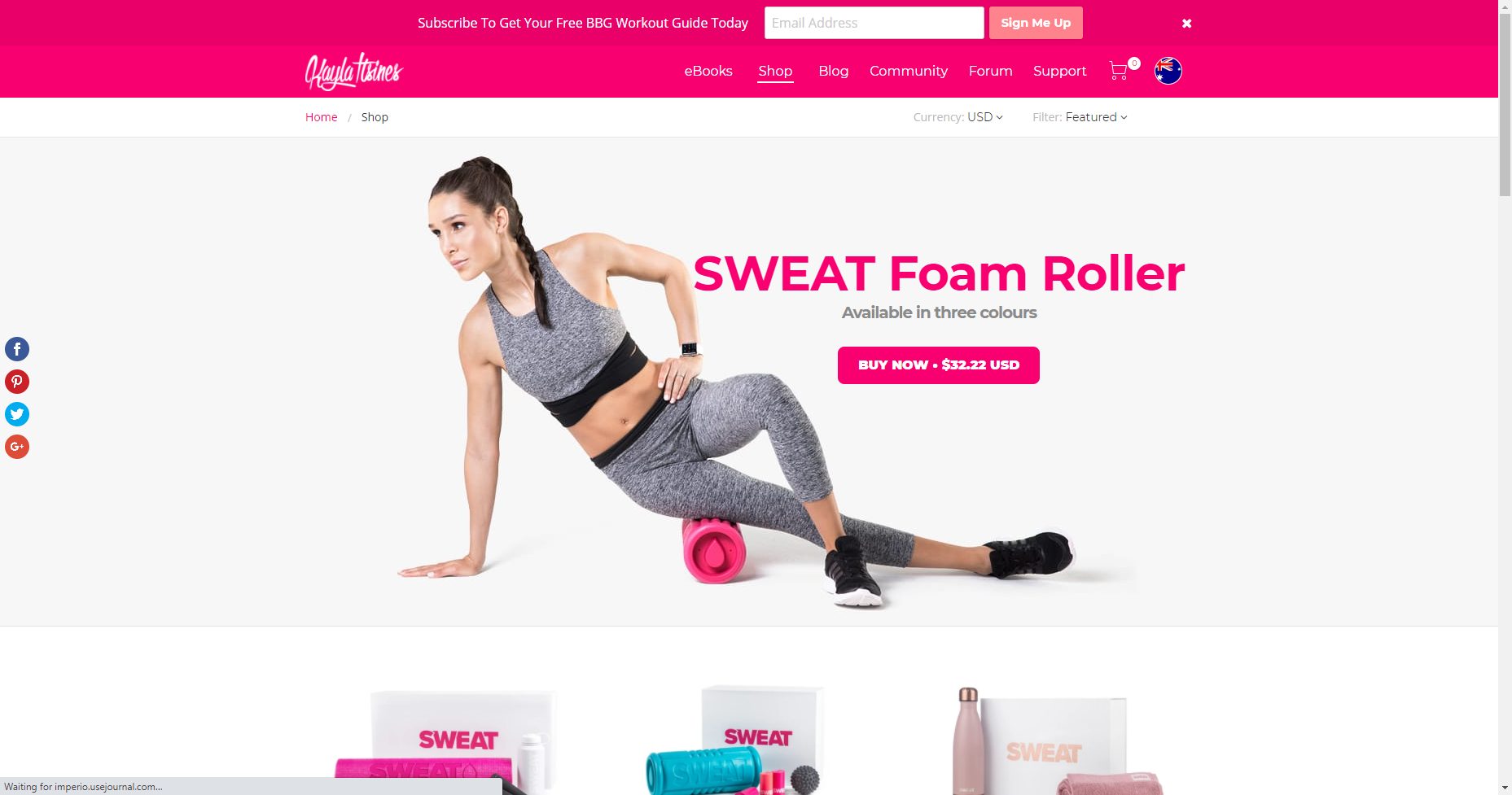 Kayla Itsines is a personal trainer, entrepreneur, Instagram influencer, and author from Australia. She's been named one of the 30 most influential people on the internet by Time Magazine. She's created several workout programs, most notably the Bikini Body Guides program for women. Her Instagram posts focus on the BBG program and feature both Kayla and other women following the program. She offers both exercise and nutritional advice.
Kayla's influencer merch is mostly focused on her Sweat branding and features everything you would expect from a fitness influencer: foam rollers, yoga mats, ankle weights, and the like. Our favorite is the Limited Edition Active Set in dark plum and gold:
---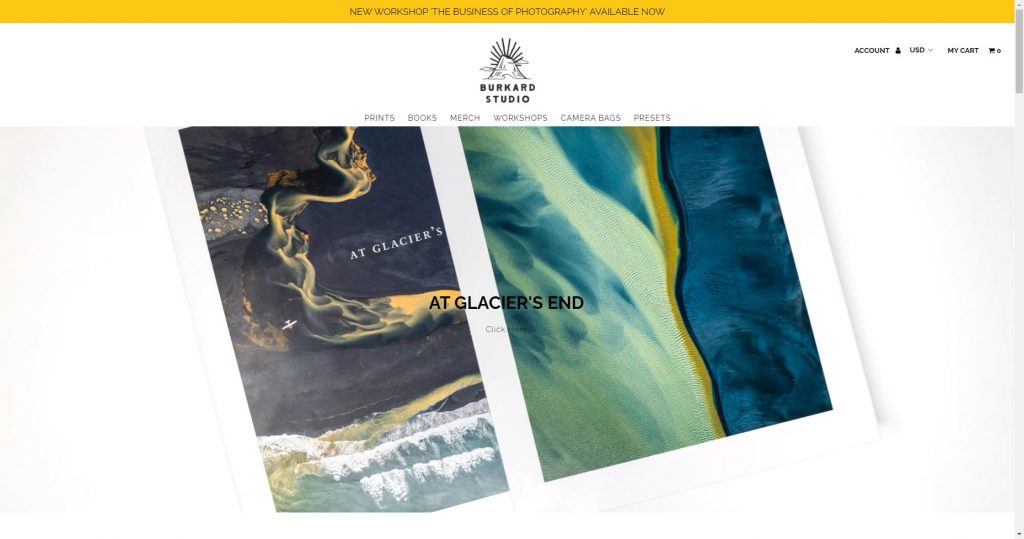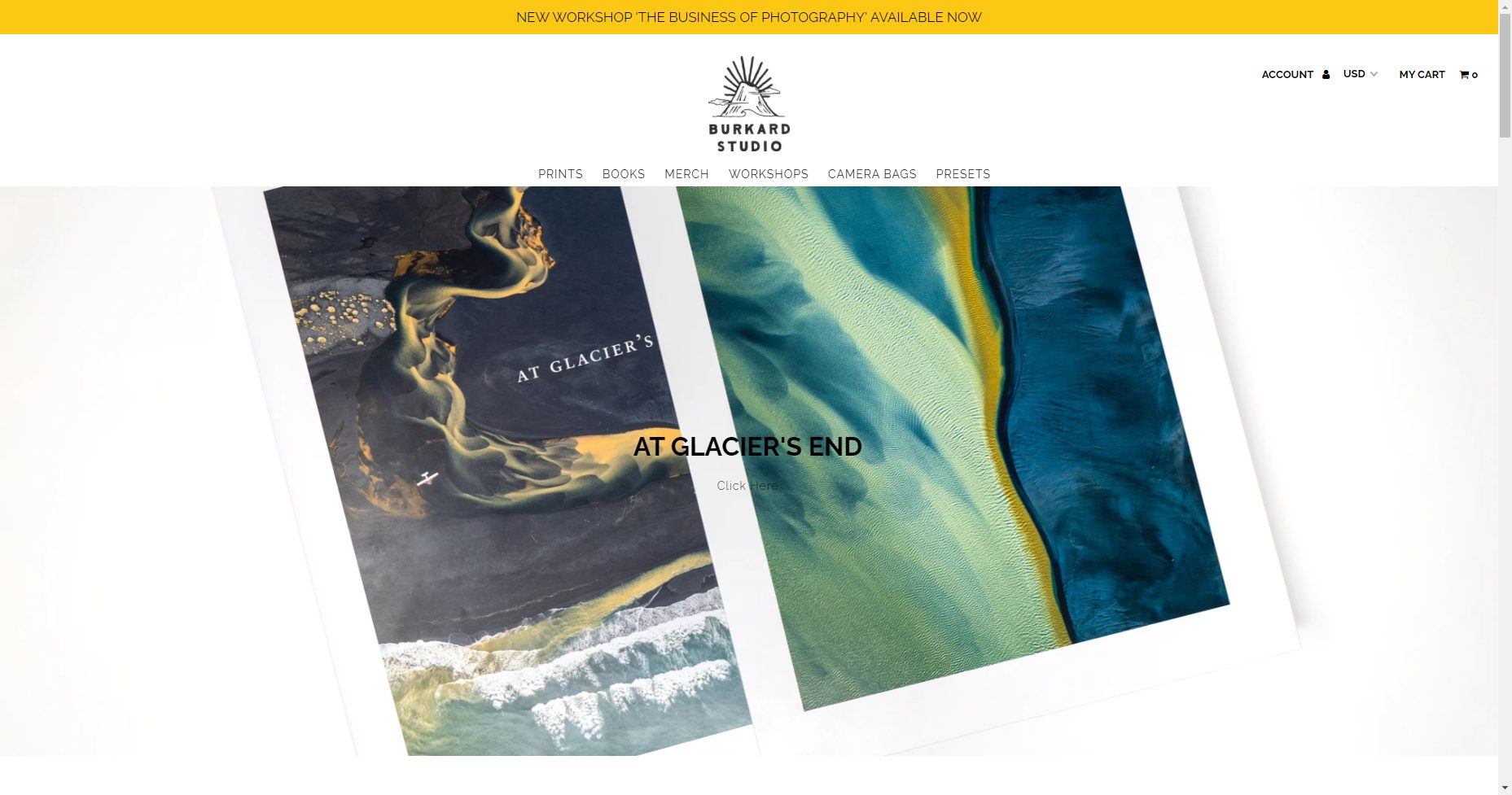 Chris Burkard is an artist and photographer from California. His art focuses on landscape, surf, outdoor, lifestyle, and travel. Chris approaches photography as a photojournalist, using natural lighting techniques to create beautiful imagery. Chris's online store includes prints, books, workshops, camera bags, and photo editing presets as well as merch featuring his art. We love literally everything that includes his alpaca drawings but we're absolutely enamored with the alpaca pocket tee:
---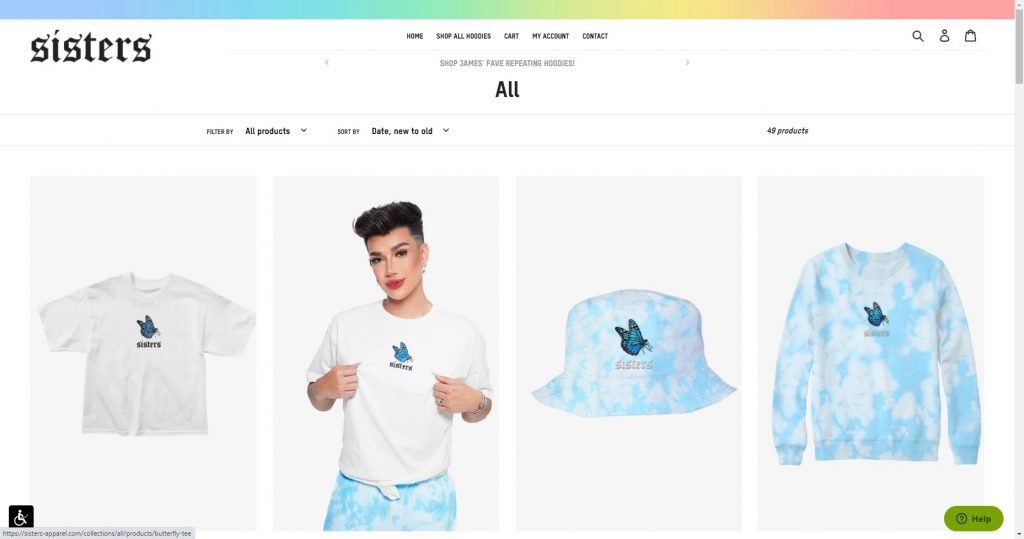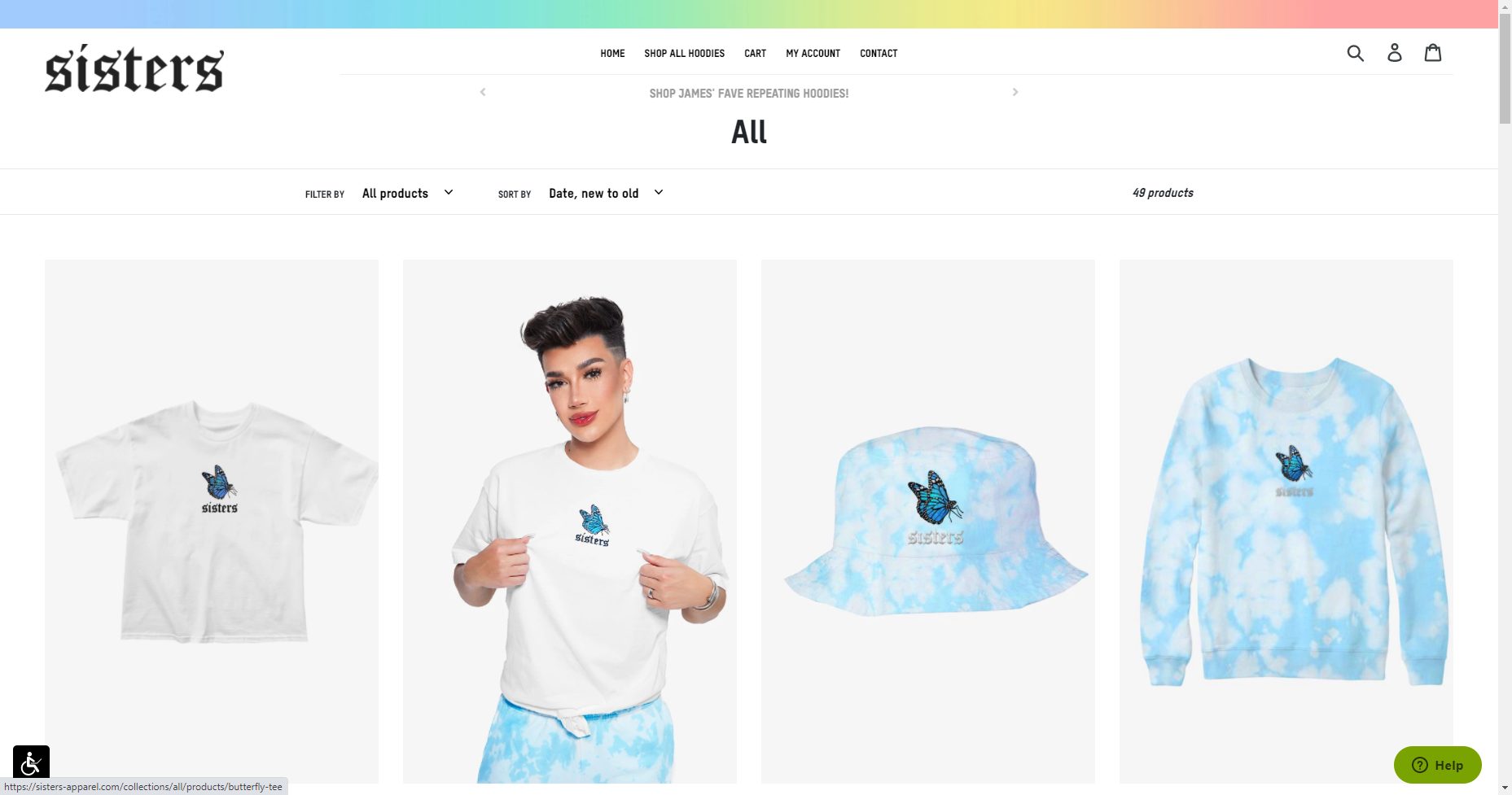 James Charles is the first male-identifying CoverGirl. He built a large following on Instagram and YouTube when he was still in high school and, despite a few bumps along the way, is an extremely popular beauty influencer with a large reach. His merch is sold under his Sisters Apparel brand and is filled with hoodies and sweats in various colors of the rainbow. Our absolute favorite is the rainbow sherbert sweats set (which is perpetually sold out because LOOK AT IT):
---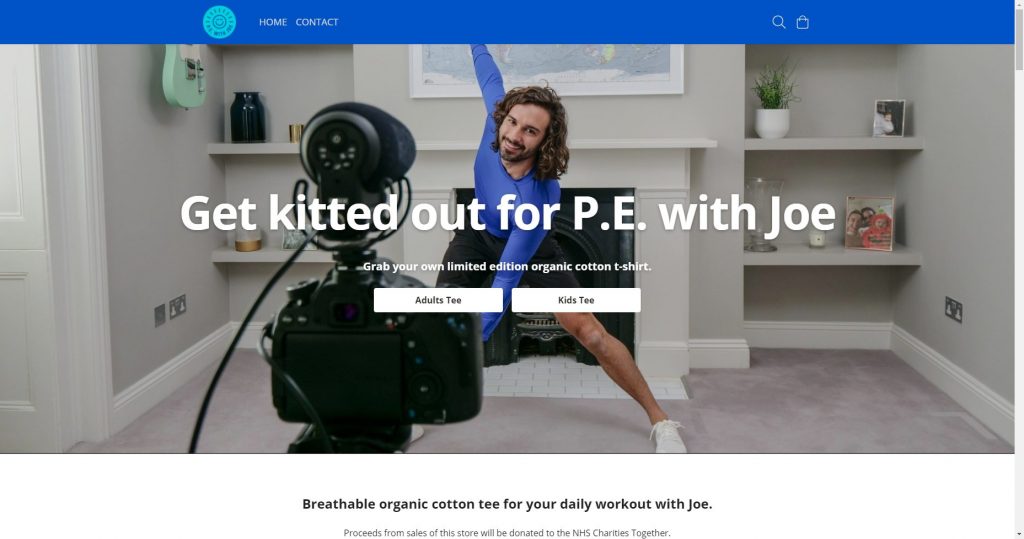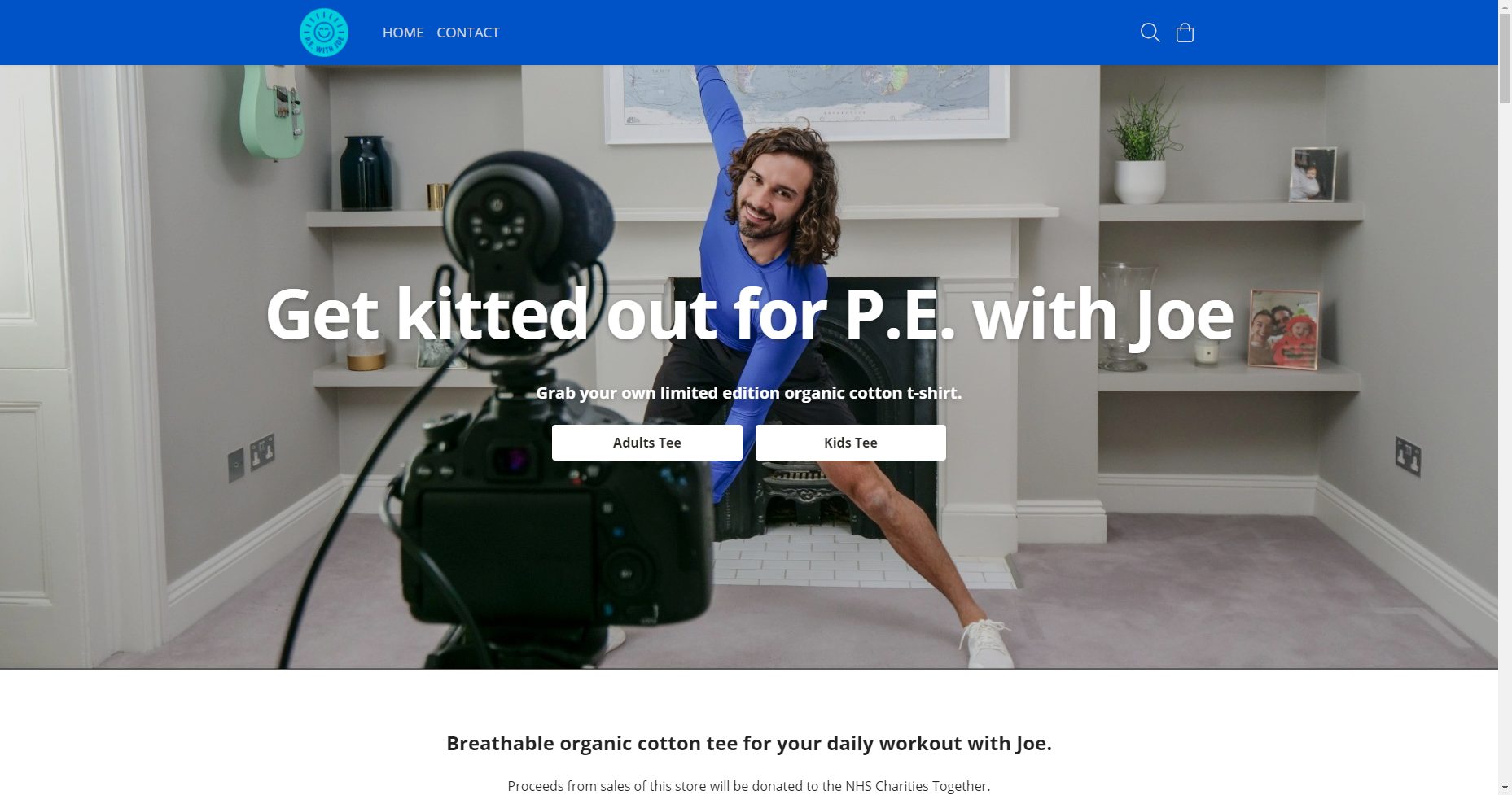 Joe Wicks is an English fitness coach who is popular across media types. He's not only a fitness influencer but has written several best-selling cookbooks and also has a television show called The Body Coach on BBC 4. Joe promotes his Shift, Shape, and Sustain fat loss plans on The Body Coach website and uses The Body Coach Instagram account to promote the website as well as fitness and healthy eating.
Joe's merch store includes t-shirts for both adults and kids. Our favorite shirt says "Home Workout Hero" and we're really interested in seeing an adult version of the shirt. Come on, Joe!
---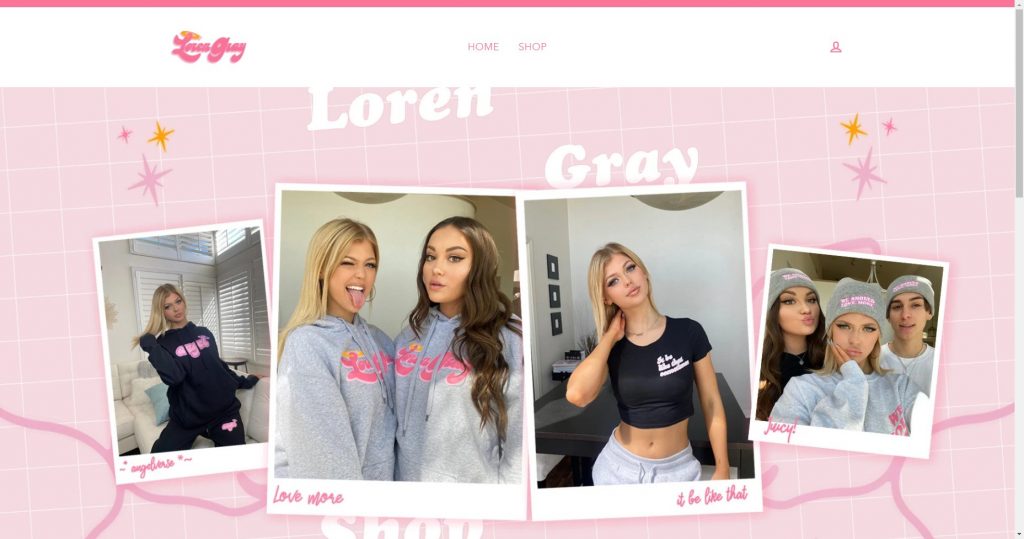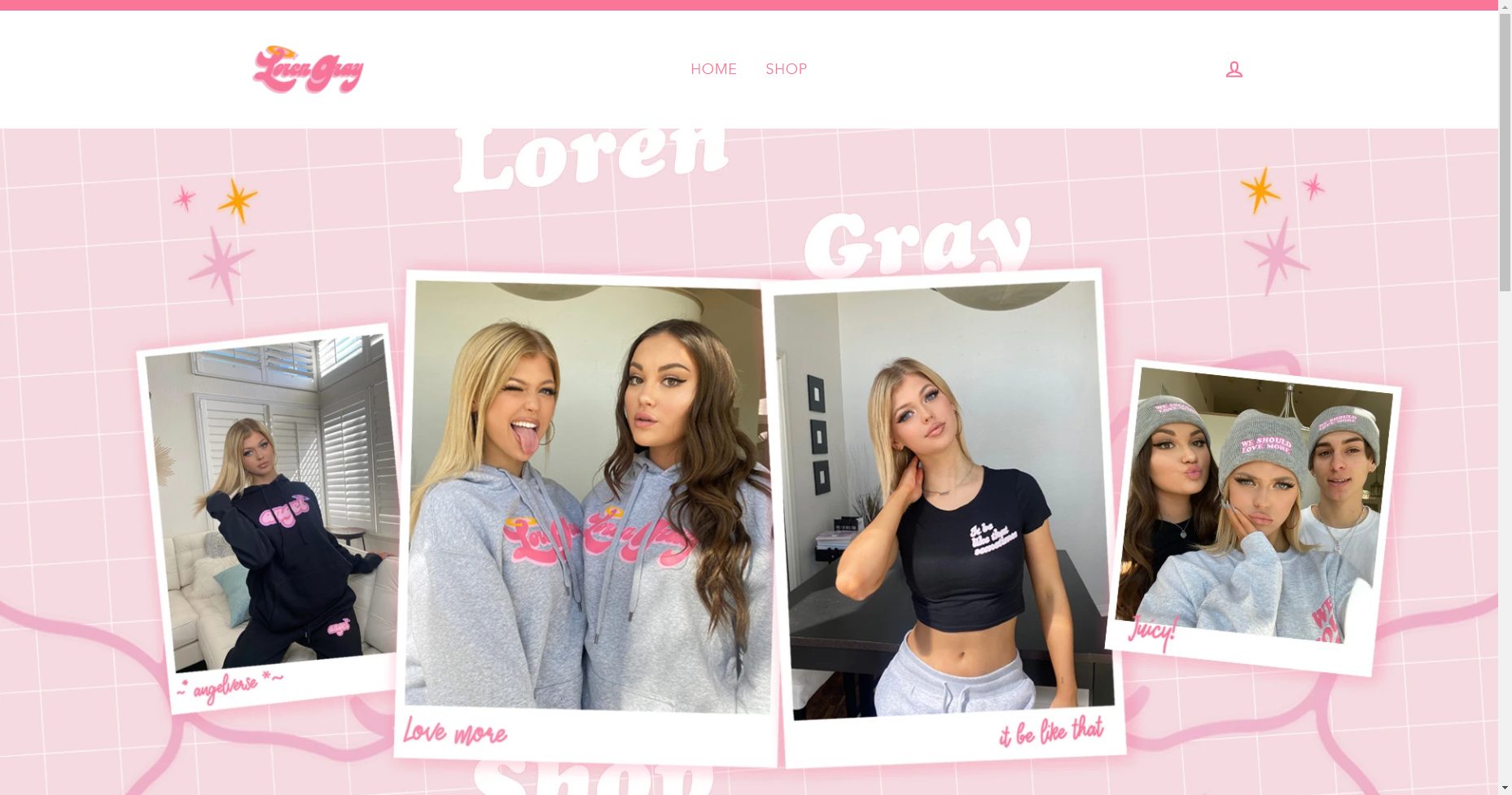 Loren Gray is a singer who created her TikTok account when she was in 6th grade. She also has a large following on Instagram and YouTube. The Pennsylvania native moved to Los Angeles and has enjoyed astronomical TikTok success. Loren was nominated for the Shorty Awards and Teen Choice Awards and, in 2018, was signed by Virgin Records. She released her first single under that label before being later signed by Capitol Records.
Her merch store is everything you would expect from her—lots of pink on branded merch ranging from sweatshirts and joggers to crop tops. While the crop top is an obvious choice, our top pick from Loren's merch is the Ooof tee:
---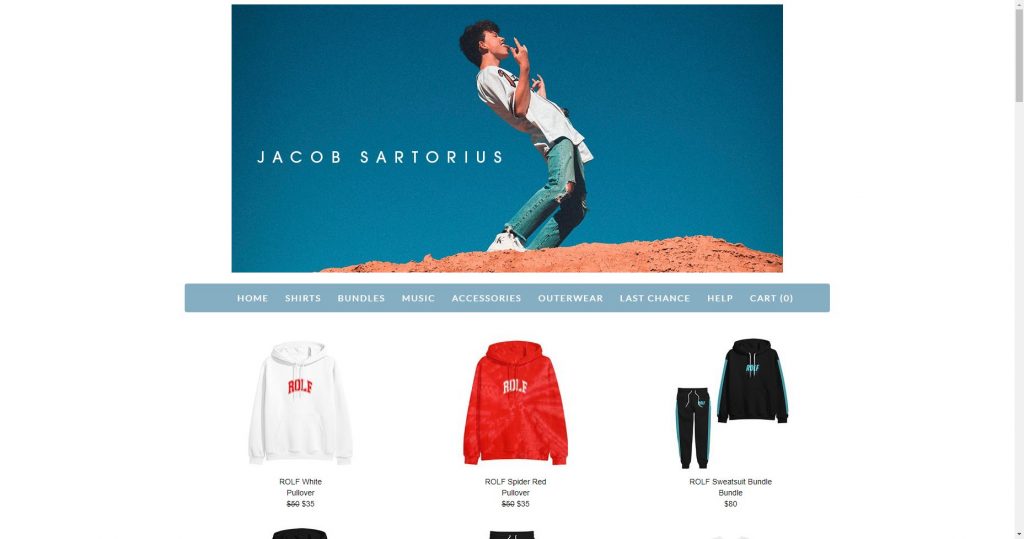 Jacob Sartorius is a singer and social media star whose debut single was featured in the US Billboard Hot 100 charts. Through Vine and TikTok, Jacob has made a name for himself in a big way. He was even called "the next Justin Bieber" by Business Insider. He regularly uses his platform and reach to speak out against bullying and talks about his own experiences being bullied, too.
Jacob's influencer merch on offer has all the standards like sweatsuits, tees, beanies, and PopSockets but also includes some unusual offerings like phone cases, charging blocks, and more. Our favorite is the "Nothing between us but chapstick" tee:
---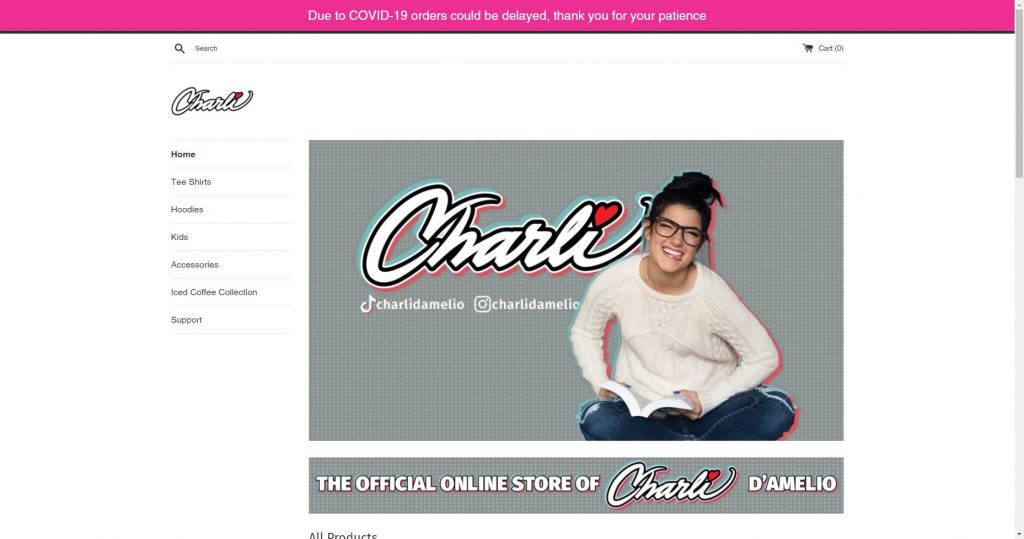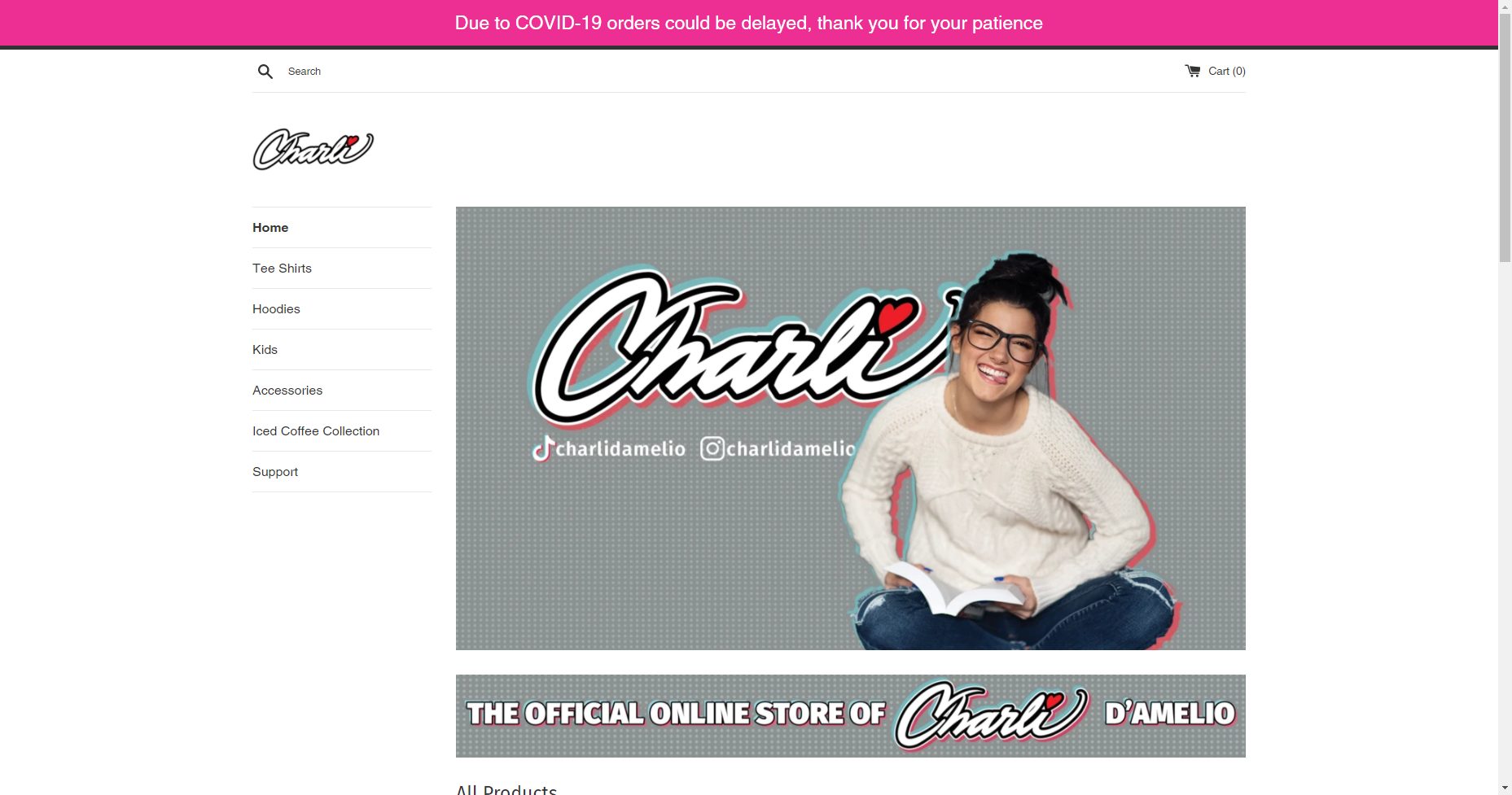 Charli D'Amelio is TikTok's biggest star. She started her TikTok channel in June 2019 and within months the 15-year-old had worked her way into everyone's hearts with choreographed dances. Thanks to her success on TikTok, Charli ended up with a spot in Hype House, an appearance in a Super Bowl commercial, and a talent agency contract.
Charli's merch offering isn't large, offering just a few designs, but we're in love with the iced coffee crop top:
---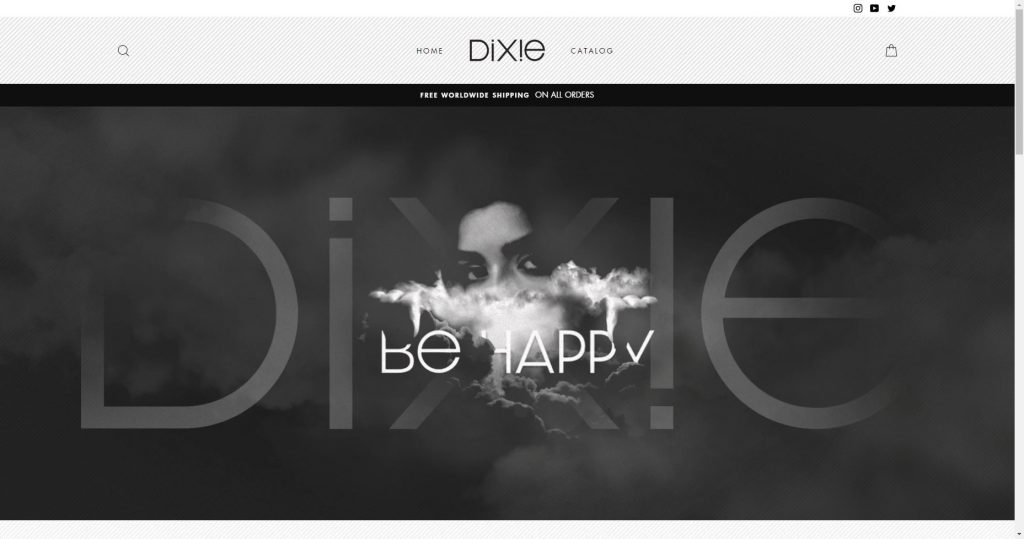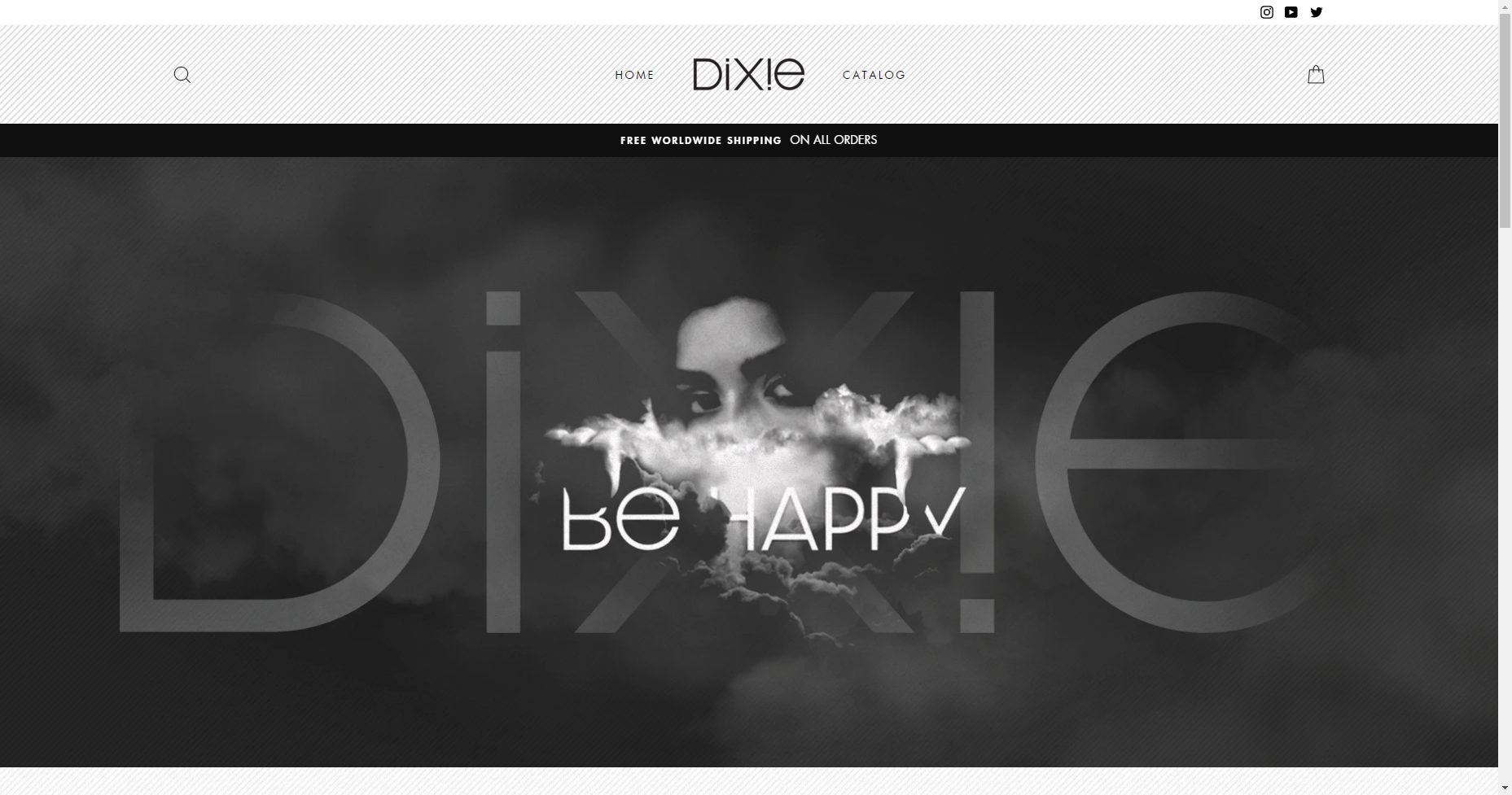 Dixie D'Amelio is Charli's older sister. She's also known for her choreography and dance videos and is another member of Hype House. Dixie signed a talent agency contract in 2019. Dixie's merch offering is pretty limited, too, but by far our favorite piece is the cloudy hoodie:
---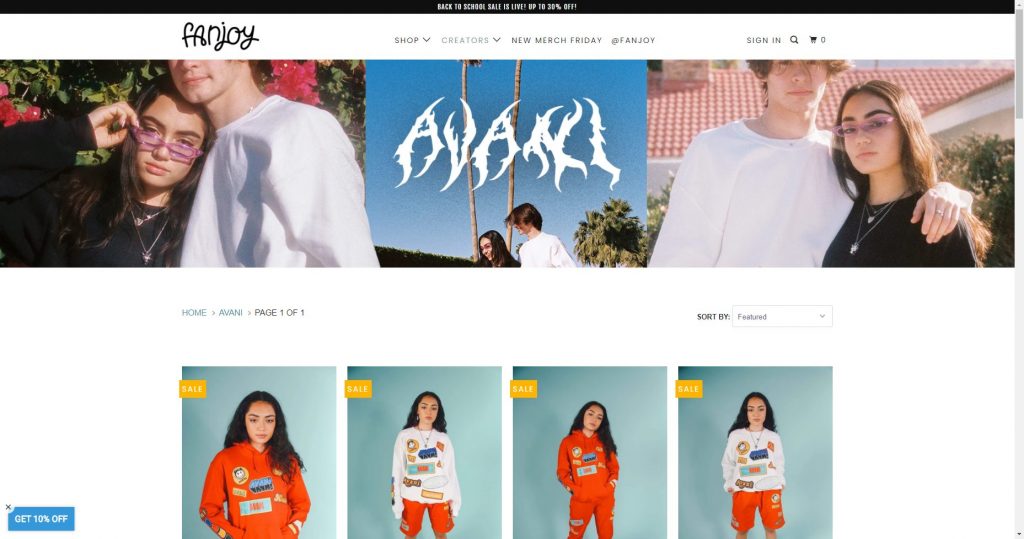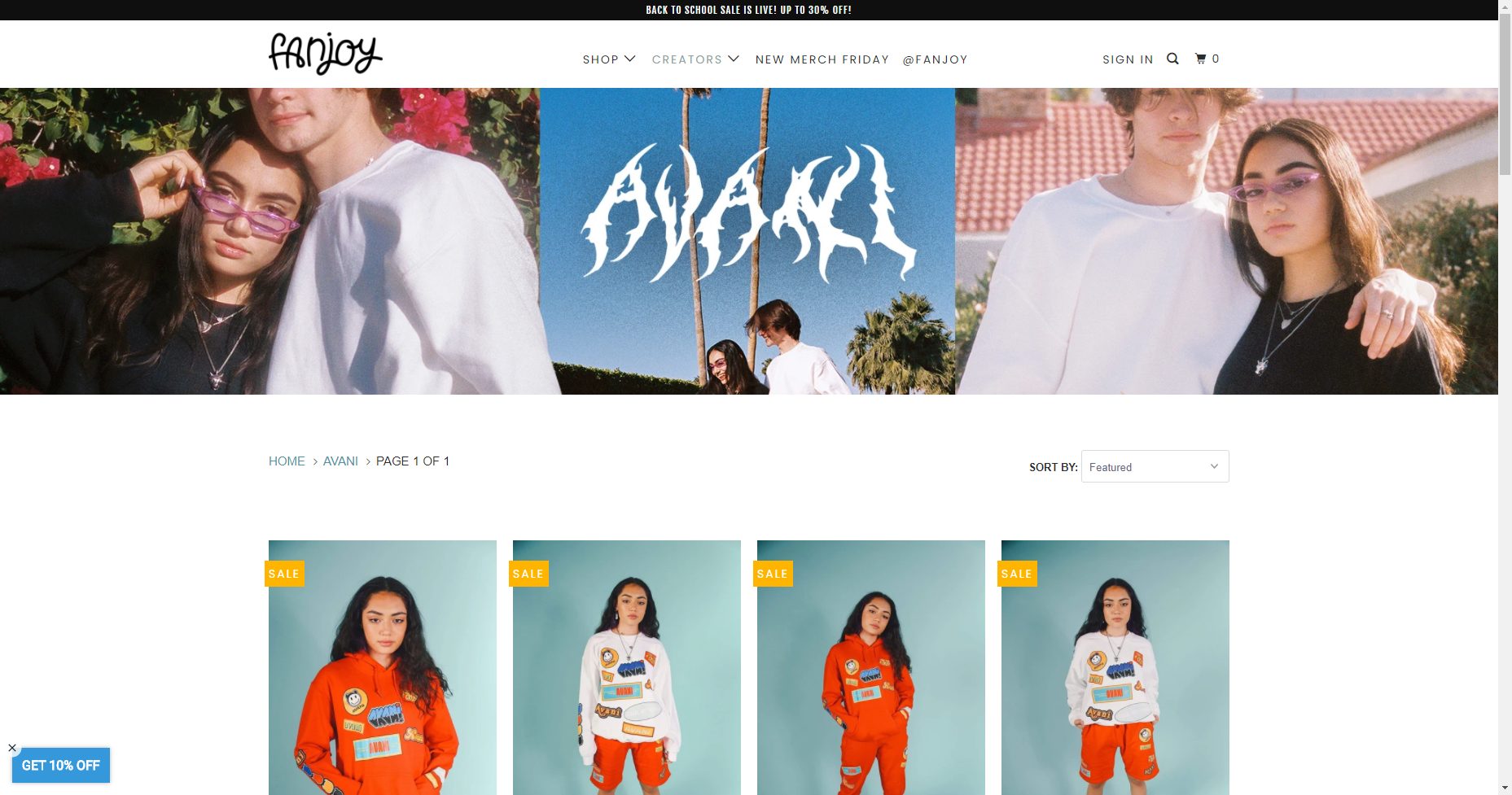 Avani Gregg is another member of Hype House. She offers up dance videos and makeup looks on TikTok. Her merch is absolutely wonderful, seriously, we love every piece. Our favorite, though, are these awesome Kissi joggers:
---
13. Lilhuddy (a.k.a. Chase Hudson)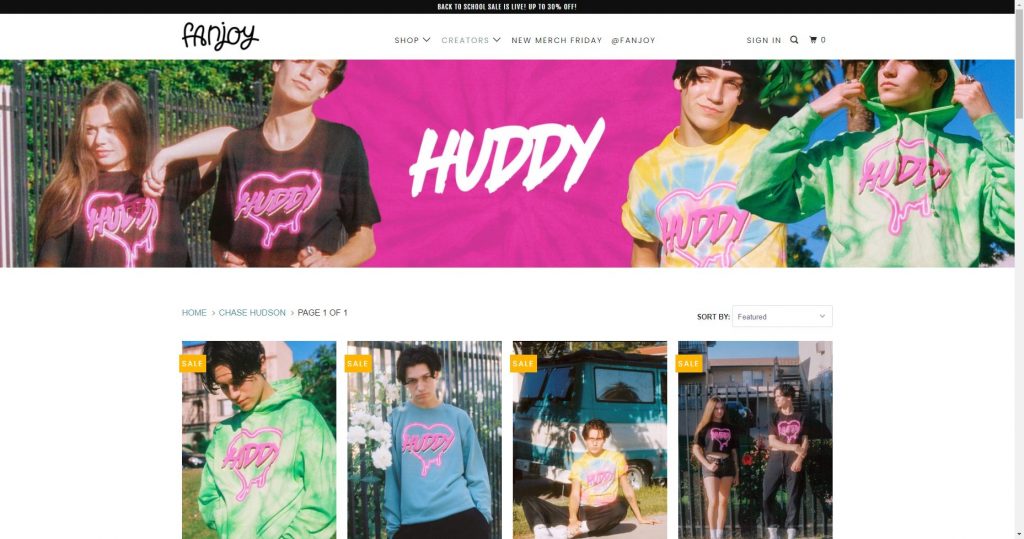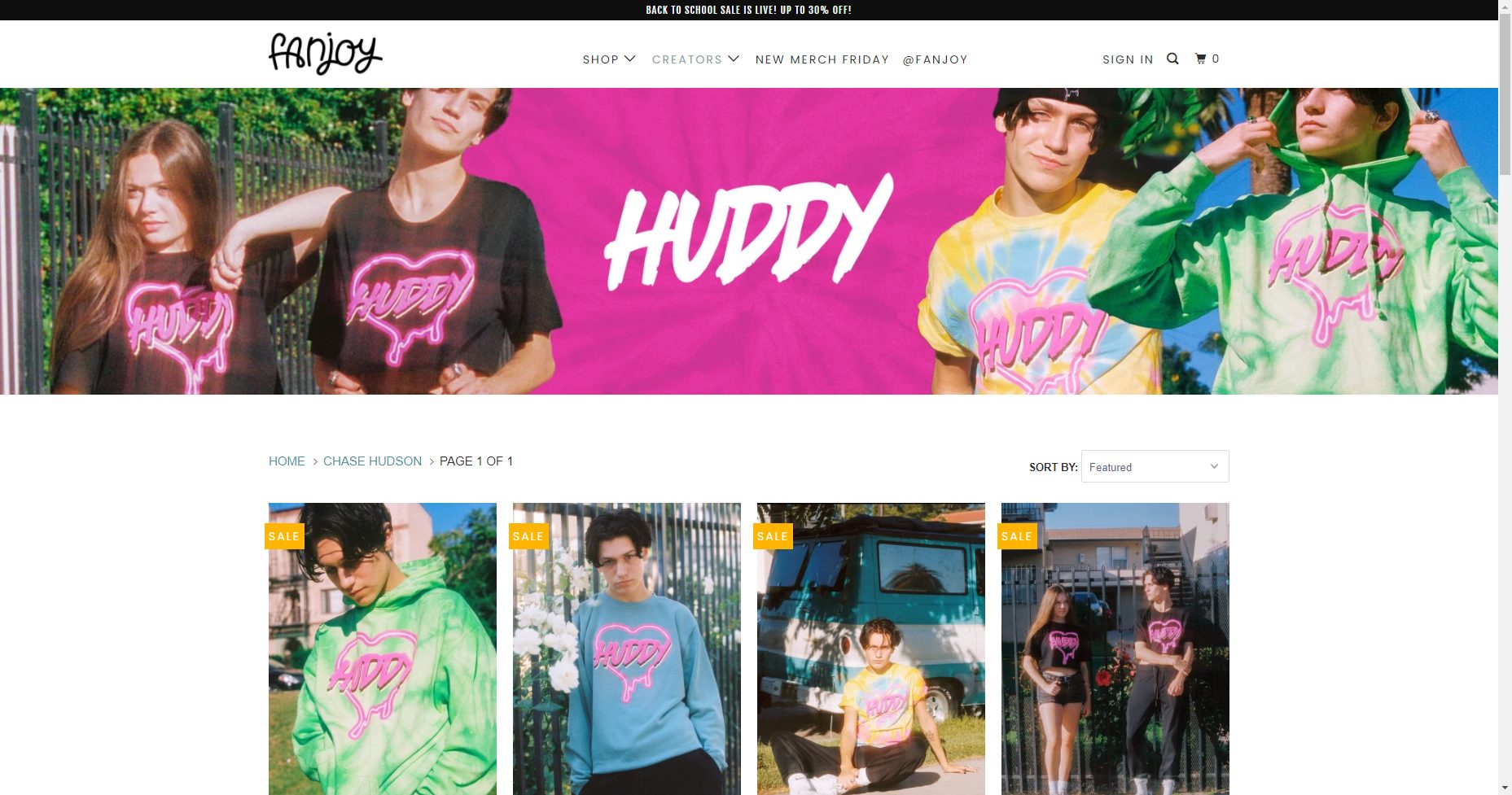 Chase Hudson, known on social media as "Lilhuddy," is yet another member of the LA-based creator collective, Hype House. He's widely known for dating Charli D'Amelio, but is also one of the top music influencers on TikTok according to Billboard, with more than 20 million followers. Chase's Fanjoy influencer merch store offers up crop tops, hoodies, beanies, and phone cases. We're particularly fond of this jellyfish Huddy hoodie:
---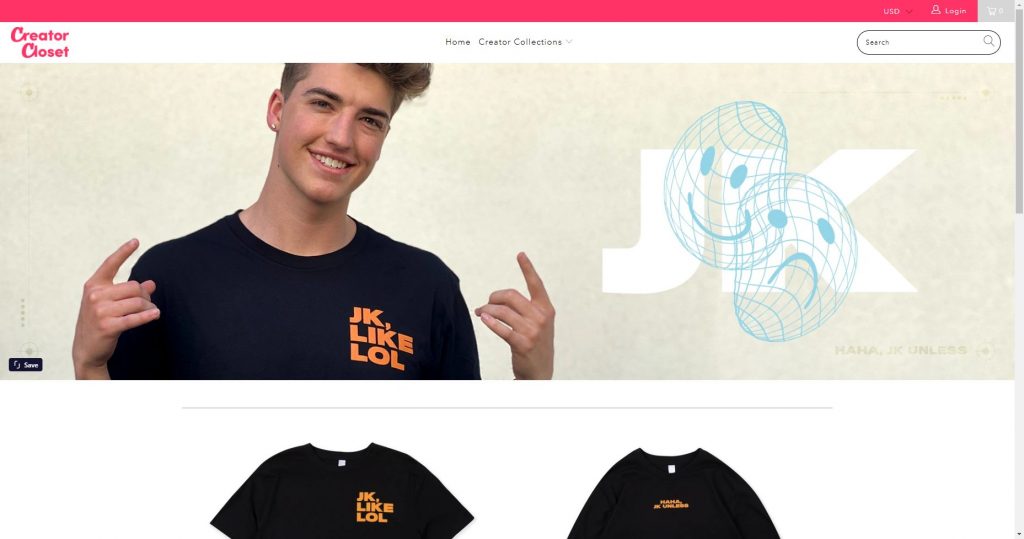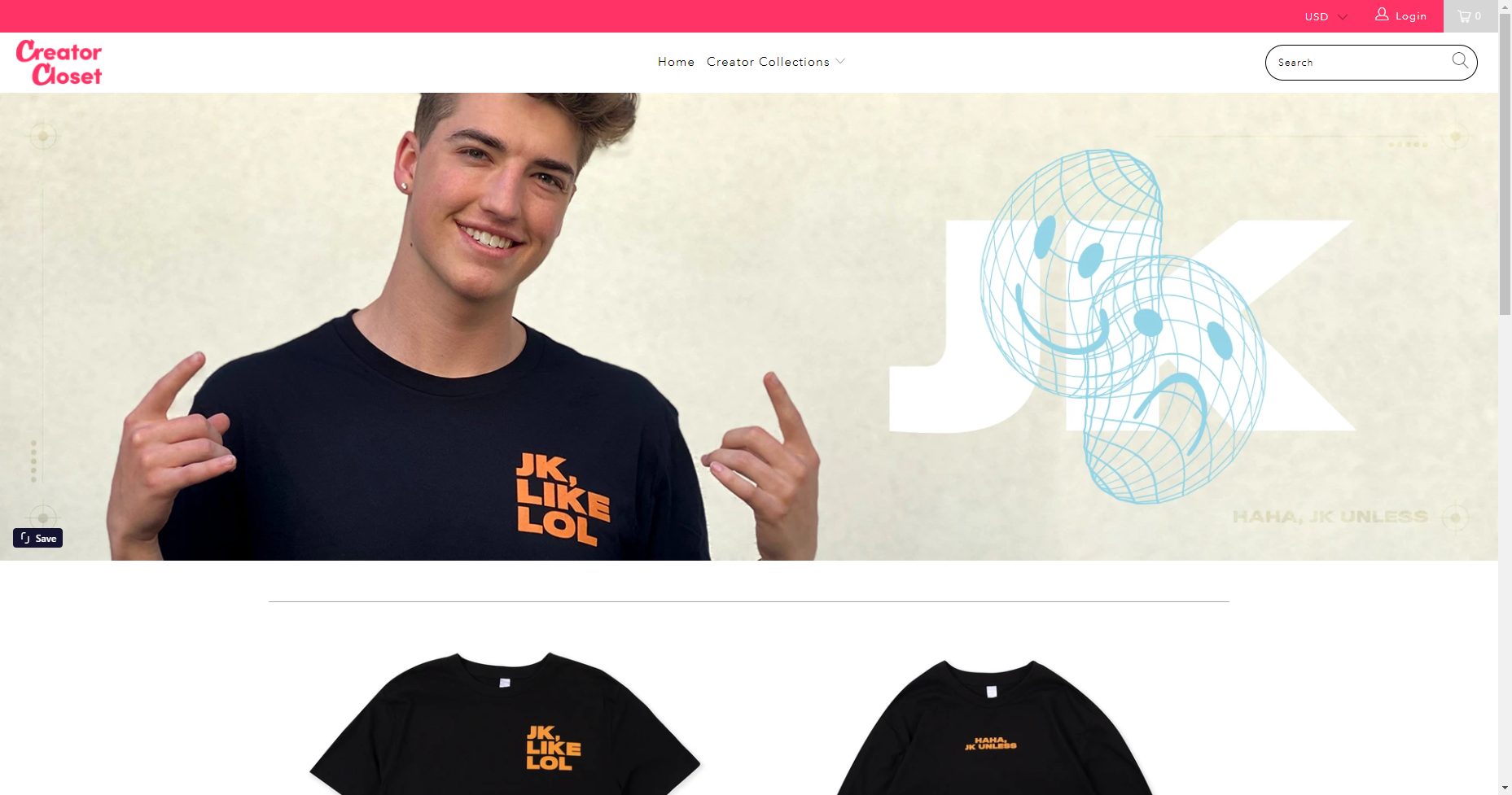 Joey Klaasen is the younger brother of Jon Klaasen whose claim to fame was as a member of a boy band on the US version of "The X Factor." He's since climbed out from his brother's shadow as a TikTok influencer and has signed up with the talent agency behind the creator collaborative Swag LA. Joey's influencer merch on offer is pretty slim—just a short-sleeved tee, long-sleeved tee, and hoodie—but we're really digging this "JK Unless…" long-sleeved tee:
---
15. PewDiePie (a.k.a Felix Kjellberg)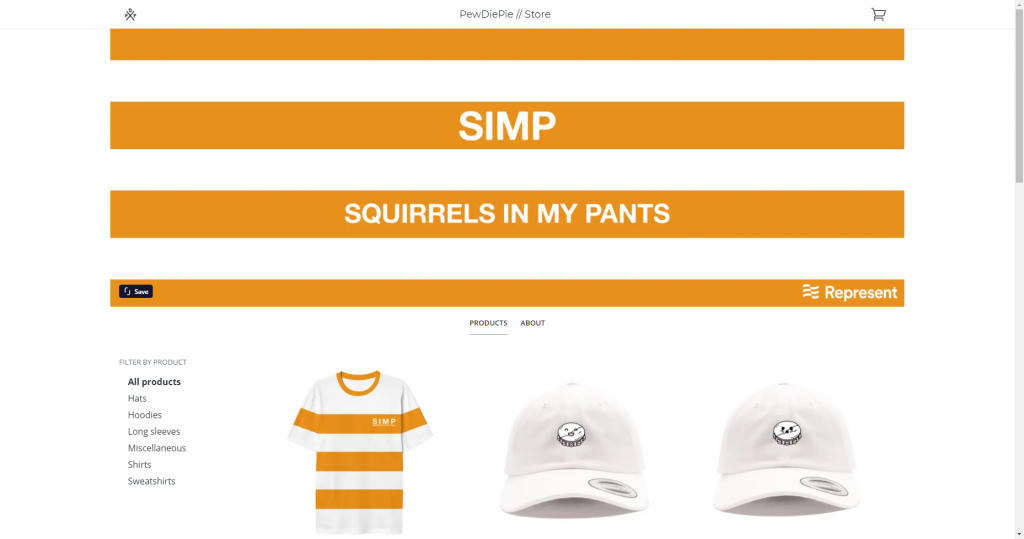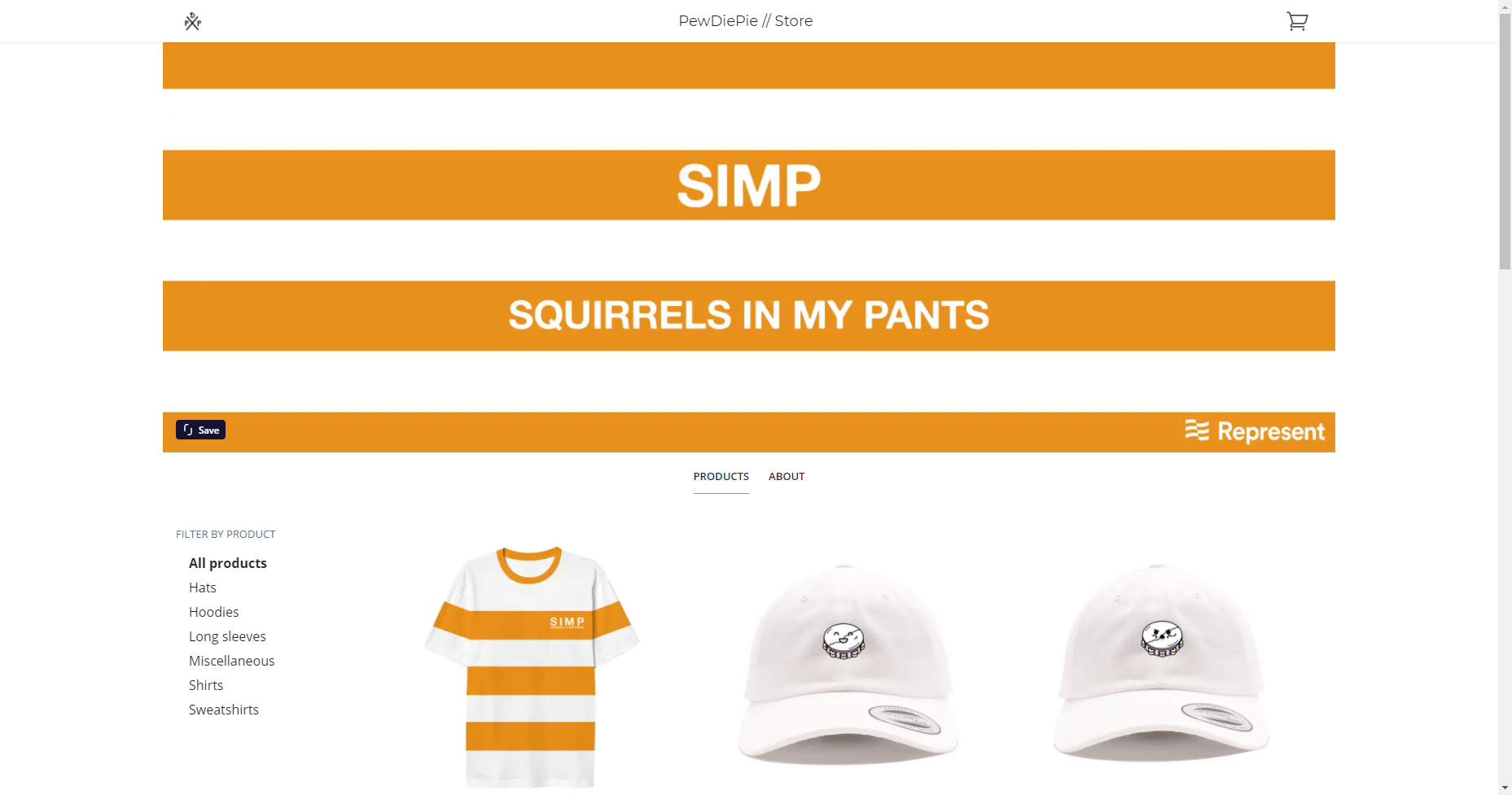 Even if you don't follow influencers online, you've probably heard of YouTube influencer PewDiePie. He's popular for his online gaming videos where he provides commentary while playing. His content also includes coverage and commentary of other viral videos and internet memes (sort of Nosh2.0 vibe). While he's had quite a bit of negative attention for his racist and anti-Semitic remarks, he still draws a crowd. His merch store on the Represent platform offers hats, hoodies, tees, and face masks. We're partial to this angry tambourine hat: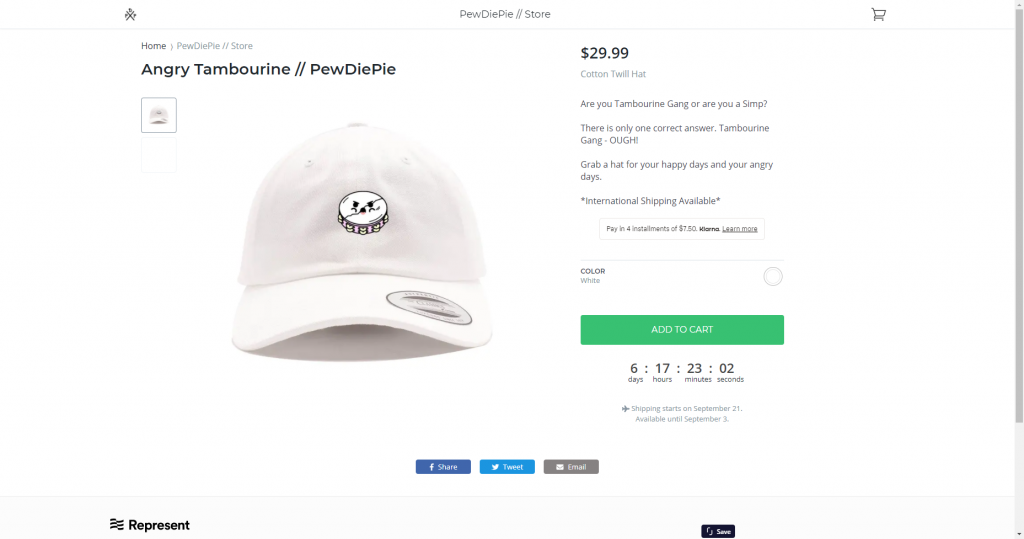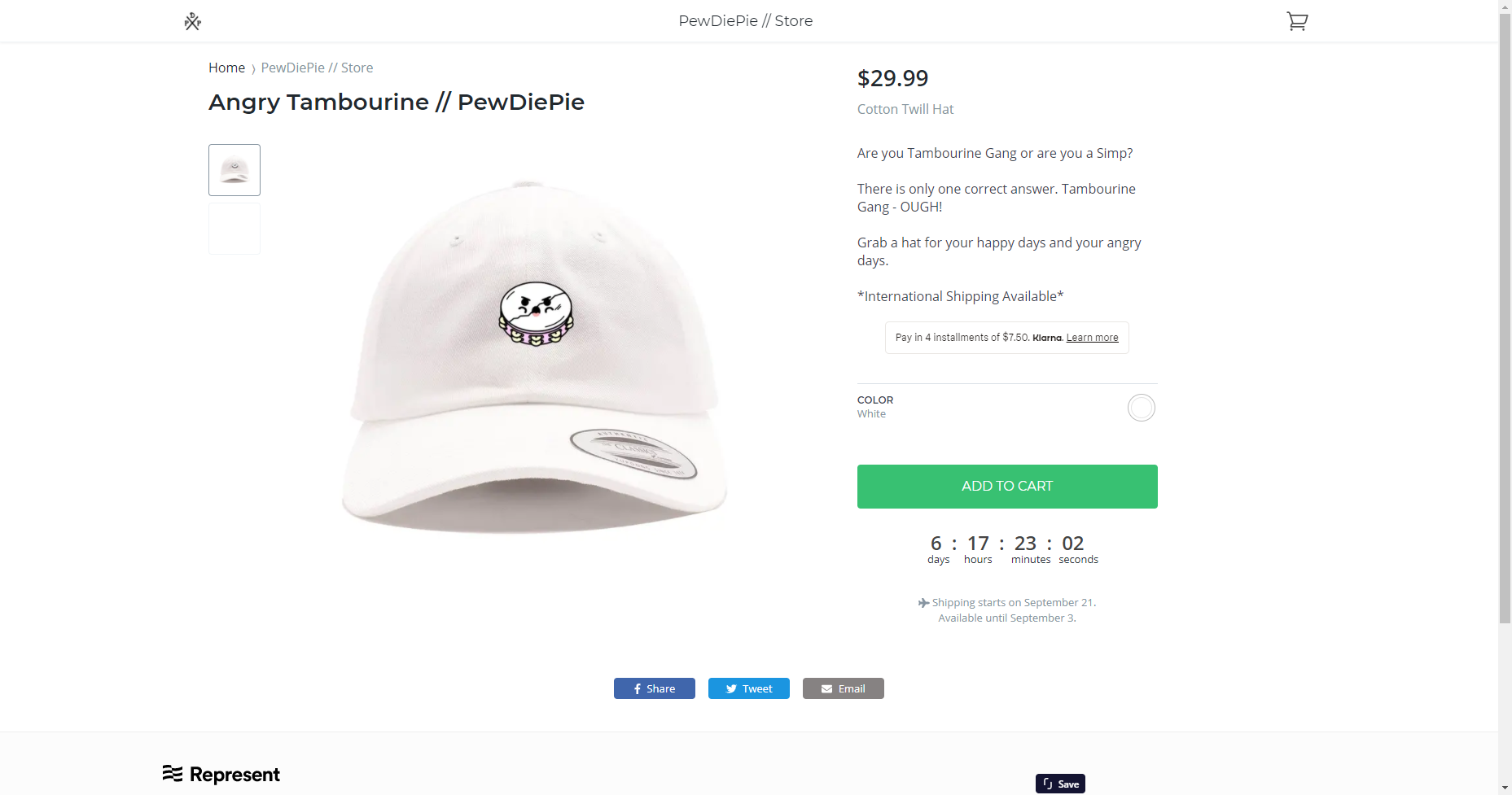 ---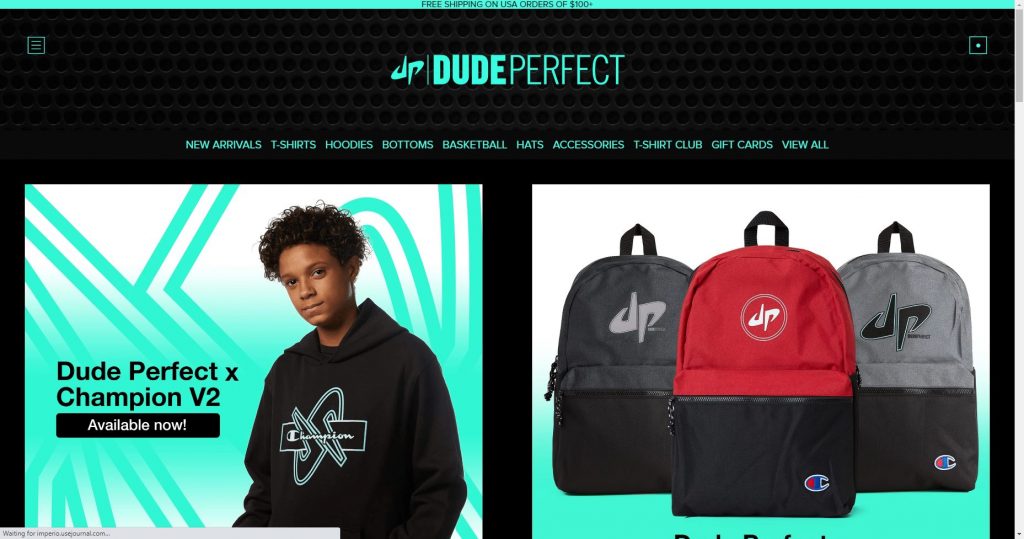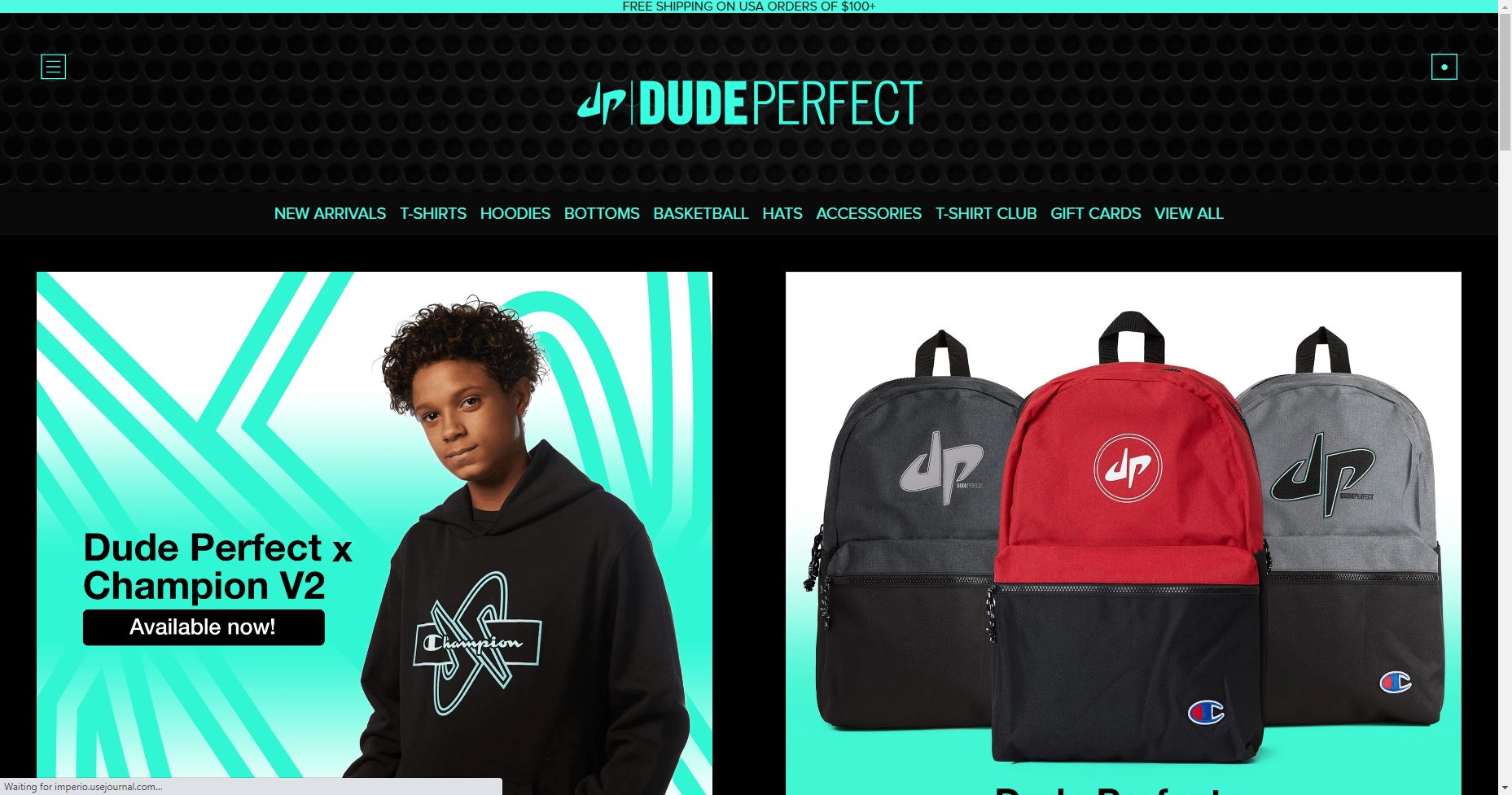 Dude Perfect is known for compilations of sick trick shots and the famous athletes that show up in their videos. They've branched out into comedy content and are often joined by their giant panda mascot. Like Jake Paul's store, Dude Perfect offers just a ton of different types of merch but in a much prettier website. We're fans of this branded basketball:
---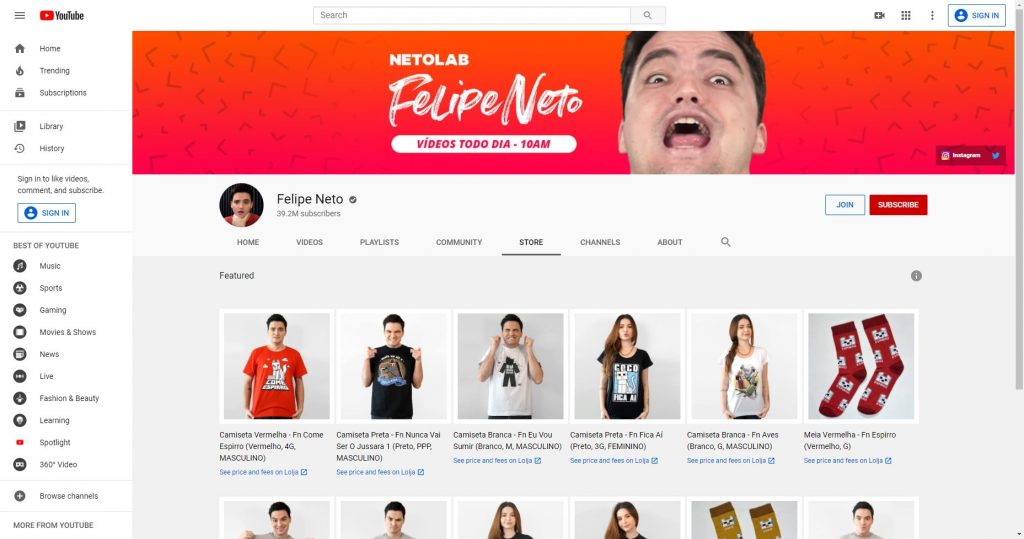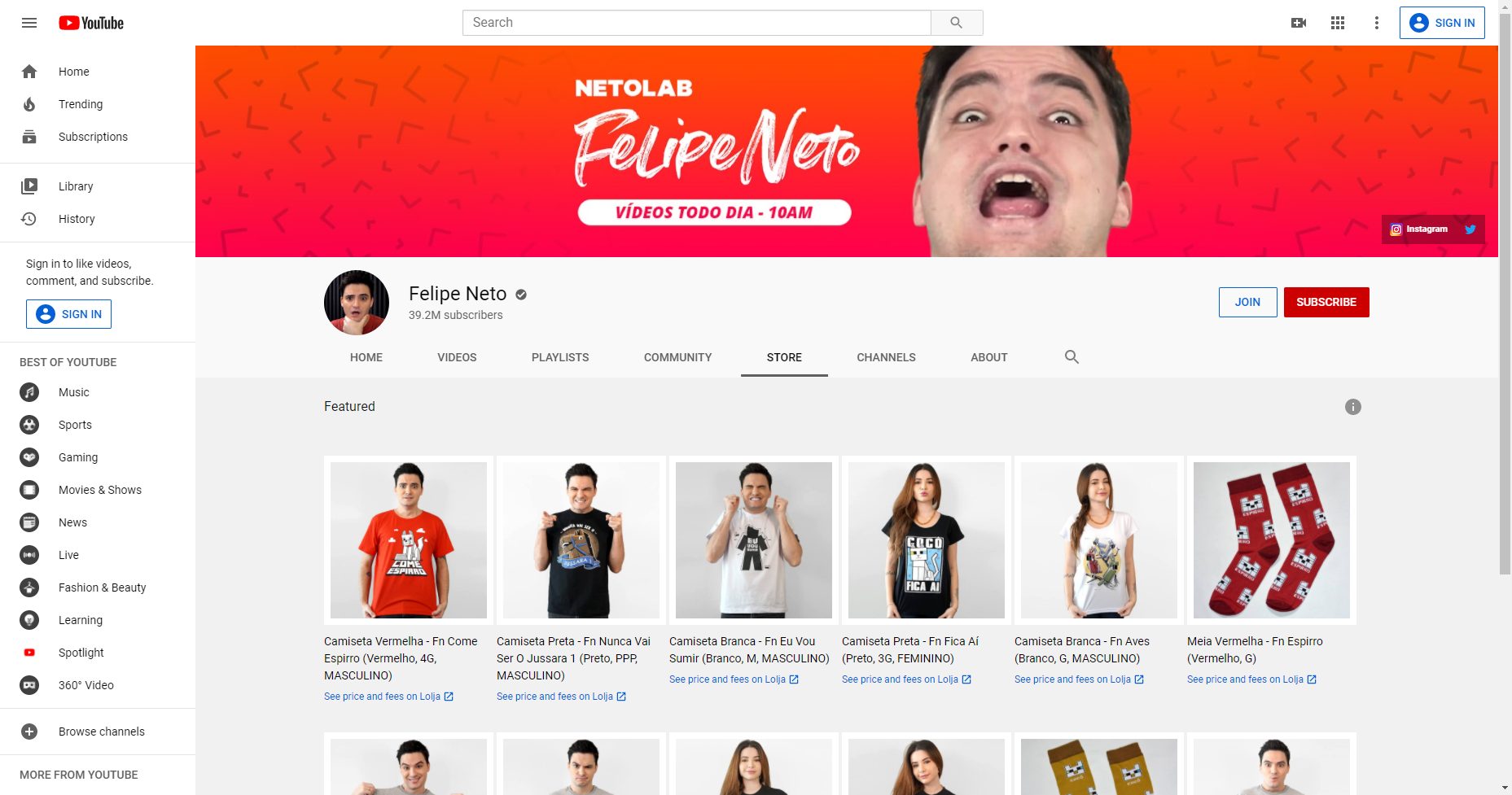 Felipe Neto's YouTube channel became the first Brazilian channel to hit 1 million subscribers (2012). Felipe creates comedic videos and vlogs in which he talks about current events, celebrities, and his daily life. He released a Netflix original comedy special, "My Life Makes No Sense," in 2017. Felipe's influencer merch includes long- and short-sleeved tees, hoodies, and socks. This graphic tee drew our attention right away: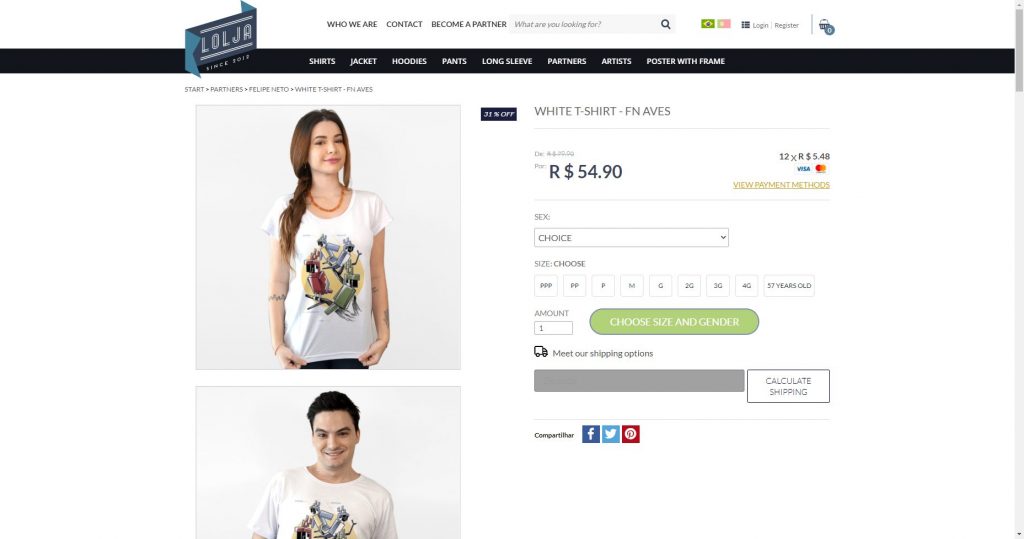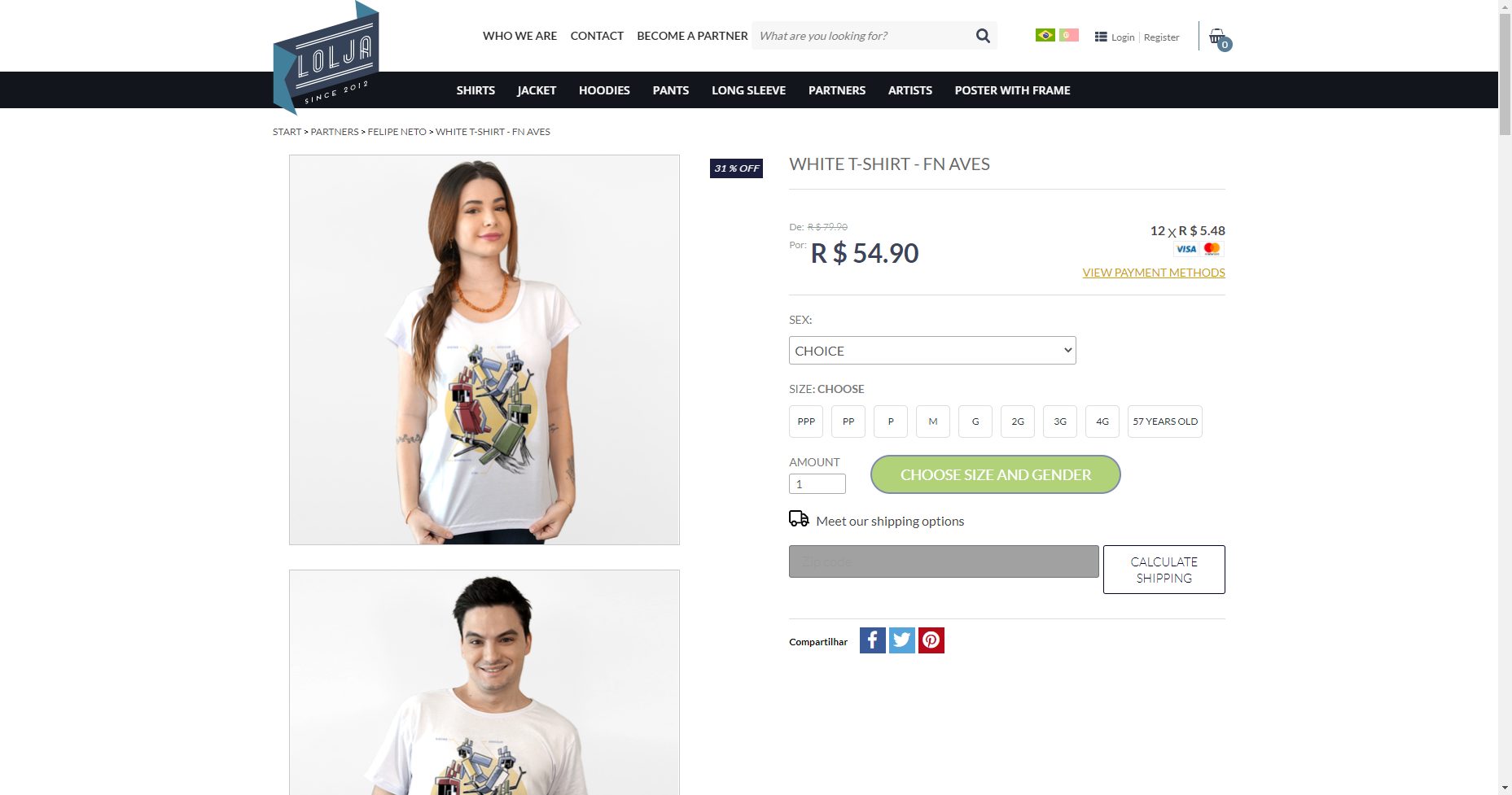 ---
18. MrBeast (a.k.a. Jimmy Donaldson)
MrBeast is known for viral challenges like counting to 100,000 in one video or the "last to remove hand wins Lamborghini" challenge. He's also done several donations and charity stunts where he hands out thousands of dollars to waitstaff and smaller Twitch games. His merch is incredibly eye-catching, with bright pinks, blues, and yellows. These board shorts are just about the best thing we've ever seen:
---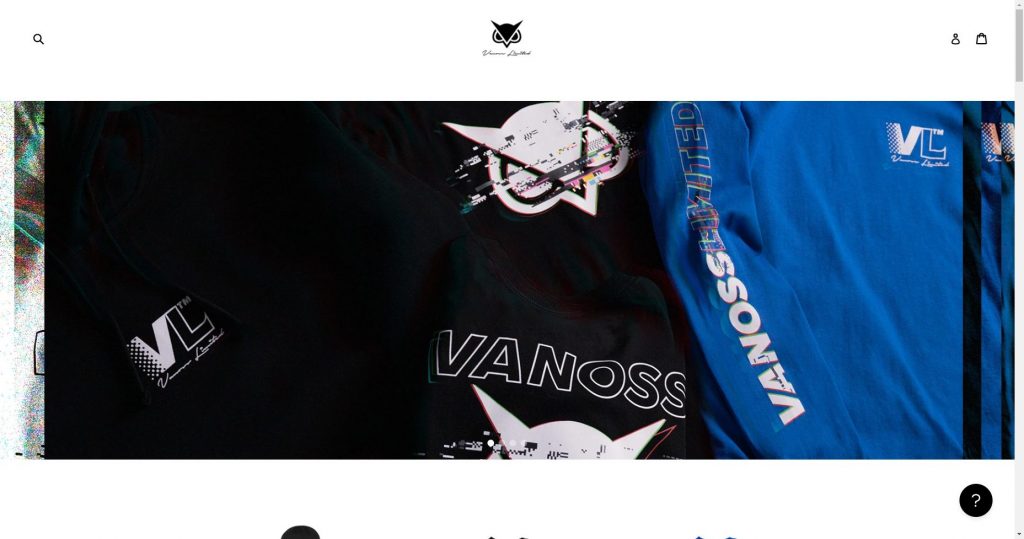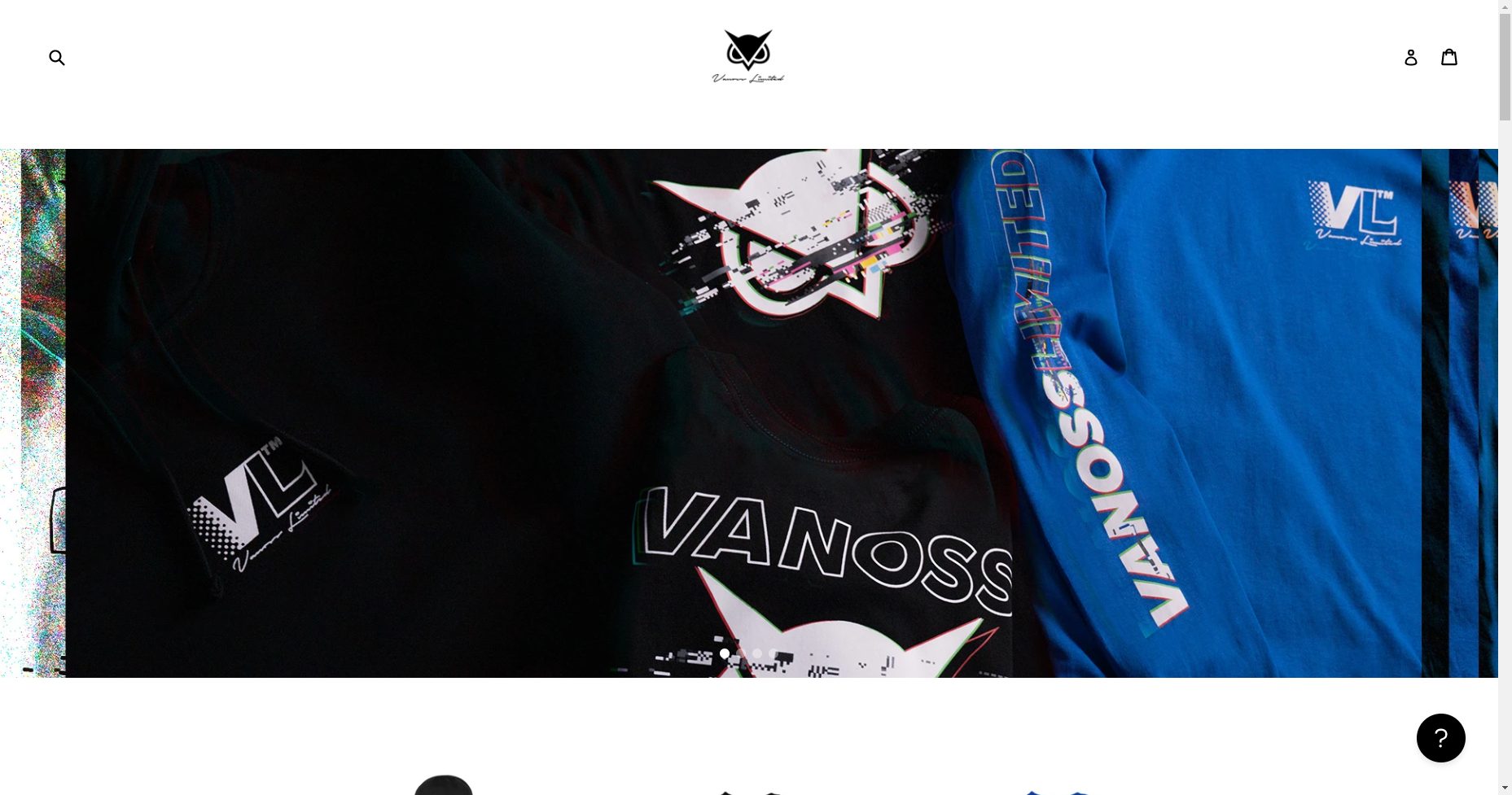 Evan Fong of VanossGaming is a gaming influencer. He also puts together compilations of the funny moments that occur while he's playing. His merch is limited to hoodies and tees with the VanossGaming logo, but we're also really into these stickers:
---
20. Ninja (a.k.a. Tyler Blevins)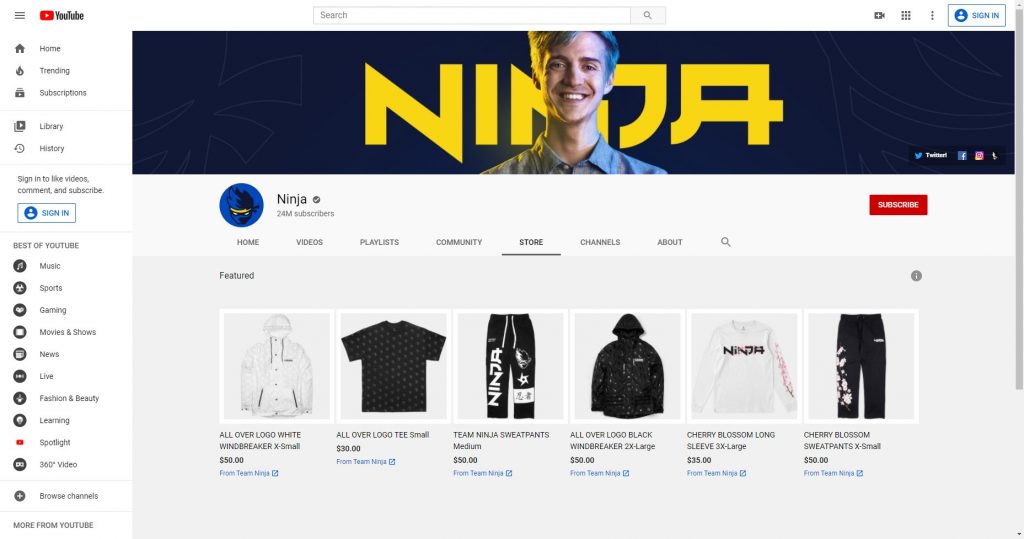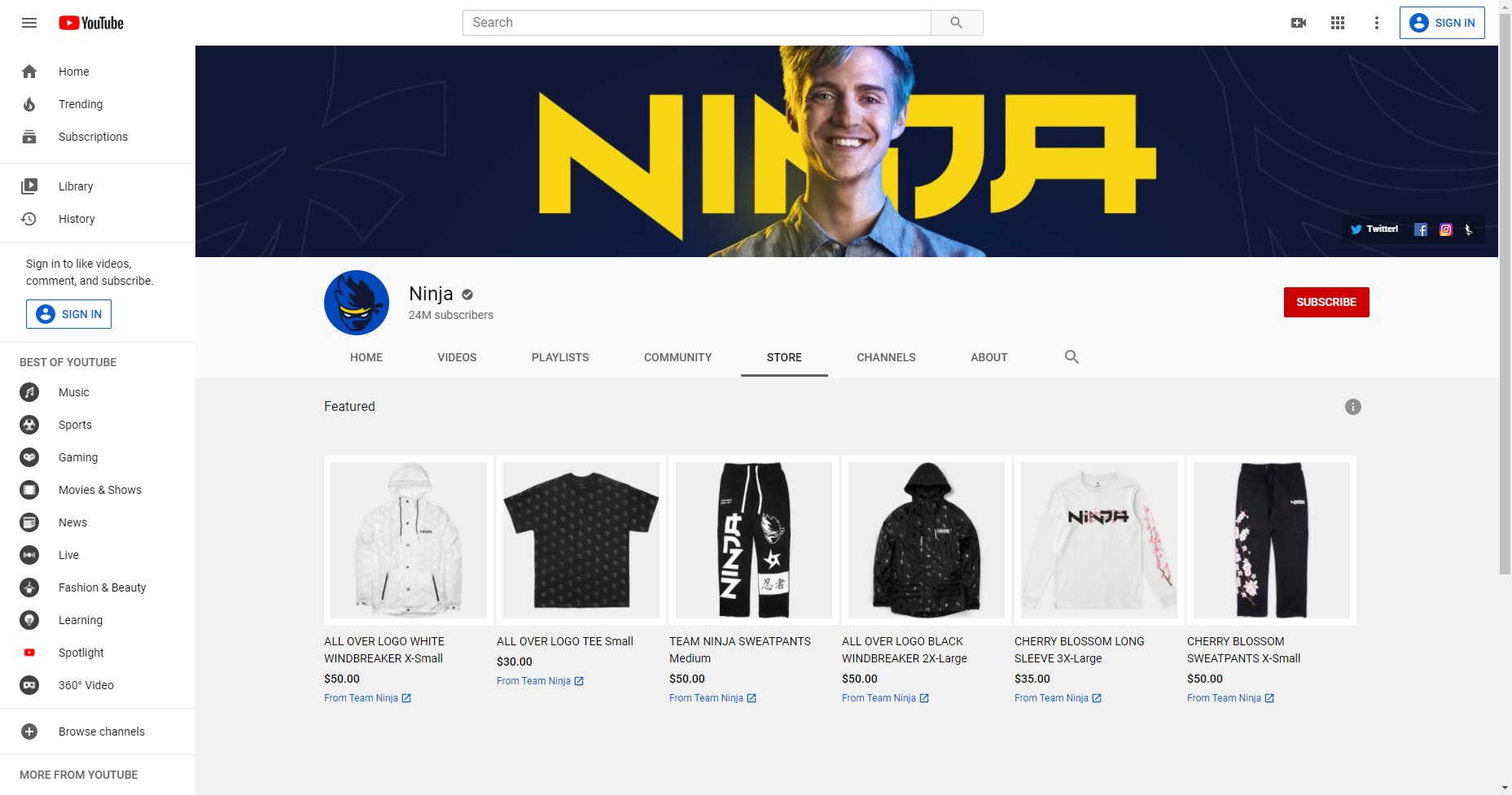 Ninja is a professional eSports player who achieved fame as the most-followed user on video game streaming platform Twitch (he's since signed an exclusivity deal with Mixer). On his YouTube channel, Ninja features game streams of him playing some of the most popular games like "Fortnite" and "Apex Legends." Ninja offers tees, hoodies, and windbreakers on his merch store, but the standout influencer merch on offer are these cherry blossom sweatpants:
---
Influencer Merch: A Great Way to Support Creators
For influencers with a strong and engaged following, selling merch is a great option for earning additional money to supplement those sponsored posts. Influencers across social media platforms can use merch to promote their brand, from YouTube influencers to TikTok influencers to Instagram influencers and beyond, high-quality, on-brand merch will help influencers build community and increase brand affinity and awareness.