More than 122 million people use YouTube every day, making it the second most popular search engine globally. You may not have started a YouTube channel for the sole purpose of making money, but there are numerous ways your uploads can generate income for you.
If you have high-quality content that people want to see, you can succeed as a creator on this platform because of the size of the audience. This guide will walk you through the process of monetizing your YouTube channel in 2024.
---
The Ultimate Guide to YouTube Monetization in 2024:
---
What Is YouTube Monetization, and How Does It Work?
Simply put, YouTube monetization means earning revenue from your YouTube videos. The YouTube monetization model is relatively straightforward. Businesses that want to advertise on YouTube create these adverts through Google AdSense Network.
These advertisements can be displayed at any point throughout the video. Owners of these videos are compensated each time a viewer sees the complete advertisement.
---
YouTube Monetization Policies
There are several regulations governing the use of YouTube, including the community guidelines, terms of service, copyright, and Google AdSense.
You need to adhere to YouTube's monetization guidelines if you want to make money from your channel. These rules apply to any user currently enrolled in the YouTube Partner Program or considering doing so.
---
How to Make Money on YouTube?
If you are looking for ways to make an income off your YouTube channel, here are 12 ways you can do so:
YouTube Partner Program

Through affiliate marketing

Being a YouTube Influencer

Channel memberships

Content licensing

YouTube Shorts Fund

YouTube Premium revenue

Selling online courses

Selling merchandise

Super chat and super stickers

Crowdfunding

Driving traffic to your blog using YouTube videos
1. YouTube Partner Program
To begin earning money from your YouTube videos, you must first become a member of the YouTube Partner Program. AdSense monetization of YouTube videos using Google AdSense is one of the most prevalent and straightforward methods of generating income from your YouTube videos.
Once you've linked your YouTube channel to your Google AdSense account, you'll be able to submit your videos in consideration of monetization through AdSense. If your video meets the monetization requirements set out by YouTube, it will be authorized for monetization. You must meet the following requirements to join the YouTube Partner Program:
You must have

at least 4,000 hours

of watch time in the past 12 months

You live in a country that has access to the program

You have created your AdSense account and linked it to your YouTube channel

There are currently no active community guidelines strikes on your channel

You abide by all YouTube monetization regulations
Before permitting monetization on your account, YouTube verifies your application and ensures that you have complied with its regulations. Getting a response from YouTube about your application for its Partner Program might take up to a month.
The only thing left to do is switch on advertising on your YouTube account once you've been accepted into the YouTube Partner Program and start making money from ads.
---
What if your application for the YouTube Partner Program was unsuccessful? What are your options?
If your application for the YouTube Partner Program is turned down, you will be given a broad explanation. There is no way to know exactly what material caused the rejection, so you may have to edit your channel based on guesswork. But the good news is that you can reapply in 30 days.
If you believe that any of your videos violate the community's rules, you should make the necessary changes. You may have to remove copyrighted material from your video and re-upload it as a last resort.
2. Affiliate Marketing
Another lucrative source of income for YouTubers is affiliate marketing. When you promote a product through affiliate marketing, you'll get paid a commission. Signing up for an affiliate program is the first step to achieving this.
There are various options available depending on your location. Each affiliate is provided with a unique link that directs customers to the promoted product or services. You can promote your affiliate link by creating video marketing for that particular product and then include your affiliate link in the video description.
Any of the following might work as a suitable video:
a review of the product

an unboxing video

a how-to video
Remember to put an affiliate disclaimer, telling your audience that you will get paid a commission if they purchase through your link. You can mention that in the video or include it in your video description as well.
For every sale completed through your unique link, you will gain commissions. Find affiliate programs for products in your niche or register with affiliate networks. The following are a few well-known networks for affiliate marketing:
ClickBank

Amazon Associates

Walmart
---
3. Be a YouTube Influencer
Influencer marketing and sponsorships are becoming increasingly popular, and brands are spending their marketing budget on influencers who have already gained the trust of their target demographic.
If you can get the appropriate partnerships, this opens up many possibilities for you as a creator. Influencers on YouTube may earn a substantial amount by advertising products and services from businesses, just like in affiliate marketing.
Companies would be interested in working with you if you have a large and engaged following and your content is relevant to their target market. Getting brands to partner with you can be difficult, especially if you don't have a large following.
One way to overcome this barrier is to sign up on an influencer marketing agency like Viral Nation and Fanbytes by Brainlabs. As a rule of thumb, it's better to list yourself on as many platforms as possible to ensure maximum exposure and attract the right businesses.
Always remember to label advert videos as "paid promotion" if you're producing sponsored content. Google's ad policies should also be followed to avoid penalties on your account.
---
4. Channel Memberships
Channel memberships allow viewers to support your channel by making monthly payments in return for exclusive benefits available only to members. Up to five tiers of YouTube membership may be created, with specific bonuses added to each level as you go through them.
To create one, you must have a minimum of 1,000 subscribers and be over 18 to be eligible. If you want to use this feature, you must also be a YouTube Partner Program member.
To receive bonus content or unique privileges, you'll be able to ask your subscribers to become members of your channel, who will then be required to pay a little monthly charge ranging between $0.99 and $100 in exchange.
If, for any reason, you violate the community standards or have your account canceled, your members will get a refund for the most recent month of their membership.
---
5. Content Licensing
Your content can be licensed for money if you ever manage to make a big-hit viral video. Most likely, you'll have requests to utilize your YouTube video from different media sites requesting to use that particular video!
Since that video is licensed, they will have to pay to use it in their channel or publication. You can do this for some of your most popular videos.
To make it easier for others to get in touch if they want to use your viral video, you should include an email address in your "about page" on your YouTube channel. It's also an option to list your videos in a marketplace so that the right people can quickly locate and purchase your content.
---
6. YouTube Shorts Fund
YouTube Shorts are short, vertical videos, mostly generated with a smartphone and posted straight to YouTube using the YouTube app, similar to how Instagram Stories are uploaded to Instagram. The maximum video length for a YouTube short is 60 seconds.
So how do you as a creator make money from this? A $100 million fund for YouTube Shorts is distributed between 2021 and 2023. YouTube Shorts monetization began in May 2021 with this initial stage.
Only the creators of YouTube Shorts who match the fund's criteria will be compensated. The following requirements must be satisfied to be eligible for YouTube Shorts Fund rewards:
In the previous

180 days

, upload a qualified short.

Your channel complies with the YouTube community guidelines, copyright restrictions, and monetization guidelines.

For the YouTube Shorts platform, content must be original and distinctive.

Re-posting videos from other video platforms or uploading movie clips from other sites is not permitted.

The creator must be at least 13 years old.
---
7. YouTube Premium Revenue
YouTube Premium allows creators to replace YouTube ads with ad-free viewing to generate an additional source of revenue. Subscribers to YouTube Premium do not see any advertisements, regardless of who generated the content. Instead, a percentage of the membership money received by YouTube Premium is distributed to the content creators who created the video.
A user's monthly money is distributed between the creators whose videos they have seen the most during the month if they have a YouTube Premium membership. If you're already a monetized creator, all that is required is that your content is watched by YouTube Premium subscribers.
---
8. Sell Online Courses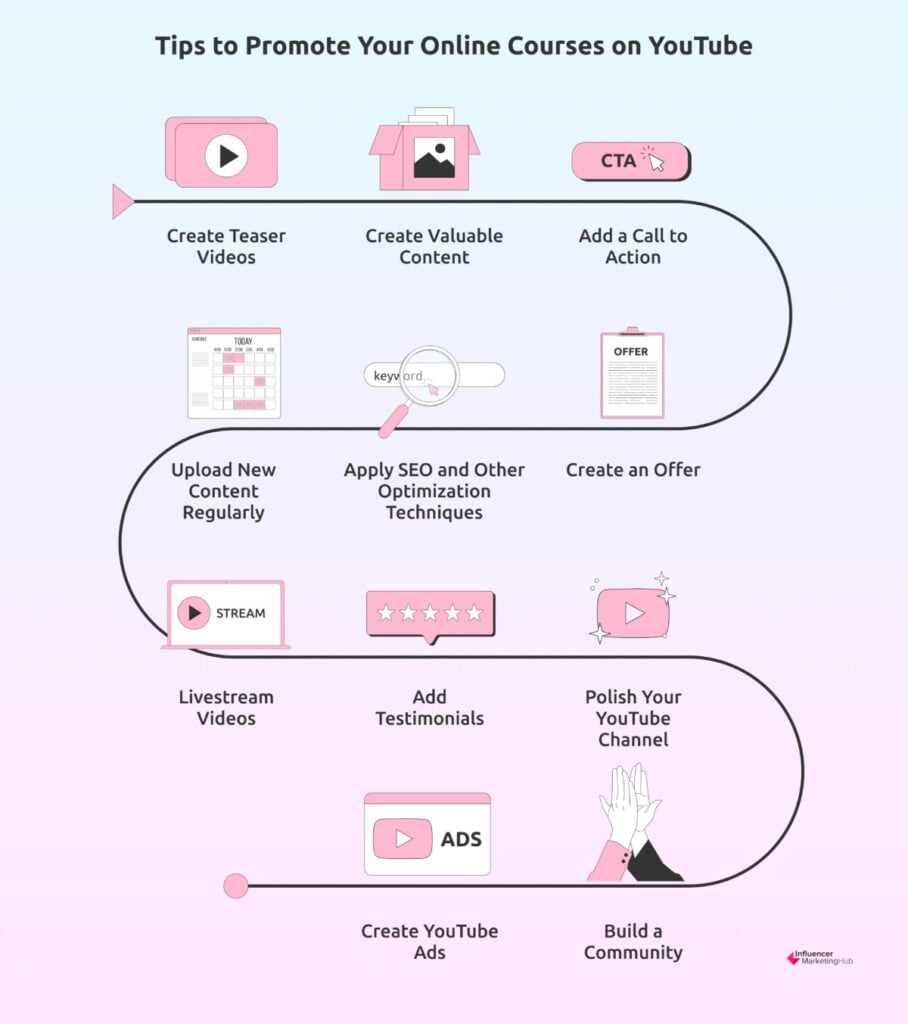 Creating and selling online courses are fantastic methods to generate money on YouTube. Offering an online course is a great way to make your skills more marketable to your audience. As long as your course offers something of value to your subscribers, they'll be more than happy to invest their money and sign up.
An online course might be in the form of an e-book or a video. Remember that whichever format you use, be sure to provide high-quality content that impacts your audience and delivers value. It is easy for people to know if you underdeliver, which can make people start doubting your services or stop interacting with your channel. As a result, you can lose out on a lot of potential income.
---
9. Sell Merchandise
If you want to make money from your audience, you should consider selling merchandise to them. Buying shirts, caps, and notebooks is a great way for subscribers to demonstrate their support for your channel. This approach is the most effective for channels with larger audiences.
If you want to sell your designs, you can upload them to Printful or Printify's online platform, where consumers can purchase them and get them by mail straight from the platform. The good news is that you don't even need to be involved in the process.
In addition to boosting your channel's subscriber count, selling branded products is a terrific method to monetize your YouTube channel and earn visibility for your business online and offline.
It's easier to make money by selling merchandise than using AdSense. Rather than depending on the number of hours watched or views accrued, you're banking on a steadily expanding fan base to keep buying your merchandise. You must be 18 years old and have 1,000 subscribers or have an Official Artist Channel to use the merchandising feature.
---
10. Super Chat and Super Stickers
Another excellent technique to generate money on YouTube is via Super Chat and Super Stickers. This feature is accessible to you as a YouTube Partner when live streaming. Super Chat or Super Stickers may be activated in a live chat for a small fee to make your subscribers' messages stand out from the rest.
They will also receive personalized badges and emoticons during your live sessions. In addition, they get access to members-only benefits like live chats with you. To be eligible, you must be at least 18 years old and reside in a country where Super Chat is available.
---
11. Crowdfund
Even though you already use channel memberships, there are additional ways for you to earn money from your viewers. Crowdfunding using YouTube can help you generate money as a creator. Be mindful though as this might be off putting to some of your subscribers since it might come off as begging.
In truth, if you provide high-quality videos, people will be more than happy to give money to your channel. Also, your success is determined by your specialization and the benefits that you can provide your funders. To raise money for your project, check out crowdfunding websites like Kickstarter or GoFundMe.
---
12. Driving Traffic to Your Blog Using YouTube Videos
YouTube is an excellent tool for creators to advertise their brand, gain new customers, and improve their website or blog traffic. An ad-supported or monetized website or blog may entice users to explore more and gain further insight into the subject matter you're discussing. Most websites or blogs see an increase in revenue as their traffic increases.
The first step is to create a blog using the same name and logo you already have on your YouTube channel. Your blog and YouTube channel should appear and feel the same, so make sure they have a lot in common in terms of design.
Once it is set up, you can include the link to your blog or website in the video link description.
---
How to Increase Views on Your YouTube Videos
Getting a significant number of views on your videos is necessary to get consistent revenue from your YouTube channel. Here are ten tips on how to boost your YouTube views.
---
Create Good Content
It doesn't matter how many strategies and advertising campaigns you employ for video creation. To achieve success on YouTube, you must create videos that people want to watch and watch all the way through.
In the end, it all boils down to the quality of your content. If you're unwilling to provide value to your audience, you won't make your content marketing effective. First, determine what information your potential customers want to know before creating videos that can solve their problems.
---
Improve Your Video's Search Ranking by Doing Research
Apart from being a social media platform, YouTube also serves as a search engine, like Google. And YouTube SEO, or optimizing your videos for search, is a proven way to increase views on your videos.
YouTube SEO is a powerful way to rank your videos. It is important to research and use keywords related to your content when uploading or editing a video on YouTube.
Businesses, bloggers, and video marketers use this method to get their videos to rank higher in YouTube search results. This strategy involves understanding the algorithms that YouTube uses and then optimizing your video with those specific requirements.
YouTube SEO can be done by adding keywords and tags in the video description, title, and tags section. You should also include keywords in the video's title, description, tags and thumbnail.
YouTube's algorithm considers several factors in determining which videos appear in search results. You can use tools like vidIQ or TubeBuddy for your SEO research.
---
Have Keyword-Rich Descriptions
The description of your video may convey your message more effectively to both search engines and your visitors. Having the ability to catch the attention of your viewers is essential for the ranking for long-tail keywords.
---
Use End Screens and Cards
The length of time spent watching a video is a good indicator of how interested viewers are in the subject. The greater the number of individuals who view your YouTube video, the greater their interest in what you have to say. Another advantage of having a solid relationship with the audience is that they are more inclined to view additional content from you in the future.
YouTube cards are banner-like alerts that appear in the top right corner of your video and direct your viewers to a piece of content. An end screen, similar to a card, is intended to direct your most engaged viewers to a related piece of content. When your video is ready to come to a close, an end screen appears.
---
Customize Your Thumbnails
One of the most effective techniques to get your YouTube channel recognized is to create your own YouTube thumbnails. A good title and thumbnail can work together to attract a viewer's interest. It is essential to create thumbnails for your videos since it makes them more appealing and helps to project a much more professional look.
No research is required for the creation of a compelling thumbnail. Using the same font and style across the template will make it more unified and consistent with the channel's branding. You can use basic graphic design tools like Canva to achieve this.
---
Transcribing Your Video Content
When it comes to YouTube videos, there has been a lot of debate over whether including subtitles or transcripts can help you rank higher in search engines. Closed captions, on the other hand, can enhance YouTube views since they appeal to viewers from various countries and those who are visually impaired.
To receive the most number of views possible from YouTube's organic results, you must appear high in the search results on Google. Most YouTubers are tempted to go the quick route and buy views. But this is not a long-term solution because YouTube's algorithms monitor behavioral analytics more than traditional metrics, like views.
---
Create a Blog Post for Each Video
Blogging is one way you can make money off YouTube through traffic. You can drive traffic from your blog to your YouTube channel. It takes a little more work to convert your videos to blogs, but with time, it yields results.
Posting videos is a tried-and-true method of improving the quality of the user experience of those prospects who like to watch rather than read. You can embed your YouTube video into your blog post and watch your views increase.
---
Create Playlists
The playlists you create should allow people to see your content in the order it was created. The remainder of your videos will begin to play whenever the first video ends, increasing the number of views for each one as the series progresses.
You may increase the number of people who view a playlist by publishing it on your channel, embedding it, or asking your subscribers to share it with their friends. Each one should be unique from the others, and the order in which they are played should add to the overall flow and relevance of the set.
---
Work With Other Creators in Your Niche
Some of YouTube's most popular creators have benefited from cooperating with other users to reach a broader audience. With each video you collaborate on, you will get new subscribers. Furthermore, if you collaborate with a well-known and renowned content creator, their viewers are more likely to become subscribers.
To have a successful YouTube collaboration, finding the right partner is critical. You should collaborate with creators who share your industry's interests for your video to look more professional.
---
Build and Facilitate a Community
Apart from being a video-sharing platform, YouTube also allows engagement between creators and subscribers. So if you want to obtain more views on YouTube, you'll need to treat it like any other social media platform. Additionally, you need to actively engage your audience for them to keep coming back for more of your videos.
If someone asks a question, take time to give a helpful answer to encourage other viewers to leave comments. It will be easier for you to create your brand in a niche of devoted subscribers if you participate fully.
---
Be Consistent
Obtaining a large number of YouTube views takes time. The platform has its own set of regulations to guarantee that high-quality video content is delivered to its viewers consistently and frequently.
Try to establish many active subscribers using the tips mentioned above, and you'll find that they account for the vast majority of your views, which in turn generate more money for you when you monetize your YouTube channel.
---
Conclusion
YouTube has given thousands of global creators the opportunity to make money from what they are passionate about. As a creator, all you have to do is decide which kind of monetization method is the most effective for your channel.
Alternatively, you could try two or more monetization methods on your channel and see the ones that work best.
Frequently Asked Questions
How do you get monetized by YouTube?
To turn on ads for individual videos, follow these steps:
Sign into YouTube

Navigate to the YouTUbe studio

Select Content

Pick a video

Then select monetization

Pick the types of ads you want to run

Save the page
How many views do you need to get paid by YouTube?
To get paid by YouTube, you need to follow all of YouTube's monetization policies and live in a country or region where the YouTube partner program is available. You can apply for monetization once you have 1,000 subscribers and more than 4,000 watch hours in a year time frame.
How do I get 4000 hours on YouTube?
Here are tips to get 4000 hours on YouTube:
Make your videos long enough to cover your topic thoroughly

Don't announce the end of your video

Understand your audience to retain them
Can I monetize 1 minute video on YouTube?
There is no best length to monetize YouTube videos. However, for optimal revenue sakes, your video should be around 8 minutes to monetize. Monetizing one minute YouTube videos is not ideal. You can place extra mid-roll ads in videos around 8 minutes.