It's easy to look at some of the statistics generated by YouTube's top channels and believe that YouTube is a license to print money. The YouTube success of the likes of PewDiePie and MrBeast and the headline income that they generate from it are of legendary status. After all, if a 10-year-old can make almost $30 million, it must be child's play, right?
Of course, nothing is ever as simple as it looks, and YouTube is not the magic answer if you dream of retiring early. If it were that easy to make money on YouTube, we would all be rushing in and making ourselves instant millionaires.
Burnout is a real problem among YouTubers. That video that got millions of views might be only three minutes long, but it definitely didn't take just three minutes to create. To be one of the highest paid creators on the platform, you need to put in long hours. Just after you've uploaded a new video, you need to start that whole process again. It's rinse and repeat.
When you study the YouTube money stats, you see a clear picture. There are thousands of people trying to make their fortune there, but only those who garner the most views and subscribers manage to make a living income.
When you include all of the subsidiary forms of income, though, the top creators are making good money. There's enough incentive for hopeful YouTube creators to persevere, and work hard to reach the upper echelons of the creator economy.
---
YouTube Money Stats - Just How Much Do the Top YouTubers Make?:
---
YouTube Money Stats for the Top Channels
So, how are some of the best YouTube channels performing for their owners? Obviously, we only have estimated figures available, but those at the top still make a good income. Of course, quite a few of the most subscribed YouTube channels are official Vevo music channels, so we will exclude these from our calculations. Likewise, we exclude YouTube category channels such as Music, Gaming, Sports, Movies and News, despite their high subscriber numbers.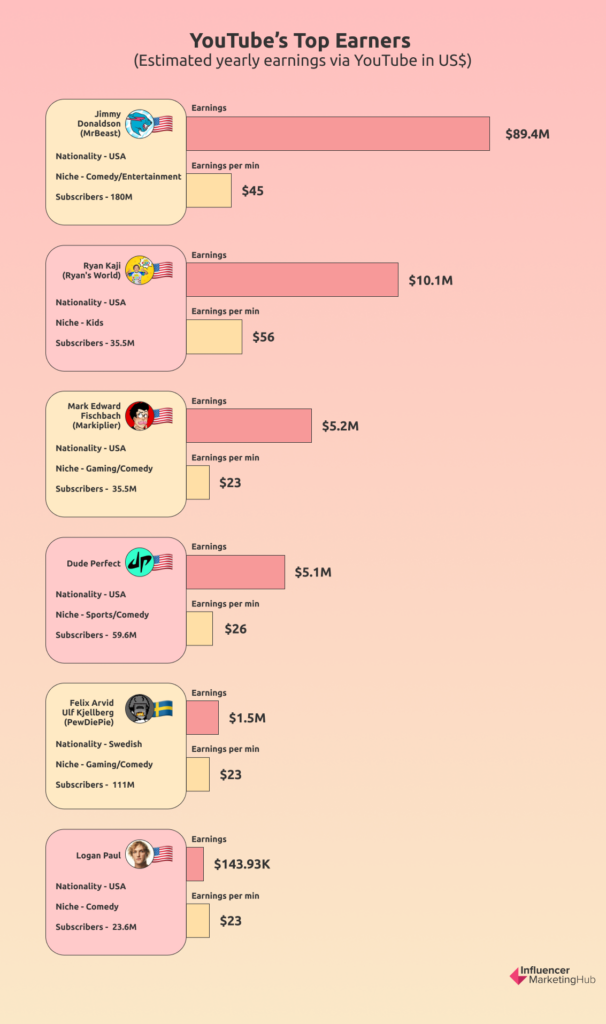 These are our best guess YouTube money stats for the top YouTube original channels as of 2023.
Unlike his stage name, MrBeast, suggests, Jimmy Donaldson actually has a big heart. Philanthropy is very important to him and he has, for example, given away $1 million in a single video (though, this is probably a lot easier to do if you're one of the top YouTubers based on earnings).
While he might not make as much as Ryan Kaji according to our estimations, he has more subscribers than the kid influencer and won the YouTuber of the Year in the 12th Annual Shorty Awards in 2020. With 180 million subscribers on YouTube, he's best known for his stunts.
Most recently, he made waves when he recreated Squid Game. According to the YouTuber, he spent $3.5 million in total ($2 million were spent on building and producing it, while about $1.5 million went towards the prizes).
You'll be glad to know that it only took a lot of fake blood, sweat, and tears (and obviously millions of dollars). Participants wore wireless explosives containing fake blood that went off when a player lost. In only four days, this video already got 109 million views and its fair share of criticism. Some of the criticism was because of the irony. Here, one of the highest paid creators is making more money by creating a video about a show that condemns capitalism.
---

Ryan Kaji has recently celebrated his first double-digit birthday. For the past five years (most of his own life), he's been an institution (and lifesaver) in many households. Not only is he one of the top kid influencers, but he's also the highest paid YouTuber according to our numbers.
Boasting 35.5 million YouTube subscribers, his estimated earnings for 2023 is $27 million. It's also not the first time that he's regarded as the highest paid creator on the platform. In 2018, 2019, and 2020, Forbes listed him as the top-earning YouTuber. To put it into perspective, in 2018 Forbes estimated his earnings at $22 million for that year. So, in just a couple of years, he managed to grow his income significantly.
In addition to YouTube, he also has his own show on Nickelodeon and his own line of branded toys that are stocked at Walmart. He was even turned into a balloon for the yearly Macy's Thanksgiving Day Parade (and not once, but twice).
Needless to say, you don't become the highest YouTube earner by not uploading new content regularly. He uploads new videos almost every day and as he matures, so does his content. What started off as a channel that mainly shared toy reviews and unboxing videos now also includes science experiments.
---

Based on their success on YouTube, it looks like Dude Perfect found the perfect recipe – trick shots and silly stunts. If you're searching for an example of how to build a brand by means of social media, look no further.
Not only have they generated about $20 million in 2022 via YouTube alone, but they've turned their channel into one of the best known brands across the globe. They've released their own mobile games, launched a very successful merch store, and started their own TV series, The Dude Perfect Show that airs on CMT.
They also went on live tours. In fact, in 2020, Dude Perfect partnered with YouTube Originals to release a documentary, Dude Perfect: Backstage Pass, that shared behind-the-scenes footage of their live tour across the United States.
The group consists of five friends: Tyler Toney, Garrett Hilbert, Cody Jones, and the twin brothers, Coby and Cory Cotton. They're only one of two collectives to have made this list proving that influencers can work together.
---

Markiplier is one of the top gaming influencers on YouTube and highest paid creators on the platform. Born in Hawaii, the American YouTuber also tries his hand at acting and comedy.
On YouTube, he mostly shares Let's Play videos that mainly fall in the "survival horror" genre. With just over 35 million subscribers, he's also one of the most active YouTubers and uploads new videos almost every day. He's best known for games like Five Nights at Freddy's, Surgeon Simulator, Happy Wheels, and Amnesia: The Dark Descent.
He's also no stranger to collabs. He has collaborated with a number of YouTube influencers like PewDiePie. In fact, his collaborations with PewDiePie are often described as playing a key part in the "golden age of YouTube". That being said, it's been nearly four years since this duo worked together.
In addition to working with YouTube influencers, Markiplier has also partnered with celebrities. In 2015, he played Five Nights at Freddy's with Jack Black as part of a Goosebumps promotion. He also partnered with Jimmy Kimmel, but this collaboration didn't get such a positive response.
In May 2021, he also turned to podcasting. His new podcast Distractible that focuses on discussions about funny and interesting stories from everyday life even boasted the top position on Spotify for a while.
---

Logan Paul might be one of the most successful YouTubers based on revenue, but that's not without controversy. On YouTube, the American internet personality boasts just over 23 million subscribers.
He often shares videos about boxing. He made his debut as a professional boxer in 2019 and had an exhibition match against Floyd Mayweather in June 2021 that generated an estimated 1 million pay-per-view buys, according to Sportico. Before this exhibition match, he had only one official fight against a fellow YouTube star, Olajide aka KSI, a British boxer and actor. Most recently, he has also challenged Tyson Fury to a boxing match.
In addition to being a boxer and YouTuber, he also added podcaster to his list of titles. His podcast Impaulsive is one of the most popular influencer-hosted podcasts and takes a more serious approach. He commented that while the podcast gave him the opportunity to chat about topics more intelligently and in-depth, listeners could still look forward to some of the antics that he's better known for.
YouTube might have made him a rich man, but nowadays he spends more time on his podcast and uploads new episodes to his channel a few times per week. To date, he has more than 300 podcast episodes which he also shares on YouTube on his IMPAULSIVE channel that has nearly 4.5 million subscribers.
---

We've written a lot about PewDiePie, especially his earnings. It's after he signed with Maker Studios in December 2012 that he most likely started to make money.
In 2017, though, his success took a bit of a slump. Not only did he lose his number one position for the total video views, but he also attracted a lot of criticism for his controversial comments and racism allegations. That year, Maker Studios and Google dropped him.
In 2013, The Wall Street Journal estimated that his earnings were about $4 million (which he confirmed was more or less correct). Fast-forward eight years and his earnings via YouTube in 2021 is estimated at more than three times that. Even more impressive is his net worth. As of 2023, it's estimated $40 million.
If you use our YouTube Money Calculator to work out his estimated total earnings via his channel, the numbers are equally impressive. According to our tool, the average earnings per video is just over $14,000.
Love him or hate him, he remains one of the most successful YouTubers. In any case, as YouTube will be removing dislike counts (something which he openly criticized), it's not as if he'll know or care that you don't like him. After all, with 111 million subscribers, you've made your peace with the haters.
---

You're not seeing double. What you're seeing is two brothers who've made loads of money by sharing videos about boxing on YouTube.
Just like his older brother Logan, Jake is also known for creating controversies. In 2017, he was fired from the Disney sitcom Bizaardvark after there were complaints about his involvement in wild parties.
That same year, Jack Paul also bought a home (Team 10 House) and turned it into a content house for the members of Team 10, an influencer marketing platform. The idea was to create an incubator space for social media influencers. In 2020, he claimed in a tweet that he was, in fact, the first person to create a content house, a claim which other users quickly debunked.
In 2020, the FBI also raided his house in connection with his involvement in an incident that occured at a mall in Arizona.
Controversy aside, nowadays Jake Paul is earning a pretty decent penny via YouTube (showing that there's still fortunes to be made after getting fired). While his boxing creates a lot of press for him, on YouTube he shares a variety of videos that includes vlogs, music videos, and behind-the-scenes content. He uploads videos a few times per week.
He's also quite active on Instagram and TikTok, while his merch store also helps to supplement the millions of dollars he has made on YouTube in 2021 alone.
---

If you're into Roblox, DanTDM has one of the most popular Roblox YouTube channels boasting 27.6 million subscribers. The British YouTuber and gamer uploads new videos regularly in which he likes to cover Minecraft and Pokémon too.
In fact, his love for Minecraft inspired the name of this channel. He originally named his main YouTube channel "The Diamond Minecart", but replaced that channel with the current YouTube channel in 2016, hence where the TDM comes from.
He certainly takes the empire that he's built with the help of YouTube seriously. To date, he has shared more than 3,600 videos. Though, in a recent interview with The Guardian, he shared that he has cut back his schedule by quite a bit as he can now afford to do that. He shares that in the early days when he was still building his channel, his channel was his priority and he uploaded as many as two videos per day. Basically, it was a continuous loop of record, edit, and upload for two years.
Now that his subscriber base sits at 27 million followers and he has used that fame to launch a few other businesses (and has been immortalized as a wax statue), he can afford to work only three to four hours per day. The rest of the time is spent on a different type of gaming – hanging out with his kid.
---

With 26.2 million subscribers, Smosh has been one of the true stars of YouTube with an estimated income of $11 million. Fast-forward six years and while they might have dropped down the list, their earnings have increased. In 2021, we estimate that their earnings via YouTube were $11 million for the year.
Though, they've been on YouTube long before the dollars started to roll in. Founded by Anthony Padilla and Ian Andrew Hecox, their channel that focuses on sketch comedy has been around since 2005. The founders were originally the main actors, but once they started to generate decent profits in 2015 they could afford to use actors in their videos.
Not only did they manage to hire actors, but in 2021 they also announced that they'll appoint their very first CEO. It's anticipated that the new CEO, Daniel Tibbets, will expand Smosh's reach into traditional media that could include live events and digital games.
New videos get added twice a week on a Monday and Wednesday showing that sticking to a regular schedule is key if you want to make money on YouTube.
---

Lilly Singh is one of the top female YouTubers and most successful YouTubers based on 2021's revenue estimates. She seems to like the 10th position. In 2017, she was ranked 10th on the Forbes list of the highest paid YouTubers. Fast-forward four years and she's still in 10th position on our graph.
She's best known for her spoof videos and satirical rants. In 2016, she extended her focus from her YouTube videos to film when she created a documentary film. While it got mixed reviews, it landed her a Streamy Award in the Feature Film category.
A year later, she also published a novel, How to be a Bawse: A Guide Overcoming Life. Her novel won the Goodreads Choice Awards for Best Non-fiction. Not only did the book land her an award, but it also took her on a world book tour.
While she's made millions via YouTube, it's not her only source of substantial income. She might not be regarded as a core beauty influencer, but Olay still chose to enter into a multi-year, seven-figure deal with her as the international face of their brand. Her talent agency, WME, played a huge role in her rise to "non-beauty beauty influencer stardom".
Frequently Asked Questions
Who's Ryan Kaji?
Ryan Kaji is a 10-year-old YouTube star and kid influencer. As a matter of fact, he has been regarded as the highest paid YouTuber for a couple of years. With more than 35 million YouTube subscribers, his estimated earnings for 2023 are $27 million. In addition to YouTube, he also has his own show on Nickelodeon and his own line of branded toys that are stocked at Walmart. He uploads new videos that include toy reviews and science experiments.
Is Lilly Singh a beauty influencer?
While Lilly Singh isn't regarded as your typical beauty influencer, Olay entered into a multi-year, seven-figure deal with her as the international face of their brand. Her talent agency, WME, played a huge role in her rise to "non-beauty beauty influencer stardom". That being said, she's still better known for her content that she shares on YouTube. She's one of the top female YouTubers and best known for her spoof videos and satirical rants. She's also written a book and released a documentary film.
How old is Smosh?
Founded by Anthony Padilla and Ian Andrew Hecox, the Smosh YouTube channel that focuses on sketch comedy has been around since 2005. The founders were originally the main actors, but once they started to generate decent money in 2015 they could afford to use actors in their videos. The channel has grown a lot over the years and has 26.2 million subscribers and boasted an estimated earnings via YouTube of $11 million for the year.
How much money can you make via YouTube?
YouTube creators with more than 100,000 subscribers can earn more or less $2,000 per video according to information shared by Digiday. In 2022, the highest paid YouTuber, Jimmy Donaldson, made $54 million via YouTube. While the chances are slim that you'll make millions, you can still make a good living from sponsored videos and partnerships. According to Fortune, channels earning more than $10,000 per year grew over 50% year on year.
What are some tips for working with YouTube influencers?
When working with a YouTube influencer, it's important that you identify clear objectives for your campaign as these goals will impact every video that gets created. It's also important that you give your influencers autonomy to run their channels as they see fit. After all, they're the experts on their channel and so you should give them the creative control.