YouTube began operation in 2005. Its founders, Chad Hurley, Steve Chen, and Jawed Karim, invented YouTube so people could find and share video clips online. Karim uploaded the first video, "Me at the Zoo," in April 2005. Back then, it was a simple platform with few features. Since then, however, YouTube has become the online video player of choice and now has 1.7 billion unique monthly visitors and is the world's second-most visited website, only beaten to the top position by its owner, Google. Over the last 17 years, YouTube has regularly added new features to help its users get more subscribers and have an improved user experience.
Things have changed considerably since 2005, although it is still recognizably the same website. YouTube first introduced playlists in October 2005, and these rapidly became an essential feature for many content creators and users. It was at about the same time that YouTube added its subscription function.
YouTube has continued to add features and drop a few that didn't work as well as they hoped. Channels have continued to grow in popularity, too. Indian music record label T-Series currently holds the record for the most-subscribed YouTube channel, with 211 million subscribers. Perhaps surprisingly, the second most popular channel is Cocomelon - Nursery Rhymes, with 131 million subscribers. PewDiePie held the top position for over 2000 days before losing a ferocious battle with T-Series for the top spot but is now in fourth place.
However, many YouTube content creators perform admirably with considerably fewer subscribers than these top channels. Instead, they rely on maximizing the potential of YouTube's features and various other techniques to increase their subscriber base and become influencers on the platform. Here are some of the ways they have succeeded in thriving on YouTube.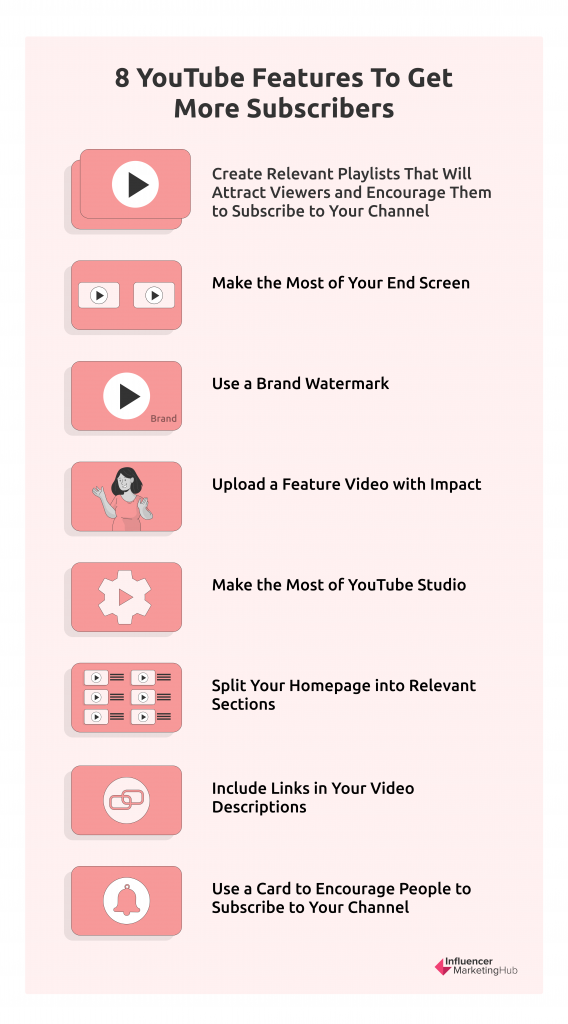 ---
Top 8 YouTube Features That Will Help You Get More Subscribers:
---
1. Create Relevant Playlists That Will Attract Viewers and Encourage Them to Subscribe to Your Channel
Don't underestimate the power of the playlists you create on your YouTube channel. People find playlists genuinely helpful, and they assist viewers in understanding a logical order in which to watch your videos.
Typical playlists are a collection of videos that relate to a topic or theme. When a viewer finishes watching a video in your playlist, YouTube automatically begins to play the next video in the sequence.
Over time your YouTube channel can become clunky and difficult for people to find their way around. In addition, if you don't have a logical collection of playlists, people will see your videos by order of upload, and this can be very confusing and uninviting.
Viewers can find playlists on two sections of your channel. First, they may find your most recent and active playlists on your Home page. Straight away, they can see whether your content is likely to interest them. Alternatively, if they're interested in watching your back catalog of videos, they can go to your Playlists tab. Here, they will find all your Created playlists and possibly a few others, like special playlists you share with other channels.
The other real advantage of creating playlists is that they increase the amount of time people spend watching your videos. Instead of just watching one of your videos and moving on, viewers may like what they see and continue with the next video in your playlist (particularly if it auto-plays).
SEO expert, Brian Dean, suggests you go one step further with your playlists and make them "Power Playlists." Here, rather than grouping your videos by topics, group them by outcomes. For example, group all your videos demonstrating how to do a particular task as a playlist. If it takes multiple steps to attain your outcome, make a series of videos covering each step, and make a playlist taking you through these steps.
For example, expert online marketer Neil Patel has playlists focusing on specific internet marketing problems, including:
Growth Hacking Unlocked - Free Course

CRO Unlocked - Free Conversion Rate Optimization Course

Email Marketing Unlocked

Local SEO Unlocked
---
2. Make the Most of Your End Screen
Google has a neat feature with its end screen for videos. You can use these to promote other videos and directly link through to them. So, for example, if somebody has got to your end screen, they likely enjoyed the video they have just watched. So, you could make it easy for them to click through to another video of yours on that topic or one that complements it.
Once somebody has watched a few of your videos, there is a reasonable likelihood that they will decide to subscribe to your channel, at which point you have access to them to promote your future videos.
You can effectively daisy-chain a logical viewing order of videos through the end screen of each one, with viewers jumping from video to video in sequence.
You should allocate the last ten seconds for your End Screen and then use YouTube's End Screen editor to add a link to your preferred video.
---
3. Use a Brand Watermark
You can add a Brand Watermark to your YouTube videos. Then, when somebody clicks on your watermark, YouTube encourages the viewer to subscribe to your channel.
You don't want your brand watermark to overpower your video, however. So, YouTube recommends using a transparent background rather than a solid one. However, a counterargument is that if your watermark is too bland, people won't click on it because they won't notice it.
Although the most common use is to show your logo on your videos, you are far more likely to gain YouTube subscribers if you make it look more like a button overlaying a small section of your video. For example, Brian Dean suggests you make it look like a YouTube Subscribe button, so viewers realize that they can click on it.
There are two views regarding the best time for your brand watermark to appear on your videos (you can only set a time for your channel, not each video separately):
From the beginning – here, viewers see your watermark from the start until the end. It does mean that your watermark is showing through your peak selling time, which may be distracting

After 30 seconds to one minute – here, you avoid distracting your viewers' attention at the start of your video, but its sudden appearance partway through the video may seem jarring to viewers
---
4. Upload a Feature Video with Impact
You might notice that many channels have a feature - a video that auto-plays as soon as somebody opens the channel. You can use this to welcome visitors and suggest that they subscribe to your channel. Indeed, you can set different videos for new viewers and subscribers, so you don't need to worry that you're annoying your existing viewers by exhorting them to subscribe. Instead, you can use a more in-depth video as your feature video for existing subscribers.
---
5. Make the Most of YouTube Studio
YouTube has built a suite of tools that creators can use to produce high-quality, entertaining videos and find all the essential information about how the videos you upload perform with their audience. Every YouTuber filmmaker has access to YouTube Studio. You can manage your presence, grow your channel, interact with your audience, and make money all in one place.
You will find a menu to help you manage your videos and channel on the left. This includes a channel dashboard that gives you a high-level overview of new activity on your channel and what's new on YouTube. Other important sections of the menu include:
Content - a summary of your videos and live streams

Creating and managing playlists

Analytics- you can monitor the performance of your channel and videos with metrics and reports

Comments and Mentions

Add subtitles to videos or crowdsource them from your community

A Monetization section, where you update merchandise and memberships settings

Customize your channel's layout, branding, and basic info

Audio Library where you can find music and sound effects to use in your videos
In addition, when you're looking at specific videos, you can:
Change your video's title, description, and settings

See metrics available at the video level

Trim your videos, add end screens, add audio tracks, and blur your videos

View and reply to comments on that video

Add translated titles and descriptions to your videos
---
6. Split Your Homepage into Relevant Sections
Not only should you split your content into playlists, but you can also feature the most relevant ones on your homepage. YouTube makes it easy to customize your channel layout how you want it. You can include up to 12 sections on your home page. However, your setup will default to display four pre-populated sections: Short videos, Uploads, Created playlists, and Subscriptions you've made public.
If you want to create a section, you sign into YouTube Studio. From the left menu, select Customization → Layout, and then ADD SECTION. You can then choose to add videos, playlists, or featured channels to your section.
---
7. Include Links in Your Video Descriptions
Unlike Instagram, TikTok, and quite a few other social networks, you can include links in your video descriptions on YouTube. This can be particularly handy if you have a blog you want to highlight in your YouTube videos, or perhaps you're involved with affiliate marketing and have a website for this. By including links, you are helping your viewers by suggesting sites they can go to for additional information.
---
8. Use a Card to Encourage People to Subscribe to Your Channel
Many people find your videos on YouTube almost by accident. They often appear on their Explore tab or come up as a suggested video at the end of another video. Hopefully, people watch your video, enjoy it, and then follow on to another one of your videos. However, unless you actively suggest it, they may not think to subscribe to your channel and gain greater visibility of your future videos.
Often, simply asking for people to subscribe to your channel will be enough, particularly if you also add a clear Subscribe button as a Call to Action. However, you can encourage them to subscribe to your channel by using a card to promote your most popular video.
You can find your most popular video from your YouTube Analytics. While there are probably multiple ways you can measure the popularity of your videos, your purpose here is to gain subscribers. Therefore, you will want to see which of your videos brought you the most subscribers last month.
Make a point of repeatedly promoting that video. For example, include it on the end screen of some of your videos. Promote it on your other social channels. Also, promote it on YouTube using a card.
Cards are interactive overlays you can place on your videos. They appear on both desktop and mobile versions of YouTube.
Select those of your videos where the subscriber magnet best matches the video content. Then, add a card to these videos, making sure it links to your subscriber magnet video. This will show up on these videos and hopefully interest your viewers enough to click on the card, which will take you to that video.
---
Other Ways to Get More YouTube Subscribers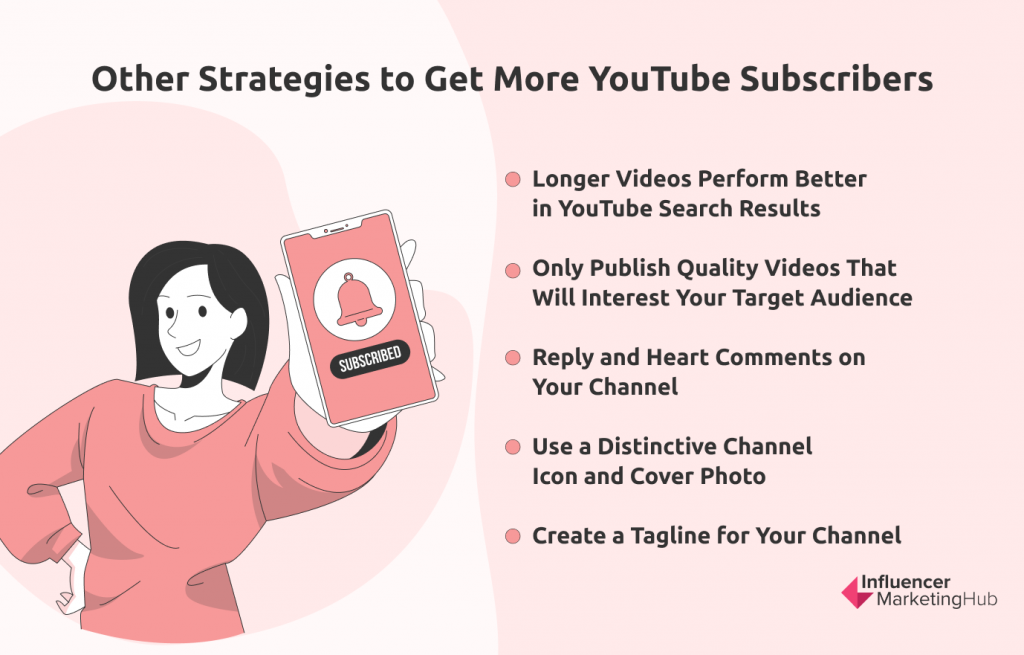 1. Longer Videos Perform Better in YouTube Search Results
One of the reasons that the Influencer Marketing Hub focuses on long content-rich articles of at least 2,000 words is because long content performs better than short content in Google's search rankings. Remember that YouTube is Google-owned. It should come as no surprise, therefore, those long videos are more likely to appear in YouTube search results than short ones.
Depending on the topic of your videos, it can be challenging to make them visible in searches. Therefore, you need to take advantage of any factors that can advantage your videos compared to others on the same topic.
To be able to upload videos to YouTube longer than 15 minutes, you first need to verify your account. You go to the YouTube verification desktop site, which asks you to enter a phone number. YouTube then sends you a verification number that you enter into their site. Once you have verified your channel, you can:
Upload videos longer than 15 minutes

Add custom thumbnails

Live stream

Appeal Content ID claims
---
2. Only Publish Quality Videos That Will Interest Your Target Audience
Too many YouTubers fall into thinking that quantity is more important than quality. And sure, you should upload videos reasonably regularly following a set schedule to meet the expectations of your audience. But you need to be realistic in your ability to meet these expectations. For example, your viewers aren't going to be impressed by rushed, poor-quality videos that aren't entertaining or don't tell a compelling message. Also, you are unlikely to gain new subscribers if people aren't impressed by the first video of yours they see.
Sure, you might target Generation Z, who like short sharp videos, but they watch TikTok for their 30-second entertainment bursts. So instead, you should make your YouTube videos more substantial.
Of course, if you really do want to encourage the TikTok generation on YouTube, you could make YouTube Shorts. Here you can record short videos of up to 60 seconds and add music/sound overlays in the YouTube app. But given that time limitation, you still want to only create quality videos that will interest your audience.
---
3. Reply and Heart Comments on Your Channel
One of the most standard pieces of advice for anybody wanting to grow their social accounts is to increase engagement. This applies as much to YouTube as to anywhere else. While it can be challenging to keep up as your channel grows, you should make an effort to heart every comment that somebody makes on your channel and comment on as many of them as possible. People take time out of their day to leave a comment, and they love it when a channel holder makes an effort to reply and indicates that they read a viewer's comment. Viewers also receive notifications when you heart or comment on their comments, which can encourage them to return to your channel and potentially subscribe.
---
4. Use a Distinctive Channel Icon and Cover Photo
Your channel icon is probably your most important piece of branding on YouTube. Indeed, you should use a similar image to identify all of your social accounts. You will want to use a high-quality headshot as your icon for your personal brand. If your channel represents your company, use your logo as your channel icon.
However, make sure that you upload your image in the correct dimensions. We include these in Best Social Media Image Sizes for 2022. Your channel icon should be an 800 x 800 image that will display as a 98 x 98-pixel circle. You can use a JPG, GIF, BMP, or PNG image. While you're at it, check all of the other social media dimensions in that article, and make sure that your channel identity looks perfect on every social network.
Also, don't forget to use a high-quality channel cover photo that will attract your target audience's attention. For example, you can use it to include a catchy tagline, a large hero image, or a montage of visuals representing your channel's content. YouTube recommends you upload a 2560 x 1440-pixel image for your cover photo, so it looks at its best when someone is using YouTube on television but ensures that all essential parts are within 1546 x 423 pixels for web and mobile use.
---
5. Create a Tagline for Your Channel
You can use your tagline to emphasize how your channel differs from others in your niche. Don't use a vague or boring phrase. You need to stress your point of difference. So, place it on your cover photo, and then use it in your channel trailers.
As with all social networks, building a YouTube channel can be a slow, gradual process. You will probably start with a few subscribers and maybe just a couple of people watching your videos. Don't feel disheartened, though. If you follow our suggestions and make the most of YouTube's features, you can establish yourself as an authority in your niche over time.