With entertaining short-form videos being all the rage lately, YouTube Shorts has also grown in popularity. It provides an excellent way to get your content in front of the right viewers and subsequently draw them into your channel. In this post, we give you a breakdown of what YouTube Shorts is, where Shorts videos appear, why you should create them, and more. Let's dive in.
---
What Is YouTube Shorts:
---
What Is YouTube Shorts?
YouTube Shorts is a short-form video feature that YouTube introduced in 2020 to compete with rivals like Instagram Reels and TikTok. Using this feature, content creators can record short videos of up to 60 seconds and add music/sound overlays in the YouTube app.
While creators on the platform have always (technically, since 2012) been able to use the app for creating videos, Shorts is different because it offers a few tools that are not available with regular videos. For starters, it offers a multi-segment camera that creators can use to string multiple clips together into a single Shorts video. Creators can also control the playback speed, add tracks from an expansive music library, or access hands-free recording with countdown and timer tools.
---
Where Do YouTube Shorts Appear?
Shorts appear in a number of places within the YouTube app, making them highly discoverable and therefore, a great way to attract viewers who aren't already subscribed to your channel. It even has its dedicated tab, which you can access by tapping on the "Shorts" button at the bottom of the screen on the mobile app. The same tab can be accessed from the left-hand panel on the YouTube website.
Additionally, users may also come across recommended Shorts when scrolling through the YouTube homepage on the app. Viewers can watch one of these Shorts even while watching a regular YouTube video. The video is automatically paused when they click on the Shorts and is automatically resumed once the viewer closes the Shorts.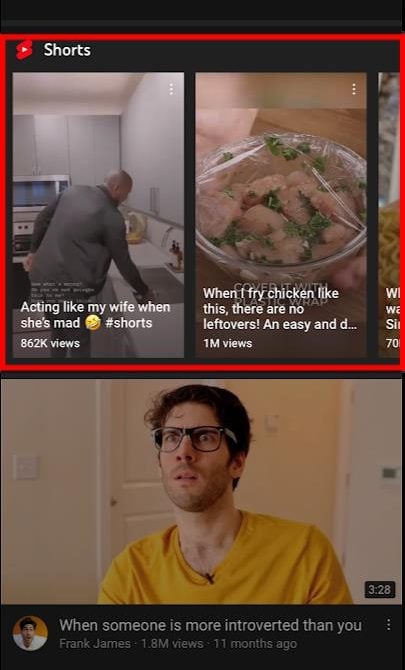 Being highly discoverable on the YouTube homepage, Shorts are an excellent way for content creators to expand their reach and grow their audience base. Think of Shorts as free samples to attract foot traffic to a store. They can give people a glimpse into your content quality and potentially get them to visit your channel and watch more of your content.
---
Why Create YouTube Shorts?
Now if you're already creating YouTube videos regularly, you may be wondering why you need to create Shorts too. Whether you're a content creator, a brand, or a marketer, YouTube Shorts could be a vital element in your video content strategy to boost engagement and visibility on the platform.
Reaching a Bigger Audience
First of all, YouTube Shorts show up in a couple of places on YouTube. Viewers can easily come across your Shorts as they scroll through the Shorts page on the website or click on the Shorts tab on the mobile app.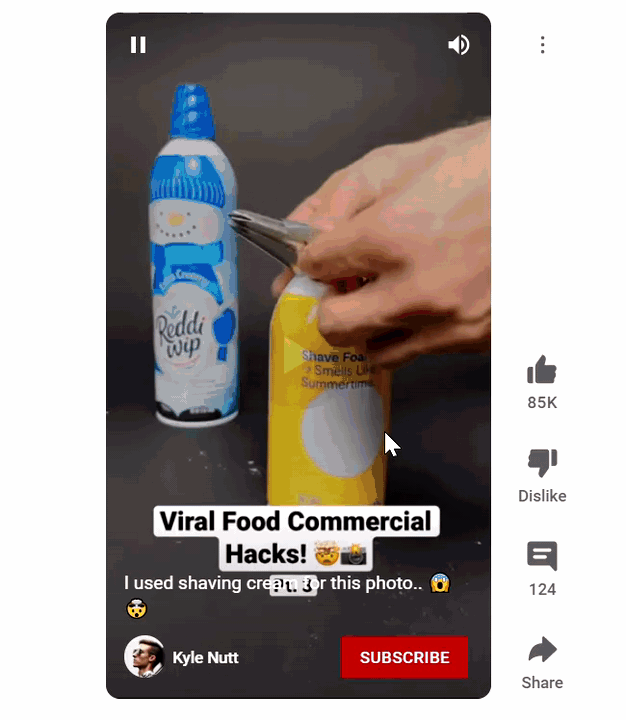 Plus, Shorts also show up on the homepage of the YouTube app. So there are plenty of opportunities for people to notice your Shorts–whether on the homepage or actively looking for Shorts to watch. This allows you to get your content in front of potential viewers who aren't already subscribed to your channel but have shown an interest in content similar to yours.
People who view your Shorts may be curious to check out what other content you've created, enticing them to click through to your channel. And they might eventually subscribe if they see what you like, helping you grow your subscribership and your fan base.
---
Appealing to Changing Audience Demand
With the explosive popularity of TikTok and Reels, short-form videos seem to have taken the world by storm. In fact, audiences (especially the younger ones) are increasingly drawn to shorter online videos, with the pandemic further driving the switch.
During the pandemic, 84% of audiences in a survey by TheSoul Publishing were spending more or the same amount of time watching short videos compared to before. These short videos served as a welcome distraction from the challenges of pandemic life. Moreover, 69% of consumers were spending anywhere between 30 minutes and three hours every day watching these short-form videos.
These numbers only reaffirm the value of short-form video formats like YouTube Shorts. And if you want to keep up with the changing audience demand, it's about time you start creating them.
---
Maintaining Publishing Frequency
Since they're short and easy to create, YouTube Shorts give you the freedom to quickly put together content without spending hours on ideating and developing new videos. You can record short video clips, combine them into a longer video, and edit them right there on the app by adding music or adjusting the playback speed.
This means you get to maintain a regular publishing frequency and keep your audience engaged while you're working on longer, more detailed videos. As a result of all this, you can gain the favor of the YouTube algorithm, which might allow you to rank more prominently for your longer videos as well. And that means better reach, improved viewership, and increased subscribership.
Some channels, such as Peachybbies, which sells handmade slime, exclusively create Shorts. The channel doesn't have long-form videos but uploads Shorts almost every day. Serving as a testimony to the visibility of Shorts, many of these videos get over 800,000 views–almost as much as the channel subscriber count (which currently stands at 922,000).
---
Suitable for Different Niches/Industries
YouTube has a massive audience made up of people with varying interests, backgrounds, preferences, and age groups. That means the platform very likely has users who fit the description of your ideal target audience. In other words, YouTube Shorts can be leveraged by brands and content creators in different niches and industries.
While other short-form video platforms like TikTok and Instagram are slightly leaning toward a younger audience that's in search of entertainment, YouTube Shorts have a more diverse audience mix. So whether you're trying to reach a B2B audience or you want to share your knowledge as an industry expert, Shorts can help you connect with a suitable audience.
From makeup artists to dermatologists to even ER techs–there are a wide variety of content creators leveraging YouTube Shorts to attract viewers and engage their audience. For example, Doctorly is a YouTube channel run by two dermatologists. They regularly create Shorts to provide bite-sized medical tips and insights that can inform and educate their viewers.
---
Can YouTube Shorts Be Monetized?
For content creators who want to make a living out of developing YouTube content, there's one pressing question about YouTube Shorts–can you monetize Shorts? At the time of writing this post, YouTube Shorts are not monetizable in the traditional sense. That means content creators are not yet able to earn revenue from the ads that appear in the Shorts player.
But to compensate video creators for their contributions, YouTube has instead introduced the Shorts Fund worth $100 million. Using this Fund, YouTube rewards select content creators each month with a bonus for their dedication to developing original and creative Shorts that entertain and engage the YouTube community.
---
How Does the YouTube Shorts Fund Work?
Each month, thousands of eligible Shorts creators get notified by YouTube to claim a bonus based on how their channel's Shorts performed in the past month. To assess the performance of a Shorts video, YouTube doesn't just consider the view count for the month it was uploaded but the view count for each month.
The minimum viewership required to qualify for the bonus isn't specified as it changes from time to time. Some factors that influence it include the overall growth of Shorts and where your viewers are located. And don't fret if you don't qualify for it one month because you may just qualify the next as Shorts performances are reviewed on a monthly basis.
In case you're wondering how much you can earn from YouTube Shorts, you could end up with anywhere between $100 and $10,000 per month. The exact amount depends largely on where your audience is located. This also means that the qualification criteria in terms of viewership and engagement could also vary for different creators.
---
Do You Qualify for the YouTube Shorts Fund?
This brings us to the next question–are you qualified to be rewarded under the YouTube Shorts Fund? While you don't necessarily have to be currently monetizing your YouTube to be eligible for the Fund, there are a few criteria that must be met in order to qualify for the bonus:
Like every other content creator, you need to abide by the platform's Community Guidelines and copyright rules as well as its monetization policy.

You have to have created at least one eligible video within the past 180 days.

Your videos must be original to your channel. That means videos are automatically deemed ineligible for the bonus if they're reuploaded from channels owned by other content creators or contain watermarks/logos from other social media platforms. Non-original videos such as unedited clips from TV shows and movies are also ineligible.

If you're based in the United States, you should be at least 13 years of age. In other countries/regions, creators must be the age of majority.

For creators between the ages of 13 and 18, parental or guardian consent is required for setting up an AdSense account in case their channel isn't already linked to one. This account will be used for payment.

You must be based in any one of the countries/regions listed on the

YouTube Shorts Fund

page.
---
Creative Uses of YouTube Shorts
Now that you know everything about why you should create YouTube Shorts and how you can make money from them, let's get to the fun part. If you're still not sure how Shorts fit into your overall YouTube content strategy, here are a few creative examples to inspire you:
Answering Frequently Asked Questions
The Peachybbies channel mentioned earlier uses YouTube Shorts as a way to provide behind-the-scenes looks at how their slimes are made and, in the process, answer frequently asked questions from their fans.
---
Getting Your Audience Involved
Lisa Nguyen, the food YouTuber, is famous for her fun and interesting Shorts. One creative way she uses YouTube Shorts is by letting her fans pick her meal and trying out those meals through Shorts.
---
Giving Users a Mini Tour
YouTube Shorts are the perfect way to take your viewers on a mini-tour around your store, warehouse, or office. In a similar fashion, influential realtor, Ryan Serhant uses YouTube Shorts to give mini-tours of the houses that he has on sale.
---
Giving Teasers
Due to their short-form nature, YouTube Shorts are ideal for teasing your viewers and giving them glimpses into upcoming product launches, works in progress, etc. Since you're limited to just 60 seconds in total, you have to keep the videos as enticing as possible without giving away too much. Netflix, for example, created a YouTube Shorts video to announce when the new season of "The Umbrella Academy" will be available.
---
Showcasing Product Capabilities
You can even use YouTube Shorts to quickly show your viewers what your product is capable of. With the ability to string clips together and add music, you can keep it entertaining and fun without going too in-depth about the product features. For instance, OnePlus regularly shares user-submitted videos showcasing the phone's capabilities, especially in terms of the camera function.
---
Testing Products
If you're a content creator, one of the best ways to leverage Shorts is by testing out products related to your niche. Whether it's a product that recently became viral or was newly launched, you could create short videos to test them out and help your viewers understand whether those products are worth investing in.
For example, the Dental Digest channel regularly tests popular toothbrushes and dental care products such as the Batman Toothbrush. The creator behind the channel finds a fun and entertaining way to keep his audience engaged while helping them make good dental care decisions.
---
Become the Next YouTube Sensation
Offering a fun and creative way for content creators to engage their audience, YouTube Shorts is a must-add to your content strategy. If you're not sure how it can fit into your overall strategy, make the most of the examples above to get inspired.
Frequently Asked Questions
What is the point of YouTube Shorts?
YouTube Shorts makes it easier for content creators to develop content right on the app and offers a fun way to showcase their creativity.
How do Shorts work on YouTube?
Shorts on YouTube are short-form videos that are no longer than 60 seconds. They show up in the dedicated Shorts tab on both the YouTube app and website. App users can also find recommended Shorts on the YouTube homepage.
Do YouTube Shorts get money?
While YouTube Shorts can't be monetized like regular videos, eligible Shorts creators can still claim bonuses from the YouTube Shorts Fund.
Are YouTube Shorts worth it?
If you're looking for a quick way to drive up engagement and visibility on YouTube, then Shorts are definitely worth it.
Do YouTube Shorts hurt your channel?
While you may see a lower average view duration if you're creating a lot of YouTube Shorts, this doesn't actually hurt your channel since it's one of the attributes of Shorts. In fact, YouTube Shorts can help you attract and engage viewers who could potentially become subscribers to your channel.