YouTube Shorts offers a fun way to let out your creativity and engage your audience with short-form videos. Since Shorts show up in multiple places throughout the YouTube app, it creates tons of opportunities to get your channel in front of the right people. That means more visibility, increased view counts, and subscriber growth.
Now the question is–how do you make YouTube Shorts? Do you just start recording on the app? And how do you join multiple video clips together to make a longer video? Read on to get the answers to your biggest questions about YouTube Shorts.
---
Ultimate Guide on How to Make YouTube Shorts:
---
What to Know Before Creating YouTube Shorts
Before you start creating Shorts for your YouTube channel, there are a few things you need to know. From video length to adding audio from the library, YouTube has a few rules in place that creators should follow.
You can either upload an existing clip or record a video from scratch for your YouTube Shorts.

Shorts can be up to 60 seconds. You can either join multiple 15-second videos together or upload/record one continuous video that's a minute long.

YouTube lets you add audio from its library or from other videos. However, your video can only be 15 seconds long if you use this feature.

While YouTube allows both vertical and square aspect ratios for Shorts, recorded Shorts will automatically be recorded in a vertical format. So if you plan on creating a square YouTube Shorts, you'll need to upload it from your gallery instead of recording it directly using the app.

You can create Shorts either using the YouTube mobile app or the

Creator Studio

. That means although you can upload a regular video or go live from the YouTube website, you can't use it to upload Shorts directly.
---
Recording Your YouTube Shorts
If you decide to create Shorts from scratch, you'll need to use the recording option. Follow the steps below to start recording Shorts:
Step 1: Tap on the "+" icon at the bottom of the screen on the YouTube app homepage.
---
Step 2: Select the option to "Create a Short."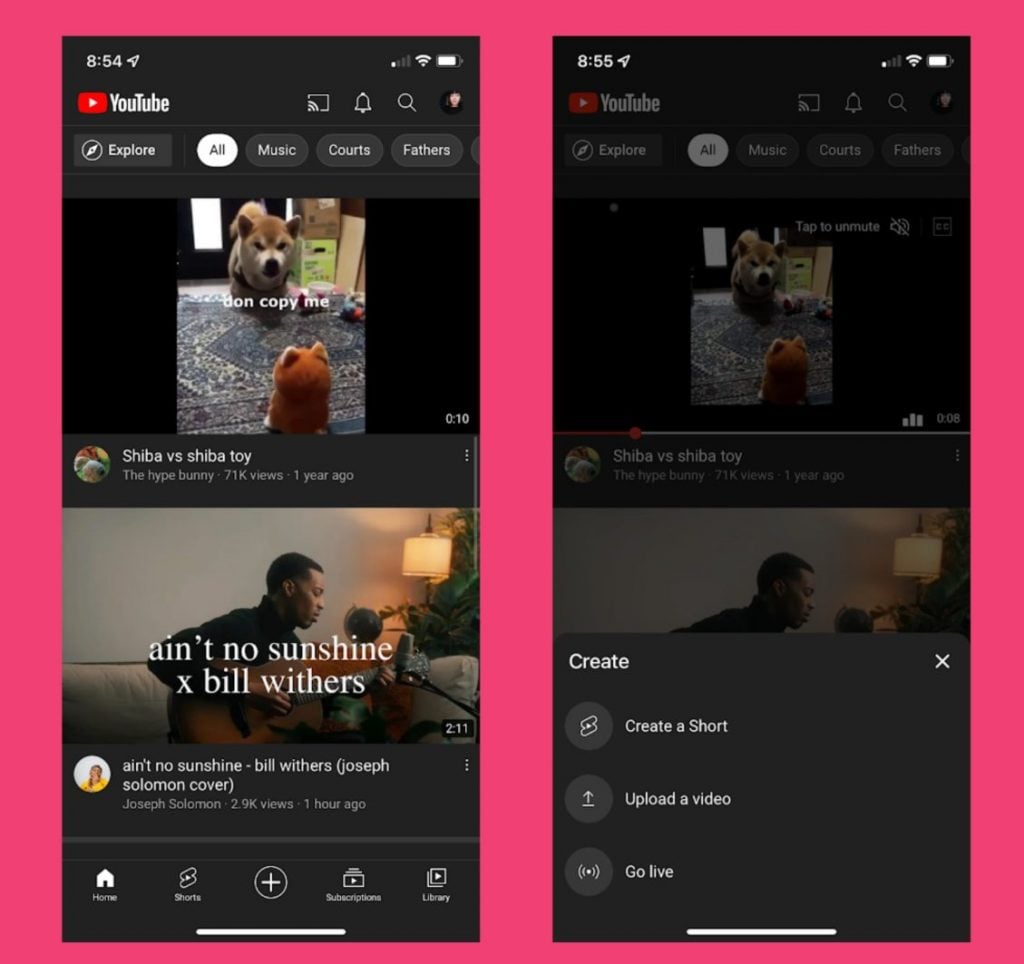 ---
Step 3: By default, the camera is set to record up to 15 seconds of video. To record a longer video of up to 60 seconds, tap on the number "15" on the screen.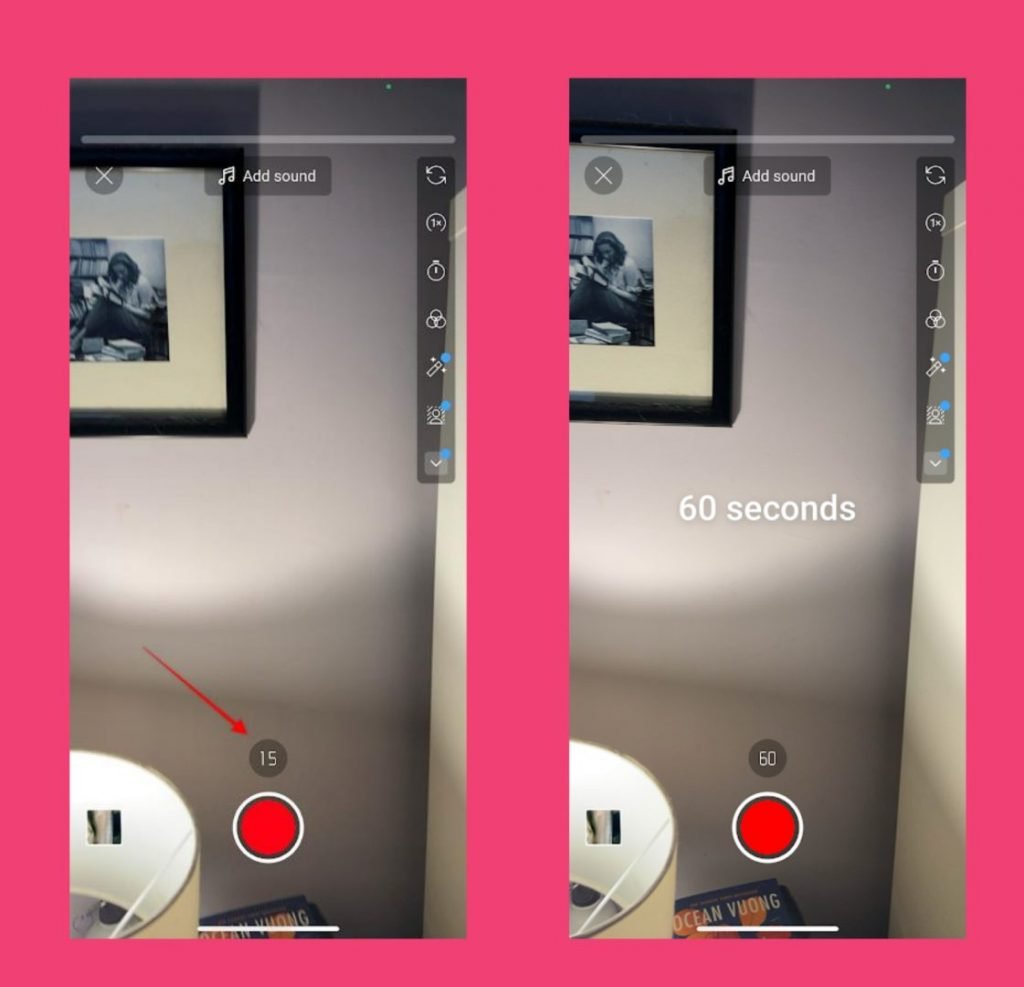 ---
Step 4: If you want to add a sound from the YouTube music library, tap on the "Add sound" button at the top of the screen. Then look for the sound you want to use in your video and select it. Remember that if you choose this option, you can only record up to 15 seconds of video.
---
Step 5: From the toolbar on the right-hand panel, you can access plenty of features. This is where you can flip the camera view, adjust the recording speed, set a countdown timer, apply filters, turn on/off retouch, add a green screen, adjust the lighting, and turn on/off the flash.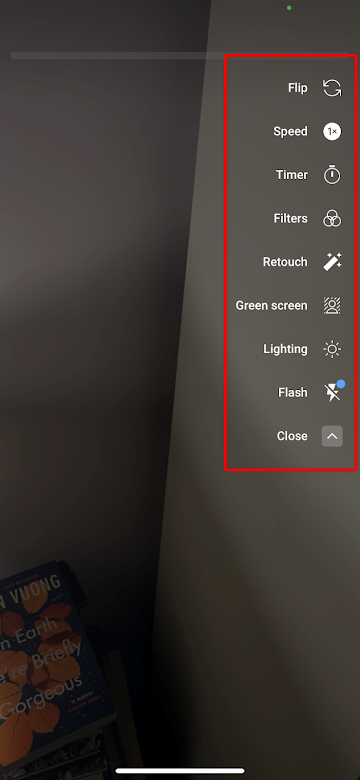 ---
Step 6: Once you're ready to record, tap the red record button to start recording. If you want to pause or stop the recording, just tap the button again. This way, you can also record multiple shorter clips and join them together to create a single Shorts video.
---
Uploading a Video from Your Gallery
If you already have a video you want to share via YouTube Shorts, you'll need to upload it from your phone gallery. Here's what you need to do to upload an existing video as Shorts for your channel:
Step 1: Tap on the "+" icon at the bottom of the screen on the YouTube app homepage.
Step 2: Select the option to "Create a Short."
Step 3: Tap on the gallery button at the bottom of the screen to open up your gallery. Then select a video to upload as Shorts.
Step 4: Drag the indicator at the bottom of the screen to adjust the length of the video. Then tap "Done" to finish the selection. Depending on the length, you can upload more than one video and combine them into one Shorts.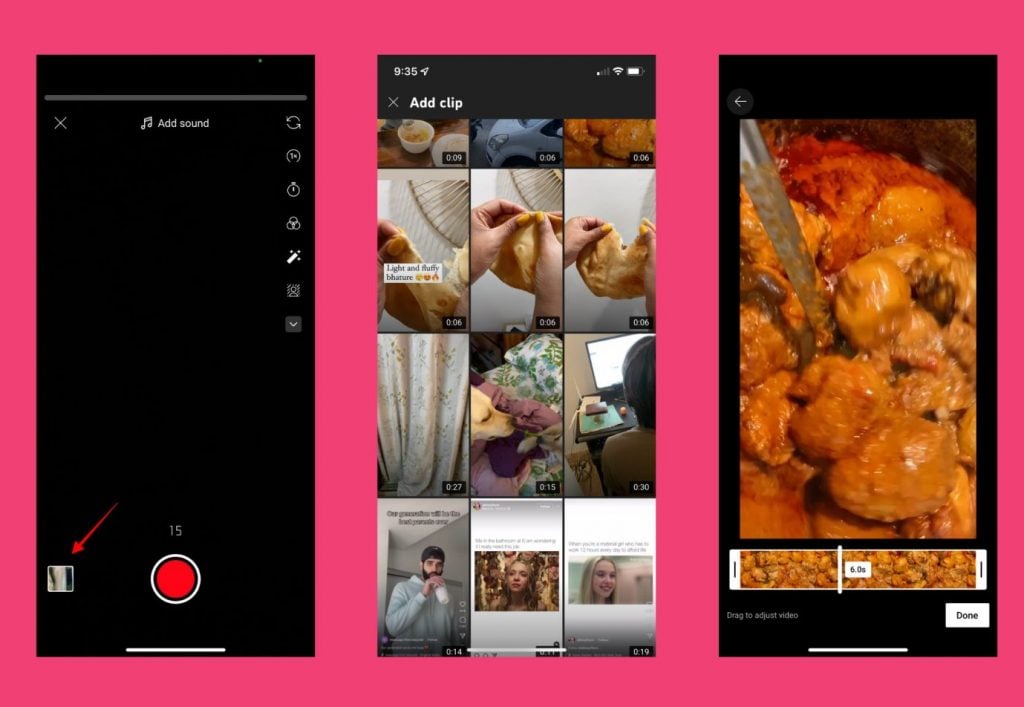 ---
Editing Your YouTube Shorts
Once you've recorded or uploaded your video for YouTube Shorts, you'll have the option to make edits. This is where you can finalize your Shorts by adding text to your video, adjusting the timeline for when the text should show up, and adding filters to the finished video. If you forgot to choose an audio file during recording or if you're uploading a video from your gallery, you can add it during this step.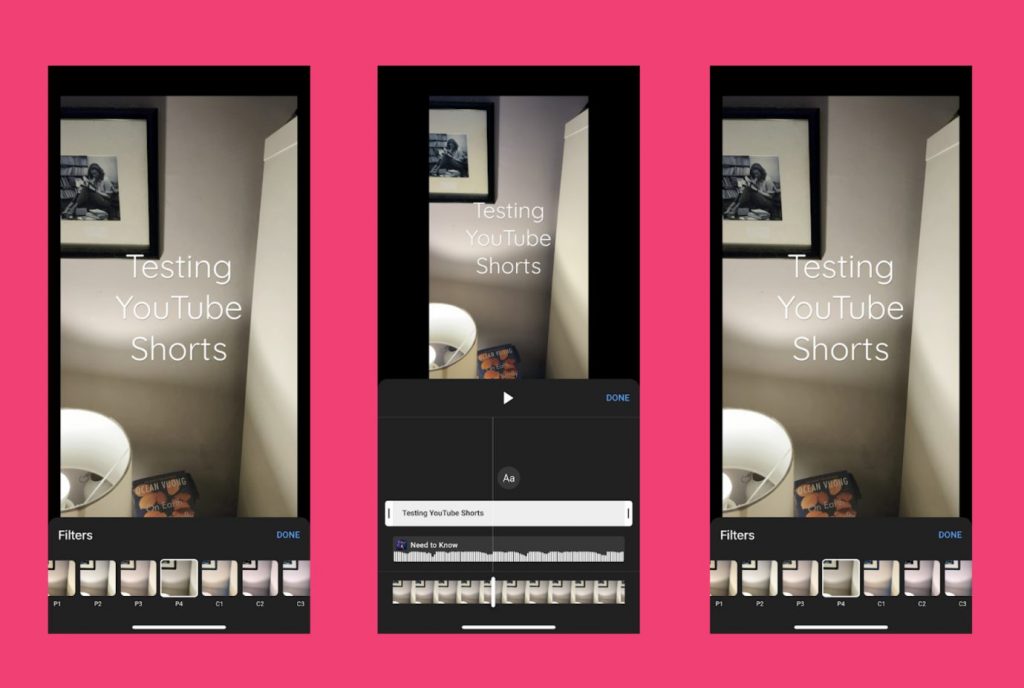 ---
Publishing Your YouTube Shorts
After everything's ready, it's time to publish your YouTube Shorts. Tap on "Next" at the top of your screen to finish your upload. The next screen will give you the option to add details, edit the visibility of your Shorts, and select an audience for it.
Step 1: Start by creating a title for your Shorts. This also serves as the caption and you can add up to 100 characters. To improve your chances of showing up in front of the right users, make sure to include relevant hashtags, which are a vital part of YouTube SEO. Additionally, you can also include the #shorts hashtag so that the YouTube algorithm can recognize your video and recommend it across the platform.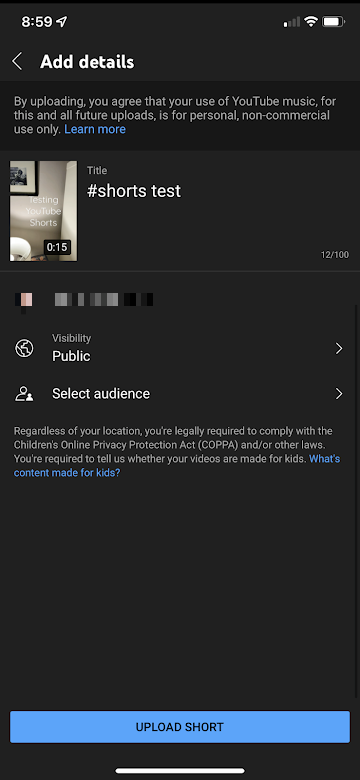 ---
Step 2: Set the visibility for your Shorts. You'll have the option to make it available to the public, make it unlisted so it's only visible to people who have the link, or set it to private only for you to view. By default, creators between the ages of 13 and 17 will have their videos set to private. This has to be manually changed as needed.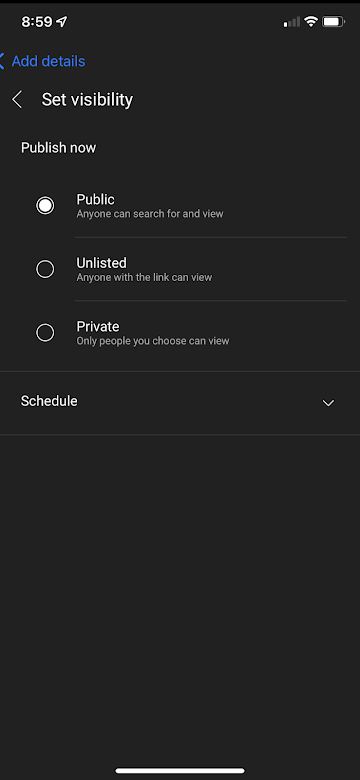 ---
Step 3: If you'd like to publish your Shorts at a later date, tap on the "Schedule" button. Then choose a date and time that you want the Shorts to go out. Scheduling your YouTube Shorts allows you to maintain publishing consistency and avoid missing a publishing timeline.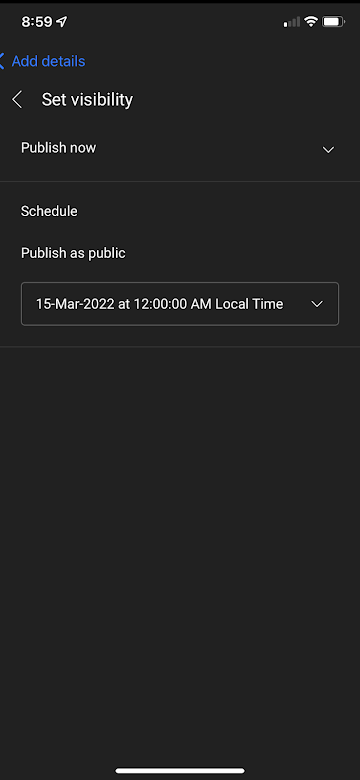 ---
Step 4: Next, you can select the audience for your Shorts. This is where you specify whether or not the video is made for kids. Under the Advanced settings, you can also specify whether to restrict the video to viewers over the age of 18.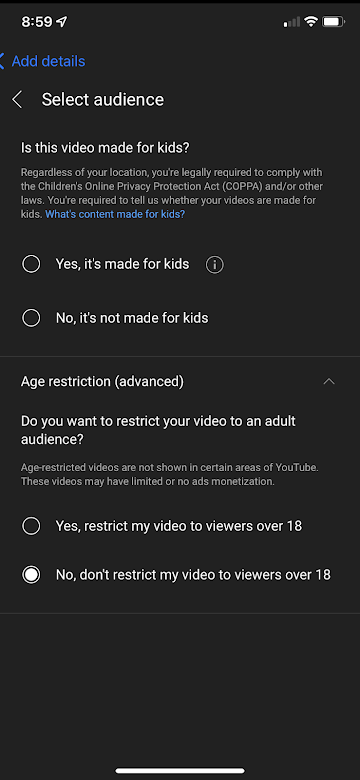 ---
Step 5: Once you have everything set up, tap on the "Upload Short" video at the bottom of the screen. And that's it! You've just published your very first YouTube Shorts.
---
Best Practices to Making the Best Shorts
If you're creating Shorts for your YouTube channel, chances are you're not just creating for the sake of it. You'd also want to get views and engagements. This means you have to be strategic about the content creation process, even if it's just a 15-second video. The following best practices will help you improve the quality of your Shorts and make them more likely to attract viewers.
Choose Enticing Thumbnails
While thumbnails are vital for getting those clicks in your regular YouTube videos, Shorts are a little bit complicated. Depending on where viewers come across your Shorts, the thumbnail may or may not have an influence on whether people watch the video.
Thumbnails don't really matter if viewers are watching the video from the dedicated Shorts tab. But if it shows up among one of the recommended videos on the YouTube homepage, the right thumbnail could make a huge difference. So instead of relying on just a random freeze-frame from the video, try adding something that could entice the audience and get them to click. For instance, a screen-grab with an intriguing text overlay such as a question could do the trick.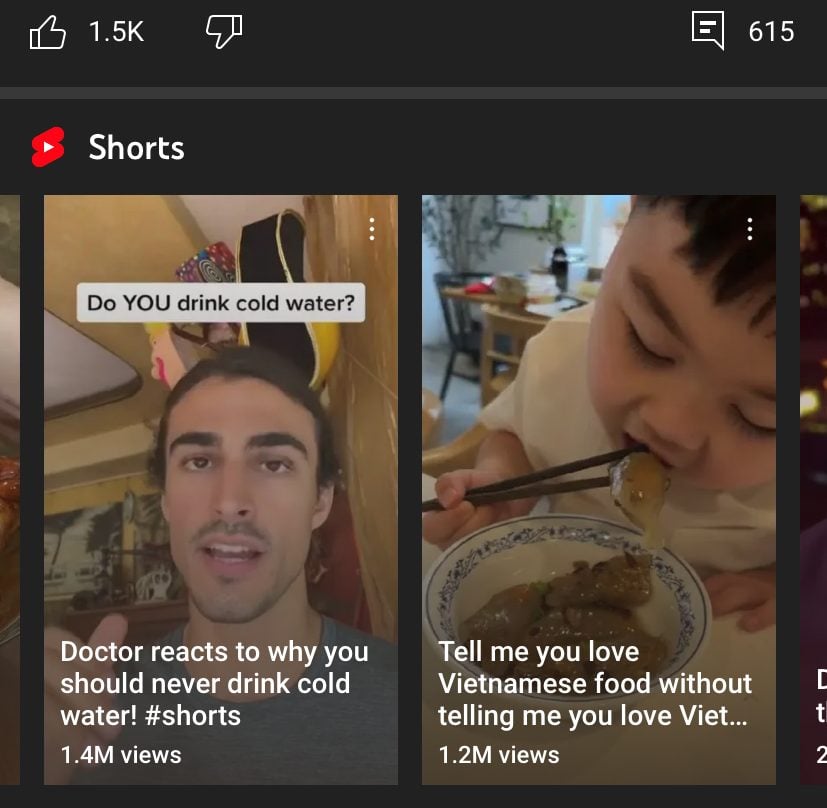 To upload or select a thumbnail for your YouTube Shorts, go to the YouTube Studio and click on the "Content" button from the left-hand panel. Find the Shorts that you want to upload a thumbnail for and click on the pencil icon next to it.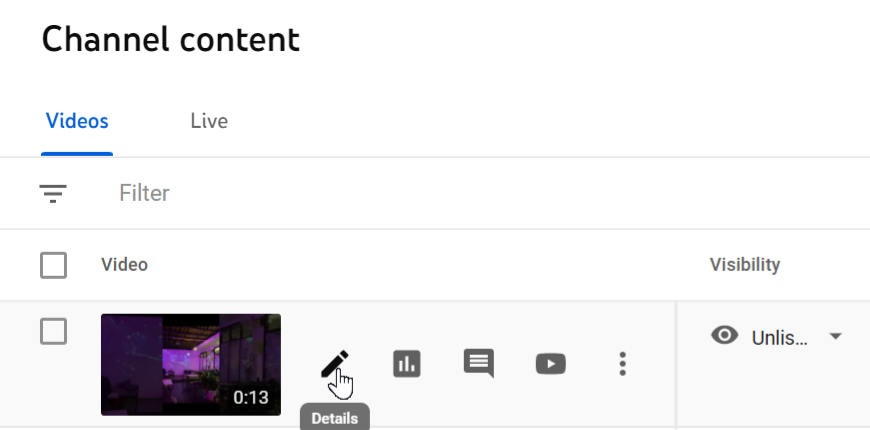 Next, scroll down to the "Thumbnail" section. From here, you'll have the option to select scenes from the video as your thumbnail. You can even upload a custom thumbnail that stands out and would get people to click and watch your Shorts.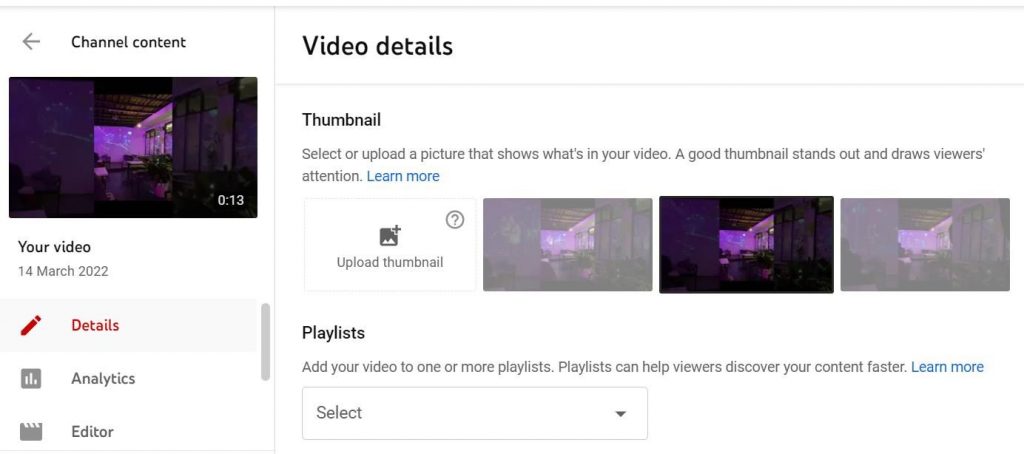 ---
Make the First 2 Seconds Count
When it comes to YouTube Shorts, you have just a few seconds (literally) to engage your viewers. So you have to make it count. Unlike regular YouTube videos, you can't gradually build up to an exciting or interesting section in the video. Instead, you have to get straight to the point so people don't scroll away to the next Shorts.
This could involve instantly grabbing the eye with visually-appealing imagery. It could also involve adding a sound or a narration that would instantly intrigue the viewers and get them to keep watching. You could ask a question that you'll then answer in the rest of the video. Or you could even reiterate the video caption to remind people what the video is all about.
Many content creators rely on the "This is…" technique to start their Shorts. For example, if the video is about "What Your Favorite Art Supply Says about You," they'll add a voiceover at the beginning of the video immediately stating, "This is what your favorite art supply says about you." They'll also include a text layover saying the same thing.
---
Keep It Entertaining
Your Shorts performance relies heavily on viewer retention. If more people watch the entire thing, the video could become competitive and highly watched in addition to being visible to more people. So if you want to achieve a higher view duration, keep your videos snappy and entertaining.
Instead of relying on one continuous sequence, try joining together multiple clips and playing around with different edits and cuts to make your Shorts more entertaining. This will also make it easier to focus on only the most important parts of the video. For example, instead of an entire cooking sequence, you could join multiple clips where you're starting to chop different vegetables, throwing them into a pan, adding condiments, and finally creating the finished dish.
---
Create with Shorts in Mind
Remember that although YouTube Shorts is a part of YouTube, it has a fairly different function and vibe from regular videos on the platform. In other words, you can't use it to upload a shorter version of your usual videos. When you're creating YouTube Shorts, make sure you create with the format in mind. You need short and snappy content with bite-sized information that can fit into a 60-second window.
At best, even if you want to repurpose a longer video for your Shorts, consider taking short clips from different sections of the video. That way, people can get a better glimpse into what the video is all about. Ideally, however, Shorts videos should be original and created just for Shorts. For example, you could answer a pressing question, give a behind-the-scenes look, share a short teaser, and more.
The Artistic Antics LLC channel makes the most of Shorts to share what's going on behind the scenes of the soap and candle-making business. The creator regularly shares how certain elements in her products are made to give viewers an entertaining glimpse into the process.
---
Provide Value
For your Shorts to attract viewers, they should provide value to the audience. What value does the audience get out of your Shorts? Does it help them learn something new? Does it answer their question? Can they get a quick laugh out of it?
YouTube Shorts should be intentional and valuable so viewers would want to watch the entire thing. More importantly, it should get them curious enough to come back or click through to your channel to check out the rest of your content. For example, Dr. Dray uses YouTube Shorts to provide bite-sized information on skincare and skincare products.
---
Let Your Creativity Shine through with Shorts
With the right approach, YouTube Shorts can be an effective tool for attracting and engaging your audience. But you have to be very strategic with your approach or you'll end up with videos that no one wants to finish. Make the most of the steps and best practices given above to get a jumpstart.
Frequently Asked Questions
Do YouTube Shorts make money?
YouTube Shorts aren't monetized in the traditional sense, but eligible Shorts creators can earn a bonus from the YouTube Shorts Fund.
How do you make popular YouTube Shorts?
To make popular YouTube Shorts, your video has to be informative and entertaining. In addition, you have to optimize with eye-catching thumbnails and popular and relevant hashtags.
Why can't I make a YouTube Short?
If you can't make a YouTube Short, make sure you have the latest version of the YouTube app installed.
How many subscribers do you need for YouTube Shorts?
Anyone can make YouTube Shorts, regardless of how many subscribers they have.
Do YouTube Shorts expire?
Unlike YouTube Stories, which expire after 7 days, YouTube Shorts don't expire on their own unless you delete them from your channel.