Advertising Disclosure
Advertising disclosure:
Our partners compensate us. This may influence which products or services we review (also where and how those products appear on the site), this in no way affects our recommendations or the advice we offer. Our reviews are based on years of experience and countless hours of research. Our partners cannot pay us to guarantee favorable reviews of their products or services.
Collaborations between influencers and brands are at the heart of influencer marketing. It's interesting to think that just several years ago, influencers were not in any mainstream marketing plan. Today, influencer collaborations are effective means of marketing.
Because of the popularity of influencer and brand collaborations, marketing teams have an array of tools at their disposal to make managing these partnerships easier and more effective. After all, no two collaborations have the exact same resources and goals, so marketing teams can't apply cookie cutter management approaches to all.
From choosing the right influencer for a brand or product to managing pricing and payments to creators, running a successful influencer collaboration program involves a number of tasks that may get overwhelming when you have several campaigns running at once.
We've rounded up the nine best tools for brand collaborations to help you manage your influencer marketing campaigns.
---
Top Tools for Brand Collaborations With Influencers:
---
Best Collaboration Tools for Established Brands and Influencers
Top
brand collaboration tools
2024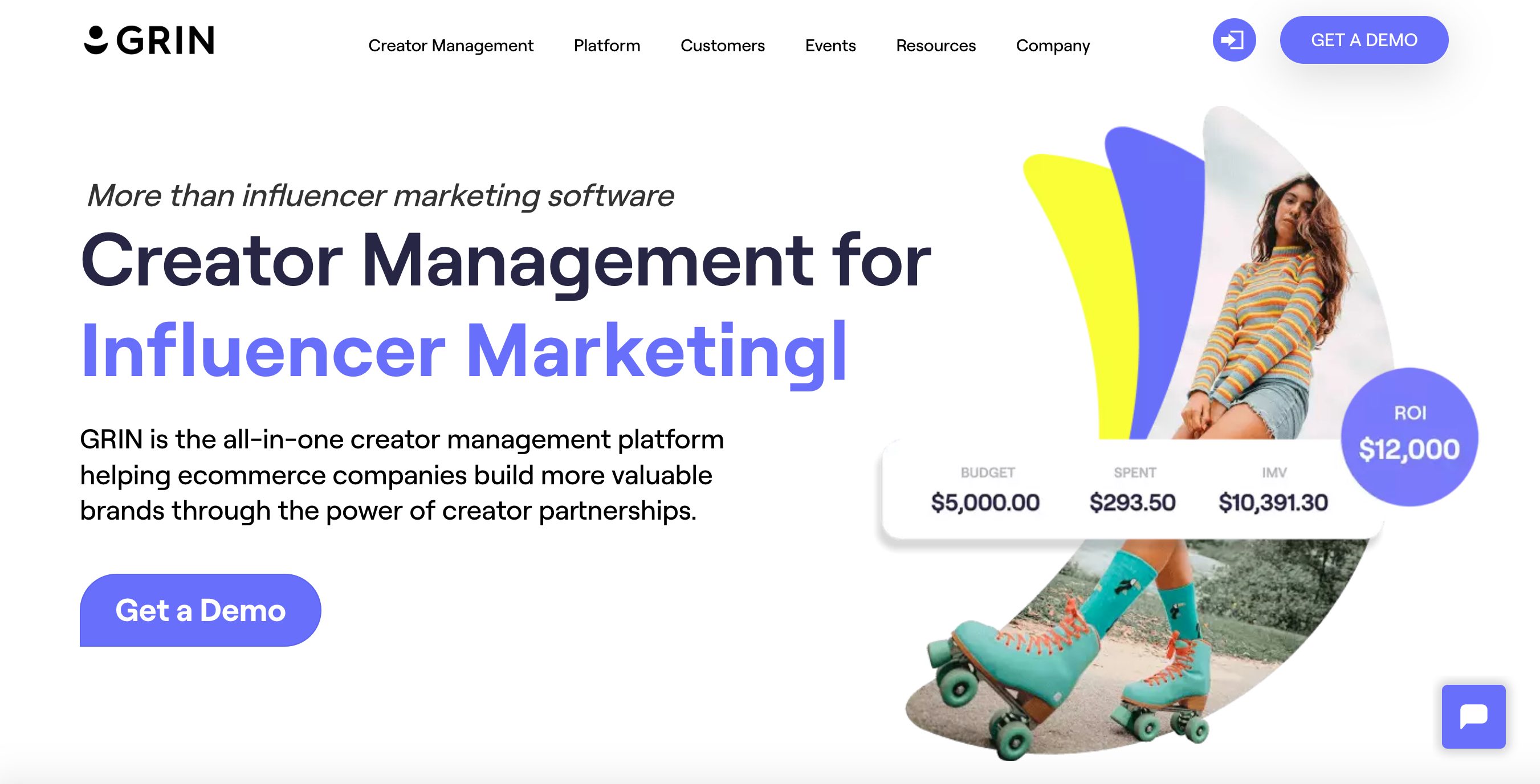 Built for eCommerce businesses, Grin is a top creator management platform. The company has won various awards this year from G2, including "best usability," "best results," and "best relationship."
These awards are not unfounded, because of Grin's easy-to-use platform. It caters to all types and sizes of businesses, so its software can handle even a large number of creators, products, and agencies. It has integrated with major social media platforms, plus eCommerce sites like Shopify and Magento. Communication channels include Gmail, Outlook, SMS, and Slack.
Features to look out for:
Influencer Relationship Management: Grin provides communication tools that allow you to manage applications and requests, influencer recruitment, and other ways to work with creators.
Reporting and Analytics: Get a glimpse of your metrics with its influencer marketing reporting software that measures KPIs, content engagement, and more.
Content Management: Track influencers and ambassadors' posts or repurpose their content to optimize your social media strategy.
Financial Management: Aside from analyzing metrics, Grin can also manage payments to content creators from the platform. This includes ROI per creator and payment history.
Pricing range: Customized depending on your needs and business resources

Key Features: Content Amplification, Search/Discovery, Influencer Lifecycle Management, Influencer Relationship Management, Content Review, Content Library, Campaign Management, Campaign Reporting, Influencer Analysis, Audience Analysis, E-commerce Tools, Product/Gifting Tools, Forms and Compliance,
Channels: Facebook, Instagram, TikTok, Twitter, Twitch, YouTube
---
Creator.co's Collaboration Hub makes it easy for brands to create campaigns and look for influencers to partner with. On the other side of the fence, it also serves as a platform for creators to work with their favorite brands and participate in various influencer marketing programs.
With packages ranging from self-serve accounts to fully customized and tailor-fit accounts, Creator.co was built with small businesses in mind.
Features to look out for:
Campaign Automation: A step-by-step process for the brand and creator that makes launching campaigns easy as pie—the higher you go up its subscription tiers, the more assistance you'll receive from experts.
Creator Deep Insights: Important insights for over 500 million social media profiles, so you can choose influencers that best fit your brand
Dedicated Slack Channels: Get easy and seamless communication with your campaign specialist through a dedicated Slack channel.
Regular Strategy Sessions: Brands that are assigned a campaign specialist can meet with them every month for strategic discussions.
Meanwhile, influencers can join its creator community and participate in gifted and paid campaigns with partner brands.
The company started in 2018 as Shop and Shout, an influencer marketplace that focused on micro-influencers and small enterprises. As Creator.co, it hasn't shifted its focus all that much, still catering to medium and small businesses that have no dedicated marketing teams. Its automated campaigns have contributed to its success in this market, so much so that even big brands have begun to use the platform as well.
Pricing range:
Brands – $399 to $1,995 per month
Creators – free registration

Key Features: Search/Discovery, Automated Recruiting, Influencer Relationship Management, Influencer Marketplace, Content Review, Content Library, Campaign Management, Campaign Reporting, Influencer Analysis, Audience Analysis, E-commerce Tools, Product/Gifting Tools, Fake Follower/Fraud Detection, Payment Processing, Social Listening, Competitor Research, Creator Marketplace,
Channels: Instagram, YouTube, TikTok
---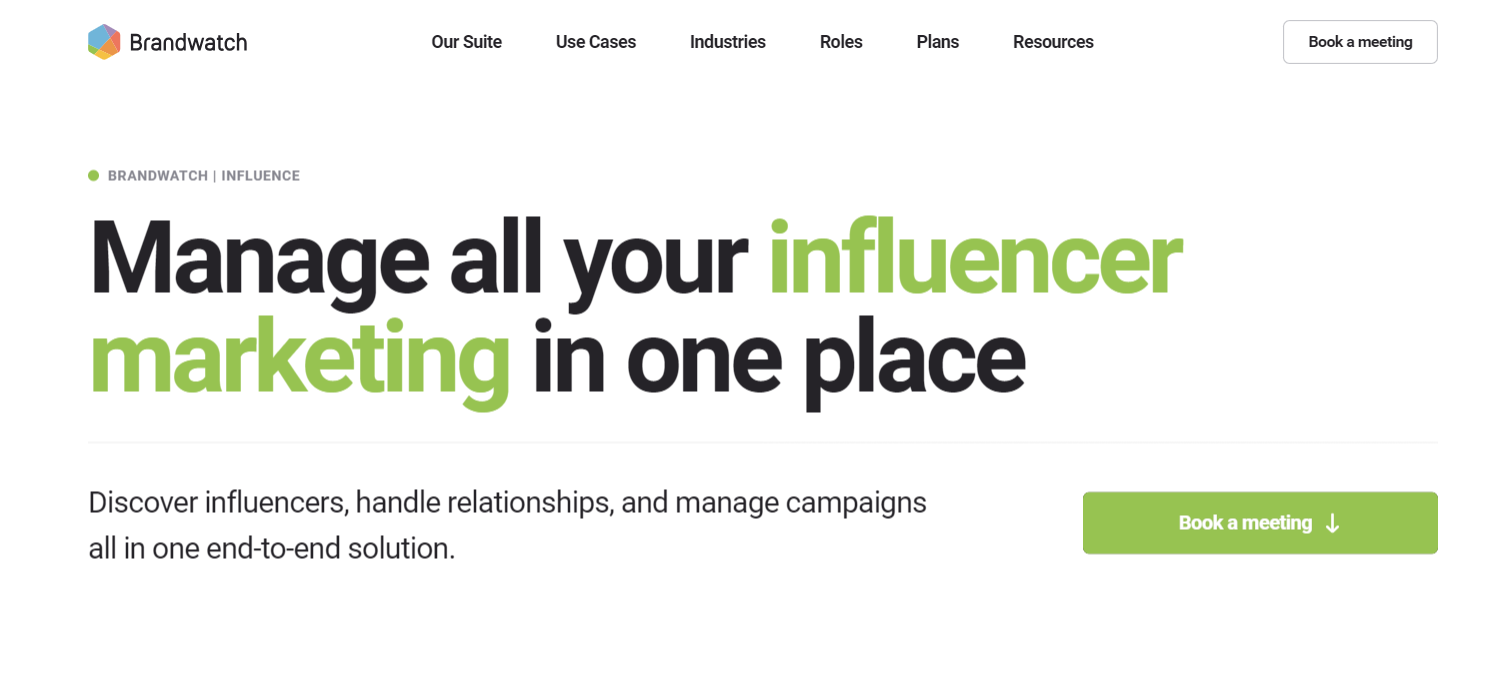 A top-tier tool designed for brands that aim to remain at the cutting edge of social trends, Brandwatch offers comprehensive features to understand and engage with customers in real-time. As the digital world moves at an unprecedented speed, Brandwatch stands as an ally for brands keen to evolve and adapt efficiently.
Features to look out for:
Real-Time Engagement: Collaborate at the speed of social and connect with customers in a way that's both swift and relevant.
Unified Content Calendar: An integrated content calendar offers visibility for both organic and paid content, streamlining the campaign and post-management process.
Approval Workflows: Ensure the quality and alignment of your content with set approval processes, defining who gets the last word before content is published.
Digital Asset Library: The content pool offers a consolidated space to store and access all digital content assets, making content retrieval effortless.
User-Centric Design: With an intuitive user experience, Brandwatch consistently receives commendation for its industry-leading design that enhances the user journey.
Cross-Team Collaboration: Assign roles, streamline ad creation, and optimize your strategies across various channels and countries, maintaining brand consistency and efficient teamwork.
Tailored Packages: Depending on your role – be it a researcher, social media manager, or influencer marketer, Brandwatch has specialized offerings that cater to your specific needs.
Pricing structure:
Detailed pricing is provided after booking a meeting, ensuring a tailored approach to your brand's needs. Three plans are available:
For Researchers and Analysts: Consumer Intelligence
For Social Media Managers: Social Media Management
For Influencer Marketers: Influencer Marketing

Key Features: Influencer Discovery, Influencer directory management, Creation of private influencer network, Campaign management and reporting, Broad platform coverage, Automated reporting,
Channels: YouTube, Facebook, Instagram, Twitter, Twitch, TikTok, Shopify
---

One of the leading influencer collaboration platforms trusted by brands and collaboration platforms, kitly boasts over 16,000 active users around the world. Built primarily with influencers in mind, it provides creators with useful tools.
Features to look out for:
Media Kit Builder: Use your social media insights to create a media kit you can send out.
Live Social Media Insights on Demand: Just pick a post you want to share insights from, and kitly generates a professional insight report you can send to brands.
Campaign Management: All your partnerships and deliverables in one calendar for better management
Financial Management: Generate professional invoices once a collaboration is over and reconcile paid invoices with your own accounting software.
The Playbook: How-tos, webinars, and other guides for creators on collaborations, including maintaining a good relationship with brands, understanding ad disclosures, and even operating as an influencer business
Kitly Business, a separate platform, focuses on the brand's side of things. Similar to the tools for creators, Kitly Business provides brands with campaign management, communication, and reporting tools, which makes it easier to stay on top of things.
Pricing range:
Kitly Business, $99/month ($79.17/month if billed annually) — Add up to 25 creators, customize 25 media kits, manage 3 campaigns, generate 3 reports

Key Features: Search/Discovery, Automated Recruiting, Team Collaboration Tools, Content Review, Content Library, Campaign Management, Campaign Reporting, Influencer Analysis, Audience Analysis, White Label Reporting,
Channels: Instagram, Facebook, Youtube and Tiktok.
---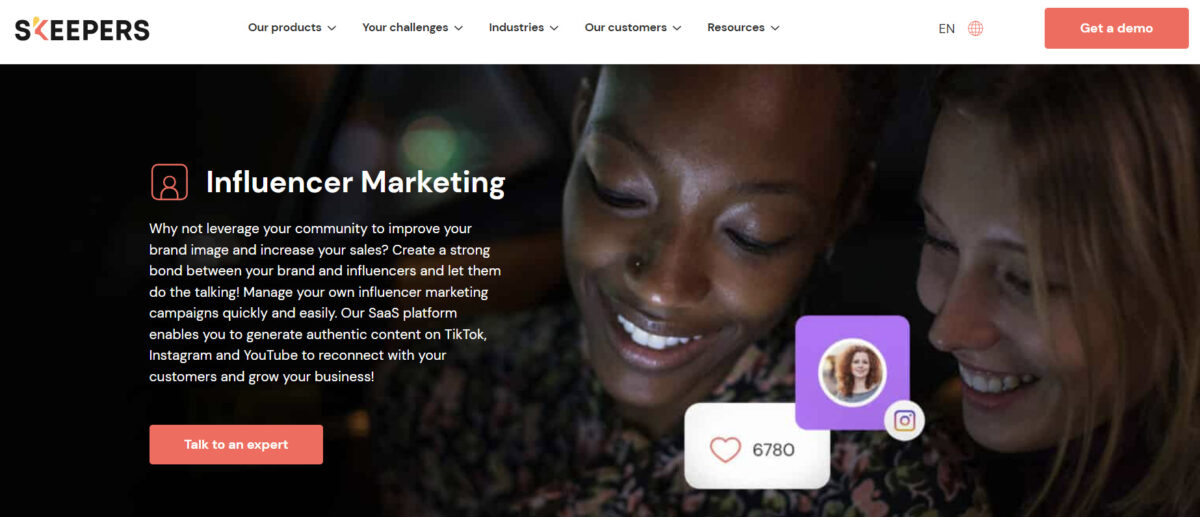 Featuring luxury brands such as Yves Saint Laurent, Lancôme, and Dior, Skeepers is an influencer marketing platform in the beauty, fashion, and lifestyle market. Eligible influencers can join through social media campaigns from the world's leading brands. Essentially, once they join, they can look for available products to try for free and if a brand accepts, the product is shipped to the creator, who can then make a post about it.
Skeepers works with three social media platforms: YouTube, Instagram, and TikTok. For a YouTuber to be eligible, they need to have at least 1,000 subscribers with an average of 2,000 views for their last five uploads. On Instagram, a minimum of 1,000 followers is also required plus a 2% engagement rate. For all platforms, you need an active account that publishes relevant content consistently.
Features to look out for:
Hyper-Targeting: Skeepers uses 250 data points to hyper-target both influencers and consumers for a more cost-effective campaign.
Real-Time Reporting: Access relevant data in real time.
Dedicated Account Managers: Brands get quality feedback and assistance from account managers who can share their expertise and provide insight into their campaign.
Full-Service Logistics: Ship gifts to influencers using Skeepers's logistics service.
Pricing range: Not available on the website

Key Features: Campaign Management, Influencer Discovery, Social Media Monitoring, Faceted Search / Filtering,
Channels: Tik Tok, Instagram, Shopify, Retail Sites, Brand Website
---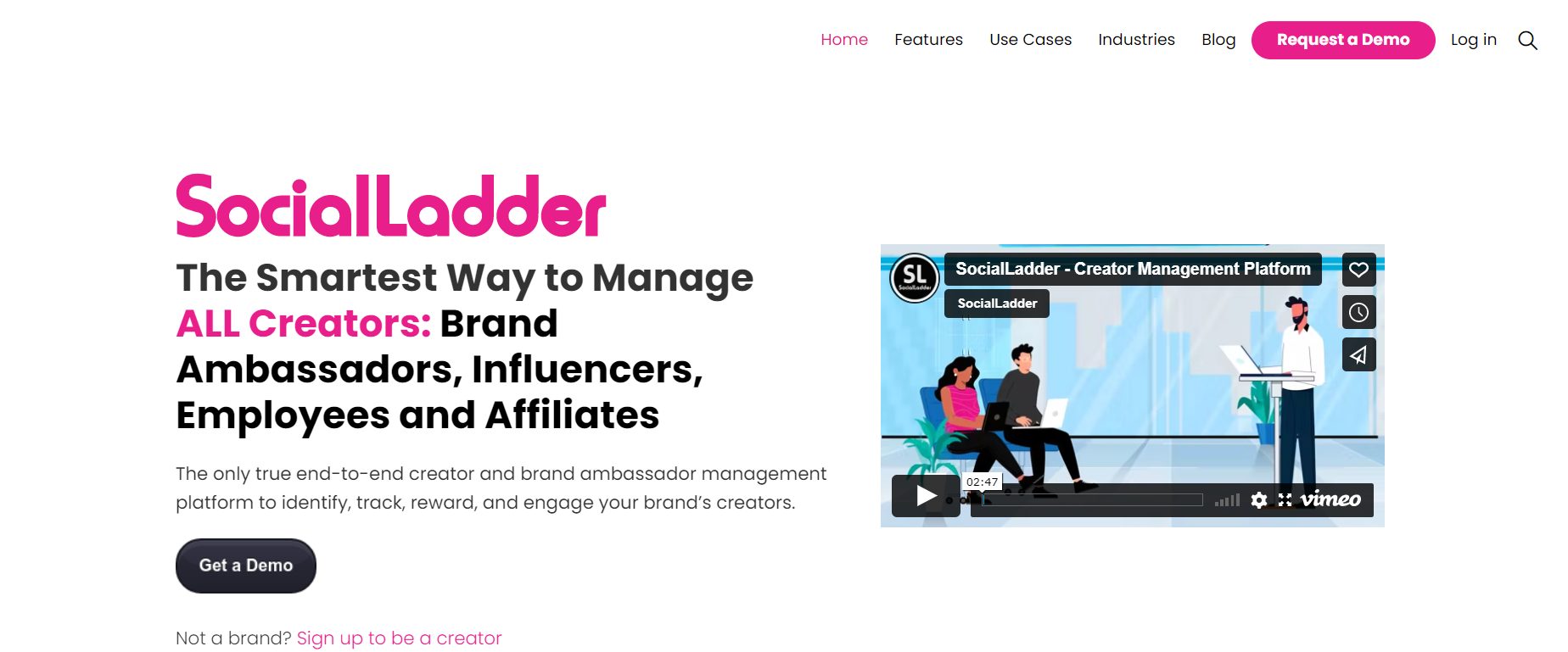 SocialLadder is an end-to-end creator management platform to help organize all your partnerships. Whether they're loyal brand ambassadors that promote their favorite products or influencers to help you grow brand awareness, SocialLadder's platform helps you manage all of them in one dashboard.
Features to look out for:
Embedded Web Experience: For creators, a space to check their collaborations and communicate with partners regarding posts, referral codes, and even rewards
Creator Network: Over 38 million certified influencers and creators you can select from—SocialLadder uses machine learning to help match brands with appropriate influencers.
Streamlined and Automated Program for Creators: Any and all tasks related to communicating with ambassadors and influencers in one place, from recruiting creators to assigning tasks, giving rewards, or tracking affiliate links
Engagement and ROI Tracking: Because a campaign needs to have quantifiable measures of success, SocialLadder tracks these important numbers per creator, so you can adjust and scale accordingly.
Integration with Social Media Platforms: SocialLadder supports most of the mainstream platforms like Facebook, YouTube, Instagram, TikTok, Snapchat, Twitter, Reddit, Google, and even Shopify and WordPress.
Pricing range: Upon request, free demo available.
---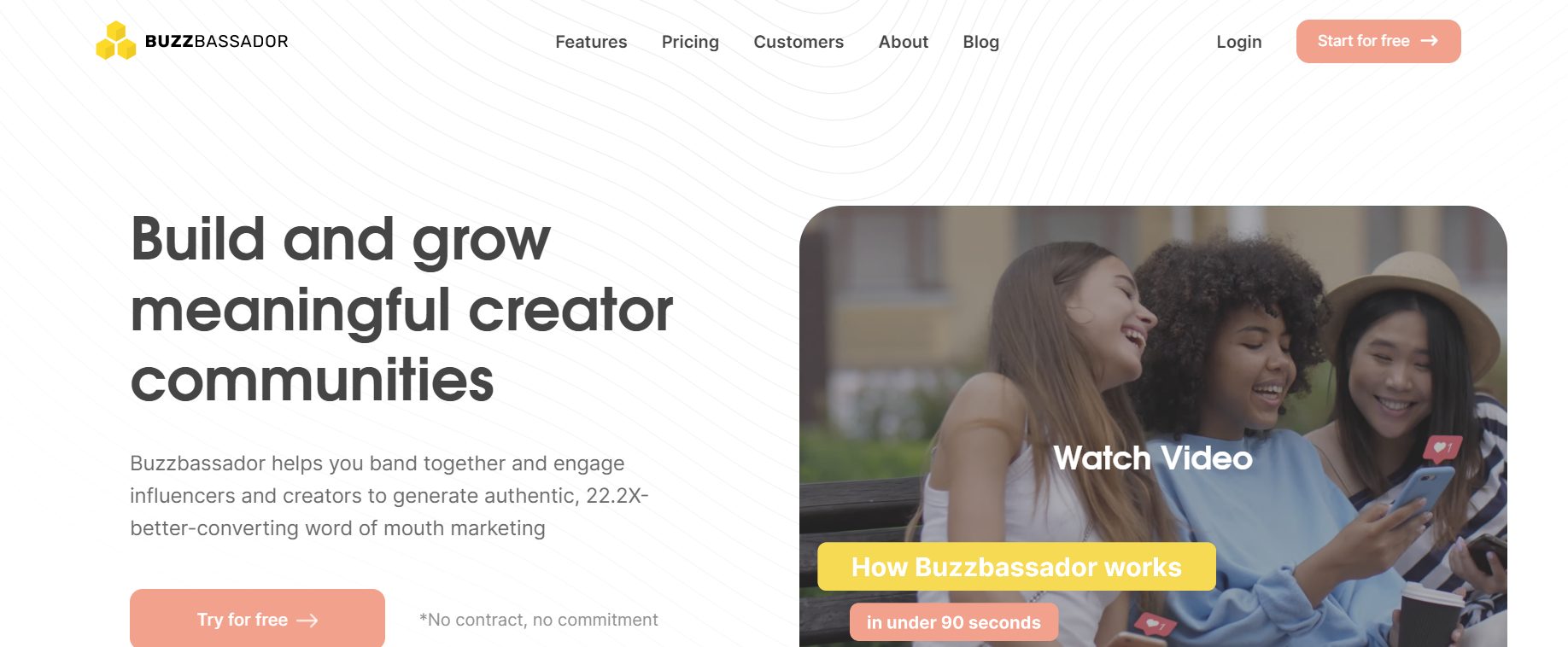 For those looking for the most budget-friendly options, Buzzbassador has you covered. The company was founded by Shopify merchants Calvin and Shelby, who ran an online women's clothing store. Success did not come quite so easily to them, so they decided to do brand ambassador marketing to boost their sales. After much research and testing, they launched their campaign with micro-influencers and were able to generate a massive 1,566% increase in sales.
Because of their experience as brands looking for ambassadors to engage with, the founders established Buzzbassador to cater to eCommerce businesses like themselves. Their firsthand experience on what eCommerce brands need in terms of influencer and brand ambassador marketing has given them the right perspective to suit similar markets.
Features to look out for:
Centralized and Automated Influencer Activities: Organize all the information about your influencer partners without the need for multiple forms and spreadsheets. Automate some tasks such as email communication to make work easier and more efficient.
Real-Time Reporting and Analytics: Keep up to date with the performance of all your collaborators and make adjustments as necessary.
PayPal Payouts Integration: With PayPal payouts integration, you can pay every influencer their commission with one click. Other payment methods include CashApp, Venmo, and bank transfers.
Campaigns Tool: With the Campaigns tool, brands can create and assign specific missions for their influencers. Whether it's meeting a sales target, posting a certain photo, or achieving a specific level of engagement, the Campaigns tool can keep you organized and you monitor KPIs in real time.
Pricing range: $39 to $499, free 14-day trial available
For Influencers Just Starting Out
---

Manifest, stylized as "MNFST," is an app that targets new or upcoming influencers who may need more experience. Unlike most of the tools on our list, MNFST does not require you to have a minimum number of followers before you can join and participate in collaborations. All you have to do is download the app on iOS or Android, connect your Instagram account, and look for a campaign you are interested in joining.
Influencers can either get paid for the number of impressions or number of actions. The cool thing about MNFST is that since it is made for emerging influencers, it helps you develop and optimize your social profile in order to gain more followers and be a full-fledged influencer.
MNFST specializes in crowd-promotion campaigns for brands. It uses branded video segmentation or augmented reality masks to engage hundreds of thousands of influencers. Given its focus on influencers who may need a bit more reach and experience, crowd promotions plus native integrations are its strengths. According to the company, this marketing combination can reach millions of consumers with a lower CPM and increased ER.
Some of the brands that MNFST work with are Nestlé, Vivid, Yango Deli, and Bolt.
Pricing range: Not available on the website
---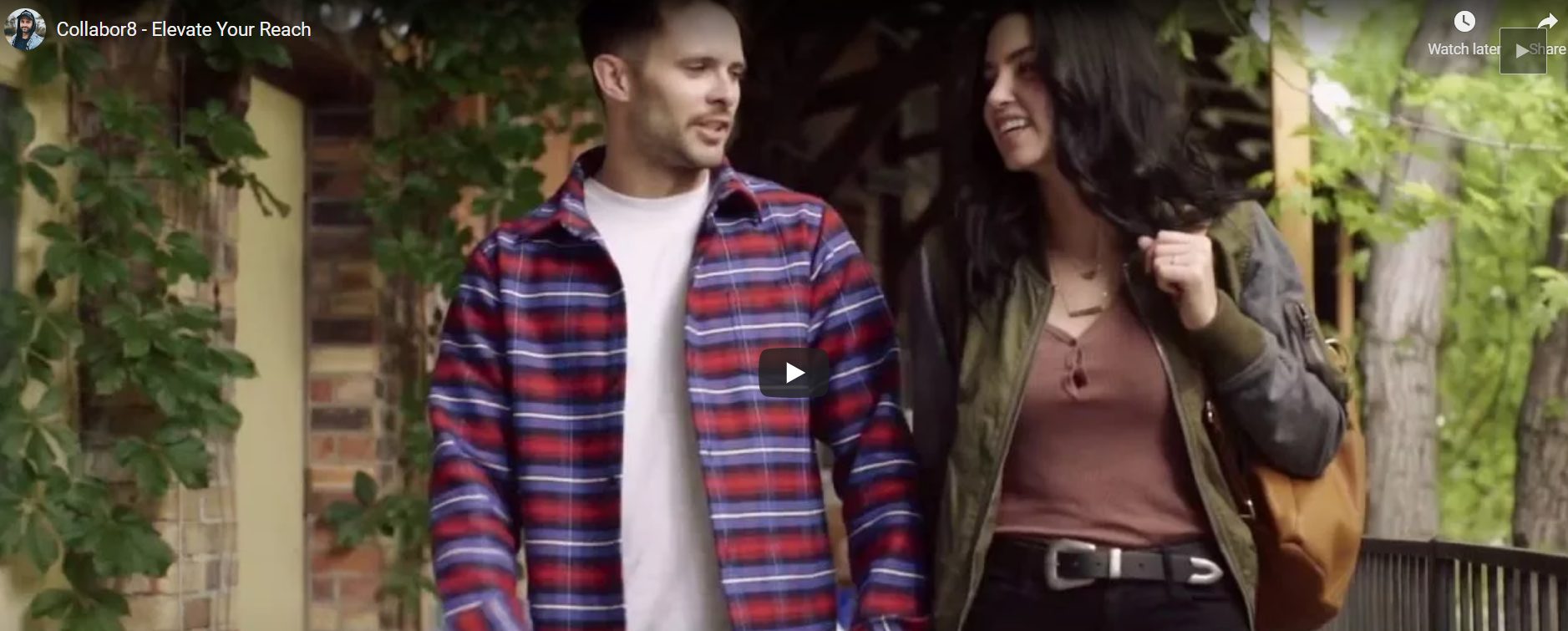 Collabor8 is another app that aims to connect influencers and brands on a one-on-one basis. Branding itself as the "Tinder of influencer marketing," it's the first mobile app to offer "matchmaking" services for brands and creators. It's perfect for influencers who are only beginning to grow their followers, as Collabor8 welcomes all brands and influencers to sign up on the app, no matter the size.
Despite its wide net, the app has powerful filters that allow brands to search for the right influencer depending on geographic location, follower count, gender, and industry. Influencers can also request to collaborate with brands they like, and brands can set limits on creators who can send a request.
Much like Tinder, Collabor8 also allows in-app messaging between parties who have accepted each other as partners. When a request to collaborate has been approved, the parties can then communicate and move the partnership forward. However, currently, the app does not really provide more tools beyond matching you with a brand or influencer and handling payments securely.
Pricing range: Free to join and collaborate, additional services and functions available for a fee
---
Why Collaborate With Influencers?
These days, collaborations are what drive digital marketing. The creator market is in full swing. People no longer turn solely to their favorite actors and actresses' endorsements. In the digital age, influencers can have as much impact as A-list celebrities, if not more. The optics of the boy- or girl-next-door who "looks like me" has a greater effect in advertising and marketing than a glamorous image of a celebrity.
Collaborations are a way for brands and creators to make marketing more authentic. Influencer apps and tools like the ones we listed help brands achieve their sales targets through collaborations.