Advertising Disclosure
Advertising disclosure:
Our partners compensate us. This may influence which products or services we review (also where and how those products appear on the site), this in no way affects our recommendations or the advice we offer. Our reviews are based on years of experience and countless hours of research. Our partners cannot pay us to guarantee favorable reviews of their products or services.
Your brand's health can affect your success and growth. A strong brand health will give you a competitive edge in a rapidly changing global marketplace. It can help customers, both existing and new, to gain a better perception of your business and trust you more. By tracking your brand health, you're able to measure the value that your brand brings and position yourself for growth. You're also able to build stronger, better relationships with your customers and employees.
However, brands can also get "sick". Problems will arise and, when left unchecked, can grow to become bigger issues that may be more difficult to address. Declining brand health can look like inconsistent engagement, lower market shares, a dip in quality, and lost brand personality.
How do you measure your brand's performance? Does your audience recognize your brand? Are you able to stand up to the competition?
While it might be difficult to diagnose your own brand health, there are plenty of tools available to help you gauge your brand's performance. We're sharing a list of the 10 best brand health tools and software, as well as key brand health metrics to look out to keep your brand strong, healthy, and geared for success.
---
The 10 Best Brand Health Tracking Tools and Software:
---
What is Brand Health?
Brand health refers to a set of metrics that determine your brand's performance. This includes your customers' perception and awareness of your brand and what you're offering, as well as the role your brand plays in your business. It also covers how well your brand performs against the competition.
Brand health offers insights as to whether your brand is thriving or in decline. It also paints a picture of the reliability of your brand. By being able to understand these key factors, you're able to get insights on where your brand currently stands, as well as identify and address any potential issues or risks before they can do serious damage to your brand.
---
Why Should You Track Brand Health?
Just because a brand is healthy and is performing well doesn't mean that it won't become weak. Not doing regular brand health checks can give rise to issues that can hamper your growth.
Measuring and monitoring your brand health allows you to assess your brand's performance within the context of your target audience, its strengths and weaknesses, and what could be preventing you from achieving your goals. It also helps you spot brand advocates along with well as negative trends or perceptions, allowing you to quickly address them both.
Furthermore, tracking your brand health gives you a better idea of how well your campaigns are doing—or aren't doing—and where you should be directing your marketing strategies.
Your brand health is one of your business's most important assets, which is why tracking your brand health should be a top priority and should ideally be a key component in your brand strategy.
---
What Can Cause Brand Health to Decline?
There are several factors that can adversely affect your brand health. You may have foregone brand health tracking and ignored the warning signs. You may be stuck in your comfort zone and unwilling to change with evolving market and customer demands.
Additionally, having a narrow focus can contribute to your brand's declining health. Consequently, having a very broad focus and dipping your toes into many markets can dilute your brand and cause it to lose its essence. Or you may find yourself working within a dying market.
While these paint a dire picture of what brands could potentially become, you can take proactive steps to improve your brand's health. To do so, you first need to identify the problems that are affecting your brand. For example, you could be getting more negative mentions or your audience isn't as interested in your brand.
For this, you'll need to leverage data to gain actionable insights, such as whether your brand is consistent or if it's still able to meet your customer's needs. Data can also shed some light on your products, whether they're still capable of addressing your target audience's pain points or if you need to change it up so it offers more tangible value.
Once you've determined what your problems are, you'll need to create actionable, realistic goals that can improve your short-term and long-term turnaround. What do you want to achieve in six months? How do you want your brand health to look like in 24 months? For example, you may want to work on improving your net promoter score or addressing the lack of purchase intent from your audience.
Lastly, to find out if you're making progress, it's important to keep track of your improvements.
---
5 Key Brand Health Metrics You Need to Track
To find out what it is you need to be looking out for, here are five key brand health metrics you need to keep track of: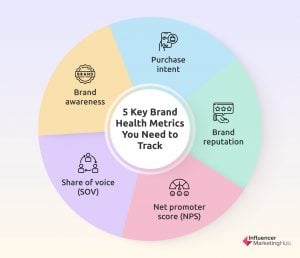 Is your target audience able to remember your brand? Does it come first to mind when they're thinking about a particular product or service?
Brand awareness, along with accompanying metrics like brand perception, brand mentions on social media, customer reviews, and website traffic are key components in measuring your brand health. It gauges your audience's ability to recognize your brand and is often associated with a brand's health.
How prepared are your customers to purchase from you?
Just because people know your brand doesn't automatically mean that they're going to buy your products or patronize our service. Each customer goes on a unique buyer's journey. At each stage, they go through a different purchase intent status, from informational to transactional.
To find out where you stand when it comes to purchase intent, check your churn rate. You can also measure purchase intent by checking how many customers don't purchase your full product after using its trial version.
Ideally, if you want to have a better brand health, you'll need to address your passive customer group, or individuals who haven't yet started their buyer's journey.
Brand reputation is another key metric that determines your brand's health. Conversations about your brand will take place, but not all of these conversations and perceptions are positive.
Using brand health tools that let you conduct social listening can help you analyze these conversations and brand mentions to uncover brand sentiments. This lets you take action for different types of conversations, whether they're positive, negative, or neutral, thereby allowing you to protect your brand and maintain its reputation.
Your net promoter score (NPS) shows your brand's health by showing how likely it is for your audience to positively or negatively respond to your brand. You can do this by finding the difference between the number of positive online mentions against the negative ones.
To find your NPS, you can subtract the percentage of the negative mentions (or detractor) from the percentage of your promoters who give positive mentions of your brand. A higher NPS means that your online sentiment is generally good and that more people like your brand, product, or service. On the other hand, a lower NPS means that you need to work on improving your brand reputation and take steps to improve how your audience perceives and interacts with your brand.
Once done, you can ask follow-up questions that will give more context as to why you're getting this particular score from a certain group.
Simply put, share of voice (SOV) shows how your brand is doing in conversations against your competitors, whether it's dominating them or is underperforming. SOV also indirectly sheds light on brand awareness, another crucial brand health metric.
To determine your brand's share of voice, you need to use a social listening tool.
Several of the brand health tools and software on our list have built-in social listening tools or have integrations with your favorite social listening tool. These can analyze conversations and calculate how your brand is performing against your competitors. From there, you can look deeper into these insights to find out what the other successful competitors are doing that make it possible for their brands to dominate online conversations.
---
10 Best Brand Health Tools and Software
---
---
---
---
---
---
---
---
---
---
Frequently Asked Questions
Why is brand health important?
Brand health determines your brand's performance. It's important to measure it so you know how your audience perceives your brand, take steps to improve brand perception, uncover trends and opportunities, and identify any potential problems that may eventually contribute to your brand's decline.
How can I measure brand health?
You can measure brand health through social listening, engaging in surveys or taking part in focus groups, or getting customer feedback.
What are the best brand health monitoring tools?
Some of the best brand health monitoring tools available today include Hootsuite, Qualtrics, Brandwatch, Brand24, Talkwalker, and Attest.