Advertising Disclosure
Advertising disclosure:
Our partners compensate us. This may influence which products or services we review (also where and how those products appear on the site), this in no way affects our recommendations or the advice we offer. Our reviews are based on years of experience and countless hours of research. Our partners cannot pay us to guarantee favorable reviews of their products or services.
Social media has become much more than just a space that brands can flood with the latest promotions or the occasional competition. Instead, it should be approached as a channel for two-way communication. Followers will leave comments (and not always positive) — neither of which you should ignore.
When users engage with your brand online, it's an ideal opportunity to identify your most loyal fans and turn them into brand advocates and analyze the negative comments to determine areas where there's room for improvement. This, though, quickly becomes a round-the-clock job.
Even if you have a community manager, it's a good idea to invest in some type of software that can help you to automate many of the routine tasks. In fact, many of the tools listed below double up as social media management tools. Here are the top 10 tools, in no particular order, that you can use for community management.
---
Top Community Management Tools for Growing Brands:
---
What's Community Management?
One of the main goals of successful community management is to create a platform for two-way communication and a space where members feel like they belong. In short, you want to create a large, active community, while at the same time building authentic connections.
To do this, your community manager will:
Add and remove members

Moderate the content and users' interactions

Respond to comments and engage with customers

Offer support

Organize brand events for members

Write and implement community guidelines and policies
---
Best Community Management Tools
Top
community management tools
2024
For help building and managing a community of influencers, you can check out Creator.co. Based in Vancouver, Canada, they're trusted by well-known global brands like Walmart and Colgate.
They can help businesses to tap into conversations about their brand, competitors, and market, helping them to improve their engagement with potential customers. Alternatively, if you want to leverage the power of influencers to build and manage a community, they can help you to get immediate exposure to over 100,000 registered creators. And, if that doesn't deliver results, you can filter their database with millions of social profiles that include detailed insights about each creator.
They also include affiliate programs that you can use to build a community of brand advocates. All you need to do is connect your store, pick the products, and decide on the commissions. You can then track key info like shares, clicks, and conversions, while their platform will take care of payments.
Key features include:
Custom marketing strategies
Creator search and exports
Recruitment service
Affiliate program
Pricing: Pricing starts at $395 per month for a three-month plan.

Key Features: Search/Discovery, Automated Recruiting, Influencer Relationship Management, Influencer Marketplace, Content Review, Content Library, Campaign Management, Campaign Reporting, Influencer Analysis, Audience Analysis, E-commerce Tools, Product/Gifting Tools, Fake Follower/Fraud Detection, Payment Processing, Social Listening, Competitor Research, Creator Marketplace,
Channels: Instagram, YouTube, TikTok
---

Responding timeously to mentions of your brand is key if you want to build and manage a community. Though, that's not always enough. If you want to be viewed as one of the thought leaders in your niche, you'll also need to participate actively in relevant talks. Enter Brand24.
Trusted by leading names like Twitch, Stanford University, and Uber, Brand24 can help community managers with tracking brand mentions and industry-related talks in online conversations. All brand mentions get organized into a single feed to reduce the time needed to respond. Then, to help you get a better context of these mentions, you can use the mention analytics to evaluate the quality of the source who posted it.
Another feature that deserves special mention is its discussion volume chart. This way, you'll be the first to know when the discussion volume changes suddenly. You can, for example, set it up in such a manner that you get notified immediately when there's a negative mention of your brand on online sources that attract significant monthly traffic.
Key features include:
Advanced filtering and sorting
Engagement tracking
Source analysis
AI-powered sentiment analysis
Reporting and alerting
Pricing: After a free 14-day trial, pricing starts at $59 per month when billed monthly.
---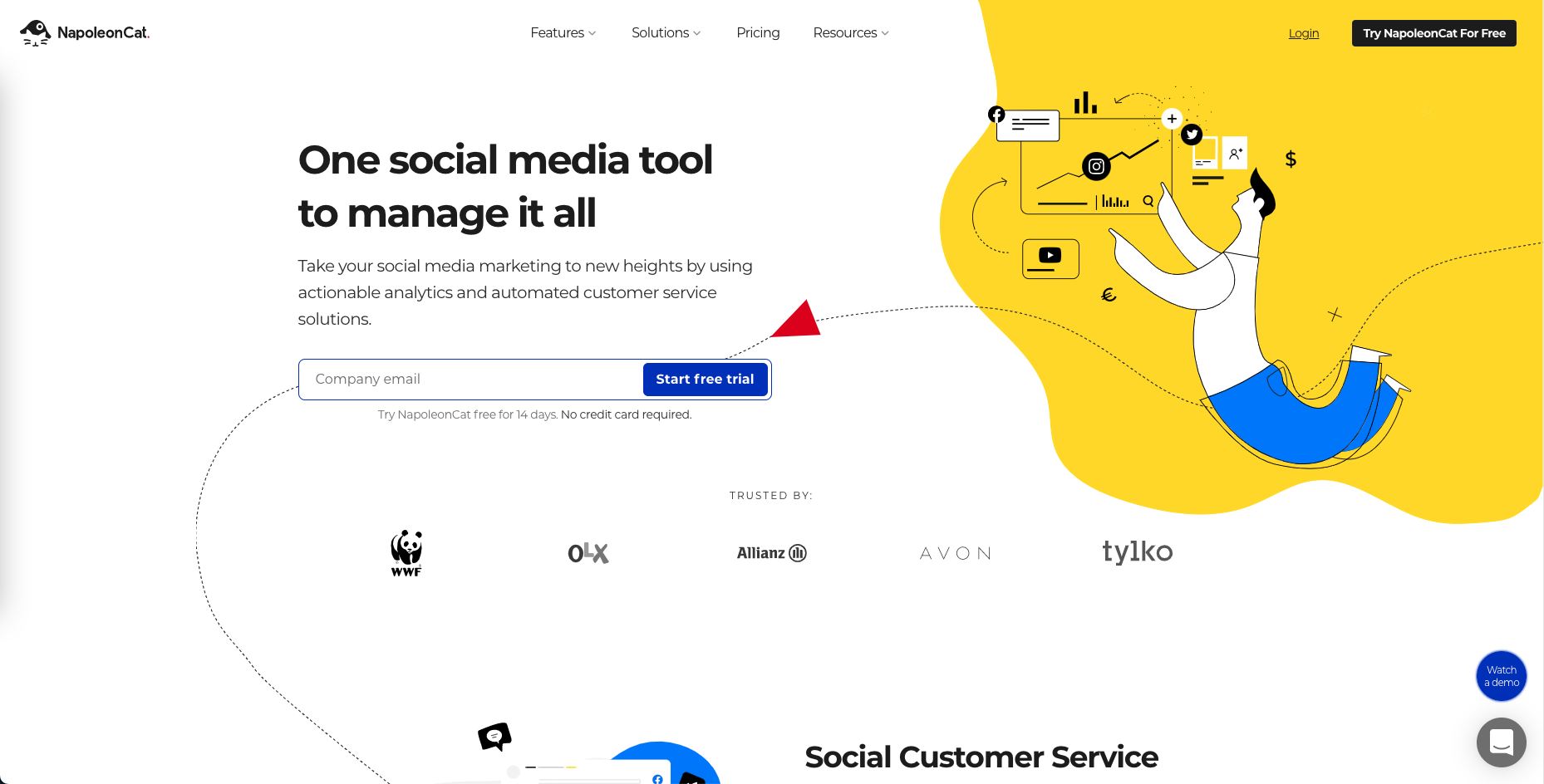 NapoleonCat offers a number of features that community managers will find helpful. If you have a team that supports you, you can also use it to keep tabs on the performance of your social media management team.
Being a social media management software solution, it will collect all your comments, reviews, and messages in real time to which you can reply via a single, intuitive dashboard. What's more, if you find that you receive a lot of repetitive questions, you can use ready-made templates to answer these automatically. It also offers a few other handy auto-moderation features that you can use to hide spam messages (like comments with links) or delete offensive content on Instagram and Facebook.
All in all, it's a great tool if you want to improve customer engagement. Whether you're a small business, an online brand, or an agency, it can help clients of all sizes to build and maintain a strong social media presence.
Key features include:
Auto-moderation rules
A unified Social Inbox
Built-in translator
Analytics
Templates
Email and SMS alerts
Pricing: After a free 14-day trial, pricing starts at about $30 per month when billed monthly.
---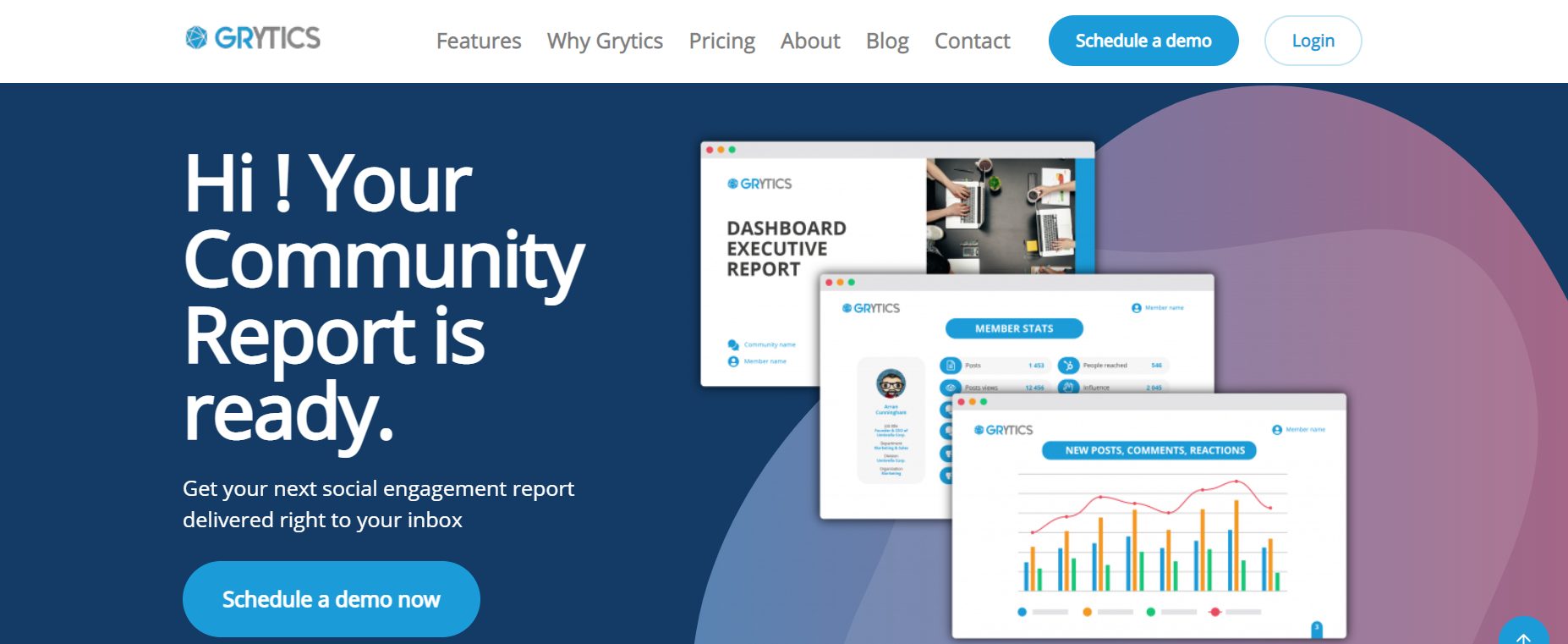 Founded in 2014, Grytics creates intuitive social networking analytics tools to help businesses create better communities. Trusted by brands like WWF, Chevron, and ABInBev, their goal is to help their users get an immediate insight into the mood of their community so that they can create that sentiment into actionable insights. You can, for example, use it to identify inactive members, use targeted content to boost engagement, and connect influencers with community members.
It's a great tool if your audience is mostly active on Facebook as it has a Facebook Groups Management Tool that you can use to manage, keep track of, and interact with your community on Facebook. Its interactive reports offer practical insights that you can use to identify top-performing content and best times to publish your content helping you to grow your Facebook Groups marketing strategy further. What's more, you can schedule posts and automate publishing via a single dashboard.
If you rather want to focus on moderating a Facebook group than creating more content, it can help with that too. To help save you time, it has keyword alerts that make it easier to respond to content that needs attention ASAP.
Key features include:
Analytics and insights
A unified dashboard
Reporting
Keyword alerts
Pricing: After a free 30-day trial, pricing starts at $99 per month.
---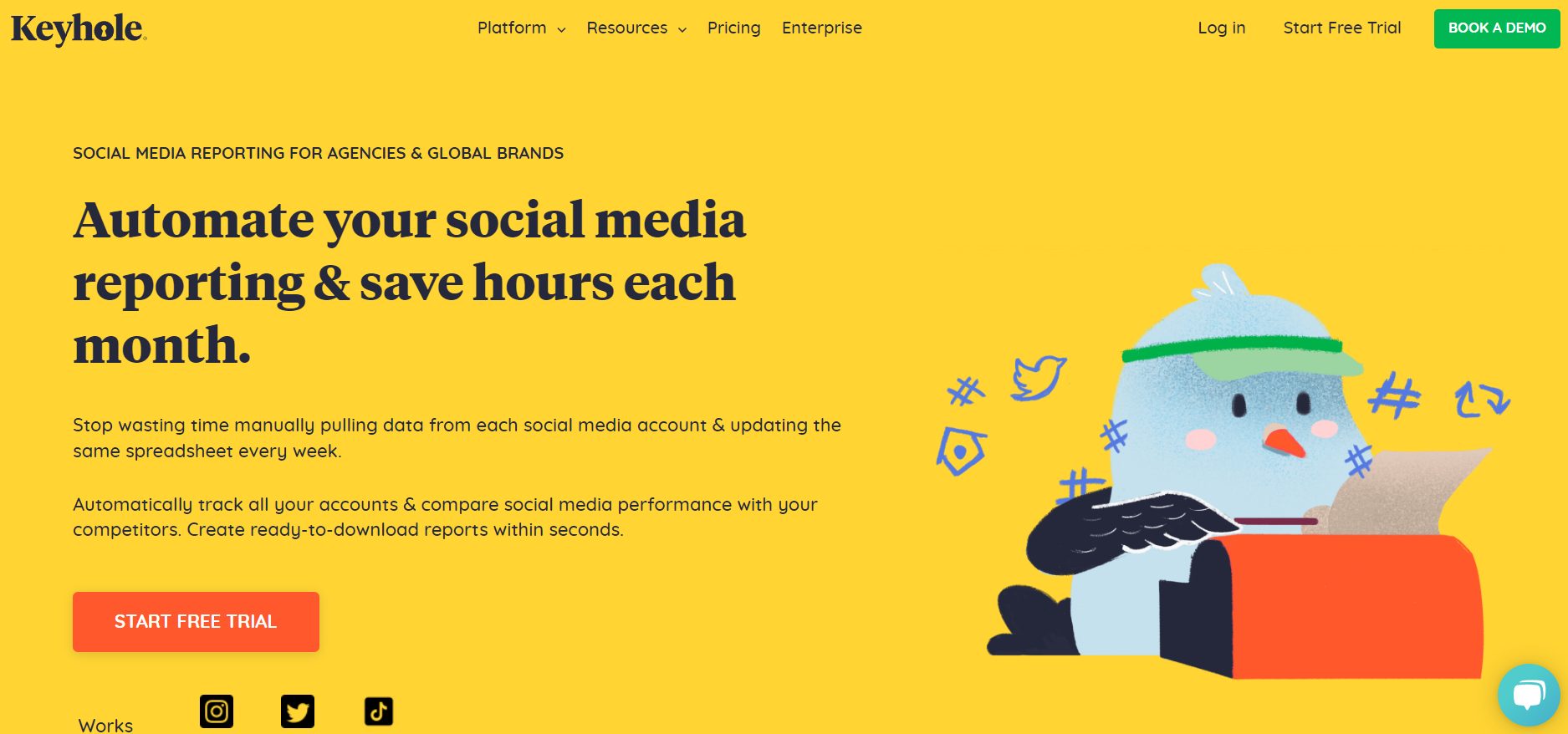 Keyhole automates social media analytics for marketers and agencies. To date, they've analyzed more than 6 billion posts.
Trusted by thousands of businesses that include big names like Google, Spotify, and Mashable, it's one of the best tools to use for brand monitoring, competitor research, and campaign monitoring. With its social listening features, you can tune in to a conversation that will help you to understand your community better. You can, for example, use it to access indirect and direct brand mentions in one platform helping you to improve your real-time engagement with your audience. Then, with the help of its AI-driven sentiment analysis, you can get a more accurate idea of how your audience actually feels about your brand and competitors.
Another useful feature that deserves special mention is its account recommendations. It includes hashtag recommendations and best times to post, helping you to grow your community and convert more leads.
As you would expect of a community management tool, it also shines in the reporting department. It offers reports for all the main social networks and, if you're helping clients to manage their communities, you can customize it to include your logo and the metrics that matter most.
Key features include:
Sentiment analysis
A volume predictions feature
In-depth competitor analysis
Influencer analytics
Account recommendations
Pricing: For more info about their custom pricing, you'll have to reach out to their customer support team.
---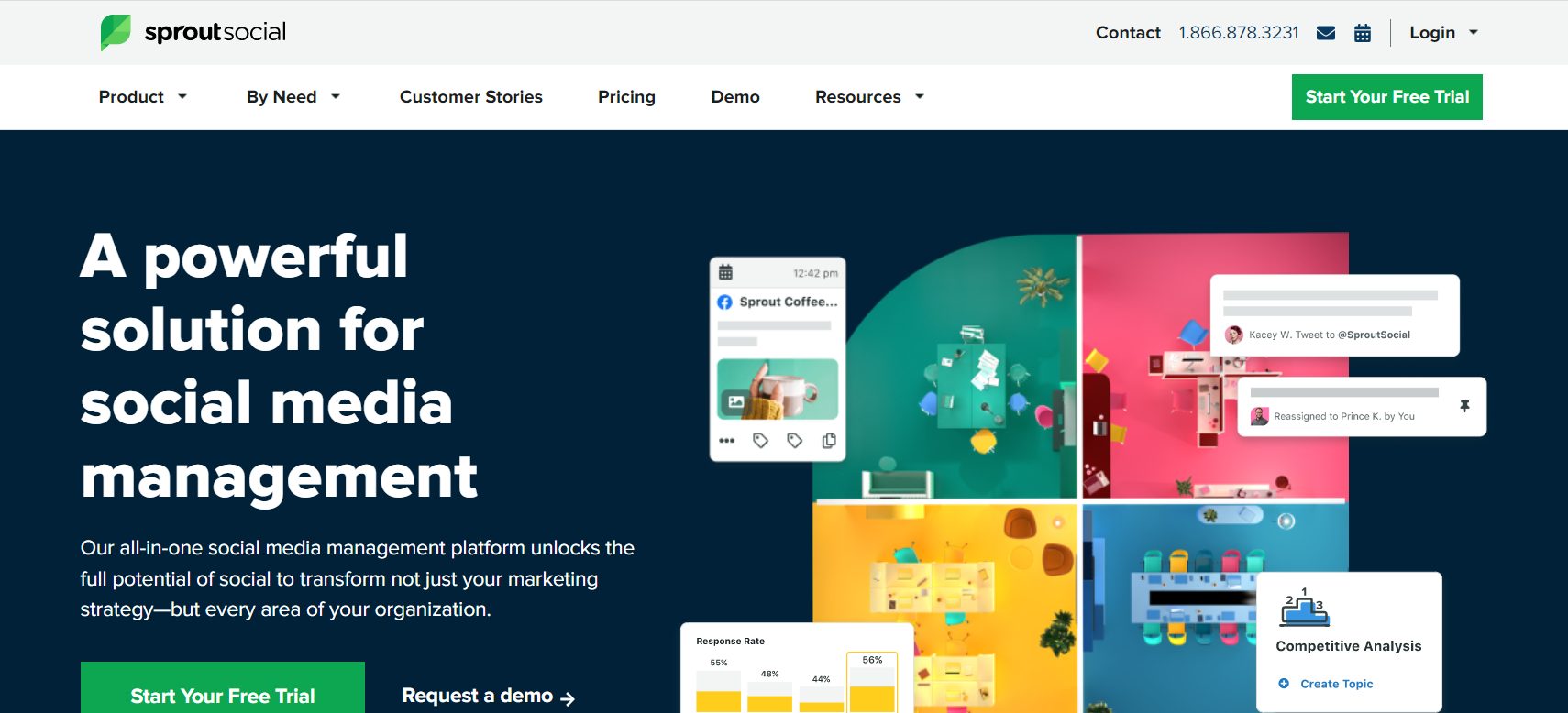 Sprout Social offers a Smart Inbox and engagement features that can help community managers streamline the monitoring process of social communities. You can, for example, add message tags to make it easier to keep tabs on relevant themes and identify FAQs and common complaints.
If your community is mostly active on Twitter, you can use its Trends Report that lists trending hashtags and topics which you can use to figure out which topics can help to drive more engagement. It also identifies which brands and users are most often mentioned when there's a discussion about your brand, helping you to find potential brand ambassadors.
It also offers analytics that can help community managers to track membership growth. To help you get a more accurate picture, you can get a breakdown per reporting period which you can then compare to previous periods. Then, to determine if your new and existing community members find your content valuable and relevant, you can also use its Post Performance report to measure other important metrics like clicks, comments, likes, and shares.
Key features include:
Profiles, keywords, and locations monitoring
Competitive reports for Twitter, Instagram, and Facebook
Message content tagging
Saved and suggested replies
Message spike alerts for increased message activity
Pricing: After a free 30-day trial, pricing starts at $99 per month when billed monthly.
---
Emplifi (previously called Socialbakers) is one of the top AI marketing tools and offers end-to-end community management tools to help you get to know your audiences better and deliver an improved customer experience. It offers a unified inbox that streamlines social listening and helps you to improve customer care and workflows. All your inbound messages, mentions, comments, and direct messages from different platforms get grouped together in one place to centralize all communications.
Then, to streamline communication further, it also offers an AI chatbot that takes care of all the common inquiries. This way, you can free up time so that your community manager can zoom in on conversations that require more attention.
It also uses artificial intelligence to help with crisis management. An AI priority score gets awarded to each incoming messaging. This way, you can identify potential negative audience sentiment early before it blows into something bigger.
If you're working as part of a bigger team, it also offers a few handy features to help you improve collaboration. You can, for example, use automated social media workflows for task assignment, while agent collision detection gives different team members a real-time view of which messages have already been assigned.
Key features include:
AI chatbots
A centralized inbox
Advanced social listening
Crisis management
Automated social media workflows
Pricing: Pricing available upon request.
---
Founded in 2015, Sociality is one of the newer social media management platforms. When it comes to managing online communities, it can help you to complete various activities in an organized manner.
It will collect all your social media content like your Instagram messages, YouTube comments, Twitter replies, and Facebook comments and organize it in its unified inbox. Another useful feature is its Engage module that you can use to monitor brand mentions and comments which you can organize into categories to be analyzed further. This is a useful tool for gaining a better insight into the needs of your target audience.
For better teamwork, it also offers a social CRM tool. This feature makes it easy to monitor all the actions team members have taken when engaging with audiences on social media.
Key features include:
Social listening
Competitor comparison
Sentiment analysis
Reporting
Pricing: After a free 14-day trial, pricing starts at $99 per month when billed monthly.
---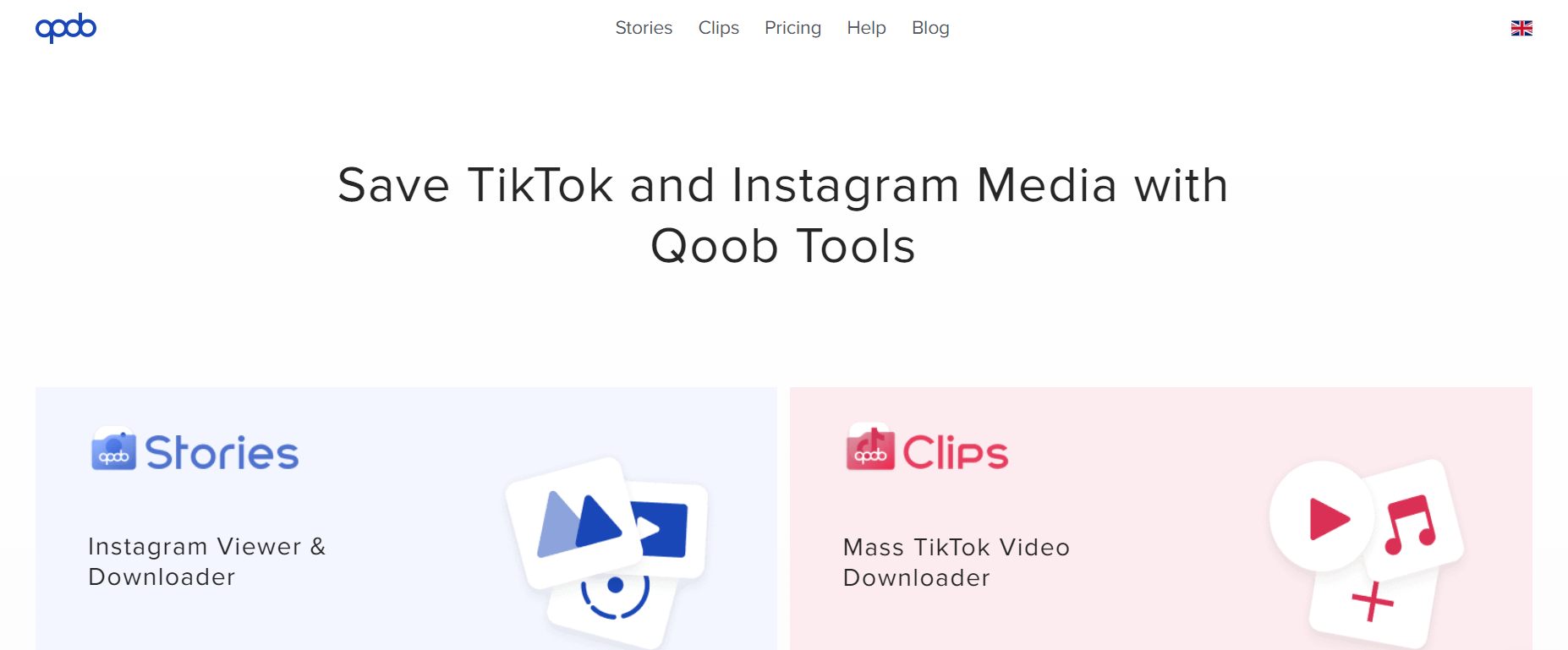 If your community is mostly active on Instagram and TikTok, you can check out Qoob Stories. It's an all-in-one downloader that you can use to save various types of media that get shared on these social media platforms.
While it's quite different from the other tools mentioned on our list, it has real value to offer. You can, for example, use it to download and transfer the Instagram posts in which your brand was tagged to your PC to use it as user-generated content later. Alternatively, you can simply add your favorite community members' accounts and their content will get downloaded automatically. All in all, it's a great tool if you want to monitor the contributions of your top community members.
Key features include:
Anonymously view Instagram Stories
Auto-save newly uploaded content
TikTok and Instagram ad removal
Pricing: It has a Free plan and two paid plans with pricing starting at $7 per month.
---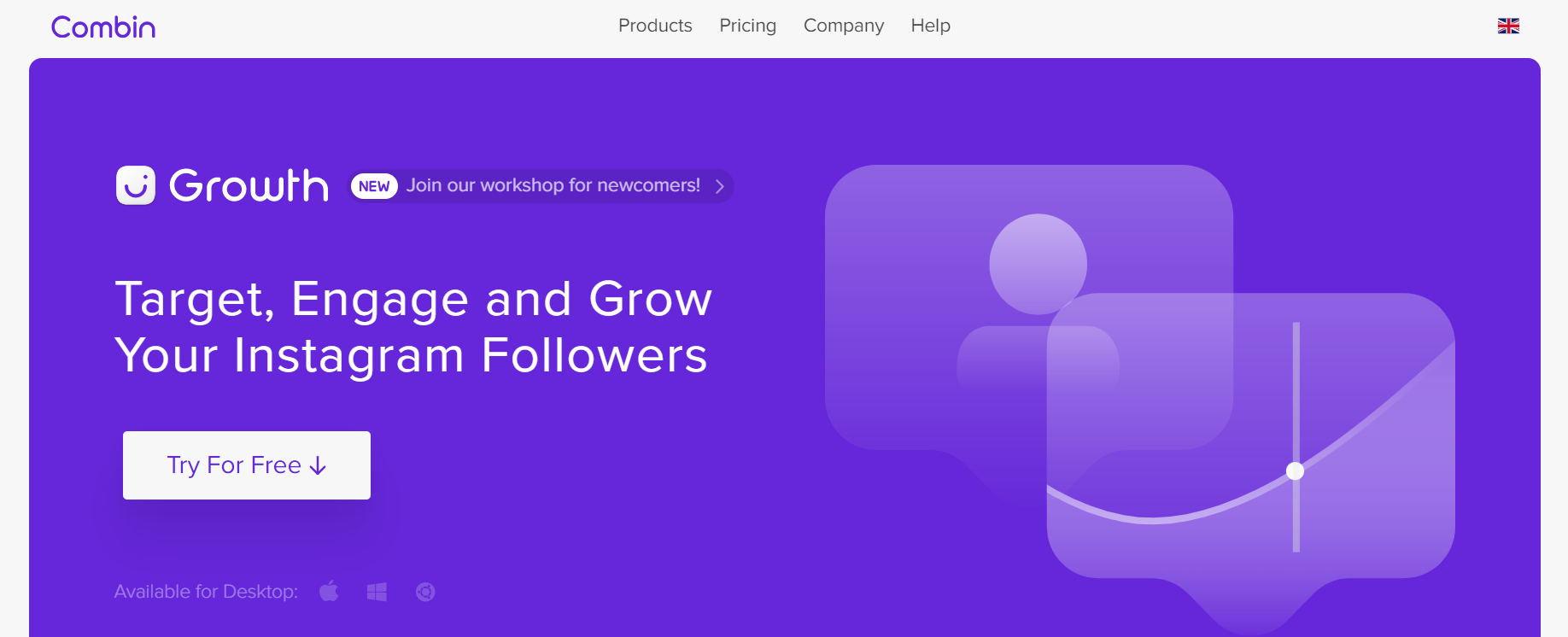 Similarly to Qoob Stories, Combin Growth is aimed at brands that mainly focus on Instagram for community building. In short, it's a powerful Instagram marketing tool that can help you with audience targeting, management, and engagement.
To help you manage your audience, it will identify accounts that don't follow you back. If you're worried that you'll accidentally unfollow a key account, it can help you to prevent that from happening too.
Then, to help you streamline your engagement, you can use it to create comment templates for various topics and automate other repetitive tasks such as liking posts. And, to ensure that you spend your time wisely by paying attention to accounts and content that are more important, it offers machine-learning user analysis that can identify low-quality accounts.
Key features include:
Growth and performance statistics
User analysis
Multiple Instagram accounts management
Mass viewing of Instagram Stories
Pricing: It offers a Free plan and two paid plans with pricing starting at $15 per month.
---
Wrapping Things Up
There are many other things that your target audience wants to find out about in addition to your product or service. Once you broaden your focus to other topics that resonate with your audience, both your member count and engagement rate will improve. What's more, you might even be able to win over a few brand advocates.
That being said, online communities are more than the sum of its parts (or its comments). Sure, having thousands of followers can help you to boost the credibility of your brand, but once you really tune in to the conversation, you'll learn a lot from your members. After all, isn't the secret to designing a successful product is to know what the real pain points and needs of your audience are?
Frequently Asked Questions
What tools do they use to manage their communities?
These are the best community management tools:
Brand24

NapoleonCat

Grytics for Communities

Keyhole

Sprout Social

Emplifi

Creator.co

Sociality

Qoob Stories

Combin Growth
What are the tools for community engagement?
Use a wide range of powerful tools and techniques for effective community engagement:
Stakeholder meetings

Focus groups

Planning forums

Door knocking and surveys

Newsletters

E-voting

Roundtable network events
What are community building tools?
5 popular online community building tools for your platform
Discussion forums

Subgroups

Course platforms

Live streaming

Member profiles
What are types of community management?
The different types of community management include:
Customer support

Content and programming

Product feedback

External engagement

Community club

Acquisition and advocacy