Did you know that more than 80 % of brands have affiliate programs, according to Mediakix? And over 65% of affiliate marketers connect with their customers on social media. While we don't have figures for affiliate marketing on YouTube, you can't ignore that over 2.6 billion people worldwide use YouTube each month. Every day, people watch over a billion hours of video. That is a huge market waiting for you to reach with your YouTube affiliate marketing.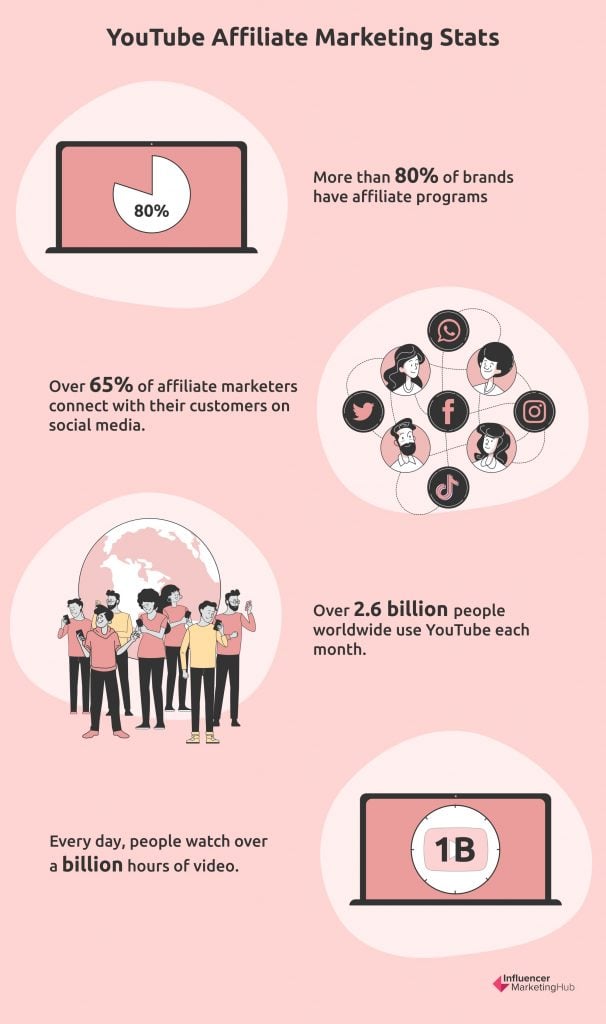 ---
Ultimate Guide to YouTube Affiliate Marketing:
---
Affiliate Marketing on YouTube
We have written many posts previously on affiliate marketing, including our Ultimate Guide to Affiliate Marketing. Most of the tips we've given there are just applicable to YouTube affiliate marketing as to any other type. YouTube is merely a type of marketing channel you can use to deliver your message to a target audience.
As we stated in the above article, affiliate marketing is the process of promoting and selling another company's products or services for a commission. You have a seller who creates an affiliate program and provides affiliate marketers with a unique link that each uses to promote the seller's products. Because these links are special to each affiliate marketer, the seller can track who delivered a customer to a sale.
Sometimes there's an additional layer between sellers and affiliate marketers. These are affiliate networks that manage affiliate marketing programs on behalf of multiple sellers. They handle third-party checks and manage relationships between sellers and affiliates. Affiliate networks usually collate a catalog of products from numerous sellers, and affiliate marketers select products that interest them and feel comfortable promoting.
Where does YouTube fit into this? Affiliate marketers have to select one or more channels to promote affiliate products. For example, they may operate a blog or promote the products to their followers on their social media. However, YouTube affiliate marketers have decided to promote affiliate products using videos they make for their YouTube channels. Therefore, they have to ensure that they select affiliate products that will interest the types of people who watch their videos and subscribe to their channel.
If you're promoting affiliate products on YouTube, you will want to include affiliate links in places that your viewers will see. Luckily YouTube gives more opportunities for this than many other social and video networks, including Instagram and TikTok. For example, you can include affiliate links in your video descriptions or as a pinned comment at the top of your video comments.
You can also place a link on the end screen of a video, although not a direct affiliate link. Instead, you will have to link to your website (if you've connected it to your YouTube account) and include affiliate links there.
Another option is to place an "i" button in the top right of a video to cross-promote another of your videos. This brings up a small card for that video and acts as a link to it. For example, affiliate guru Pat Flynn included an "i" button (technically called an icard) on a video he made about audio and video editor, Descript.
If you click on the "i" button, the icard opens up to show another review video he has made about the product. If you were to click on this link, it would take you to that video. Flynn also has affiliate links for the software in his video descriptions.
---
Why Use YouTube Affiliate Marketing?
You could ask why you would use any channel for your affiliate marketing. The reality is that you should use the media where your target audience spends their time. Therefore, if sufficient people you hope to convince to buy affiliate products hang out on YouTube, you should look at it as a viable channel for your affiliate promotions.
Nowadays, with virtually everybody owning a smartphone, it's relatively easy to create and upload videos to YouTube. We're well past the point where you needed specialist equipment and skills to make YouTube content.
The key to success with any affiliate marketing is finding an audience and pitching products to them that could appeal to them. At the same time, you don't want your videos to look like extended TV ads. You have to add value to your videos so that people will choose to watch them.
Here's another Pat Flynn example. He's made a video describing the equipment he uses in his home video studio. Not only does he show his favorite cameras, tripods, lighting equipment, etc., but he explains why he likes them. It will appeal to Pat's audience and has garnered more than 36,000 views in 18 months. As usual, he's included his affiliate links in his video description, freely admitting that he will gain a commission whenever anybody follows a link and makes a purchase.
---
Pros and Cons of YouTube Affiliate Marketing
One of the greatest benefits of YouTube affiliate marketing is that nowadays, virtually anybody can set up a YouTube channel and start uploading videos. You don't need any fancy equipment to get started, although, as we saw in the Pat Flynn video above, you can benefit from adding to your kit once you can afford it.
As with all social media channels, however, you will need to build yourself an audience before you expect to have many people following your YouTube affiliate links and making a purchase. We have included some helpful tips further down this article. We have previously written about How Many YouTube Views Do You Really Need to Make Money? While we weren't focusing on affiliate marketing in that post, the fact remains that you will first need channel viewers to succeed at YouTube affiliate marketing, as with any type of YouTube monetization.
---
Making Money with YouTube Affiliate Marketing
The key to successful YouTube marketing is making and sharing videos that people wish to see. You can condense this into four steps:
Determine a

target audience

for your channel, who is interested in videos on a particular topic, i.e., find a

consistent niche

where your YouTube channel can sit

Make entertaining and informative videos

for that target audience about that niche

Find affiliate products that would interest

that target audience

Make and upload relevant videos relating to your

carefully selected affiliate products.
You don't want to fall into a trap that snares many potential affiliate marketers – trying to promote as many products as possible, regardless of their suitability for your channel's audience. There is no point in making videos that nobody wants to watch. Unlike conventional television, you don't have a captive audience on YouTube. You have to earn each viewer because they can quickly move onto somebody else's video with a click of a mouse or tap of a thumb.
If you analyze successful YouTube channels, you will notice a common trend. The videos they share all relate to some topic. They specialize in the subject matter of their videos. Successful YouTubers tend to follow an unwritten rule: only make videos about one central theme. You can vary the types of videos you upload – educational videos, brand storytelling, entertainment videos, etc. Ultimately, though, they should all relate to the same overall theme.
By the way, this isn't unique to YouTube. The same unofficial rule applies to blogs, podcasts, and indeed any social posts you make if you're targeting an audience wider than just your friends and family. You won't find influencers creating content for a general audience – they all make their name and fame targeting a specialist niche.
---
Useful Types of Videos to Make That Should Interest Your Audience
As we mentioned above, although most of the videos on your channel should relate to some overarching theme, there is no reason why you can't vary the types of content you make. And that includes any affiliate marketing videos you upload. Ideally, you should mix and match a selection of video types about your affiliate products to give some variety to your audience.
Marketers of all types on YouTube (including affiliate marketers) have found value in sharing the following video formats: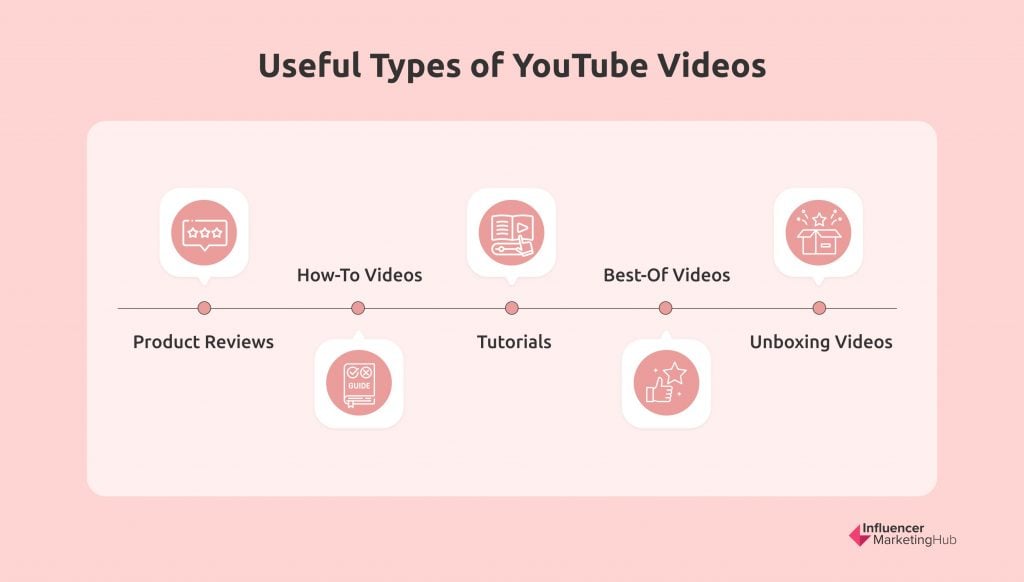 Product reviews probably make the best affiliate marketing videos, although you should mix in other types to keep your audience's interest high. You could focus a video on a single affiliate product or make a video reviewing multiple affiliate products.
It helps if you own the products in question, as it is challenging to make a video if you don't have one of the products in front of you. Of course, you could just talk about the product in your video, but that doesn't come across as truthful and honest as a video that shows you interacting with the product.
How-To videos generally work well as they usually show you using the product, demonstrating use cases, and giving tips on the best ways to utilize the product's features.
You will find quite a few channels on YouTube that specialize in showing how to use a range of tools and products relevant to their niche. Ideally, you shouldn't restrict yourself to the affiliate products you want to promote. Instead, you should, over time, make multiple how-to videos relating to your channel's topic of specialization and slip some affiliate products into the mix at regular intervals.
Tutorials are effectively extended How-To Videos. Here you make a video showing how to perform a particular task or learn a specific skill. In the process, you use one or more of your affiliate products to achieve this task or skill.
Some YouTube channels group together multiple tutorials and How-to videos into a separate playlist, making it easy for people to find related videos that they can use to see how to master a process.
Best-of videos are the video equivalent of a round-up review blog post. You put together a video where you look at multiple products of a similar type.
Of course, you will want to ensure that your affiliate products look good in your videos compared to competing products, although avoid making any untrue statements.
For example, The Tech Buyer's Guru created a video on a very niche topic - Best 120mm CPU Radiator Fans. If you look at the video description, you will notice that it includes affiliate links to each of the fans on Amazon. Despite the video being on a very niche topic, nearly 600 people have found it valuable enough to like it.
Unboxing videos have been one of the surprise successes of YouTube. Many people have delighted in watching video presenters opening up a package and describing what they find "in the box."
Ten-year-old Ryan's Kaji has built a mega channel with more than 32 million subscribers by unboxing and then playing with toys. He has demonstrated that you can enjoy massive success with a simple concept.
As with several other video types, you will need to have a (boxed) version of any products you wish to show in your videos for unboxing videos to work. You can't just talk about a product you don't personally possess.
If you promote expensive products you can't afford, you might find sellers willing to send you free affiliate products once you have built your channel and have established your channel's reputation.
---
Tips to Improve Your YouTube Affiliate Marketing
YouTube includes the second largest search engine on the internet, only bettered by that of its owner, Google. Therefore, if you want to succeed with YouTube affiliate marketing, you need to ensure your videos rank in YouTube searches. We have written about this in detail in YouTube SEO Guide: How to Optimize Your Videos for Search.
1. Identify the Best Keywords
Keyword research is essentially about identifying the best terms to help people find your videos on YouTube. You will find various tools on the internet that can help you with this (some free, some paid). Some of the best are TubeBuddy, VidIQ, Ahrefs' Keyword Explorer, and Google Trends.
When using these tools, you want to find keywords for your video topics that are reasonably popular without being ultra-competitive. Obviously, they have to be keywords relevant to your target audience where you feel you could make a suitable video.
Include your targeted keyword in a video's title and file name, and also include it in your video description. Don't overdo it, however. YouTube and Google don't like keyword stuffing where you use a keyword too many times (or use too many keywords on a single video), making your description read unnaturally.
2. Don't Make Your Videos Look Like Ads
Remember, YouTube users generally don't like ads, so don't make your videos look like an ad. People watch YouTube to learn or be entertained. Unless they buy YouTube Premium, they may have to sit through ads on the videos they view, but most people switch them off as quickly as possible. Therefore, you shouldn't make your videos look like an extension of the pre roll ads.
Remember, all videos you share on YouTube should provide value to your viewers – including those promoting your affiliate products.
3. Use Affiliate Links in Suitable Places
We've mentioned in this post that YouTube is receptive to you adding links around your videos, particularly in the video descriptions. In this sense, YouTube is much easier to work with than Instagram or TikTok. So, make sure you take advantage of this and add affiliate links in the relevant places when suitable.
4. Make Your Thumbnails Eye-Catching
Click-through rates have a significant impact on YouTube search rankings. People are far more likely to click through to a post that they feel will interest them. The more attractive your video thumbnail and intriguing your video title, the higher your click-thru rate is likely to be.
5. Be Open About Your Affiliate Links
If your videos are good enough, people aren't going to be concerned if they see that you are listing affiliate links. This is particularly the case for people interested in your chosen niche.
It is now a legal requirement in most jurisdictions that you disclose your affiliate links and that you may receive a commission on any money people may spend if they follow your links. And most people don't begrudge you this. On the contrary, they will happily follow through to your links if they feel tempted to buy the products.