With more and more people joining YouTube than ever before, it's more critical than ever to stand out from the competition. What's one of the best ways to stand out on YouTube? Well, think about one of the most important things a YouTube watcher will notice: your channel art.
YouTube channel art is the big, beautiful header image at the top of a YouTube channel page. It's a creative medium that helps captivate your page visitors to communicate your channel's brand, personality, and any vital information you wish to send across visually.
Creating your own YouTube channel art without having to hire outside help or investing in a costly design program is easy. There are lots of free YouTube channel art makers to choose from online. Who doesn't love software programs that are useful, easy to use, and efficient?
---
12 Free YouTube Channel Art Makers You Need to Check Out:
---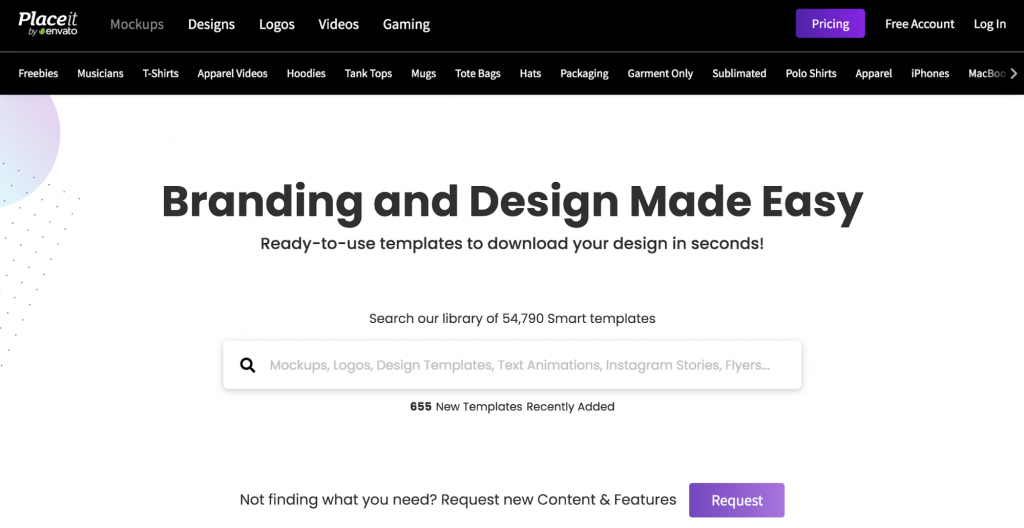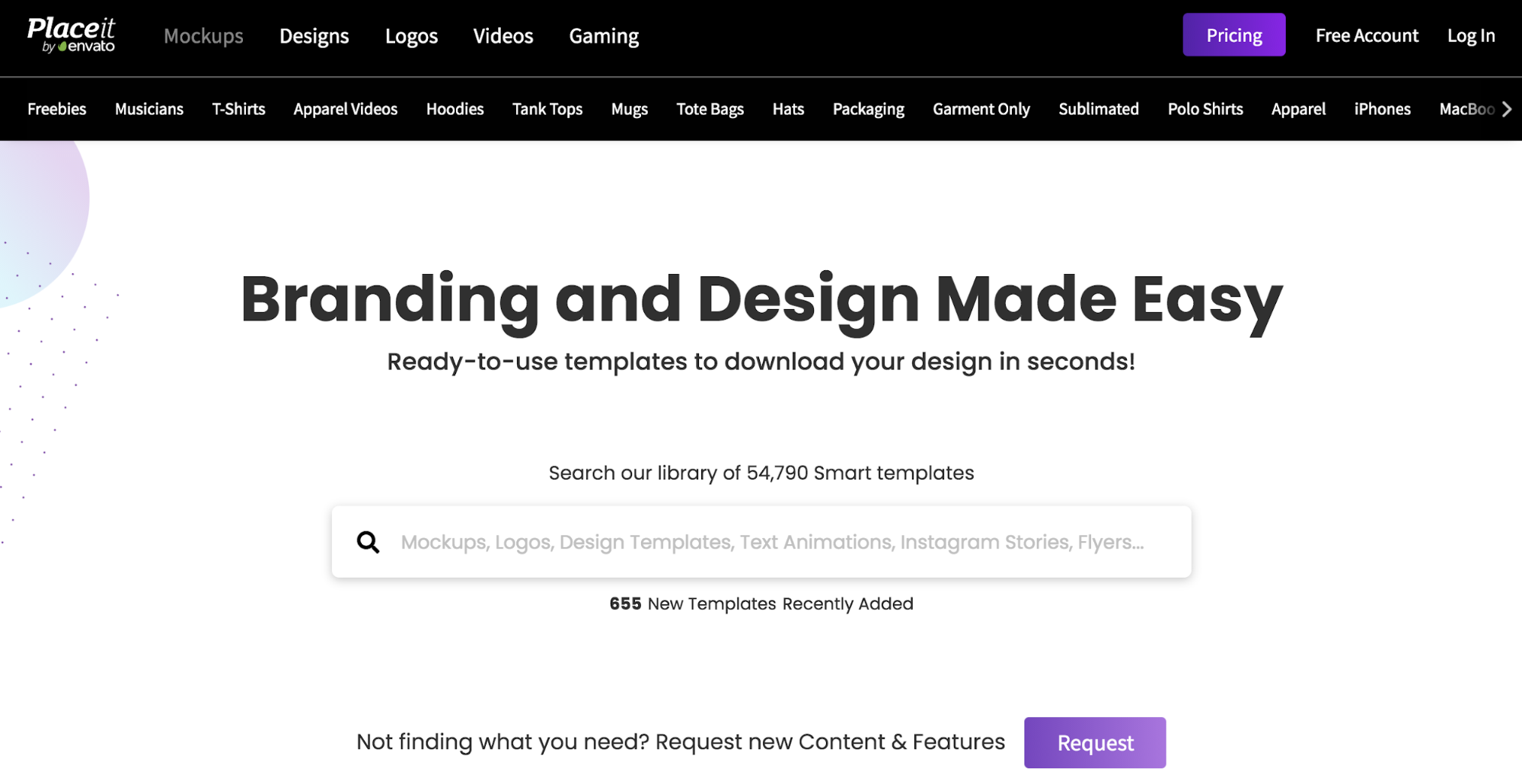 The PlaceIt tool is an online application with so many different tools and templates. It's a breath of fresh air to come across a tool that offers so many different options for adding video, graphic design and animated composite style work to my toolbox. We love Placeit's YouTube channel art maker because of its extensive library. They have the easiest way to make mockups by dropping your design. They'll even generate the mockup for you!
For most, Placeit is really simple and easy to use. It can be a priceless resource for ecommerce retailers with little to no design, art, or technical skills and can create mockups and videos by using the thousands of support they have available.
Placeit offers a vast library of mockups that are growing almost every day. These can range from anything from a mug, coupons, banners, and social media posts. If you want a piece of apparel as part of your merchandise, Placeit offers a vast range to choose from: leggings, hats, hoodies, and t-shirts being just some of the options available.
How to Create Your YouTube Channel Art with Placeit
Choose from over 130 YouTube channel banner

Customize your channel banner by typing your channel's name, pick your graphics, colors and do

Download your YouTube Banner and upload it to your channel.
---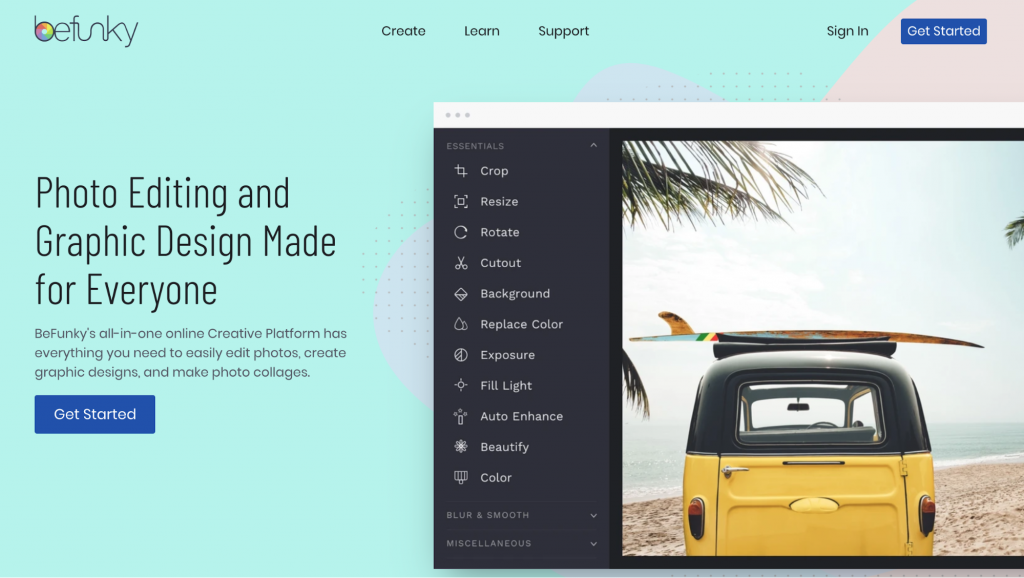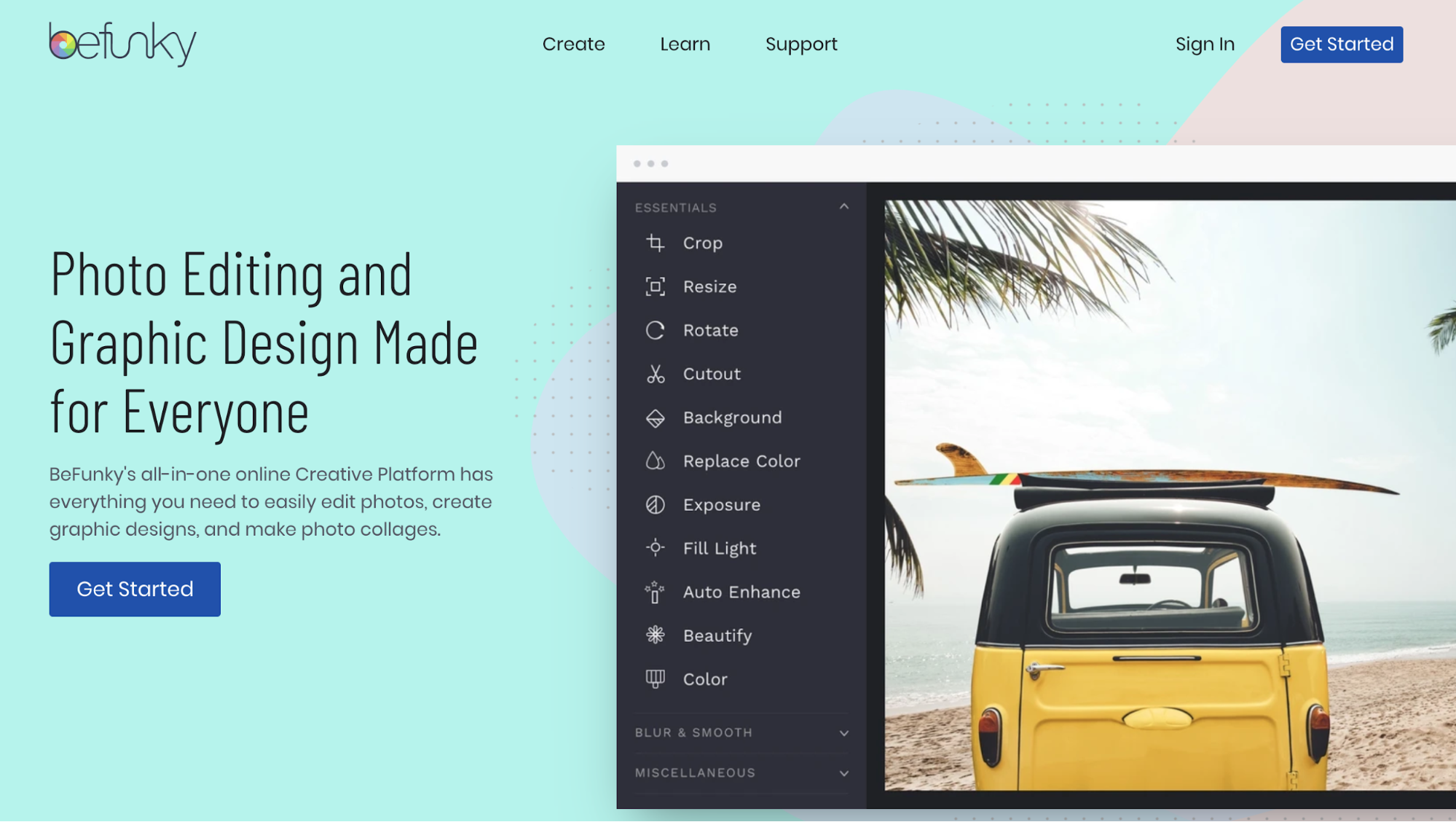 BeFunky is a popular YouTube channel art maker online platform that enables you to crop photos, resize images, change the background, enhance your banner using their touch-up tools, and transform your images into cartoons using their artsy effect. You can also customize your graphics using their vector graphics and their amazing collage layouts.
If you are looking for unique photo effects, BeFunky is the destination. In fact, BeFunky has the largest and the greatest photo effects library on the web. You can boost your creativity with 185 photo effects under 30 different categories including Pop Art, Oil Painter, Vintage, Instant, Old Photo etc. And the effect library is constantly growing.
There is also a Basic Editor section where you can make simple adjustments on your photo, the Goodies and the Framer sections for decorating your photo. And finally a Text Editor to add captions. Much more to say about the features but it's better if you experience it yourself. You can try the app without any need for registration.
How to Create Your YouTube Channel Art with BeFunky
Open BeFunky's Youtube Banner Maker and select your template.

Customize the template to match the theme and design of your channel.

Save your customized YouTube banner template as a project for editing in the future.

Export your final design as a .jpg or .png
---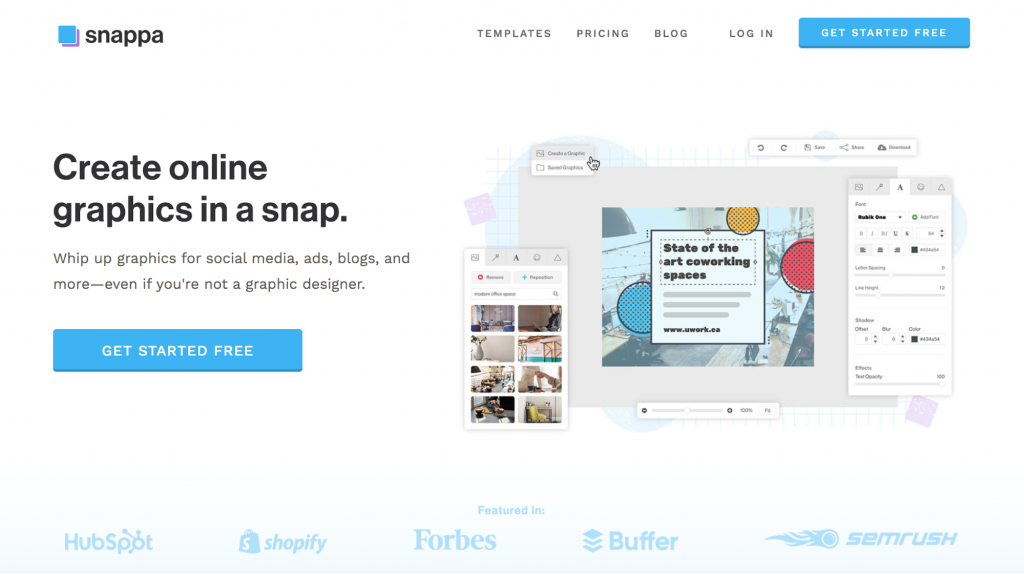 Apart from the fact that Snappa is user-friendly, its Powerful automatic image resizing makes it second to none. Just like other YouTube channel art makers, Snappa also offers a free version with over 6,000 banner templates, 4 million+ HD photos & graphics, and three downloads per month for a single user. At the same time, the pro package has unlimited downloads per month. Snappa also has a team package that allows you to enjoy team collaboration, with a maximum of 5 teams for $20 per month.
This platform allows users to create visual content without having to deal with the complexities involved in other image editing platforms such as Photoshop. Snappa offers free-to-use graphics, allowing individual entrepreneurs, small businesses, and freelancers to create designs without spending a buck on images.
What makes Snappa reliable is that it connects with all social media platforms in order to advertise it. Snappa's layouts make it simple to create quickly. Snappa is a wonderful and proficient online graphic design platform. Snappa has so many features that your taste for whatever creatives or designs you want to do will be satisfied.
How to Create Your YouTube Channel Art with Snappa
Select the 'YouTube Channel Art' to start with the best image proportions

Choose from a collection of easily customizable YouTube channel art templates.

Swap background images with stock photos that are high resolution. Then modify the text, graphics, and shapes to your taste.

Download your new YouTube channel art and upload it to YouTube.
Want to get more clicks to your YouTube channel? Here are some
video thumbnail ideas
to get you the clicks you want to grow.
---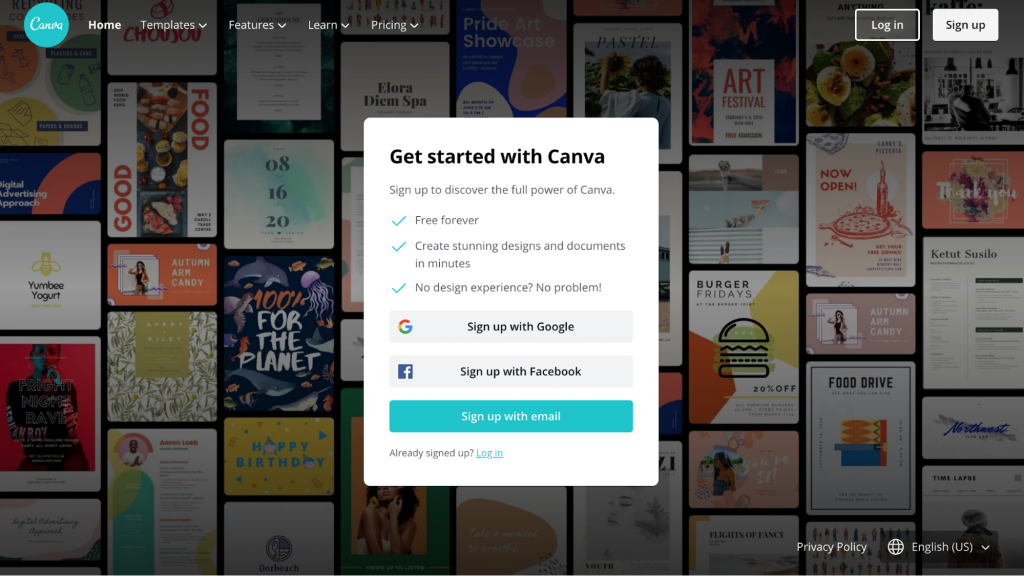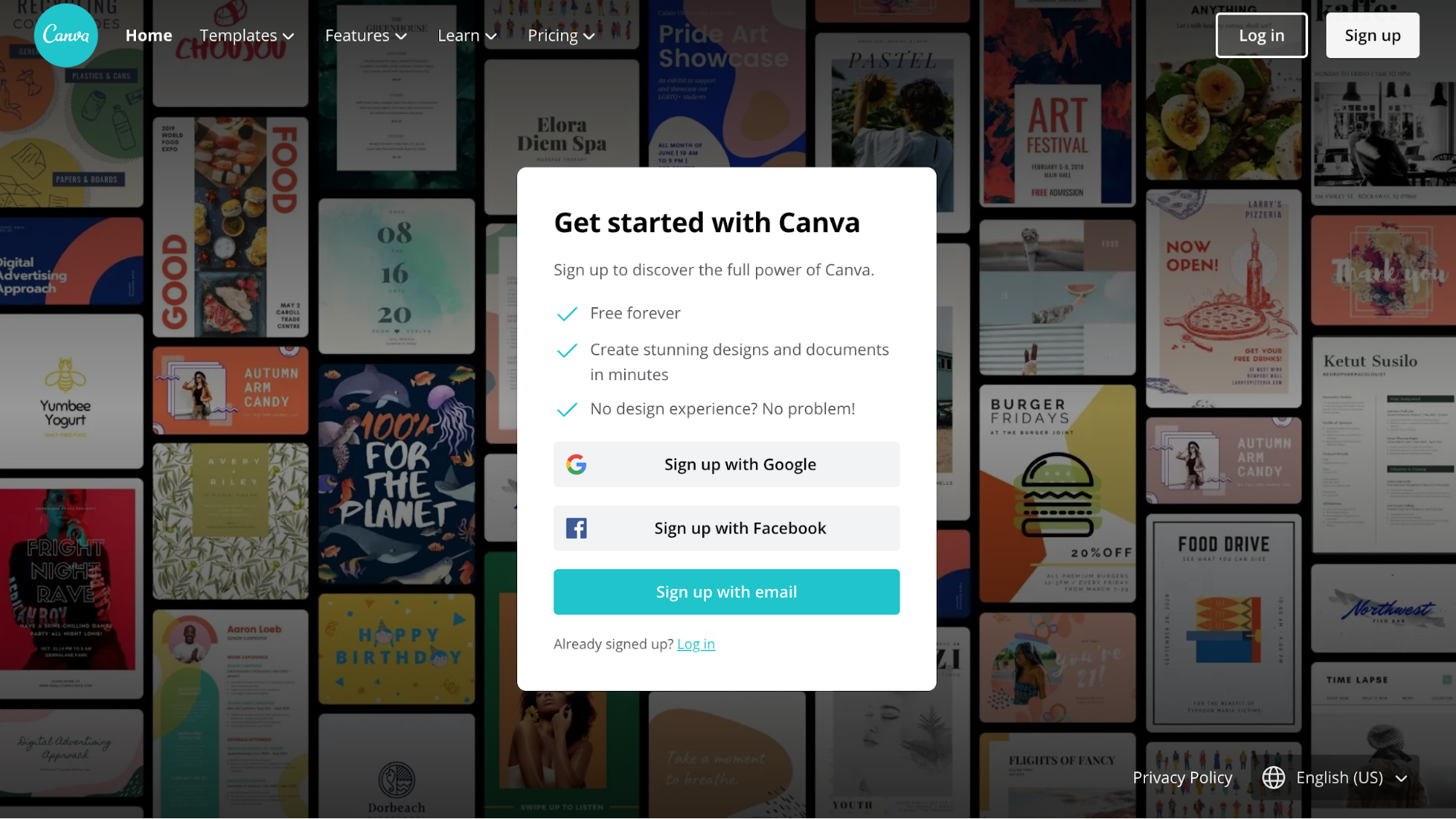 Canva is a great online design tool for the new as well as pro graphic designers.
It has a simple to use and simple to understand UI and even a new designer can quickly grasp the concepts of creating a design. The best thing is, it is free for individuals and small teams working on small projects. In the free plan, you also get 8000+ free templates and thousands of free photos and graphics to work on your design project.
You can create designs with custom dimensions as well as predefined dimensions as per your requirements.
You can also export your designs in the JPEG, PNG, and PDF file format. You can also share the design directly to your social media profile from the Canva itself. You can do a lot with Canva that you wouldn't normally expect and it's free. Mind you, you do have the option of purchasing various backgrounds and clip art.
Overall, it is an awesome graphic design tool, it is easy to use, and you can create gorgeous designs in it. The layout desktop and app is so simple and easy to navigate. The only limit is your imagination.
How to Create Your YouTube Channel Art with Canva
Create an account with Canva.

Browse through their templates library to find a suitable template for your content.

After choosing a suitable template for your content, you edit the placeholder text and add the right content you intend to.

Finish and save.
---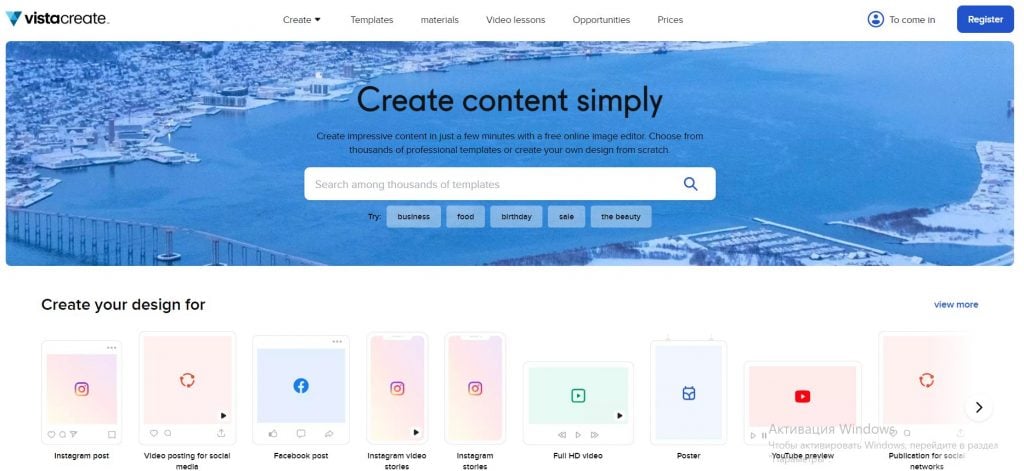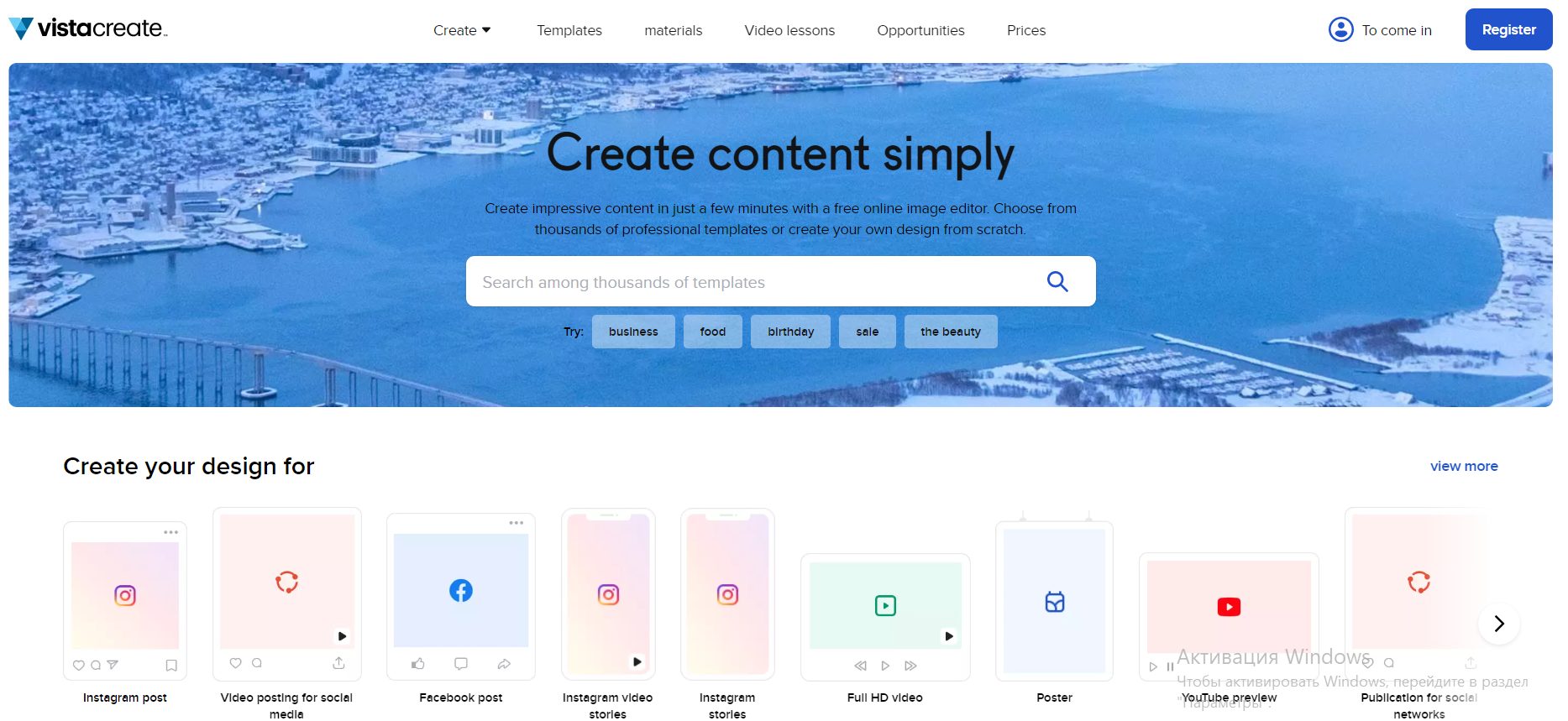 We love VistaCreate mostly because of the no-fuss ease of use. Whatever you can dream, you can make it. VistaCreate is incredibly easy to use and includes thousands of great templates for things like social media posts, flyers and even business cards. But what sets it apart from similar tools is that you can easily create videos for social media stories or posts with great video templates.
VistaCreate offers 10,000 design templates and access to 140 million stock images for the free version. The paid versions (Advanced and Pro) offer over 30,000 graphic and animated templates, 32,000 videos & animations, 500,000 premium images. You can also create teams to collaborate on designs. The VistaCreate pro package is $7.99 per month. You also get a 20% discount for an annual subscription.
All is there at your fingertips to use freely on your paid plans. Oh, you have loads and loads of your own design elements like fonts, backgrounds, patterns, images you'd like to use? Upload away and create to your heart's desire.
How to Create Your YouTube Channel Art with VistaCreate
Select the format of your choice.

Choose a template.

Customize your YouTube channel art.

Download and share your design online.
---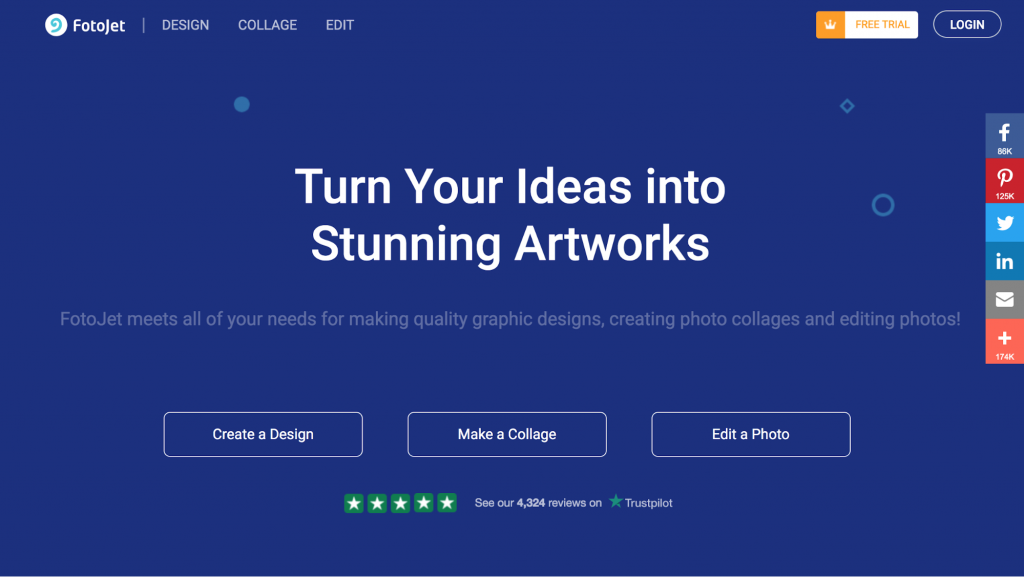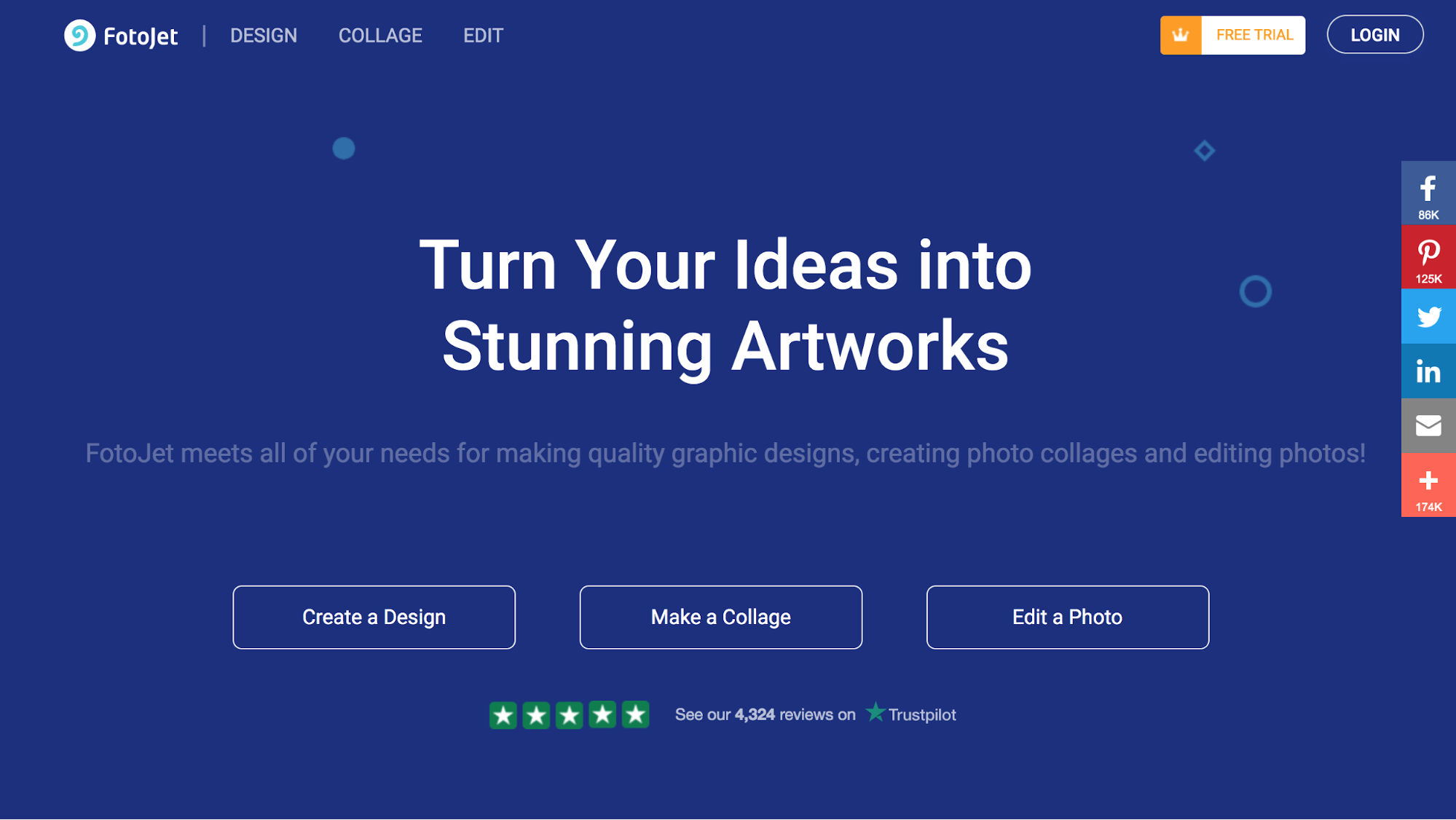 FotoJet is a free online collage maker & graphic designer that helps you turn your photos into amazing collages, photo cards, social media graphics, posters and then quickly share with family and friends via Facebook, Twitter, Pinterest or Tumblr, providing 600+ creative collage templates, 80+ classic collage layouts and 300+ professional designs. It works perfectly in any browser without the hassles of downloading and installing!
One of FotoJet's strengths is its photo editor. You can edit the heck out of any photo and feel like a professional photographer who can process photos well. It's one of FotoJet's newer features. You'd think that a web app named FotoJet would focus on photo editing, instead of having the editor as a newer feature!
Fotojet is a simple, easy-to-use application with an intuitive interface. One of the features many users like about this product is the use of templates. They can also adjust the images of free size including movement, effects, and texts. You can't deny the power of a photo editing tool that lets you do your work much faster.
How to Create Your YouTube Channel Art with Fotojet
Choose from dozens of YouTube banner templates and get started.

Add photos and customize your YouTube banner just the way you want.

Save your YouTube banner as an image or share it online with your favorite social media platforms.
---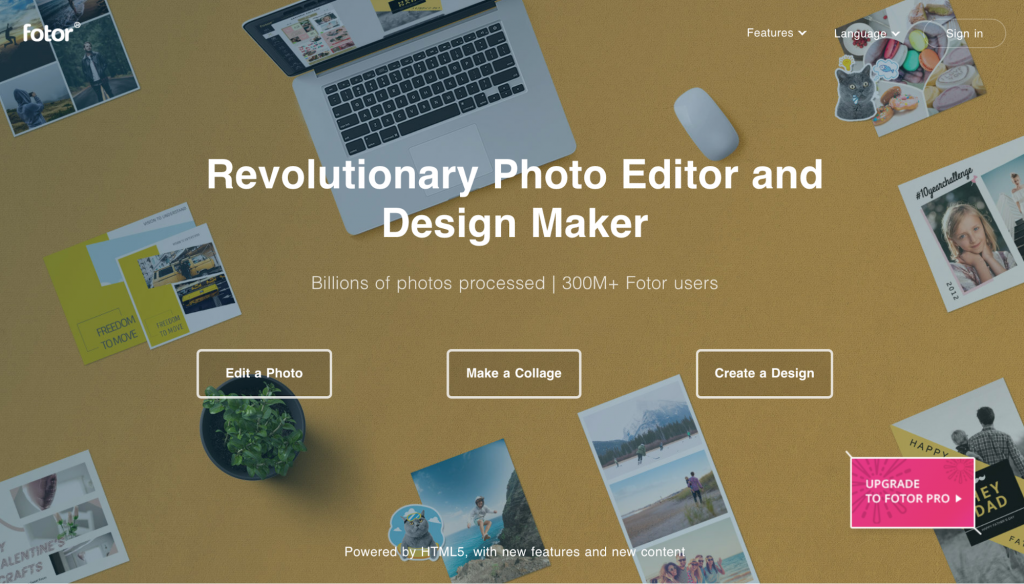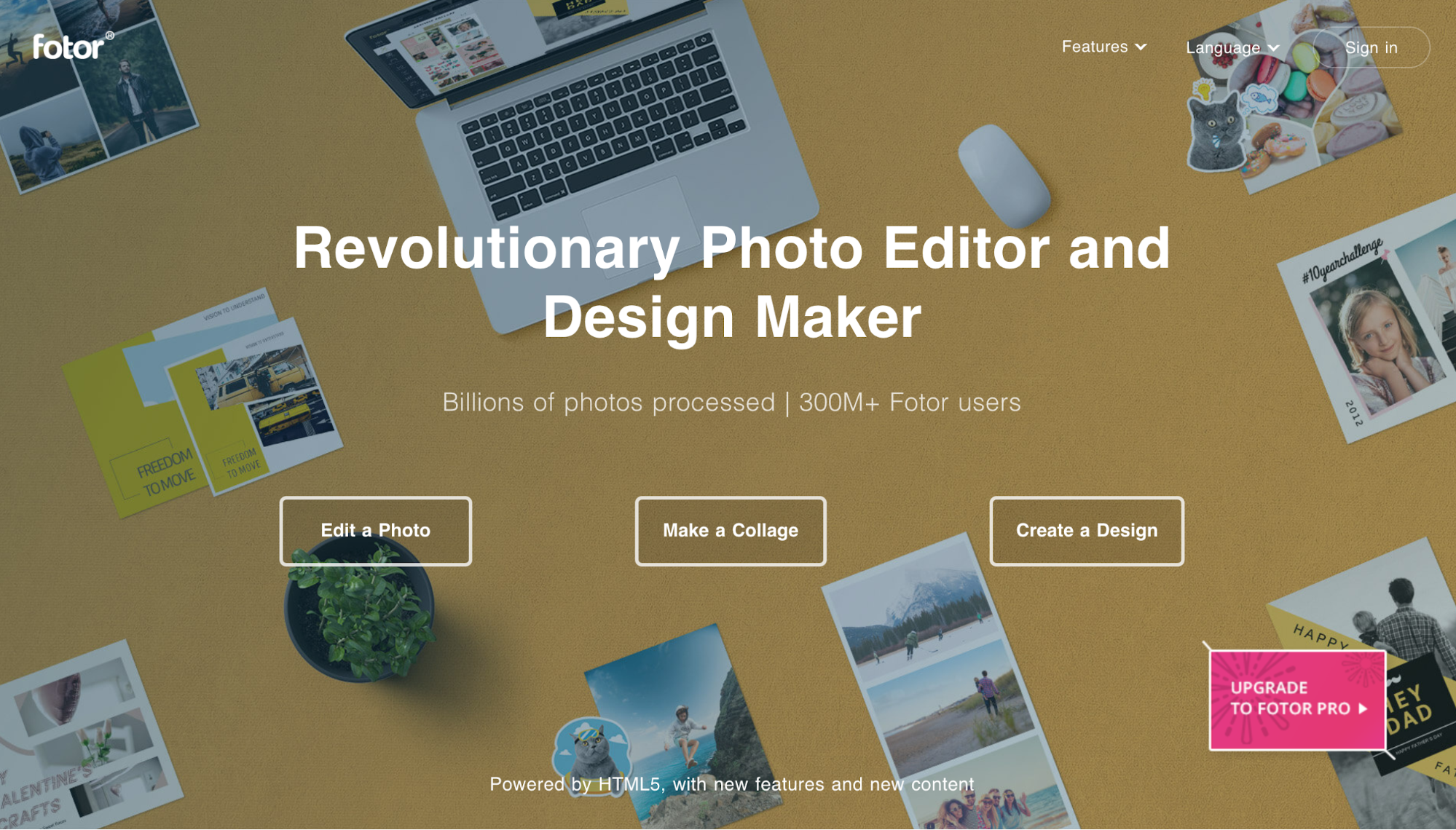 Fotor is another superb YouTube channel art maker. It provides varieties of options such as photo editing and effects, icons, and fonts. You can also make a collage and complete graphic design. You can also take advantage of their Popular YouTube Channel Art Categories. Fotor can also be used on your desktop and smartphone.
Fotor gives you the ease of editing your photos in online mode without downloading any program (although it has the option of downloading the application for desktop and mobile), and has equally powerful features such as Photoshop or other image editors. In Fotor you can make basic adjustments to your photos, such as applying filters, changing shades, brightness, contrast, you can also edit the photos in a more professional way with advanced HDR settings. One of the wonders is that everything is stored in the Fotor cloud and can be easily uploaded to your social networks.
How to Create Your YouTube Channel Art with Fotor
Open the Fotor Design feature, and select your YouTube Cover template.

Choose a preset design and drag and drop your photos onto the template, or create your template from scratch.

Manage overlays, backgrounds, and text to maximize your design.

Preview and Save your work, selecting the format and size you desire.
Learn how to get free YouTube subscribers to grow your channel
here
.
---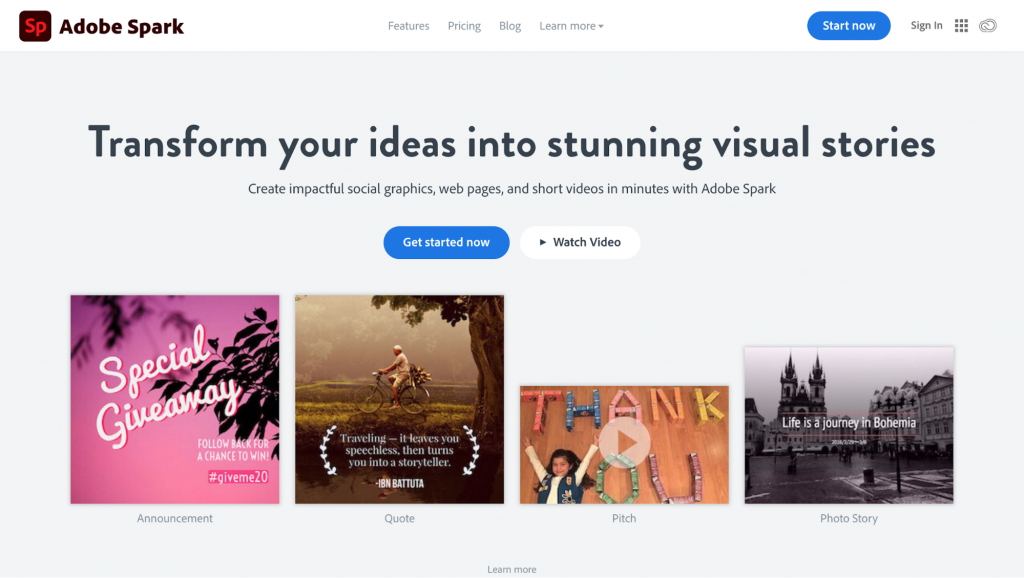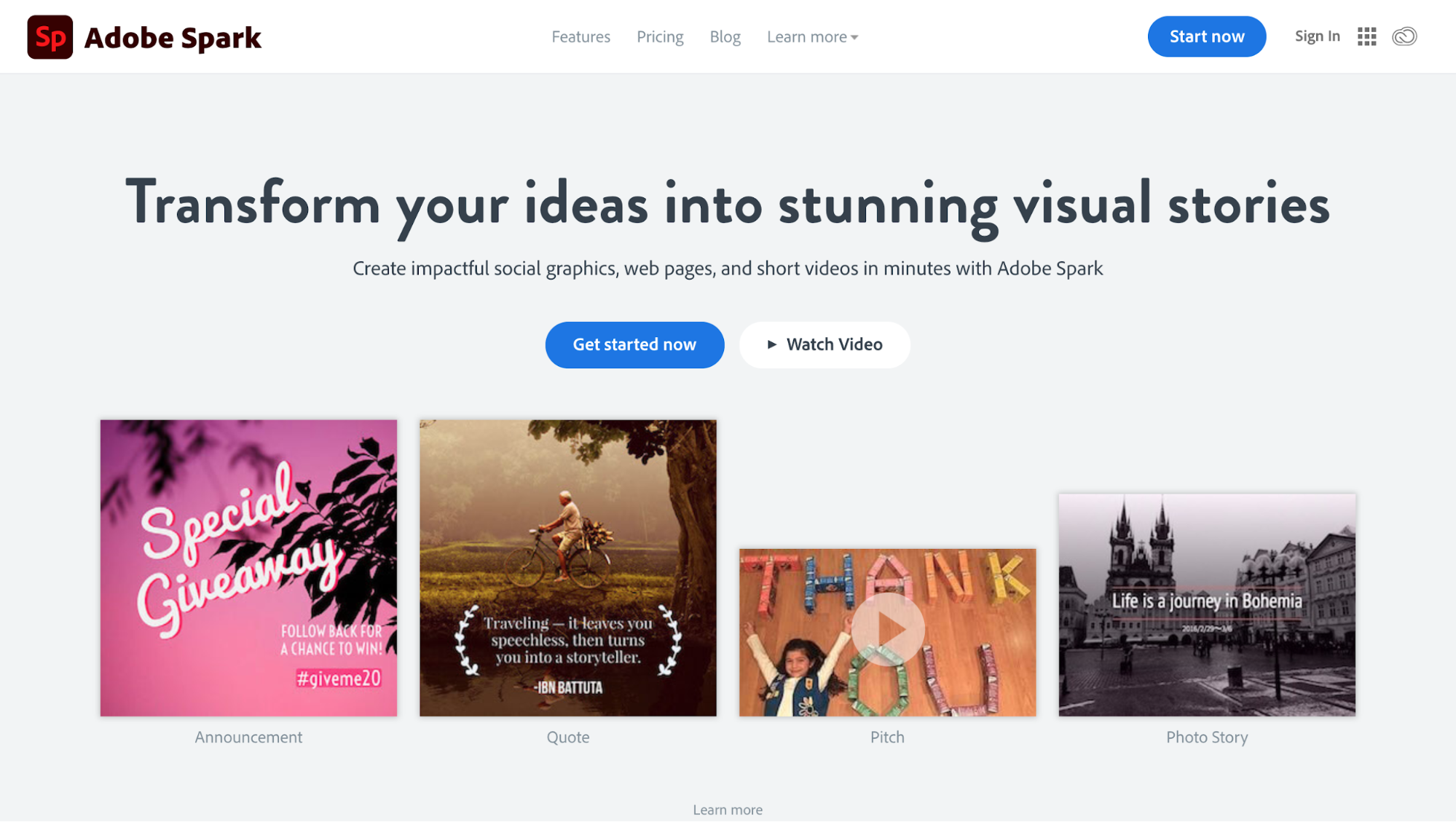 Adobe Spark is a free graphic design platform designed for everyday communications. It allows all types of users -including small businesses, marketing professionals, and students- to create engaging visual content that attracts audiences through multiple channels, from any device.
Adobe Spark includes versions to create publications or images for multiple social networks, complete web pages or videos. With Adobe Spark Page and Adobe Spark Video, you can add photos, video clips, your own voice, other icons and decorative stickers to all these media.
Adobe Spark also synchronizes with the mobile applications iOS Spark Post, Spark Page, and Spark Video, allowing users to create, edit, and share their story from wherever they are, regardless of their design experience.
How to Create Your YouTube Channel Art with Adobe Spark
Pick a size and shape

Choose a theme

Personalize the theme with images that will help you convey your desired information

Describe with engaging text

Download or save
---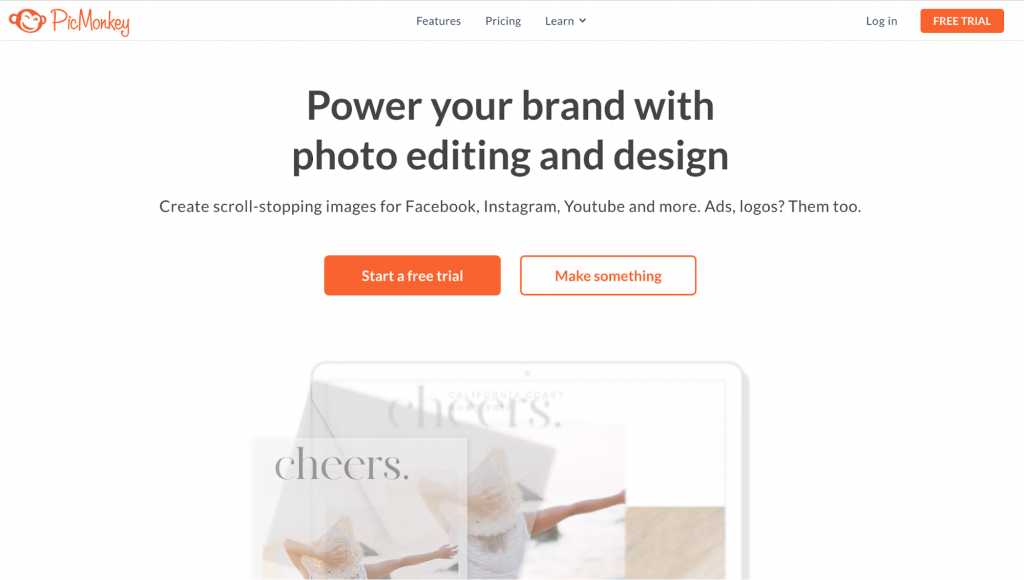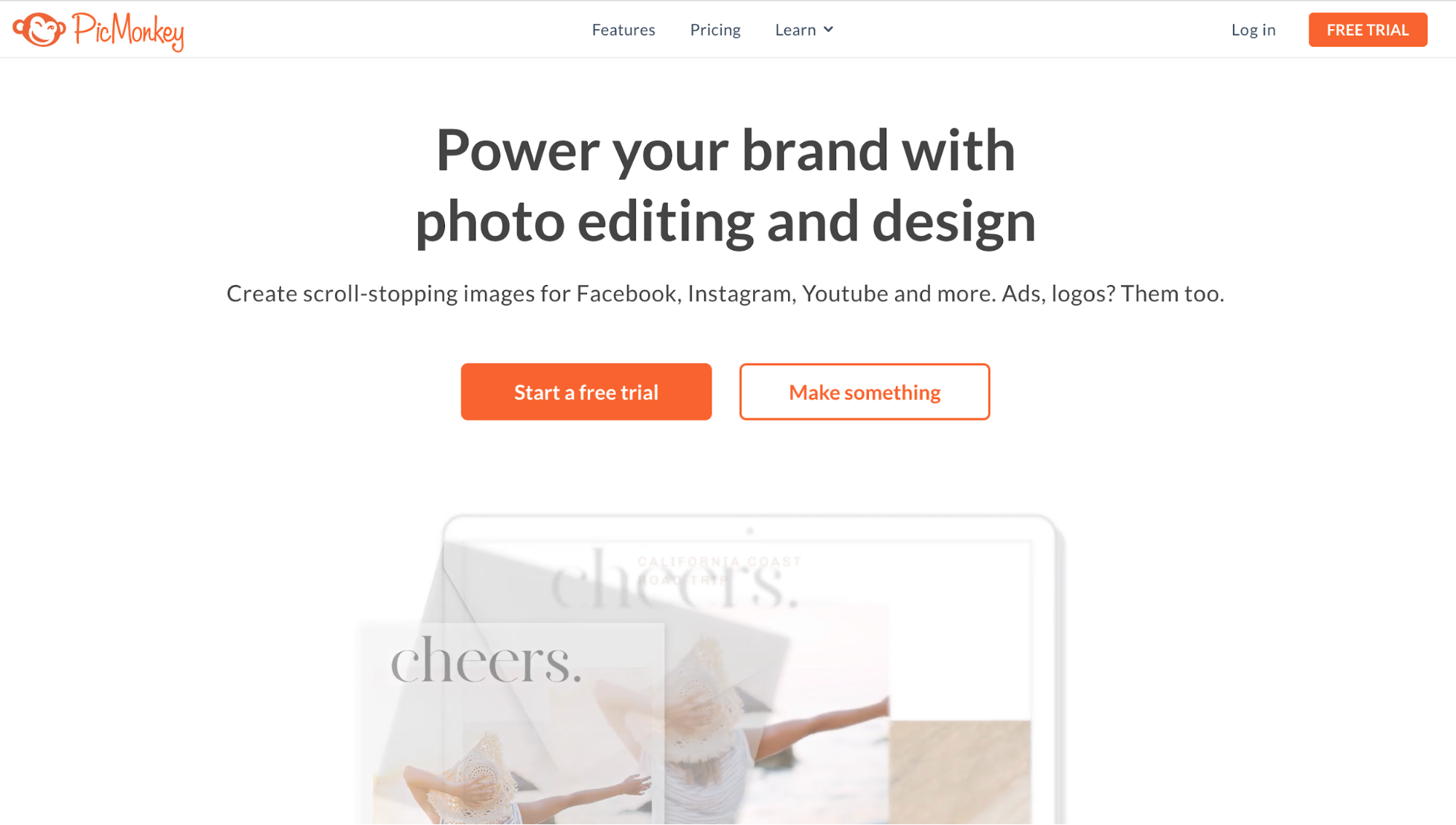 PicMonkey helps creatives of all experience levels make high-impact images to promote their personal or business brand. Its photo editing and design tools are a powerful yet easy-to-use alternative to complicated creativity software, and a key resource for anyone who wants to level up their game.
PicMonkey has most of the essential tools needed to make graphics or edit photos that photoshop does, but it's more user friendly in terms of interface and beginner's knowledge. Like Photoshop without the technical jargon, but all the capability, at a fraction of the cost. The remove background tool addition has made this even more the case.
This software is extraordinary because it complies in a very useful way and is safe and reliable; Since it is simple to use and of great quality to be able to edit photos with extraordinary tools, since it has filters, editor, text design, and also has a good quality effect, for all kinds of occasions. This software allows sharing on different social networks, such as Instagram and Facebook, so that family photos, selfies, photos with the couple and group have a touch of different beauty
How to Create Your YouTube Channel Art with PicMonkey
Pick a template from their collections of professional templates

Add photos from their image gallery, or you upload yours

Customize the banner to fit with your YouTube channel

Download or post the YouTube channel art to your YouTube channel
---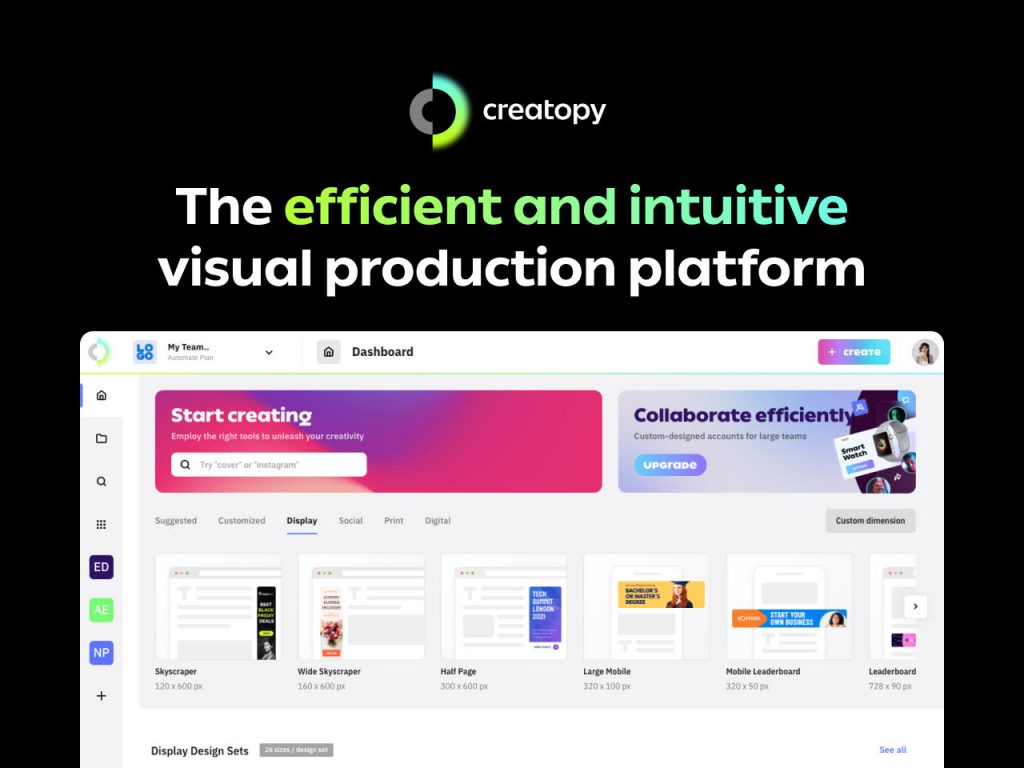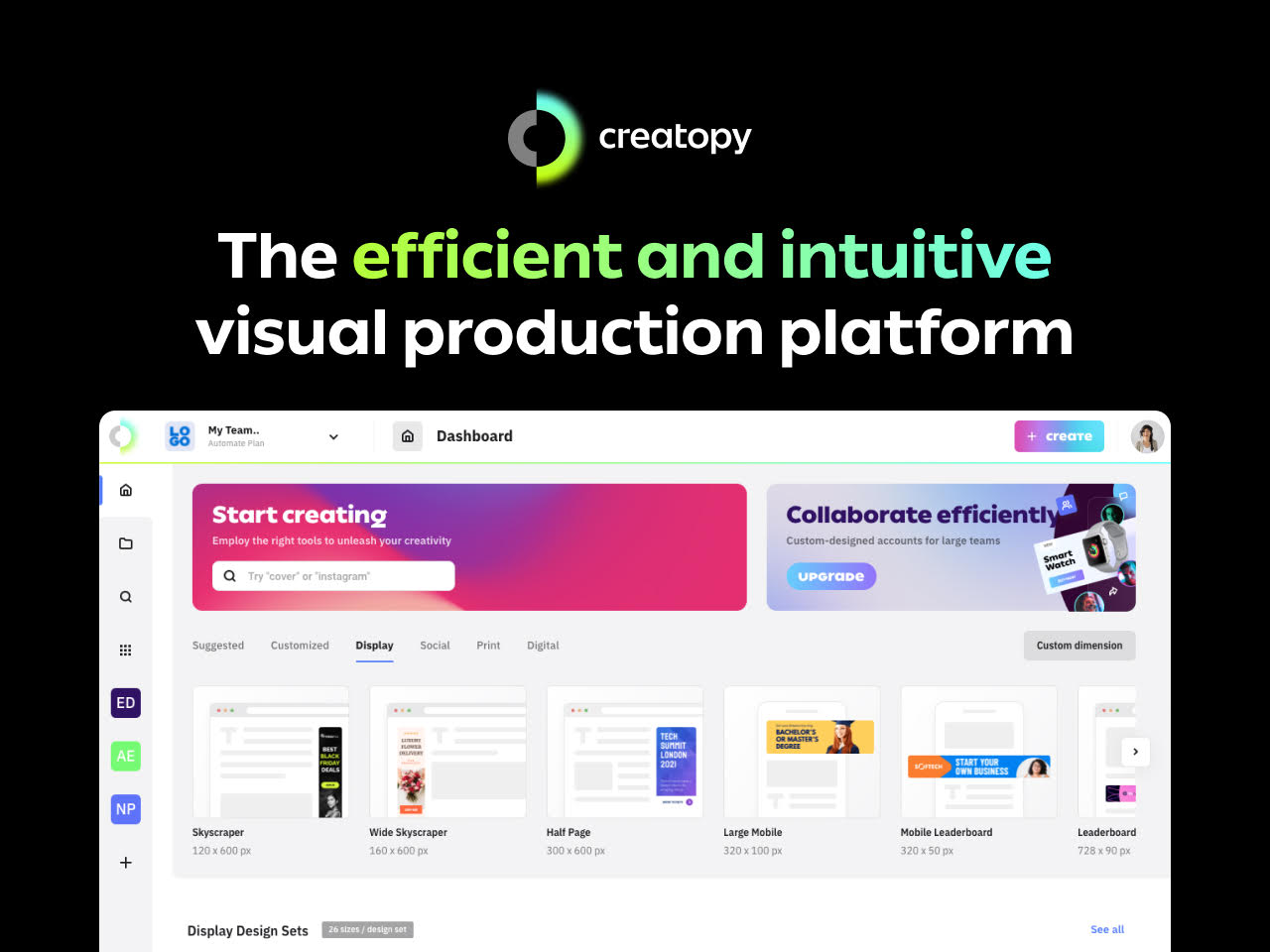 Creatopy is a user-friendly YouTube channel art maker because of its drag-and-drop photo editor function. Creatopy is a flexible platform where you can also use your fonts, images, and .svg files. It is also enriched with different design layouts. The software is very straightforward and works well even for those who lack experience with common design tools like PhotoShop. Creatopy comes with a plethora of professionally-designed templates to get them started instantly. Or users can opt to start from scratch and create ads with their own images and designs.
Working with Creatopy really is a pleasure. You can create excellent banners quickly and easily, but with an incredible quality because their templates help a lot in this aspect. Another aspect that we love is that anyone can work with it and create an excellent design so imagination is the limit. Of course as you become familiar with the program and know their potential in that same measure you will feel more confident to work with it.
We really enjoy how Creatopy's functions are straightforward and easy to learn. If you've ever used any kind of photo editing software before, it's really easy to pick up. Being able to hide elements and edit multiple at a time is super helpful and saves a lot of time. Being able to have different workspaces in a game-changer for organization and collaborating as a team.
How to Create Your YouTube Channel Art with Creatopy
Choose the YouTube banner size.

Choose a template (from their collections of unique YouTube banner templates) or create your own.

Add personalized elements to your banner.

Download your YouTube cover photo.
---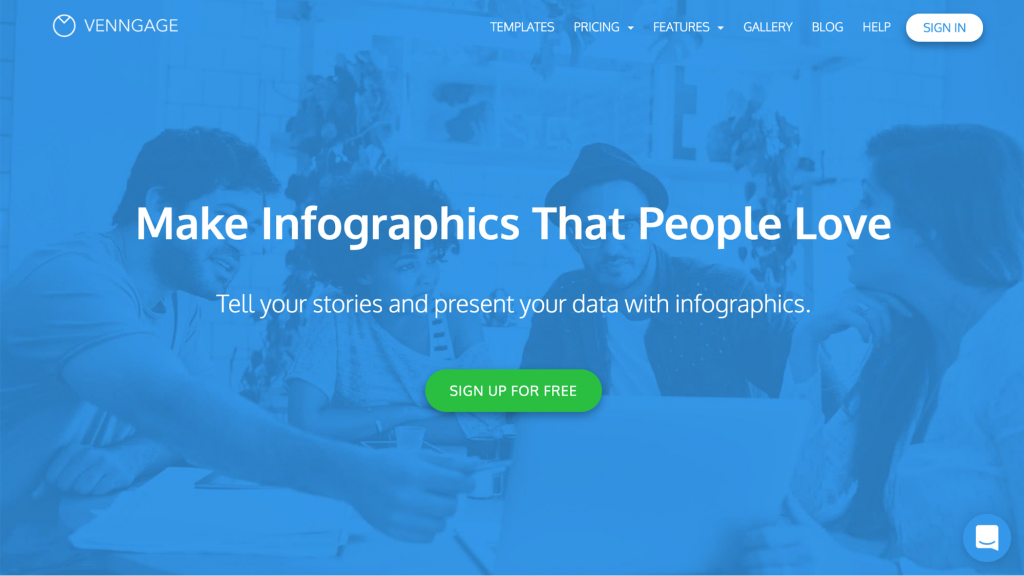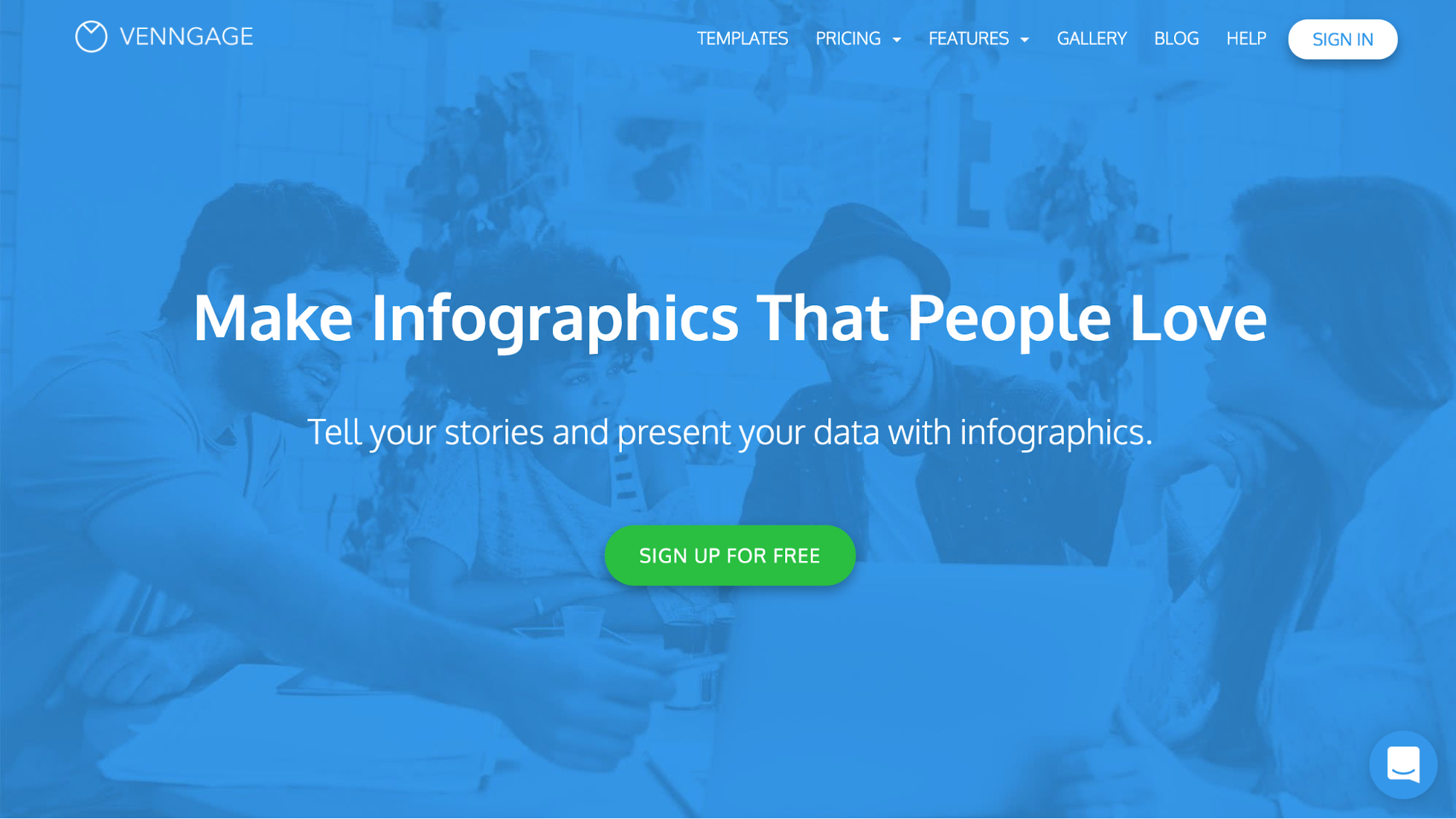 Venngage is highly engaging and fun, and its easy-to-use design features let students create sleek, detailed infographics. It's a great way to get students to organize their thinking visually and impactfully, collate learning, and systematically communicate ideas. Venngage has pre-populated icons, images, and shapes that are royalty free. This makes it very easy to design nice marketing materials like PPT slides and pitch decks. It also has templates for various decks and infographics.
With such huge numbers of online illustrations makers, it's hard to discover an administration without a group of clasp craftsmanship. Venngage has a free library of symbols, pictures, flags, and more for you to peruse through and look by watchword. You can transfer your image logo and pictures (up to 6 pictures) to use. Venngage has numerous formats that we utilized as beginning stages to alter and make our own archives. We have gotten a lot of positive criticism from customers and staff around how the records are considerably more reasonable. By and large, we have gotten more than our funds worth from using Venngage.
How to Create Your YouTube Channel Art with Venngage
Sign up on Venngage

Choose the best YouTube banner template that is suitable for you

Add a catchy descriptive background image and stickers

Include your channel name and your logo to your banner

Save, download, and share your finished YouTube banner.
Want to get some YouTube inspiration to grow your channel? See these
27 female YouTubers
who are putting the "tube" in YouTube.
---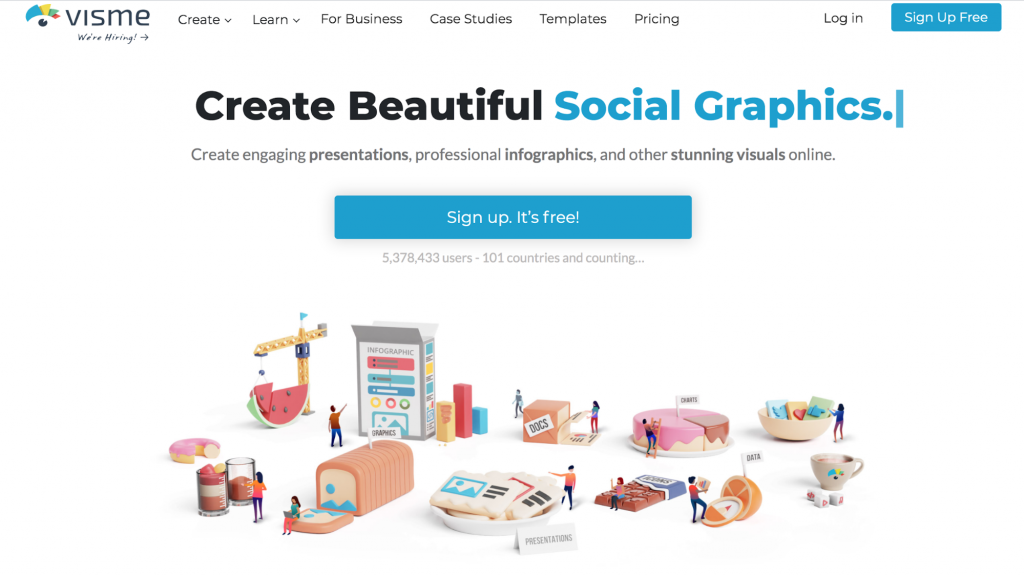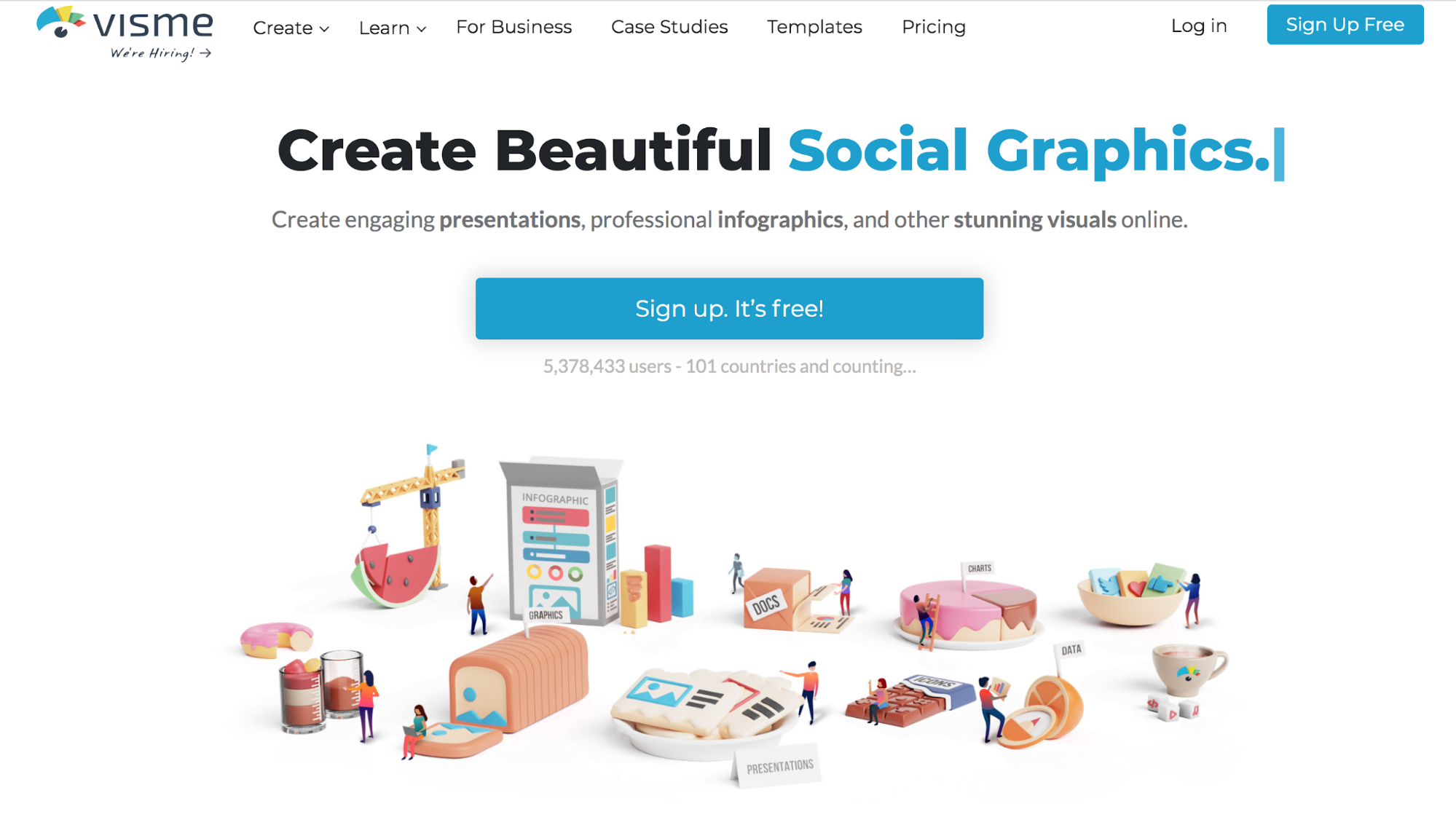 Another excellent YouTube channel art maker worth mentioning is Visme. It makes it easy for users to create incredible designs, with various 50+ templates and hundreds of fonts, all for free. It also comes with a bank of free filters, images, frames, editable color schemes, vector icons, and other customizable shapes that can help you create a unique and high-quality banner. The level of graphics in the library are professional and compelling. Overall there is a stronger "design sense" than with the leading competitor. The result is that both the templates and the library are filled with compelling content.
With Visme, you can upload your brand colors, fonts, and several other design elements. However, these features are only available for you only if you have Visme's brand kit setup. It requires you to buy the standard package. Therefore, using the free version might limit your options if you're looking to create a personalized brand cover. Visme is easy to use and creates very professional looking, unique graphics. Pre-defined templates in various categories allow easy and quick data arranging which makes it attractive for viewers.
How to Create Your YouTube Channel Art with Visme
Log in to Visme and select the Social Graphic Tab, and then the YouTube icon.

Browse the template collection to get the one that best fits your choice of design.

Customize the shapes, colors, and fonts you find in the YouTube banner maker.

Upload your images to the banner and begin to customize it.

Download the banner you created and upload it to your YouTube channel.
---
In Conclusion
A YouTube channel art maker gives you the opportunity to gain more viewers by simply and stylishly showcasing your brand personality and subtly displaying what your channel offers.
Visitors' first point of contact with your YouTube channel is your YouTube channel art. It's very crucial to create a strong impression about your YouTube channel with a unique YouTube channel art. YouTube channel art helps your channel look distinctive as you can add your brand logo to your YouTube channel art.
Your YouTube channel art grabs your visitors' attention in an instance and communicates the content of your channel briefly. You don't have to be a professional designer to create a winning YouTube channel art. All you need do is have a YouTube channel, a banner template, and a little bit of creativity to show your viewers what your channel is all about.
Frequently Asked Questions
What is YouTube channel art?
YouTube channel art is the large, beautiful header image that appears at the top of a YouTube channel page. It is a creative medium that you can use to attract the attention of your page visitors to share the brand of your channel, its personality and any other key information that you would like to communicate visually.
How can you create your YouTube channel art for free?
The good news is that it is easy to create your very own YouTube channel art without having to pay a professional designer or buy an expensive design program. On the Internet, you will find loads of free YouTube channel art makers. Not only are these software solutions easy to use, but they are also efficient (even though they are free). Some of the best free YouTube channel art makers are: Canva, BeFunky, PicMonkey, Adobe Spark and Snappa.
Where can I get free photo effects?
You can try BeFunky. It is one of the best software solutions for free photo effects. As a matter of fact, it has one of the biggest photo effect libraries. It boasts 185 photo effects in many different categories that include Oil Painter, Pop Art, Vintage, Instant and Old Photo. What is more, BeFunky's photo effect library is growing continuously.
Can I use Adobe for free?
Adobe has launched a free graphic design platform, Adobe Spark, for everyday communication. All types of users, including marketing professionals and small businesses, will find it helpful for creating engaging visual content that will attract target audiences via multiple channels. Included in Adobe Spark are versions to create images for various social networks, web pages or videos. You can, for example, use it to add photos, video clips (even your own voice), icons and decorative stickers to different types of media.
Is a YouTube channel art maker worth it?
By using a YouTube channel art maker, you will be able to attract more viewers. It will help you to communicate your brand's personality and display what your YouTube channel has to offer in a subtle way. As your visitors' first point of contact with your channel will be your channel art, it is key that you create a strong impression. Considering all these benefits (and the fact that many YouTube channel art makers are free), it is definitely worth it.