Year after year, marketing predictions tell us that video marketing is a trend to watch. But, at this point, video marketing isn't a trend—it's a requirement. And YouTube is far and away the most popular way to consume videos online. If you're not using YouTube advertising to leverage the platform's reach, you're missing out.
Video combines visuals, sounds, and effects to give viewers a full picture of your offer in a way that static images or text just can't. It's engaging and commands attention. Plus, it drives conversions like nobody's business. So, why aren't you using YouTube advertising?
Many marketers turn to Google Ads and avoid YouTube Ads. Why? Because video is viewed as complicated and expensive. But with Cisco predicting that 82% of global internet traffic will come from video streaming and downloads by 2022, can you really afford to ignore YouTube advertising?
The answer is no. You can't.
YouTube is the second most popular website on the internet, bringing in more than 2 billion users worldwide (Statista, 2019). That's why 80% of marketers consider YouTube to be the most effective video marketing platform (GO Globe, 2019). We're not quite sure what question the other 20% of marketers were answering; with an audience that effectively makes up 25% of the entire world's population, you'd be hard-pressed to find a more effective video marketing platform.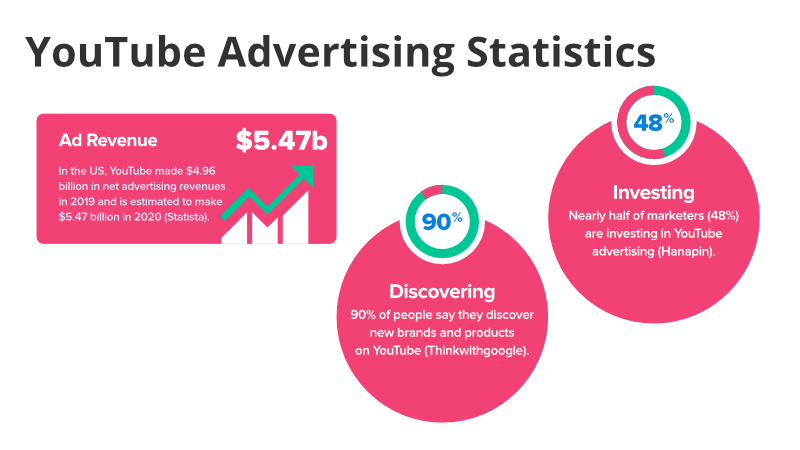 And this bears out when you take a look at YouTube statistics.
90% of people say they discover new brands and products on YouTube (Thinkwithgoogle).

Nearly half of marketers (48%) are investing in YouTube advertising and 62% plan to increase their YouTube ad spend (Hanapin).

In the US alone, YouTube made $4.96 billion in net advertising revenues in 2019 and is estimated to make $5.47 billion in 2020 (Statista).
There's no doubt that YouTube advertising is worth it. But how do you do it?
In this article, we'll walk you through the different YouTube ad formats and show you exactly how to set up a YouTube ad campaign so you can start to use this powerful advertising channel to grow your brand.
---
YouTube Advertising: Your Step-by-Step Guide to Successful YouTube Ads:
---
With 80% of marketers believing that YouTube is the most effective platform for video marketing, there's little reason to doubt that it should be a part of every business's advertising strategy. But due to being a video platform, advertising on YouTube is a bit different than advertising on other social media platforms (and lightyears different than Google Ads).
Many of the marketers who haven't embraced video advertising dismiss it because they think it's hard to do or expensive. But it doesn't have to be. There are so many different options with YouTube advertising that we're sure you'll be able to find a YouTube ad format that works for your brand, in your budget.
Types of YouTube Ads
YouTube ads are part of the Google Display Network (GDN). They're a way of advertising on YouTube or in search results to maximize user reach. Since they're part of Google, advertisers benefit from the vast user data available from Google. This data can be used to create a highly focused target audience.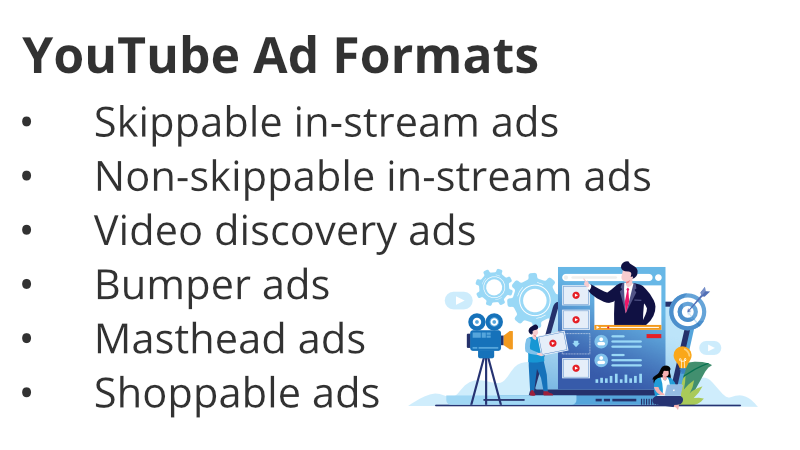 There are several different types of YouTube ad formats:
Skippable in-stream ads

Non-skippable in-stream ads

Video discovery ads

Bumper ads

Masthead ads

Shoppable ads
If you've been using YouTube as part of your marketing strategy, you probably already know all about these ad formats. However, let's walk through them briefly since things are constantly changing with technology and the functionalities available to you.
1. Skippable In-Stream Video Ads
Skippable in-stream video ads are for promoting video content before, during, or after other videos on YouTube and across websites and apps that are Google video partners. They're available for these campaign goals:
Sales

Leads

Website traffic

Brand awareness and reach

Product and brand consideration
How Skippable In-Stream Video Ads are Charged
There are a few different types of bidding you can use with this ad format. With CPV bidding (cost per view), you pay when a viewer watches 30 seconds of your video (or the full video for videos under 30 seconds) or if they interact with your video, whichever happens first.
With Target CPM (cost per mille), Target CPA (cost per acquisition), you pay based on impressions.
Interested in putting a dollar amount to your YouTube ad spend? Find out how much Youtube ads cost here.
2. Non-Skippable In-Stream Video Ads
Non-skippable in-stream ads are for promoting your content before, during, or after other videos on YouTube and across Google partners. This ad format shows the entire ad without giving the viewers the option to skip. Ads are up to 15 seconds in length. They're available for the "brand awareness and reach" campaign objective.
How Non-Skippable In-Stream Video Ads are Charged
Non-skippable in-stream video ads use Target CPM bidding, so you pay based on impressions.
3. Video Discovery Ads
Video discovery ads are used to promote video content in places of discovery, like next to related Youtube videos, on the YouTube mobile homepage, or as part of YouTube search results. These ads show a thumbnail from your video along with some text. The size and appearance vary depending on where the ad appears. They're available for the "product and brand consideration" campaign objective.
How Video Discovery Ads are Charged
This ad format is charged only when viewers choose to watch your ad by clicking the thumbnail.
4. Bumper Ads
Bumper ads are 6-second (or shorter) ads that play before, during, or after another video. They're not skippable. This ad format shows up on YouTube videos and across websites and apps that are Google video partners. They're available for the "brand awareness and reach" campaign objective.
How Bumper Ads are Charged
Bumper ads use Target CPM bidding, so you'll pay based on impressions.
5. Masthead Ads
Masthead ads are perfect to drive awareness for a new product or service or to reach a large audience during a short time period. These ads are only available through a Google sales representative on a reservation basis. They work a little differently depending on where they're being viewed.
Desktop
On desktop, masthead ads autoplay without the sound for up to 30 seconds at the top of YouTube's home feed. They can show in a widescreen or 16:9 aspect ratio format and include an information panel to the right of the video that uses your channel assets. You can also include up to 2 companion videos in the information panel if you wish.
Mobile
Masthead ads on mobile autoplay without the sound for the entirety of the video at the top of the YouTube app or mobile home feed. Like the desktop ads, the mobile ads include a video thumbnail, customizable headline, descriptions, and a call to action, as well as information from the channel.
TV screens
Masthead ads appearing on TV screens will autoplay without sound (where supported) for the entirety of the video at the top of the YouTube TV app. The ads appear in a widescreen or 16:9 ratio and people can use their TV remotes to interact with the ads. You can't add a CTA to masthead ads on TV screens.
How Masthead Ads are Charged
Since these ads are available by reservation only, you'll be charged on a fixed cost per day (CPD) or cost per thousand impressions (CPM) basis.
7. Shoppable Ads
YouTube made an announcement in June 2020 about a new direct response ad format that will make YouTube video ads shoppable by including browsable images under the ads to drive traffic to brands' product pages.
To use this new ad format, you need to sync your Google Merchant Center feed with your video ads. Then, you can extend your ad's call to action to show off the products you want to feature in your ad.
---
How to Advertise on YouTube
By now you probably have tons of ideas for awesome YouTube ads swirling around in your mind. In this section, we'll outline the 7 steps you need to take to bring those ideas to life as YouTube ads.
Step 1. Link Your YouTube Channel With Google Ads
Before you can start a YouTube video ad campaign, you need to link your YouTube channel to Google Ads. To do this, open up Google Ads and click Tools & Settings in the top right of the screen. From there, go to Setup > Linked Accounts.
On the Linked Accounts page, choose YouTube then click the Details button:
On the next page, click Add Channel and follow the prompts.
Don't have a YouTube channel yet? Check out our guide to creating a successful YouTube channel.
---
Step 2. Create a New Video Ad Campaign in Google Ads
Now that you're connected, it's time to create your YouTube advertising campaign. To do this, click on Campaigns in the left menu. This will bring up your campaign dashboard. To create a new campaign, click on the plus button, and choose New Campaign from the menu.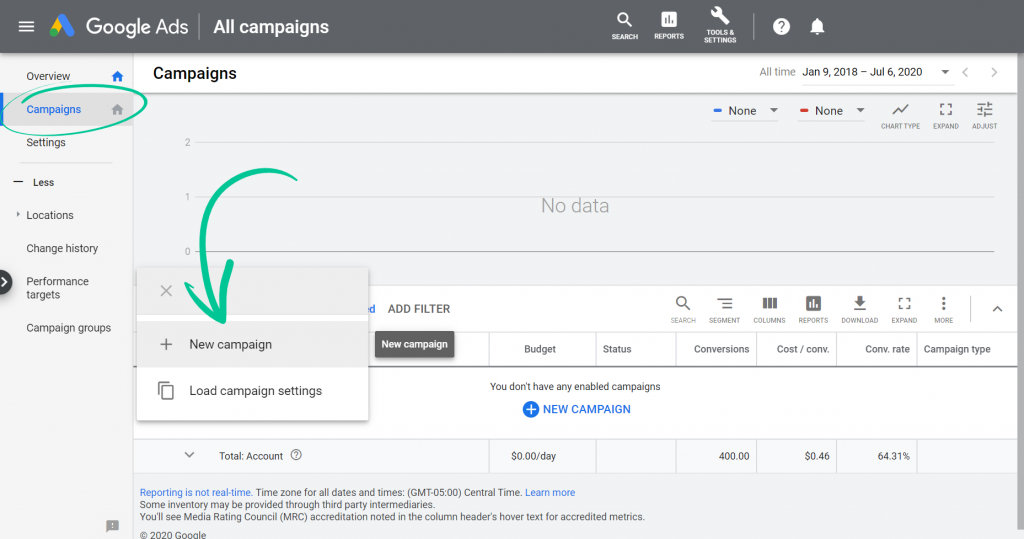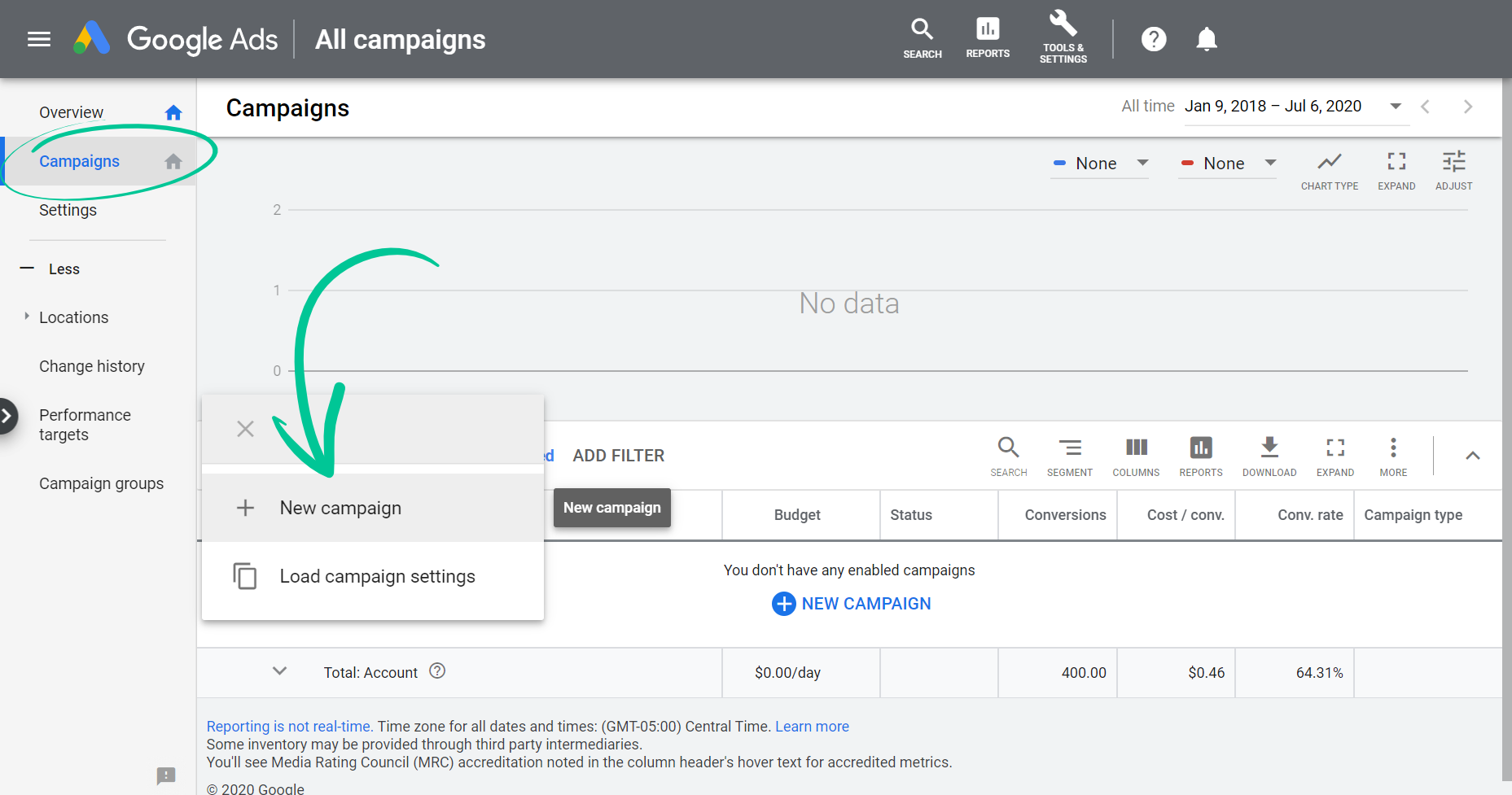 Next, you'll choose a campaign goal. Since you're probably new to running YouTube ads, we recommend choosing Create a campaign without a goal's guidance. This gives you access to all of the bidding options so you can start off by setting your cost per view (CPV) while you're collecting the data that will be beneficial for the other campaign objectives.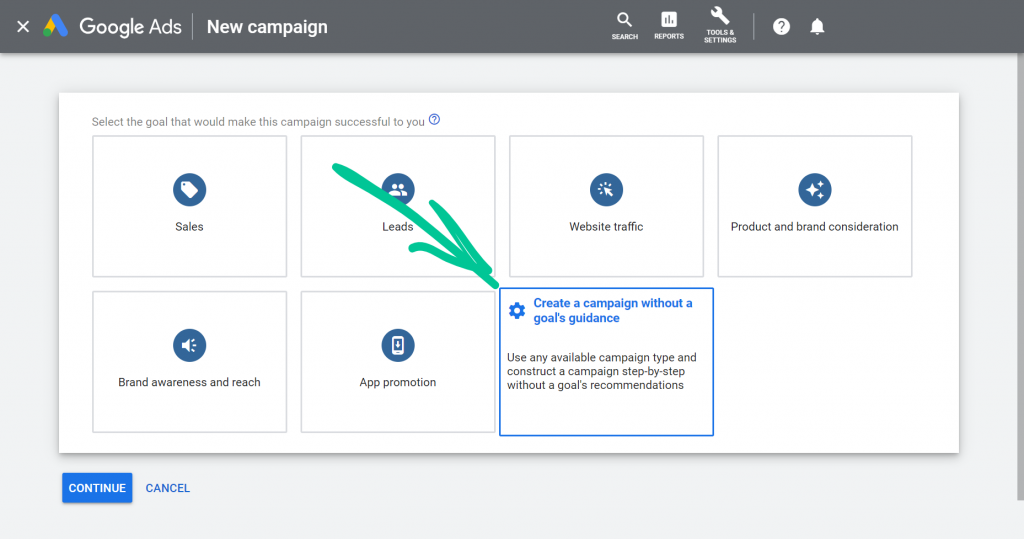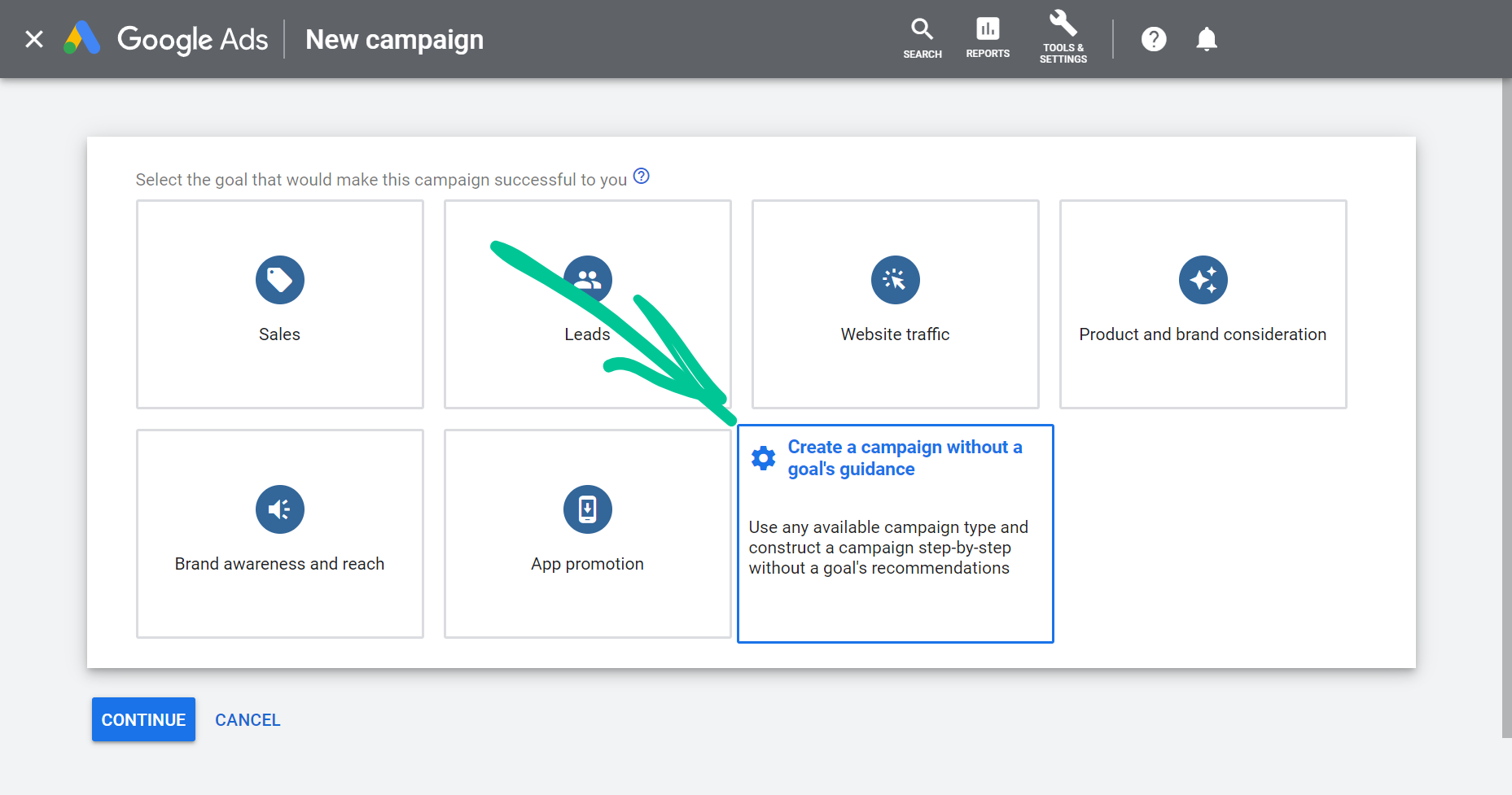 For the campaign type, choose Video. For this YouTube advertising guide, we're going to choose Custom Video Campaign.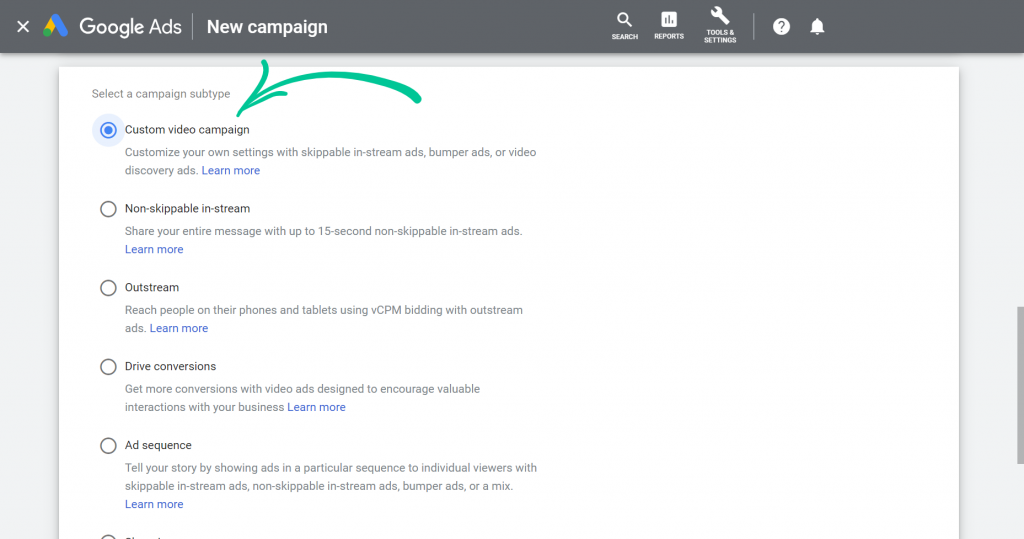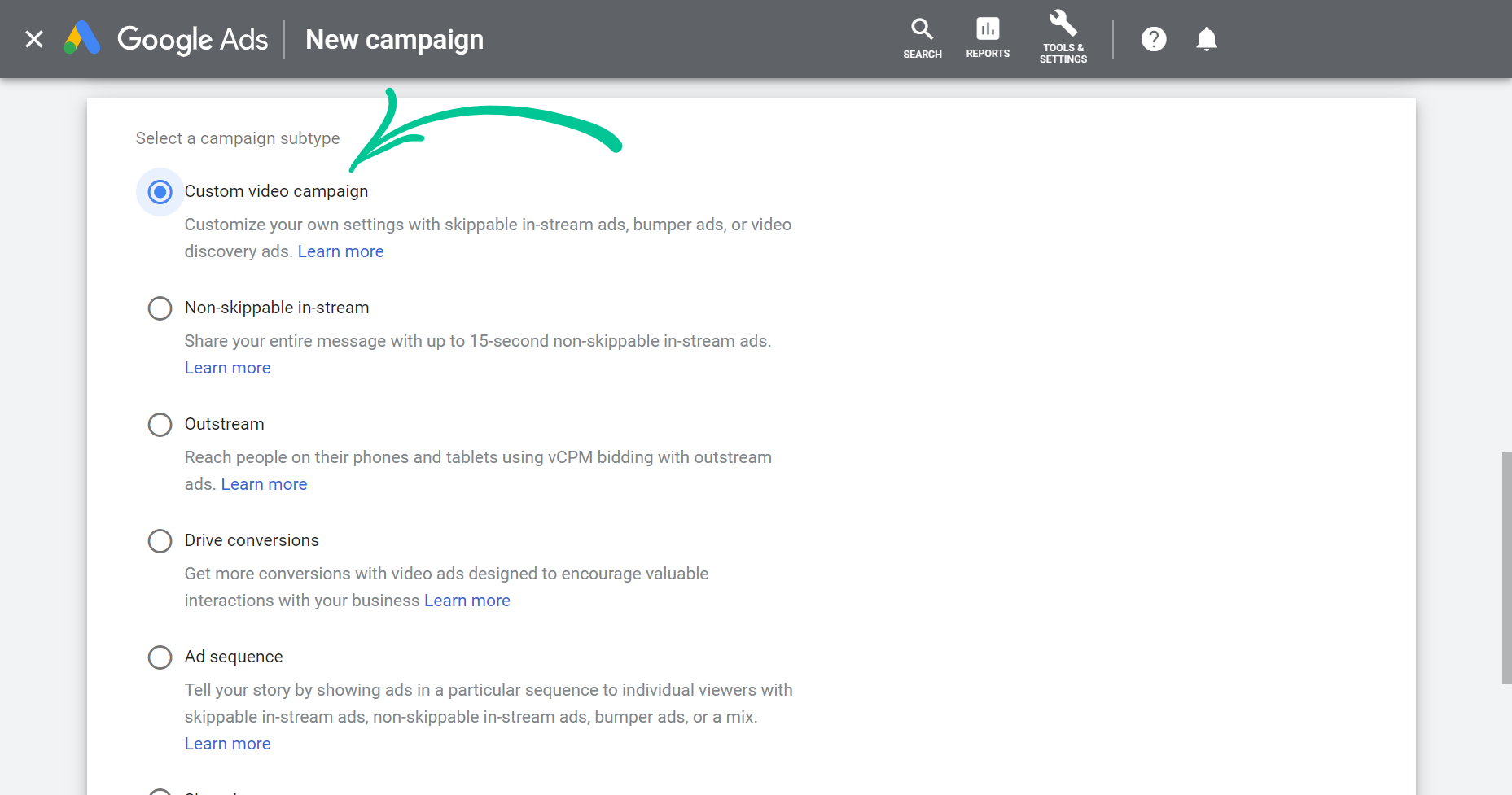 ---
Step 3. Select a Bidding Strategy and Budget
Now you need to choose a bidding strategy and set your budget. For the bidding strategy, we're going with Maximum CPV (usually between $0.05–$0.12). For the budget, we recommend setting a daily budget so you'll have a pretty even distribution of your ad spend for each day you're running the ad.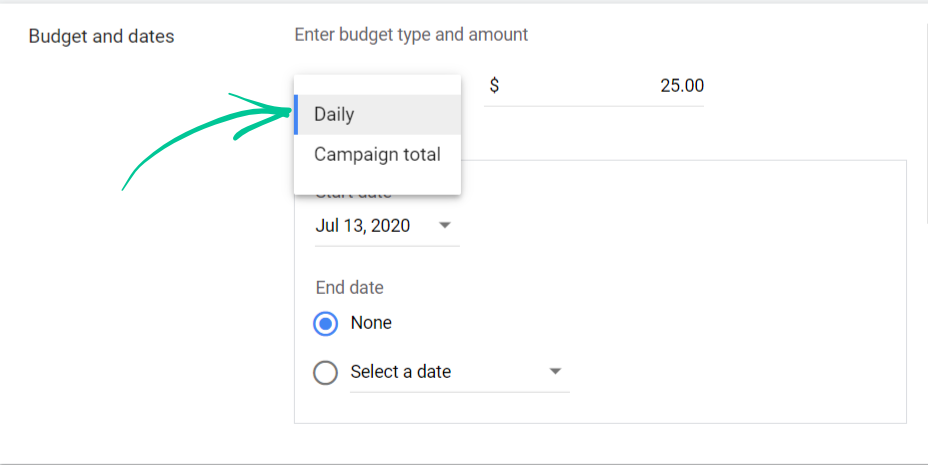 You can also set a start and end date for your campaign if you want. Some marketers choose to leave the end date open because they monitor their campaigns closely and can just stop the campaign manually if they need to.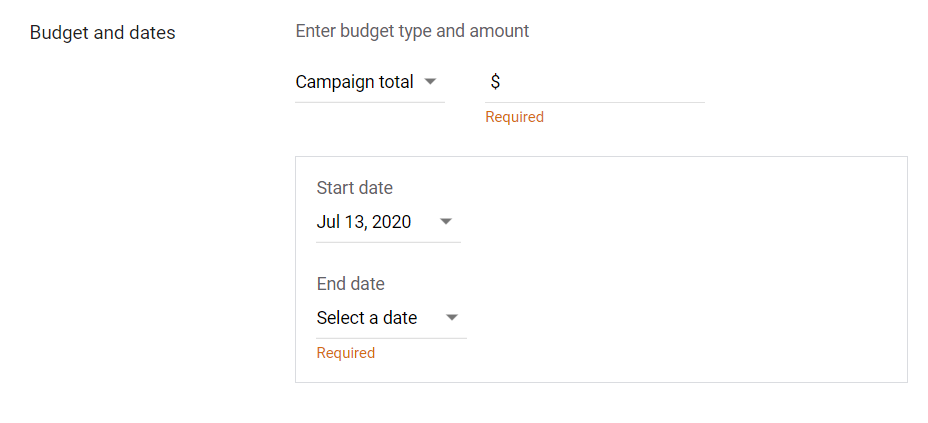 ---
Step 4. Choose Networks and Exclusions
After you've chosen your bidding strategy, it's time to decide where you will (and won't) show your ads. To do this, select Networks > YouTube Videos. We're going to uncheck YouTube Search Results and Video Partners on the Display Network.


Now, choose your language and set your location. To set a location by radius, choose Enter another location then click Advanced Search.


Now that your networks are set, you may want to set exclusions to further refine where your ads will appear. Go to Inventory Type and choose from Expanded, Standard, and Limited. This lets you opt-out of categories unrelated to your business.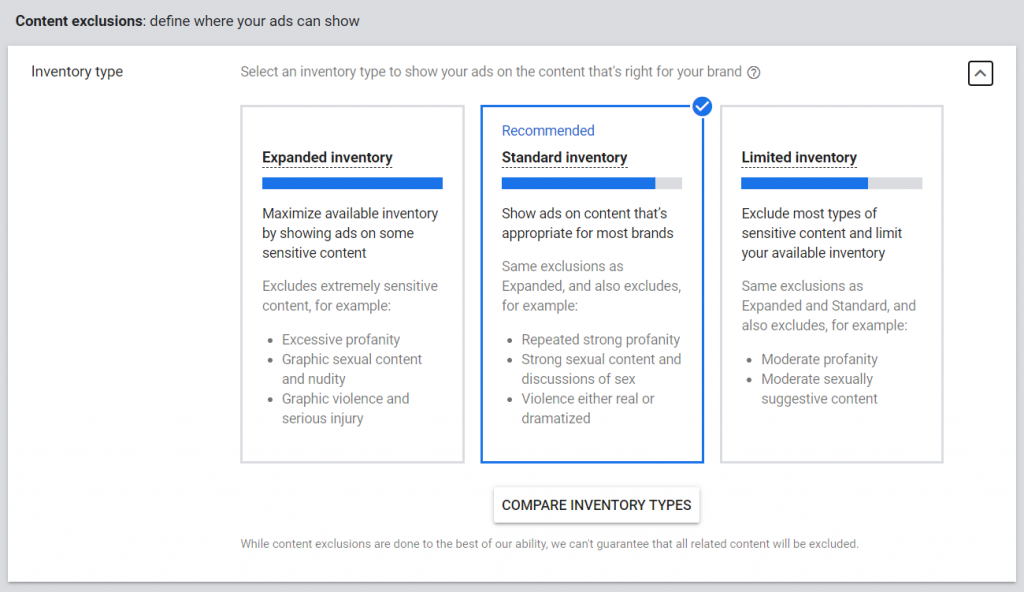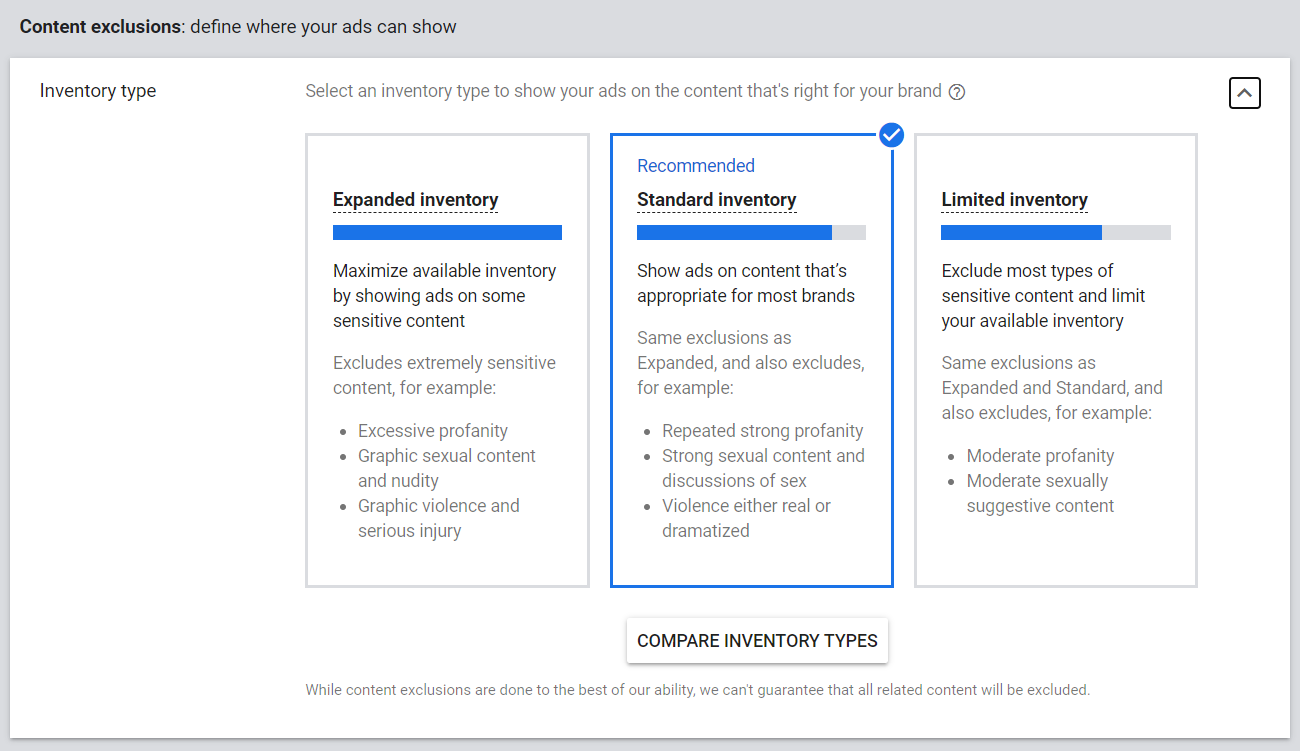 You can find more exclusion options by clicking Additional Settings. Here, you'll be able to specific devices you want your ads to be shown on, add frequency capping to keep your ad from showing up too often, and even set an ad schedule.


---
Step 5. Set Up Ad Groups and Audience Targeting
Now it's time to set up your ad groups. Start by giving them descriptive names that you'll understand when you check back in to see how the ad's performing. After that, you'll have 2 things to do:
Define your audience and demographics

Refine your audience using keywords, topics, and placements
Define Your Audiences and Demographics
YouTube has extensive targeting options, making it ridiculously easy to target as broad or as narrow an audience you want. Start by selecting the gender, age, parental status, and household income for your target audience.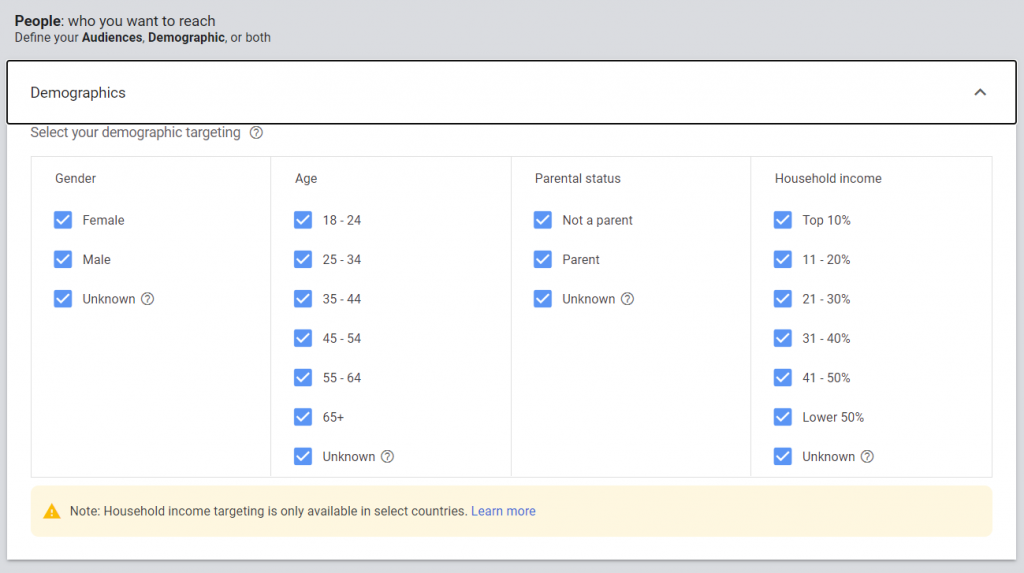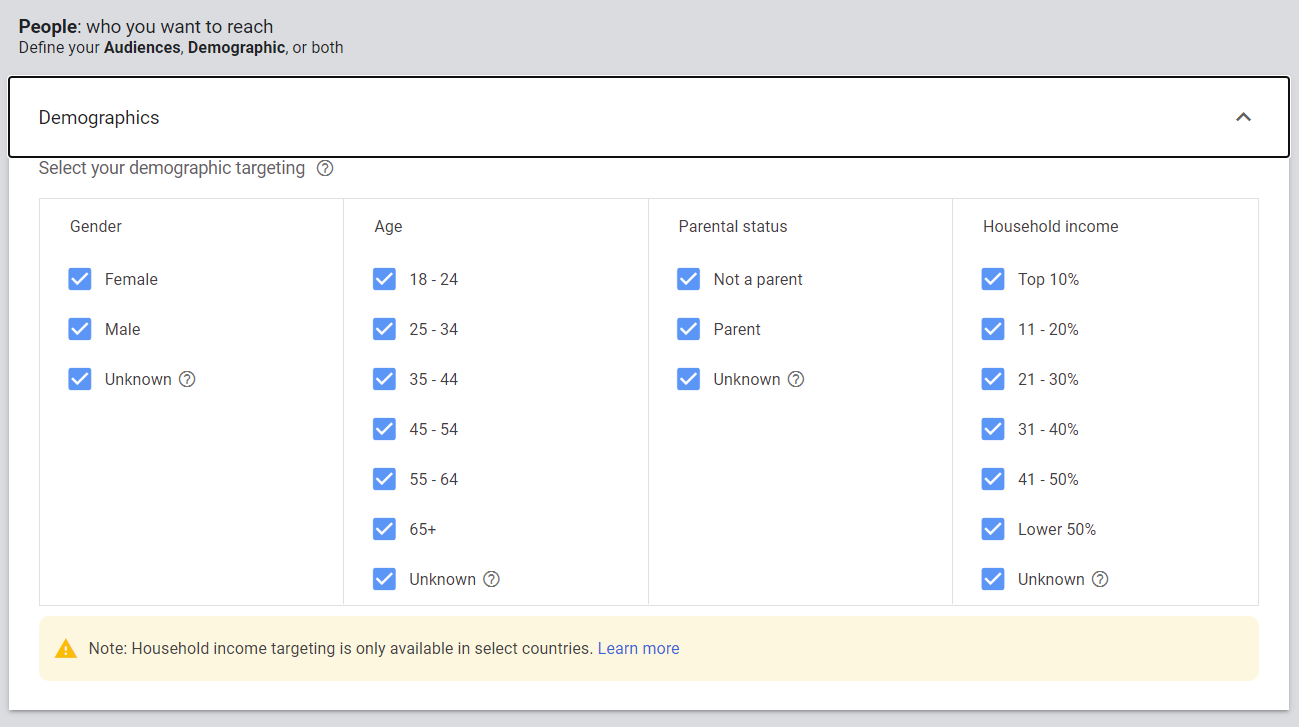 Next, you can further refine your audience selection using the Audiences section: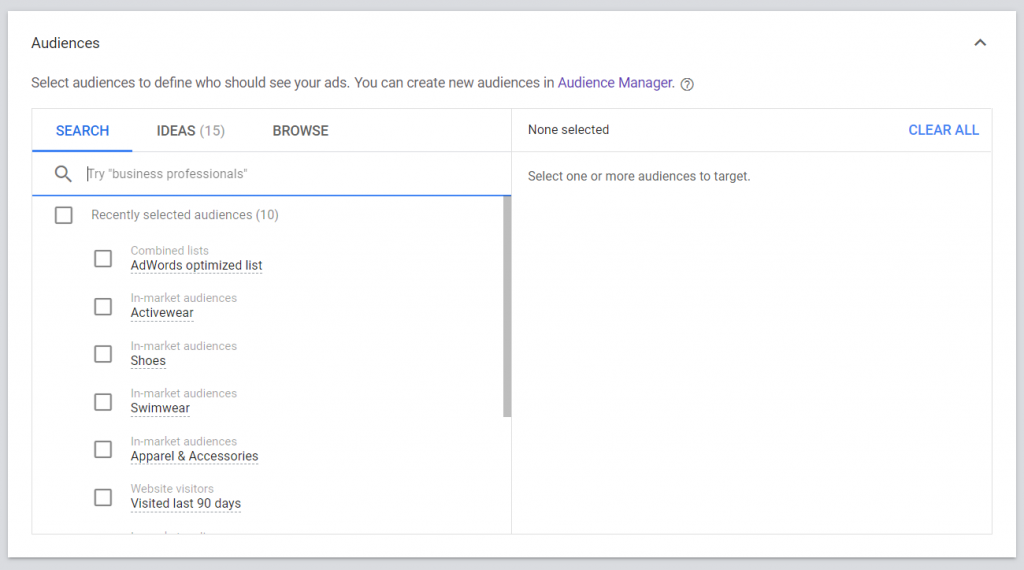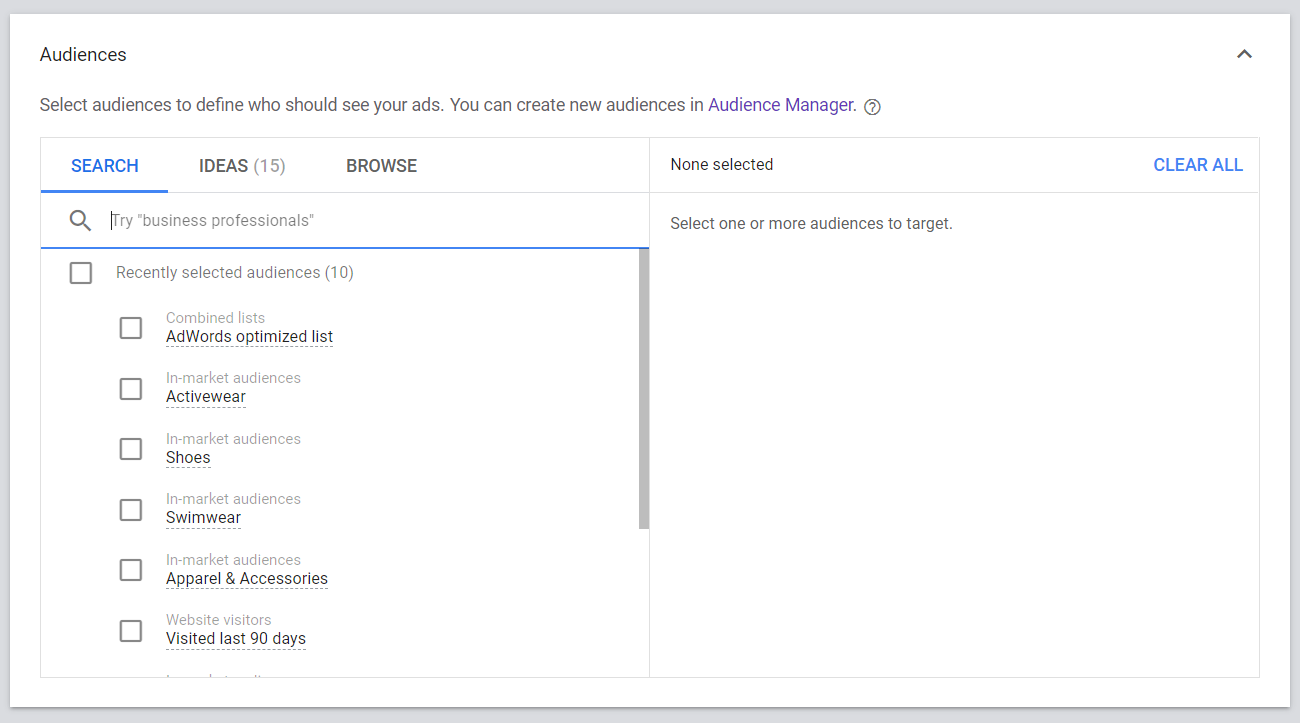 Here are some of the options you can choose from:
In-market audiences:

These are people who have searched for a keyword or keyphrase related to your ad in the past two weeks.

Life events:

These are people who've recently gotten married, moved, purchased a home, or experience another life event.

Custom intent audience:

Use keywords to create an audience based on products and services your target audience is actively researching.

Remarketing:

These are people who have interacted with your brand in some manner.

Retargeting ads

are a very powerful tactic since you're keeping your brand in front of people who are already interested.

Affinity and custom affinity:

Use interests, URLs, places, or apps to target your ideal customer.
Narrow Your Reach With Keywords, Topics, and Placements
You can choose to show ads based on specific keywords related to your YouTube video, channel, or a website that your target audience is interested in. In the Keywords section, you can either enter keywords directly in a list or, if you want suggestions, you can pull related keywords from a URL or add keyword phrases to get suggestions: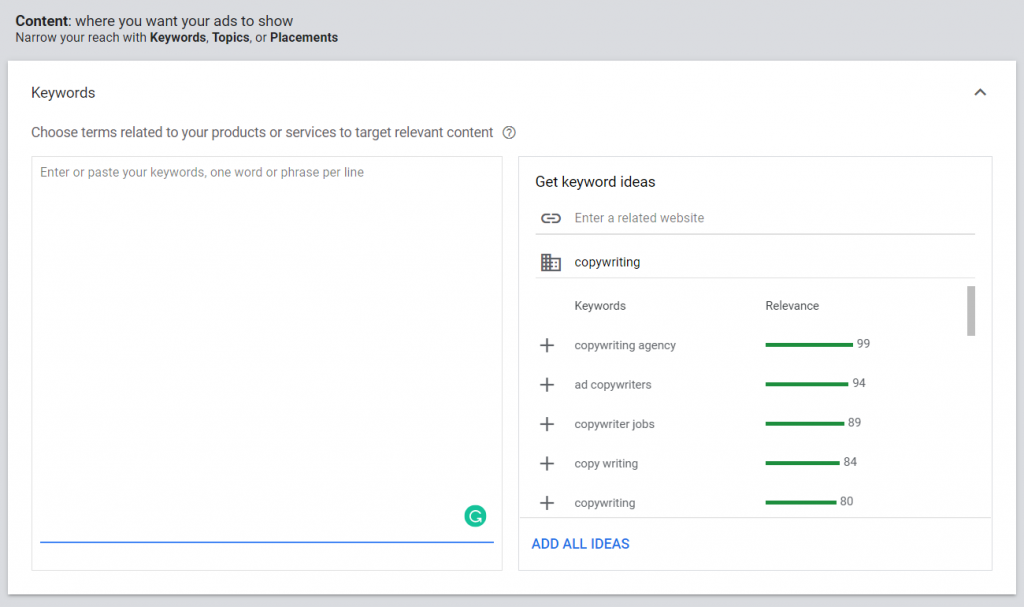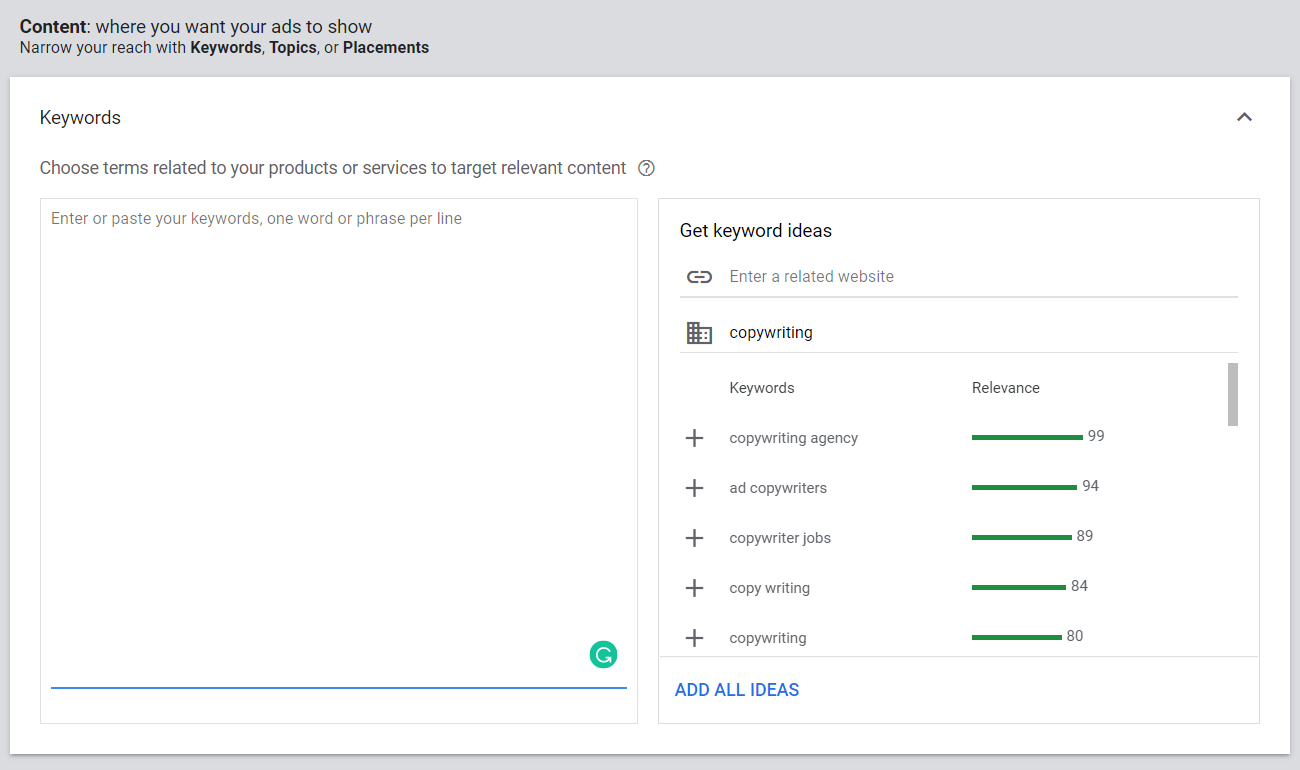 In the Topics section, you can choose the audience to target based on topics like Arts & Entertainment, Business & Industrial, and more. You can really get deep into these topics by clicking the arrow to the right to see sub-topics.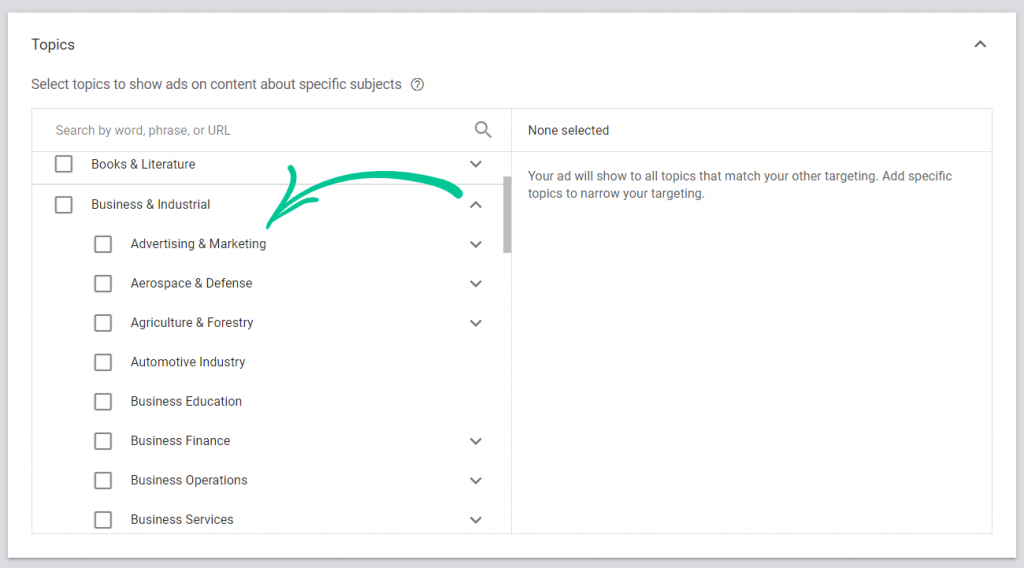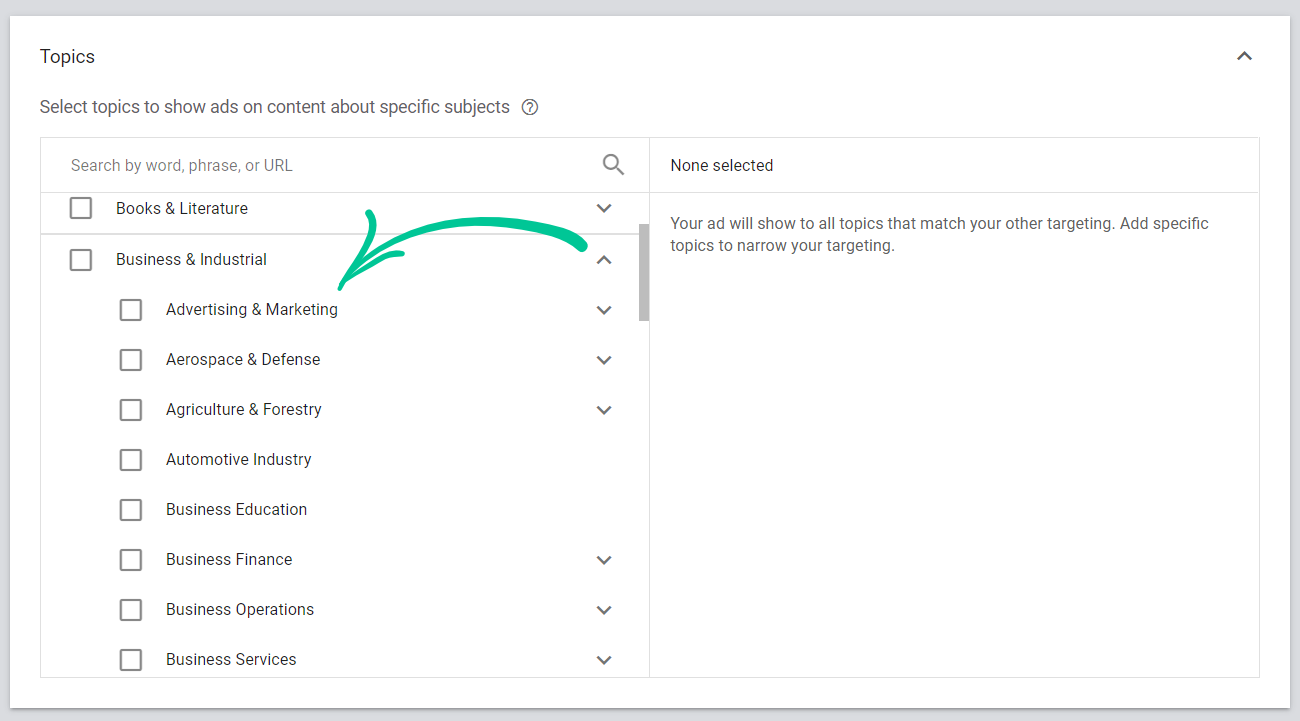 You can also choose specific Placements for where you want your ads to appear. You have tons of options here and can target specific websites, videos, and channels on the Google Display Network or YouTube.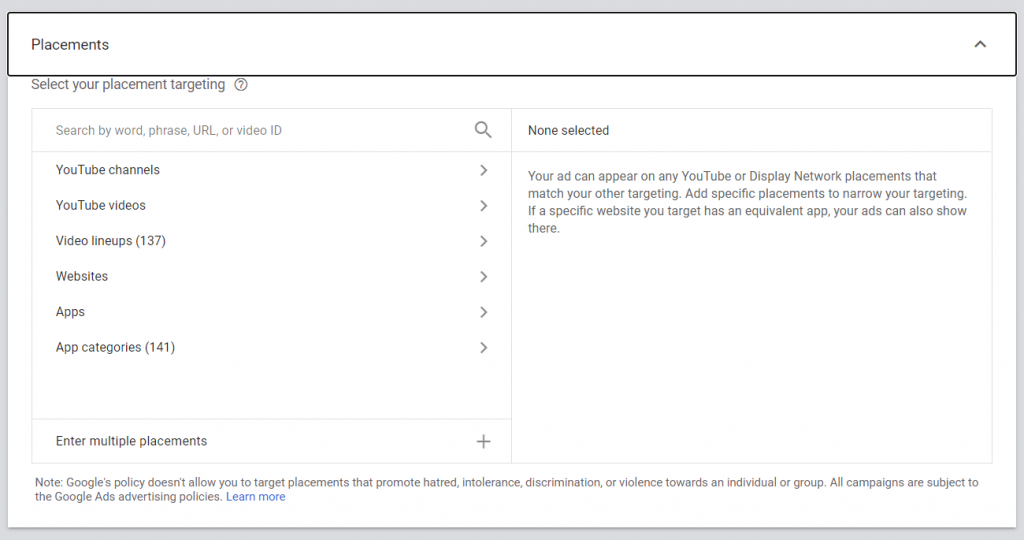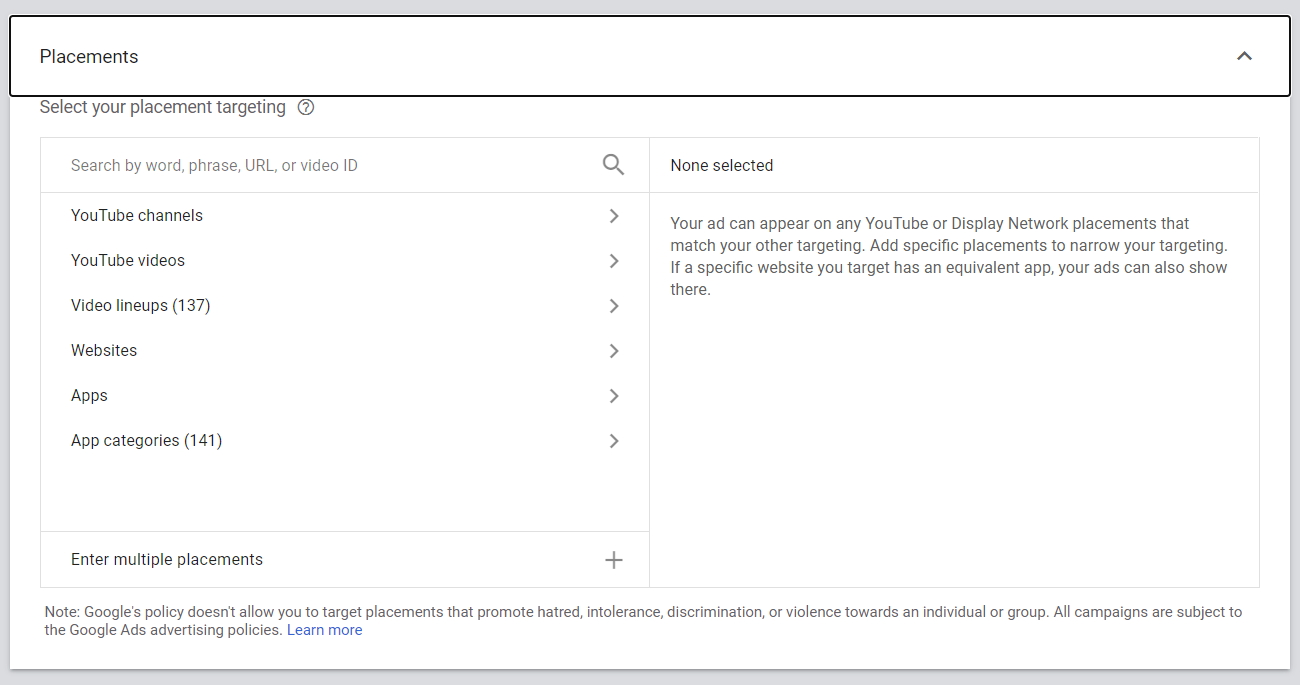 ---
Step 6. Set a Maximum CPV Bid Amount
After you've chosen your keywords, topics, and placements, you'll need to set a maximum CPV (cost per view) bid amount. This is the amount you're willing to pay for a view or when someone clicks your ad. A view is when someone watches your video for at least 30 seconds or in its entirety for videos under 30 seconds. This means that if a viewer skips your ad after 10 seconds (or even 25 seconds), you won't be charged.

You can start out with a bid on the lower end and adjust as you start getting impressions to maximize your ad's potential.
---
Step 7. Create Your YouTube Video Ad
Great news! You've gotten the ad details taken care of so now all you need to do is create your YouTube video ad. To add your YouTube video ad, just search for the video or enter the video's URL. If you have already uploaded your ad video to YouTube, just click go to YouTube and upload your video.
YouTube lets you upload videos of various sizes. In addition to the horizontal 16:9 ratio videos, you can also upload vertical videos (9:16 ratio) and square videos (1:1 ratio). Adding a variety of YouTube video sizes to your ad campaigns helps you meet the needs of users who may be watching from their mobile devices (which is about 80% of YouTube viewers).
After you've found the video you're using for your ad, you'll be able to choose the video ad format. We're going to go with Skippable in-stream ad.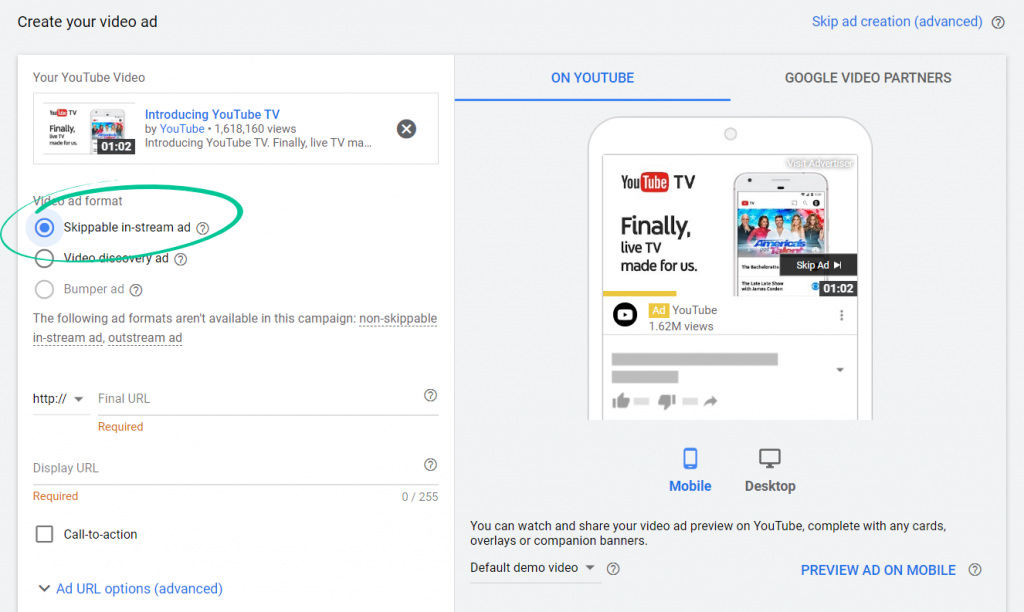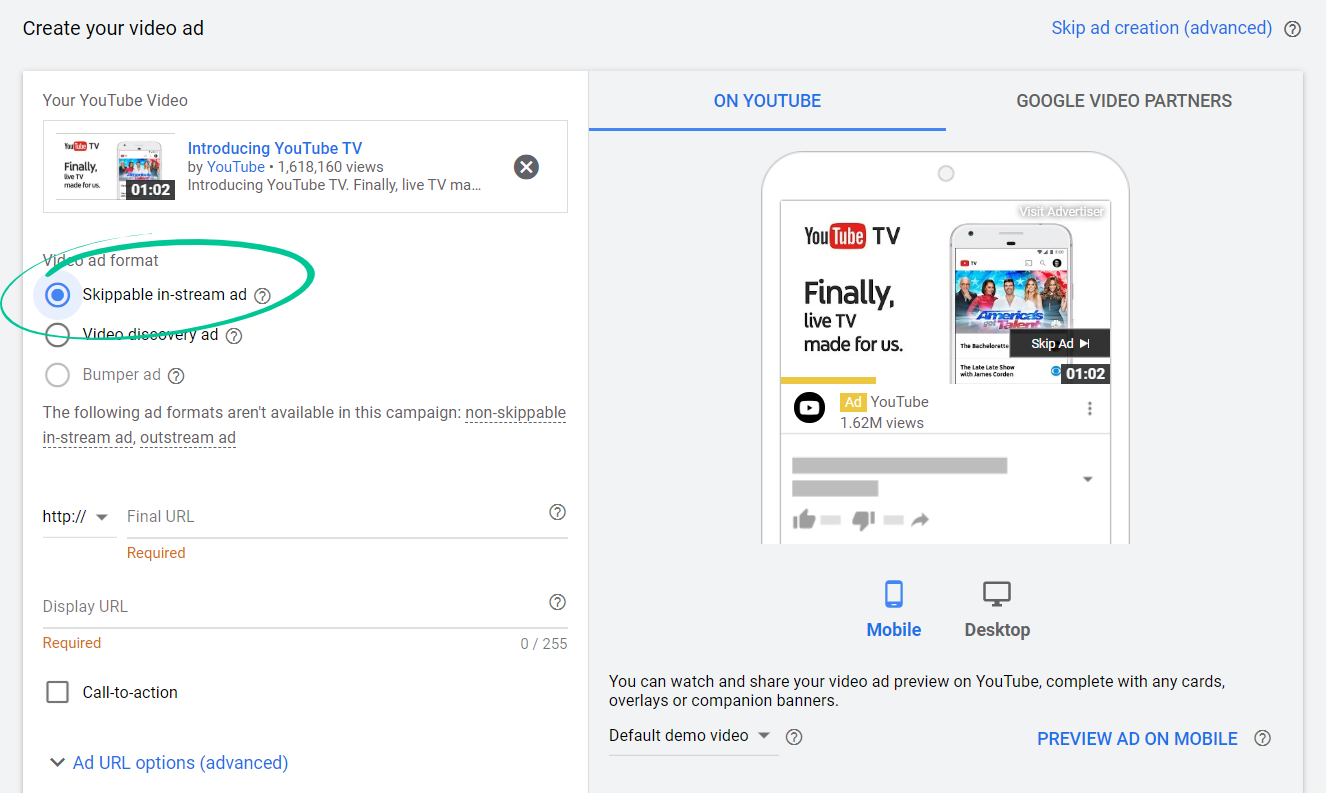 Next, add the URL where you want people to go after they click your ad. We recommend using a custom landing page for this ad. You can also enter a display URL. In our example, we're using a landing page for the destination URL and having the display URL just showing our domain. Important: both URLs must be on the same domain or YouTube will reject your ad.
We also strongly encourage you to include a call to action so your viewers know what you want them to do next. You don't have a lot of room for your call to action and headline, so keep things short and punchy.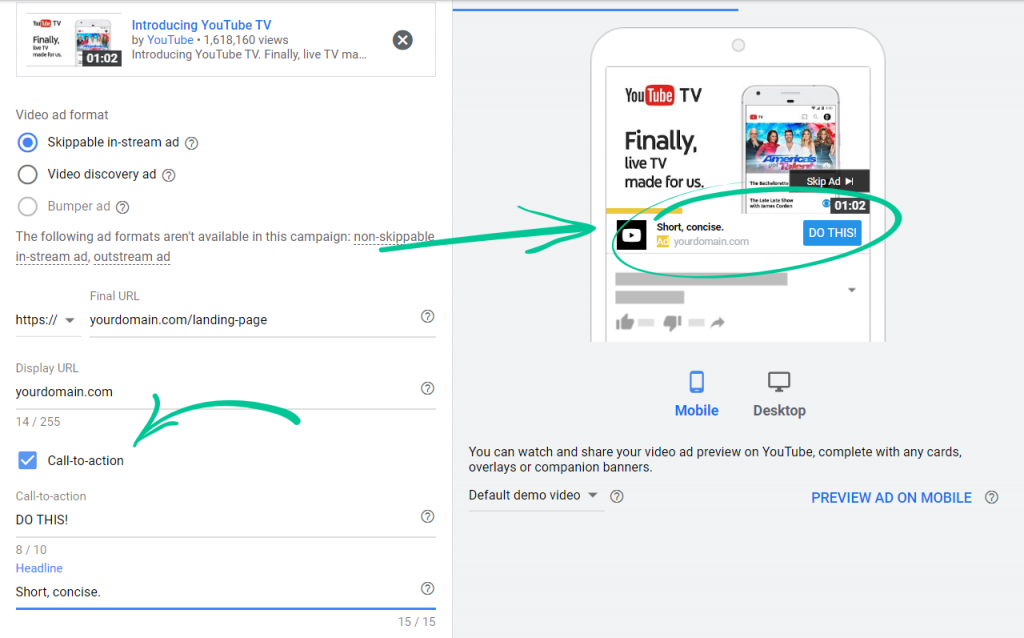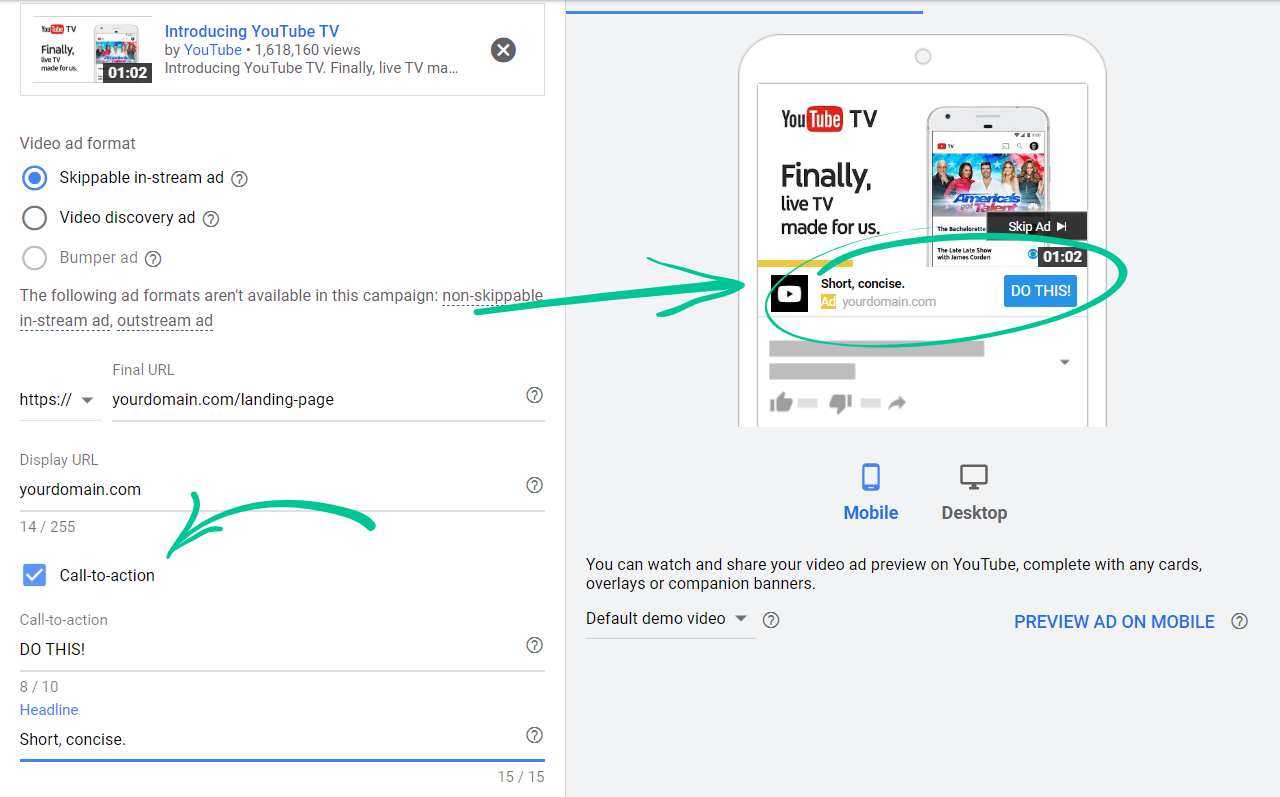 Finally, you have the option to upload a companion banner (or autogenerate one using your channel banner). This gives you more space for your YouTube ad on desktop. The companion banner shows at the top of the screen to the right of your video and will continue to display even if the ad was skipped.
Here's what our example ad looks like. You can see the call to action button and companion banner to the right as well as on the video itself: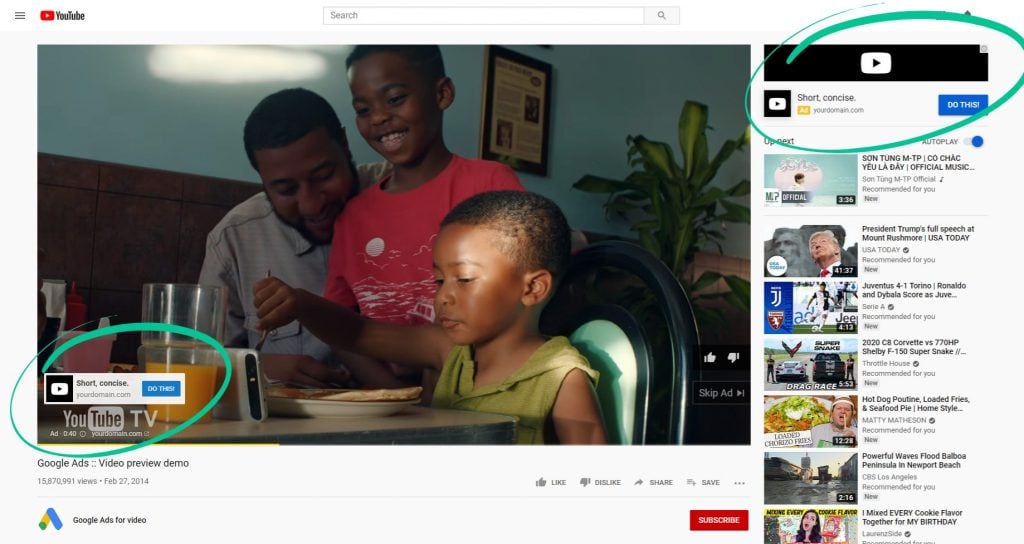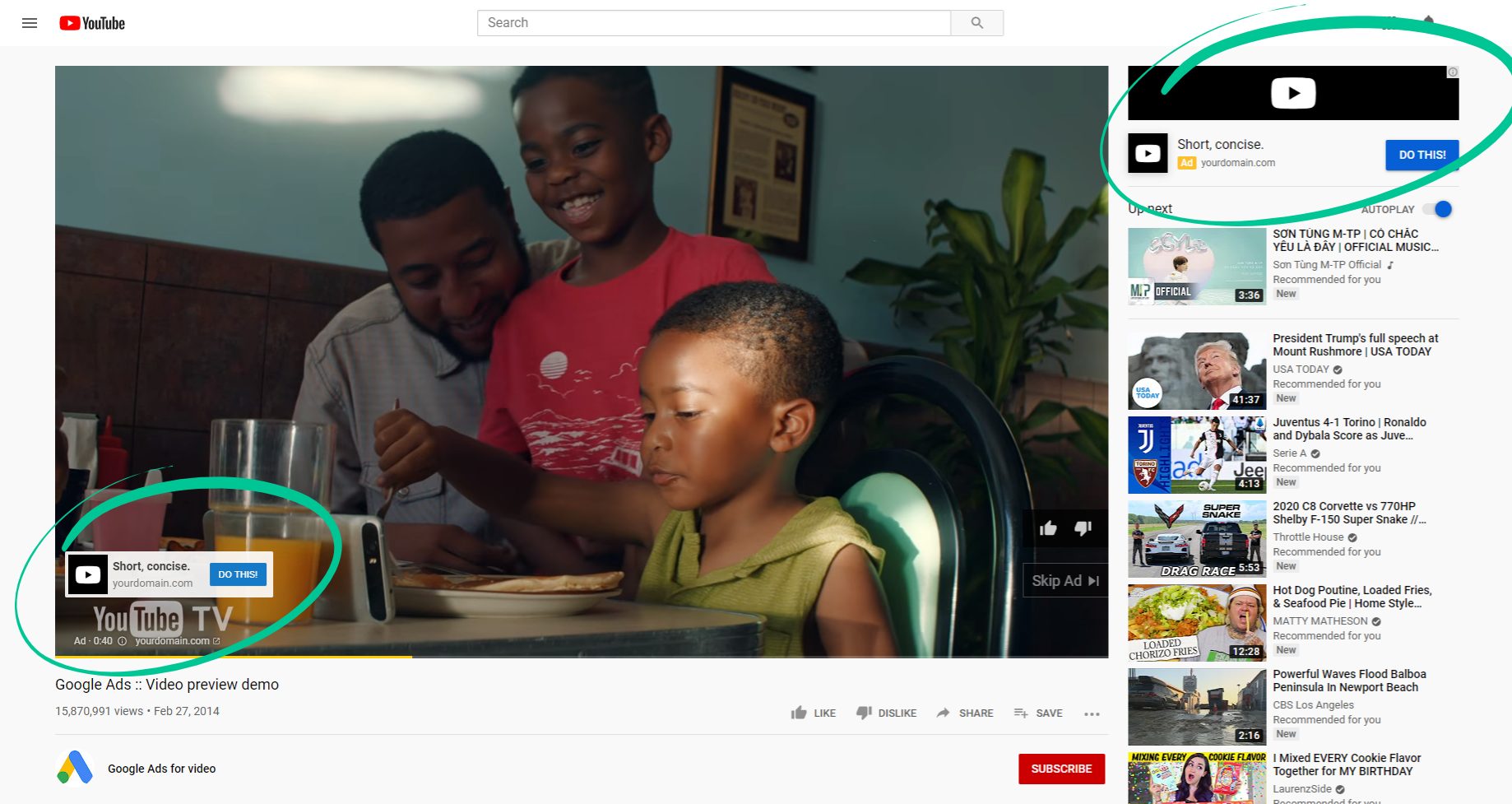 When you're satisfied with your ad, click Create Campaign and you're done!
---
Win Big With YouTube Advertising
This guide to YouTube advertising will help you create awesome YouTube ads no matter if it's your first time or 101st time. To get the most from your YouTube advertising campaigns it helps to learn other ways to promote your YouTube channel as well as social media advertising strategies so you can create ads that resonate with your target audience and deliver results. And don't forget to check out our YouTube marketing guide.