YouTube has over 2.29 billion monthly active users, which makes it the second-largest social media platform. And with one billion hours of videos watched every day on the platform, YouTube, is where you want to be to reach this massive audience and grow your brand.
But to ensure that your target audience watches your videos, you need to ensure that the video quality is top-notch. Poorly shot or edited videos may not go down well with your audience, especially when there are billions of other videos on the platform.
You also need to know how to make your videos look attractive in search results. Think about the thumbnails you've clicked on. Something about them drew you in for the click. In fact, it wasn't just one thing, there are 5 critical elements that high-converting YouTube thumbnails all share.
In this blog post, we'll cover the right YouTube video size you should apply to your content before starting to upload videos on the platform. We'll also share the 5 must-know YouTube thumbnail elements to help get your new video uploads more clicks so you can dominate in your niche.
---
YouTube Video Size: The Perfect Resolution, Dimensions & Aspect Ratio +Thumbnail Tips:
---
The Right YouTube Dimensions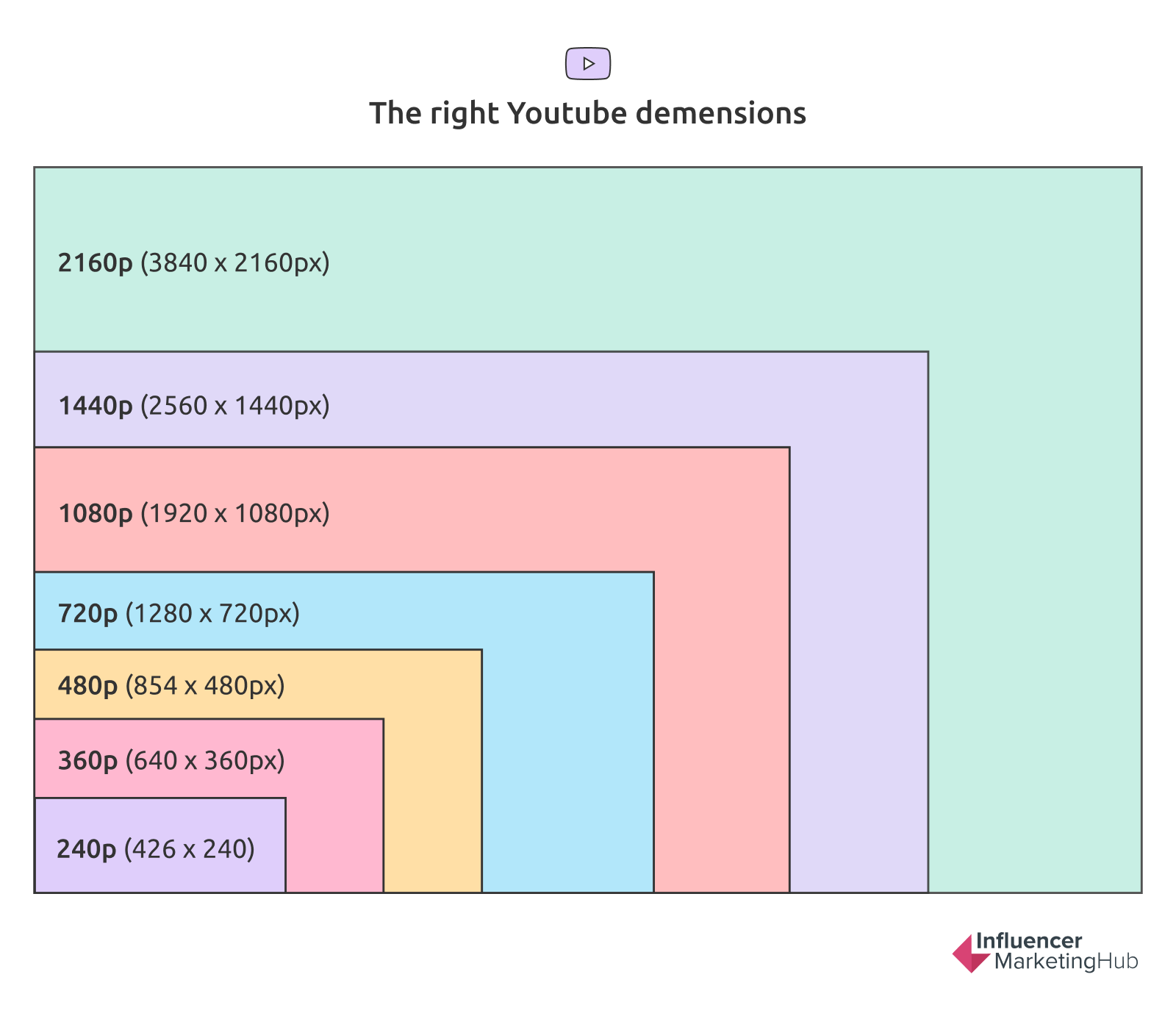 YouTube allows you to upload videos of various sizes, ranging from 240p to 2160p (4K). Let's try to understand the dimensions for each of these sizes.
240p: 426x240 pixels

360p: 640x360 pixels

480p: 854x480 pixels

720p: 1280x720 pixels

1080p: 1920x1080 pixels

1440p: 2560x1440 pixels

2160p: 3840x2160 pixels
Hence, the smallest dimensions of videos on YouTube are 426x240 pixels, while the largest dimensions are 3840x2160 pixels.
However, just getting the dimensions right isn't enough. You also need to take your video size, length, and aspect ratio into consideration while uploading videos on YouTube.
The correct aspect ratio for YouTube videos is 16:9. Similarly, the maximum permissible video size on the platform is 128GB, while the maximum video length is 12 hours.
In addition to these things, you also need to keep the accepted video formats in mind. You can only upload videos of the following formats on YouTube: .mov, .mpeg, .mp4, .avi, .wmv, .mpegps, .flv, webM, and 3GPP.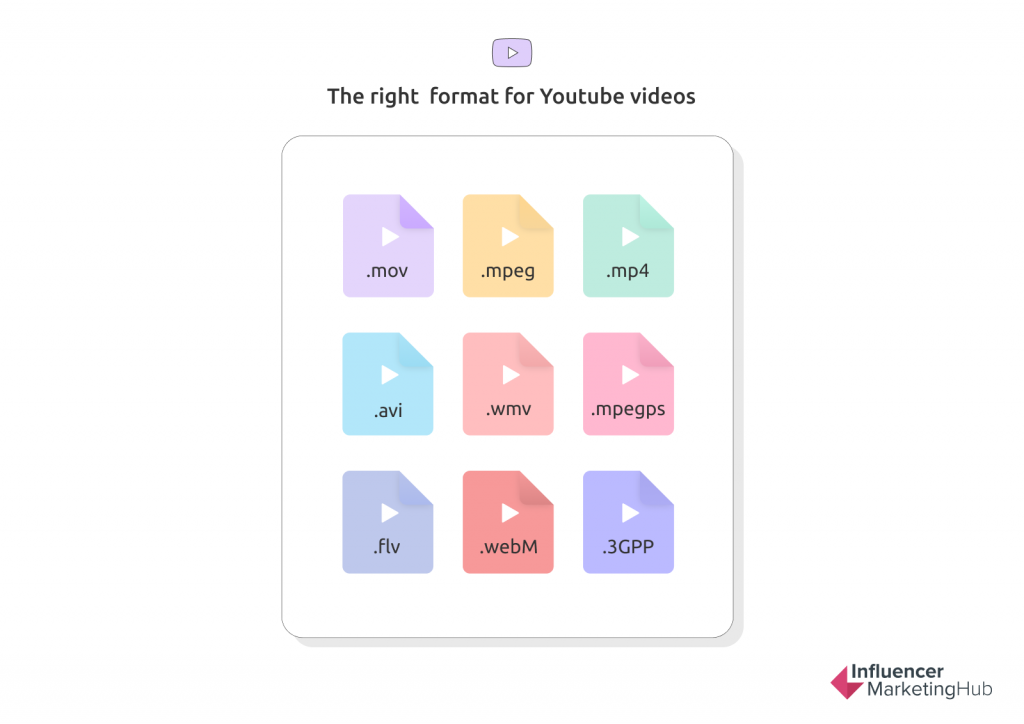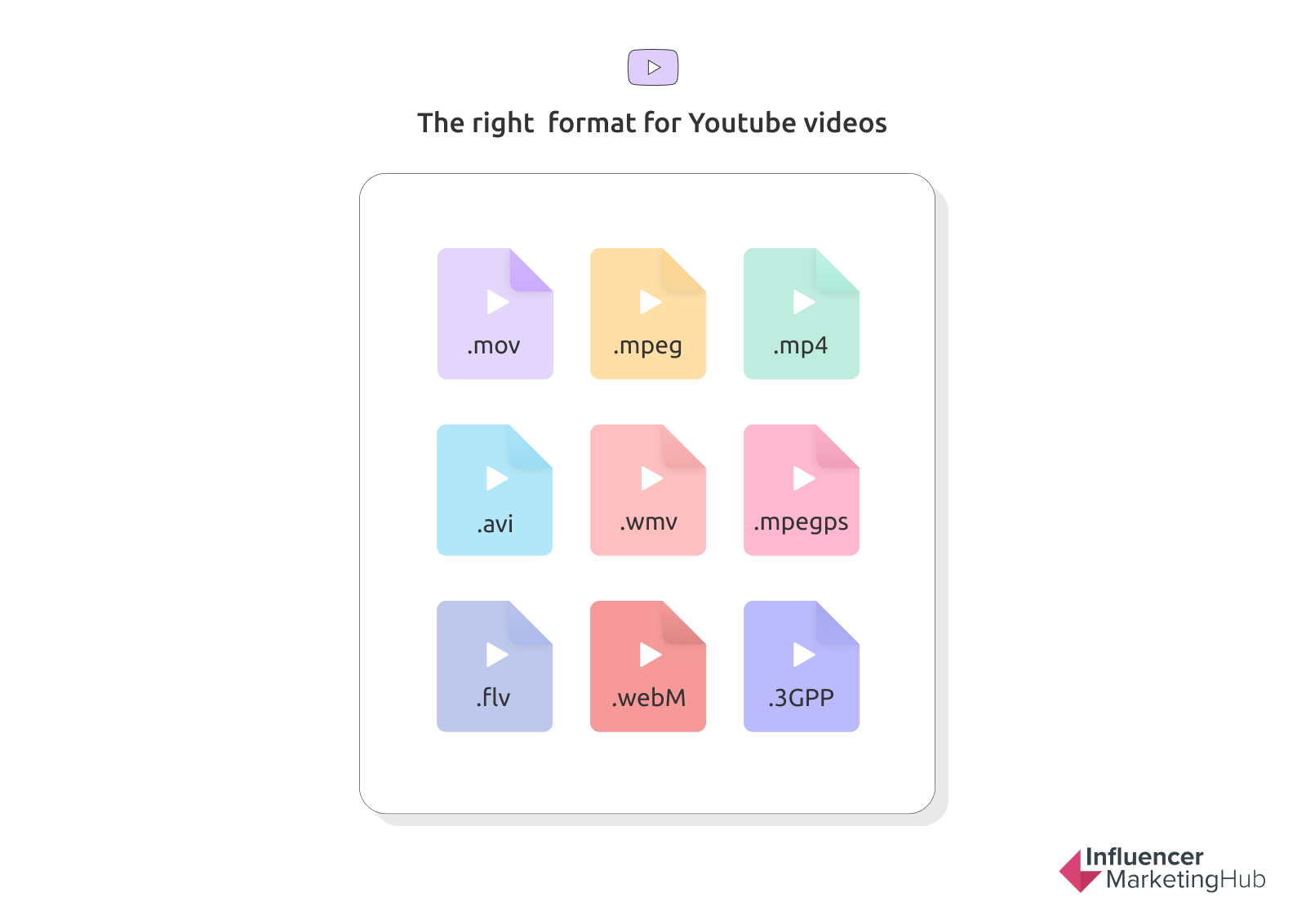 Now that you understand the right sizes for your YouTube videos, let's find out how you can change these sizes while watching videos.
---
Changing YouTube Video Sizes
When you upload a video on YouTube, the platform automatically makes it available in a variety of sizes. So, when you decide to stream any video on the platform, you can choose the size in which you wish to watch it.
Additionally, YouTube itself ascertains the speed of your broadband connection and your device to decide the screen resolution. That said, you still have complete control over the resolution of your videos.
Here's how you can change the YouTube video sizes on desktops and mobiles.
Desktops
Once you've opened the video, you need to click on the YouTube Settings icon.
In the menu that opens, you need to click on "Quality."
Select the desired resolution in which you want to stream the video. Resolutions 720p and above are high-definition videos and thus have a small "HD" next to them.
Mobiles
After opening your video, you'll need to tap on it to see all the icons. From these, you need to tap on the three dots that are aligned vertically (kebab menu).
In the menu that opens, you'll need to click on "Quality."
Choose the quality of your choice. Unlike desktops, HD won't be written next to the high-definition sizes.
When you're selecting video sizes, bear in mind that larger dimensions will require more data and higher speeds. When you're on the move and have poor connectivity, you can use resolutions as low as 144p. However, for an unmatched viewing experience, stream the videos in higher resolutions.
Let's now take a look at how you can record videos with the right dimensions.
---
Recording Videos With the Right Dimensions
Remember, YouTube videos have an aspect ratio of 16:9. If you shoot a video in the portrait mode, it's likely that it'll only occupy a small part of the video player. As a result, it may not look professional. Thus, you should try to shoot your videos only in the landscape mode, regardless of the device you're using to shoot the video.
Additionally, you need to get your video dimensions right when you're shooting videos as well. If you're using a smartphone to shoot your videos, you should head to the camera settings to see the maximum dimensions in which you can shoot videos. For instance, a Samsung Galaxy Note 8 can shoot videos in 4K.
However, do keep in mind that higher resolutions mean more space. If you want to save more space on your smartphone, you should try shooting videos in a lower resolution. Try to strike the right balance between the two to ensure that you're making optimum use of your space and producing high-quality content too.
A good practice is to shoot videos in 720p or 1080p. This way, your video won't occupy as much space as a 4K video, and the quality of the video will be stellar too.
Now that you understand all that there is to know about YouTube video sizes, let's dig deeper into the aspect ratio of videos.
---
YouTube Video Aspect Ratios
The YouTube video player has an aspect ratio of 16:9. This means that the ratio of its length to width is 16:9. However, that doesn't mean that you can only upload 16:9 videos on YouTube.
Here are some other popular aspect ratios that you can use for your videos.
1:1 aspect ratio

: In this, the length and the width of the video are the same. As a result, the video is a perfect square. These are the sort of videos that were available on Instagram initially.

4:3 aspect ratio

: This was the aspect ratio of most old television sets from the 90s. Here, the length is slightly longer than the width of the video. However, when you upload this on YouTube, you'll see black bars on either side of the video.

9:16 aspect ratio

: When you shoot videos from your smartphones in the portrait orientation, the video's aspect ratio comes out to be 9:16. As a result, the video will only cover a tiny part of the YouTube video player, and the rest of the region will be covered by black bars.
Now that we've covered the most popular aspect ratios used in YouTube videos, let's look at the sizes of YouTube images.
---
YouTube Image Sizes
On YouTube, it's not just the video sizes that matter. The images that you upload are equally important, and it's necessary to get their dimensions right as well.
Here are the right image sizes for all of the photos that you upload on YouTube.
YouTube Banner Image
All YouTube profiles are allowed to upload a banner image. This appears at the top of your page and is perhaps the largest image you can upload on YouTube.
The right dimensions for this image are 2560x1440 pixels. However, these dimensions will be different based on the device you use to access YouTube.
On desktops, the dimensions will be 2560x423 pixels while on tablets, they'll be 1855x423 pixels.
Note how PewDiePie, the famous YouTube influencer, has added a stunning banner image to his profile.
YouTube Profile Photo
Just like all other social media platforms, you can upload profile pictures on YouTube as well. This profile photo is also called the YouTube channel icon, and you can either use a picture of yourself or your logo.
The right dimensions for this image are 800x800 pixels. To ensure that your photo doesn't get cropped, upload it with these dimensions only.
Marvel Entertainment has uploaded their logo as their profile picture. Note how it fits perfectly into the profile photo circle.
YouTube Video Thumbnail Size
YouTube video thumbnails are crucial for the success of your YouTube videos. A well-designed thumbnail can attract users to watch your videos. That's why it's essential to ace your YouTube video thumbnails.
The aspect ratio of thumbnails is 16:9, while the recommended size of the images is 1280x720 pixels. On the other hand, the minimum accepted size for YouTube thumbnails is 640x360 pixels. Additionally, the formats accepted for your thumbnails are .jpg, .gif, .bmp, and .png.
Note how all the thumbnails visible in this search are in the 16:9 aspect ratio.
---
How to Create YouTube Thumbnails That Get More Clicks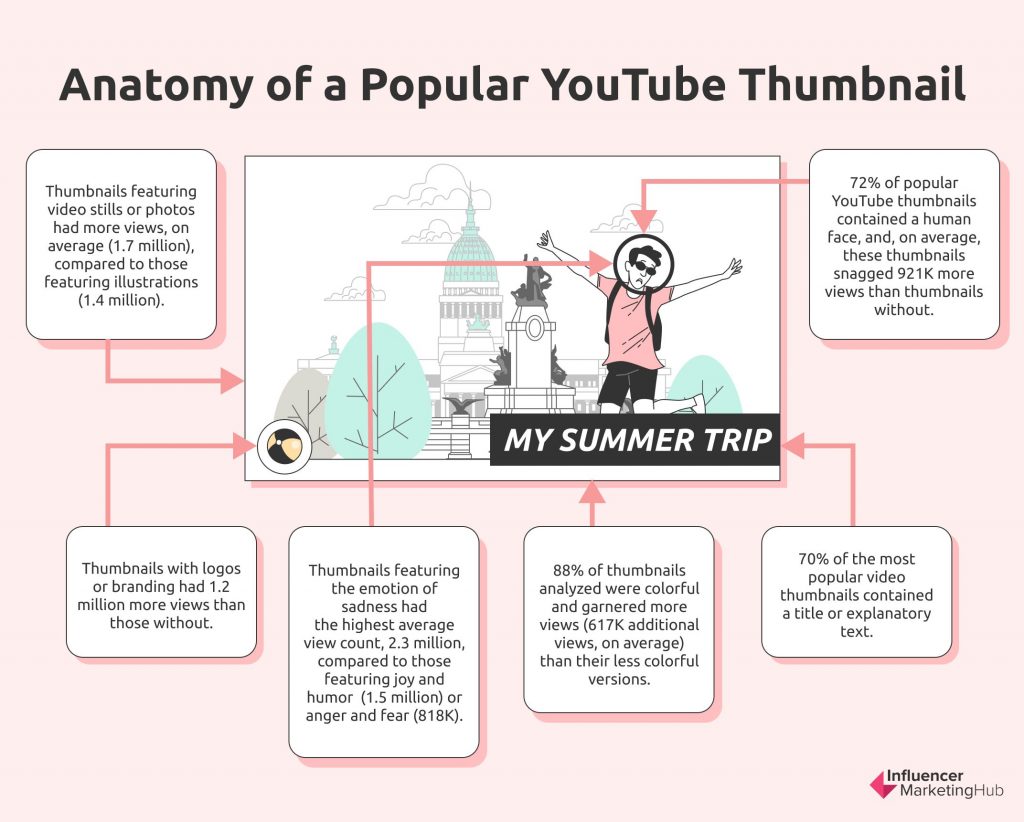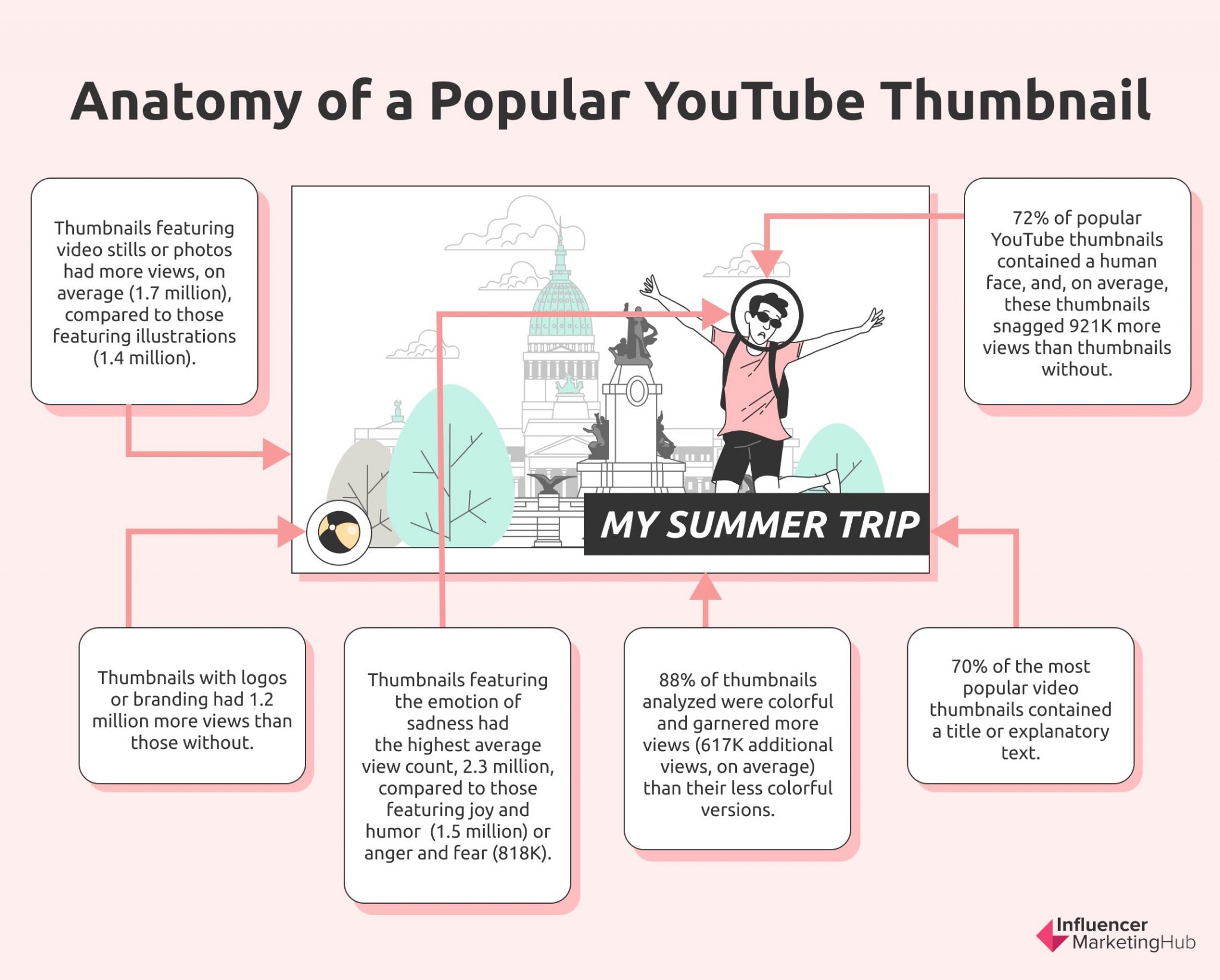 1. Use a Video Still
Using a video still shows what's happening in your YouTube video. It gives your viewers a peek at something interesting and potentially memorable that they will experience. It also creates a sense of continuity. Getting a glance at a still and later seeing similar elements from the video still will make your viewers feel like a promise has been delivered.
Income School uses want to be received as a still from your image. It ties in perfectly with what you expect to see in the video. The host, Randy, is looking towards what's labeled as the best new strategy for generating a full-time passive income. If you are looking for ways to make a living from blogging, this will defInitely appeal to you.
---
2. Include a Human Face Showing Emotion
Smart creators understand the power of emotion. And if you want to get more engagement for your thumbnails and videos, it's a good idea to incorporate at least one prominent emotion in your thumbnail image. The best way to do this is by including the human face that portrays emotion. Research shows that 72% of popular YouTube thumbnails include a human face and these thumbnails were able to generate over 900,000 more views than thumbnails without a human face.
Another interesting fact is that negative emotions tend to generate more interest than positive emotions. At the risk of promoting the idea of becoming a wet blanket on YouTube, it clearly pays to focus on the negative. Stats show that thumbnails that display faces with sadness attracted 2.3 million views compared to thumbnails that featured joy and humor at 1.5 million views. Anger and fear came in at just over 800,000 views.
The Money Guy Show illustrates exactly how powerful emotion can be when used on thumbnails. This video titled "Financial Advisors React to Money Advice on TikTok! (Part 1)", shows men who appear to be financial advisors reacting to a video of a younger woman. Beyond the title and niche being major draw cards, this thumbnail is clearly drawing crowds. In the last two months, this video has generated 681,000 views.
This thumbnail also works because of its smart design. By positioning the financial advisors, who appear to be laughing at what a viewer would imagine being something hilarious, alongside the young woman who appears to be experiencing some form of negative emotion, viewers can't help but want to know what's going on. And this leads us to our next must-have element to create powerful thumbnail images… Curiosity.
---
3. Spark Curiosity
In many creative circles curiosity is considered one of the most powerful emotions that you can stir in your audience. Think about the last time you were curious about some or another topic? Did you just stop being curious or decide to not pay attention to your curiosity and move on to something else or dig deeper to figure out what you're dealing with?
How do you incorporate curiosity? There are a number of ways. You could blur out an element of your thumbnail, use text with ellipses, or even use open questions that make your viewers stop scrolling, lean in, and click on your videos.
As a rule of thumb, try not to overuse curiosity. Your audience is likely to get bored with the idea of constantly having to figure out what it is you are alluding to. And when that happens, your content quickly falls into the clickbait category. Sure clickbait works, but over time, it also fosters a sense of discontent. You could also lose lots of valuable subscribers which could be devastating if you're trying to earn money from YouTube.
OSSA is a YouTube channel dedicated to stories about celebrities. They cover everything from interesting facts about your favorite silver screen stars to the latest news on show releases. It's fair to say that they are in the business of promoting content in an already overpopulated niche.
This makes it important for them to generate tons of views for their content.
And they get views by artfully wielding curiosity. In this example, OSSA uses three images of stars in the Big Bang Theory. If you have this in the show, you know that these images are drastically different from how the actors appear on set. OSSA also uses a very simple but intriguing question that's enough to make any Big Bank Theory fan want to know how different their favorite actors are in real life.
---
4. Use Contrasting Color
Color may not be the first element you consider when trying to make the tube thumbnails stand out. Heck, it's number four on our list. But it is powerful. To make color work for you, you can use colors that create a notable contrast between YouTube's look and feel. Essentially, you want your videos to get clicks because they draw attention. While color is powerful, it will only help you draw attention, so you need to incorporate the other elements in this quick guide to ensure that you don't attract attention but also hold it and get the results you're after for your channel.
YouTube's predominant colors are white, gray, and black. To make your video thumbnails stand out, choose colors that make your video image immediately beckon attention. The thumbnail below is a perfect example. Covid-19 is still one of the most covered topics and the reason why this image is so impactful.
While it grabs your attention, it also pulls the viewer in, making them feel like there's more to be learned about the C.1.2 variant by watching this video right now. The extreme close-up of the virus cells that have been colored neon green and contrasted on a black background also leads to something alien and potentially sinister. And when viewed in your YouTube feed, a combination of these factors make this a highly effective thumbnail.
Netflix is no stranger to smart marketing. And in this example, while its thumbnail appears to be almost plain and simple, the use of contrast and color is impactful. Using just three words on the thumbnail image, the video streaming service has been able to leverage a familiar face (Andrew Garfield). The magic three words are two any movie fan loves to see (Official Teaser), and the brand name in the top left and corner. Notice how all three words contrast perfectly with the dark background of the video still. Do you also see the expression on Andrew Garfield's face? Can you feel the suspense?
---
5. Add Brand Elements
Branding elements are a big deal. They work at various levels to help generate trust for your channel and brand in the eyes of the audience, and ultimately brand equity. When used regularly, branding elements like your logo or brand name become recognizable marks that your audience quickly identifies with whether that's on YouTube, your website, Instagram, or any other online platform. It's also really easy to incorporate branding elements in your thumbnails. You can add a logo to the bottom or top corners of your thumbnail, making it large enough to be noted.
Placing your logo in the top or bottom corners for the thumbnail is more of an industry-standard but some design rules can be bent and even broken. Comedy duo Key and Peele show how easy it is to incorporate logos without making them feel overbearing. Note how the Comedy Central logo is present but neither understated nor overwhelming.
---
Final Thoughts
YouTube is a great platform to display your video making prowess and also to promote your brand. You can reach out to a massive audience on this platform through your videos and make some money through ads too.
However, without the right video dimensions, you might fail to have an impact on your viewers. You need to know the various sizes of YouTube videos along with their aspect ratios to create stunning videos. It's also necessary to be aware of the maximum length of your videos.
Additionally, you should know about all of the different types of images you can upload on the platform. It's necessary to be aware of the right dimensions for these images to have an impact. Now that you know all about YouTube video sizes, go ahead and start creating stellar videos to grow your brand.
Frequently Asked Questions
What is the standard size of a YouTube video?
The smallest dimensions of videos on YouTube are 426x240 pixels, while the largest dimensions are 3840x2160 pixels. The correct aspect ratio for YouTube videos is 16:9.
What is the best size of video for YouTube?
Use 1920x1080 pixels and an aspect ratio for YouTube videos is 16:9.
Does YouTube use 16x9 or 4x3 video ratio?
YouTube uses a 16:9 aspect ratio. This is a standard aspect ratio that most smartphones and DSLR cameras use.
Is 1920x1080 the same as 16:9?
Yes. 1920x1080 equates to an aspect ratio of 16:9. The 1920x1080 pixel dimension is also the standard widescreen aspect ratio for videos.
What is the YouTube video size width and height in inches?
Converting the standard video dimensions of 1920x1080 pixels into inches equates to roughly 17.45x9.82 inches.
What is YouTube's video size limit?
YouTube's video size limit is 128GB per video.
What is the right YouTube video format?
YouTube accepts multiple video formats. These include .mov, .mpeg, .mp4, .avi, .wmv, .mpegps, .flv, webM, and 3GPP file formats.