Since the coronavirus pandemic forced people to stay indoors, live shopping has grown tremendously. As more consumers sought ways to shop online, brands have taken to livestream selling. In fact, live commerce purchases rose by 76% globally between March 2020 to July 2021.
Even as the world begins to revitalize, the live commerce industry has only grown stronger. Companies report that conversion rates through this channel are ten times higher than conventional e-commerce. In the United States alone, the projected worth of the live commerce industry is at $35 billion by 2024.
With over 30% of businesses on the platform, YouTube is the most popular live commerce social media site in the United States. A YouTube study with Publicis and TalkShoppe finds that 89% of respondents trust recommendations by YouTube creators. For this reason, YouTube livestream shopping should be included in your video marketing strategy.
In this comprehensive guide, we will show you how to use YouTube to host a successful livestream shopping event and engage with audiences to increase your bottom-line.
---
Live Shopping on YouTube: Everything You Need to Know:
---
What is Live Shopping?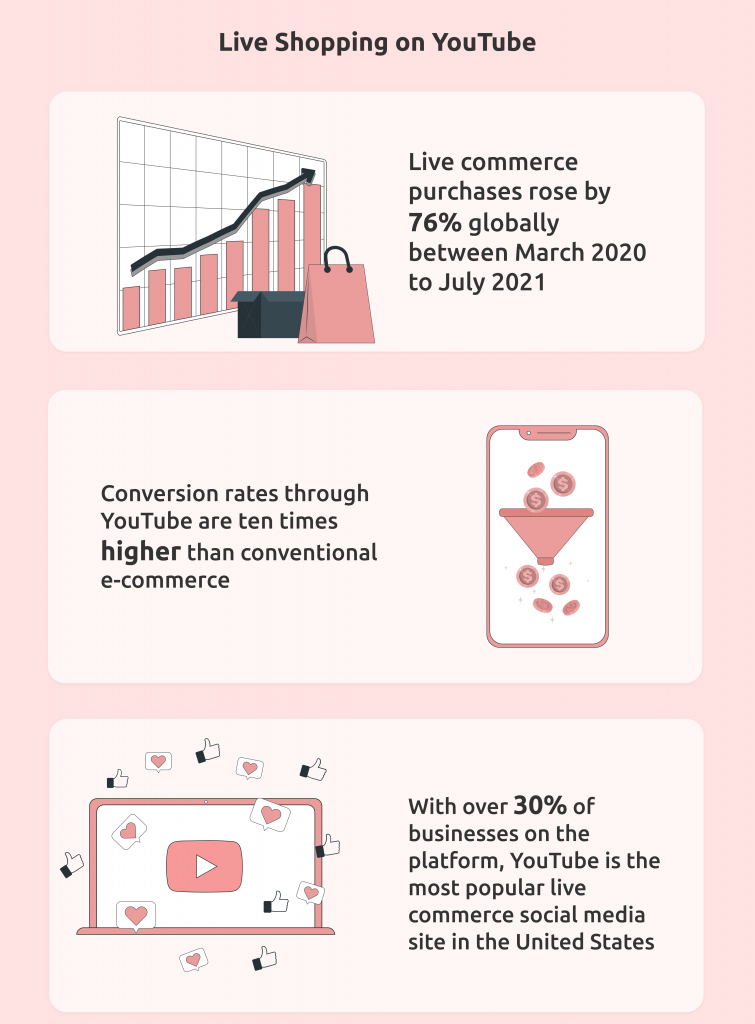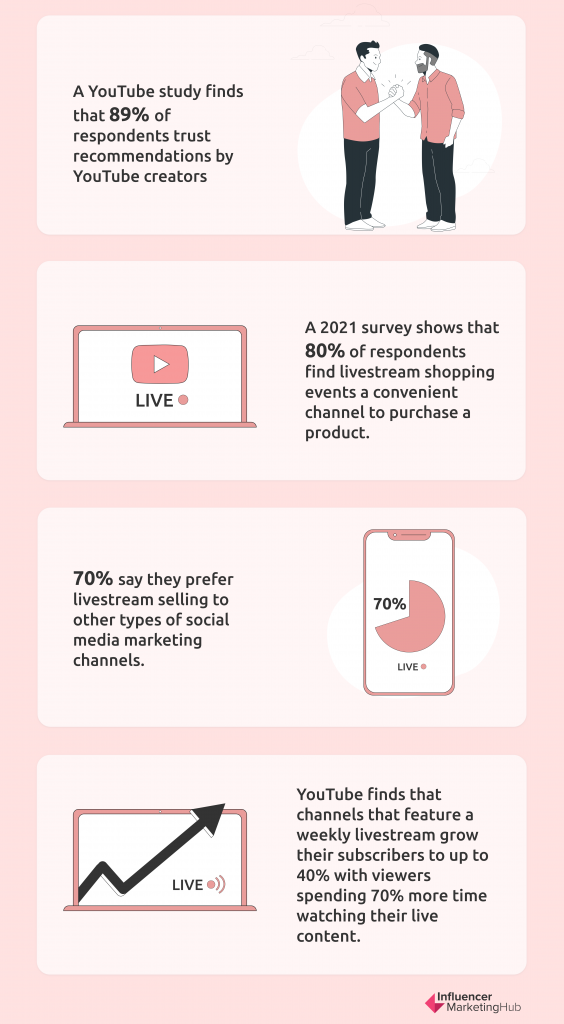 Live shopping is a marketing strategy that allows brands to promote or sell their products in real-time through an online livestream. With live shopping, brands and potential customers not only get to connect and interact with each other but also streamline the purchasing process.
Live shopping takes root in shop-at-home television programs like the Home Shopping Network. Today, the power of social media and other digital platforms has brought the appeal of live commerce to a younger demographic.
A 2021 survey on online consumer opinions shows that 80% of respondents find livestream shopping events a convenient channel to purchase a product. Moreover, 70% say they prefer livestream selling to other types of social media marketing channels.
---
What is YouTube Live?
YouTube Live is the livestream feature of YouTube, the popular video-sharing platform. Through this feature, audiences can watch popular livestreams in their country. Moreover, it allows content creators to go on live broadcasts and interact with their viewers in real-time.
Content and niches on YouTube Live vary from beauty and fashion to music and gaming. Many brands go on a livestream to promote or demo a product. Some brands use the platform to sell items instantaneously. More than that, marketers can even monetize from the stream itself.
YouTube Live also offers live chat moderation tools, which not only enhance engagement among audiences but also prevent harassment online. These tools, which include blocking word lists and assigning moderators, ensure a positive chat experience for users.
There are many advantages to doing a YouTube livestream.

---
Why should you go live on YouTube?
Greater market reach and penetration
Out of 500 hours of video content, only a small percentage of livestreams makes it to YouTube on a daily basis. This can help you stand out from the crowd and get noticed. YouTube finds that channels that feature a weekly livestream grow their subscribers to up to 40% with viewers spending 70% more time watching their live content.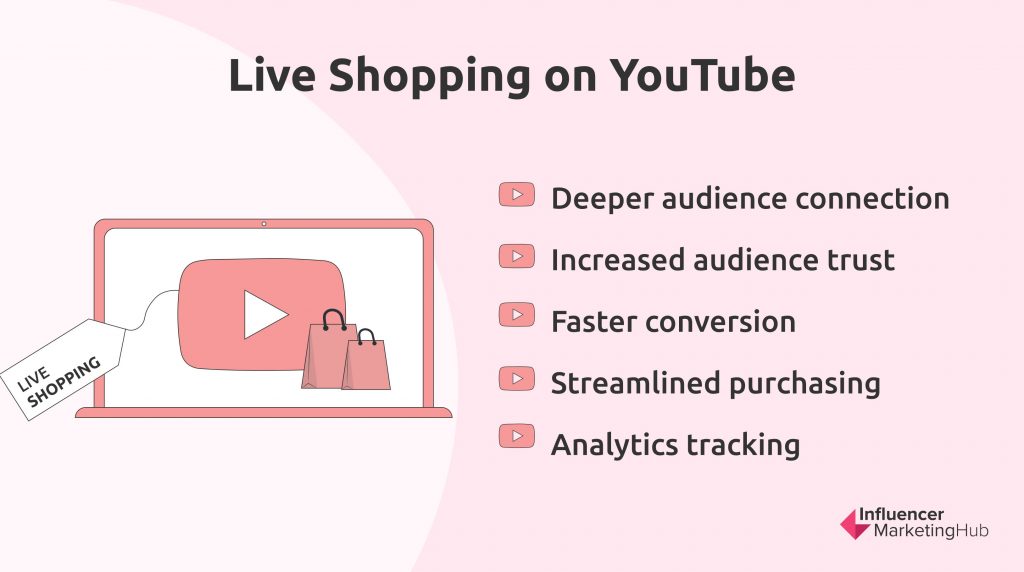 Deeper audience connection
The chat option is one of YouTube Live's most prominent features, as you'll be able to interact with your audiences in real-time. It's a unique opportunity to foster a relationship with your audiences as well as provide them with a highly engaging experience. This makes viewers more likely to trust you and purchase your product as a result.
Potential customers appreciate the authenticity that goes into a livestream. Seeing an item for what it is can boost their confidence in the product. As you demonstrate how to operate a particular product, your viewers are also able to imagine themselves using it. It's the perfect chance for you to showcase the quality of your brand.
With livestreams, you can control your audience's sense of urgency. Offering limited-time promos or coupons can hasten conversions. It can even be an avenue for you to promote products that haven't been selling well.
Livestreams also allow you to answer audience's questions instantly. You can respond to problems right away, which saves your viewers research time. Compared to answering via phone call and email, this more personal approach can keep your audiences coming back for more.
Just as business platforms track metrics to measure their marketing campaigns, YouTube Live can also help you gather data on your livestream. With this, you can check how well your livestream performed and identify areas to improve.
---
How to Get Started with YouTube Live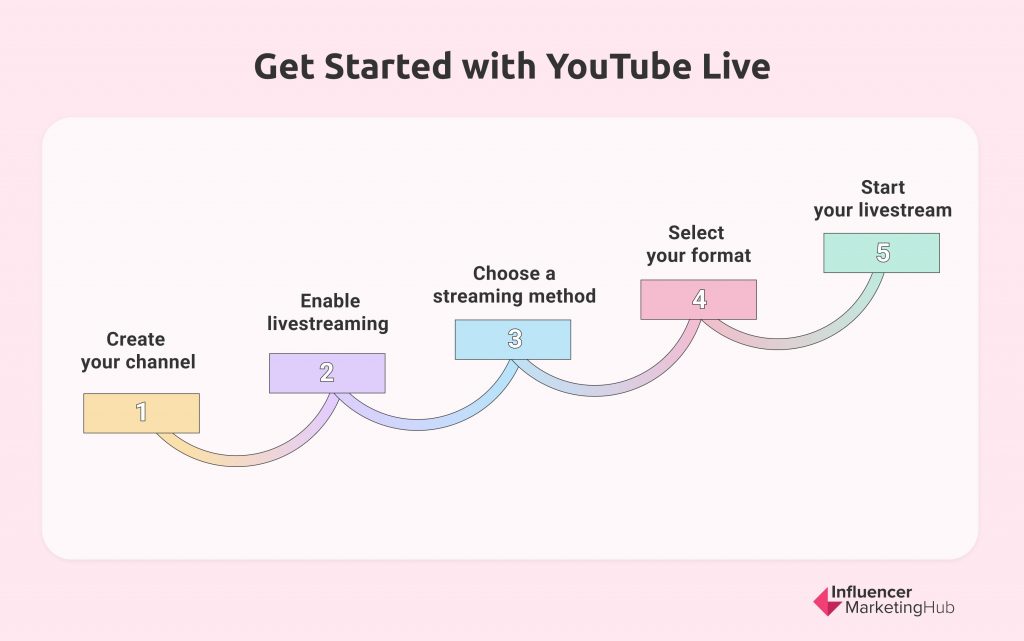 Before anything else, make sure that you've covered the fundamentals.
1. Create your channel
YouTube makes it as easy as possible for you to create your YouTube channel. Here's how.
Log in to YouTube using your Google account.
In the upper right corner, click your avatar and select

Settings

from the drop-down menu. This will direct you to an overview of your account.
Select

Create a new channel

under

Your YouTube channel

.
Add your channel name then click

Create

.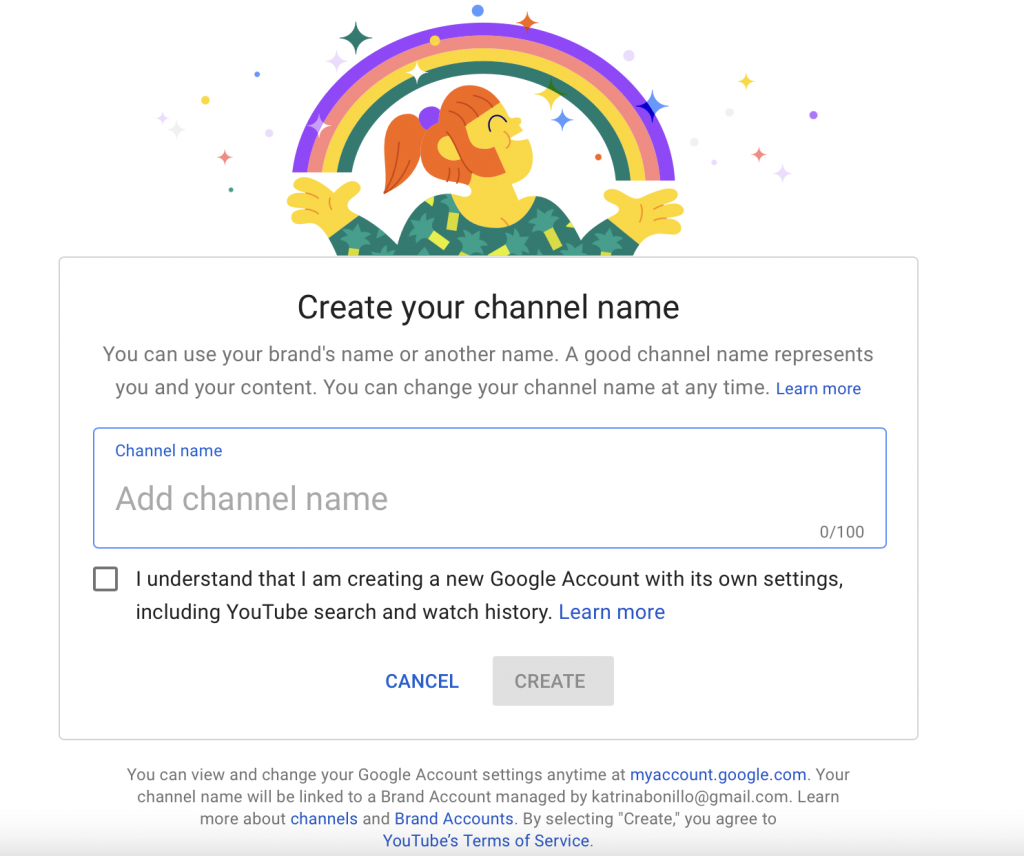 2. Enable livestreaming
To enable livestreaming on a web browser:
Click

Create on the navigation bar, then select Go live.

If you haven't already, verify your channel by following the prompts on the page.

Your first livestream may take up to 24 hours to enable. After that, you can stream instantly.
If you're using a mobile device, such as a tablet or a smartphone:
Open the YouTube app.

Tap Create

from the bottom then select

Go live.

Your first livestream may take up to 24 hours to enable. After that, you can stream instantly.
3. Choose a streaming method
There are three ways to stream on YouTube. Beginners usually go for webcam or mobile, while more advanced users stream with an encoder or a streaming device. For each type of stream, users need to meet certain requirements.
Mobile:

Creators typically select this option for vlogging and quick updates. You will need at least 1,000 subscribers and a verified channel.

Webcam

: If you want to quickly stream using your computer, then this is the best choice. All you need is a computer with a webcam.

Encoder:

This type of stream is popular among gamers and professionals. It allows you to livestream sporting events, gameplay, conferences, and concerts. You can even use a variety of hardware like microphones and multiple cameras.
4. Select your format
Here are some popular formats to help you engage and interact with your viewers.
With tutorials, content creators show their expertise in using a specific product. These often involve upselling products as well as combining them with others. Ultimately, this opens opportunities for collaboration and cross-selling. Makeup tutorials are some of the most popular content for this format.
Interviews and Question and Answers (Q&As)
An interview format not only helps raise product awareness but also drives traffic. By shifting the tone from mere product promotions to authentic and personal stories, they also humanize content creators and influencers. This format also includes Q&As as well as Ask Me Anything segments.
Compared to the first two formats, behind-the-scenes are more elaborate as they offer an inside look at a company and its beginnings. It's a great way for content creators to build trust and loyalty, especially if they have a cause that their target audience cares about.
A live video game broadcast allows you to tap into one of the strongest niche markets in e-commerce today. The good thing about this format is that it isn't limited to niche brands. Whichever industry you belong, livestreaming a game is a fun and authentic way to promote your product. You can just be yourself while showing off just a little bit.
Live event or interactive classes
Conducting live events or classes is an opportunity to grow your audience and increase your viewership. Through giveaways, announcements, and reveals, you can hold your viewers' attention and engage them for longer. You can even host a livestream giveaway and choose winners from audiences on air.
5. Start your livestream
Depending on your chosen format, there are different ways to go on a livestream.
To start a mobile livestream:
Open the YouTube app on your mobile device.

Tap Create

then select

Go Live

.

To change live chat options, monetization, and age restriction, tap

More Options

then select

Show Options

. Once you're satisfied, tap

Next

.

Tap

Create channel

then select

to share screen.

Tap

Go Live

to start your livestream.

Tap

Finish

to end your stream. An archive of this stream automatically adds to your channel.
For a webcam livestream:
Through your browser, sign in to YouTube.

Click Create

on the upper right then select

Go Live

.

On the menu on the left, click

Webcam.

Create a title and description for your livestream and choose your privacy setting. For advanced settings, you can also click

More options

. Once you're happy with your arrangement, click

Next

.

Choose the appropriate webcam and microphone.

Select

Go Live

.

Click

End stream

at the bottom when you're done. If your stream is less than 12 hours long, it automatically archives.
As for streaming with an encoder:
On your browser, go to

YouTube Studio

.

Click Create

on the upper right then select

Go Live

. This will open the Live Control Room.

Select

Stream

on the tab.

To go live, connect your stream to your encoder.

Stop streaming from your encoder to end the livestream. Streams shorter than 12 hours will automatically archive.
---
YouTube Live Features to Use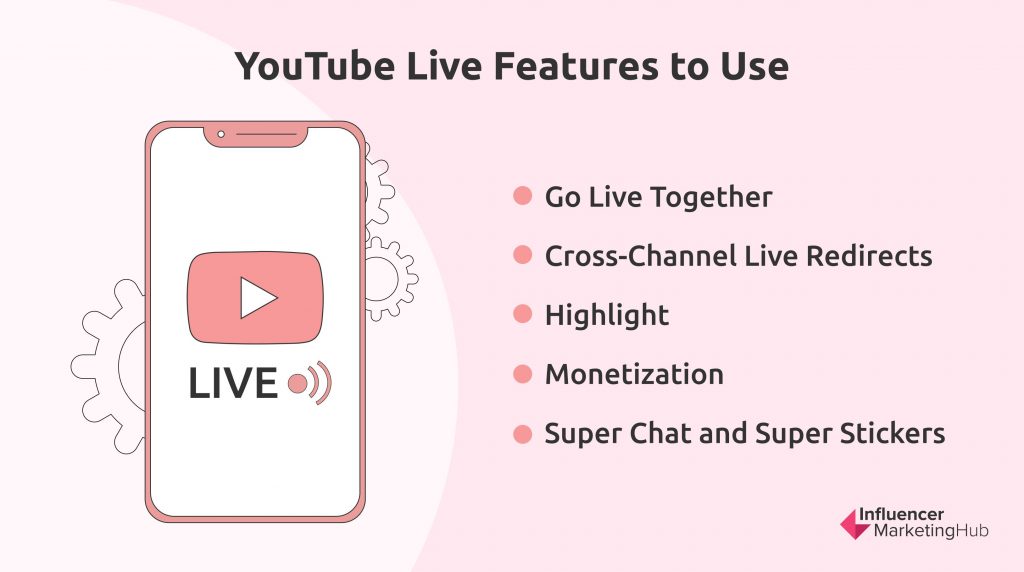 It can be tempting to simply open your camera and stream without the bells and whistles, but YouTube Live has excellent features that will further enhance your livestream.
This collaborative feature allows you to ask someone to guest on your show by sending them an invite link. Like any other livestream, this feature would also allow you to track your analytics in YouTube Studio. Ad revenues even from pre-roll and mid-roll ads all go to the host channel.
Cross-Channel Live Redirects
If you have over 1,000 subscribers, you can direct your audiences to a livestream or a premiere (a pre-recorded video that you play live) that is hosted on another channel. This feature allows more collaborative promotions in which influencers can be of great value.
Highlights can help you share a shorter edited version of your livestream. To help you bookmark a section that you want to highlight, simply add the stream marker when something interesting is happening on your livestream. You'll be able to see your markers on the video timeline when you're making your highlights.
You can turn on ads for your channel if you want to monetize your livestream. Note, however, that you must first meet YouTube's advertiser-friendly content guidelines before ads start appearing on your video. You can turn on ads for both individual and multiple videos, channel memberships, and your entire channel.
Super Chat and Super Stickers
These features allow you and your audience to connect with each other through live chat. You can use Super Chat to highlight your messages in a live chat, while you can use Super Stickers to engage with your viewers using digital or animated images on the live chat feed.
---
Tips for Succeeding in a YouTube Livestream
As with any marketing strategy, knowing your audience and what influences them is a general rule of thumb. Always go live at the same time as your audience. Your YouTube Analytics will provide you some insight into your viewers' most active hours.
While improvisation can show audiences the real you, planning your key points allows your professionalism to shine. Writing a script, for one, can help you maximize and manage your time better. In addition, pre-live streaming can not only help you catch potential mishaps but also eliminate the nervous jitters.
You can't gain traction without getting the word out there. Some strategies to get people excited about your upcoming livestream include:
Schedule your livestream:

This will allow your audiences to set up reminders and clear their calendar just for you.

Use your branding assets:

Highlight your livestream through your social media channels. You can also use your YouTube Channel Art, also known as your YouTube Banner.

Create a trailer:

A quick preview of your livestream can amp up your audience's anticipation. They can even share it on their own social media platforms, making it an opportunity to increase your reach.

Test your equipment
It may seem like a no-brainer, but covering the basics can help you avoid potentially embarrassing situations. Here are some things that you need to check.
Network connection:

Nobody enjoys watching a broken stream. To avoid issues, run a speed test or make sure that you have a back-up internet connection on top of your main network.

Webcam and microphone:

Having the best equipment ensures the best livestream quality. Using professional-grade hardware, especially for higher production value events, can make all the difference. You can also use software encoding programs like Wirecast to create high-quality live videos.

Encoders:

Before starting a stream, make sure that you've set up your encoder at least two hours in advance. Start your encoders at least 15 minutes before your live broadcast and check a preview before streaming. Make sure that your event is accessible to mobile devices as well.
Encourage audience participation. Dive into the comments to keep the discussion going. This is also another way for you to find potential topics for your next livestream. You can even provide value to your audience by incentivizing their viewership. For example, make sure that they'll be getting an important insight towards the end. You can even offer a special deal or discount on your product.
Check whether your livestream was a success. Some key performance indicators are your audience's average view duration, concurrent views, chat rate, and total number of likes. Note that you'll get different metrics depending on the streaming device that you use.
Frequently Asked Questions
Is livestreaming on YouTube free?
It is absolutely free to livestream on YouTube. You only need to meet a few requirements that won't even cost you anything.
How long can my livestream be?
The maximum YouTube length is up to 12 hours. The platform automatically archives streams that are less than 12 hours long.
How long should my livestreams be?
Even when you've announced your livestream days ahead, people may still take around five to 10 minutes to get to your channel on the day of the event. Therefore, it's ideal to stream between 20 to 40 minutes to engage your audiences longer. Still, this depends on your niche, so it's best to know what works best for your audience.
How often should I livestream?
It really depends on your personal preference. At the same time, it's also important to consider what your audience wants. You can take a poll or a survey to get a feel of the consensus. Just know that streaming at least once a week can help you gain more traction and visibility within the platform.