Advertising Disclosure
Advertising disclosure:
Our partners compensate us. This may influence which products or services we review (also where and how those products appear on the site), this in no way affects our recommendations or the advice we offer. Our reviews are based on years of experience and countless hours of research. Our partners cannot pay us to guarantee favorable reviews of their products or services.
Video is one of the most effective marketing tools that brands can use. According to video marketing stats shared by HubSpot, nearly two thirds of marketers feel that promoting videos on social networks is the most effective strategy. In fact, 77% of marketers indicate that their company makes use of YouTube to host marketing videos.
While social media has proven to be very effective, it's no replacement for a solid, user-friendly business website. And, one way to give website visitors a reason to stay on your site for longer is by including videos. The same HubSpot statistics also reveal that nearly half of marketers feel that the best strategy is to add videos to the company's website or blog.
Not only can video content help to improve website visitor engagement, but it can also be used to help your audience understand your service or products better. Videos don't always have to be purely promotional.
From behind-the-scenes videos to competition announcements to product demos, there are various types of social media videos that you can repurpose for your website. Plus, you don't necessarily need to create all your own videos from scratch. User-generated videos will help you to establish your brand as authentic, while saving your marketing team loads of time that they can rather dedicate to other revenue-generating tasks.
Clearly, there's a lot more to video marketing than what you might have initially thought. To help you leverage this popular medium, though, you'll need a few tools. One of these is a tool to help you embed videos on your website.
You can either go the route of using a free online tool just for this particular function or invest in a paid tool that offers a number of other amazing features that you might or might not need. Here are seven of the best tools that you can check out the next time you need to embed a video on your website.
---
Best Tools to Embed Videos and Repurpose Content:
---
Top Tools for Embedding Videos
1. IMH Embed Tool
Sometimes you don't need all those extra bells and whistles like a meme generator, profanity filter, or music library. If you already have a perfectly fine video and you simply want to embed it on your website, you can use Influencer Marketing Hub's embed tool.
Not only is it free, but it's very simple to use. All you need to do is select the media source, for example Vimeo, Twitter, or YouTube, add the page URL, and click on "Embed". It will then automatically generate the code that you need to copy and paste.
While you're busy at it, you can also check out our free YouTube Title Generator tool that's powered by AI. This way, should you decide to share videos on other channels than your own business website, you can ensure that your video titles are optimized.
---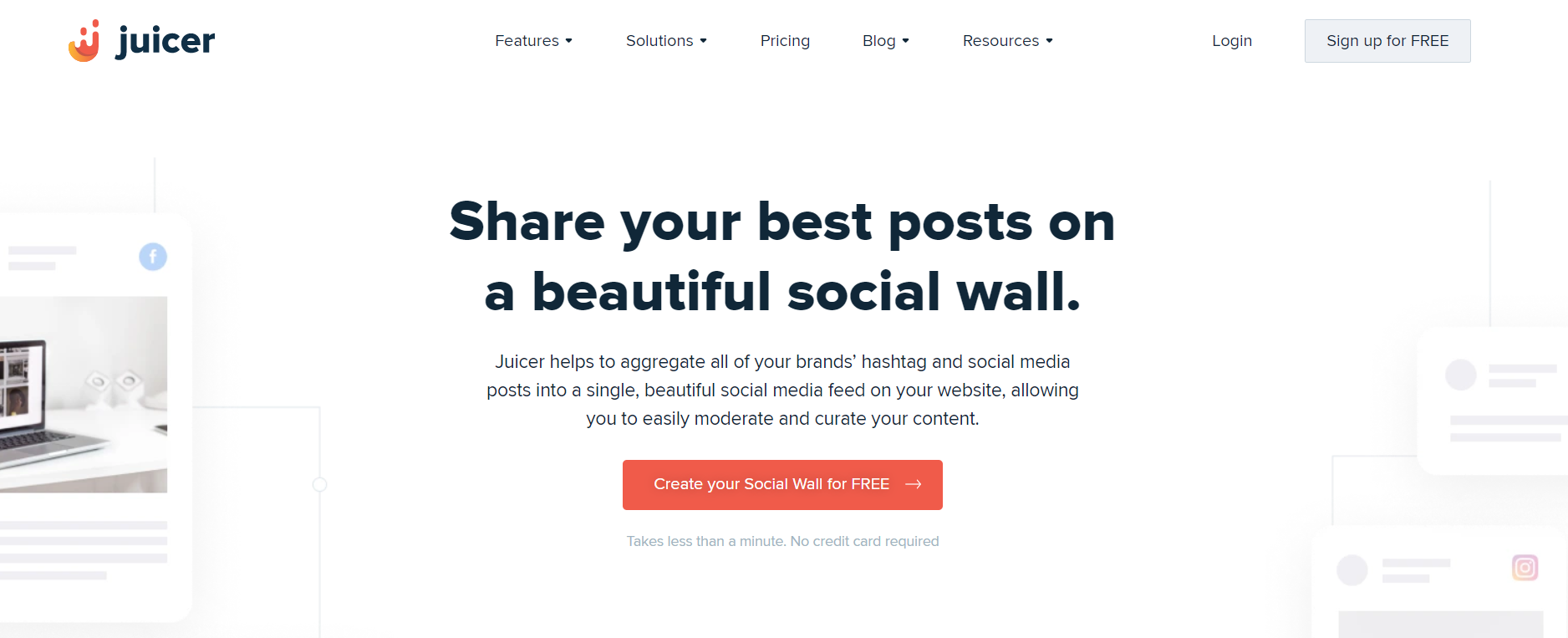 Juicer is one of the top social media moderation tools and is the go-to tool of thousands of businesses that include well-known brands like Ralph Lauren and Lyft. Included in their long list of features is a YouTube video widget that you can use to embed your YouTube content onto your website.
With this free tool, you can manage and showcase videos on your business site. As the videos will get updated automatically, you can put a big chunk of your video marketing on autopilot.
What's more, you don't just have to stick to your own video content. You can also use Juicer to embed videos from other channels. This way, you can create a single, stunning, video feed.
Thanks to its WordPress social feed plugin, it's especially useful if you're running a WordPress website. It includes permalinks to all your social media posts that are optimized for SEO.
Other key features/services include:
Templates
Moderation and filtering tools
Analytics and analysis tools
Duplicate post prevention
A profanity blocker
Plans and pricing: It offers a basic free forever plan that includes one embeddable social media feed and two source accounts. For more advanced needs, you can check out one of its three paid plans with pricing starting at $19 per month.
---

EmbedSocial is one of the best social media aggregators and has been used by over 100,000 users, that include names like Unicef and Motorola, to collect social media and user-generated content. During the time that they've been in business, they've built a number of tools to help marketing teams with content.
Included in their list of widgets are a TikTok Feed Widget and YouTube Channel Widget that you can use to embed TikTok and YouTube videos on your website. Not only will this help you to increase the user experience of your own website, but it will also in return market your TikTok account and YouTube channel, helping you convert website visitors into followers and subscribers. Then, by adding a custom CTA to each embedded video you can redirect viewers to the checkout page, helping to increase sales as well.
In fact, while you're at it, you can link your Facebook and Instagram accounts too. This way, you can create a whole video channel for your site that all your social media video content can call home.
All in all, it's a great way to ensure that you have a continuous stream of fresh content for your website. By essentially repurposing content, you can save loads of hours that would otherwise have gone to content creation.
Other key features/services include:
Mobile-friendly widgets
Customization
Templates
Filters and tags to help you organize videos by date or rating
Analytics and reports
Official API integration with all the main social media platforms
Plans and pricing: It offers a limited Free plan. However, to access the YouTube and TikTok widgets, you'll need to sign up for one of its two subscription plans. After a free, 7-day trial, pricing starts at $29 per month when billed monthly. If you opt to be billed yearly, you can get as much as 20% off.
---
Just like Juicer and EmbedSocial, Taggbox is a popular tool for social media content moderation and aggregation. Trusted by thousands of global businesses, its client list includes names like the furniture giant IKEA.
You can use Taggbox to curate and customize content from different platforms that you can then share on your own business website. It supports over 15 social media and review platforms that include YouTube, Instagram, TikTok, and Vimeo. If you specifically want to share UGC, it can also help you to get the content rights from the creator before you share it on your website.
To ensure that it fits in with the rest of your website design and branding, you can customize the social media feed widgets by playing around with fonts, backgrounds, and layouts. It's also very responsive for any screen size helping to ensure a seamless user experience for all.
Also, unlike some of the tools that mainly focus on WordPress, it has integrations with Wix, Shopify, Weebly, and Squarespace too. Alternatively, if you don't use one of these popular website builders, it also includes a social media HTML widget.
Other key features/services include:
Detailed analytics to track the performance of embedded videos
An on-site UGC Uploads feature that lets users share content directly
A theme gallery
Powerful moderation that includes a profanity filter
Call-to-action buttons
Plans and pricing: It offers a free forever plan and a number of subscription plans. After a free 14-day trial, pricing starts at $29 per month when billed monthly. If you prefer to be billed yearly, you qualify for a 20% discount.
---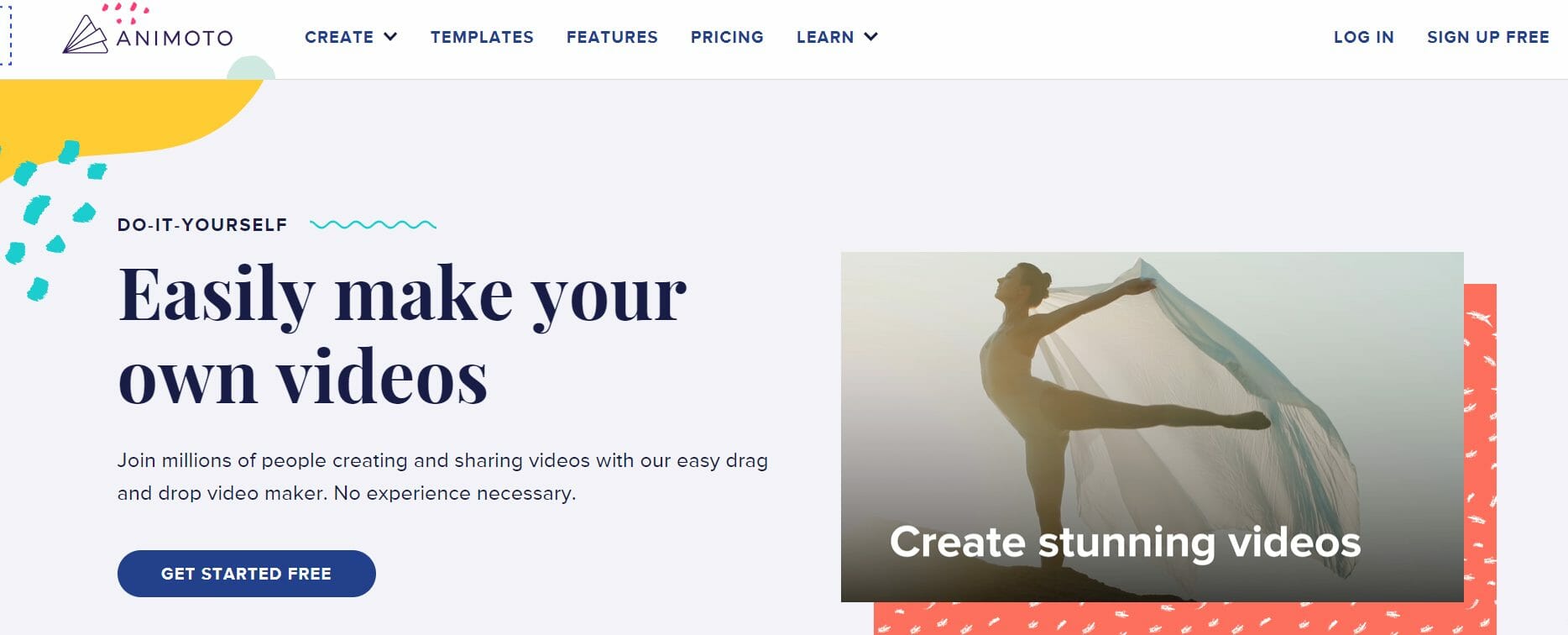 If you want to embed videos on your business website as part of your digital marketing strategy but don't have any videos to embed yet, you can check out Animoto. It's one of the best video makers for small and medium-sized businesses and also gives you the option to embed your newly created videos on your own website.
It makes embedding your video easy. Plus, it also gives you the option to select the resolution and size of the video. Then, to improve the user experience, you can choose the volume, if the video should start playing automatically, and if it should loop. All that's left to do is to copy the snippet of code that it generated and paste it into your website editor.
Other key features/services include:
A built-in library where you can source videos and images from Getty Images
A cloud-based video editor
A music library with thousands of licensed songs
Templates
Professional fonts and text effects
Voice-over recording and editing
Plans and pricing: It offers a free forever plan and three subscription plans. Pricing starts at $16 per month, but if you switch to annual billing you can save up to 50%.
---

Embedly was launched at the beginning of 2010 and is trusted by thousands of bloggers, website developers and well-known websites like Reddit, Kickstarter, and Trello. With the help of a simple API, you can add rich video content from more than 700 providers that include YouTube, TED, and Vimeo to your website (or app).
The video content will play correctly on any device. So, you can also rest assured knowing that your website visitors will enjoy the best user experience even if they use a smaller screen. It also offers analytics to help you evaluate if your new video content has helped to improve user engagement.
---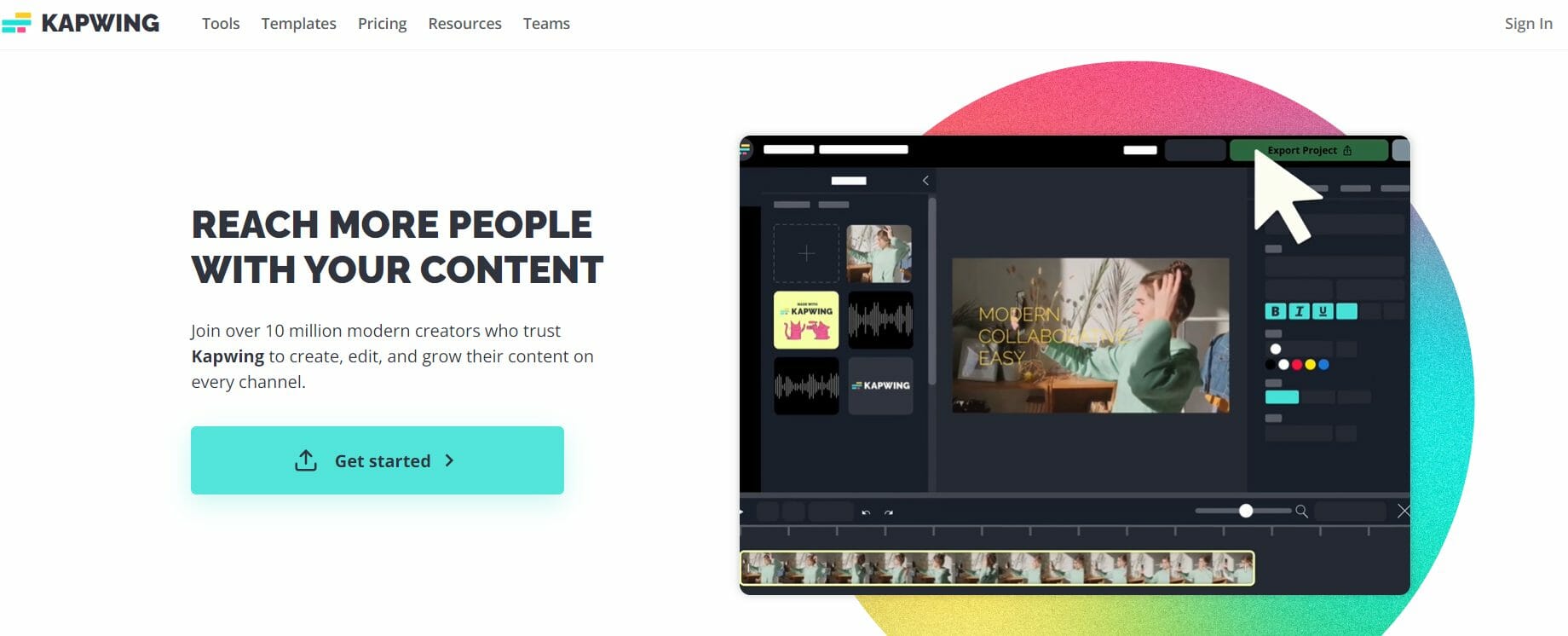 Kapwing is an online tool for creating and editing content to help you leverage the power of digital storytelling. One of the features that make this tool worth including in your tech stack is that it makes repurposing content for different online channels easy.
If you specifically plan on repurposing TikTik videos for your website, Kapwing can be extra useful. Not only can you use it for embedding video on websites, but it also has a feature for removing TikTok watermarks by cropping out the watermark or covering it with your own watermark.
Back to the reason why you've landed on this page — embedding videos. With Kapwing, you can easily create an embeddable iFrame code snippet that you can then copy into your website. All you basically need to do is upload the video, export, and you're ready to embed it. You can use this feature with any platform that supports custom embed code.
Other key features/services include:
A subtitler for adding captions and subtitles
Image background removals
A Brand Kit to ensure consistency
A meme generator
An animated text video maker
Plans and pricing: It offers a free plan and two subscription plans. Pricing starts at $24 per month when billed monthly, but if you opt to pay annually you can save 33%.
---
Wrapping Things Up
One of the main perks of using video is that you don't need hours of content. Even if you have only a few minutes of video content, you can create a more engaged audience. In fact, an online statistic reveals that 64% of marketers feel that the optimal length is between 20 and 60 seconds.
To make the most of your video assets, though, you'll need to ensure that you share it on multiple marketing channels, one of which should be your website. Luckily, with these tools, the how-to-share-it part is the least time-consuming part.
Frequently Asked Questions
How do you embed a video?
Here's how to embed a video. On your computer, go to the YouTube video or playlist that you plan to embed. Go to the list of share options, and click embed. Copy the HTML code in the box. Paste the code into your website's HTML section.
Where can I embed a video for free?
These are the 8 most popular video sites to embed your videos for free:
YouTube

Facebook

Dailymotion

Vimeo

Wistia

Jetpack for Wordpress

Brightcove

Cincopa
Where can I embed my video?
Your can use video hosting websites to upload your video and generate an embed code for your video for free. The most common options include YouTube, Dailymotion, and Vimeo.
Is it better to embed video or link?
In many situations, it is better to embed videos instead of a link. Embedding videos will help improve your SEO and the searchability of your video content. There is no problem with occasionally linking videos, though, especially with external content.