Advertising Disclosure
Advertising disclosure:
Our partners compensate us. This may influence which products or services we review (also where and how those products appear on the site), this in no way affects our recommendations or the advice we offer. Our reviews are based on years of experience and countless hours of research. Our partners cannot pay us to guarantee favorable reviews of their products or services.
Video is very versatile. They can be only a few seconds long or the length of your typical pop song. They can be serious or silly or something in between. Add to that there are various types of videos that can be produced and video marketing becomes even a more versatile strategy.
Not only does video offer great flexibility, but it's also engaging. Compared to static images, social media video posts typically generate more likes, shares, as well as reactions.
Considering their flexibility and the positive response that they generally enjoy, it can be a great medium to use for your branding efforts. Here's a closer look at brand videos and examples of how other names have used it to reach a wider audience.
---
Creative Brand Video Examples to Inspire You:

---
What Are Brand Videos?
Brand videos are used to communicate the mission, values, and objective of a business. They're typically short, informative, and interesting.
What sets them apart from other types of marketing videos is that the focus is on the brand's identity and branding. When done right, they can help to grow customer loyalty and brand trust.
---
3 Key Features of a Good Brand Video
Brand videos don't have to follow a recipe. However, the following three elements play a critical role in their success: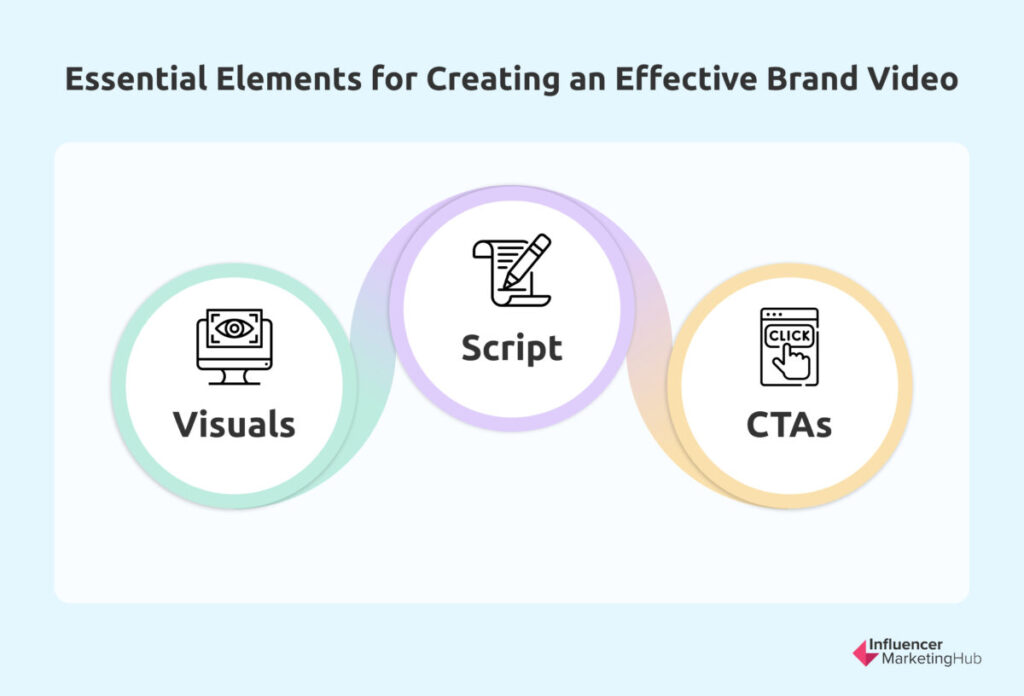 Visuals
Quality is critical. Video is first and foremost a visual medium and to keep viewers engaged, only the best quality visuals will do. In addition to quality, also pay attention to how you'll use visual elements like color, graphics, and possibly even animation to capture attention, maintain it, and convey your brand's visual identity.
Script
To help bring your visuals to life, you'll need a script that's equally engaging. Similarly to writing social media posts, you'll need an intro, body, and conclusion that you weave seamlessly together using compelling storytelling. Let your target viewers and their interests guide you.
You can also use text overlay. This will make the video more accessible and ensure that the message is clear.
CTAs
Now that your target audience knows more about your brand, what would you like them to do next? Subscribe to your YouTube channel? Visit your company's website? Follow you on social media? Share your story with their own network?
There are various types of actions that they can take, but it must be clear to them. To do this, you'll also need to end your video with a clear call to action (CTA).
---
5 Real-life Examples of Powerful Brand Videos
From more formal corporate videos to viral videos, you'll find loads of brand videos on YouTube (and other social platforms) that can serve as inspiration for your own marketing efforts. Here are five of our favorite examples of how brands have successfully used visual storytelling.
1. Airbnb
Airbnb has become a household name across the globe. While their logo design has room for improvement, their clever use of video marketing has helped them to establish their solid brand identity.
One of the booking platform's core features of their mission statement is belonging. Their goal is to "create a world where anyone can belong anywhere".
To reinforce this simple, but bold, mission, they've created a brand video that's built upon the hashtag #weaccept. It might only be a 30-second video, but it packs a punch.
Much of its effectiveness is thanks to its carefully curated images. In order for its message to be sincere, it had to make sure that its brand video represented travelers from different religions, ages, ethnicities, religions, etc.
Not only does it clearly communicate its brand's values, but the script's wording "the world is more beautiful the more you accept" also leaves viewers encouraged to buy into Airbnb's mission. Considering that Airbnb relies on their hosting community to champion their mission, this was key.
This short video has also generated great engagement on YouTube. It has been viewed more than 5 million times and received over 1,000 comments.
---
2. Nike
Brand videos can also be helpful for employee recruitment, as illustrated by one of Nike's brand videos. Their "Unlock Your Career at Nike" video is a great example of effective employee advocacy and has generated more than 30,000 YouTube views.
What makes it such a successful brand video is that it uses many of the main ingredients: interviews with interns, a behind-the-scenes look, and high-quality videography.
Using authentic storytelling, they effectively introduce potential new recruits to their company culture. Not only does Nike's target audience get to know more about what it's like working at the global brand, but potential customers also get deeper insight into what makes the brand tick.
It's also a great example of how you can still sell your brand to future employees without using remote work as a perk. Instead, Nike turns its location into one of its biggest attractions. In addition to showing off their company culture, they also include some of the attractions of Portland where they're headquartered.
---
3. Dissolve
Make no mistake — authenticity is key to creating an amazing video. But what if what you're selling are stock photos and footage? How do you create an authentic brand video if what you're synonymous with is generic video clips and images?
The solution: you create a "generic brand video", of course.
This is exactly what Dissolve did to create brand awareness about its products. It showed how its own stock footage can be used to craft a creative video.
They got the idea and script from a humor site, McSweeney's Internet Tendency. While the script actually parodied all the shocking clichés linked with brand video briefs, they thought that it would be the perfect way to show off all their footage.
This bold move paid off. Not only did their video generate loads of mentions in online publications like AdWeek, TIME, and Ad Age, but they also walked away with a Shorty Award in the Best in B2B category.
---
4. Match.com
For another example of how humor can be incorporated into the brand video format, you can check out Match.com's video that they created during the pandemic. In short, the premise for the video is the devil finding his perfect match — a woman called 2020. The video titled Match Made In Hell takes viewers on a journey as the devil and 2020 enjoy several dates set against all too familiar lockdown scenes.
In just two years, it generated 11 million views, 27,000 likes, and nearly 6,000 comments. That's just on YouTube alone.
On an interesting side note, the ad was created by Maximum Effort, a film production company and digital marketing agency co-founded by Ryan Reynolds. In an interview, Reynolds explained that they simply imagined what a "2020 match" would look like. This is proof that sometimes the best ideas come when you ask the most basic questions.
---
5. Dove
Dove's Courage is Beautiful video is another example of how a brand used the context of the recent pandemic to create a personal connection with their target audience. In the 30-second video, they share the faces of healthcare workers visibly showing the physical marks of having to wear masks for hours at a time.
The message — beauty is only skin deep. However, in this context, it's meant completely in the figurative sense of the word. For Dove, beauty is found in courage.
Dove has used a similar formula for their other brand videos. In past campaigns, they looked at how women are often left feeling and believing that they're less beautiful than they truly are. In one of their most powerful videos, they "reverse created a selfie" to encourage society to change our concept of beauty.
---
5 Platforms, Agencies, and Tools to Help With Brand Video Creation
To help you combine visuals and storytelling to create a video style that will resonate with your target audience, you can check out the following powerful tools and agencies.
---
---
---
---
---
Wrapping Things Up
Thanks to advances in tech, video production and editing has become a lot more accessible to brands. Not only is it a format that brands can access more easily, but thanks to its visual nature it can also help them to make their content more accessible to their target audience.
From audio effects to action shots to classic storytelling elements, there are many techniques that you can use to grab your target audience's attention. Attention spans are only getting shorter and video gives you more than enough powerful tools that you can use to get your entire message across.
Frequently Asked Questions
Why is it important to build your brand?
Branding is one of the foundations of any good business. It can impact various aspects including consumer perception, customer loyalty, and employee engagement. By building your brand, you can also improve brand awareness which will help you to attract new business and improve sales. It can also help you to set your business and its offering apart from competitors. While it might sound like extra work, it can actually make marketing easier as it will give your marketing team a better idea of what campaigns must look like.
How do you create a memorable brand?
Start by identifying your company's target market. Once you know who your ideal customer is, move on to defining your mission statement, values, and unique selling propositions. Only once you know these answers can you start to create your brand identity by creating visual assets (like your business logo, slogan, fonts, and color palette) and formulating your brand voice. All that's now basically left to do is to start integrating it across your different platforms like your business website and social media profiles.
What are some of the latest video marketing trends to watch out for?
The following video marketing trends are expected to play a big impact on campaigns:
Branded hashtag challenges are expected to increase.
Video will be used more often in social media stories.
Explainer and educational videos will feature more on social media.
More brands will treat their followers a behind-the-scenes peek by creating videos that feature office tours, team-building activities, or even bloopers.
Subtitles and on-screen instructions will become more common practice to improve accessibility.
What is branded content?
Branded content refers to a marketing strategy in which social media content is created with the aim of discussing the mission and values of a brand. The main goal isn't to market the brand, but rather to teach the target audience about something that's important to them as well as the brand. As it's more authentic than content that focuses on the product or service, branded content has the potential to build a stronger customer relationship.
What are examples of reliable video editing software that you can use for brand videos?
There are several great video maker and editing software solutions that you can use to create high-quality brand videos. You can, for example, check out:
Biteable
Promo
Filmora
Powtoon
VideoPad