In today's day and age, consumers are prioritizing experiences over things. It has become about so much more than just the product that you add to your cart. Authenticity, trust, transparency, and customer service all matter to today's consumers. In fact, branding statistics show that 77% of consumers support brands that share their values. We buy a product not solely for its actual use, but for the values we perceive the brand cares about.
Just like a business is more than the products it sells, branding is more than the visible elements like logos, colors and fonts. It's also about the personality and values of your business that need to shine through whenever people interact with your brand.
We have summarized how you can build your brand in four steps. Continue reading to find out what your brand can do for you, and, more importantly, what you should be doing for your brand.
---
Your A-Z Guide to Branding in 2024:
---
What Is Branding Exactly?
In simple terms, a company's brand refers to the way people perceive the company. So, when you are busy with branding, you are actively working to create this unique cohesive perception of the company by paying special attention to all the elements such as web design, typography and colors (aka your brand identity).
For your business to be successful, you need to focus on your brand, its brand identity and the branding process. All three of these ingredients are essential.
---
Why Does Branding Matter?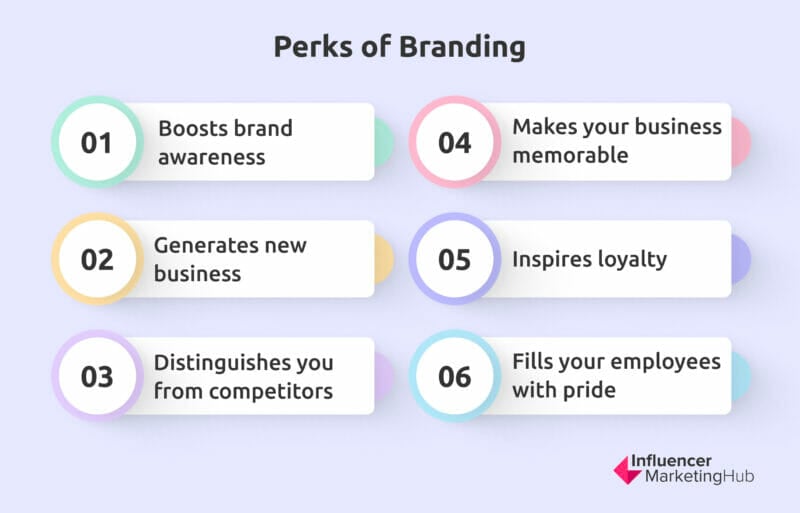 By building your brand, you build a business. It should be one of the cornerstones of your business. It can affect how your target audience perceives your business, boost brand awareness and generate new business.
It can show your target audience why you are the better choice by distinguishing you from similar businesses and making your business memorable across all platforms. In fact, branding can be the most influential factor when customers need to decide between two or more products.
What's more, after you have won over new customers, it can also strengthen the relationship between the company and its customers. This inspires loyalty which can also turn your customers into brand ambassadors and influencers who will advocate your products.
It's not only your customers who will become more loyal, but it can also fill your employees with a sense of pride. By creating a brand, your business gets an identity which fosters a more intimate connection between the workplace and its employees. When it's done right, your business can become a reputable employer.
Your marketing team specifically will reap even more benefits than the other employees as branding will make their jobs simpler in the long run. After you have created a brand, they will have a much better idea of how the advertisements must look and the copy must sound.
---
Four Steps to Creating a Brand
Designing these different elements that will ultimately form your brand identity probably sounds exciting, but first you will have to do some not-so-exciting things to create your brand strategy. The following are four essential steps that will help to create a brand.
1. Identify your target market
Researching your target audience should be your first step. One of the mistakes is to believe that what your brand wants to present will influence your brand identity alone. In order for people to love your brand, they need to be able to identify and connect with your brand. Though, if you do not know who you are trying to target, how will you know what will be appealing features in the first place?
Here are some questions to help you with finding your target audience and understanding them better:
Who will use my product?

Who is my perfect customer?

Why did I start my business?
As this information will have an effect on other decisions, it is important to take the time and do this exercise.
---
2. Define your mission statement, values, and advantages
If you do not define who you are as a business, the whole branding process will feel disorganized. Your mission statement will help to determine your goals. It's the purpose of your business that you need to convey to your target audience before you can work on creating a trustworthy brand. It will incorporate why your business was created in the first place and why your target audience should pay attention to you.
By focussing on your company's values and the perks that it can offer, you can ensure that the brand that you create is unique. What's more, it will also make it clear to your customers why they should pick you over your competition.
---
3. Build your brand identity
There are two important building blocks to building your brand identity: visual assets and brand voice. Your brand identity will help your target audience to recognize your brand and, more importantly, actually remember it.
3.1 Design your visual assets
You will be forgiven for thinking that the previous steps were boring, but that still does not give you an excuse to skip the groundwork. Every element such as your logo, slogan, voice and images should communicate your mission statement, values and advantages. Now, the trick is to decide on color schemes, fonts, and icons that you will use to help communicate everything that people should know about your business.
Colour, specifically, is extremely powerful. According to Reboot, by using a signature color you can boost your brand recognition by as much as 80%.
It is best to put your personal likes aside and consider the universal connotations associated with some colours instead. This way, you can evoke specific feelings and ideas. For example, blue is often associated with trustworthiness, while red is linked with excitement.
If you do not find a font that quite encapsulates who you are, you could even opt for a custom designed font. Not only will this make sure that you nail how your target audience should perceive you, but it will guarantee that your brand is truly unique.
Whether you are deciding on your color palette or typography, it's best to keep it simple by limiting the number you use. A color palette can still get away with one main colour, two accent colours and a few complementary colours. Though, when working with fonts, it is best to use no more than three.
3.2 Identify your tone of voice
You want to identify a tone that will resonate with your target audience. Will they respond better to a brand that is playful and quirky or more professional? Then, you need to ensure that you use the same tone of voice consistently across all the different platforms and mediums.
Your brand's voice should also match your visual assets. For example, if you used a bold colour scheme, you probably want to pair that with a more informal, youthful tone of voice.
---
4. Integrate your brand
After you have created your brand, it is time to apply it across the different platforms. It needs to be integrated completely to ensure that your customers will see your brand whenever they interact with your business. From your website to your customer service, your brand needs to be visible.
Your website is probably the platform where most of the interaction with your brand will take place. So, be sure that you use only the logo, colour schemes and fonts that you have included in your brand style guide (more about this later).
With regards to your website content, double-check that your website copy is in line with the tone of voice that you have identified (this applies to your product descriptions and call-to-action prompts as well). If you are selling actual products, you can even try to see if your packaging can reflect the colour palettes that you have used on your website. A brand like Apple has shown that even packaging can be elevated to an art.
---
Top Tips for More Effective Branding
Keep it consistent
One of the most important steps to successful branding is applying elements like your colour schemes, typography, and tone of voice consistently across all the platforms. In other words, whether your target audience is visiting your website, opening your packaging or interacting on your social media pages, they need to experience your brand in the same way. By paying attention to consistency, you will ensure that people will easily recognize your brand and perceive you as a trustworthy business. In fact, according to Lucidpress, businesses that have portrayed their brands consistently have enjoyed an increase of 33% in their revenue. So, it can quite literally pay to be consistent.
That being said, a touch of flexibility is equally important. With good branding, your brand will ultimately grow. The secret is to ensure that your branding develops gradually too. And, if you find that your current branding does not pack a punch, you need to be willing to be flexible and make some changes. There is no use in applying something ineffective consistently (unless you want to fail consistently).
---
Keep it original
While it is key that you research your competitors, it should not be too extensive. You want to know your competitors just enough so that you have a few ideas of how you can differentiate yourself. If you spend too much time occupied with what they are doing, it's easy simply to start copying what they are doing. The less unique your brand is, the easier it will be for your target audience to forget you.
---
Create the right brand strategy
Think of your brand strategy as a technical drawing. It will ensure that your brand matches your goals. It has long-term objectives that you will be able to achieve as your brand grows.
---
Personify your brand
Successful brands have a personality and identity. As the objective of branding is to foster relationships between the business and its target audience, you should view your brand as an actual person. Needless to say, if you are creating a personal brand, this is much easier to do as you can simply infuse your expertise, unique interests and values into your branding.
---
Create a brand style guide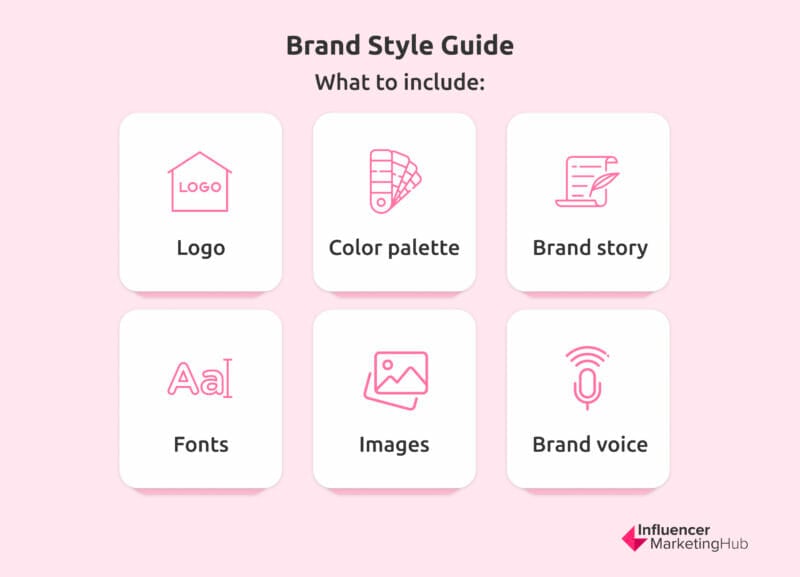 Whether you are working with a branding agency, professional designer or using templates, it's important that you create brand guidelines as you go along. In short, a brand style guide is a document that has all the important information about your branding such as the story behind your brand, color palettes, typography, logo variations, how to use your brand voice, etc.
While it may sound like a lot of unnecessary work that you could have spent advertising your brand instead, it is essential. As you have learnt, consistency is key when it comes to branding.
So, every business really needs a document that the different employees (and new ones) can refer back to so that all the content that gets created uses the right elements. Even your sales and customer support staff will need copies of this guide. After all, they will be the ones who deal with your customers directly. So, it is important that they are also familiar with your brand voice.
---
Wrapping This Up...
Bad branding breaks businesses. It is that serious.
For the branding process to be effective, you need to approach it strategically. You need to view your brand as something that is alive and approach it as a beautiful creature that helps grow your business everytime that you nurture it.
This means that after you have created your brand identity, the work continues. It requires repetition. It calls for careful consistency.
Good branding can create trust that will urge your target audience to support you and, what's more, return time after time. It is that secret sauce to your promotional campaigns that will add the extra impact.
Frequently Asked Questions
What should a branding guide include?
These are the essential elements to include in your branding guide:
Your brand story

Logo guidelines

Imagery guidelines

Brand voice

Brand colors
What is a branding guide?
A brand style guide is also called a brand guide or brand guidelines. The brand style guide is an instruction manual for how a brand should be communicated. The guide has standards to represent your brand both internally and externally.
What are the 6 steps to brand identity?
These are the 6 steps to building brand identity:
Research and understand your target audience

Choose your business name

Pick a slogan

Design your brand logo

Choose the look of your brand, including colors and fonts

Use the branding across your organization
What are examples of brand guidelines?
Examples of brand guidelines often include:
Logos, including full logos and secondary logos

A color palette with primary and secondary colors

Typography with font styles and spacing

Other imagery, including photos and illustrations

Voice and tone for the brand's voice