Video marketing is a great way to attract and engage customers and potential customers. With high-quality videos, you can educate and entertain your audience, showing them how their lives will improve with your brand. But how do you create high-quality videos as a small business without access to a video production team (or the budget that you'd need)? Easy: video makers for SMBs.
We've rounded up 20 of the best video makers for small businesses that you can use to create eye-catching, engaging, and educational videos that your target audience will love. With any of the tools on our list, you'll be able to create videos that you can share on social media, embed on your website, use on landing pages and sales pages, and add to your email marketing campaigns.
---
20 Best Video Makers for SMBs—Most of Them Are FREE!:
---
20 Best Video Makers for SMBs
Here are some of our favorite video makers for SMBs. The video editing tools included here are easy for beginners and powerful enough to create studio-quality videos you'll be proud to share—without blowing your entire marketing budget!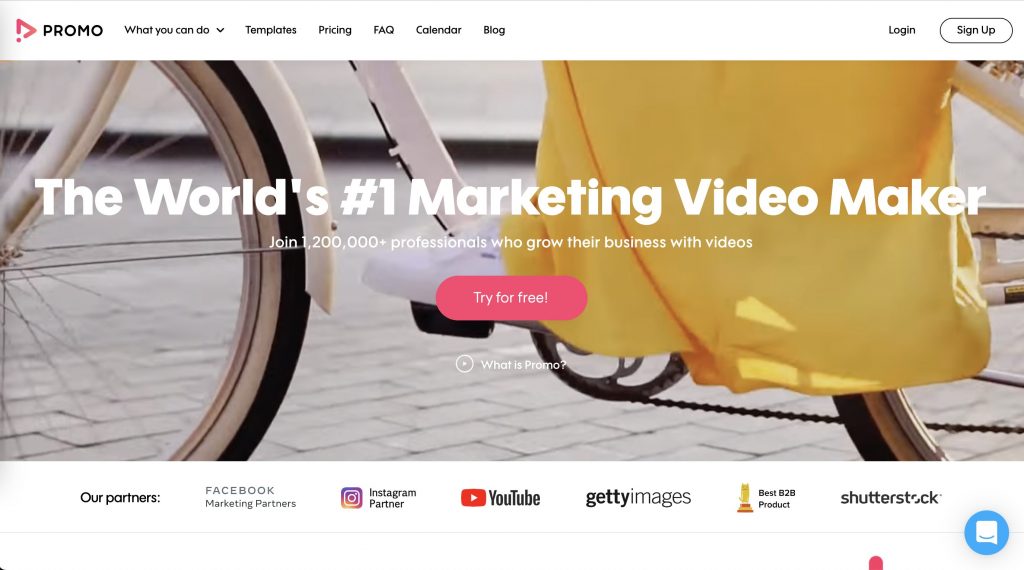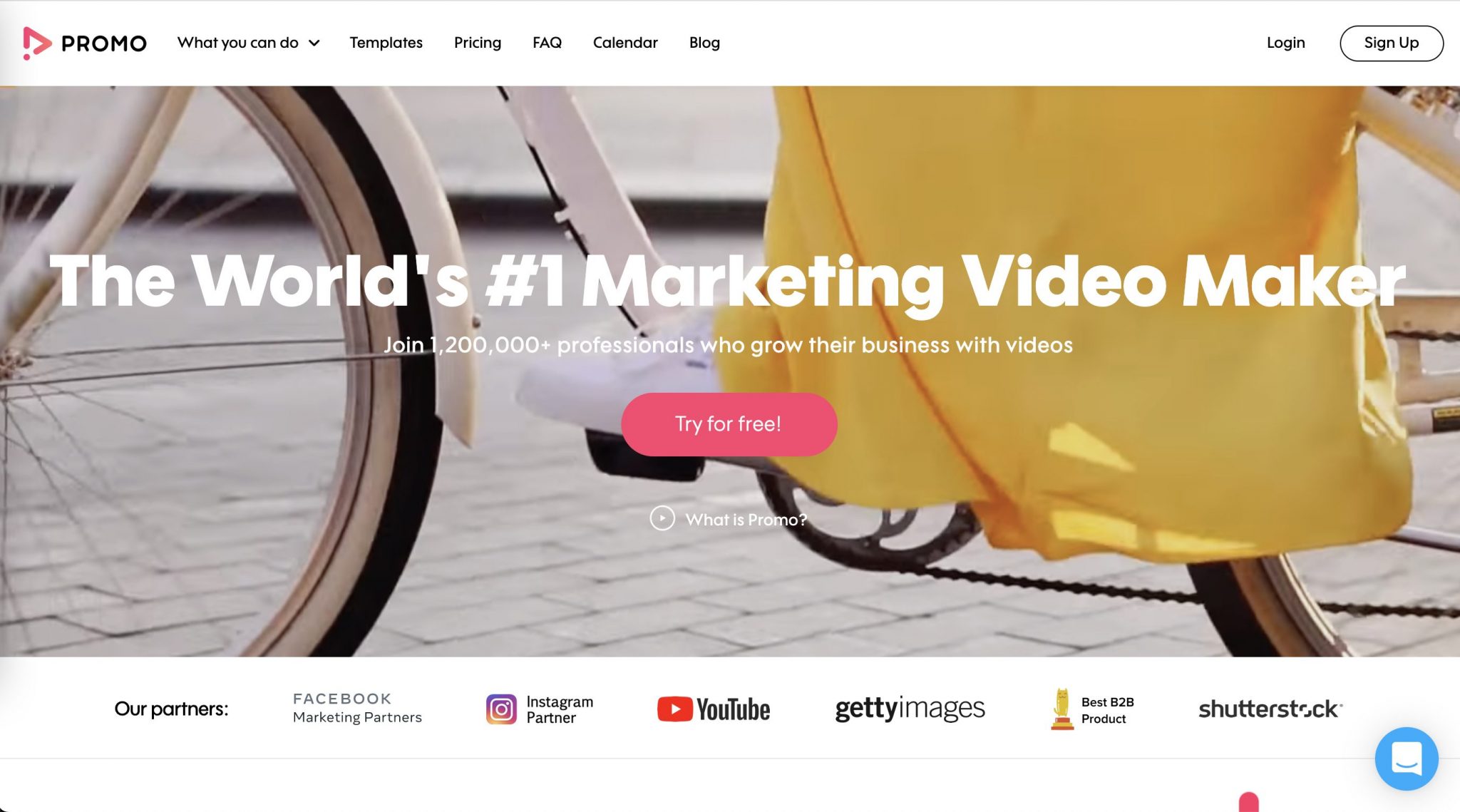 Promo.com is an Instagram, Facebook, and YouTube partner that offers various video creation and editing tools. With this powerful video maker, your small business will be able to create video ads, videos for social media, and whatever video content you need to grow your brand. It includes video templates to get you started fast, or you can build your video from scratch. Promo.com also includes other tools like social media calendars, budget calculators, and other things to support your video marketing campaigns. Promo.com offers a free plan that includes up to five projects, a free photo library, fully-licensed music, a photo collage maker, and a lot more. Paid plans offer even more features and start at $39 per month.
---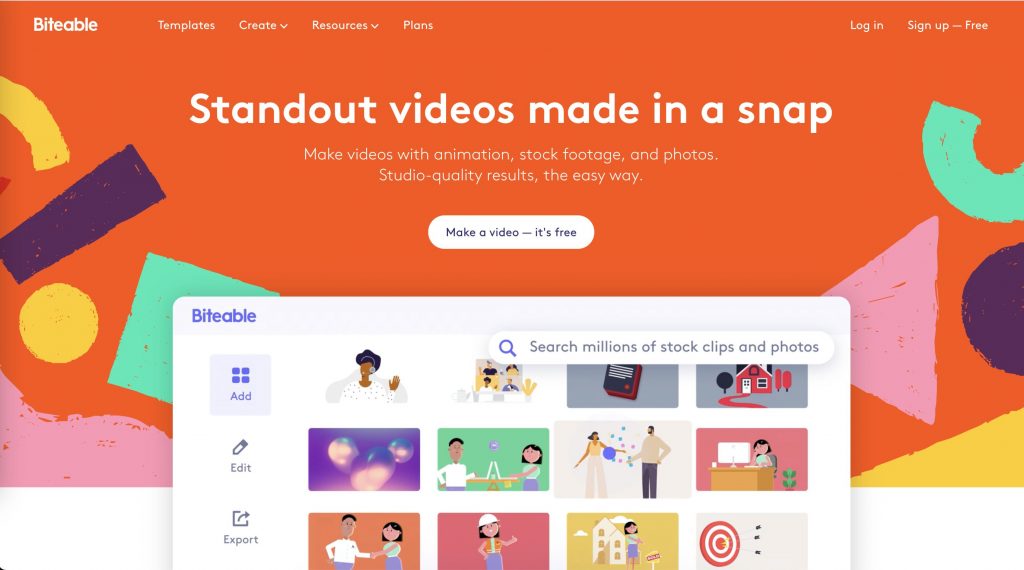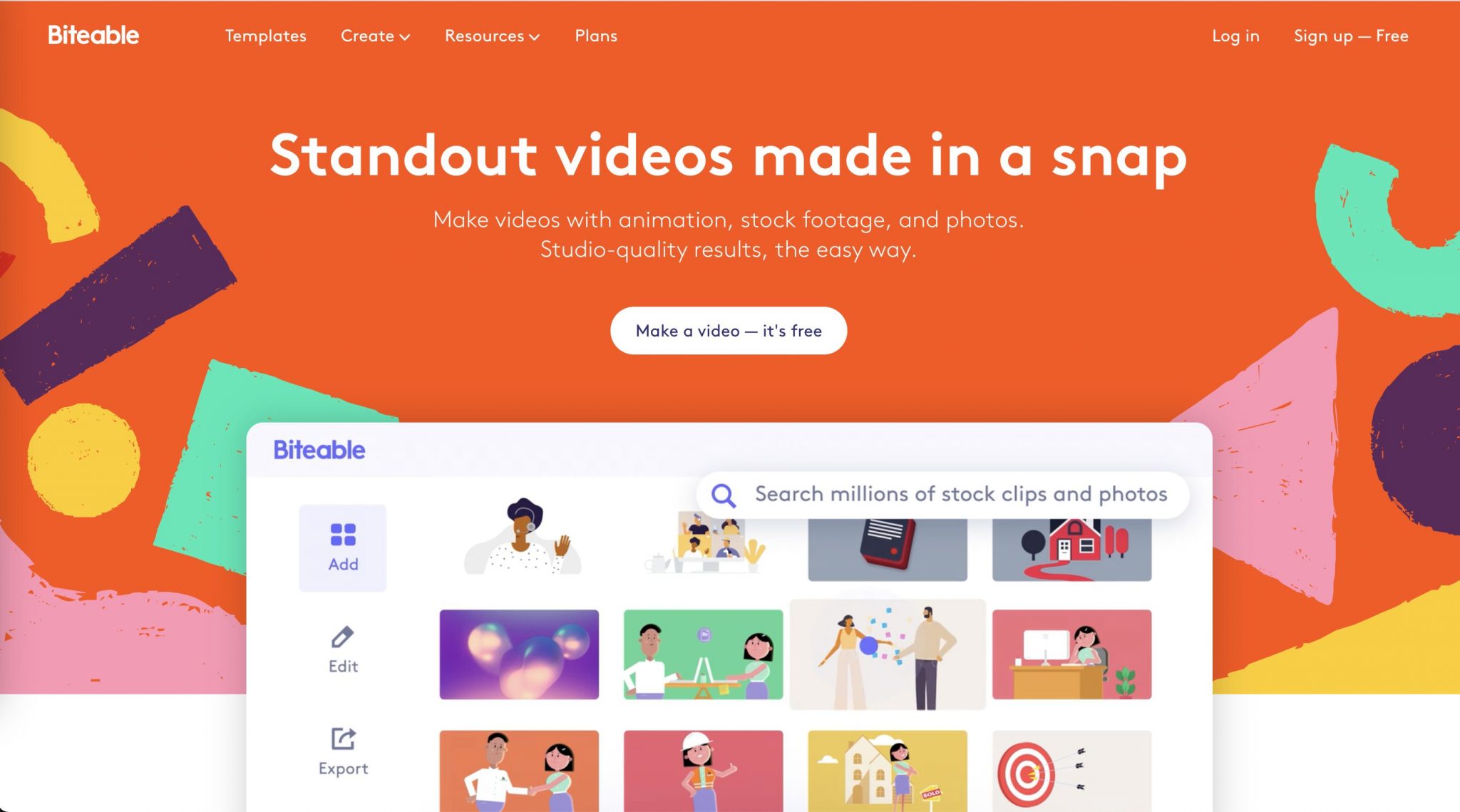 Biteable is a browser-based video editing tool that makes it easy to create slideshows, social media ads, and just about any kind of video you'd ever need. Biteable has a free plan that allows users access to its basic video editing tools and you can export your videos with the Biteable watermark or embed or share them using a Biteable link. Paid plans start at a reasonable $19 per month and include tons of additional features like HD video, commercial usage rights, reseller rights, and shared editing and projects.
---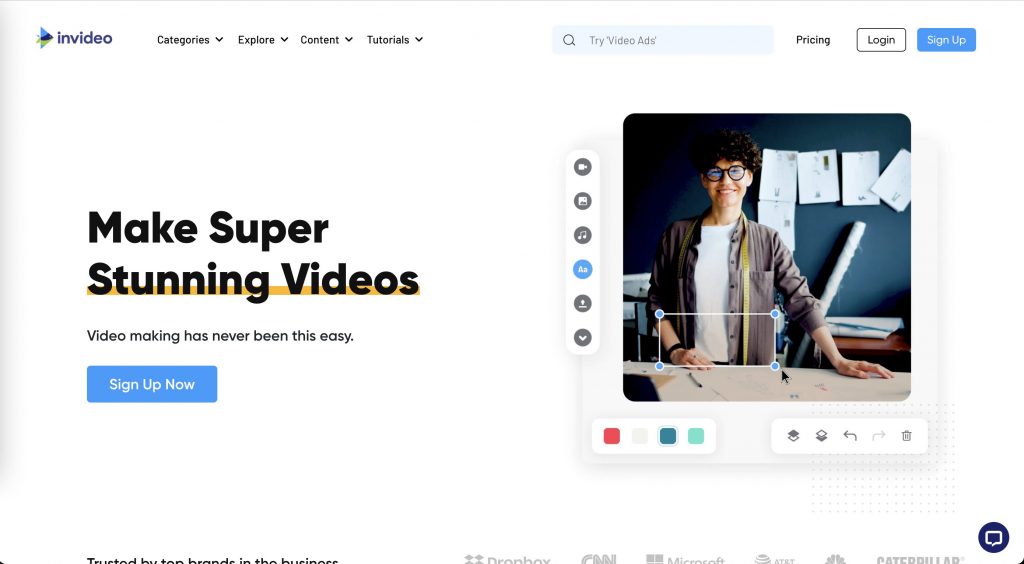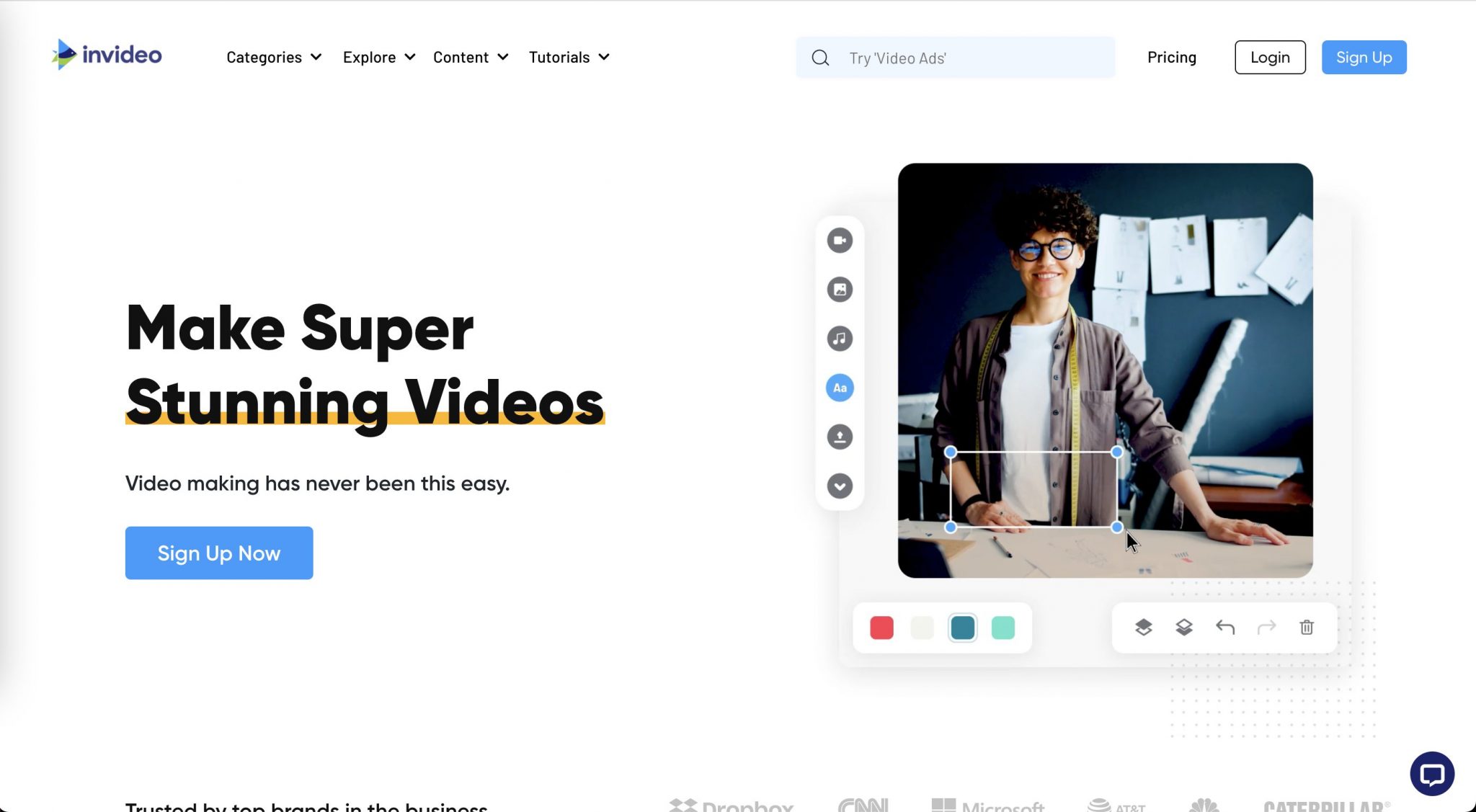 InVideo is another of the best video makers for SMBs that don't have tons of knowledge but need to create high-quality video content quickly. It has a standard media library of more than 3 million assets, a premium media library with more than 1 million assets, 3500+ video templates, automated text-to-speech (and URL-to-video), and more. If you're not familiar with URL-to-video, that just means that you can convert blog posts and text-based content into entertaining and engaging videos fast. InVideo has a free plan that includes watermark-free videos. For more features, opt for a paid plan starting from $10 per month.
---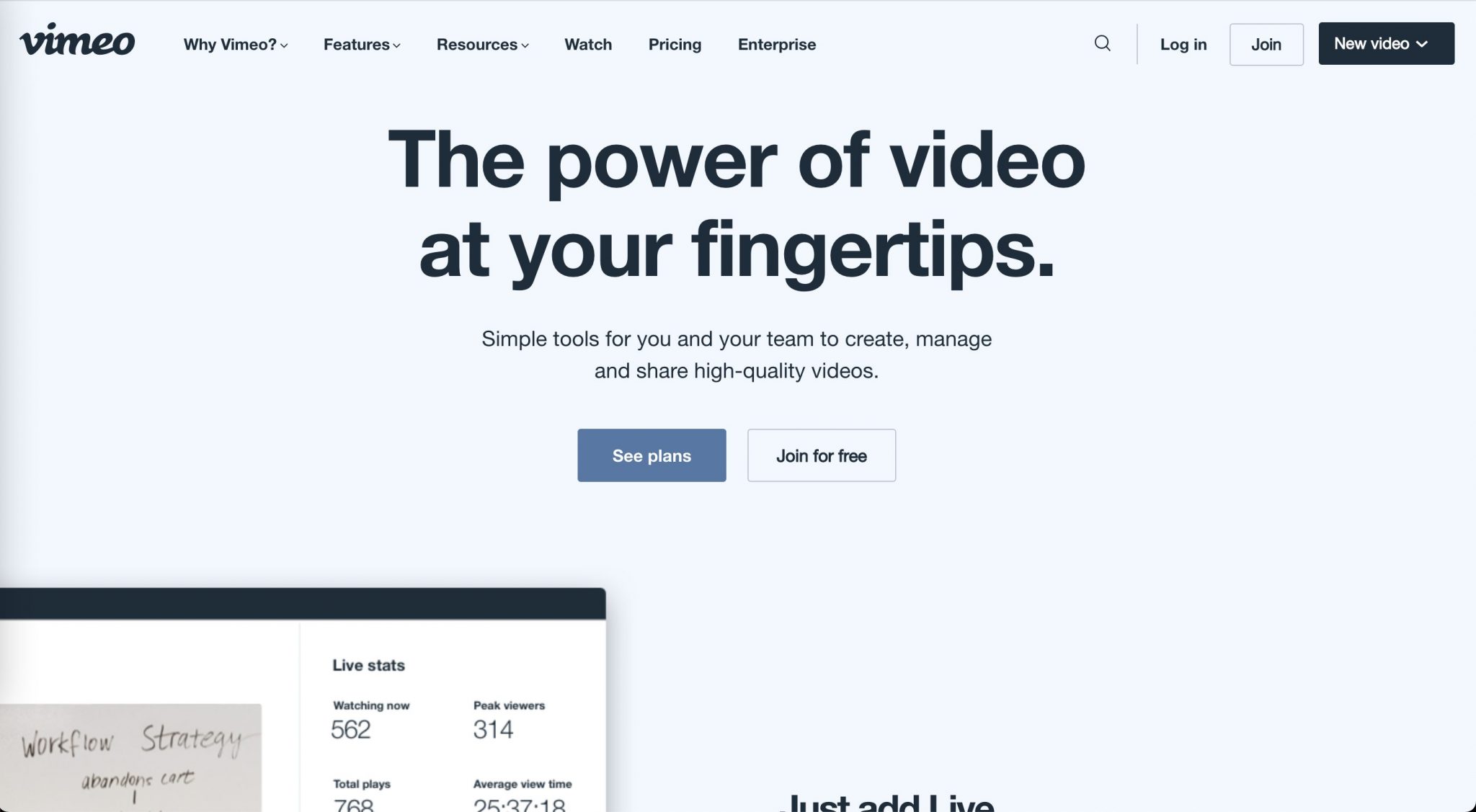 Vimeo has long been a staple in video marketing. It gives users access to customizable templates, licensed music, stock images and videos, and more. Some of the plan levels even let you collaborate on projects with team members and show time-coded feedback along with other review tools. When your video project is complete, you can share it directly to several social media platforms, and track video performance with analytics and social statistics. There's a free plan geared towards individuals who won't be uploading tons of HD videos each week and maybe don't need advanced player customization or privacy options. Paid plans start from $7 per month.
---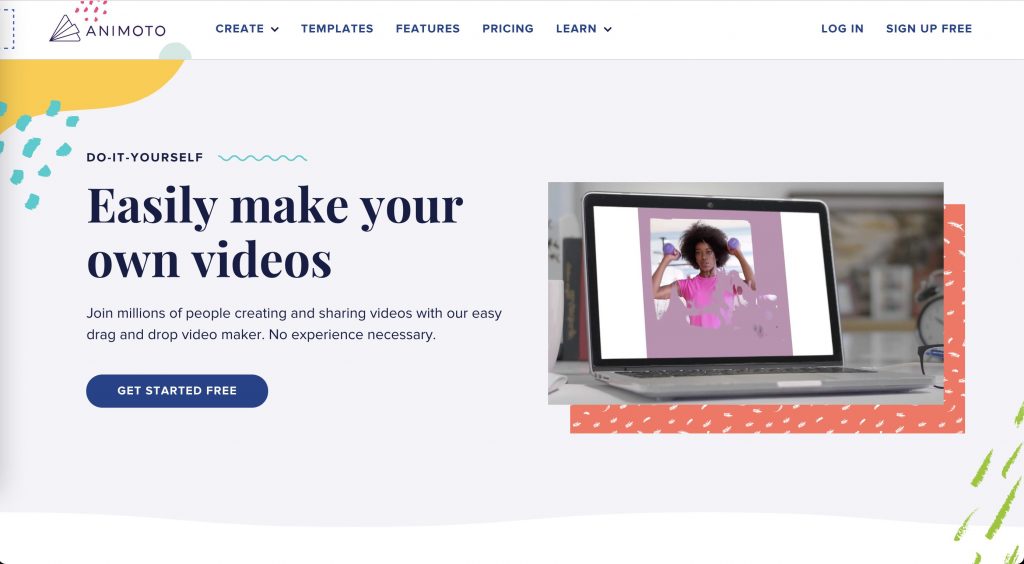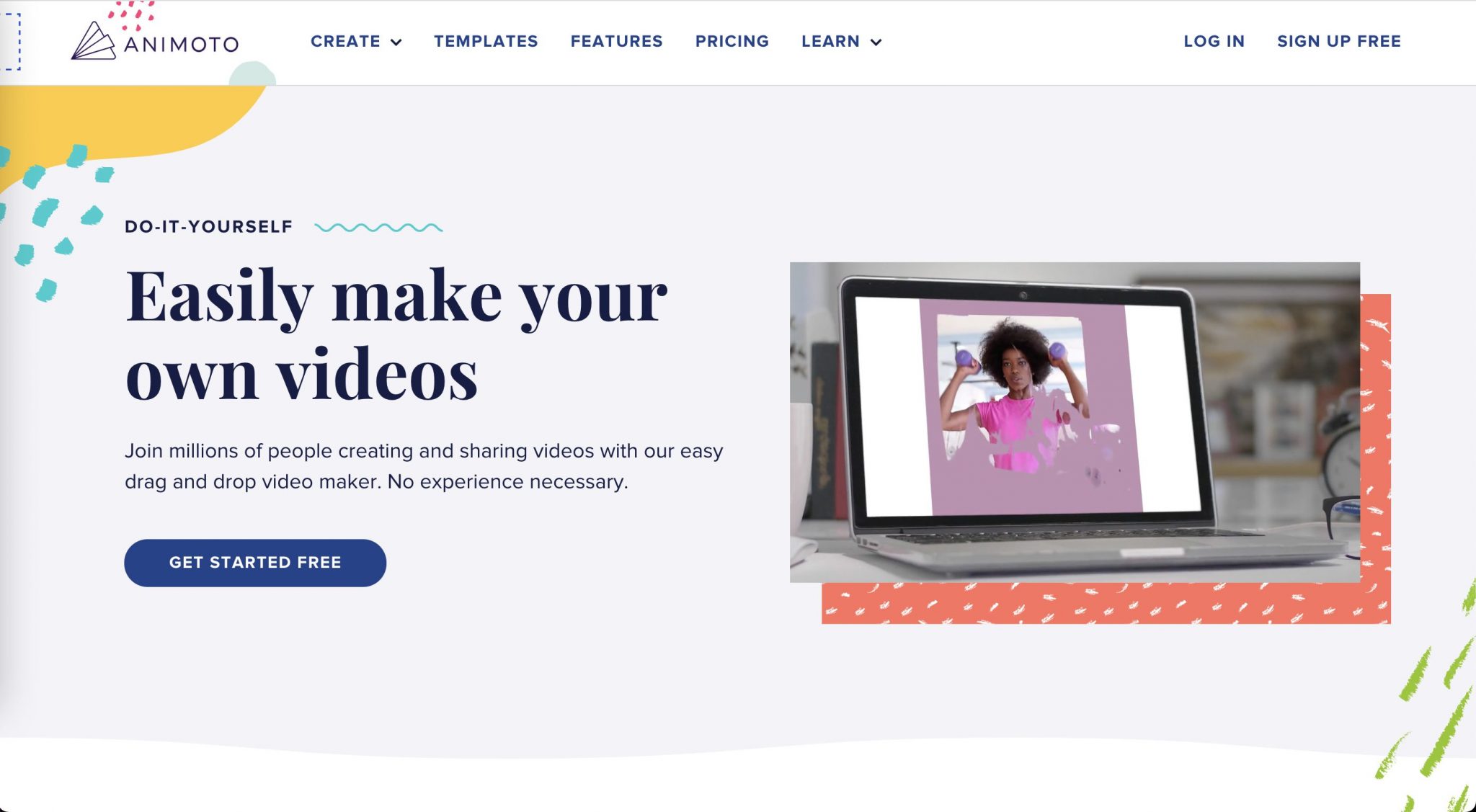 Animoto is a drag-and-drop video maker that's perfect for small businesses. It comes with tons of templates that you can customize to create a truly unique video experience for your target audience, a stock library with images and videos, and a music library. You can also upload your own videos. Animoto also has basic video editing features like crop and trim, lets you add text with different fonts to your video in an overlay, and you can even add your branding to each frame. There's a free plan that includes unlimited downloads of standard resolution videos and access to 50 music tracks, 3 fonts, and 30 color swatches. Get more features with a paid plan starting at $15 per month.
---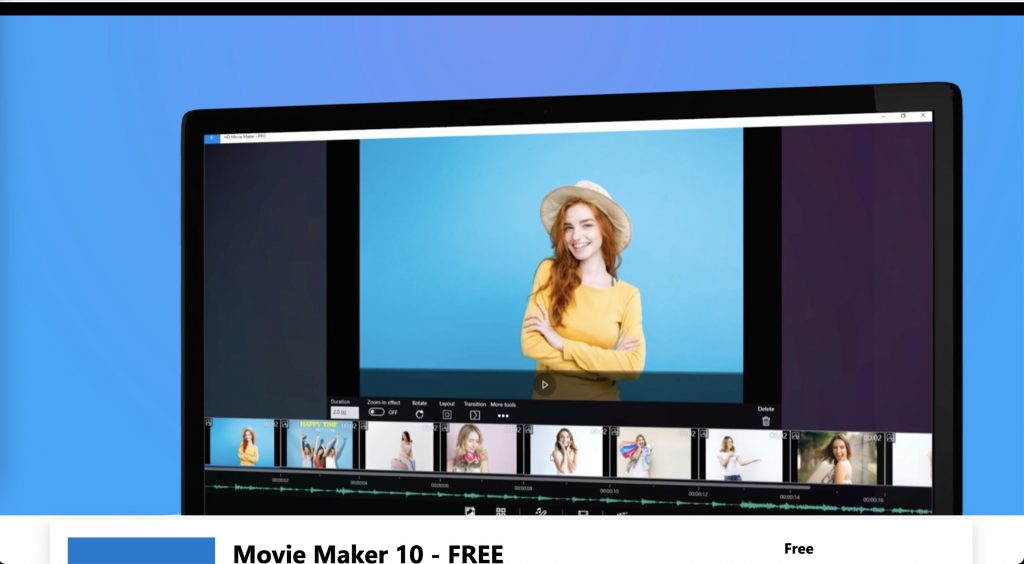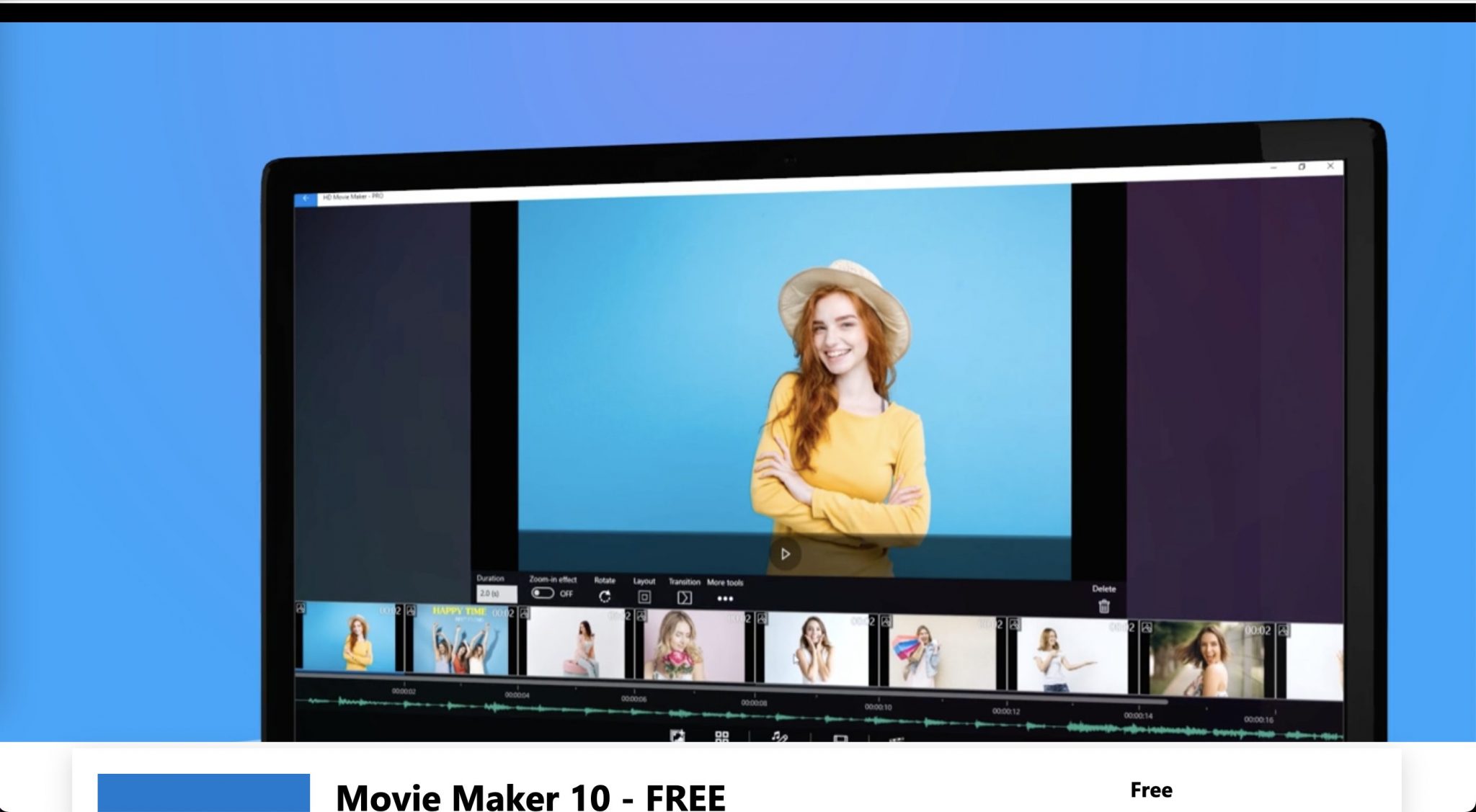 Movie Maker 10 is a Windows-based free video editing tool that also has a pro version. As you can imagine from a Microsoft product, it has a ton of features like text overlay, animated pan-zoom, merging photos and videos, 30+ transition effects, etc. You'll also get a music editor tool with fade-in/fade-out effects, font captioning, and clip trimming. The pro version is $14.99.
---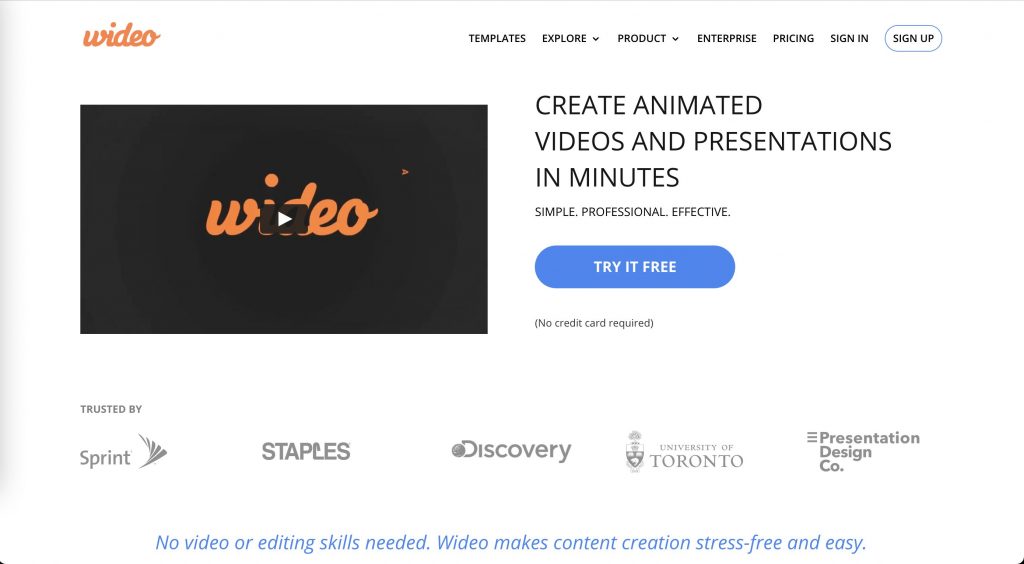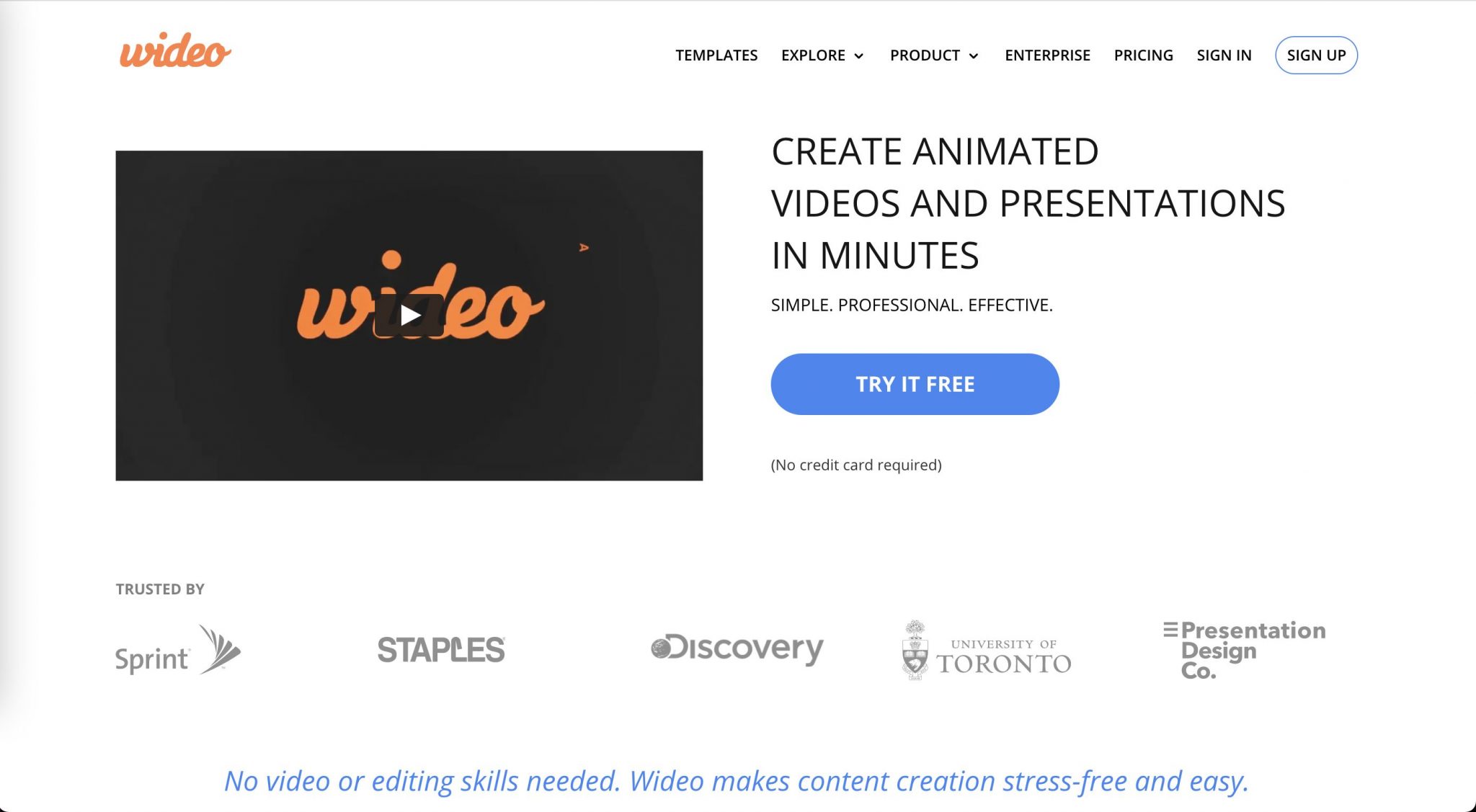 Wideo makes it easy for small businesses to create the videos they need with a drag-and-drop interface, fully customizable video templates, and stock footage. There are also excellent social media options and the Wideo website includes tutorials and blog posts to get you started, as well as video ideas. Wideo has a free plan that includes 10 video templates and 1-minute branded videos. For additional features, sign up for a paid plan starting at $19 per month.
---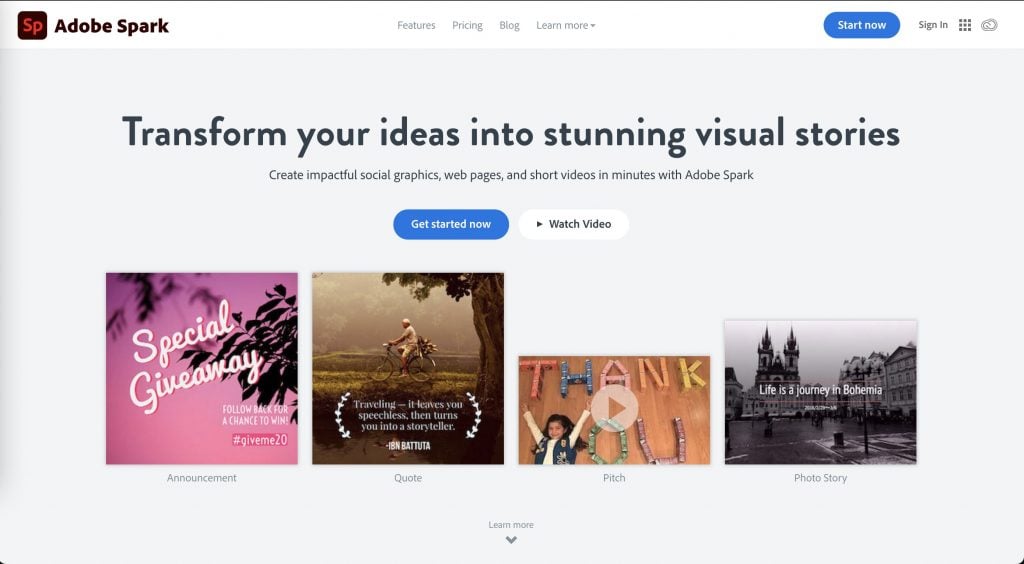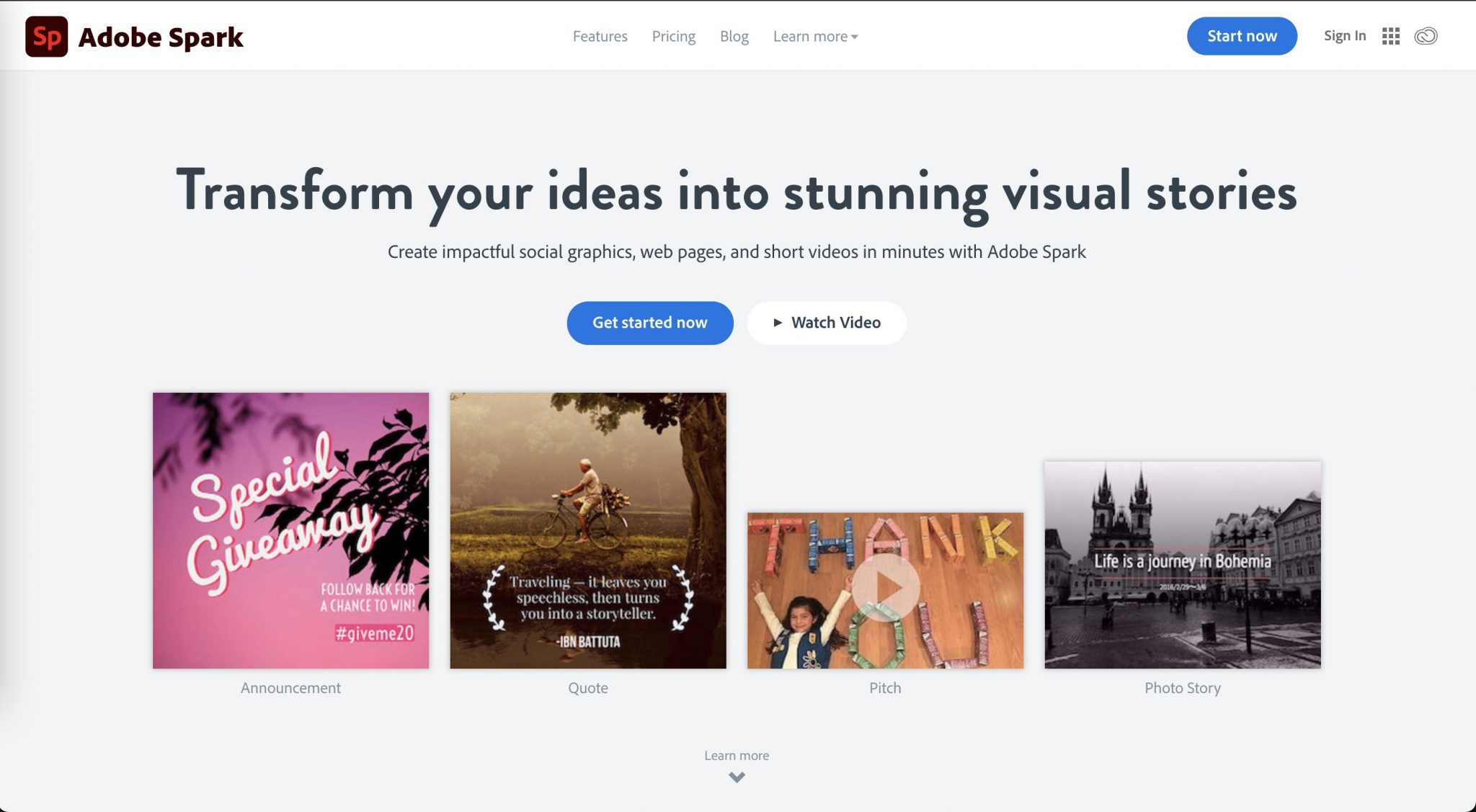 Adobe Spark is, as you can probably guess, an Adobe product. It's specifically designed to help users create videos that they can share across social media platforms. As you'd expect from Adobe, Spark is a powerful tool. It includes video and graphic templates, storyboard options, themes, and layouts so you can create high-quality videos for social media marketing. There is a free plan that includes a watermark on the videos, but you can get started with a paid plan for as little as $9.99 per month.
---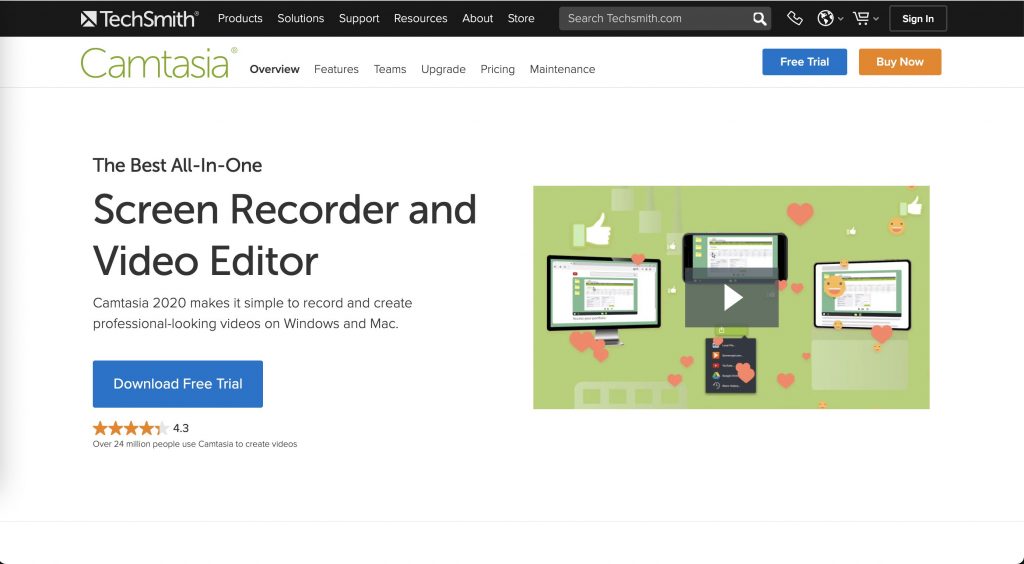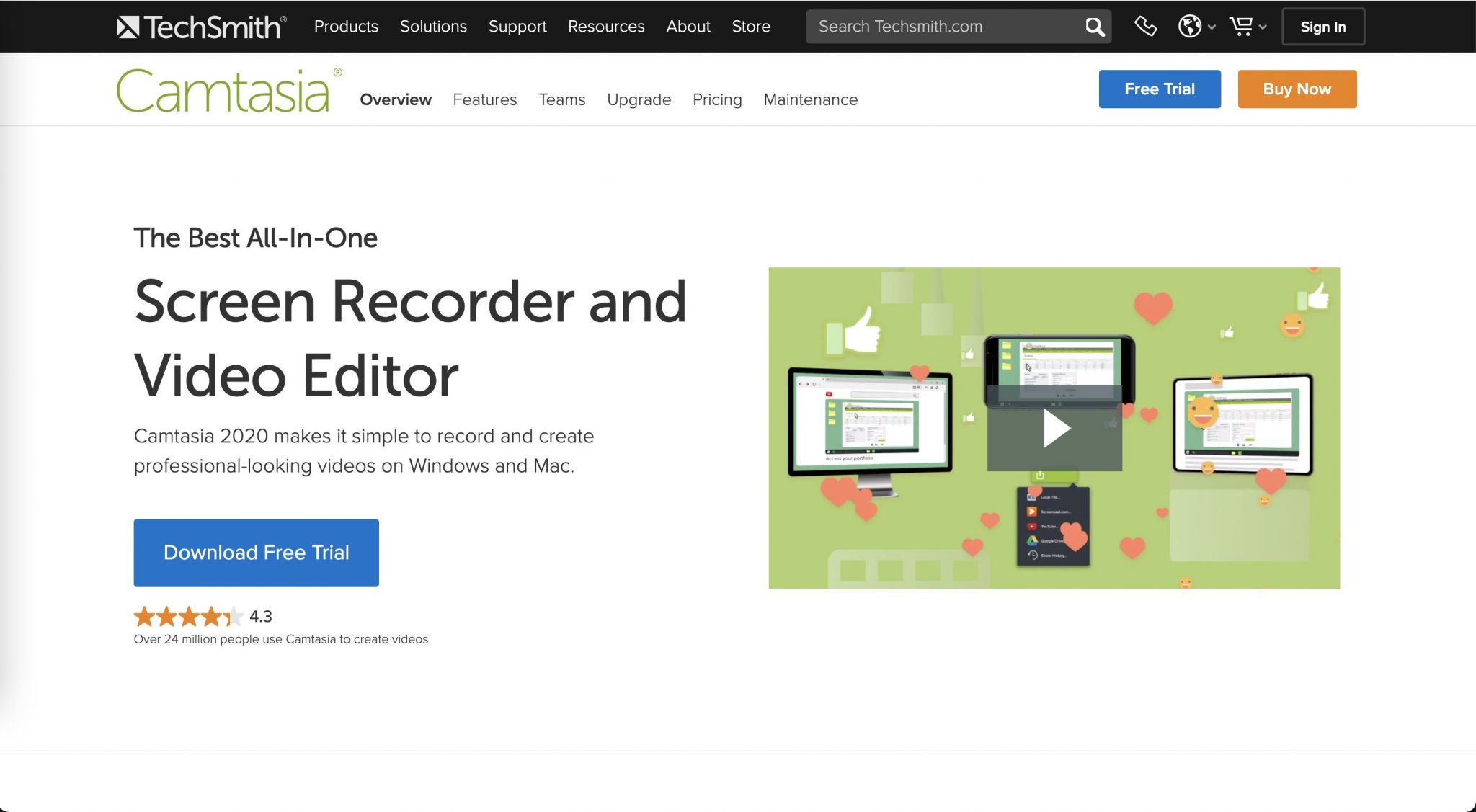 Camtasia has been around since 2002. Since then, TechSmith has kept the tool packed with all the features you need to create screencasts—like custom and pre-built video templates to make creating a great video super easy. You can use Camtasia to record your screen (or just parts of it), record footage from your webcam, and add effects and animations. There are also a number of video editing tools like zoom, pan, adding titles and callouts, and transitions. Plus, Camtasia has a large, royalty-free library and you can even add interactive quizzes. Camtasia can be purchased with a one-time fee of $249 and comes with a 30-day money-back guarantee.
---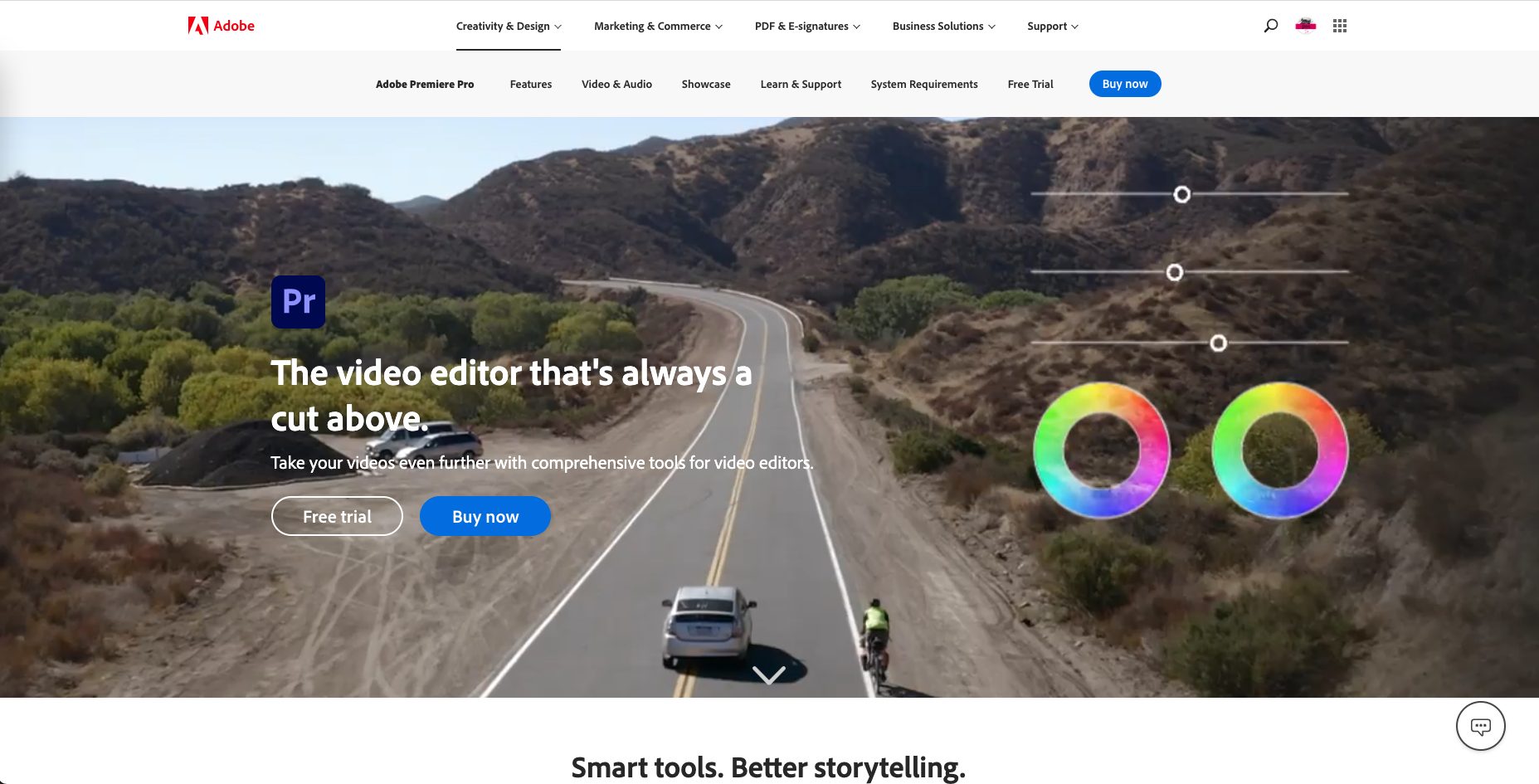 Adobe Premiere Pro is a great video maker for SMBs while still being a powerful option for video professionals. It has a user-friendly interface, making it a good option even for those with zero video editing or video production experience. You can import footage from any file format, edit videos for color, add animation and effects, trim footage, and manage auditing editing and sound effects. Pricing starts at $20.99 per month but businesses might be interests in the business-level plans that start at $79.99 per month.
---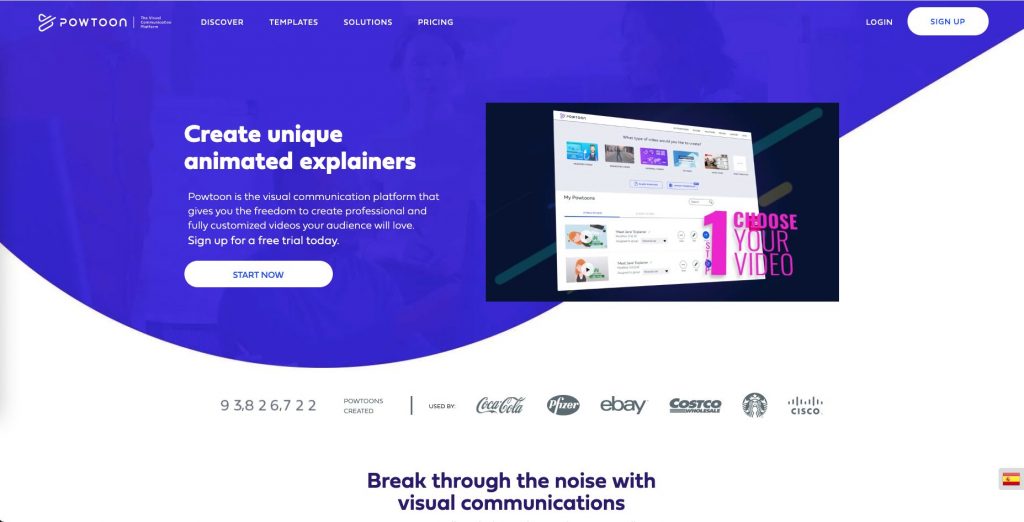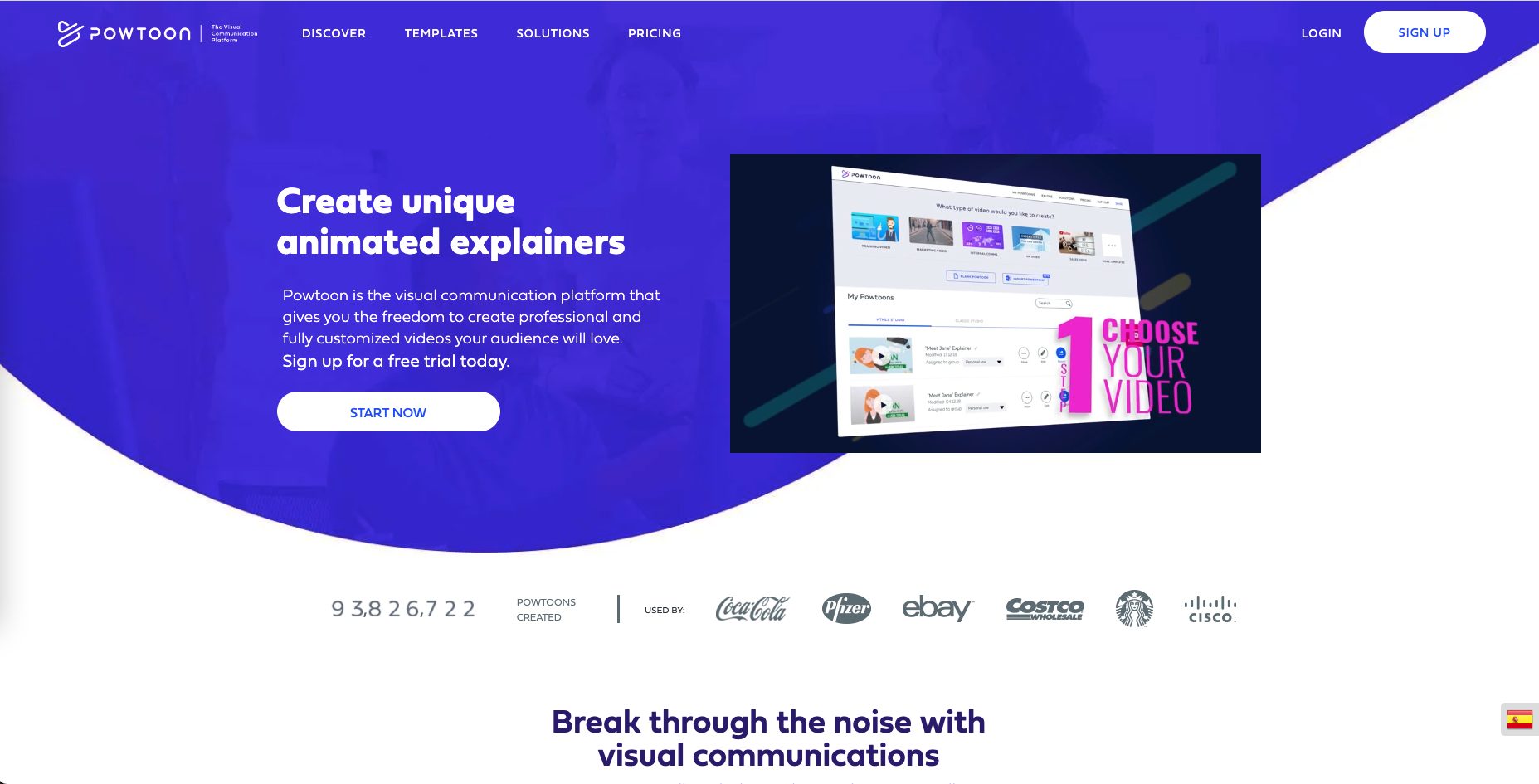 Powtoon is a favorite for big-name brands like Coca-Cola and Starbucks, but it's also an easy tool with a price point that will appeal to small business users, too. It includes templates that you can use for social media and other marketing needs, as well as intuitive editing tools. The templates include designs built for live-action, infographics, animations, and more. The platform offers access to webinars, blog posts, and tutorials to help you use the software better. There's a free plan that includes HD videos up to three minutes in length (and with Powtoon branding), up to 100 screen and webcam recordings, and up to 100MB in storage. Paid plans start at $19 per month.
---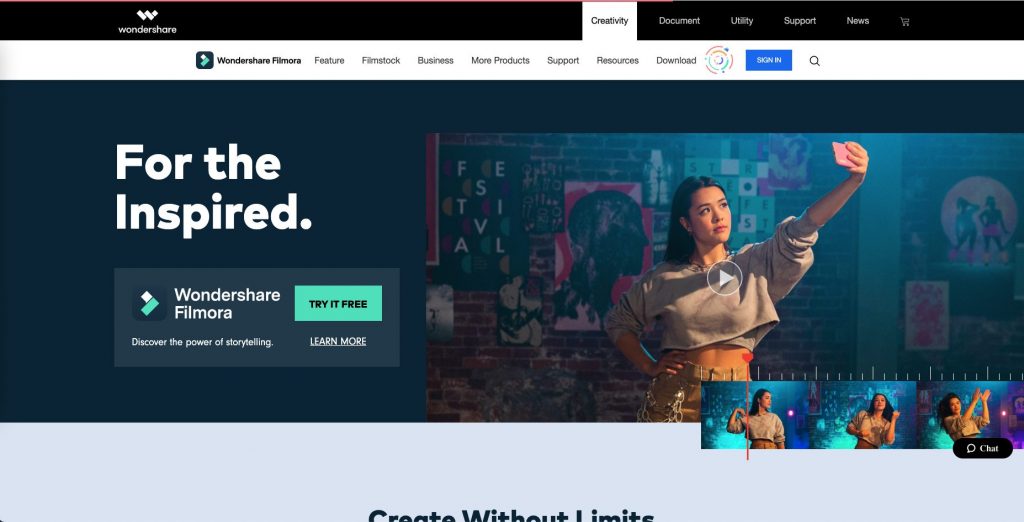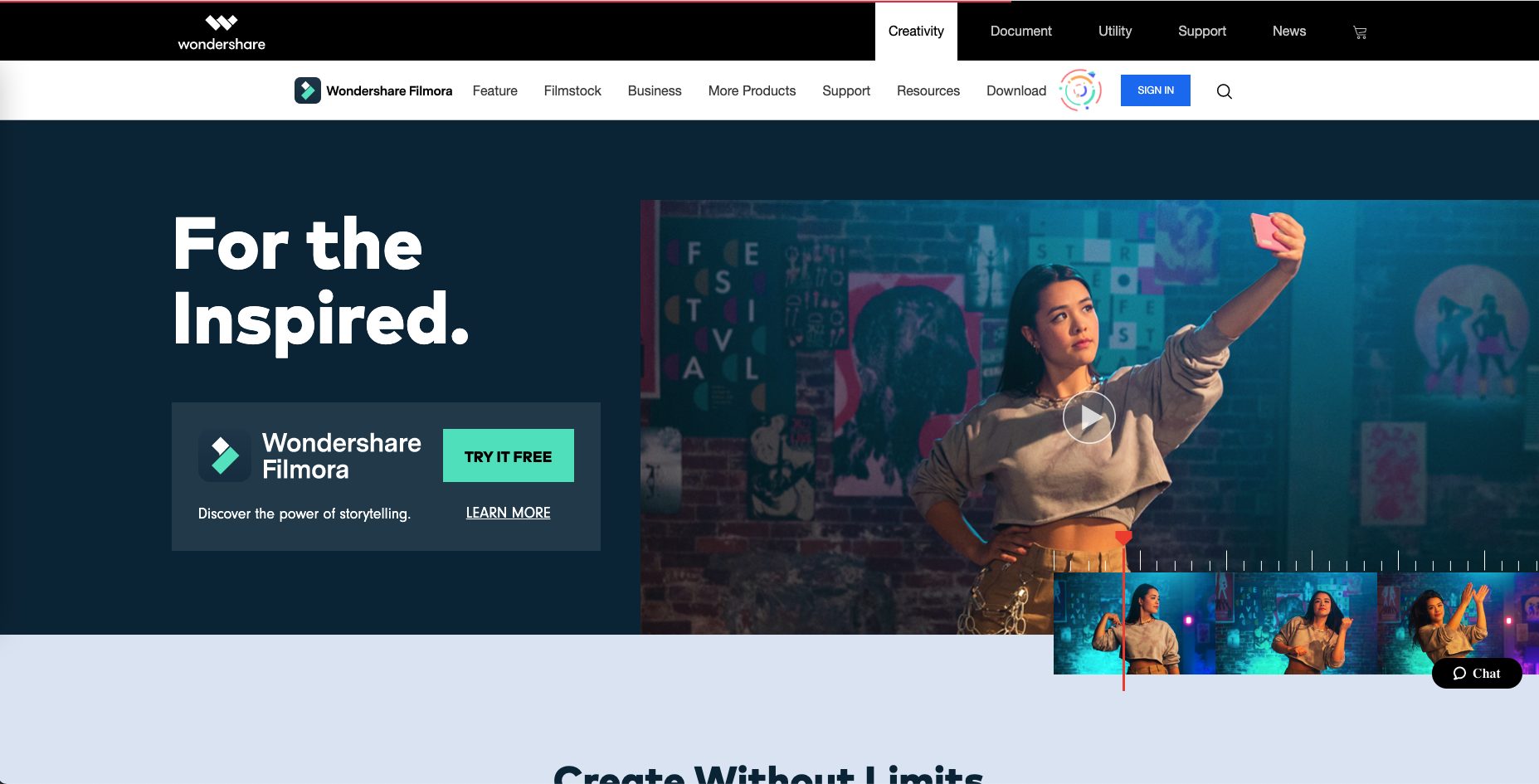 Filmora is a well-designed video maker for small businesses that gives you access to several professional video editing tools like layering sounds and clips and keyframing. There's a green screen feature and easy-to-use drag-and-drop tools for creative transitions, filters, titles, and even motion elements. The software is available for download on both Windows and Mac computers and has plans starting at $44.99 per year. There's a trial version with the same functionality as the licensed version but your videos will have the Filmora watermark.
---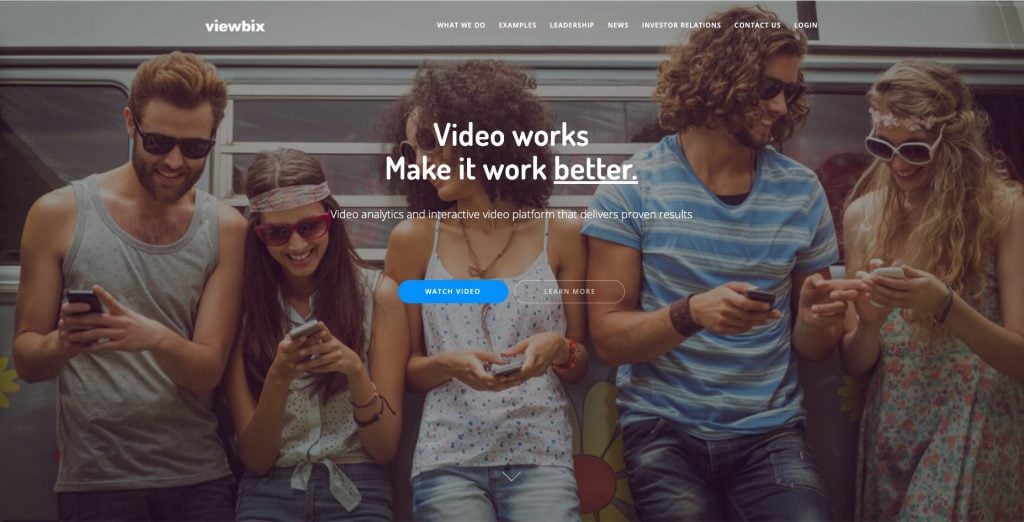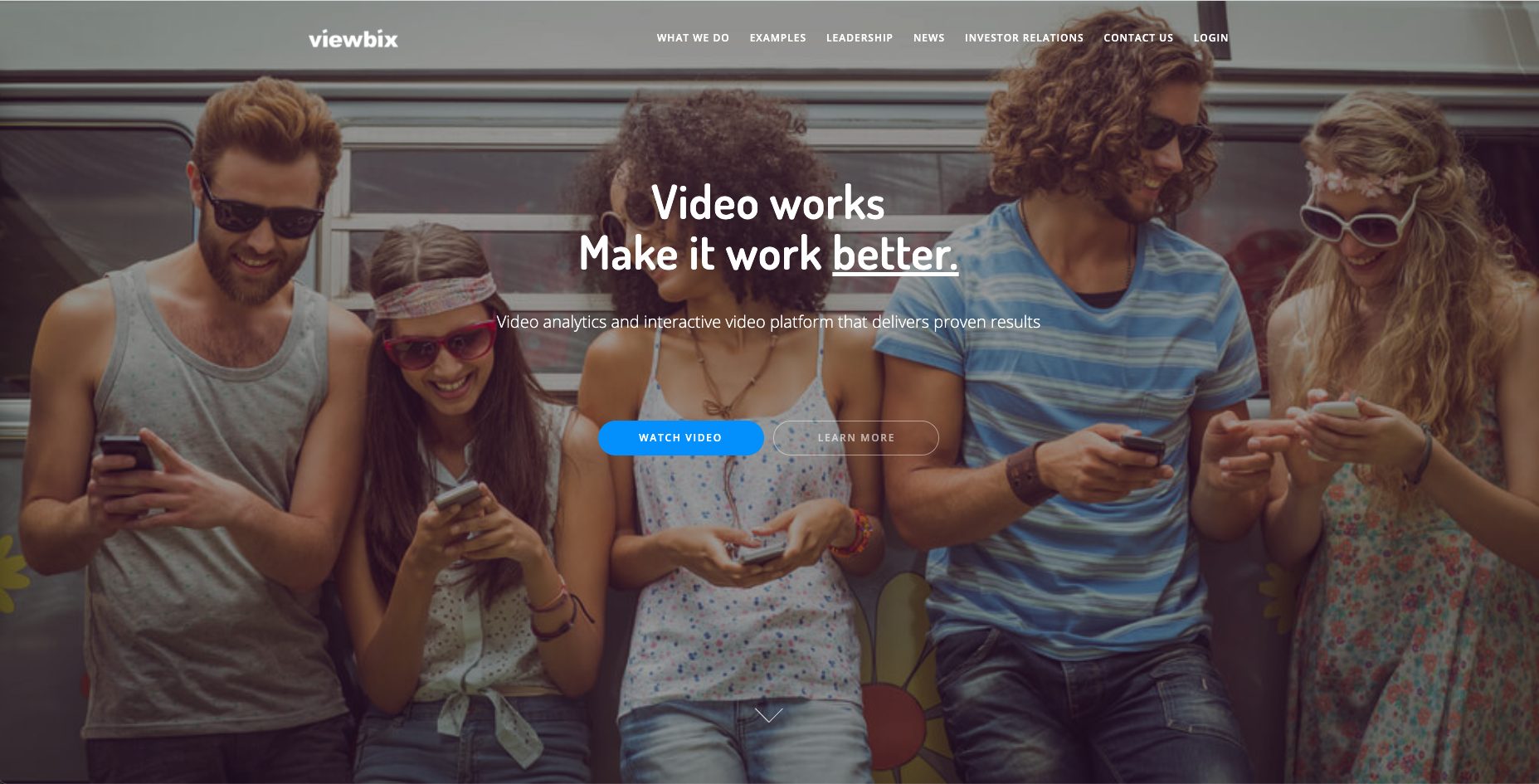 Viewbix is a video analytics and technology company that can help you understand how or if your messages are resonating with your target audience and how you can use that data to build a more effective video marketing experience. Viewbix offers both self-managed and fully-managed solutions that you can use across multiple distribution channels. With the creative studio and analytics suite together, you'll be able to turn your video content into interactive content that gets leads and drives ROI. Viewbix has a free plan available. Paid plans cost about $10 per month, per feature.
---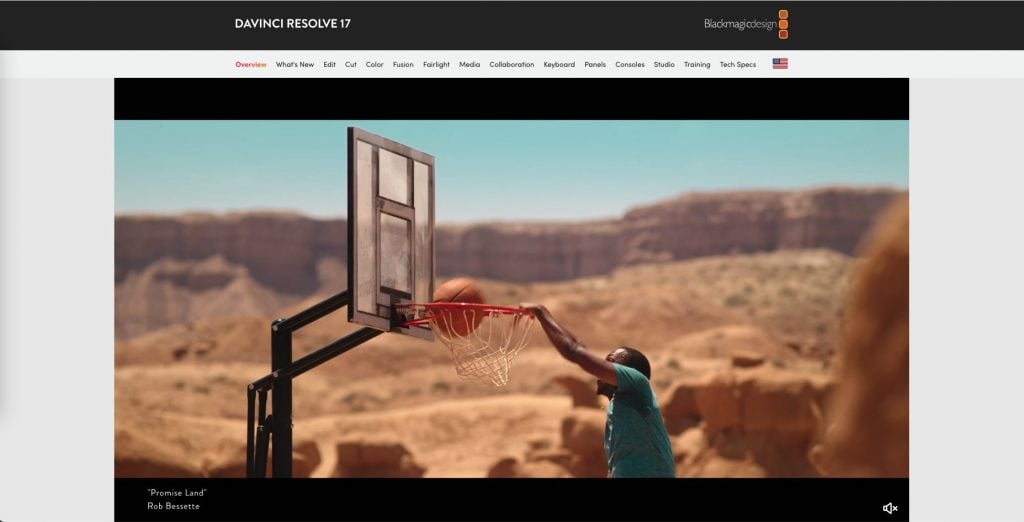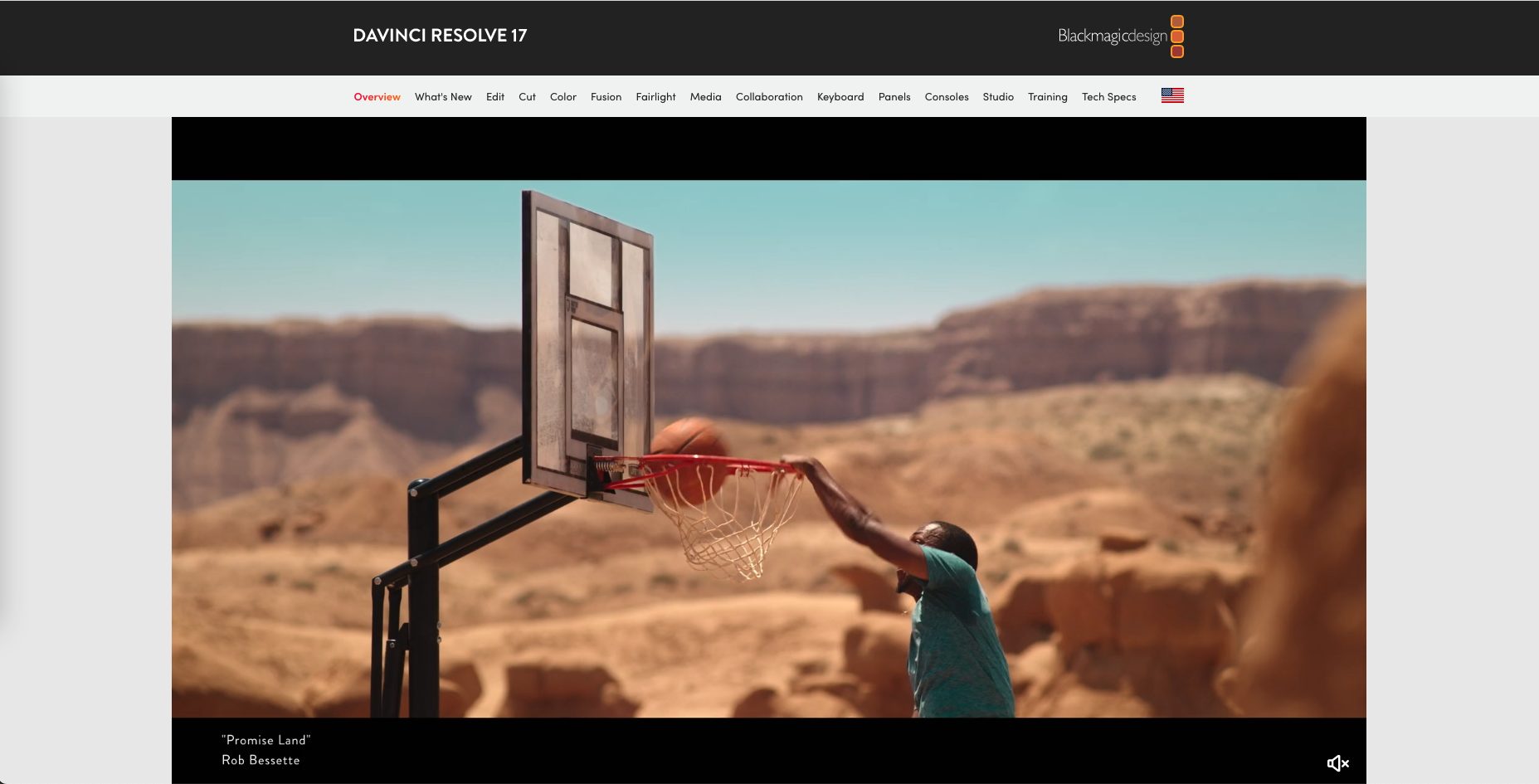 DaVinci Resolve is a professional-grade video editing tool. However, it's also affordable. So, if your small business is looking for cutting-edge video editing tools, here you go. It includes editing, color correction, visual effects, motion graphics, and audio post-production in a single platform with a modern interface that's fast to learn, easy for new users, and powerful enough for professionals. It's literally the tool used by many Hollywood studios to produce the movies you love. There's a free plan and you can buy the licensed version for $295.
---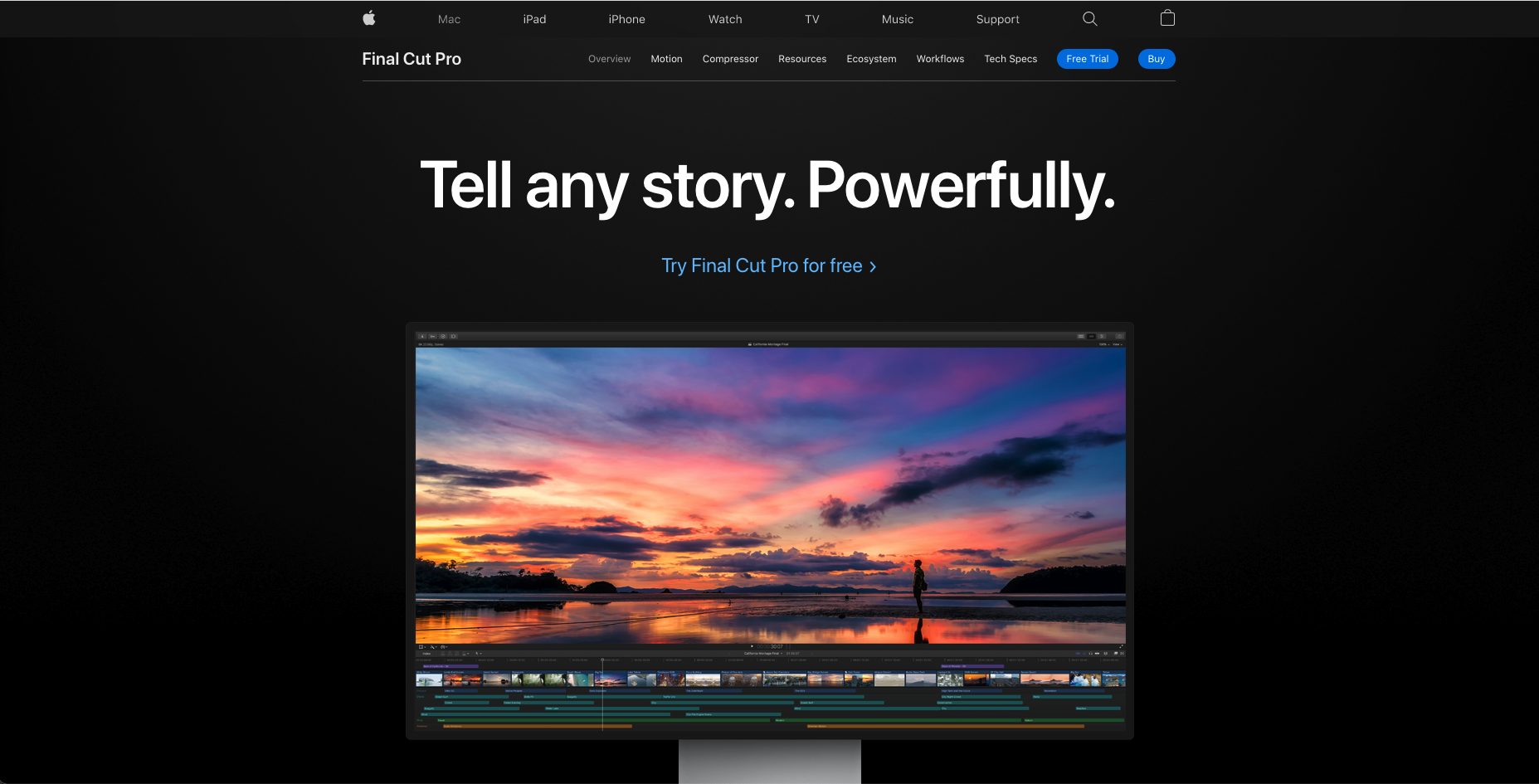 Final Cut Pro X is another of the more powerful video makers for SMBs. It's simple and flexible while still offering the features and functionalities that professional video editors might need. We especially love the Smart Conform feature that analyzes each clip in your video timeline and automatically crops the video to square, vertical, or custom size and shape. You can also use custom overlays to help with the design of text and graphics and the Transform Overscan feature to check out the footage that goes beyond the frame. You can try the platform free for 90 days (an entire quarter!). When you're ready to buy, it'll cost you $299.
---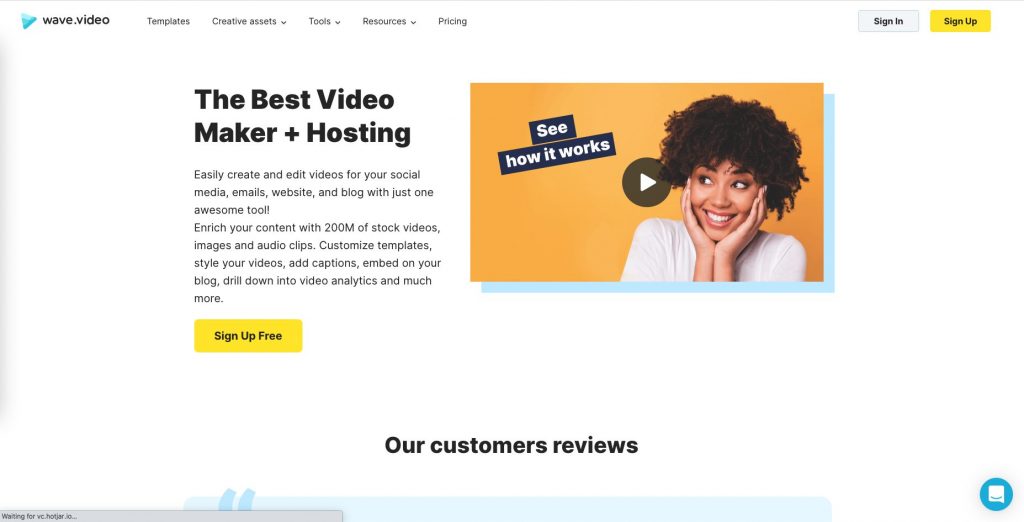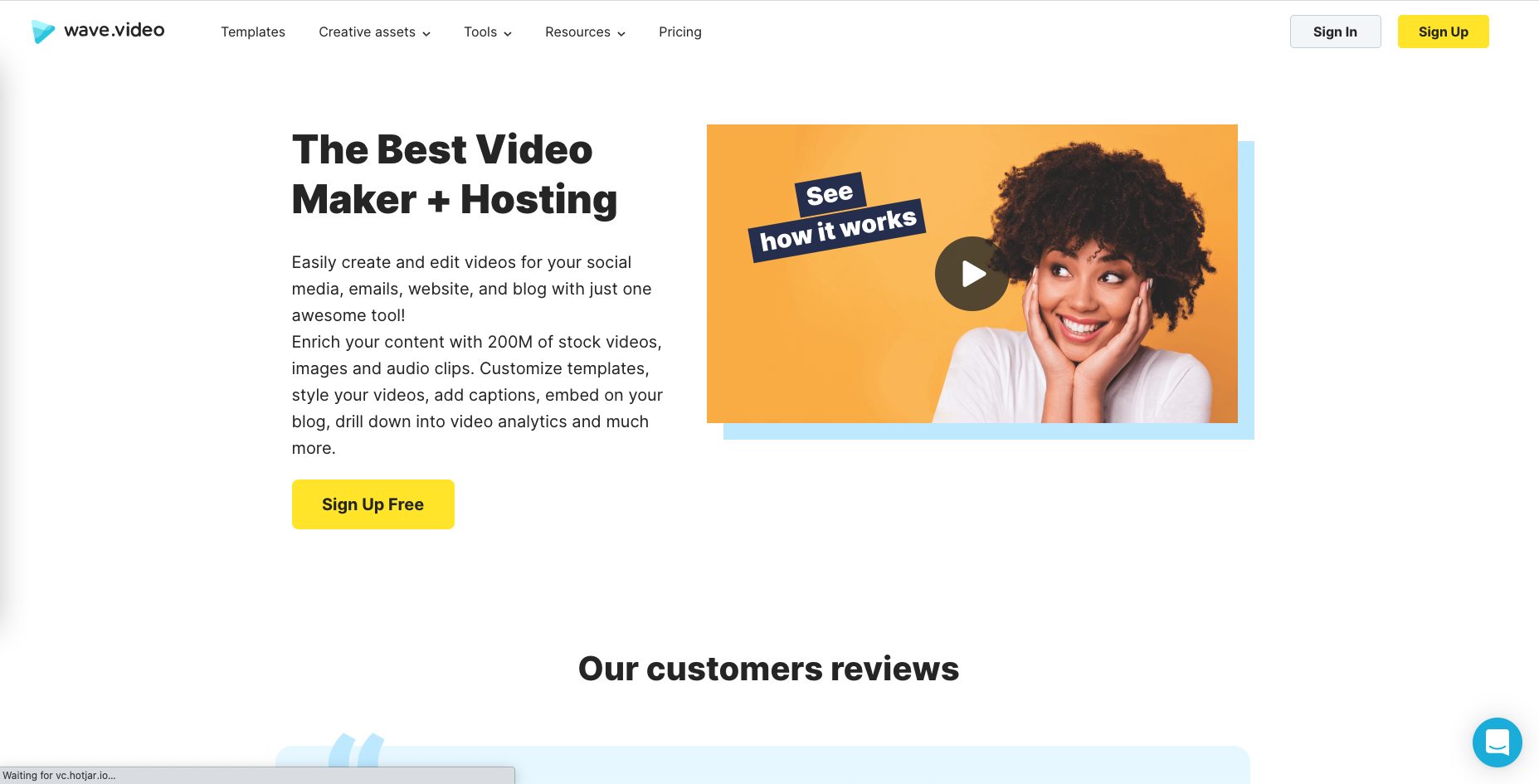 Wave.video is an easy-to-use video maker with a drag-and-drop interface so you can quickly create and edit videos for emails, websites, social media, and blog posts. Wave.video includes access to 200+ million stock images, videos, and audio clips, as well as customizable templates. There's a free plan that includes access to 2+ million royalty-free video clips and images, five video embeds, a Wave.video branded video player, unlimited social media native shares, and a 15-second editing limit. Paid plans give you access to more features and start at $20 per month.
---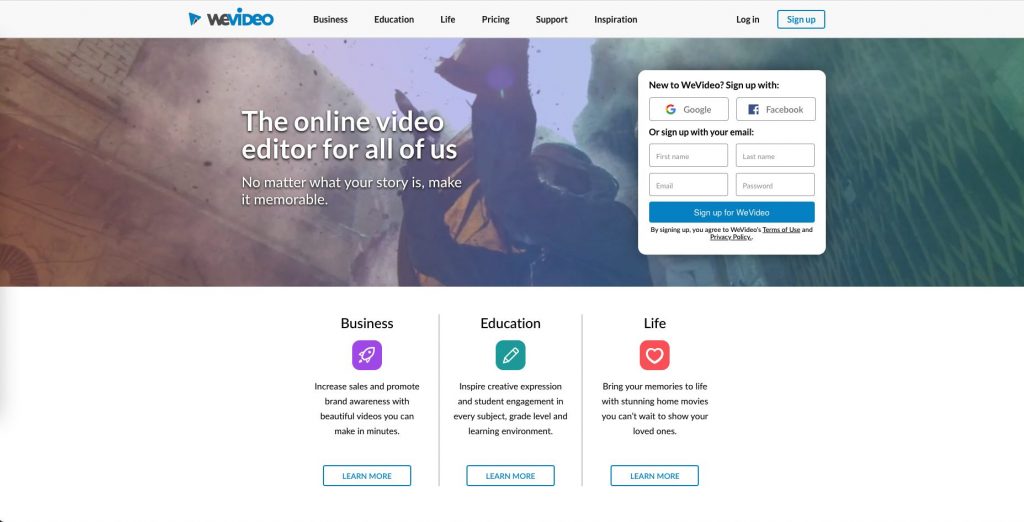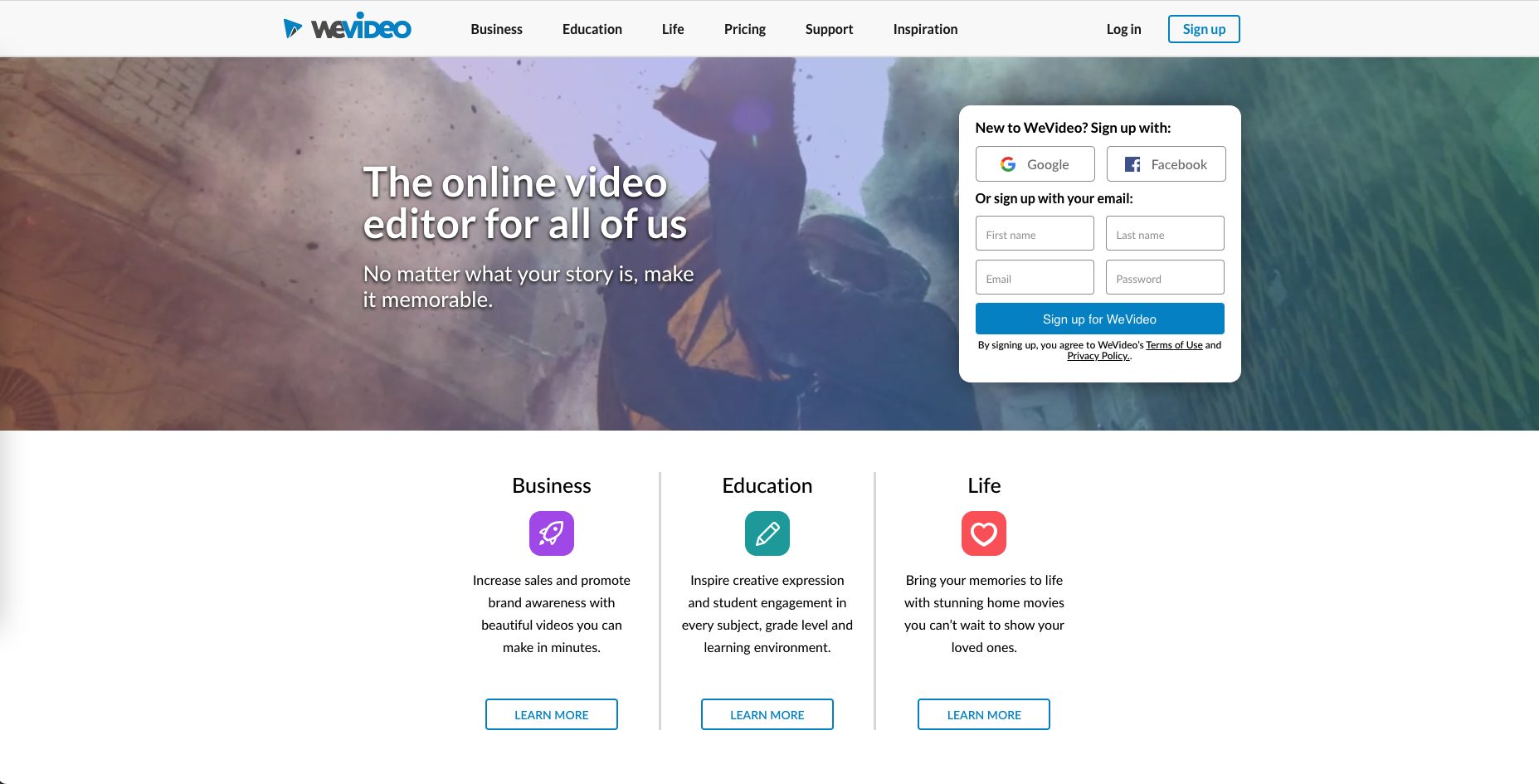 WeVideo lets you choose from multiple video formats so you can create and edit videos that are going to look great no matter where you share them. With this cloud-based platform, you'll get access to more than 1 million assets like images, videos, and music. You can add your logo to create branded templates, export your videos up to 4K resolution, and use editing tools like green screen, animated text, screen recording, and more. The free plan includes five minutes of publish time per month, 1GB of cloud storage, 480p max resolution, and the ability to create square or vertical videos. Paid plans include many more features and start at $4.99 per month.
---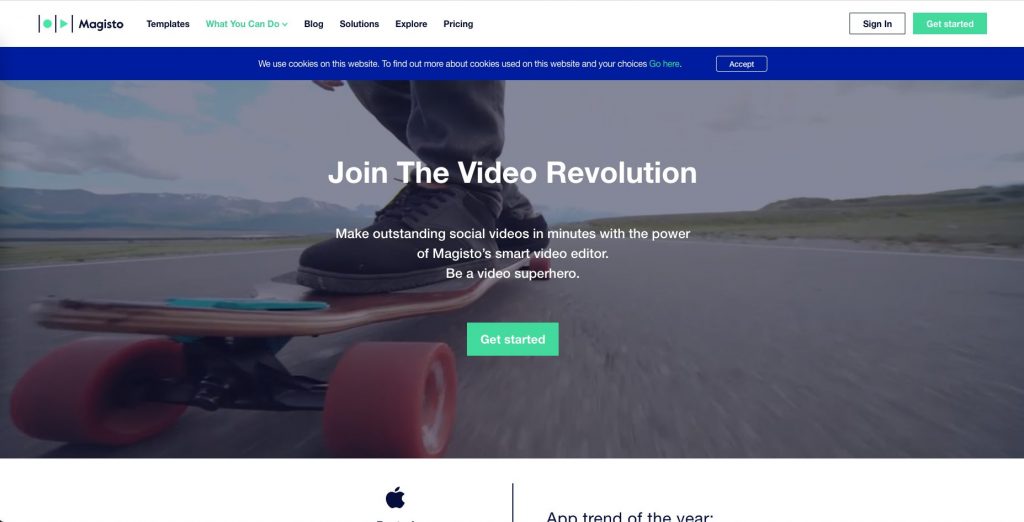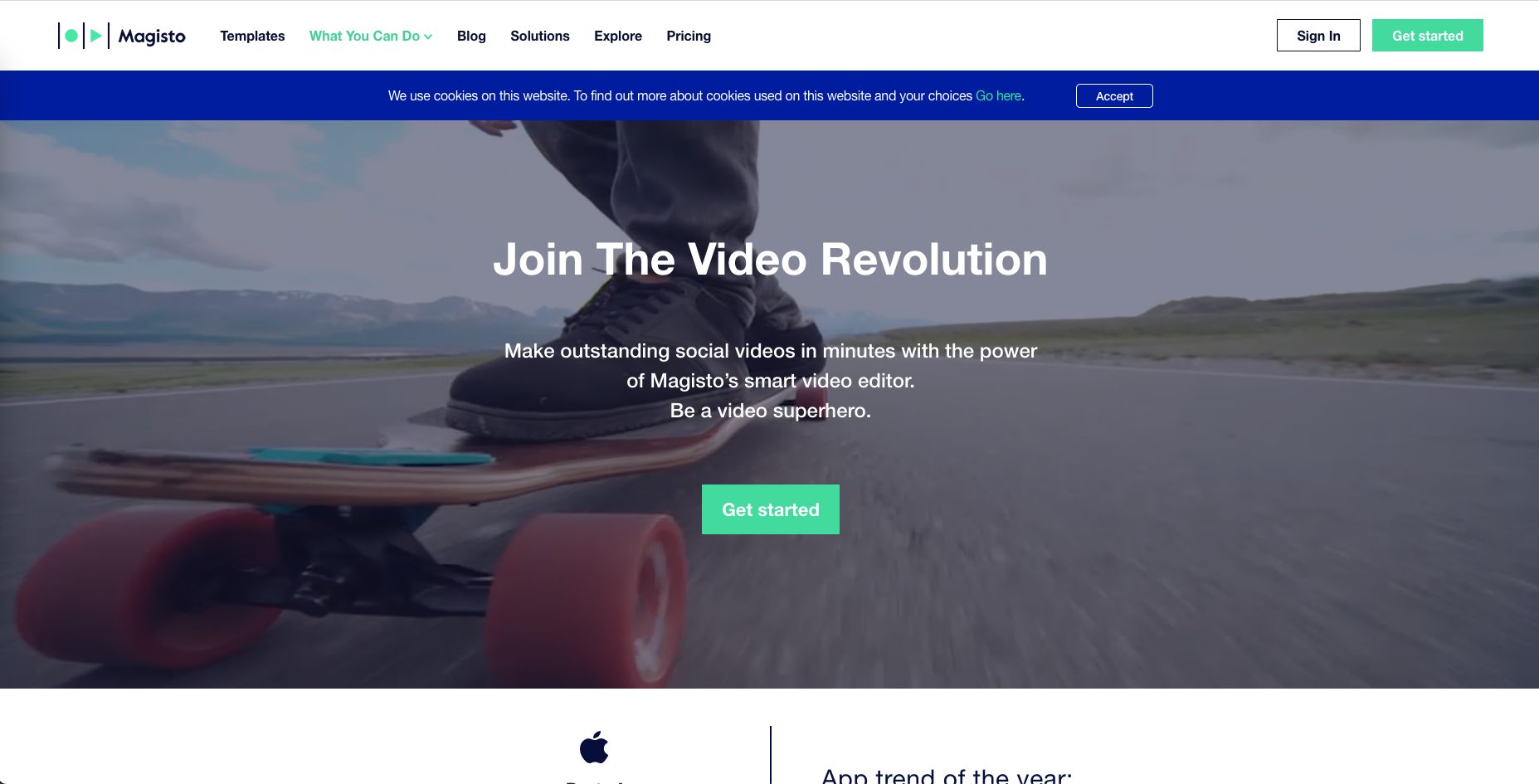 Magisto is an AI-driven video editing tool that makes creating videos for your small business super fast. Just choose the style of video you want, add some footage, and choose your soundtrack. Magisto does everything else, creating a video for you using AI-editing. Magisto offers access to more than 3 million full-HD iStock video clips and photos, facial recognition, filters, effects, auto-cropping, and more. Pricing starts at $4.99 per month.
---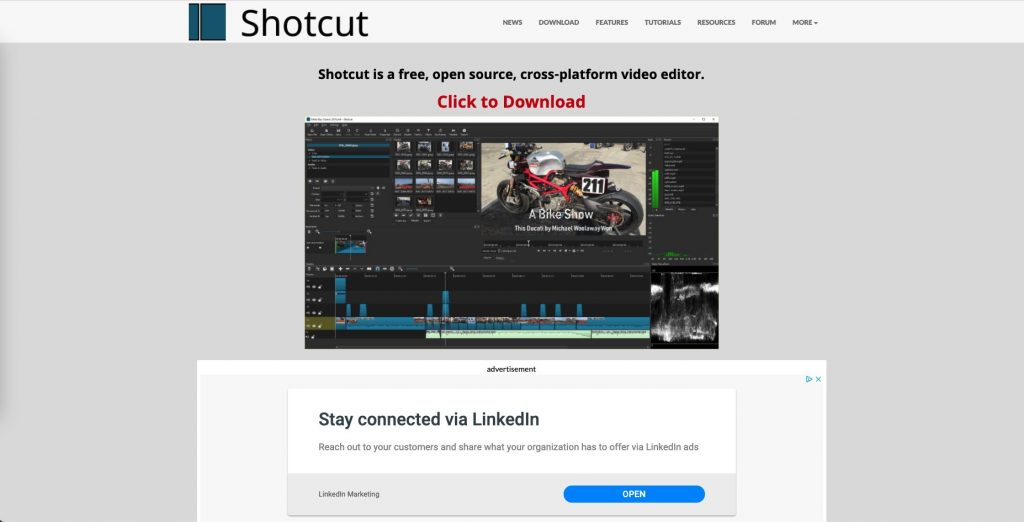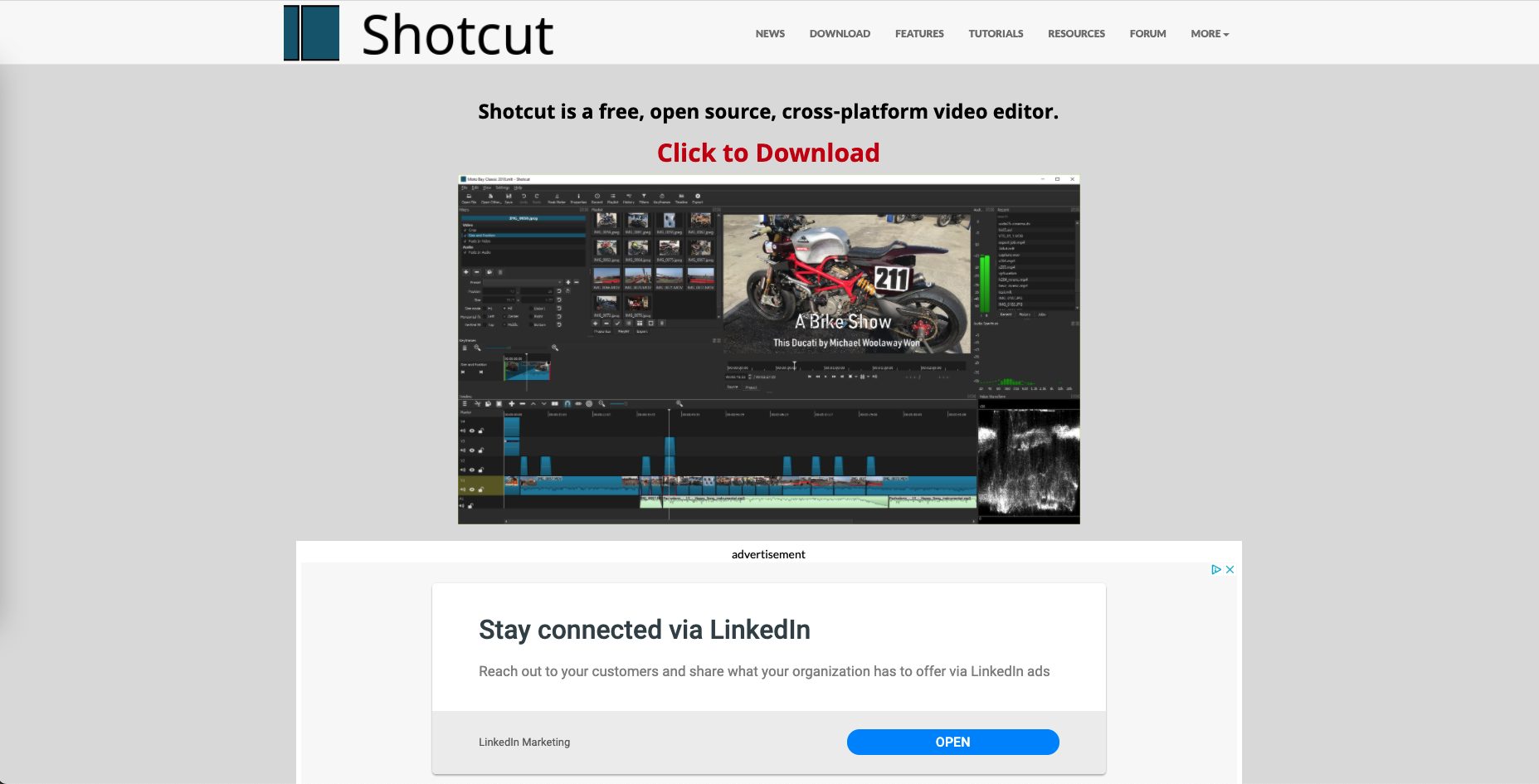 Shotcut is an open-source, free, cross-platform video editing tool with a decent number of features. Plus, you can just download and start using it. The platform supports multiple video formats and platforms. It offers 4K resolution, audio and video effects, color correction and grading, interlacing, transitions, and more.
---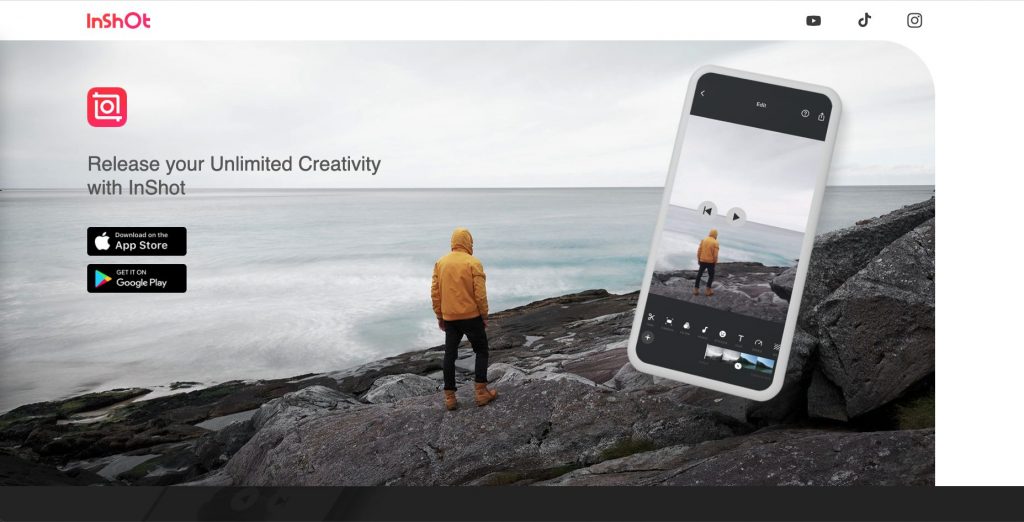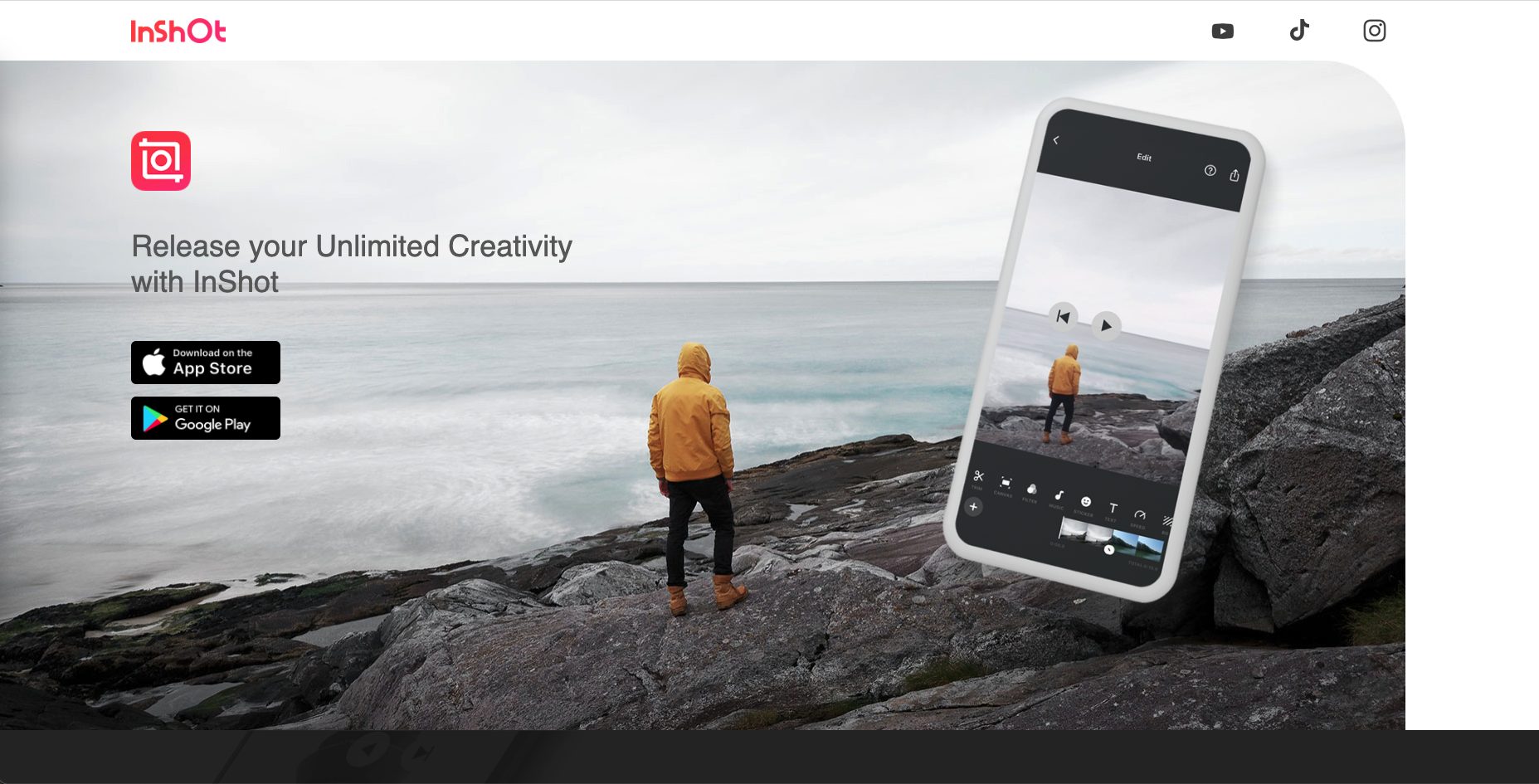 InShot is a video maker available for iOS and Android. It's powerful for a mobile video editing app and can give your small business the video maker tools you need to create and share video content. There are several video editing tools like trim, speed adjustment, filters, and more. You can also add music using timeline features to easily sync up your video and sound. The app is free, but if you want to remove watermarks and ads, as well as get access to all of the other features, you can pay $14.99 per year. There's also the option to pay a one-time fee of $34.99.