It's no secret—today's marketing field is vastly different from what it was decades ago. Once upon a time, TV ads reigned supreme; now, social media is king. Gone are the days where marketing departments simply churned out taglines for brands and dictated what consumers should get. These days, marketing is a two-way street, with consumers having more say now than ever before. It's an exciting world as we see ordinary people rise to become popular influencers, wielding authority that can either boost a brand's image or destroy it.
From small-scale startups to big, established global brands, influencers are proving to be an effective marketing strategy across many industries. Many people prefer to seek out reviews and their peers' opinions instead of just taking what a brand says about itself at face value.
YouTube has remained one of the most lucrative social media platforms for influencer marketing. Videos are a popular form of content—entertaining, informative, and with lots of opportunity for advertising. In fact, as early as 2017, YouTube had already estimated that over a billion hours of videos are viewed on the platform every day around the world. It's no wonder many brands want to increase their presence on YouTube.
Influencers can take a brand to the next level, and seeking the services of an influencer marketing agency is an effective way to do that.
---
The Top 14 YouTube Influencer Marketing Agencies to Level Up Your Videos:
---
What does an influencer marketing agency provide?
Influencer marketing agencies provide services that cater to the various needs of brands. They can help you craft a campaign that is tailored to your brand and target market, including the influencer that most suits your image and goals.
That said, most of the top influencer marketing agencies do offer a full suite of services. You tell them your goals, and they take care of everything to help you achieve them.
Some of the services that an influencer marketing agency can provide are:
Identification of target audience

Influencer matching

Content creation and management

ROI tracking

Data analysis
---
Top 14 YouTube Influencer Marketing Agencies
If you're a brand looking to level up your presence on YouTube, here are 14 of the best YouTube influencer marketing agencies to consider. Do take note that while most of these have offices and headquarters located in North America, the work of agencies in influencer marketing is primarily global in nature. Having said that, the list does include some agencies that have a solid presence in Europe and Asia.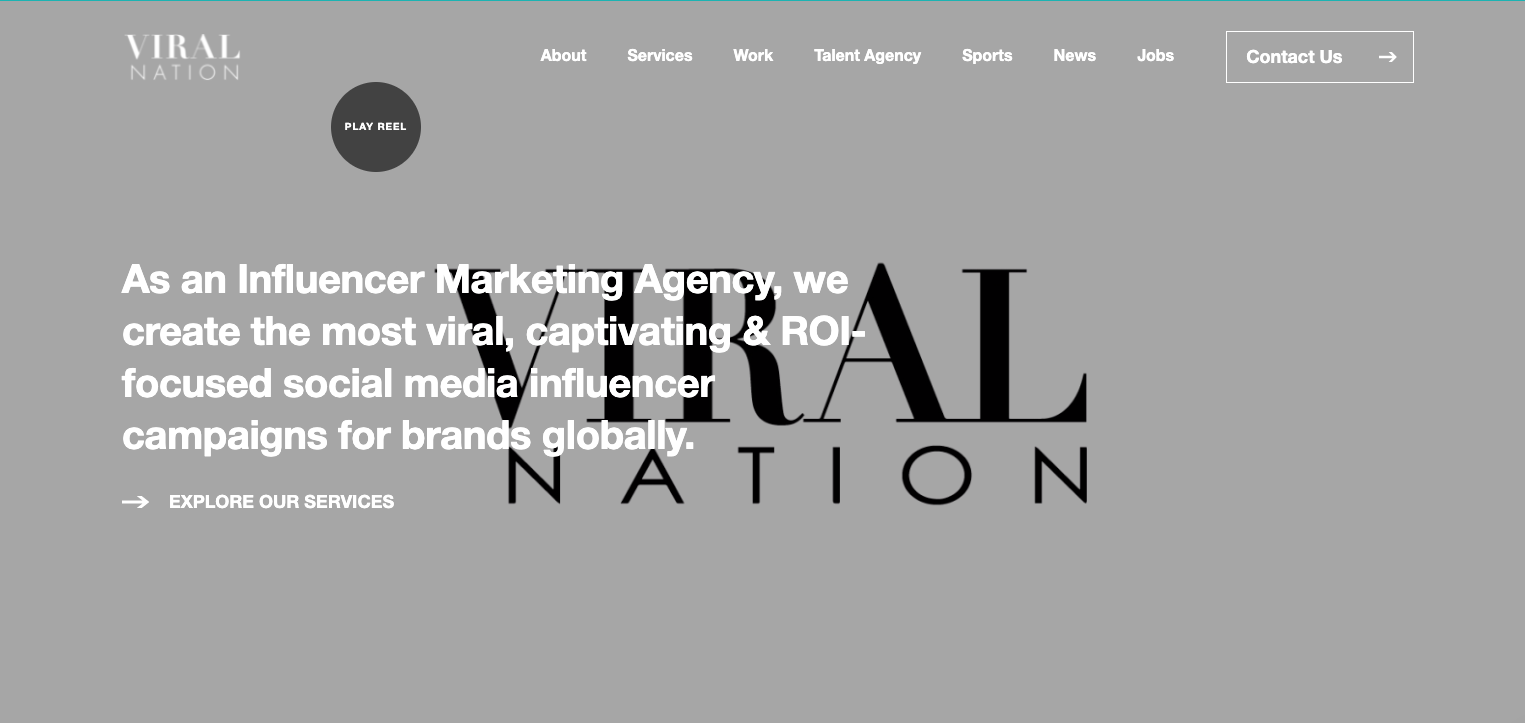 About
Viral Nation started out as a social media talent agency in 2014. When the company realized the growth potential of working with brands for marketing, they created the now multi-awarded influencer marketing agency offering a full range of services for clients.
They provide services for any industry across all social media platforms, using a wide range of influencers from nano influencers to celebrities. Just recently, Viral Nation launched Viral Nation Sports, bringing the world of sports to the influencer marketing game.
Strengths
Their global campaigns have won prestigious awards, cementing Viral Nation as a leading influencer marketing agency.
Their proprietary software for data analysis, Influsoft™, has licensed API integrations with almost all social media platforms, including YouTube, Instagram, Facebook, and Tiktok. The platform can even do advanced social listening so clients will have information on what their audiences are posting on social media about their brand, as well as their competitors'.
HQ Locations: New York, USA and Toronto, Canada
---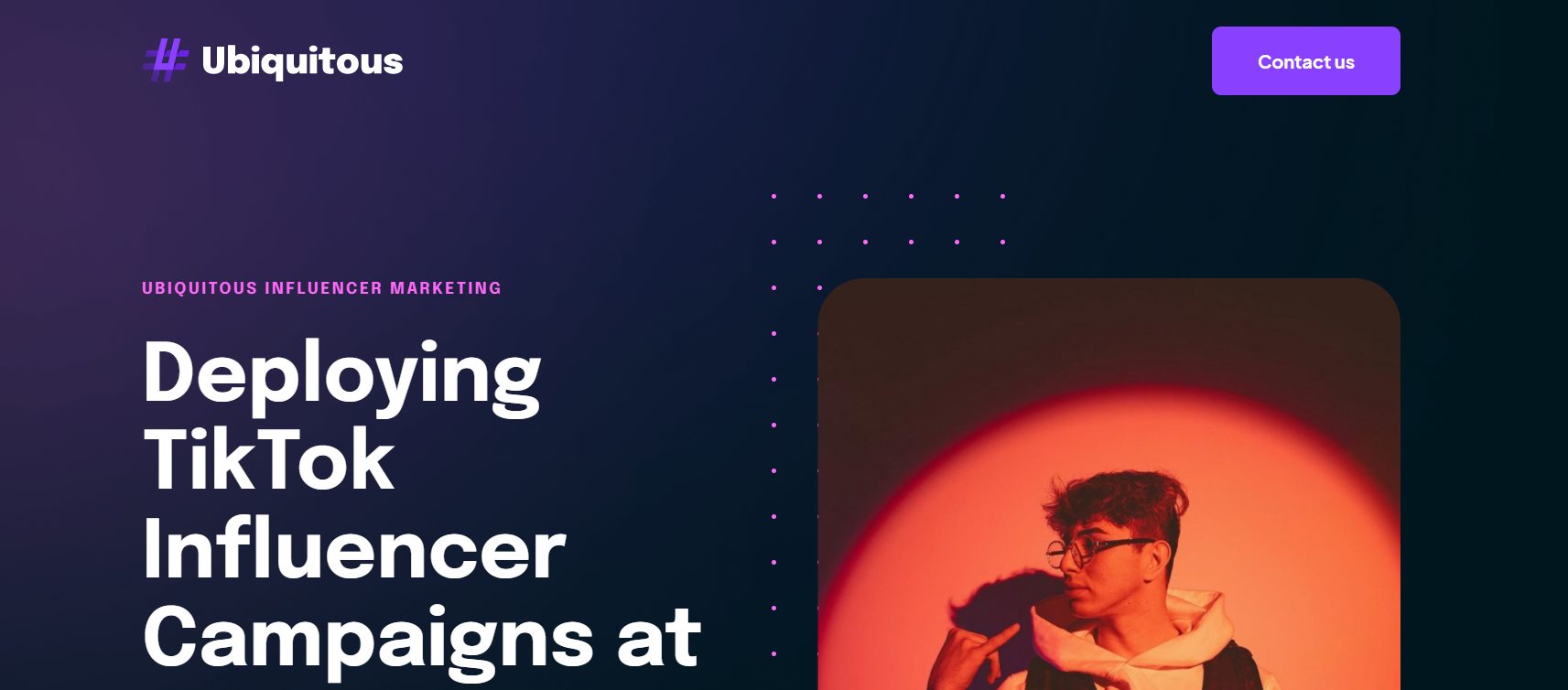 About
Ubiquitous is a company founded by Alex Elsea in 2020 to meet the gaps in TikTok influencer marketing services. Since its launch in 2021, it has become a fast-growing full-service marketing agency that unlocks cross-platform influencer marketing. Its services are focused on delivering growth on TikTok, Instagram, and YouTube.
Strengths
Ubiquitous serves as a central hub for brands, influencers, and creators. They have a marketplace app where brands can easily find influencers and creators who match the specific needs of a particular marketing campaign.
Aside from this, the company is also deeply invested in providing data-driven solutions that are agile enough to meet the stringent demands of the fast-evolving influencer marketing industry. They offer end-to-end campaign management, full creative services, data analytics, metric-based strategizing, and influencer management.
HQ Location: Los Angeles, United States
---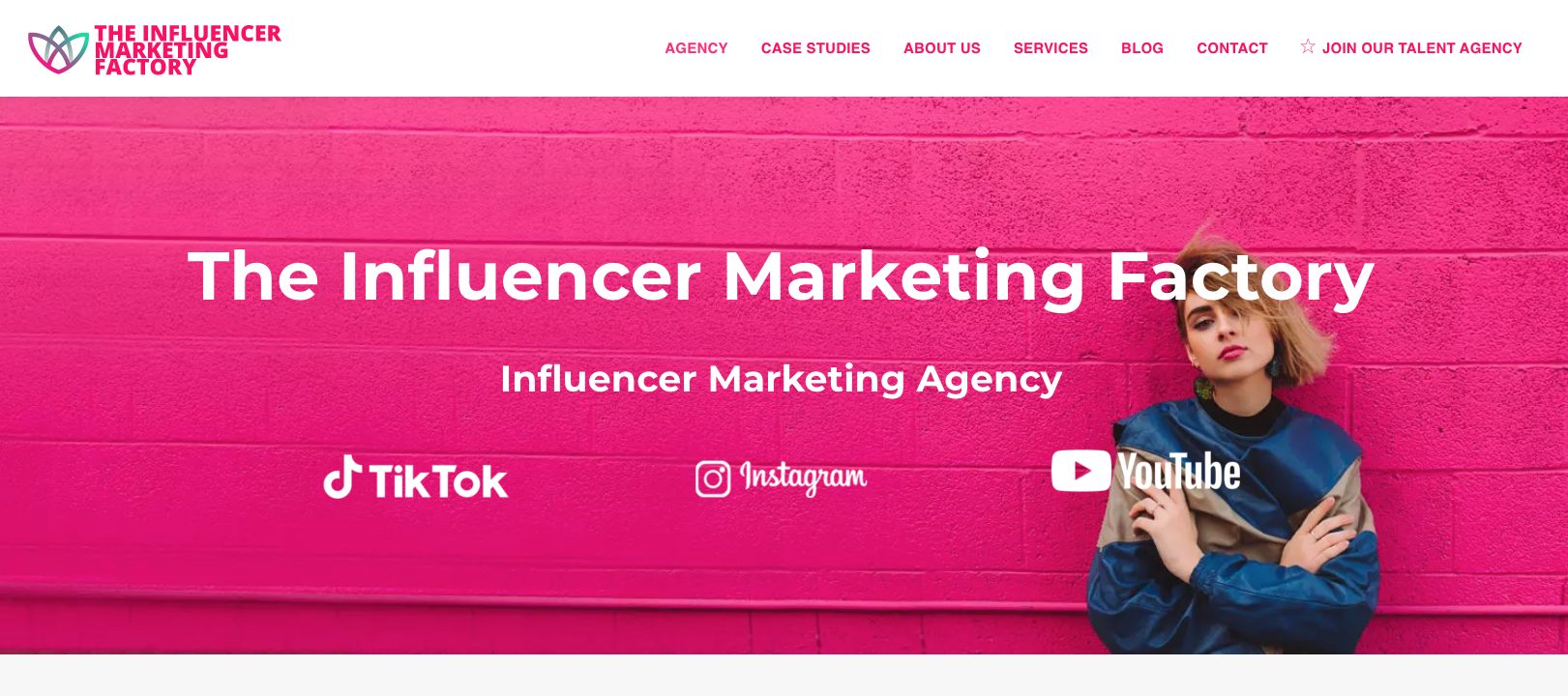 About
There's a reason why the Influencer Marketing Factory is consistently on many websites' lists of top influencer marketing agencies. They are a full-service agency, trusted by big brands such as Warner Music Group, Google, and Snapchat. They focus primarily on TikTok, YouTube, Instagram, Triller, and Twitch.
They also operate as a talent agency for creators and influencers who want to get deals and sponsorships with major brands. This way, the agency has access to both in-house and external influencers that you can choose from.
Strengths
The Influencer Marketing Factory is very data-driven. They ask their clients what their KPIs are, and build a campaign around those goals. They look at a brand's values and suggest influencers that are aligned with those values for maximum impact.
When it comes to content creation, the agency is also involved in structuring and executing the proper content that will pique the interest of the target audience. Engagement is monitored and recorded by the agency, with a full report at the end of the campaign detailing successes and failures.
HQ Location/s: Miami and New York, USA
---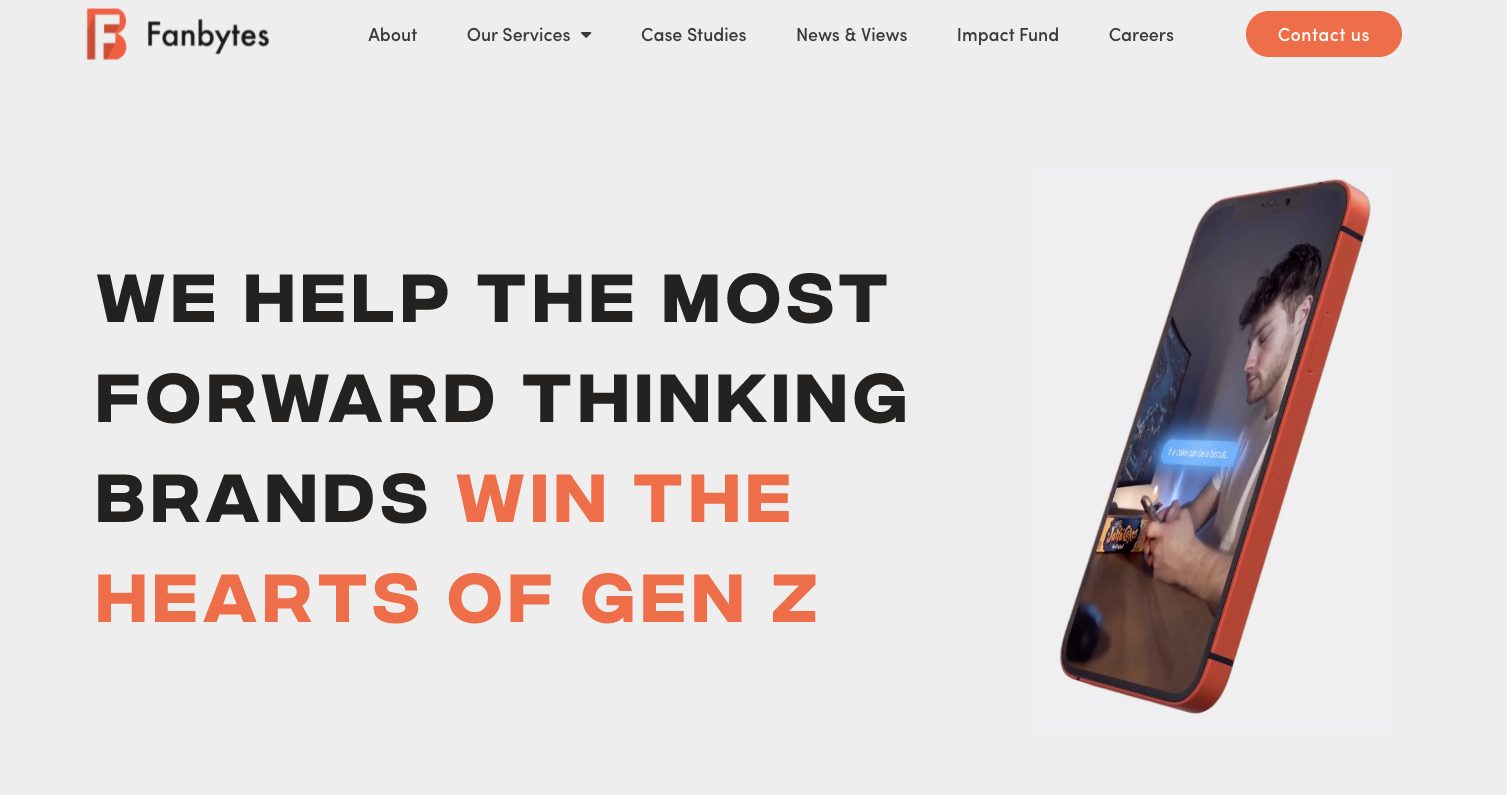 About
If it's Gen Z you specifically want to target, Fanbytes will help you not only to get their attention, but to win their loyalty too. Fanbytes is a leading British influencer marketing agency that's so good at what they do, they even count the UK government as one of their clients.
They have done over 2000 campaigns with more than 500 brands globally. Their aim is to be the premier Gen Z agency for Gen Z brands.
Strengths
Their focus on one specific target market, Gen Z, already provides them with an edge among their competitors who have a more general perspective. You know that they truly understand their market, and campaigns will be created around the interests of the Gen Z population.
Fanbytes activates and monitors their campaigns through their own platform, which gives them relevant and important data about each campaign.
HQ Location: London, UK
---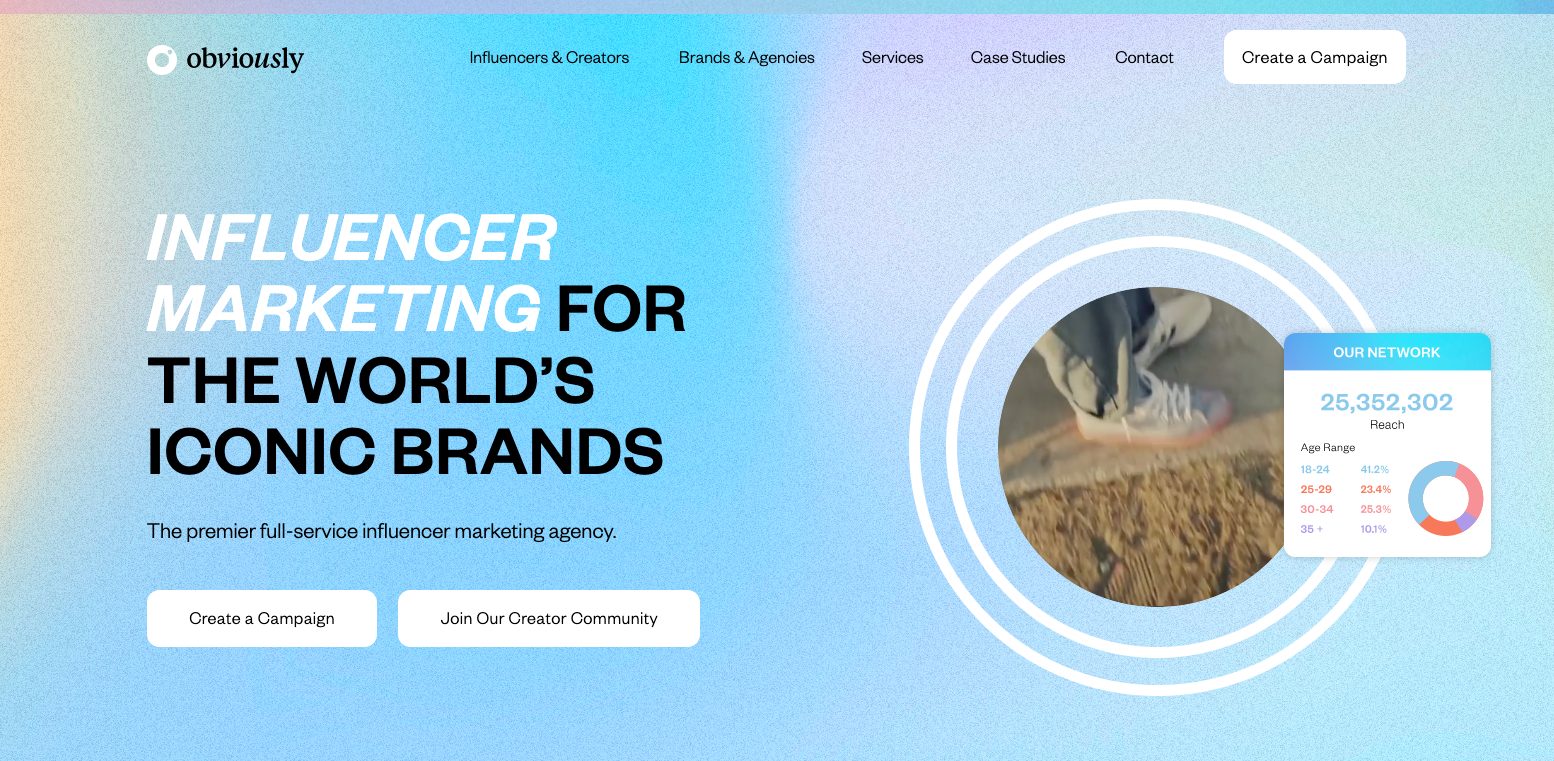 About
Obviously is one of the leaders in the influencer marketing arena. Boasting clients from Fortune 500 companies, it is a fast-growing global company that claims to have had a significant role in the rise of the micro influencer.
Their successful YouTube influencer partnerships include product tutorials and reviews for cosmetics retailer Ulta, as well as gaming videos for Free Fire that generated brand awareness.
Strengths
Obviously has developed their own client dashboard within their platform for clients' easy access to data. They can retrieve the measurements that they need in real-time, allowing them to make fully informed decisions at every stage of the campaign.
They also have the ability to mount campaigns of any size, from small and simple programs to complex campaigns that require thousands of influencers. Whatever brands need, Obviously can deliver.
HQ Locations: San Francisco and New York, USA; Paris, France
---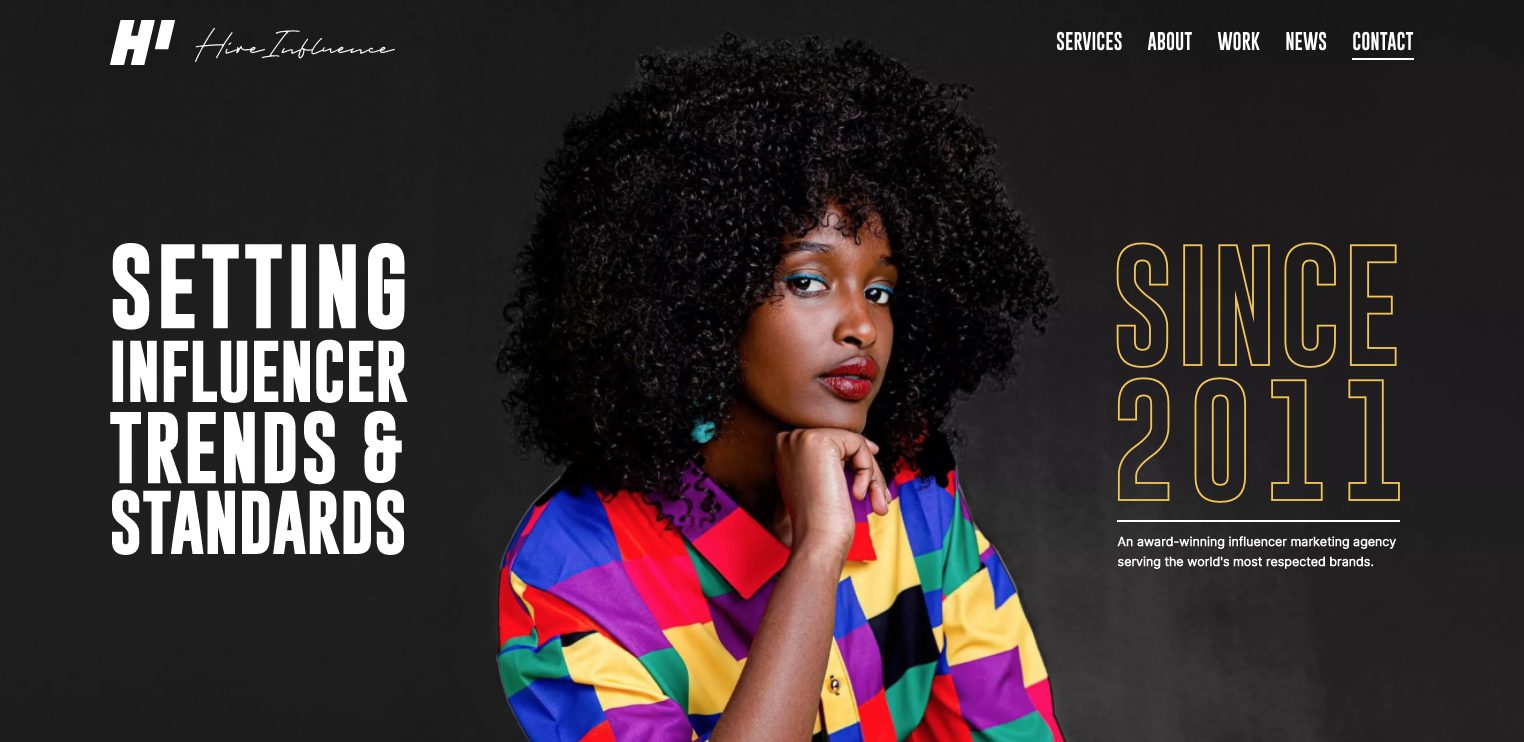 About
HireInfluence is another staple in many top agency lists online. Since 2011, they have been focused on influencer marketing, sharpening their skills and expertise in the industry. As an agency offering a full-service suite, they provide services from strategy development to compliance and analytics. Each campaign is tailor-fit to the client, ensuring that the brands get the most of their marketing.
Strengths
HireInfluence prides itself on what they call "experiential ideation and fulfillment." Because of their years of experience in the industry, they are attuned to the emotional needs of the market and are able to foster strong connections and develop next-level loyalty with consumers for their clients. What they create is not simply content, but positive experiences for the followers.
HQ Locations: Houston, Los Angeles, and New York, USA
---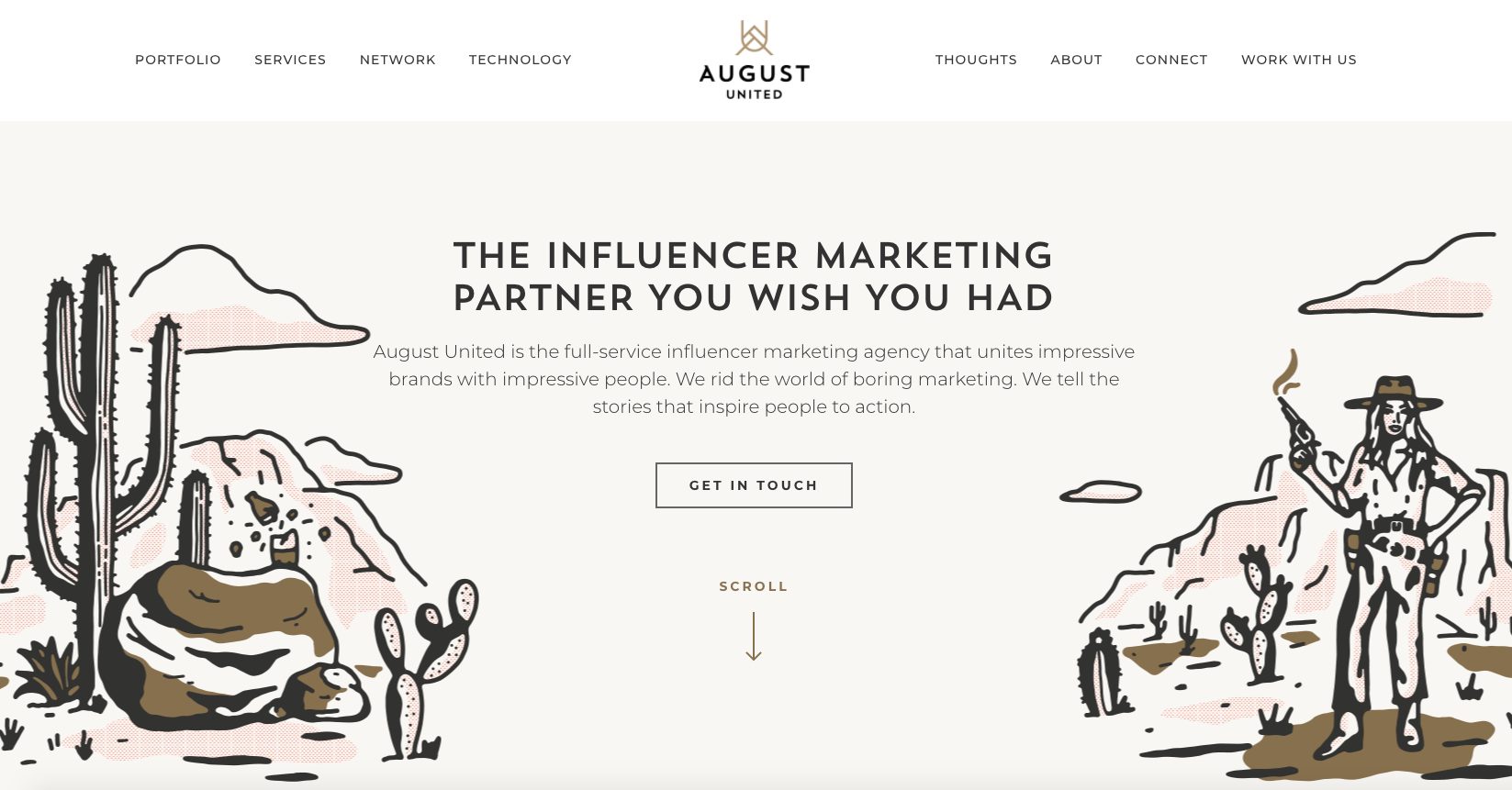 About
August United describes themselves as "influencer marketing mavericks," forgoing the traditional for the modern. They live and breathe adventure, loving the challenges that come with developing a unique YouTube influencer marketing campaign for their clients.
The agency's full-service influencer marketing program is as full as it gets. Not only do they match clients with the right influencers, but they also equip the influencers with the right tools and knowledge for optimal engagement.
Strengths
August United has an in-house team of creators who can produce content for the brand. When it comes to influencer marketing, they can work with your chosen content creators to produce out-of-the-box videos that will catch the eye of your target audience.
Another unique service of August United is their influencer brand retreats. Influencers and brands are given the opportunity to personally meet and get to know each other, strengthening their relationship for a potentially long-term partnership.
HQ Location: Arizona, USA
---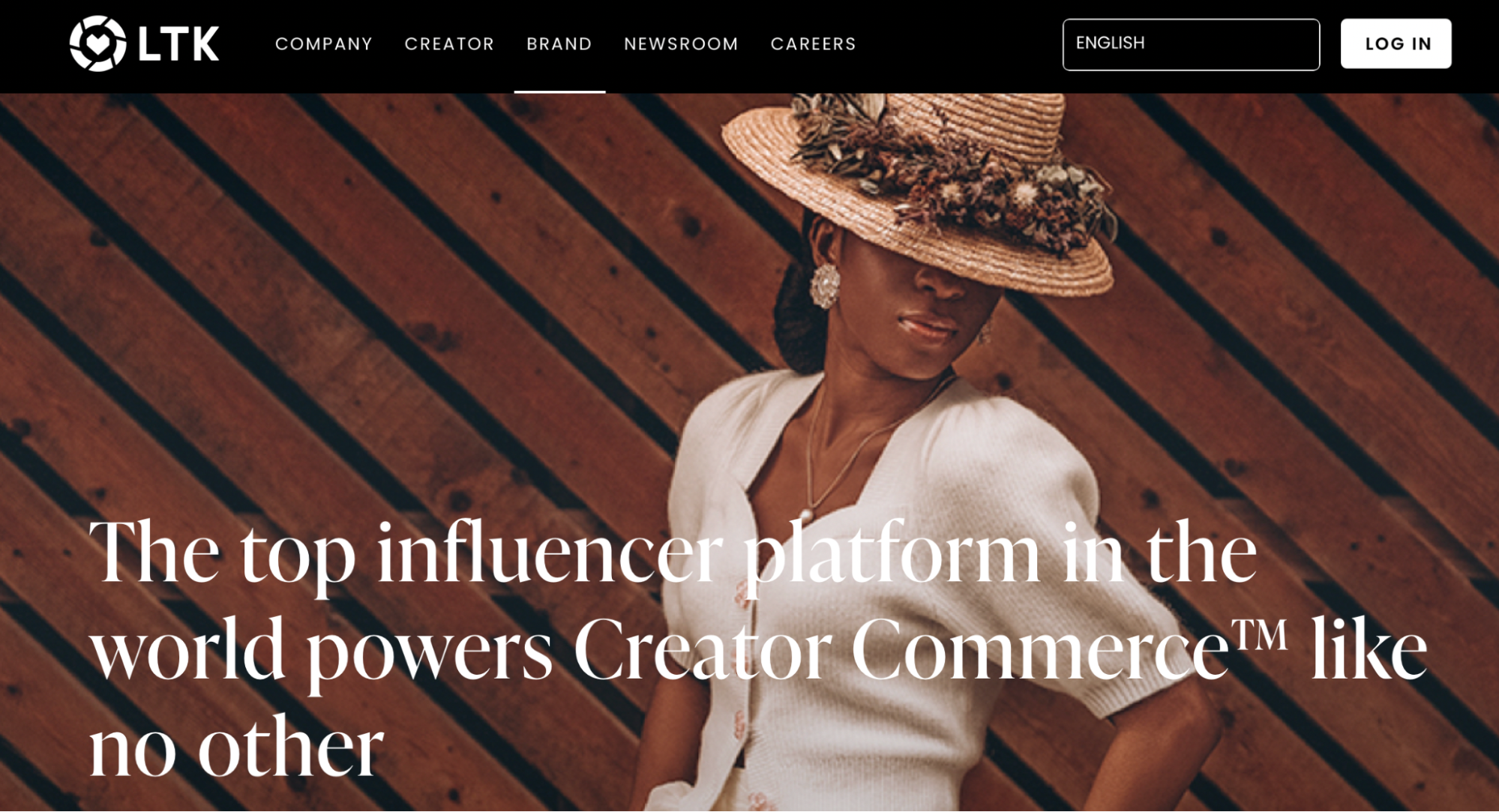 About
Formerly called rewardStyle & LIKEtoKNOW.it, LTK is a global community of hundreds of thousands of first-class content creators and brands. They offer end-to-end campaign execution across all the major lifestyle categories that include health and wellness, women's fashion, men's fashion, and beauty. While they're trusted by big brands like Walmart, they serve brands of all sizes. They also operate as a platform for influencers and creators interested in collaboration opportunities, one-on-one growth consulting, and easy tools.
Strengths
Whether you're an influencer or a brand, LTK offers several benefits. Brands can take advantage of LTK's unique access to over 10 years of historical brand performance data that will give them real-time insight into their influence. Armed with this data, they're much better equipped to grow their influence by targeting the right audience on social media. For creators, one of the biggest perks is exclusive access to a personalized shop on LTK. Plus, creators can also leverage LTK's proprietary creator performance data to help them maximize their earnings.
HQ Locations: Dallas, United States
---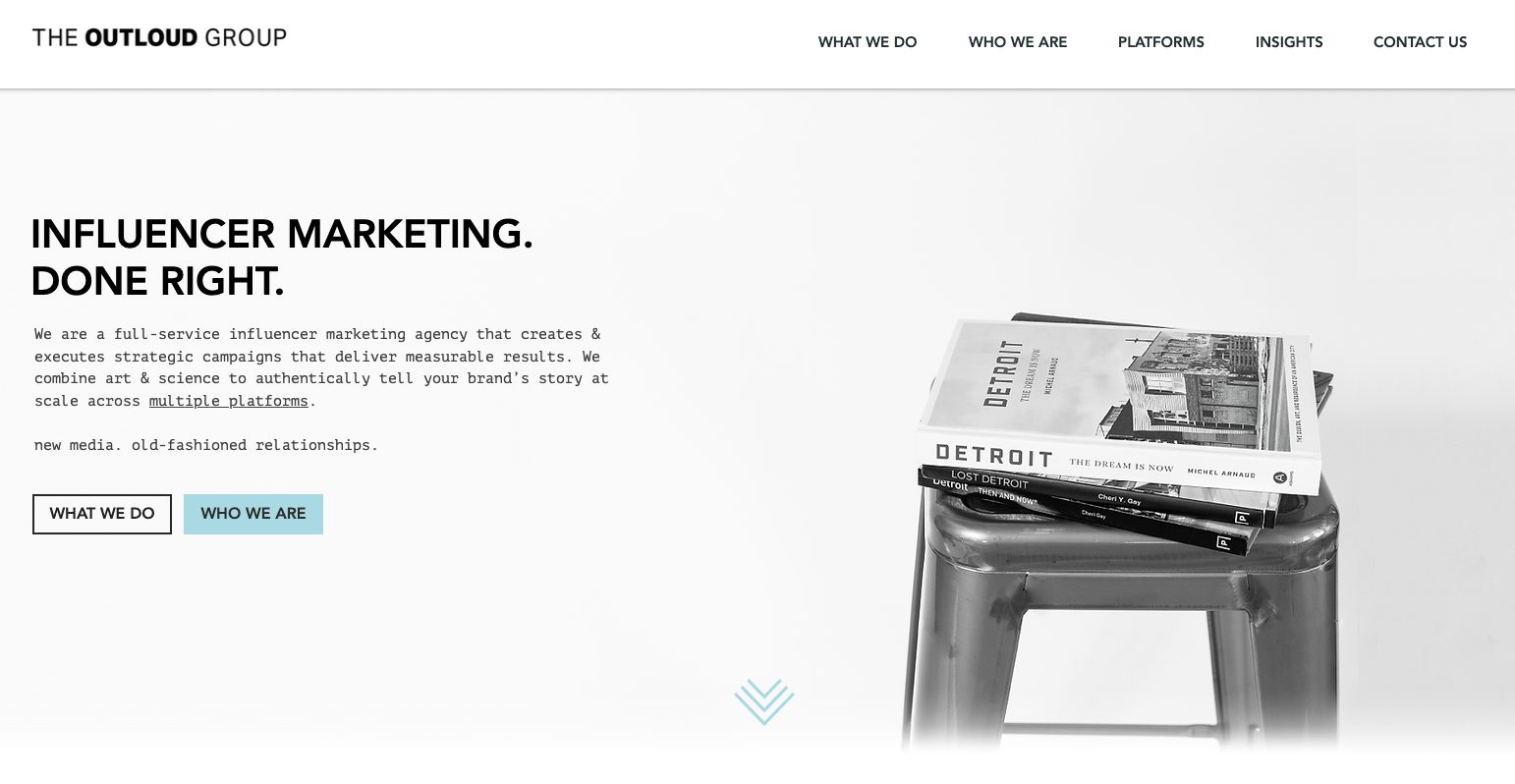 About
The Outloud Group has been handling YouTube influencer marketing programs since 2008, making it one of the oldest agencies in the industry. Outloud boasts over 8,500 sponsored videos on YouTube with a whopping 300 billion views—and counting! They work with more than 200 YouTube brand partners who understand that while producing videos may be more time-consuming than Instagram posts, the ROI across the whole funnel is worth it.
One of their most memorable campaigns on YouTube is their partnership with internet privacy company NordVPN and YouTube influencer Mark Rober. NordVPN sponsored one of Rober's most famous videos, the glitter bomb trap for thieves who steal his packages.
Strengths
The Outloud Group's 13 years in the biz have provided them with valuable insights on both YouTube marketing and influencer marketing. Their data has allowed them extensive knowledge on trends and themes that work well on video.
Aside from brands, the agency also offers content creators and influencers with services to help them succeed on YouTube, Instagram, Twitch, TikTok, and Facebook.
HQ Location: Michigan, USA
---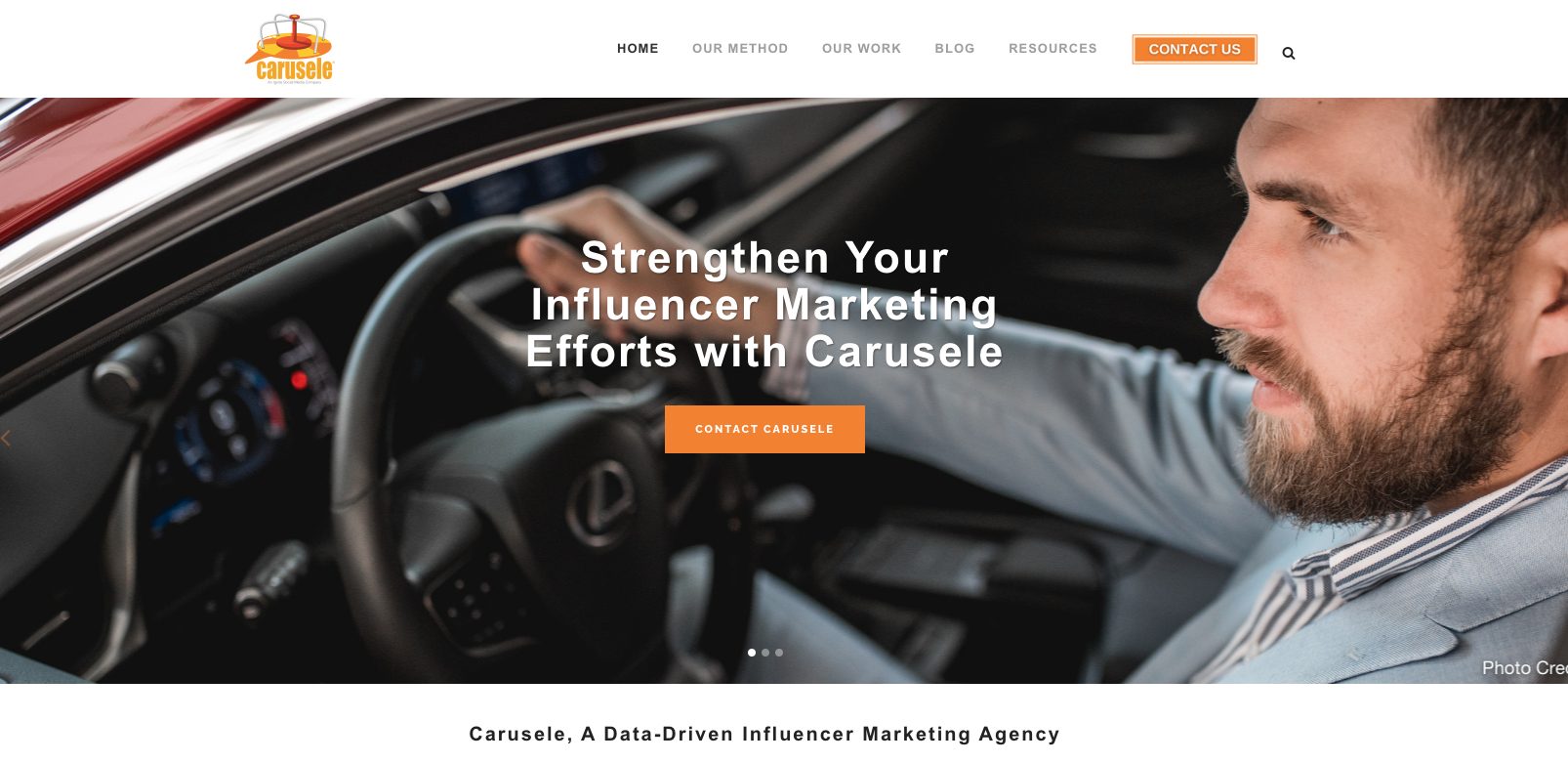 About
Multi-awarded company Carusele is perhaps one of the most revolutionary and innovative marketing agencies today. They eschew traditional influencer marketing that focuses on things like vanity metrics and artificial clicks in favor of a more robust, strategic, and data-driven approach.
With clients such as Revlon, Starbucks, and Pepsi, Carusele is also one of the go-to agencies for YouTube influencer marketing.
Strengths
Their trademarked measurement system, Engaged Audience Profiles™, gives clients an in-depth look at the kinds of people who engage with the content. This system allows Carusele and their clients to determine that the clicks, likes, and shares that the influencer receives are from genuine people.
A revolutionary and innovative marketing agency, Carusele has also developed other proprietary algorithms aside from Engaged Audience Profiles to help them analyze the performances of their campaigns.
HQ Locations: North Carolina and Michigan, USA
---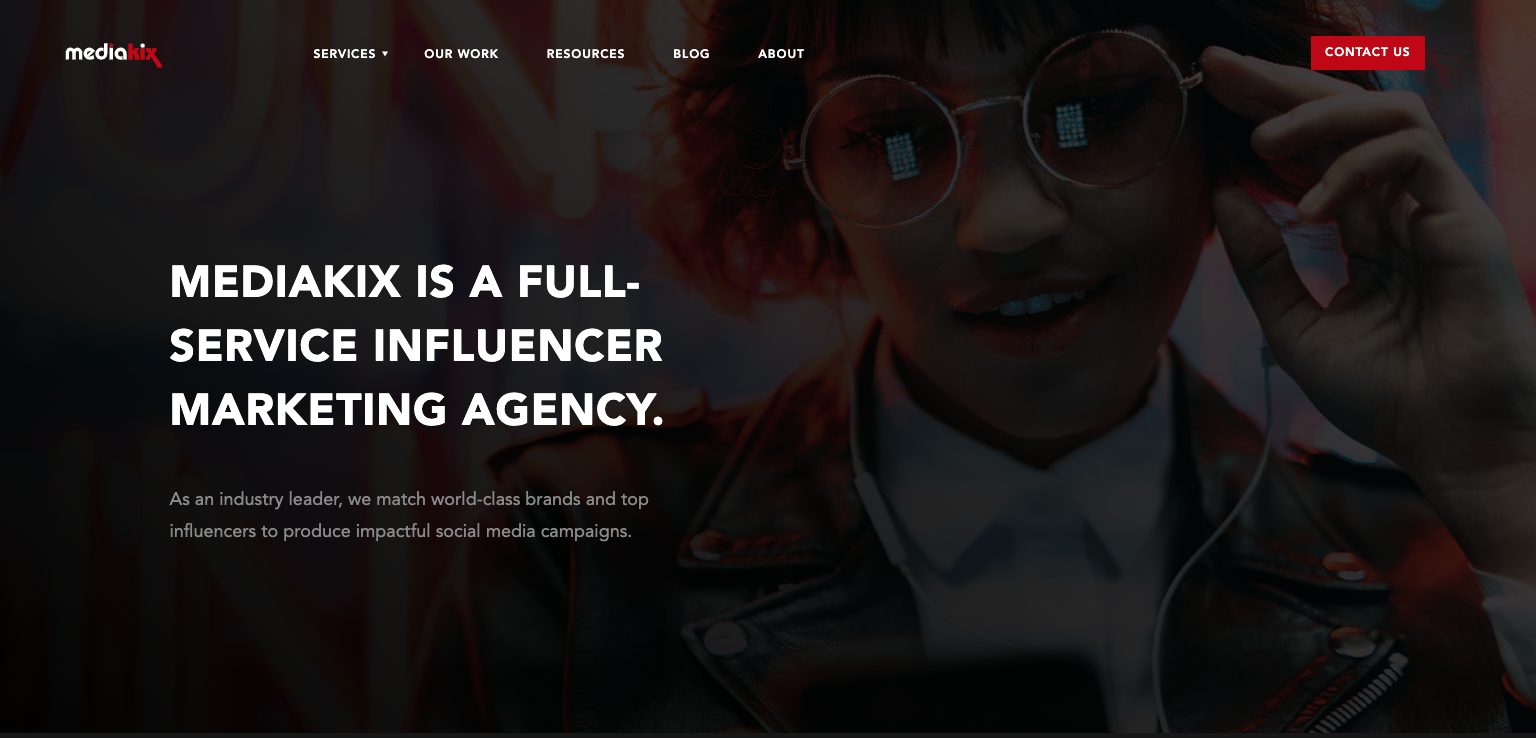 About
One of the industry's first influencer marketing agencies, Mediakix delivers on their promises of brand awareness and ROI to their clients. They bring their diverse experience to the table, offering their clients a range of influencers from emerging stars to established YouTube figures.
They are focused on YouTube and Instagram influencer marketing, with a focus on quality video sponsorships for YouTube. Among their more well-known clients are Sony Pictures, Nordstrom, and Fairmont Hotels.
Strengths
Mediakix offers their clients their expertise on conversion generation, a data-driven approach to strategy, and detailed reporting on campaign performance. Their YouTube influencer programs are optimized for ROI and customized per client.
Additionally, the agency ensures good relationships with YouTube influencers. They take care of contract negotiations, timelines, and other forms of communication so the client can focus on other income-generating activities.
HQ Location: California, USA
---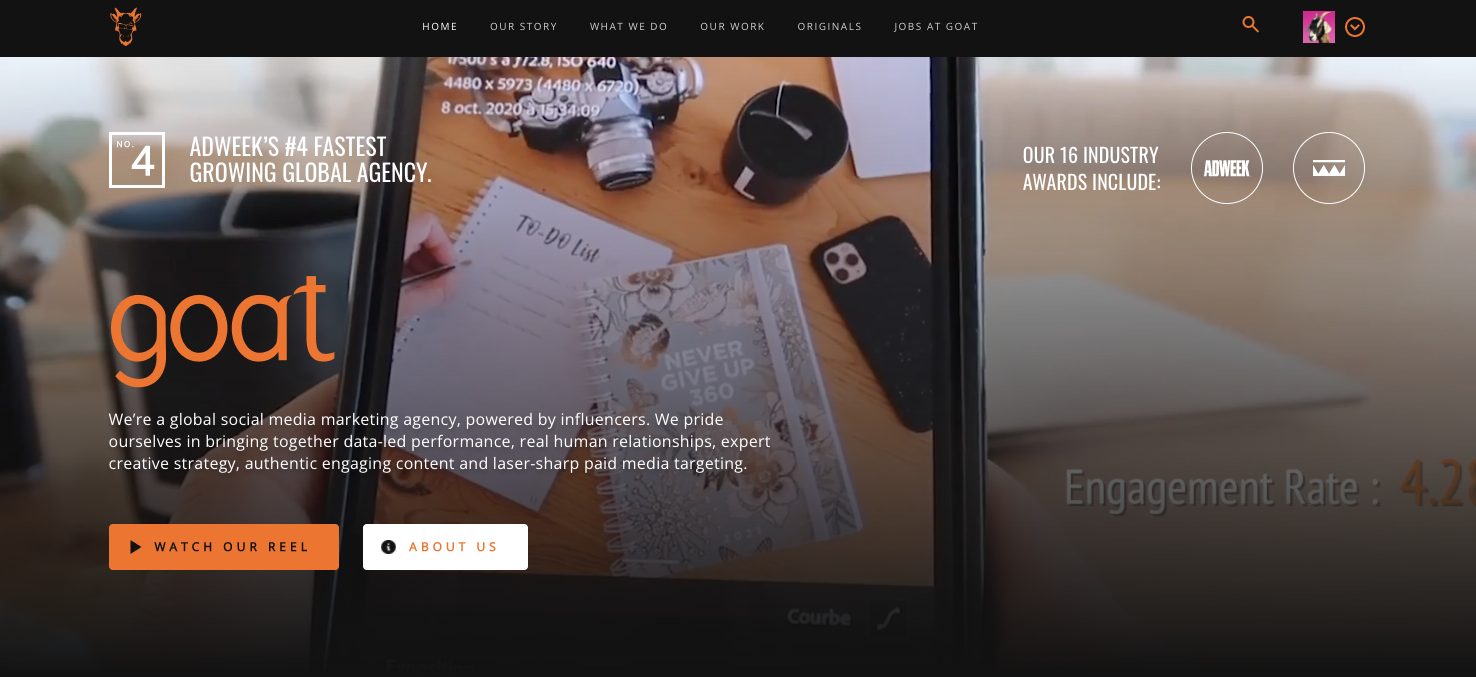 About
Goat Agency is a global social media marketing agency that is "powered by influencers." Founded in 2015, it has quickly flourished in the digital marketing sphere, cited by Adweek as Europe's fastest growing agency in 2019. To date, they have worked with over 100 thousand influencers and 450 thousand pieces of content, spanning 70 countries in 28 languages.
Because of their creativity and reach, they have been tapped by big international companies such as Disney and Facebook.
Strengths
Aside from influencer marketing programs, Goat is also known for their creativity. They have original branded content on YouTube, featuring vlogs and Goat documentaries. Their global reach means that clients can also have access to a more diverse and international audience.
HQ Locations: London, UK; New York, USA; Singapore
---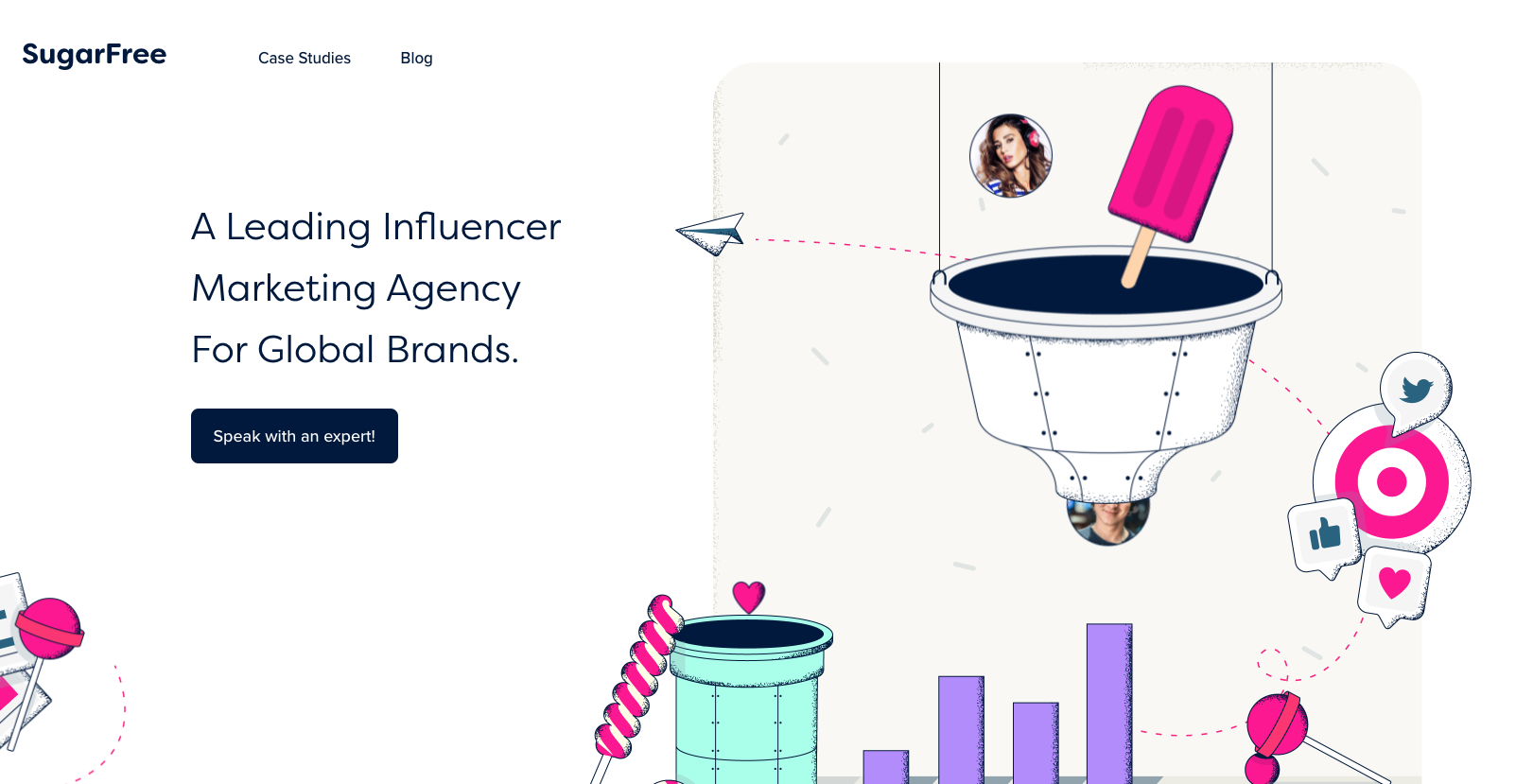 About
Have you heard of TikTok? Of course you have. Tiktok's explosion into a social media giant is, in large part, thanks to SugarFree Agency. Their work to get influencers in TikTok generated more than 3 million engagements, ending in an ROI of 600%. Considering that SugarFree is comparatively new in the industry, this is seriously impressive.
Though their primary platform is TikTok, especially for their talent agency unit, the agency offers their services for other social media platforms. Creating an influencer marketing campaign is a seamless process and focuses on telling an enduring story.
Strengths
They have a large network of influencers that can help your brand, including popular YouTubers Dang Matt Smith, Emma Chamberlain, and David Dobrick. They also understand the Gen Z market well as they were the audience that raised TikTok's popularity in the US and Europe.
They have a diverse pool of talents and professionals who work with brands to ensure that every detail is fit to the story.
HQ Location: Los Angeles, USA
---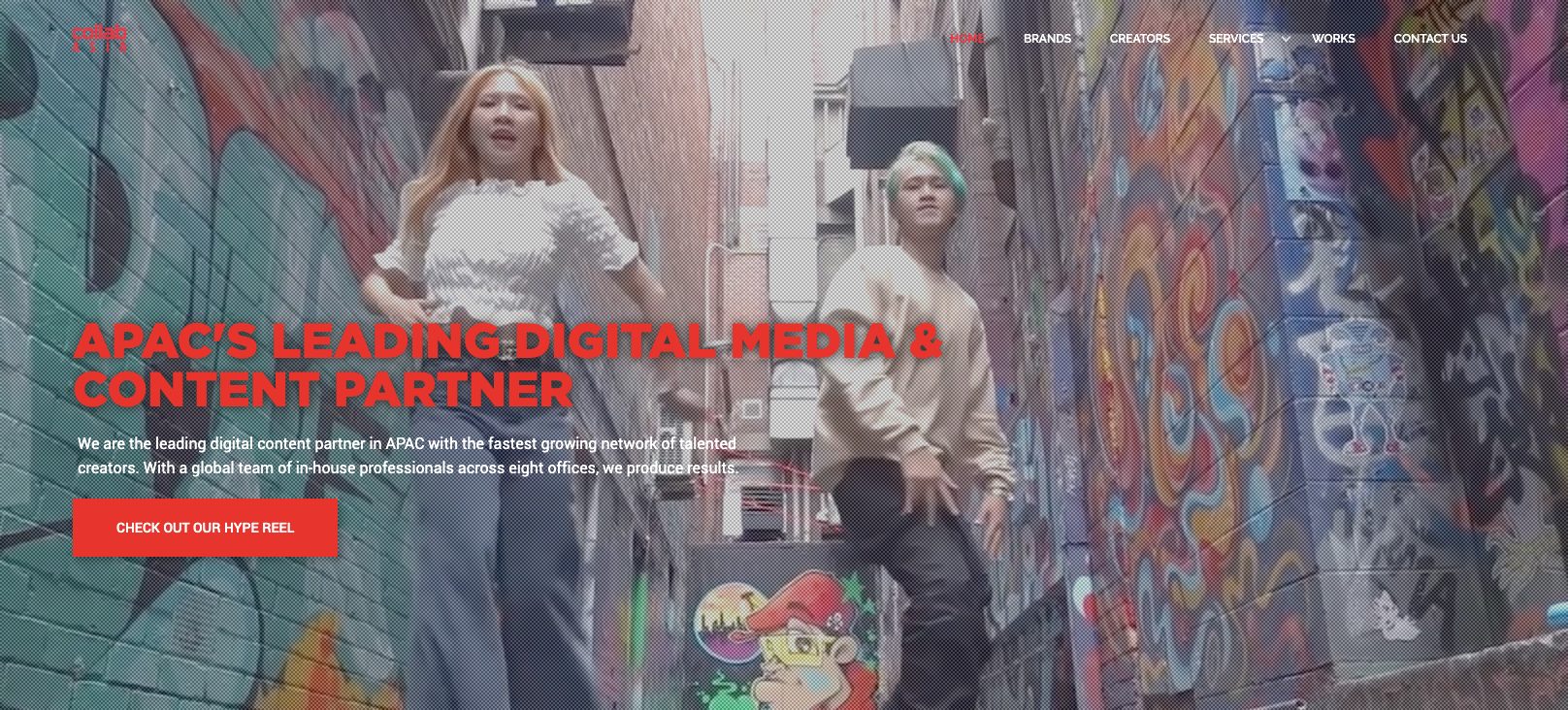 About
If you're looking to expand your reach in Southeast Asia, then Collab Asia is your best bet. They are the fastest growing digital network in the Asia Pacific region, managing thousands of creators and hundreds of clients. As digital marketing professionals know all too well, translating a campaign to a different region is more than just translating the language use—it is about transforming the entire campaign to fit the target audience, and this is the expertise that Collab Asia provides.
Like most influencer marketing agencies, they offer a full suite of services. Some of their clients include Dior, Elle, and Sony.
Strengths
A YouTube preferred partner, Collab Asia works with many of Asia's top influencers. Their expertise on both Western and Eastern platforms lends them a unique value proposition, especially for those who are considering tapping into Asian audiences.
With several offices in different countries across Asia, Collab Asia truly lives up to its name.
HQ Locations: Seoul, Korea; Tokyo, Japan; Singapore; Jakarta, Indonesia; Hong Kong SAR; Manila, Philippines; Malaysia; Los Angeles and New York, USA; Shenzhen, China
---
How to Choose the Right Agency
When deciding to hire an influencer marketing agency for your campaign, keep in mind that bigger does not always mean better. Big agencies might offer more, but will they be a good fit for your brand?
The brand-agency-influencer relationship is a three-way partnership, making it important that the goals, values, and capabilities of all three are aligned. Look at the strengths of each agency and weigh them with your own priorities. Some agencies do well with one service, and some with more. What services do you need the most? What will help drive your brand awareness, conversion, or other KPIs?
Bonus infographic:

Frequently Asked Questions
Why do I need to hire an influencer marketing agency?
Influencer marketing agencies provide the knowledge and expertise that you need to run a successful campaign. They are the ones with years of data, a wide network of influencers, and the tools and technology to measure data for you. Good agencies will give you your money's worth—and then some.
Is a YouTube influencer campaign right for me?
YouTube is a great platform for campaigns that do well with video content. Industries that benefit from video campaigns are beauty and cosmetics, lifestyle, fitness, and gaming, to name a few.
Videos are excellent content because it's easier to tell a narrative. Much of viral content is in video form for this reason. If you have a compelling story to tell, a YouTube influencer campaign can be especially effective.
YouTube offers brands plenty of options for advertising and sponsorships, so your influencer campaigns can be customized to fit your goals. Influencers can do product reviews, unboxing videos, tutorial videos, product placements, and more. Adding a discount coupon or an interesting call-to-action and landing page will make your campaign even more engaging.
How much should I budget for a YouTube influencer campaign?
It really depends on your company's existing resources and what you want to achieve. The best agencies will be able to accomplish a lot even with a tight budget. Rather than focusing too much on expenses, the more important metric to consider is ROI.
I like this particular YouTuber. Can I partner with them specifically for my campaign?
Liking an influencer doesn't necessarily mean that they will be the right fit for your campaign. There are many things to consider in choosing an influencer to partner with for your brand.
First, are their followers your target market? It doesn't make sense for a beauty company to partner with a YouTuber whose main audience consists of gamers.
Second, how many followers do they have? Macro influencers have upwards of 1 million followers, so their audience is more heterogeneous. Influencers on the lower levels, like nano influencers, have fewer followers but are more niche and targeted.
Finally, the most important aspect of influencer matching: does the influencer's values align with your brand? You'd want a family-oriented influencer for a family-oriented brand or campaign, and you'd want a modern influencer for a brand that exudes style. Many of the agencies listed above offer influencer matching as part of their services, so this is one area you can leave to the pros.