It's no secret—today's marketing field is vastly different from what it was decades ago. Once upon a time, TV ads reigned supreme; now, social media is king. Gone are the days where marketing departments simply churned out taglines for brands and dictated what consumers should get. These days, marketing is a two-way street, with consumers having more say now than ever before. It's an exciting world as we see ordinary people rise to become popular influencers, wielding authority that can either boost a brand's image or destroy it.
From small-scale startups to big, established global brands, influencers are proving to be an effective marketing strategy across many industries. Many people prefer to seek out reviews and their peers' opinions instead of just taking what a brand says about itself at face value.
YouTube has remained one of the most lucrative social media platforms for influencer marketing. In fact, according to the latest YouTube stats, the platform ranks second in popularity among influencer marketers. About 70% of marketers consider YouTube to be an important platform for executing their influencer marketing strategies.
This is largely owing to the nature of video content and the level of engagement it can offer to the audience. Videos are a popular form of content—entertaining, informative, and with lots of opportunity for advertising. It's no wonder many brands want to increase their presence on YouTube.
Influencers can take a brand to the next level, and seeking the services of an influencer marketing agency is an effective way to do that.
---
Top YouTube Influencer Marketing Agencies to Level Up Your Videos:
---
What Does an Influencer Marketing Agency Provide?
Prominent influencer marketing agencies provide services that cater to the various needs of brands. They can help you craft a campaign that is tailored to your brand and target market, including the influencer that most suits your image and goals.
That said, most of the top influencer marketing agencies do offer a full suite of services. You tell them your goals, and they take care of everything to help you achieve them.
Some of the services that an influencer marketing agency can provide are:
Identification of target audience

Influencer matching

Content creation and management

ROI tracking

Data analysis
---
Top YouTube Influencer Marketing Agencies
If you're a brand looking to level up your presence on YouTube, here are 17 of the best YouTube influencer marketing agencies to consider. Do take note that while most of these have offices and headquarters located in North America, the work of agencies in influencer marketing is primarily global in nature. Having said that, the list does include some agencies that have a solid presence in Europe and Asia.
---
---
---
---
---
---
---
---
---
---
---
---
---
---
---
---
---
Steps for Selecting a YouTube Influencer Marketing Agency
From the above list, it's clear to see that there's an expansive selection of agencies for YouTube influencer marketing. So although there's an abundance of options, it becomes challenging to pinpoint the best choice for your business. Here are some key steps to select a YouTube influencer marketing agency.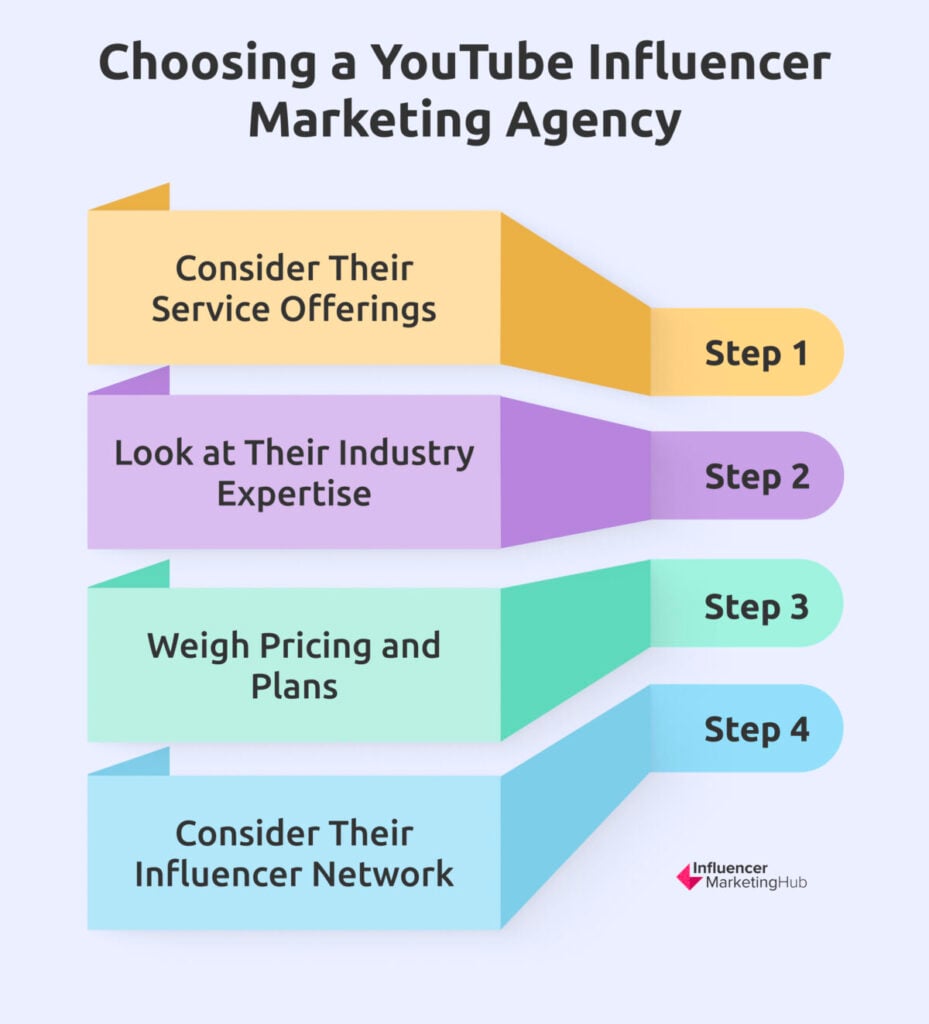 Step 1: Consider Their Service Offerings
For starters, the agency should be able to provide you with the exact kind of service you need. This largely depends on the level of help you need with your campaign, the type of campaign you're running, and whether your campaign will be solely focused on YouTube.
Will you need help with influencer negotiation and contracting? Will you be amplifying influencer content with paid ads? Are you planning to extend your campaign beyond YouTube? Consider all of these factors so you can find an agency that offers the services that are specific to your needs.
Some agencies may be able to help with influencer marketing alone while others may even provide full-service YouTube marketing. Some agencies focus specifically on video influencer marketing on YouTube and TikTok while others also extend their services to other social media channels.
Regarding to YouTube specifically, it also depends on the type of YouTube influencer marketing campaign you're launching. Are you going to focus on brand ambassador campaigns? Or perhaps you're going to try product seeding and influencer unboxing videos? Most agencies specialize in specific types of YouTube influencer campaigns, so it's important to find one that can help you with the type of campaign you want to run.
Carefully consider these details to narrow down a YouTube influencer marketing agency that can address your needs. For example, if you're planning to run a cross-channel campaign that also includes YouTube, an agency like Vireo Video that only focuses on YouTube marketing may not be the best choice. Alternatively, if you're going to run an intensive campaign that involves product seeding and shipping out products to influencers, an agency like NeoReach that provides all those services may be perfect for you.
---
Step 2: Look at Their Industry Expertise
Another important factor to consider is their expertise in your industry. Sure, the agency may be able to provide the type of service you need, but how well versed are they in launching influencer marketing campaigns in your industry? This is particularly important for highly niche industries such as gaming and crypto, for example.
This step is crucial because you want to work with an agency that has a proven track record of reaching the type of audience you want to target. Not all influencer marketing campaigns are built the same, involving varying types of influencer activations and campaign approaches. These variations are based mostly on the industry focus because each industry appeals to a different type of audience with unique needs, pain points, and values. As such, even the type of influencer you should work with will also be different.
For example, a fintech company may be able to successfully appeal to their target audience by partnering with a YouTube influencer that's known for simplifying financial advice for the masses. However, the same company may not fare so well with a YouTube influencer that solely creates content about cars because the influencer's established audience base may not necessarily intersect with the company's target audience.
As a result, you need to shop around for a YouTube influencer marketing agency that's had some success stories involving brands in your niche. The Outloud Group, for instance, would be a great option for brands in the gaming industry as the agency specializes in influencer marketing with esports and gaming creators. Their expertise goes beyond individual partnerships and includes team partnerships, events and tournaments, and in-game promotions.
---
Step 3: Weigh Pricing and Plans
One of the most crucial considerations when selecting a YouTube influencer marketing agency is the cost. How much do they charge for their services? And what types of plans do they offer? It's a given that the agency you work with should be able to provide the services you need within your budget.
In many cases, the cost may be directly proportional to the level of service they provide. However, you need to look at the breakdown of those services to see whether you really need all of them and whether you'll be spending extra on services that you don't plan on using.
Choosing the right YouTube influencer agency based on pricing goes beyond simple affordability and also includes flexibility. Can they create a customized plan based on your budget or do you have to purchase a one-size-fits all plan that includes services you don't really need?
---
Step 4: Consider Their Influencer Network
Finally, the influencer agency should be able to connect you with the exact type of influencers you need. For this, they need an expansive network of influencers that fit into a category related to your business. This means they should be able to connect you with tech reviewers if you're in the tech industry or beauty influencers if you sell beauty products.
Make sure to thoroughly look at the number of influencers they have in their network. More importantly, try to get a sample list of the different YouTube influencers you can partner with through their agency. This is important because some agencies may boast large numbers but not necessarily have established relationships with the specific influencers you want to partner with.
For example, they may have a network of 100,000+ influencers, but these numbers won't matter to you if only 100 of those are YouTube influencers and most of them have a micro reach whereas you want to activate 50 well-known YouTubers.
---
Choose a YouTube Influencer Marketing Agency that Works for You
When deciding to hire an influencer marketing agency for your campaign, keep in mind that bigger does not always mean better. Big agencies might offer more, but will they be a good fit for your brand?
The brand-agency-influencer relationship is a three-way partnership, making it important that the goals, values, and capabilities of all three are aligned. Look at the strengths of each agency and weigh them with your own priorities. Some agencies do well with one service, and some with more. What services do you need the most? What will help drive your brand awareness, conversion, or other KPIs?
Bonus infographic: