Advertising Disclosure
Advertising disclosure:
Our partners compensate us. This may influence which products or services we review (also where and how those products appear on the site), this in no way affects our recommendations or the advice we offer. Our reviews are based on years of experience and countless hours of research. Our partners cannot pay us to guarantee favorable reviews of their products or services.
British brands wishing to work with a local influencer agency have a range of possible options. There are a surprisingly large number of influencer agencies in the UK.
Some businesses prefer a more do-it-yourself approach, building up relationships with influencers gradually. Yet this can be a hit or miss scenario. If you try and find influencers yourself, there is no guarantee that the influencers you woo will have any interest in working with you. When you work with an influencer agency you know that your efforts will not be wasted.
There is another advantage for British firms working with locally-based influencer agencies in the UK. They know that these influencers will understand the market. They talk in pounds and pence and remember to put the "u" in colour. If you work with an international agency there is always the risk that their influencers aren't influential in your target UK market.
Here are seven influencer agencies in the UK who could create the perfect influencer marketing campaign for your brand.
---
Leading Influencer Marketing Agencies in the UK:
---
Top
influencer marketing agencies uk
2024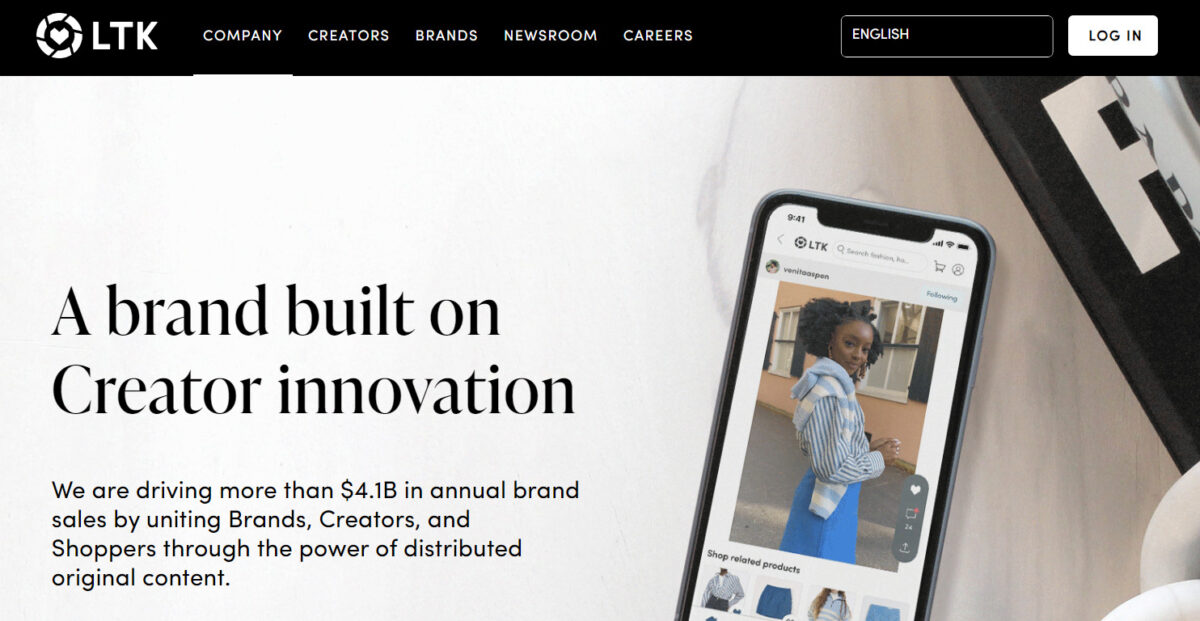 Leading the influencer marketing domain, LTK stands out prominently in the UK scene for its innovative approach to creator-driven marketing. The agency, built on the robust foundation of the renowned LTK Brand Platform, offers specialised services that encompass brand consulting, media boosting, and a unique blend of digital and in-store retail media networking. Their extensive range aptly termed the "engine of Creator Powered Marketing", is supplemented by white-label services tailored for brand agencies and affiliate marketers. Leveraging proprietary research, the agency imparts transformative insights and further establishes its authority with thought leadership through its B2B blog.
Notably, LTK's research has unveiled groundbreaking data – creator recommendations have emerged as the primary source for brand purchases via social media platforms, accentuating the pivotal role that influencers play in contemporary marketing strategies. Recognised among the Top 50 of the World's Most Innovative Companies, the agency's accolades bear testimony to its avant-garde approach and unparalleled prowess in influencer marketing.
In a compelling case study, global beauty brand Urban Decay sought LTK's expertise for a TikTok campaign. Collaborating with 18 select LTK creators, the aim was to enhance the visibility and allure of the brand's Hydromaniac Tinted Glow Hydrator. The results were staggering – the campaign amassed 6.7 million views, engaged 6.5 million followers, and witnessed an engagement rate of 470K, underscoring the efficaciousness of LTK's strategic influencer collaborations. This Urban Decay partnership epitomises the agency's adeptness in harnessing the power of social media platforms, reinforcing its status as a frontrunner in the influencer marketing arena.
---

Kairos Media acts as a global full-service digital communications agency, with offices in both London and Hollywood. They believe passion to be their heart.
Kairos aims to create authentic, memorable campaigns powered by insight, data, and creative. They love telling stories and collaborating with leading content creators to generate audience engagements. They aim to produce content that is beneficial to brands, entertaining for audiences and unique every time.
Kairos prides itself in being entirely driven by data. They focus on analytics to ensure that their clients' audiences are targeted, excited, and converted.
They see their service as a five-step process:
Creative Review – they recognise that every project needs (and deserves) a different approach and their creative team are ready for the challenge.
KPI Alignment – Kairos carefully reviews key performance indicators, campaign objectives and the wider marketing strategy to ensure that the most appropriate digital communications service is selected
Strategy Selection – Kairos looks at a range of options here – social creative, influencer marketing, eSports, video production or something far more bespoke
Campaign Execution – they offer a full-service, end-to-end project management solution
Reporting – Kairos provides clients with a detailed presentation showcasing precisely what they have achieved, highlighting the success of the campaign and the benefit to the brand.
Kairos works with clients across a range of sectors, including eSports, lifestyle and travel, mobile and gaming, food and drink, sports, and fashion and beauty.
---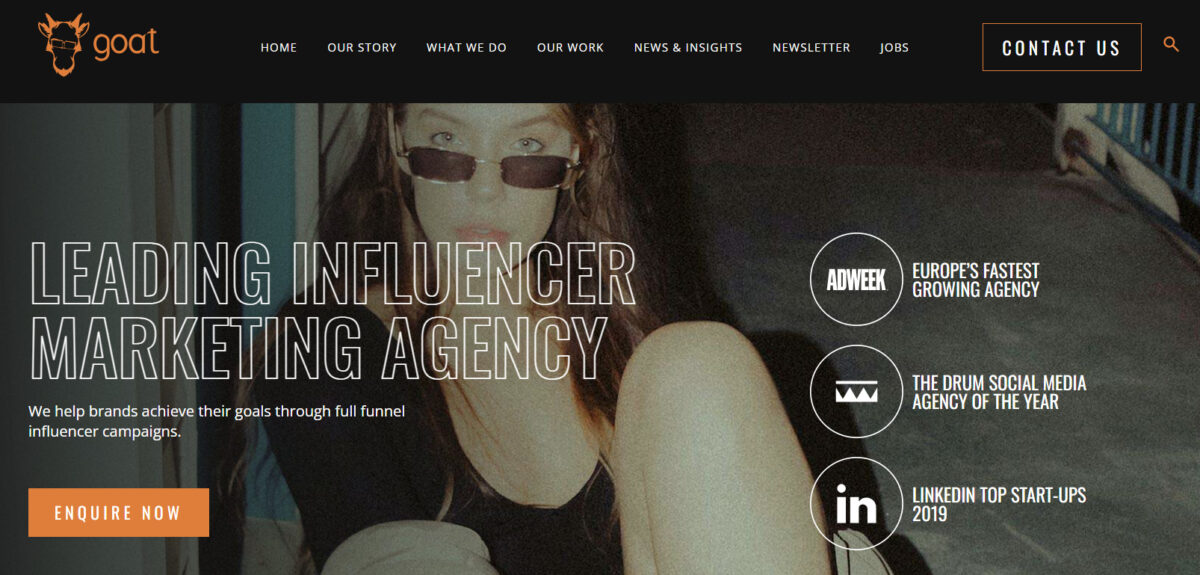 Having its headquarters in London, United Kingdom, The Goat Agency prides itself as Europe's fastest-growing influencer marketing agency, a distinguished title earned through relentless innovation and bespoke, data-driven strategies. Central to their approach is a harmonic blend of extensive data analytics and the indispensable human touch. Boasting a robust database of over 100,000 vetted influencers and rooted in seven years of performance data, Goat Agency is proficient in curating influencer campaigns that transcend the norm, punctuated by authenticity and resonant storytelling.
One of the pinnacle exemplifications of Goat Agency's prowess is encapsulated in their highly successful campaign for Dell's XPS line. Tasked with the challenge of appealing to the student demographic, the agency adeptly identified and collaborated with influencers who resonated with key student passion points, including Photography, Fashion, Lifestyle, and Music. The influencer content was not only engaging but also authentic, resulting in an impressive 90% positive sentiment, 11 million impressions, and a commendable 9.25% engagement rate on platforms such as Instagram and TikTok.
The essence of Goat Agency's approach to influencer marketing is holistic, offering comprehensive management that ensures each campaign is meticulously crafted from ideation to implementation. Their expertise is not confined by industry or territorial boundaries. Whether it's FMCG, technology, luxury, or automotive sectors, the agency's adaptability and global outreach are evident. Their campaigns are overseen by a dedicated Account Manager, ensuring that brands are not just audiences but active participants in the crafting of influential narratives.
The integration of data analytics and human creativity is not just a philosophy but a practiced norm at Goat Agency. Their comprehensive services also extend to paid social campaigns, content production, and full-service social media management, underlined by a commitment to delivering guaranteed deliverables upfront.
---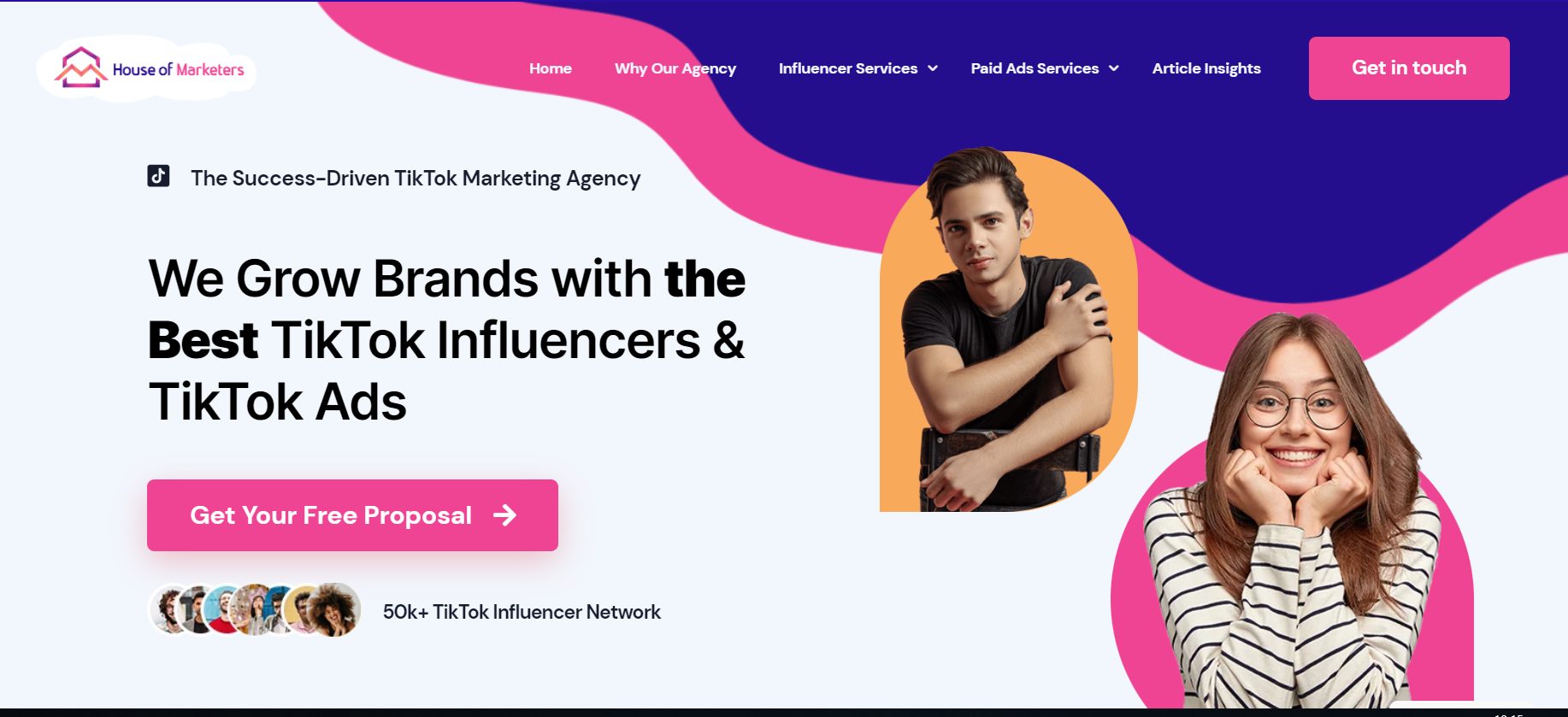 Nottingham-based House of Marketers is a success-driven TikTok marketing agency. Their Co-founder and Managing Director, Inigo Rivera, was one of TikTok's first employees as a Strategy and Partnerships Manager. Therefore, he knows how TikTok works and the best strategies for growing on the platform. Inigo wasn't at TikTok for long before discovering exactly how powerful TikTok can be in engaging and converting audiences than other platforms. When he later formed House of Marketers, it became his goal to lead ambitious global brands through the power of TikTok.
House of Marketers believes they are one of the best TikTok marketing agencies for leading brands. With clients like Red Bull, Baidoo, Hello Fresh, Paris Saint-Germain, and Playstika, they have had little trouble attracting quality, high-profile clients.
Their services include full-service influencer campaigns, TikTok ads management, TikTok brand profile building, and influencer strategy development.
House of Marketers partners with both large, high-profile TikTok creators with leading engagement rates and views and micro-influencers with smaller dedicated followings but a strong digital footprint within TikTok. Together, House of Marketers' in-house team and influencers generate positive, long-lasting brand recognition for companies.
When starting a campaign, House of Marketers takes a deep dive into your brand, audience, and industry to help you work with the best influencers and create compelling content that resonates with TikTok's core audience. They assist you in establishing goals for your TikTok influencer campaign and deciding on the messaging of your campaign. The agency matches brands with the most appropriate TikTok influencers for their respective niche markets, campaigns, and objectives.
---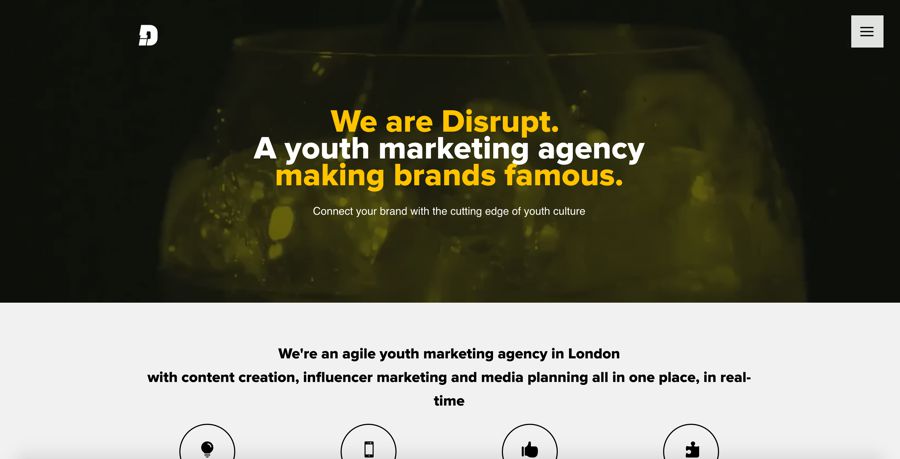 Disrupt describes themselves as an agile youth marketing agency in London who reaches over 100 million millennials each month. They combine content creation, influencer marketing and media planning.
Their influencer marketing work includes finding influencers, talent alignment, media partnerships and licensing. They also put a large emphasis on creating social content – production, short-form, long-form, GIFs, and graphics.
The agency's founders, Matt Thorne and Phil Kemish, met while working on GRM Daily – the UK's largest urban entertainment platform. They both had a passion for youth culture. The team has had a key role in pioneering early branded content for the UK urban scene.
They call their young talent their Disruptors – a team of content creators, bloggers, artists and social influencers.
One of their recent campaigns was for Alize. They built up a #AlizeArmy influencer network of more than 100 artists, creatives, influencers and publishers. They initiated 15 event partnerships which drove brand awareness, aligning the brand with other culturally relevant brands. They also arranged product placement in music videos. These featured artists like Big Narstie, Angel, Skepta and Cadet.
---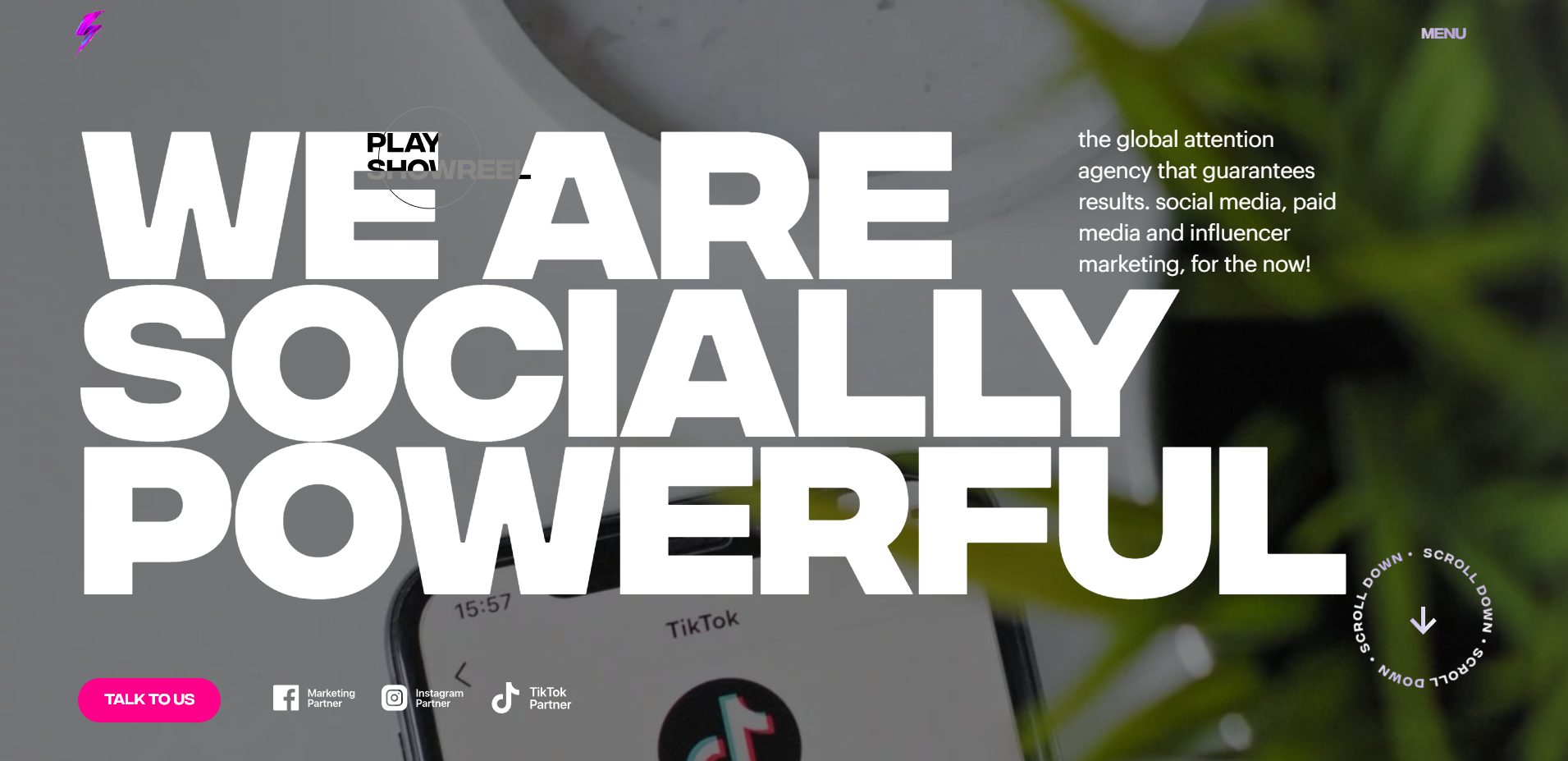 Socially Powerful works to connect brands with leading social influencers in a range of verticals. These include sports, lifestyle, gaming, entertainment, fashion, beauty, food and tech.
Although they are London based, Socially Powerful is happy to take clients worldwide. They work with more than 5,000 global and influencers across a wide range of social media platforms – YouTube, Facebook, Instagram, Snapchat, Vine and Twitter.
They believe in telling brand stories through influencer marketing. They provide a single access point for brands to communicate with influencers who can spread brand messages.
Socially Powerful makes recommendations to brands about who they believe will be the most suitable influencers for a particular campaign. They target these to particular campaign objectives.
Of course, they are far more than just a platform where businesses can find influencers. They are also a creative agency and provide credible, engaging, original content tailor-made for influencers to use with their audiences.
Socially Powerful provides a full array of analytics to help businesses gauge the success of their influencer campaigns.
Of course, they also work with influencers to help them grow their profile. They provide talent management and even provide workshops for influencers so they can learn from the masters.
---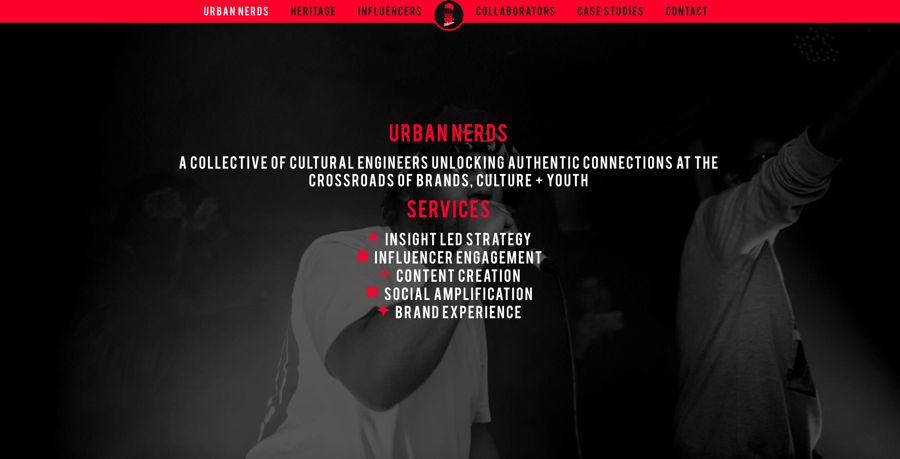 Urban Nerds Collective has a somewhat unusual background for an influencer marketing agency. It grew out of London's Urban Nerds crew who promoted quality underground parties. They were a team of youth promoting youth activities.
In 2013 this expanded into youth marketing. This gave them the opportunity to further find youth stars and promote their cultural influence.
They provide a range of services including:
Insight led strategy
Influencer engagement
Content creation
Social amplification
Brand experience
In keeping with their origins, Urban Nerds Collective has a firm focus on promoting talented youth and amplifying youth culture. They navigate the full spectrum of cultural influence; working where trends are created and culture truly shaped.
They can claim to have collaborated with a wide range of brands including G-Shock, Heineken, BBC, Converse, Puma, Red Bull, Dr Martens and Lynx.
One of their campaigns involved the global launch of #DMsLITE, a Dr Martens product innovation. Urban Nerds devised and delivered the influencer engagement and content marketing strategy for the UK. They worked with influencers in a campaign that included product seeding, user-generated content, branded content and live music activations. The campaign resulted in a reach of 7 million and 200,000 views.
---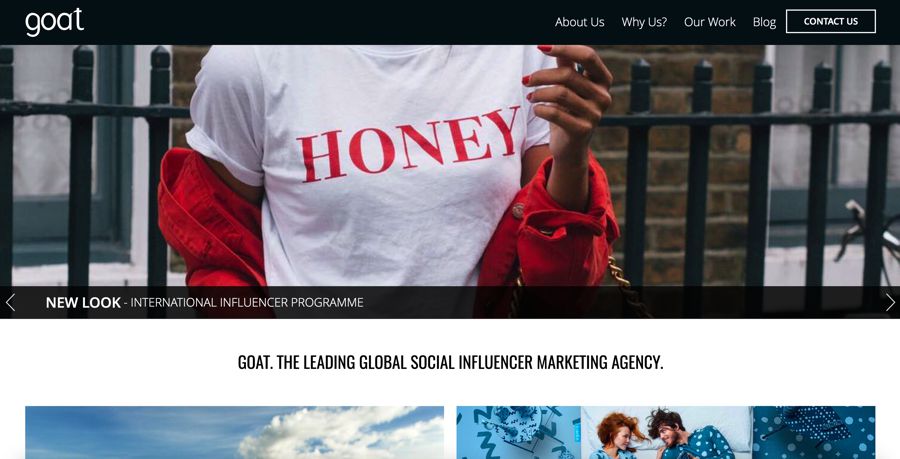 London-based Goat Agency is happy to provide campaigns worldwide. They currently operate campaigns covering, North and South America, Australia, Southern Asia, North Africa, various European countries, as well as their UK home base. Their clients include well-known brands such as Malibu, Formula E, KFC, British Airways, Asics and Adidas. They are a young team, whose founders are still aged only 30, 28 and 22.
They consider themselves a completely neutral influencer agency. They base their selections of influencers for client campaigns on data gathered from their CRM system. To date, they have worked on over 1,200 campaigns and used 30,000 influencers. They do not represent any influencers directly, therefore they select influencers for each campaign based on the brands needs and campaign goals rather than obligation to channels.
Goat emphasises the importance of the data they collect. They tell you for each potential influencer:
their followers
average views
engagement rates
the number of clicks
conversion rate
the average value of sales made as a result of their posts.
When a brand asks Goat to set up an influencer campaign for them, Goat begins by pinpointing the client's online community. They then use unique data to analyse the best performing influencers in that community, most likely to hit the client's KPIs.
Using key data they narrow down potential influencers to the most relevant. These will have the best experience of meeting client needs. They then rank these influencers and speak with each one in order of preference.
When an influencer agrees to take part, Goat sets up the campaign. Goat manages the entire influencer marketing process for the campaign.
---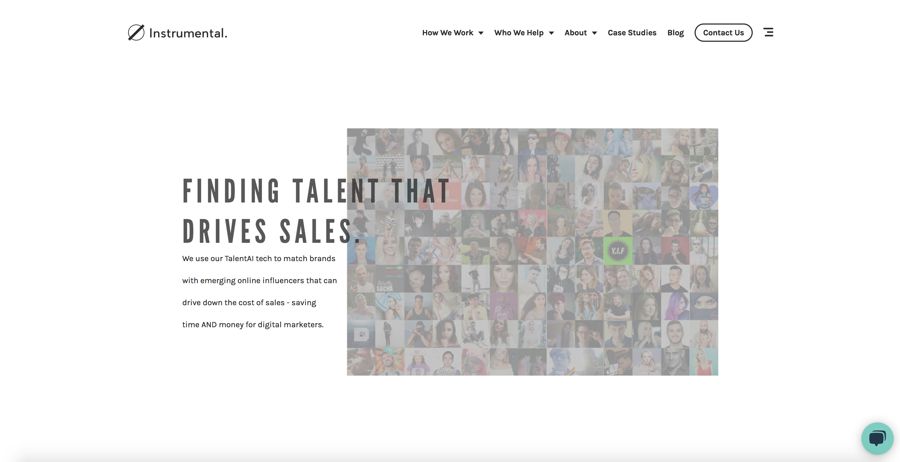 London-based Instrumental is part of the Blenheim Chalcott (BC) portfolio of businesses. They find talent that drives sales. They use their tech to save brands and marketers time and money in influencer marketing.
It grew out of a desire to find the next big music act. Many artists now post demos online rather than going to a record label. Instrumental was looking for some way of finding promising demos on social media before they simply sunk from view.
Instrumental built social API tracking capabilities, talent filters and machine learning to identify growth potential. This was the world's first tech-driven A&R tool. Today, it is used by Warner Music to scout talent.
In 2016, Instrumental widened the capabilities of its digital scouting platform, to find non-musical talent online. It now uses it to identify emerging influencers in virtually every imaginable field.
The technology finds high potential artists and influencers across the key video platforms – YouTube, Facebook, Instagram and Twitter. It then tracks these influencers and evaluates there influence on a daily basis.
Having determined the people they consider most influential, Instrumental works with clients to build relevant campaigns. Their services include talent liaison, fee negotiations and content tracking.
They work with social talent, artists, labels and brands to maximise their social media presence. They create strategies across YouTube, Facebook, Instagram, Twitter, Musical.ly and Snapchat.
The main types of brands that Instrumental work with are:
Consumer brands
E-commerce
Digital and communications agencies
Game and app publishers
Music labels, promoters, and publishers
Book publishers
Television
YouTube networks
---
Conclusion
There are many talented influencer agencies in the UK. Perhaps in keeping with the young nature of the industry, quite a few of the agencies stress their youth. Indeed, several of them refer to themselves as youth marketing agencies.
There are many influential Brits operating blogs, vlogs, and high-powered social media accounts across the full spectrum of social media channels. It should be no surprise that influencer agencies have sprung up to help these people earn extra income and find products that their target audiences will love.
Brands operating in the UK have no shortage of choice when it comes to finding an influencer agency to meet their needs, make the process of working with influencers easy and make a perfect match for the brands and their clientele.
Frequently Asked Questions
How much does it cost to hire an influencer marketing agency?
It costs around $1,000 to $18,000 per month to hire an influencer marketing agency. Each agency has their own fee and pricing structure. Pricing will almost always include creating an influencer marketing strategy.
Is there an agency for influencers?
Influencer marketing agencies offer global, full-scale influencer marketing strategies. Agencies for influencers help brands get in front of Gen Z and millennials on social media platforms like TikTok, Instagram, and YouTube, among others.
What are influencer marketing agencies?
Influencer marketing agencies help build partnerships between brands and influencers and content creators. This helps brands better expose their audiences to their products and services. Influencer marketing agencies help build strategies and find the right influencers.
Where can I find UK Instagram influencers?
To find UK Instagram influencers, you can use influencer marketing agencies and platforms to help facilitate the connection.