Advertising Disclosure
Advertising disclosure:
Our partners compensate us. This may influence which products or services we review (also where and how those products appear on the site), this in no way affects our recommendations or the advice we offer. Our reviews are based on years of experience and countless hours of research. Our partners cannot pay us to guarantee favorable reviews of their products or services.
While most businesses advertise in some form, it is possible to gain excellent promotion using more organic means. We have previously looked in detail at one kind of organic marketing - Word-of-Mouth Marketing. Another type of organic marketing is public relations. There are numerous PR Agencies in the UK and across the world that specialize in helping firms improve their public relations with the outside world.
The Public Relations Society of America (PRSA) has come up with a formal definition for public relations: "Public relations is a strategic communication process that builds mutually beneficial relationships between organizations and their publics." In other words, a PR Agency (or perhaps in an in-house PR team for big corporations) works to portray their client's reputation, position, or accomplishments as positively as possible. PR professionals use unpaid media to distribute their message.
There are many PR agencies in the UK. Indeed, most of the large global agencies have offices in London. For this article, we have selected eleven agencies that consider the UK to be home.
---
Top 12 PR Agencies in the UK: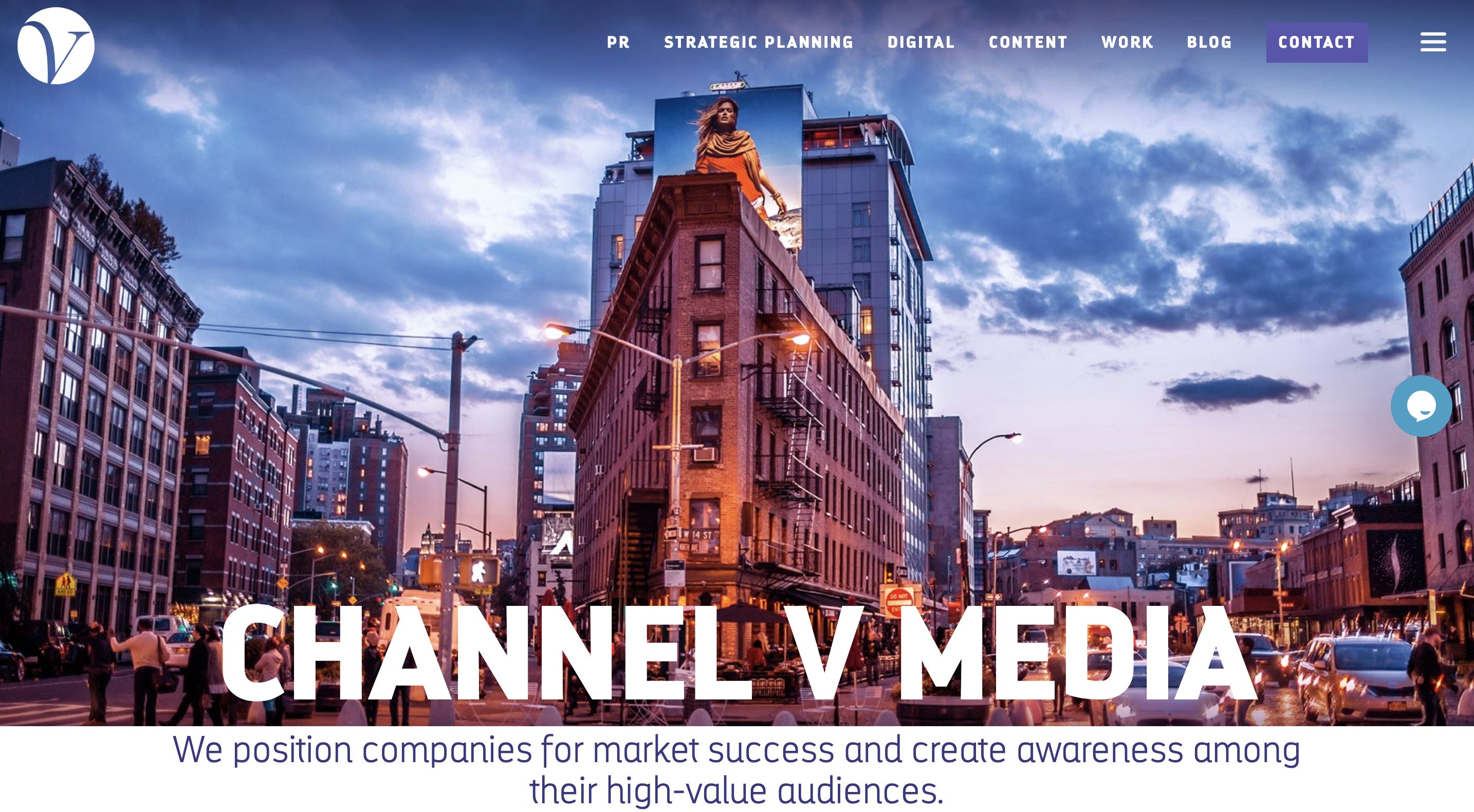 Channel V Media (CVM) is an award-winning communications strategy and PR firm. While they're based in New York City rather than the UK, because of their record with Fortune 500 companies and tech startups, CVM is the preferred PR agency for London-based enterprise companies.
In addition to their track record with UK-based companies, CVM also has 41 global partners, giving them a competitive edge with European brands. Especially with companies looking to branch out with international marketing.
For example, Irish AI company Everseen hired Channel V Media to help them break into international markets. While Everseen was doing well on its own, it was struggling to build traction across the globe. CVM got press coverage for Everseen in publications like The Wall Street Journal, Bloomberg, CNBC, FORTUNE, and Harvard Business Review and established Everseen as a well-known US option.
CVM's services include public relations, strategic planning, digital marketing, and content marketing. They've worked with established clients like Meatless Farm, Innovid, Hilton, and more. If you own a UK-based brand and are interested in expanding your market, CVM is a great PR agency to contact.
---
2. Hope & Glory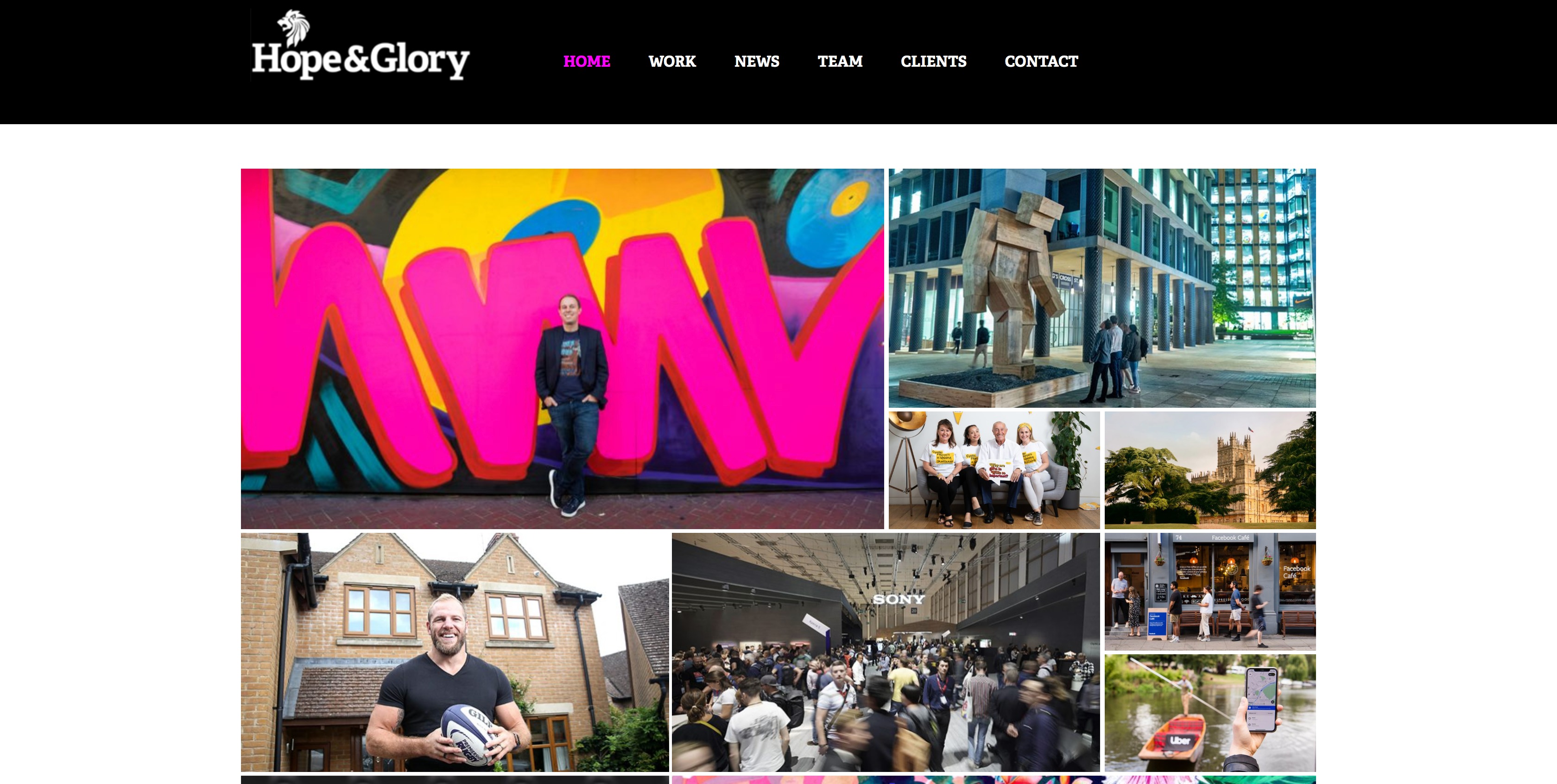 London-based Hope & Glory has been on the scene for eight years now. They have a team of 75, and billings of just over £7m, a healthy 26% increase over the previous year. They focus on promoting consumer brands.
Hope & Glory has won a tremendous number of awards in its relatively short life. These most recently include Winner, Creative Agency of the Year at the Sabre Awards EMEA 2019, Winner, Independent Agency of the Year at the PR Moment Awards 2019, Winner, Large Consultancy of the Year at the PRCA Awards 2018, and Winner, Creative Agency of the Year at both the Sabre Awards EMEA 2018 and then the Sabre Awards Global 2018.
Their clients include Argos, Adidas, Vita Coco, Reebok, Uber, Uber Eats, Photobox, StubHub, LinkedIn, Facebook Watch, and the Edrington-Beam Suntory UK portfolio of spirits brands.
---
3. Maitland / AMO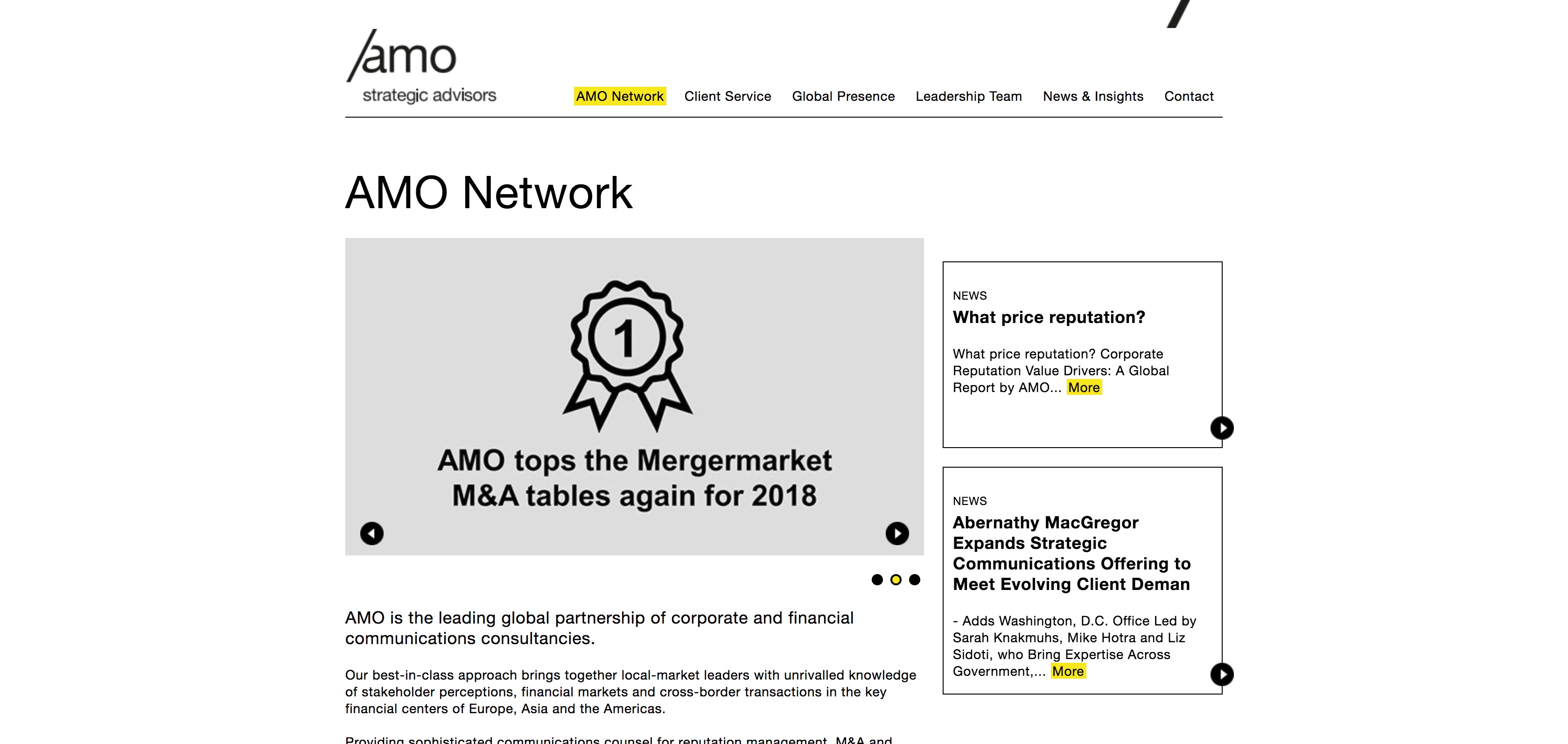 AMO provides sophisticated communications counsel for reputation management, M&A and capital market transactions, media relations, investor relations, and corporate crises.
Although AMO is global, covering much more than just the UK, it has a significant presence there. AMO is an international network of strategic communications consultancies, providing best-in-class financial communications advice and counsel for corporations and institutions. The network was founded in 2001 by three like-minded corporate and financial PR agencies in London, New York, and Paris, who shared a common owner, Havas Group. AMO is still backed by Havas, one of the world's largest global communications groups.
Maitland is AMO's UK presence. Maitland/AMO is Europe's leading financial, corporate & political communications consultancy providing trusted advice and strategic counsel.
One of the projects that Maitland/AMO's London team assisted with was advising the Vodafone Group in the disposal of its stake in Verizon Wireless for USD 130 billion—returning GBP 54 billion to investors in one of the largest corporate transactions in history.
---
4. CCgroup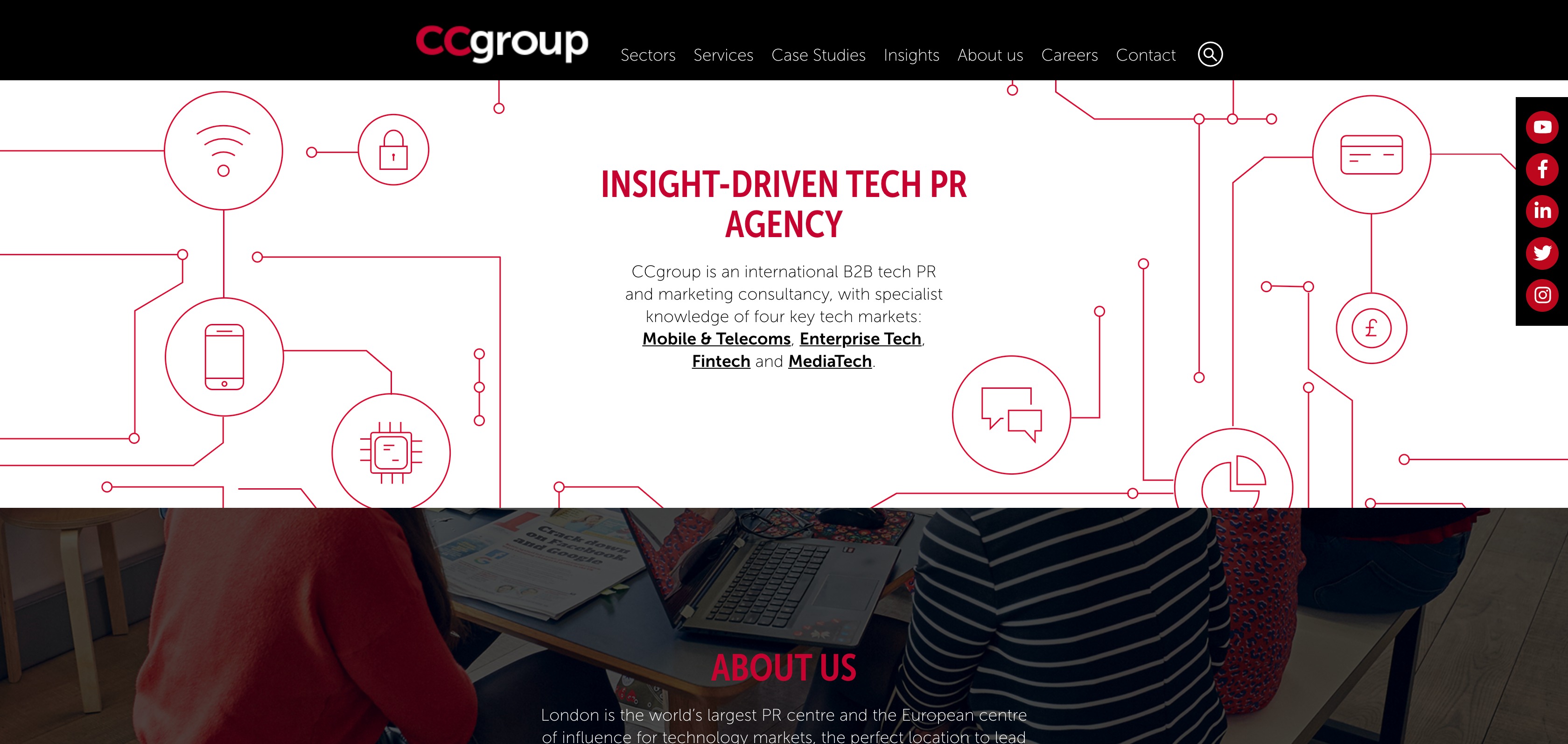 CCgroup is a technology PR agency based in London. It specializes in the mobile & telecom, fin-tech, cleantech, and business technology sectors. It has a sister brand, Escapade PR, that is active in consumer lifestyle and consumer technology public relations.
CCgroup's PR campaigns are entirely commercially focused. It uses messaging, insightful content and media, analyst and digital channels to drive awareness, generate sales leads, build value, and, if required, position for exit.
It is a member of GlobalCom – a global network of more than 60 independent, specialist PR agencies in more than 70 countries.
Their recent clients include Mistertango, CDNetworks, Huddle, InterDigital, eBuilder, and Syniverse.
---
5. Ascendant Communications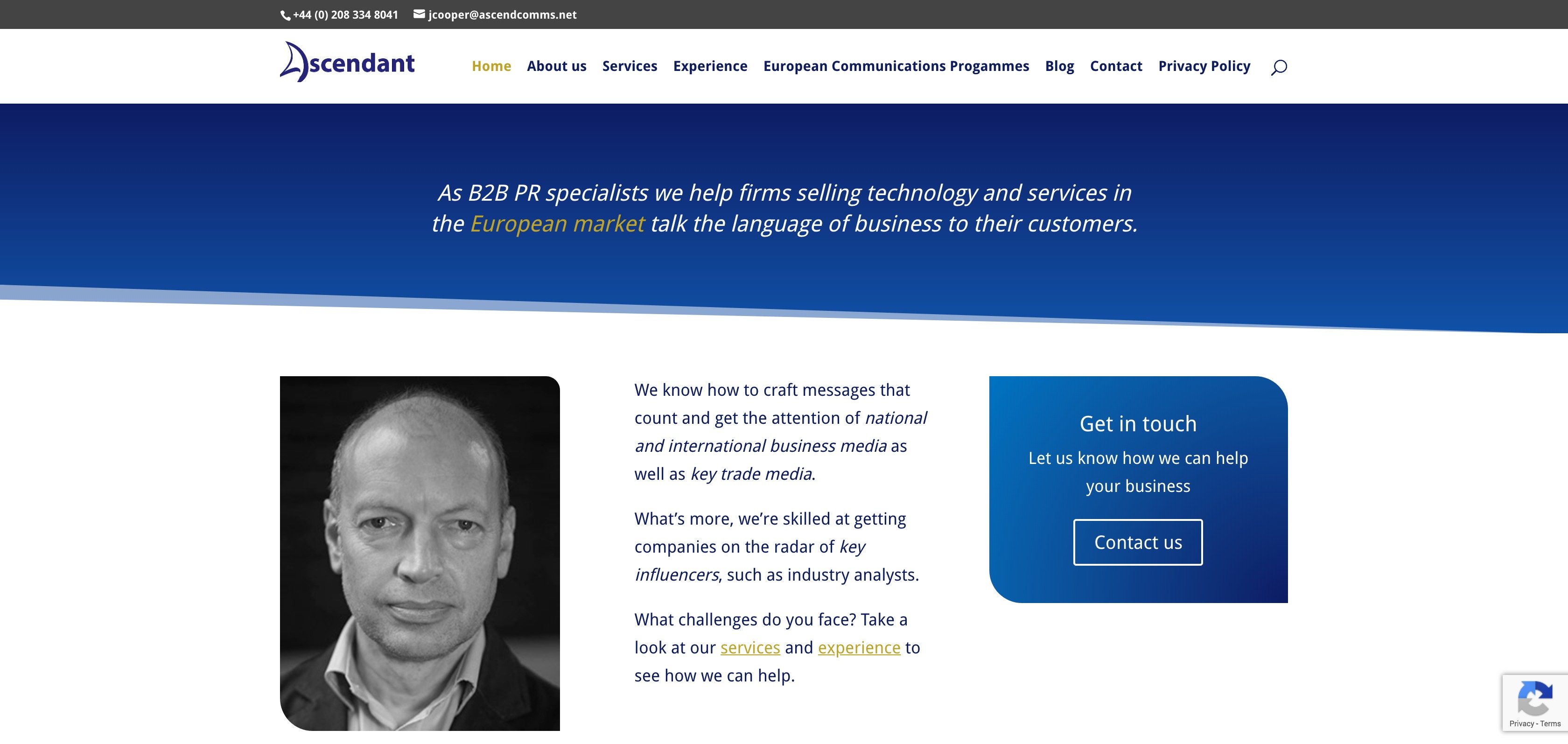 Ascendant Communications is a London-based Business Communications agency focused on supporting technology and services B2B clients. It helps businesses that sell technology and services to B2B customers gain awareness, traction, and sales in the market through a range of PR, AR, strategic communication, content, and online social media services.
They offer an arsenal of integrated business communication services, all aimed at boosting your credibility and recognition in key markets and territories. That includes defining your social media strategy, so you gain visibility in the online world of blogs, forums, and all things Twitter related.
They cover all core communications channels, from message development and media training to campaign planning and corporate positioning. Their primary services include media relations, influencer & analysis relations, messaging, copywriting, events, and social media.
---
6. Ballou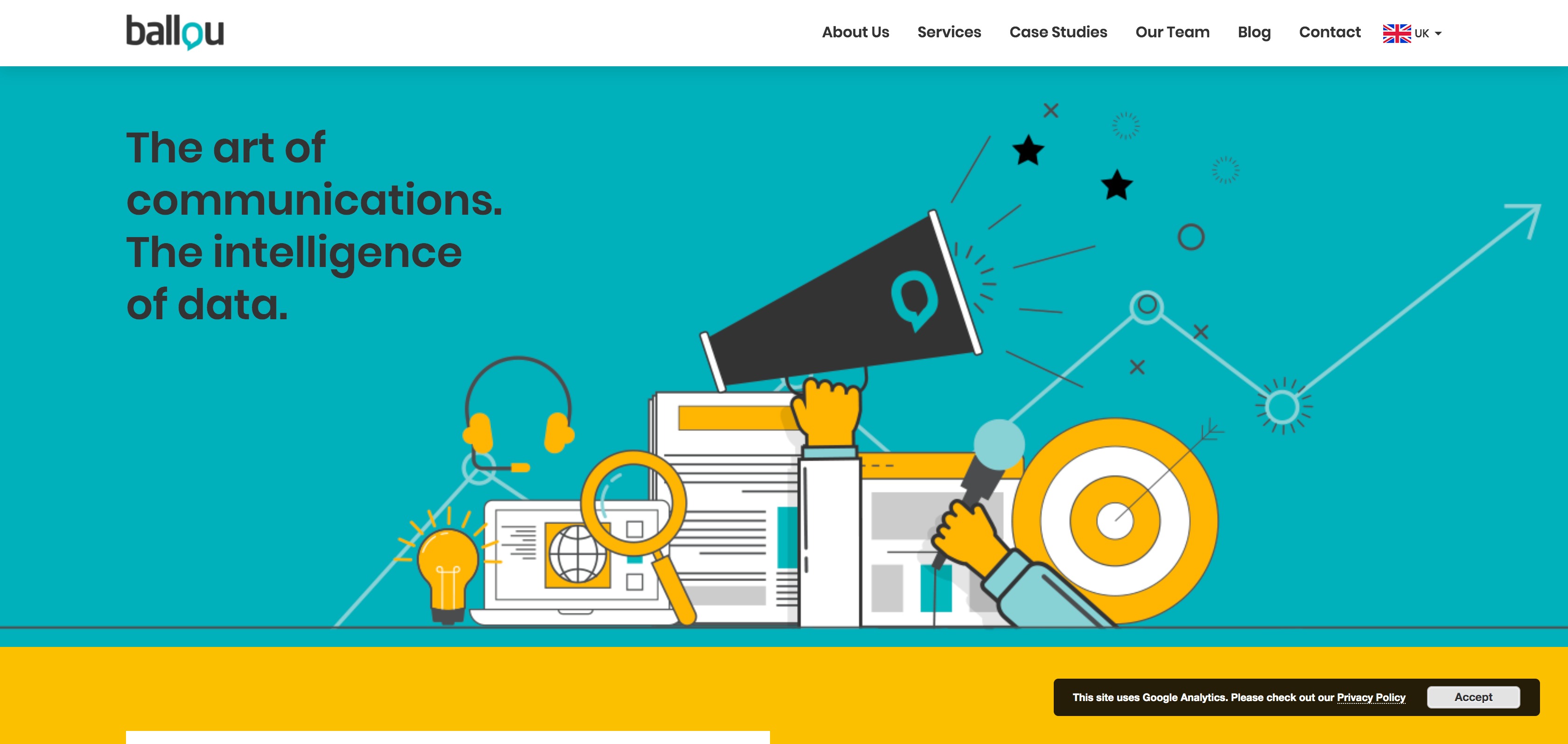 Ballou began operations in Paris in 2002 but has since added offices in Berlin and London, which is now its headquarters. It is now an international communications agency working with high-growth companies across the technology sector and offers strategic communication services to some of the world's most exciting technology companies.
It received fee income of £3.8 in 2018, so it is big enough to get clients from across the continent while still offering all the advantage of an independent boutique operation.
In recent years it has expanded its offering from pure-play PR to include social media, social media marketing, SEO, graphic design, video, and animation.
Its clients include Shopify, Cloudflare, RedHat, Cornerstone OnDemand, Marketo, Vanmoof, Fever/Secret London, Trivago, Box, Applause, DiffBlue, Samsung NEXT, Stack Overflow, Vonage, Expedia LPS, Zendesk, and MEGA International.
---
7. Finsbury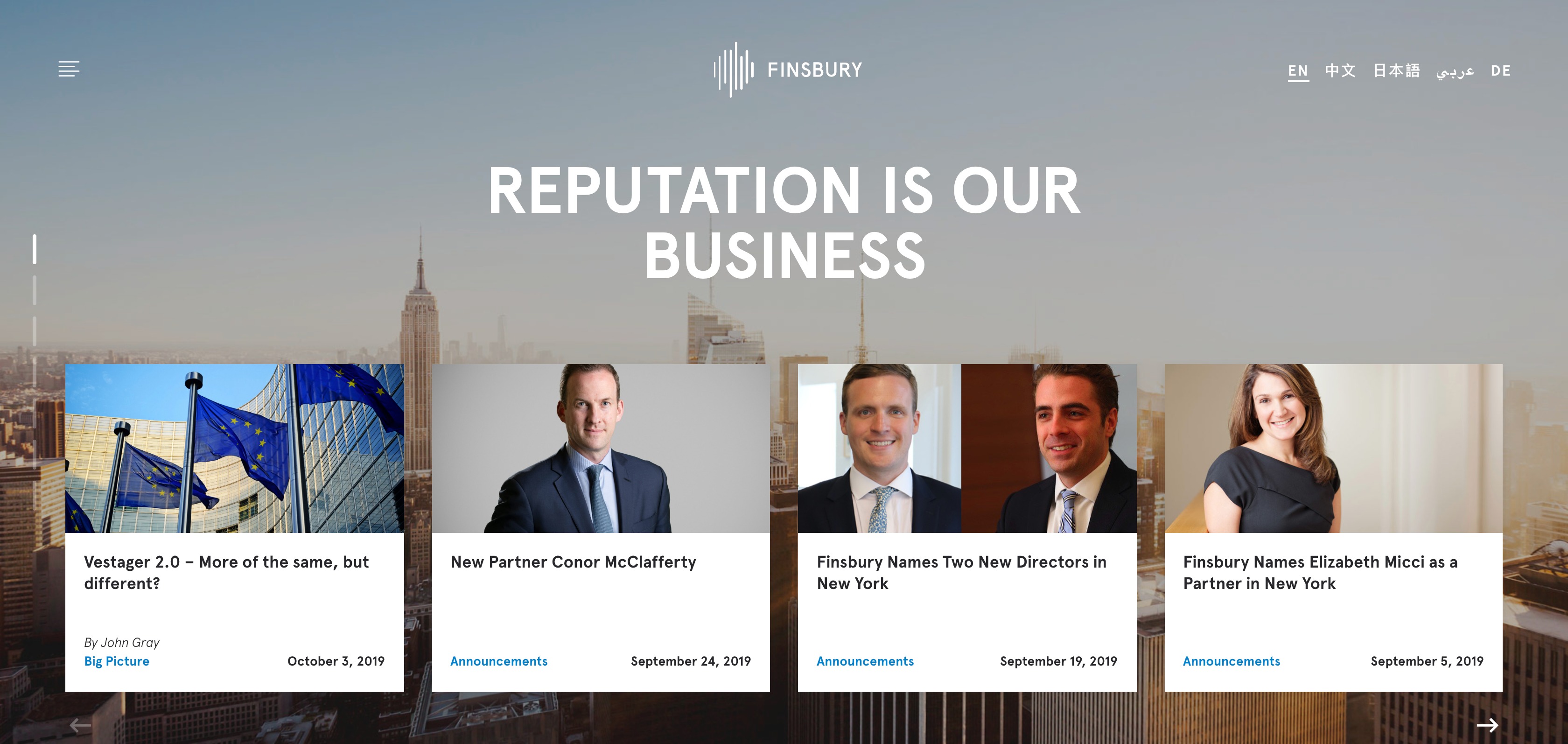 Finsbury is a global leader in strategic communications. They are trusted advisers to boards, senior executives, and legal counsel of many of the world's most successful companies, institutions, and organizations.
Finsbury has partnered with Hering Schuppener Consulting and The Glover Park Group to create a global platform that can serve customers worldwide. In total, the group has more than 500 consultants in 15 cities.
Finsbury has managed some of the most complex, high-profile communications challenges and crises of the last three decades, including some of the most significant international M&A transactions, IPOs, and other capital raisings, proxy fights, corporate restructurings, and public affairs policy campaigns, as well as major litigation and government investigations.
---
8. M&C Saatchi PR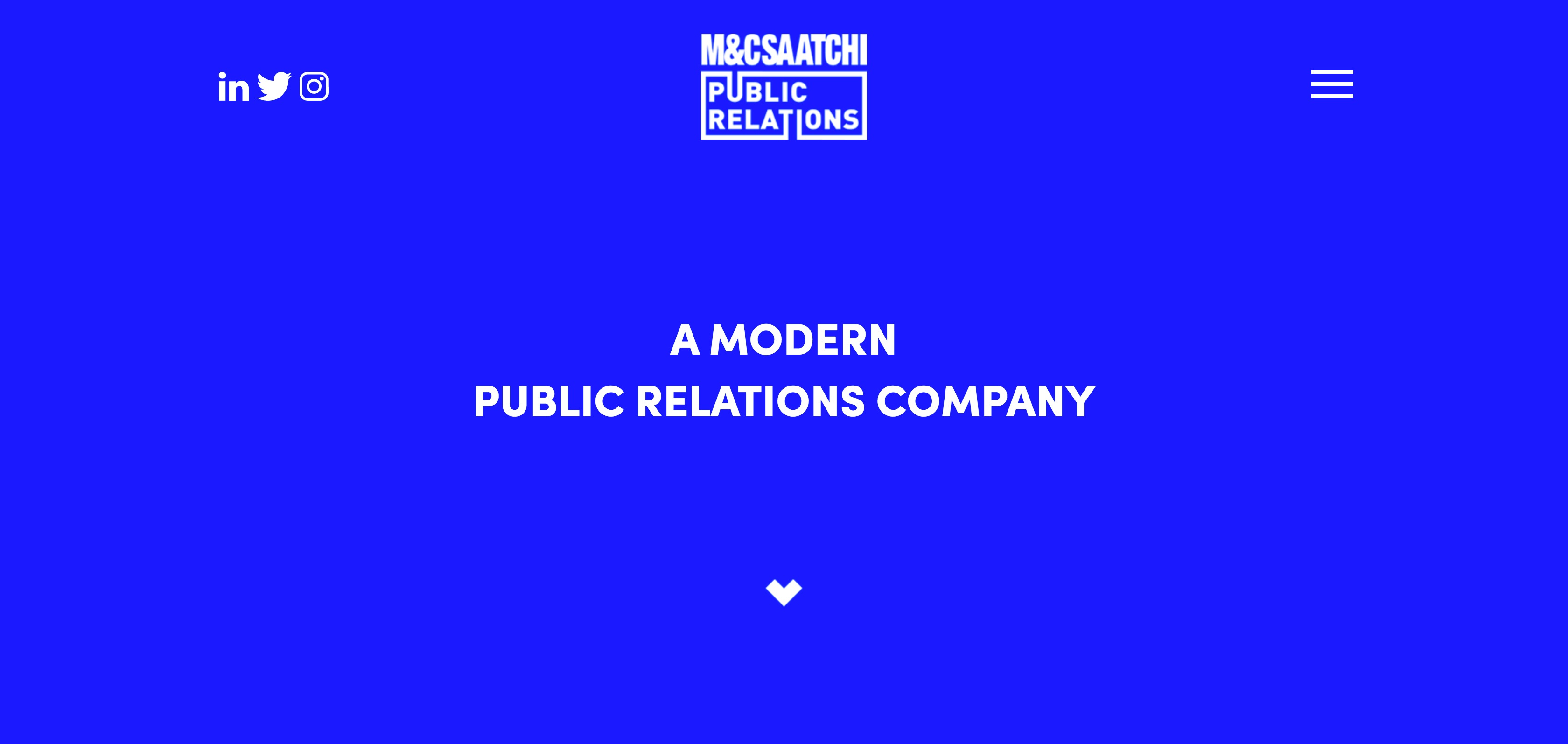 M&C Saatchi PR was launched in 2010 as a London start-up within the M&C Saatchi group. It has eight offices worldwide alongside a network of international partners across Asia-Pacific and Benelux. Since then, they have grown from a London start-up to a global network operating across EMEA and the US.
In 2017, they won the CIPR Large Agency of the Year and PR Week Mid-Sized Agency of the Year awards.
Their intelligence team uses sophisticated tools like QUID and Crimson Hexagon, databases like NVision and TGI and market researchers like Mintel, Future Foundation, and NOP to give their planners the insight to develop the simple strategic thinking. Their team of creative pairs, designers, content producers, and editors work to create the big ideas that deliver on the strategy. Then it's over to their specialists to activate across social, experiential, and editorial to make it happen. They use bespoke measurement models and a dashboard that they apply to every campaign.
---
9. Octopus Group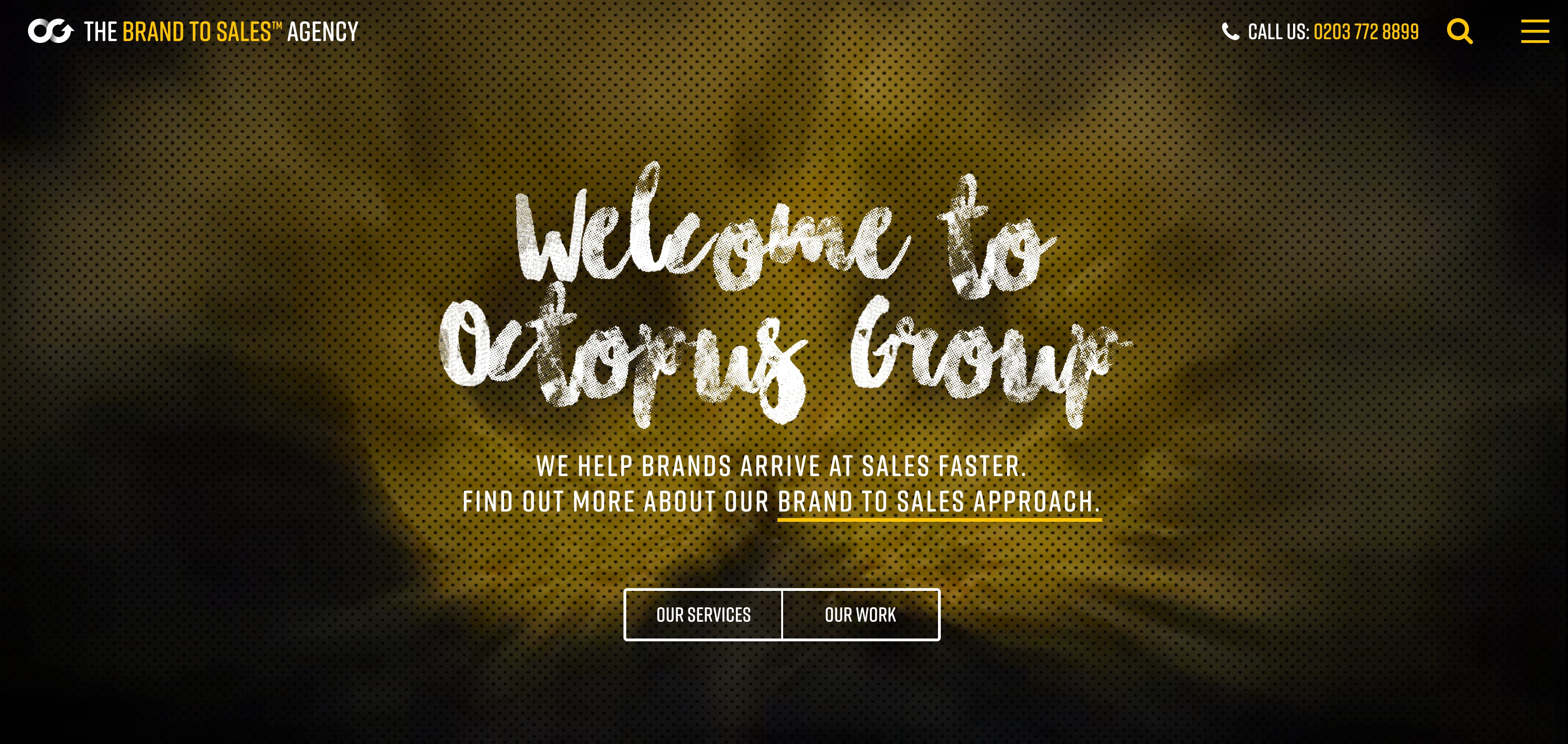 Octopus Group calls itself the Brand to Sales agency. They believe they help brands arrive at sales faster.
Their Brand To Sales approach is brought to life through ten interlinked marketing, PR, research, and lead generation services, all delivered in-house, under one roof.
They were founded in 2001 and now have 65 staff based at its Farringdon office. They help blue-chip, and fast-growth technology and professional services brands become famous and grow their sales.
Their work covers messaging, brand ideation, design, digital, content, research & analytics, campaign planning, PR and social engagement, demand generation, and events & experiential.
They believe that PR and social media storytelling that builds brand awareness and advocacy are at the heart of a good growth strategy. They tell their clients' stories in different and engaging ways. They then use content, channels, and relationships to get their client brands written and talked about in all the right places. Their Brand To Sales methodology means they not only have the right contacts, but they can create great content that's bespoke to them and based on killer insight.
---
10. TVC Group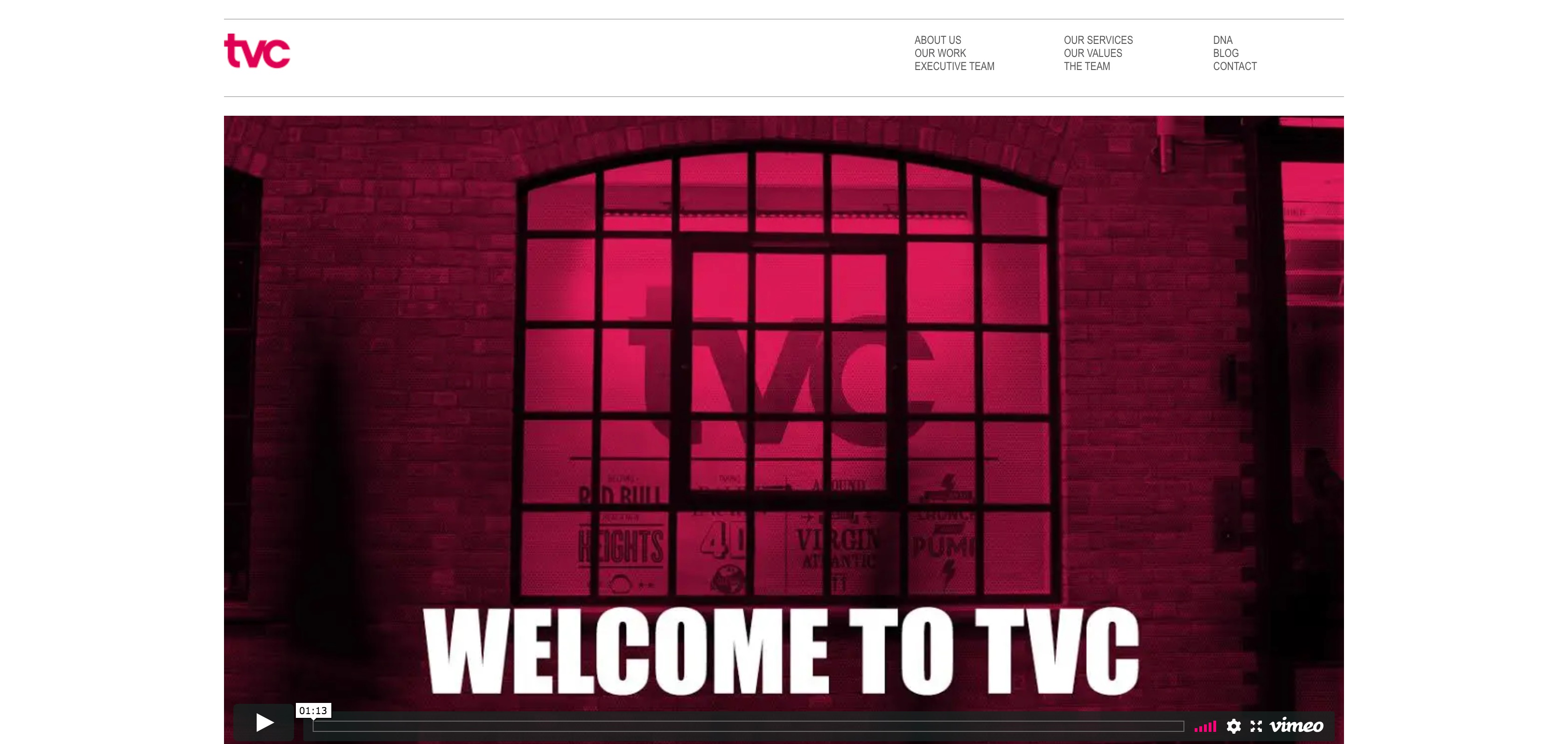 TVC Group, owned by The Economist Group, helps brands tell their stories through all means of content, whether it be words, pictures or moving images, building their clients' reputations through emotional connections and solving their communications problems. They are an enthusiastic bunch of 51 media relations experts, broadcast specialists, experienced producers, and editors, from an eclectic mix of backgrounds, working from a Camden HQ and as well as an office in New York.
Their in-house producers and editors work alongside their creative and media relations teams to deliver compelling, moving image content-driven campaigns. Their media teams are modeled on a 24hr global newsroom – continually monitoring for opportunities and with a wealth of experience in planning and managing news creation and distribution.
---
11. Hanover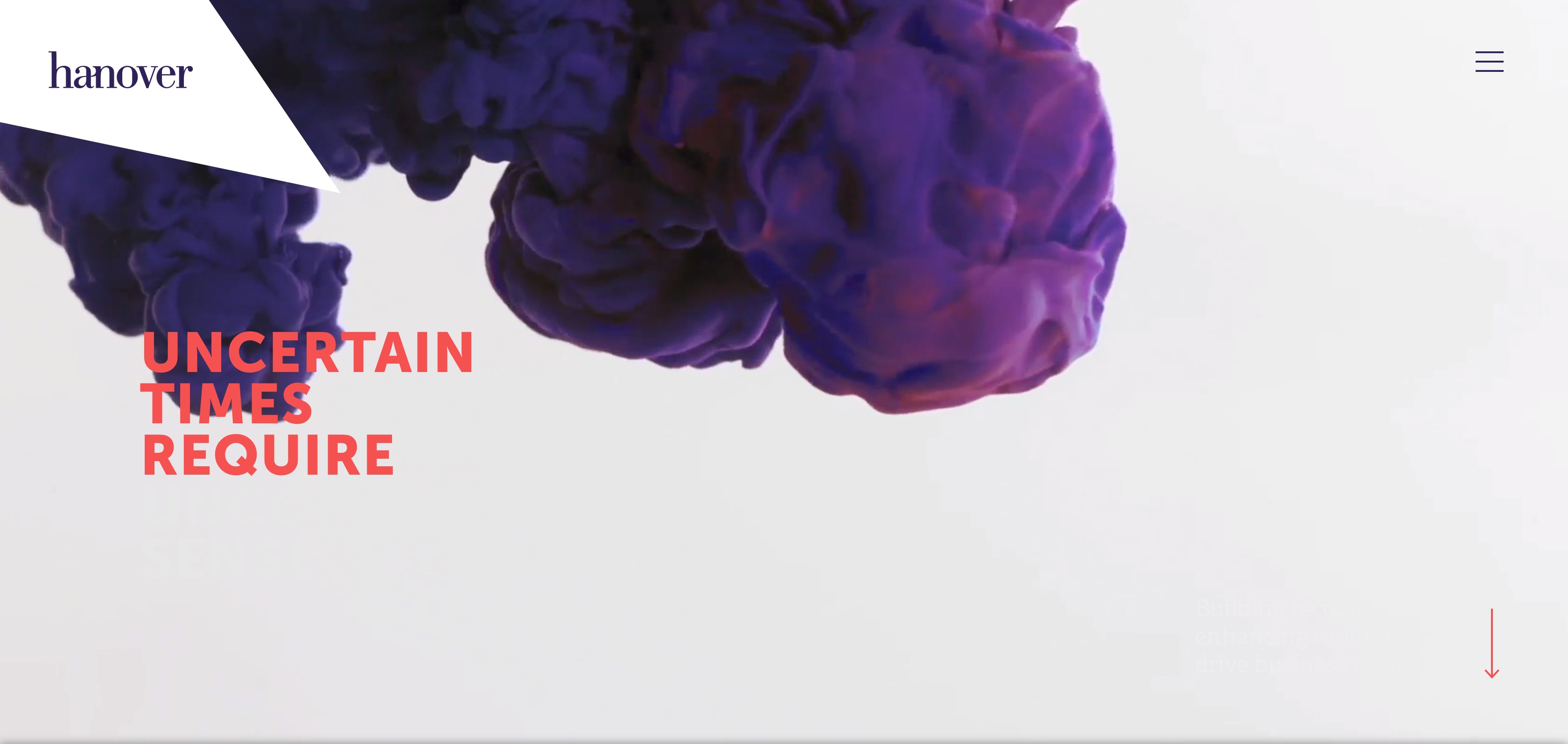 Hanover considers itself to be Europe's leading independent strategic communications consultancy that advises international brands and businesses on reputation and public affairs.
It has offices in London, Brussels, Dublin, and Dubai. Hanover's consultants provide high-level advisory to clients in FMCG, energy, technology, financial services, healthcare, industrial, aerospace & defense, and education sectors.
Everything Hanover does is underpinned by rigorous research and robust measurement practices to ensure that it creates outstanding returns for its clients. It believes that being independent means it is both agile enough to coordinate tactical responses in a crisis, and astute enough to create strategies for long-term success.
---
12. Harvard Public Relations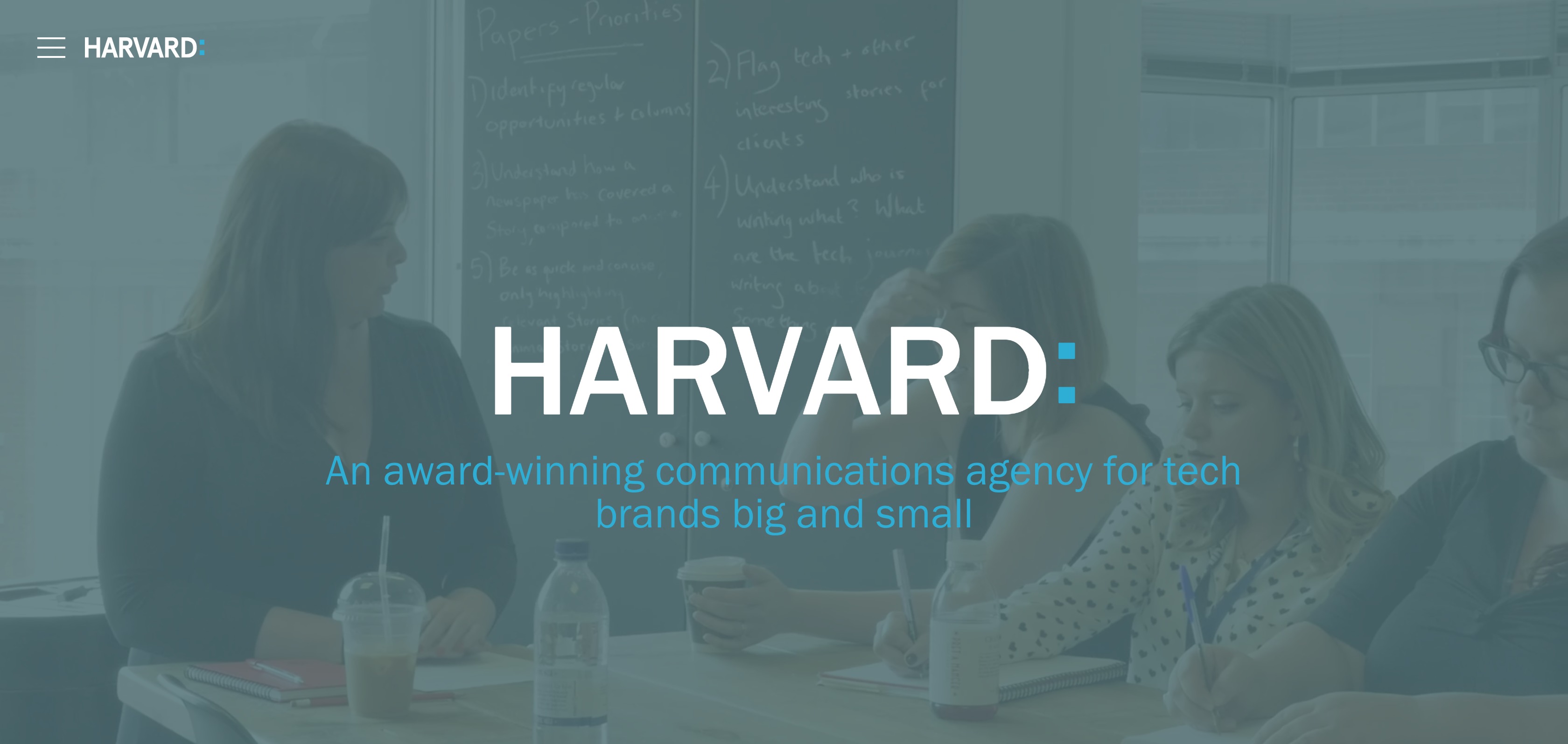 Harvard Public Relations is an award-winning communications agency for tech brands big and small.
Harvard was the first specialist technology agency in the UK, established in 1979. Everyone that works there does so because they have a fervor and passion for tech.
They cover both B2B and B2C businesses and happily work with start-ups to enterprises. They split their work into five categories: planning and strategy, creative, PR and AR, digital engagement, and demand generation.
In terms of PR, they understand how everyone has a story to tell, but how you tell it, and to whom, can make all the difference in the world. Brands live and die on the strength of the relationships they forge. From customers to communities, influencers to institutions, creating lasting ties is essential to long–term success. Harvard has been helping some of the world's best technology companies build stronger relationships with the people who matter for almost 40 years.
---