As with most of the Western World. Australian businesses have discovered the advantages of incorporating influencer marketing into to their marketing plans. It is no surprise that some specialist influencer marketing agencies have sprung up in Australia. Some traditional agencies have also added influencer marketing to the services they offer. Here is our guide to ten influencer agencies in Australia.
---
10 Incredible Influencer Marketing Agencies Down Under:
---
1. The Exposure Co.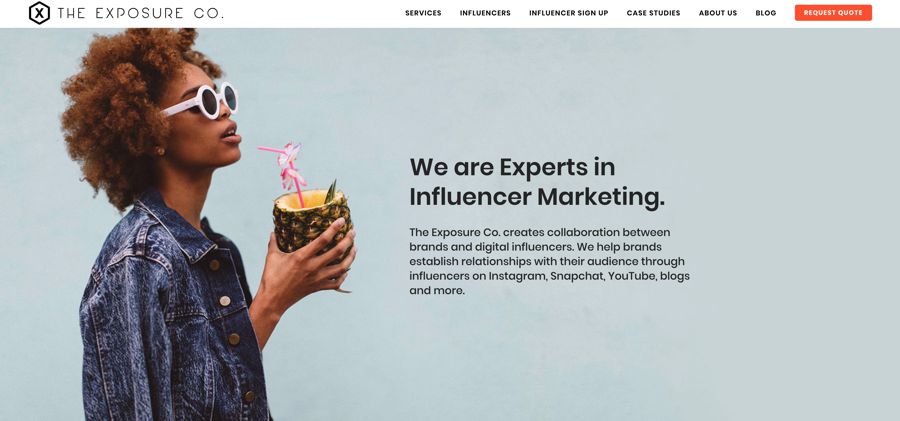 The Exposure Co operates as a full-service digital influencer advertising agency. It operates on both sides of the Tasman – in New Zealand as well as in Australia.
They include local influencers on their roster who have helped to launch global brands in the Australian market. They have also represented local businesses in Sydney, Melbourne, and Brisbane.
The Exposure Co works with the full range of influencers, from highly niche influencers with 5,000 followers up to well-known influencers with 4 million-plus followers.
The Exposure Co's influencers operate across a range of platforms. They recognize that Instagram is pivotal to any influencer campaign, with its highly visual focus and busy levels of engagement. They also realize that YouTube is a significant platform for influencers to create deep connections with viewers. They consider YouTube to be vital to attracting young audiences.
Another platform that attracts the youth and which has excellent participation rates is Snapchat. The Exposure Co also understands how young influencers connect with teens and tweens on Musical.ly.
Despite the importance of these new social media channels, you should not ignore. There are still many influencers who provide engaging blogging, which is an ideal way for brands to tell their story.
The Exposure Co splits their services into four categories. They provide:
Influencer Campaigns
Brand Ambassadors
Content Creation
Experiential Influencer Campaigns
They have a network of 2,000 influencers reaching 90 million fans.
---
2. The Social Club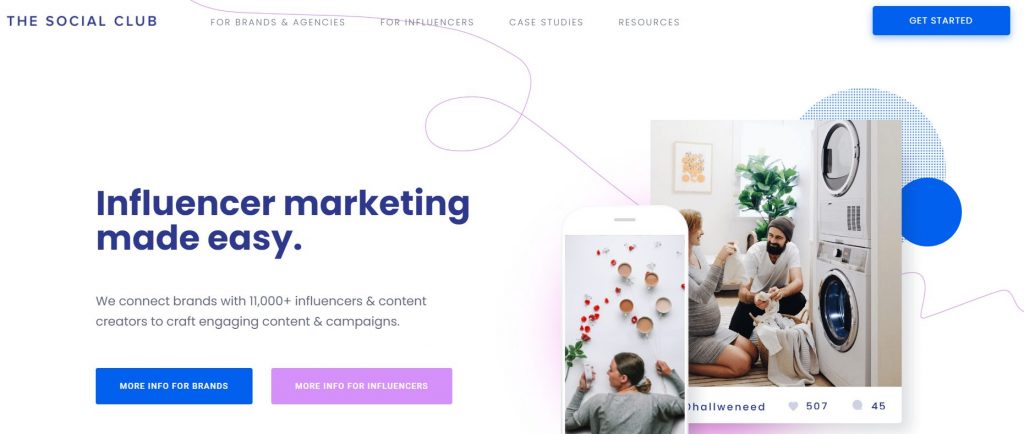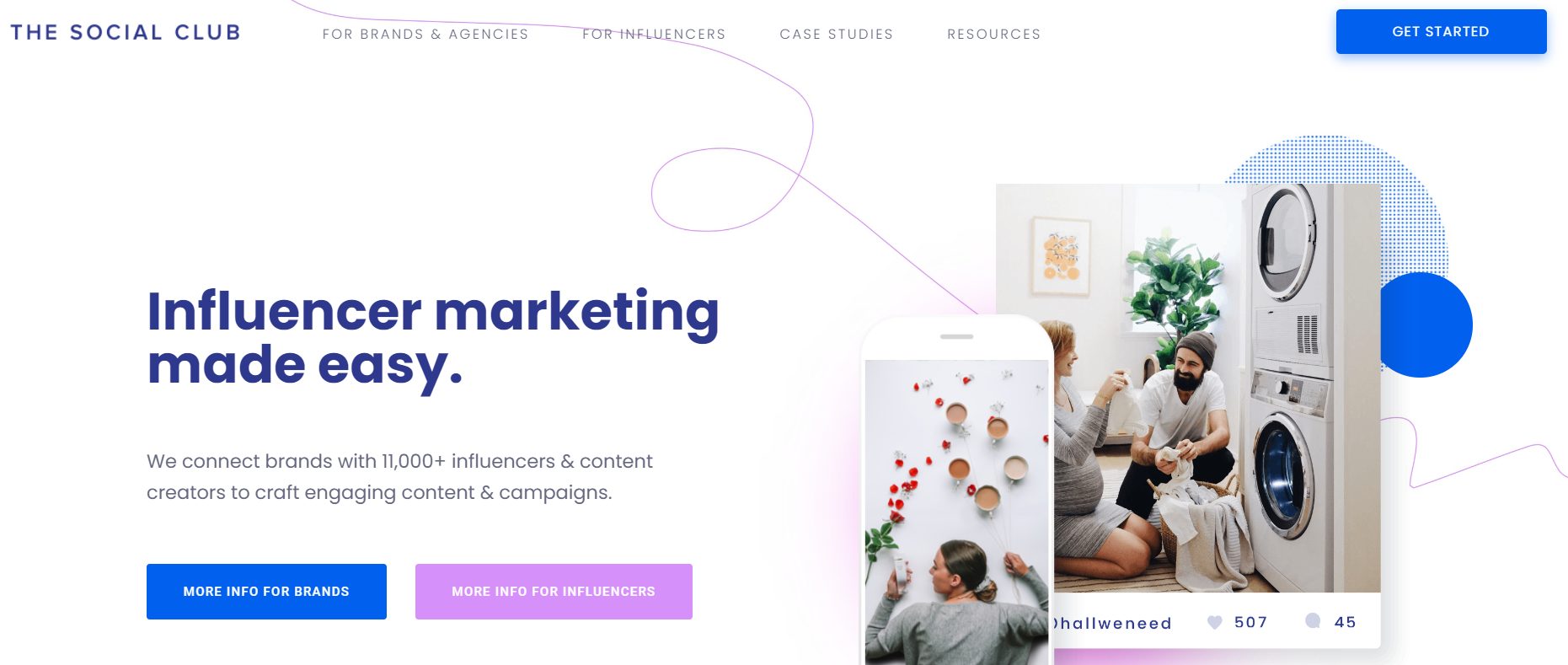 Unlike the rest of the agencies in this post, The Social Club operates on the other side of the Tasman, based in Auckland, New Zealand. However, they also have an Australian office in Melbourne, Victoria.
The Social Club claims to be New Zealand's leading full-service influencer marketing agency, with a bespoke tech platform that helps us to deliver the best results for your brand and budget. They have access to over 11,000 influencers, vloggers, and creatives across Instagram, YouTube, Facebook, and Snapchat, who have a combined 17.5 million followers in their social networks.
The Social Club claims many well-known New Zealand brands as its clients, including Jockey, TipTop, Fisher and Paykel, Burger Fuel, Anchor, and Air New Zealand.
The agency offers a bespoke social and influencer marketing strategy, which they believe leads to increased ROI. They use data and category analysis to identify the best influencers and content creators for each solution.
The Social Club uses a five-step process for both influencer and social media marketing:
They establish your brand goals and create an approach unique to your brand to maximize engagement

They roll out your social media and influencer content activity

Influencers create engaging, authentic, customer-centric content aimed at your target audience

Delivery includes end to end project management, campaign optimization, and reporting

Finally, you have the chance to repurpose and amplify the best performing content
The agency also encourages quality influencers to become part of their team. Influencers and their talent agents can join for free. Influencers can choose the brands they work with, avoiding any conflict with existing partnerships and any need to compromise on brand values.
---
3. TIA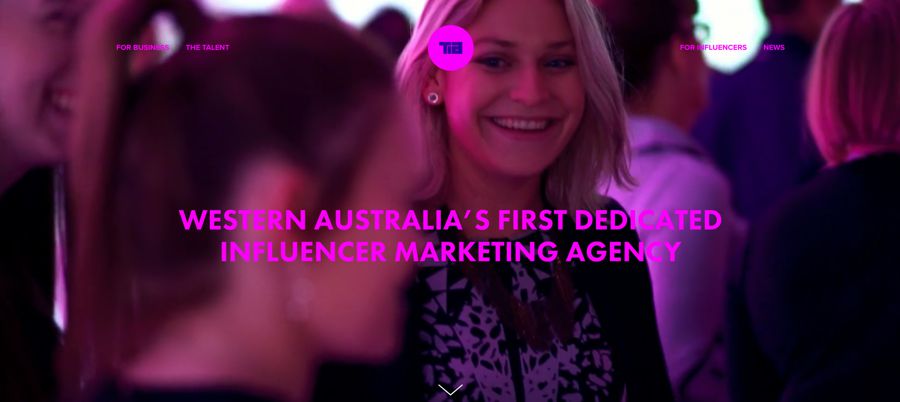 While influencer marketing has spread rapidly over the last few years, it has been slower coming to Western Australia. TIA proudly market themselves as Western Australia's first dedicated influencer marketing agency. They only set up very recently – October 25th, 2017.
They represent a group of predominantly Western Australian influencers. They range from micro- influencer with only 3,000 followers up to famous names with 50,000 or more followers. The influencers cover such niches as sport, parenting, lifestyle, food, gay rights, health, nutrition, fashion, fitness, adventure, interior design, and travel.
When a client approaches TIA, they apply the following process:
Map – identify communication objectives and define the influencer strategy
Match – find the right mix of influencers to most efficiently deliver the message
Measure – measure the effectiveness based on cost per engagement, to show a return on investment
Despite being a very new agency, TIA can already claim Food Loose Tours, Lakeside Joondalup, and Black Swan State Theatre Company as clients. They will also be working with Stylespsiration, IMasticate Perth, Loved by Emily, Sherlock Diary, and Perth Foodies.
---
4. HooZu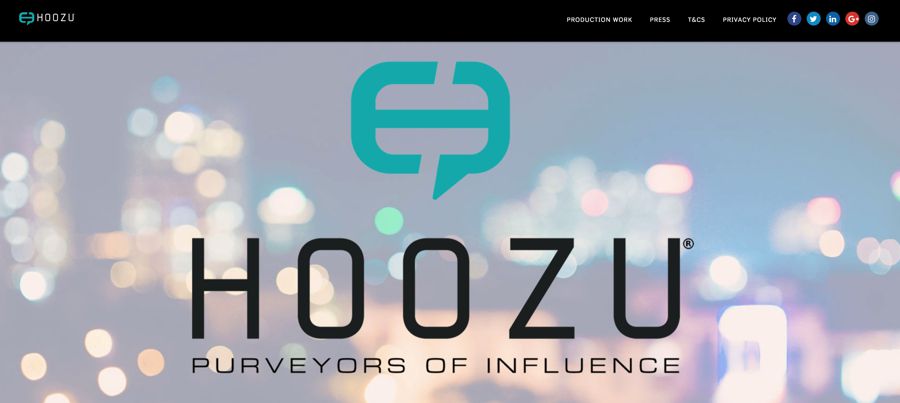 Darlinghurst, Sydney-based HooZu calls themselves Purveyors of Influence. Their management team is a blend of online marketing expertise, celebrity, and technical know-how. These factors have helped them to provide influencer marketing to Australia for the last two years.
Hoozu uses technology to identify talent on the social web. They work with a mix of influencer types – celebrities, micro- influencers, and employees. They also have trading agreements with the major talent agencies.
Hoozu recommends talent to brands that they believe match the brand's objectives. They guarantee minimum reach and engagement targets.
They run each campaign with many influencers across a range of social media networks to optimize reach and performance. They also manage the pacing and flighting of messages, ensuring that campaigns build momentum as they progress.
Hoozu provides a range of real-time reporting services. These include
continuous optimization
competitive analysis and tracking, insights
post analysis
brand sentiment monitoring
---
5. Hello Social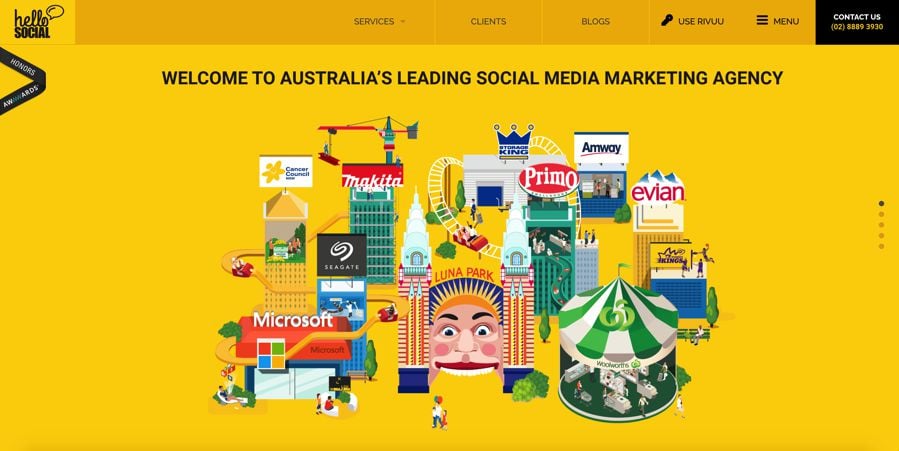 Hello Social considers itself to be Australia's leading social media marketing agency. As such, influencer marketing is just one of the range of packages that it offers brands. They specialize in bringing together an organization's social media presence into a unified strategy, tying in with their business objectives.
Hello Social is a full-service influencer agency, providing services and strategies from concept creation to execution. They have worked with well-known firms including Microsoft, Oli, Eve and Kane, and that Australian icon – Luna Park.
They encourage influencers to sign up to their network, offering them various opportunities:
To work with brands they love
Exclusive perks, e.g., access to the newest products and exclusive invites
Talent management
Expert advice
Hello Social's influencers cover virtually every type of niche, including lifestyle, fashion, beauty, travel, family, and food.
Hello Social is a full-service agency, so their creatives design influencer marketing campaigns to help brands stand out from the crowd. Their strategists work with businesses to determine the ideal influencer strategy for their particular situation.
They work hard to widen brand awareness and create social chatter to drive word of mouth at scale, amplifying the branded messages.
---
6. Contagious Agency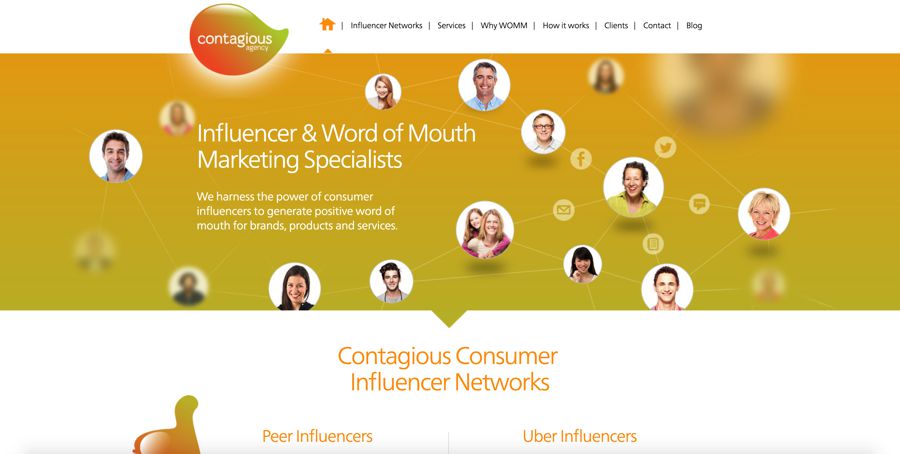 Contagious Agency specializes in influencer and word of mouth marketing. They work with a combination of what they call Peer influencers and Uber influencers.
The Peer influencers operate as the Contagious Network, who work to spread the word about brands, products and services. These influencers are invited to take part in word-of-mouth campaigns to share genuine recommendations about brands. They do this both online and face-to-face.
Contagious also works with their Uber influencers. These are predominantly bloggers who have built up a large following in areas like parenting, home & lifestyle, food, design, travel, fashion & style, beauty, urban culture, health & wellness, special interest, tech, and music.
Contagious Agency provides a range of services to its clients. These include
Blogger outreach and Uber partnerships
Social word of mouth (WOM) sampling
Social media endorsements
Content creation
Influencer events
Long-term advocate programmes
Contagious Agency is a strong supporter of Word of Mouth Marketing (WOMM). It believes that both the Peer influencers and the Ube influencers are well placed to carry out WOMM for brands.
Contagious includes quite a few familiar names amongst their client roster. These include Colgate, Woolworths, Telstra, Revlon, Pizza Hut, Coles and Mastercard.
---
7. FWRD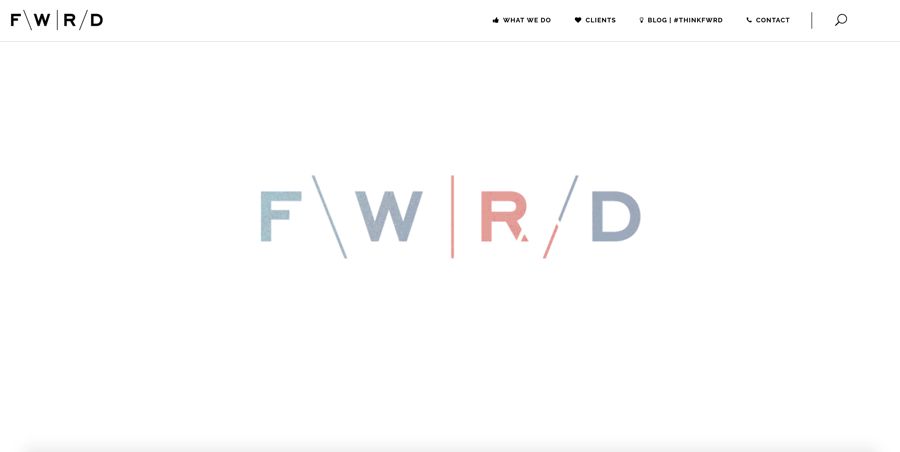 FWRD is a social media agency based in South Melbourne. They cover many facets of social media management, including
strategy
influencer outreach
social advertising
content creation
community management
campaign management
web & commerce
data acquisition
With influencer outreach, FWRD believes that social media influencers are the new trendsetters, celebrities and inspiration sources in today's society.
FRWD has a network of social influencers and bloggers whom it works closely with to increase brand awareness and connect and foster with brand advocates. They are particularly useful for helping brands to tap into new markets (both within Australia and abroad).
---
8. Marmot Inc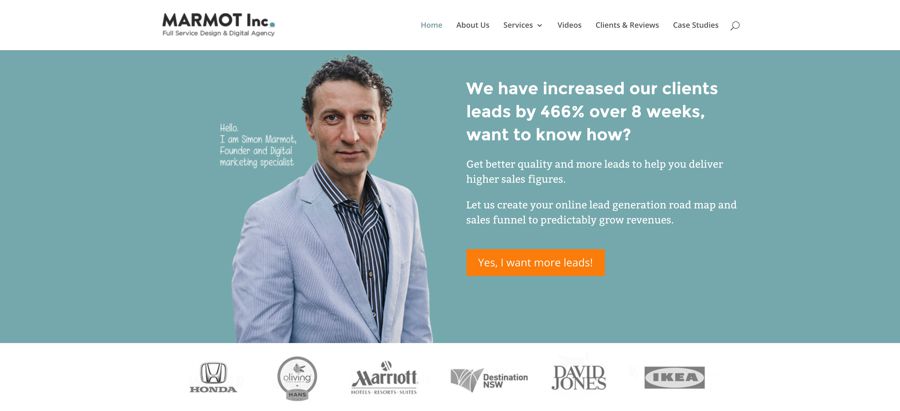 Marmot Inc is a full-service design and digital agency based in Sydney. Its founder is Simon Marmot, who spent many years working with Saatchi & Saatchi in Sydney, London and Vietnam.
Marmot includes amongst its services, blogger outreach, YouTube influencer marketing, and social media influencer marketing.
In its role as a blogger outreach agency, Marmot sees itself as having four tasks:
To identify top blogger communities across different industries
To mobilise influencers to create authentic content to resonate with its customers
To amplify social content across blogs, Facebook, Twitter, and Pinterest
To track the ROI of its clients' campaigns to gauge consumer and social media reach and engagement
They also specialize in helping brands to create YouTube influencer marketing strategies. They create YouTube influencer and content marketing videos, product demo videos, How To videos and brand story videos.
---
9. Social Soup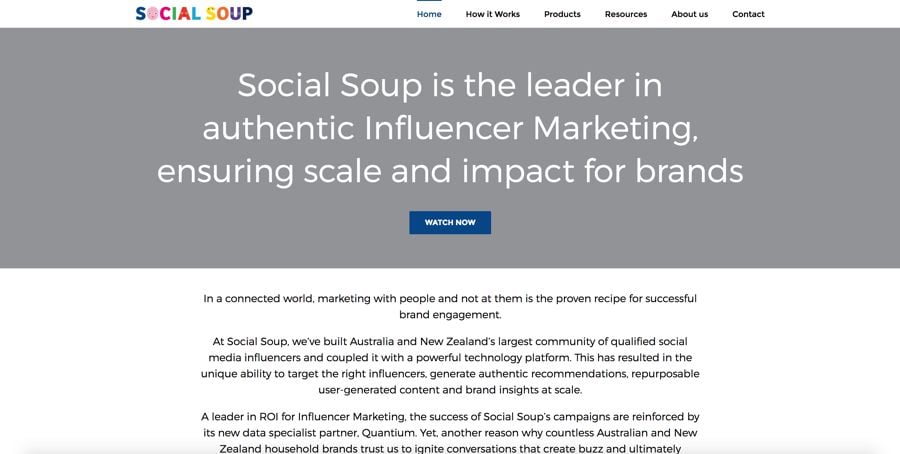 Sydney-based Social Soup is a strong advocate for authentic influencer marketing. It operates on both sides of the Tasman, working with New Zealand brands and influencers and their Australian counterparts.
They are very experienced in influencer marketing, with over ten years experience. They have now worked with over 500 businesses in 23 categories.
They split their services into four categories:
Social Boosters
Social Sampling
Peer to Peer Influence
Amplifications and Social Media
Their Social Boosters focus on mid-tier influencers with 1,000 – 50000 followers. Social Soup believes that influencers in this range drive the most engagement and impact amongst followers. Social Soup uses an Influencer Gateway Platform to help brands build partnerships with the most important influencers.
Their Social Sampling service sets up brand-led trials with large groups of influencers, targeted to ensure they fit the brand's niche. They even have a variation of this called Office Social Sampling. This involves live campaigns in an office environment. They give businesses a chance to see office-related products in a practical setting.
The peer to peer influencer campaigns involve trials with groups of influencers in a particular niche. Social Soup arranges for brands to support an everyday activity of that sector. They support product launches that create a positive buzz. They also work with influencers to generate product-based user-generated content.
Social Soup works with influencer to share their experiences online. They work to build up positive conversations about client brands. They help amplify relevant user-generated content.
---
10. Magnum & Co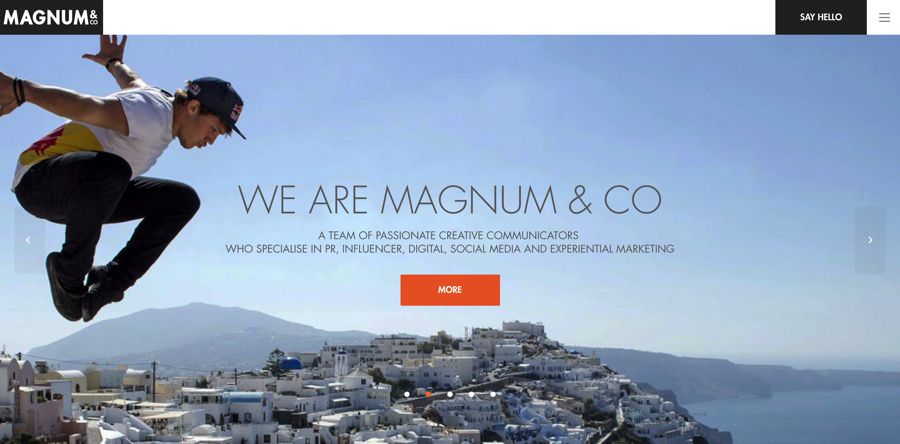 Magnum & Co specialise in PR, influencer marketing, social media, content, experiential, and digital. They consider themselves to be one of Australia's top integrated marketing agencies.
With influencer marketing, Magnum & Co follow a six-step process:
Brand truth – research and insights
Discovery – strategic partnerships meet influencer detecting technology
Content – connecting consumers
Amplification – an integrated approach to speed up influence
Analysis – important metrics
Optimization – continually driving success
They call their influencer marketing process MAGNETIC. MAGNETIC provides brands with end-to-end influencer marketing service. These cover every step of the process.