Advertising Disclosure
Advertising disclosure:
Our partners compensate us. This may influence which products or services we review (also where and how those products appear on the site), this in no way affects our recommendations or the advice we offer. Our reviews are based on years of experience and countless hours of research. Our partners cannot pay us to guarantee favorable reviews of their products or services.
Influencer marketing is multiplying, with the industry being valued at $21.1 billion in 2023. Navigating through the worldwide influencer marketing agency options and selecting the right partner can be complex. Fear not, as we have simplified the process for you.
We embarked on an extensive research journey, examining the top 10 global agencies. Our criteria for evaluation were comprehensive. Beyond assessing their niche expertise, audience insights, and influencer network quality, we delved into more intricate aspects. These included their post-campaign analytics, the measures they employ for talent management, and their compliance with legal norms across various sectors. The outcome is a refined selection of agencies renowned for delivering tangible and authentic results.
---
Top Global Influencer Marketing Agency Choices
Top
global influencer marketing agencies
2024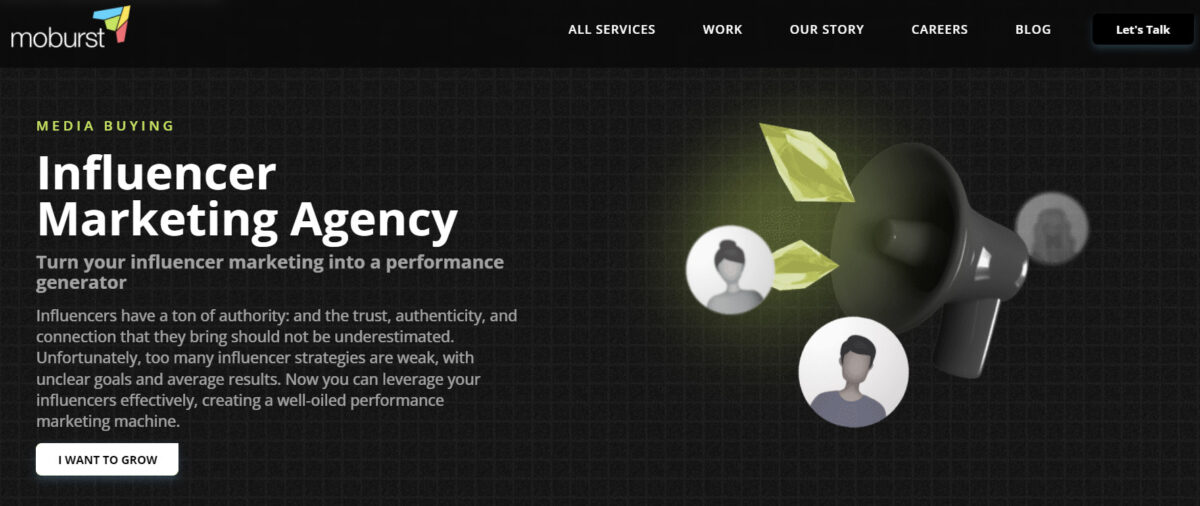 Moburst stands out in the crowded field of influencer marketing with a meticulously crafted, results-driven approach. The agency is renowned for transforming influencer marketing into a robust performance marketing machine. They prioritize quantifiable outcomes over mere visibility metrics, ensuring brands not only gain exposure but also experience tangible growth in installs and sales. Every campaign is bespoke, beginning with an in-depth customized planning phase that includes the creation of a comprehensive campaign brief tailored to specific client needs and goals.
The agency's prowess in data-driven global strategies is one of its defining traits. Moburst bridges the gap between brands and creators, ensuring the voice echoing through the influencer is both authentic and strategically aligned with the brand's identity and objectives. Their unique influencer selection method is rooted in an intricate analysis of audience data and insights, ensuring the chosen influencers resonate profoundly with the target demographic. In addition, brands gain access to Moburst's robust network of top influencers across various product categories, ensuring a perfect match for every campaign.
Moburst epitomizes efficiency and effectiveness in campaign management. The agency handles every element in-house, from building influencer briefs infused with key brand messages to comprehensive reporting. Their commitment to superior outcomes is evident in their utilization of powerful tools that offer deep insights into an influencer's audience and reach. Clients are kept informed through weekly and monthly updates, ensuring transparency and collaborative optimization efforts. The agency's focus on key performance indicators from the campaign's initiation underscores their commitment to delivering exceptional, measurable results for every client they partner with.
Services Offered:
User-Generated Content
Social Media Marketing
Digital Marketing
Full-Service Production
Talent Management
---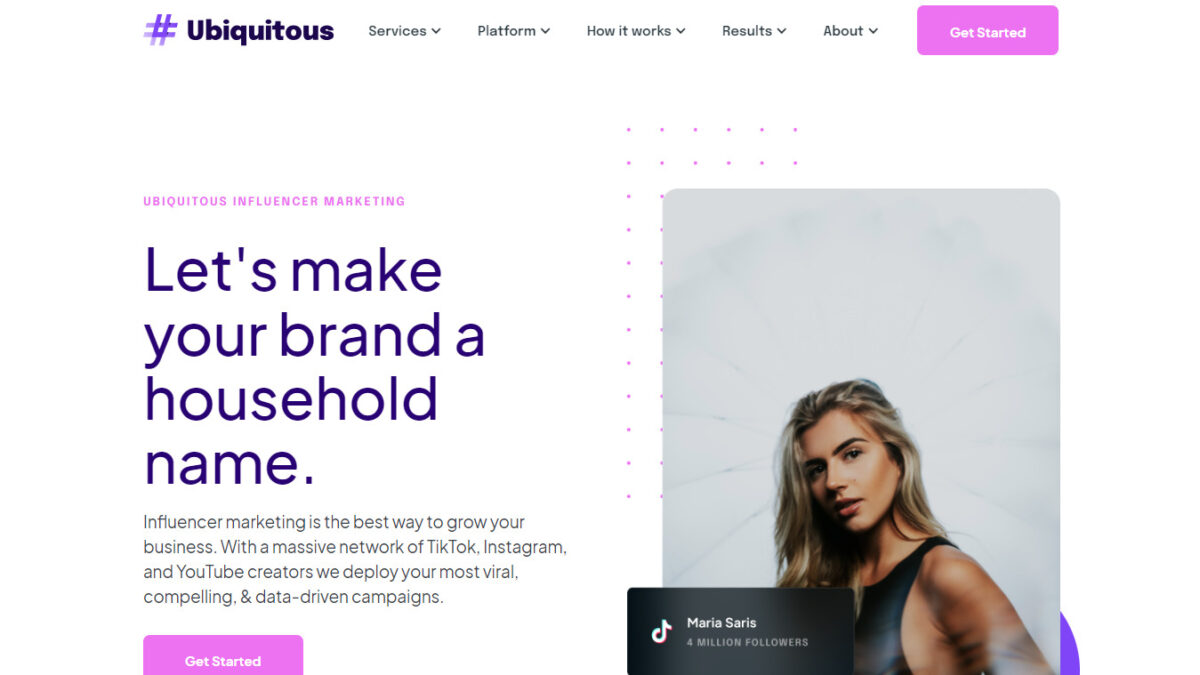 Ubiquitous has earned its reputation in the global influencer marketing landscape by transforming brands into household names. They partner with a diverse network of creators across prominent social platforms like TikTok, Instagram, and YouTube to execute viral, data-driven campaigns. Ubiquitous differentiates itself by delivering substantive results, not just impressive metrics, ensuring that clients across various sizes and verticals experience genuine growth and brand elevation. Their expertise lies in their ability to understand each brand's unique needs and align them with suitable influencers to achieve specific marketing objectives.
Their innovative approach integrates a self-service influencer marketing platform, enhancing the autonomy and scalability of brands in executing their influencer marketing strategies. This platform enables brands to identify suitable creators, conduct in-depth competitive research, and track campaign performance comprehensively. Ubiquitous has simplified the process of influencer marketing, making it more accessible and efficient. Their clients laud them for their organized, reliable, and passionate service, marking them as true partners in navigating the intricate landscape.
Ubiquitous's approach is exhaustive; they manage every touchpoint of the influencer marketing channel. Their successful campaign with Wienerschnitzel, which garnered over 42M+ impressions and sold out their specials, attests to their efficacy. They are inclusive, calling upon influencers of all sizes to join their Influencer Collective, underscoring their belief in the power of diverse voices to amplify brand messages. Their origin, stemming from an understanding of performance and economic viability, showcases their adaptability and forward-thinking nature in the dynamic field of influencer marketing.
Services Offered:
Full-Service Campaign Design
Content Creation
Social Media Management
---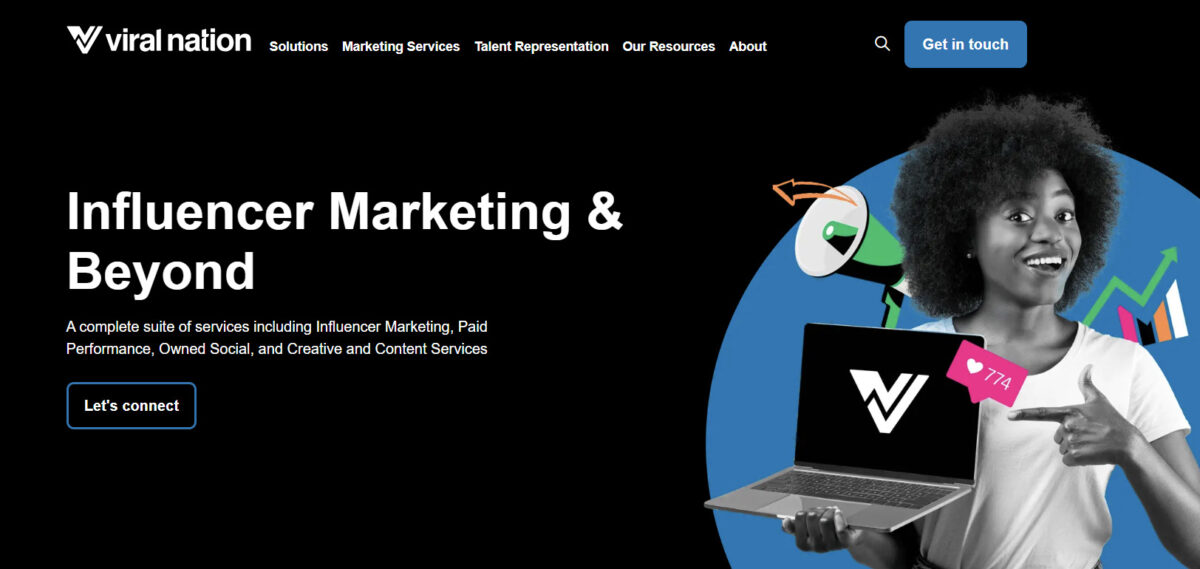 Viral Nation is distinguished through its unparalleled precision and scalability. With an operational footprint spanning over 30 countries and reporting capabilities in 15+ languages, the agency has refined the art of tailoring influencer marketing campaigns to resonate across diverse global markets. Combining their buying power and an acute understanding of economics uniquely positions them, optimizing influencer costs to enhance brand ROI.
Furthermore, Viral Nation leverages cutting-edge technology to augment its global campaigns. Their patented AI-powered platform, Viral Nation Secure™, stands as a testament to their innovation, offering an unprecedented brand safety analysis ensuring trusted scalability in the influencer space. The agency's comprehensive suite of services, including influencer marketing campaigns, ambassador programs, and content generation, are bolstered by VN_CreatorOS™. This technology ensures real-time content review, live campaign performance visibility, and advanced brand matching algorithms, underscoring Viral Nation's commitment to innovation and efficiency.
The agency's acumen in integrating performance media with talent marketing sets it apart. Viral Nation's engagement spans various industries, including lifestyle, apparel, technology, and health & wellness, showcasing their adaptability and proficiency. Their methodical use of real-time data, industry insights, and strategic partnerships enables them to stay ahead of influencer marketing trends, making them a preferred choice for brands aiming for impactful social transformation.
Services Offered:
Social Media Marketing
Social Media Management
Digital Marketing
Talent Management
Blockchain, NFT, Crypto Marketing
---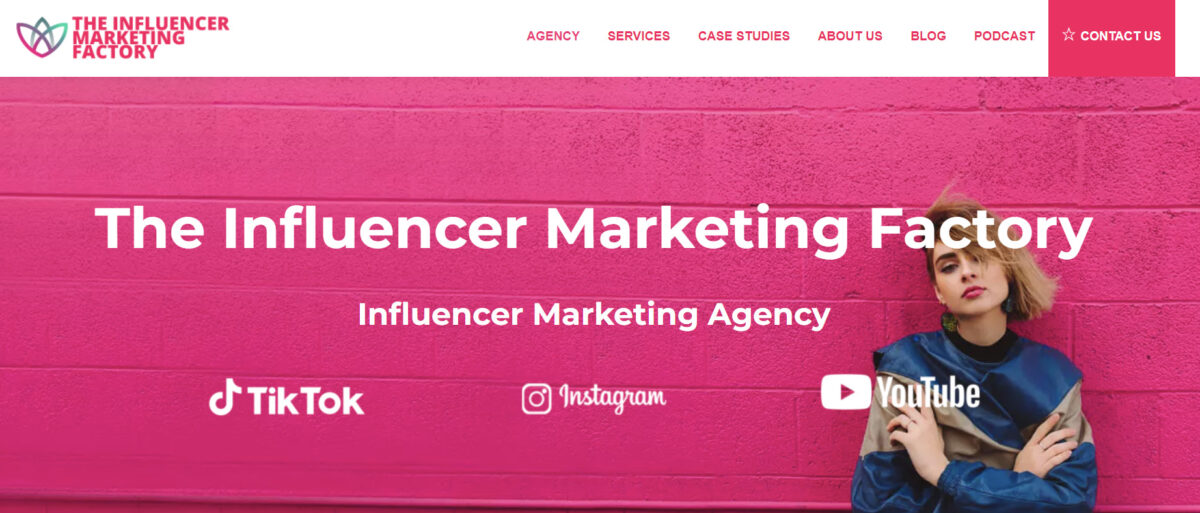 The Influencer Marketing Factory (IMF) is renowned for its holistic approach to influencer marketing, offering clients meticulously crafted campaigns from inception to execution. As a global agency, IMF specializes in creating authentic, scalable, and ROI-focused influencer campaigns across major social media platforms like TikTok, Instagram, and YouTube. Their process is comprehensive; beginning with understanding a brand's KPIs, they proceed to influencer identification and storytelling, enhanced by robust content creation and engagement strategies that are underpinned by legal safeguards, ensuring each campaign is not only effective but compliant.
IMF's expertise is accentuated by its meticulous approach to aligning campaigns with a brand's specific objectives and core markets. Their ability to define and target customer personas ensures every campaign resonates with the intended audience. Content creation is not left to chance; IMF prioritizes engagement, crafting concepts and content that spark interaction. Beyond execution, their commitment to transparency and accountability is showcased by advanced brand monitoring and tracking tools and extensive reporting mechanisms, providing clients with tangible metrics and insightful analytics.
With offices across major cities worldwide, including Miami and New York, and international locations like London and Milan, The Influencer Marketing Factory has solidified its global footprint. This expansive reach is complemented by a resource-rich environment, including insightful guides that elevate their client's understanding of the influencer marketing landscape. Their ability to calculate and demonstrate ROI stands as a testament to their analytical prowess and commitment to delivering value. Clients not only benefit from impactful influencer campaigns but also gain access to a wealth of resources, ensuring informed decision-making and optimized marketing strategies.
Services Offered:
Social Media Marketing
Social Media Management
Digital Marketing
---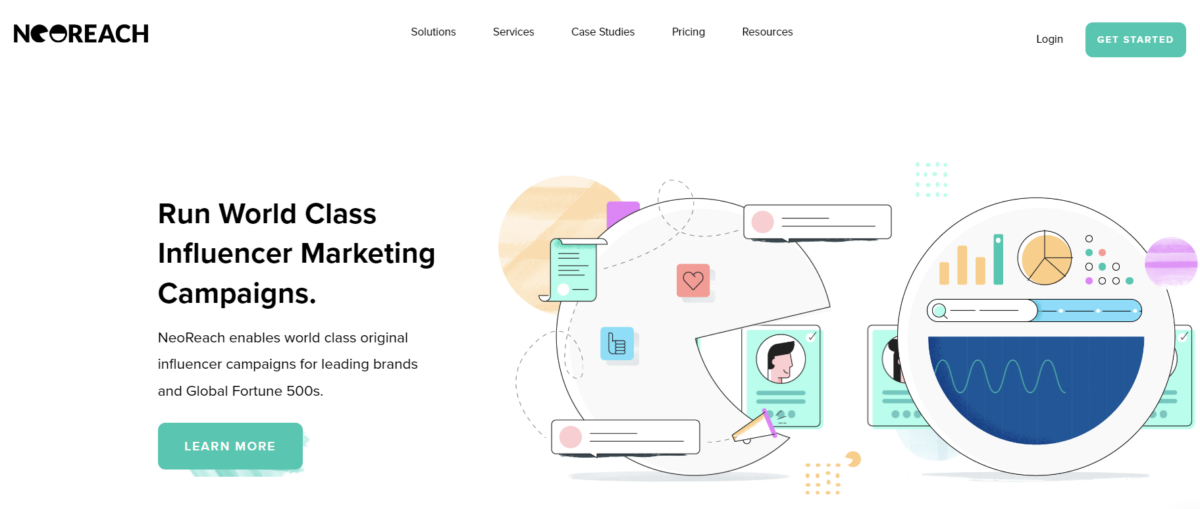 NeoReach, renowned for curating world-class original influencer campaigns tailored to both leading brands and Global Fortune 500s, integrates real-time, proactive communication with clients so each campaign authentically resonates with a brand's core narrative. A testament to their expansive reach is their nurtured direct relationships with influencers, bloggers, and creators. This vast network, when coupled with data-backed insights, guarantees campaigns that strike the right chord with the target demographic, ensuring both the ideal fit and a harmonious brand-influencer relationship.
Beyond just identification, NeoReach takes pride in its holistic campaign management, beginning with strategic content creation in collaboration with the influencer talent. This content is not only authentic but also optimized for brand recognition and conversion. Contracting and activation are streamlined, with NeoReach overseeing all aspects, from negotiations and legal agreements to compliance checks. But NeoReach's expertise doesn't end post content creation. Their adeptness in paid media syndication broadens the reach of influencer content, with a focus on maximum ROI across major channels like Facebook, Instagram, Google, TikTok, and Snapchat.
However, their state-of-the-art self-service software and APIs truly differentiate NeoReach in the crowded influencer marketing landscape. Clients gain access to intuitive tools for seamless campaign search, management, and tracking, all underpinned by robust analytics. With NeoReach at the helm, brands have successfully managed influencer campaigns worth over $250 million. Their impressive portfolio boasts campaigns that have amplified brand awareness, boosted product downloads, and reached millions of users, ensuring tangible outcomes for businesses. NeoReach's amalgamation of experience, technology, and strategic prowess makes it an indispensable partner for brands seeking impactful influencer marketing campaigns.
Services Offered:
Campaign Direction
Influencer Scheduling
Social Account Management
Influencer Payments
Talent Management
Paid Social Amplification
---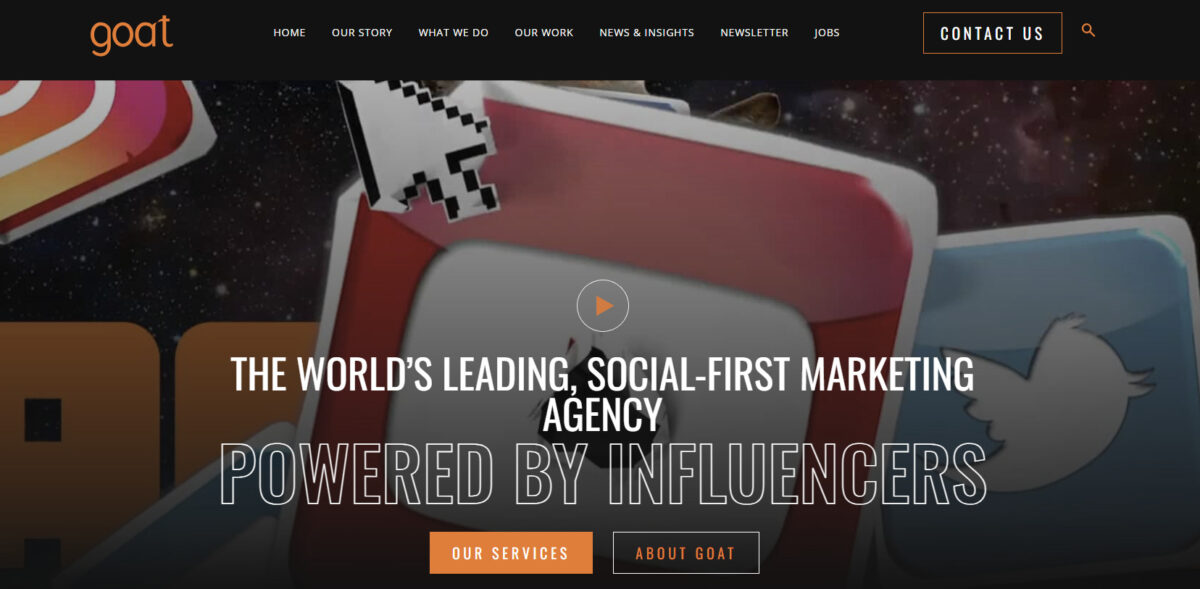 The Goat Agency is a global powerhouse in the realm of social-first marketing, propelled by its unwavering commitment to delivering influential and award-winning social media campaigns. Since its inception in 2015, Goat has meticulously crafted its approach to incorporate long-term social media strategies and data-driven influencer campaigns, earning its reputation by promoting enhanced brand engagement and awareness. Boasting a multifaceted team of experts, Goat transcends traditional influencer marketing paradigms, viewing influencer and social media marketing as a comprehensive, full-funnel marketing channel.
Goat's prowess is not just in its strategic formulation but also in its execution, which is evidenced by significant successes in an array of industries, ranging from technology and food & beverage to luxury and fashion. The agency's innovative approach is showcased in the seamless integration of data-driven creative strategies with influencer campaigns, ensuring brands not only reach but also resonate with their targeted audience. The agency's compelling case studies, including notable engagements and impressive ROIs, are testaments to their efficacy. A notable highlight is Goat's international presence; with over 200 social natives operating across 70+ countries and 38+ languages, the agency ensures campaigns permeate geographical boundaries, attaining global influence.
The agency's astute understanding of social platforms and online culture, fortified by a database of over 100,000 influencers, underscores its capacity to tailor campaigns to specific audience segments and objectives. The amalgamation of strategic acuity, global reach, and proven campaign outcomes positions them as a leading influencer marketing entity in the global arena.
Services Offered:
Paid Social
Community Management
Social Media Management
Content Production
---

HireInfluence stands tall in the global influencer marketing landscape, with an illustrious history of curating human-centric and fully managed influencer marketing campaigns. As an agency serving esteemed brands since 2011, HireInfluence's portfolio is adorned with collaborations with renowned entities, validating the agency's capability to transcend traditional marketing paradigms. Unlike many in the industry, HireInfluence prides itself on bespoke service delivery, seamlessly aligning each campaign with the specific objectives and Key Performance Indicators (KPIs) of the client. This tailoring ensures not only alignment with the client's vision but also optimizes the potential for measurable impacts and tangible outcomes.
Central to HireInfluence's operational ethos is the meticulous curation of talent, undertaken through an exhaustive manual selection process. This hands-on approach ensures creators and influencers aligned with each campaign are meticulously matched, optimizing authenticity and engagement. The agency's white-glove campaign execution bridges the gap between creators and clients, fostering an environment where innovation and creativity thrive. HireInfluence's dedication to building emotional connections is manifested in its award-winning strategies, which are ingrained with an experiential attitude.
HireInfluence's commitment to quality and innovation has not gone unnoticed. With accolades, including the Influencer Marketing Agency of the Year and Best Integrated Marketing Agency, the global recognition underscores the agency's competence and expertise. Clients and collaborators often laud HireInfluence for its impeccable service delivery, characterized by comprehensive analytics designed around client objectives. The positive testimonials from prestigious brands and the agency's feature on prominent platforms like Forbes and NBC stand as testaments to its unrivaled proficiency in elevating brands through strategic and humanized influencer marketing campaigns.
Services Offered:
Creative Talent Sourcing and Placement
Paid Media
Content Production
Full-Service Production
Digital Marketing
---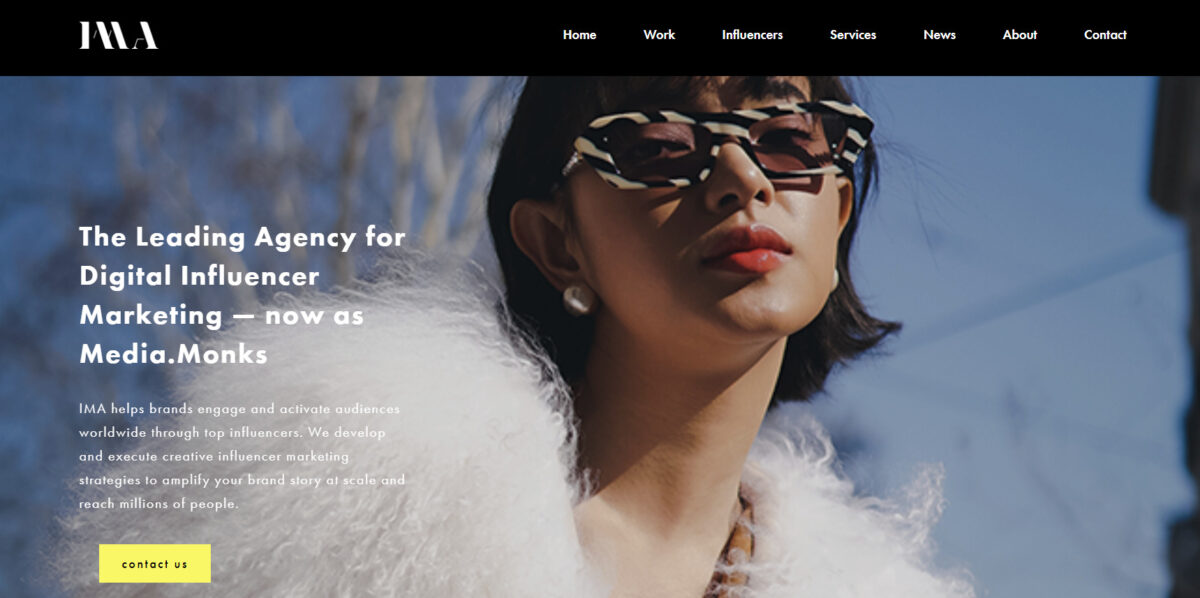 Since its inception, Imagency (IMA) has been synonymous with innovative and impactful influencer marketing strategies, offering tailor-made solutions designed to amplify brand stories on a global scale. IMA's distinct approach lies in its ability to foster authentic connections, underpinned by a decade of industry experience and a comprehensive understanding of both brand and audience nuances. The agency's global reach, underscored by offices from Amsterdam to Shanghai, attests to its capacity to engage and activate diverse audiences, elevating brands to new pinnacles of visibility and engagement.
IMA's bespoke approach ensures each campaign is meticulously crafted, reflecting every client's individual goals and unique DNA. The agency's expertise extends to a full range of services, from strategic ideation to hands-on campaign execution, all bolstered by in-depth reporting and analysis. Every strategy is executed with precision, whether to bolster brand awareness or drive conversion-led campaigns. Furthermore, IMA's extensive network of influencers, nurtured over ten years, spans globally, ensuring each brand is paired with the most synergistic influencer to optimize authentic engagement and impactful storytelling.
An array of industry accolades highlights IMA's consistent delivery of exceptional influencer marketing campaigns. The awards are a testament to the agency's innovative strategies, which are anchored in a profound understanding of digital ecosystems and audience dynamics. With a database of over 19 million influencers and cutting-edge campaign management tools, IMA positions brands to reach and resonate with their target demographics.
Services Offered:
Influencer Matchmaking
Content Strategy
Campaign Management
Tracking and Measurement
Social Media Advertising
---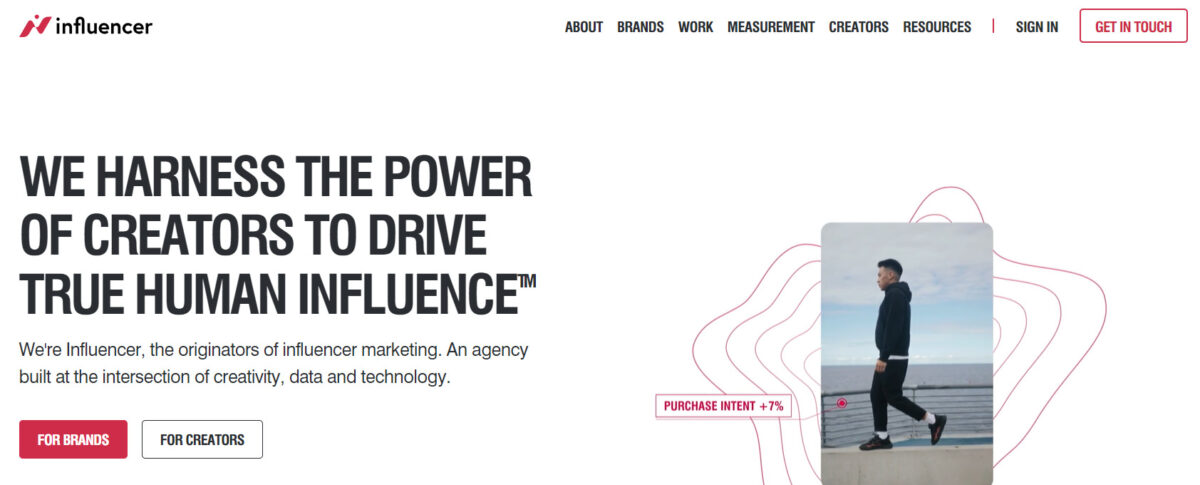 Originating bespoke campaigns that are an amalgamation of creativity, robust data, and advanced technology, Influencer is rooted in the pioneering phases of influencer marketing. It is renowned for transforming brand narratives into engaging and authentic stories, amplified through meticulously selected creators. Case studies underscore the agency's ability to weave narratives that not only resonate but also drive engagement and conversions.
Each campaign orchestrated by Influencer is a testament to their innovative approach and global reach. Their collaboration with Coca-Cola, characterized by the synchronized content release across five continents, epitomizes the agency's ability to invoke a global engagement cascade. With the Xbox Game Pass campaign, Influencer demonstrated its adeptness at fostering highly targeted and authentic engagements, leading to remarkable metrics in views and watch times. These meticulously crafted campaigns exemplify Influencer's competence in navigating the nuanced terrains of diverse audiences and industries whilst aligning with brand objectives and ethos.
The cornerstone of Influencer's operational excellence lies in its potent combination of creative ingenuity and analytical prowess. With services that transform data into actionable growth strategies, Influencer ensures every campaign is not only visually and narratively compelling but is also anchored in measurable impacts and ROI. Their partnerships with leading brands, from Amazon to ITV, illustrate their ability to expedite campaign execution without compromising quality, engagement, and reach.
Services Offered:
Creator Matching
Content Ideation
Content Distribution
Measurement and Insights
---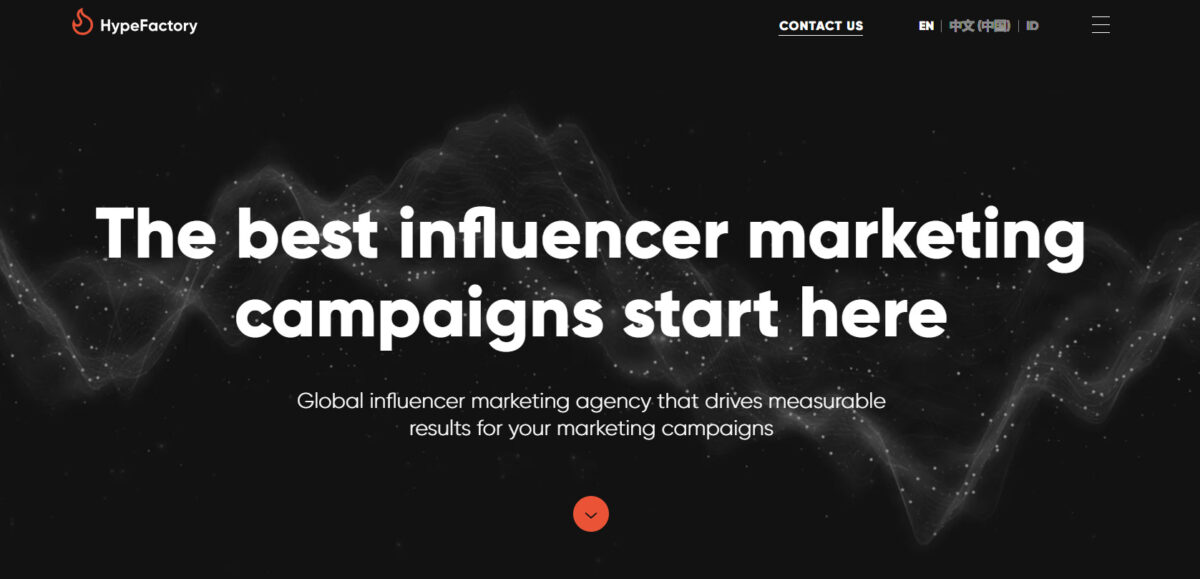 Hype Factory distinguishes itself in the competitive landscape of global influencer marketing with a blend of innovative technology and strategic human touch. This agency, renowned for orchestrating highly impactful campaigns, leverages advanced AI algorithms, ensuring every campaign is tailored, measurable, and resonates with the targeted audience. Their clientele boasts 156 satisfied customers and counting, a testament to the agency's proficiency in executing over a thousand successful campaigns that garnish 12.4 billion views. With expertise in 15 languages, Hype Factory's multicultural and multilingual approach puts brands on a global scale.
Every engagement with Hype Factory unveils a journey of meticulous campaign creation, from inception to realization, governed by a synergy of creativity and data analytics. Their full-cycle service portfolio underscores their comprehensive approach. Success stories spanning diverse industries, including gaming, VPN, retail, and fintech, spotlight the agency's versatile competency. The agency's seamless influencer relationship management and real-time reporting accentuate the ability to yield tangible business results while ensuring brand compliance.
The quintessence of Hype Factory's operation lies in the harmonization of cutting-edge technology and creative strategy. Their award-winning campaigns are a blend of precise forecasting, performance optimization, and content management, underpinned by a robust analytics and planning mechanism. Accolades, including the 2022 Global Social Media Awards and Excellence in Influencer / KOLs Marketing 2023, underscore their industry recognition. Hype Factory, therefore, emerges not just as an influencer marketing agency but as a global partner where technology, creativity, and measurable results converge to redefine brand narratives.
Services Offered:
Influencer Selection
Campaign Optimization
Campaign Analytics and Reporting
Campaign Scaling
---
How Do Agencies Vet Influencers for Brand Compatibility?
In the intricate process of influencer marketing, ensuring the chosen influencers align impeccably with a brand's ethos, values, and audience is paramount. Agencies employ a multifaceted approach to vet influencers to guarantee not just reach but also resonance and engagement.
The initial phase of this vetting process often involves an intensive analysis of the influencer's audience demographics and psychographics. Agencies examine factors such as age, gender, location, interests, and behaviors of the influencer's followers. This analytical approach ensures that the influencer's audience overlaps with the brand's target market.
Beyond audience analytics, content analysis plays a critical role. Agencies scrutinize the influencer's content quality, style, tone, and messaging to align it with the brand's image. The content should not only be engaging but also authentic, promoting organic interactions and engagement. This authenticity fortifies the brand's credibility and can lead to enhanced customer loyalty and conversion rates.
Furthermore, agencies consider the influencer's reputation and past collaborations. A history of successful partnerships and positive feedback can be indicative of the influencer's professionalism, reliability, and effectiveness in driving desired outcomes. Agencies may also delve into any controversies or negative feedback associated with the influencer to mitigate potential risks.
Ethical alignment is another vital aspect. Agencies evaluate whether the influencer's values and ethics mirror those of the brand. This moral congruity ensures that collaborations are genuine, fostering a sense of trust and integrity that resonates with audiences.
The vetting process is holistic, blending quantitative and qualitative analyses. It ensures that chosen influencers are not only popular but also compatible with the brand in terms of audience, content, reputation, and ethics. This meticulous approach aids in sculpting influencer marketing campaigns that are not only far-reaching but also impactful and resonant with the intended audience.
---
Can These Agencies Guarantee a Specific ROI?
Agencies utilize a plethora of metrics to measure ROI. These encompass engagement rates, reach, conversions, and brand sentiment, among others. Each campaign's objectives are bespoke and tailored to the brand's unique needs, goals, and audience. Consequently, ROI can vary, influenced by the campaign's nature, scale, and execution.
While agencies employ strategic planning, data analytics, and experience to optimize ROI, external variables can influence outcomes. Market trends, consumer behaviors, and competitive actions are dynamic, each bearing the potential to sway results. Given these variables, agencies often refrain from guaranteeing a specific ROI.
However, that doesn't imply a lack of accountability. Agencies are committed to delivering value, evidenced through transparent reporting and analytics. Clients are furnished with detailed insights into campaign performance, encompassing metrics like engagement, reach, and conversions. These insights are instrumental in evaluating the campaign's efficacy, offering learnings to refine future strategies.
Agencies may also employ predictive analytics, drawing upon historical data to forecast potential outcomes. While not a guarantee, these forecasts offer insights into expected ROI, aiding brands in informed decision-making.
While a specific ROI guarantee is elusive, agencies are steadfast in their commitment to delivering value. The focus is on crafting tailored, data-driven campaigns that resonate with audiences, driving engagement, and conversions. Through transparency, accountability, and continuous optimization, agencies strive to maximize ROI, transforming influencer collaborations into tangible business value.
---
Conclusion
In our in-depth analysis of global influencer marketing agencies, distinct factors of excellence emerge, painting a holistic picture of each agency's strengths and unique offerings. These powerhouses of creativity and strategy each exemplify their adeptness at navigating the nuanced landscape of influencer marketing, offering brands a blend of authenticity, reach, and measurable impact. From employing cutting-edge technology to fostering human-centric engagements, these agencies have mastered the art of tailoring each campaign to resonate with specific audience segments and brand objectives.
While ROI guarantees remain slippery, a shared commitment to transparency, accountability, and continuous optimization is a golden thread weaving through each agency's ethos. Brands venturing into the influencer marketing space can, therefore, anticipate not just reach but resonant engagements that transform social media landscapes into hubs of interaction, conversion, and brand loyalty.
Frequently Asked Questions
What is the average cost of hiring a global influencer marketing agency?
Costs vary based on campaign scale, influencer's reach, and agency's expertise. Fees can range from hundreds to thousands of dollars.
How do global influencer marketing agencies adapt campaigns for different cultures and languages?
Agencies customize content, ensuring it's culturally relevant and linguistically appropriate, to engage diverse audiences globally.
What is the typical campaign duration when working with a top influencer marketing agency?
Campaign durations differ, typically lasting a few weeks to months, depending on the campaign's complexity and objectives.
How do these agencies measure campaign success?
Success is measured via KPIs like engagement rate, reach, conversions, and ROI, providing a comprehensive view of campaign effectiveness.
Is there a minimum budget requirement to work with these top agencies?
Some agencies require a minimum budget influenced by the scale and scope of the desired influencer marketing campaign.