Marketers often fall into the trap of focusing most of their marketing efforts at customers that are ready to buy. As it's easy to measure the results, it also makes it easier to motivate their spending on ads, influencer partnerships, etc.
However, with marketing, you need to force yourself to play the long game too. You'll need to design campaigns that speak to potential customers who are far from ready to buy too.
It's a tough balancing act. No doubt.
Enter full-funnel marketing. It lets you leverage the benefits of brand building with performance marketing, helping you to improve your return on ad spend and resonate with both new customers as well as loyal brand fans.
Before you can go full funnel, though, you'll first need to understand the different stages involved. Here's a closer look at what the typical funnel looks like, ideas for each stage, and a few practical tips that can help you along the (whole) way.
---
Why You Need a Full-funnel Marketing Strategy and How to Start:
---
Understanding the Marketing Funnel
Very few customers are ready to buy your product the very first time that they hear about it. They first need to go through different stages. These stages typically follow logically upon one another to make up a journey (but not always).
The term "marketing funnel" is used to describe this customer journey. It helps marketers and brands to visualize the process that they need to follow to convert leads into paying customers.
An example of journey that customers can take can look like this:
Awareness

Interest

Consideration

Intent

Evaluation

Purchase
Though, it can also be reduced to fewer steps. For example, if you follow the AIDA model, it will look like this:
Awareness

Interest

Desire

Action
Whichever model you take, you'll start with as many leads as you can and then identify those that are more likely to buy and focus your attention on nurturing them. As not all leads will convert, the image of a funnel (aka an upside-down triangle) is used.
Shoppers at the top of the funnel have a pain point. However, they aren't aware of your brand and its product range yet.
The goal of this stage then is to create educational content that will grab their attention. These pieces of content will be the first introduction that they have with your brand or product.
It's key to remember that they will have no desire to buy anything yet. As such, you won't be asking them to take out their credit cards, but perhaps rather to share their contact details.
Once they reach the middle of the funnel, you can regard them as qualified leads. Prospective customers are more open to receiving info about your brand and your offering. If you send them a case study, for instance, about how a subscriber has applied your software or a customer's life improved after buying your Amazon product, they'll be less inclined to label it as spam.
After they've given your offering more serious consideration, they're ready to take action. The question – will it be to buy or not to buy?
As they're not entirely convinced yet, sales and marketing teams should work closely together to facilitate the decision-making process. Prospective customers are actively searching for reasons to buy and it's your job to give them a couple of compelling ones.
---
The Concept of the Full-funnel Marketing Strategy
With a full-funnel marketing strategy, you'll address all the levels of the marketing funnel. In other words, you'll start with creating brand awareness and adjust your strategy and messaging continuously to match your leads' needs.
As shoppers' needs are different at each stage of the funnel, you'll need to plan around all of these levels. In other words, with full-funnel marketing, you'll at the same time focus on growing brand awareness, product consideration, and a desire to buy.
Basically, pushing sales will be only one of your goals. Instead, you'll have to adjust your wording and tone of voice to the stage where customers are currently at.
---
Implementing a Full-funnel Marketing Strategy
If you were to simplify and condense the marketing funnel, you'll be left with the following three stages: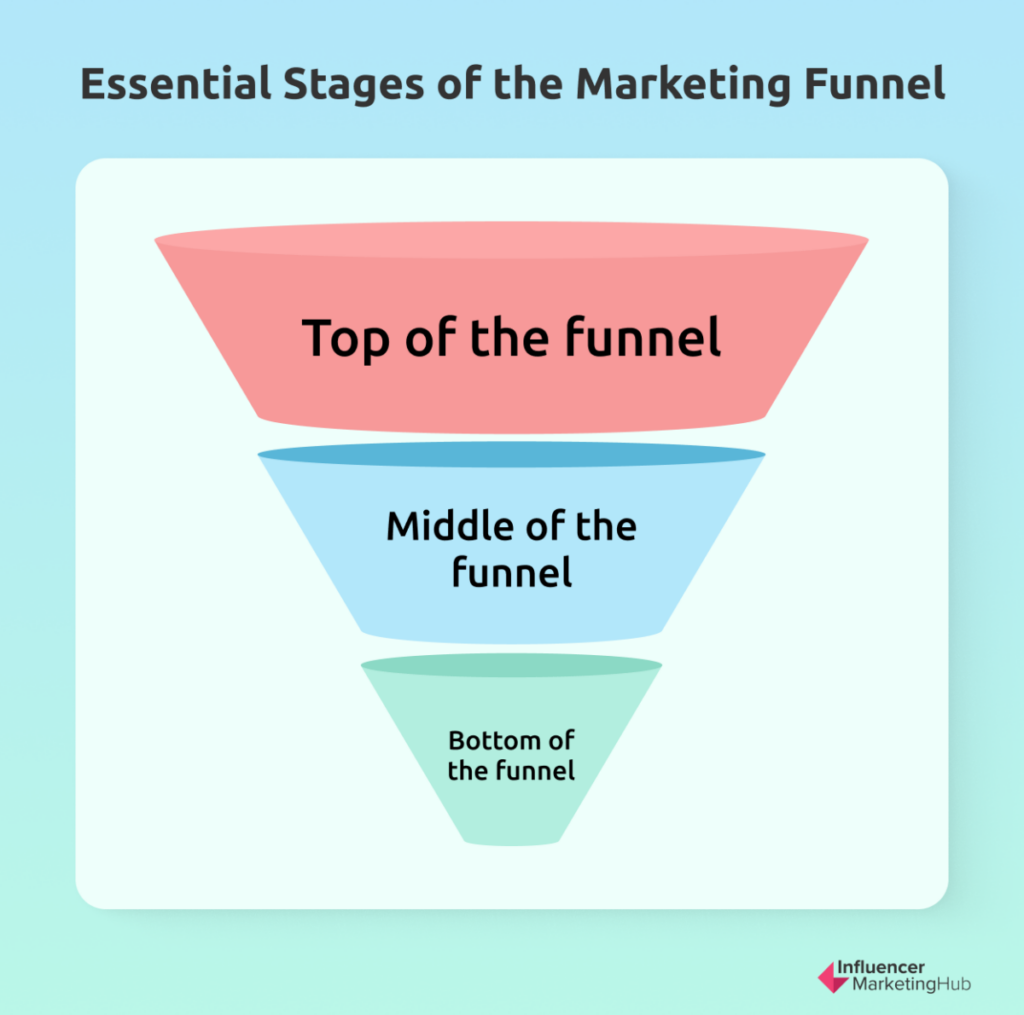 Top of the funnel (aka ToFu)

Middle of the funnel (aka MoFu)

Bottom of the funnel (aka BoFu)
Using this framework, here's how you can go about implementing your full-funnel marketing strategy:
1. Top-of-the-funnel tactics
While brand awareness and recognition are usually low at this stage, the main focus of your messaging should still not be your brand and its products. Instead, you should concentrate more on your target market's pain points. Your marketing assets can explore these paint points or other topics that are relevant to their needs.
Where does the part about brand awareness fit in then? While the messaging will focus on them, they'll still notice the creator behind the messaging (aka you). This way, from the first encounter, they'll start to view you as a trustworthy brand that cares about their needs.
Not only will you tailor your messaging to resonate with a much broader group, but you'll also use various social media channels and strategies like content marketing, influencer marketing, and search engine optimization (SEO). Content marketing, in particular, will be useful. You can use a combination of entertaining, interactive content pieces like quizzes and more value-oriented pieces like blog posts featuring interviews.
---
2. Middle-of-the-funnel tactics
At this stage, your target market is ready to start weighing up their different choices more seriously. When you're implementing a full-funnel marketing strategy, it's now the time to start nurturing qualified leads and help them with the decision-making process.
Once again, you'll focus a lot on content marketing. However, instead of blog posts that discuss a relevant topic more broadly, you're ready to start introducing your brand and its offering more prominently.
Let's say you're selling property management software. Your target market — Airbnb hosts. Their pain point — double-bookings. Here are some ideas that you can explore during this stage:
Host a free webinar that teaches Airbnb hosts more about how to manage bookings and then explain how your software can sync their calendars automatically

Offer an eBook as a lead magnet that shares tips on generating more bookings and list tools that they'll need to manage these new reservations

Set up an email marketing campaign around success stories of other hosts and how your software has played a crucial role
Call-to-action prompts (CTAs) will also start to play a bigger role now. You want to encourage action and get consumers to explore your product more actively. Well-placed and wisely worded CTAs are key for moving them closer towards the bottom of the funnel.
---
3. Bottom-of-the-funnel tactics
Potential buyers who reach this stage have already interacted with your brand at some earlier point. Not only are they aware of your brand, but they also have a fair idea of what it offers and how it can help them.
Now the time is ripe for you to start pushing that sale. That said, it still doesn't give you permission to be overly salesly. Instead, simply make it more enticing for them to buy your product.
From using FOMO to promo codes, there are various non-sleazy ways that you can use to convert a prospective customer into a paying one. Here are some practical ideas for how you can get potential buyers to take that final action:
Creating a sense of urgency in your communication by including a phrase like "last chance", "only 24 hours left", and "offer ends tonight" in your email subject lines

Adding personalized offers to an email

Using

retargeting ads

to encourage online shoppers that have engaged with your brand before

Organizing a live demo of your software during which they you can also answer a prospective subscriber's specific questions face-to-face
You should also ensure that the checkout process is frictionless. It should be easy, straightforward, and quick for shoppers to convert now that they're ready.
---
Best Practices and Tips for Effective Full-Funnel Marketing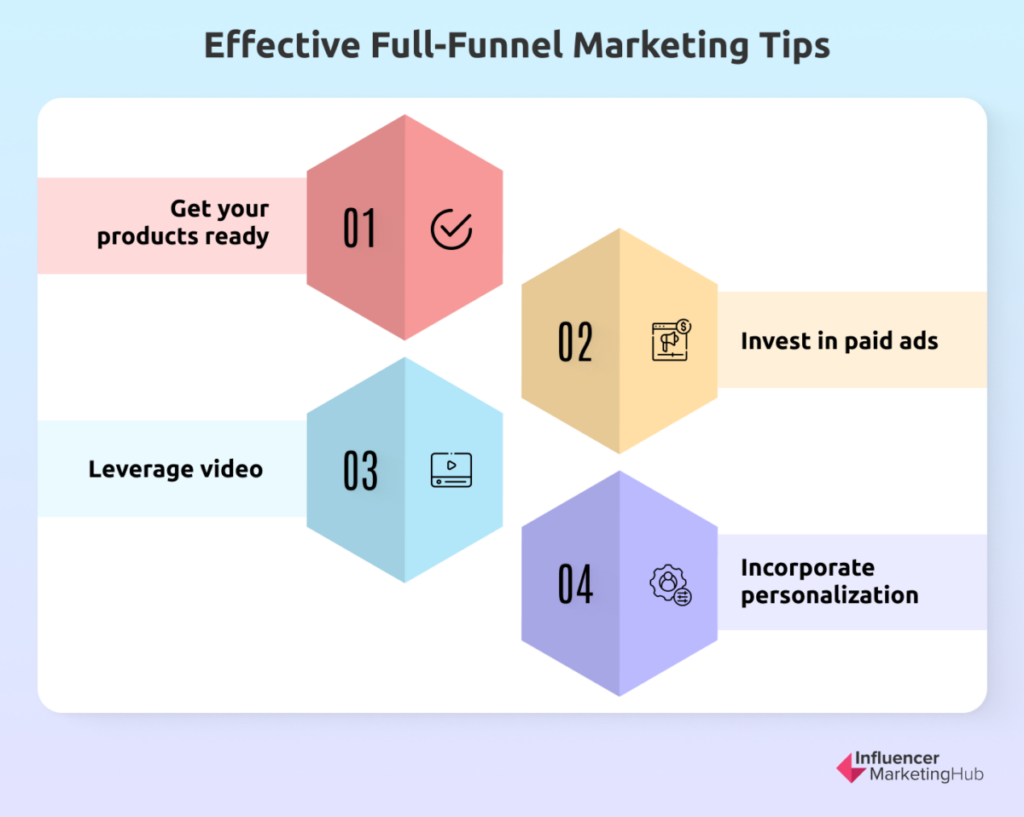 1. Get your products ready
Just like the customer journey doesn't always follow a straight line, the way you implement your full-funnel marketing strategy can also start differently. It might sound counterintuitive but it can be a good idea to start with your product page first. After all, you'll refer to this page during various stages. So, ensure that it's in tiptop shape.
Here's a basic checklist for when you're completing your product page:
Proofread the copy. Check that the grammar, spelling, as well as product details are correct.

Ensure that your product photos are high-quality and show the product from various angles

Add social proof, like product reviews and ratings
---
2. Invest in paid ads
Paid ads have a crucial role to play throughout the marketing funnel. For example, with upper-funnel marketing strategies, social media ads can help you to create brand awareness. Compared to TV ads that were traditionally used, online ads on social media platforms and streaming services give marketers far better control. You can get better insight into who viewed specific ads and how it has impacted their actions.
Then, when planning your lower-funnel marketing strategies, you can rely on remarketing ads to target shoppers more likely to purchase.
For example, if you're selling on Amazon, you can use Sponsored Product ads that use branded search terms. Then, to reach Amazon users that have looked at your product page before, you can experiment with Sponsored Display ads.
---
3. Leverage video
A lot has been written about written content, whether in the form of an email or blog post. Though, the video format, especially how-to videos and user-generated clips, can also be used very effectively, especially during the awareness stage.
One of the tricks to using videos in your full-funnel approach is to know where customers spend their time and when. Consumers switch between digital channels continuously. For example, they might use social media during the awareness stage, but focus more on LinkedIn when they reach the consideration stage. Knowing which channels are more popular during which stage can help you to minimize your ad spend.
---
4. Incorporate personalization
While you won't use personalization during the awareness stage, it can make all the difference throughout the other stages. By personalizing your messages, you know that it will appeal to their interests and needs better. After all, the underlying premise of full-funnel marketing is to adjust to where they're at instead of where your brand wants them to be — ready to buy.
---
What Happens After Purchase?
Your marketing efforts shouldn't stop once a customer converts. Some marketing funnels include loyalty, others not.
However, considering that it's more cost-effective to keep current customers than what it is to win a new one, targeting customers after they've made a purchase too is a smart strategy. As such, you'll also want to include post-sale marketing tactics into your marketing strategy for it to be truly comprehensive.
Here are some ideas that you can use to reward your most valuable customers to boost customer loyalty and benefit from more repeat business:
Create a referral program that rewards members for sending new customers your way

Send a personalized email with an offer celebrating the anniversary of, for example, their first purchase or the date they create an account or subscribed to your email newsletter

Start a loyalty club that shares exclusive perks to only members

Run a survey or poll to measure customer satisfaction
---
Key Metrics and Measurement in Full-funnel Marketing
Data plays a critical role in creating an effective full-funnel marketing strategy. It's only with the help of data that you'll be able to customize your messaging across the different stages and do more of what works.
During the top-of-the-funnel stage, you'll typically focus on impressions, traffic, and click-through rates (CTR). For example, by knowing which ad or link was responsible for driving the most traffic to your landing page or website, you can adjust your strategy to focus on these types of ads or links more.
Once you reach the middle-of-the-funnel stage, your metrics will become less broad. Now, you'll start to focus more on metrics like engagement rates and cost per lead.
Cost remains an important number to track as you shift to the last stage. Now, you'll shift your attention to monitoring customer acquisition cost and the customer lifetime value (CLV). Your goal is to keep customer acquisition costs low, while increasing the revenue that a customer generates. In addition to these two metrics, you'll focus on measuring conversion rates. After all, this is your main goal now — to convert.
If you're going to include post-funnel marketing to make your full-funnel marketing strategy truly complete, you'll also want to keep track of metrics like net promoter scores and customer retention rates. These numbers will give you a much better idea of whether or not you've successfully also kept your loyal customers engaged.
---
Key Takeaways
Brand discovery and product research can take place across various channels. It's easy for consumers to jump between an official business website, product listing on a marketplace like Amazon, and Google reviews.
As a result, the buyer's journey is more disintegrated these days. Shoppers don't necessarily follow a straight path any longer. For example, they can be watching a YouTube ad and immediately afterwards Google the product's name and jump ahead to the reviews displayed to the right instead of clicking on one of the websites that the search engine dished up.
This is forcing brands to implement a full-funnel strategy. If they want to stay relevant and top of mind, they need to use multiple digital channels simultaneously.
It's actually pretty straightforward. If you only aim your messaging at brand awareness or purchasing, you'll lose out on potential customers that were in another stage. Why would you want that for your brand?
Frequently Asked Questions
Why do you need a marketing funnel?
A marketing funnel helps you to structure your marketing initiatives. It makes it easier to identify the different stages that buyers typically complete, enabling you to create different strategies that target your audience at each stage. The result — marketing campaigns that are more focused and targeted. It's one of the most cost-effective ways to ensure that you reach the right customers at the optimal time.
What are the three basic stages of marketing funnels?
Your typical buyer's journey will impact the stages and, as such, the number of stages included can differ from one marketing funnel to the next. However, most marketing funnels are built upon the following three basic stages: top, middle, and bottom. The top stage is about creating awareness and interest. The actions during the middle of the funnel are aimed at creating a desire for your brand and its offering. The bottom stage focuses on converting that purchase intent into action.
Should you include a post-purchase stage in your marketing funnel?
Yes, it can be a good idea to follow in the footsteps of many experienced marketers and add a post-purchase stage after the action stage. The reason for this is simple — customer retention is more important than winning new customers. It's more profitable to focus on repeat customers in the long run as customer acquisition works out more expensive than customer retention. You can, for example, start a referral program or a loyalty club to reward existing customers.
What are the advantages of using a full-funnel marketing approach?
A full-funnel marketing strategy allows brands to cater towards various types of buyer journeys. Very few consumers are ready to buy immediately. Instead, you'll need to nurture them and by using top-of-the-funnel along with lower funnel strategies, you can ensure that your brand always stays top of mind while they move closer towards the buying stage. In fact, it can be more effective than performance marketing because by expanding your focus to beyond purchasing you can keep new shoppers engaged which will have a positive impact in the long run.
How can you create a full-funnel marketing strategy?
To create an effective full-funnel marketing strategy, you can use the following main steps as starting blocks:
Get to understand the your target audience

Research how you win customers

Map out all the possible buyer paths and journeys

Decide how you will target your audience at each stage of the journey and design relevant content