Among all the platforms we've reviewed on this site, Audiense is unique for one very specific reason: it's not really an influencer marketing platform. It's a tool for gaining insights into audiences, and for finding the ones you're targeting for marketing of any kind. Influencer marketing is just one use case for the platform, but it's a use case so compelling that we felt the need to review it alongside all of the other industry-best options we've compiled here.
When Audiense was founded way back in 2011, it was called SocialBro. If you're an American, you're probably thinking that name means something like the software is your bro (dude!) helping you do things better on social media. In reality, the Spanish born company is on record as saying the Bro is short for browser. However you infer the meaning of its name, SocialBro was conceived in order to make brands' Twitter marketing more effective. A lot has changed in 10 years, and SocialBro evolved along with the digital marketing industry. As social media exploded, and billions of people gave marketers access to their interests and private information, SocialBro's focus became increasingly about audience demo- and psychographics.
While Audiense isn't alone in recognizing the importance of audience data, they are unique in the way they go about it. We'll get more into the practical details below (in the section labeled "The Details," of course), but from a high level it's enough to say that the secret sauce is in the audience segmentation. There are two things about it that make it a unique tool and unlike anything we've seen before. While the platform's algorithms are crawling the entire social web for data, they start by taking advantage of what they get from Twitter. Apart from the usual suspects of data points that humans can make use of, Twitter's data also provides context clues to the ways in which its users are connected. With AI and machine learning, Audiense is able to see who's connected to who—through mutual follows, conversations, and more—and generate remarkably specific audience segments.
The second way in which Audiense sets itself apart from the competition is what it does with those audience segments. If you wanted to find out more about, say, your competitors audience, you can do that with a number of different analytic and social listening tools, and you'll find out a bunch of things about the age range and gender breakdown, brand mentions, interests and affinities, and you can start ideating campaigns based on what you think would appeal to all those people. With Audiense, you get that same kind of breakdown of the full audience, but you also get those more specific segments we mentioned. And you can drill down into each of those segments and get all the same data points—gender, age, location, interests, affinities—on that group. Even better? You'll also get insights on what kinds of conversations these segments are having among themselves, as well as the most relevant influencers for that group. In this way, brands can use this information to create campaigns that are highly targeted to the conversations they're already having, delivered by the influencers they're already following. It's the kind of software tool that you wouldn't know you needed until you knew it existed, which is generally the best kind of tool.
---
Summary:
---
Pricing
Audiense offers two levels of subscription to the platform, as well as a free trial. Because there's no time limit on it, they don't consider it a free trial so much as a free plan, but it's so restricted features-wise, I couldn't see anyone using it for anything other than testing out the platform.
Free, $0/month —

Basic community analytics, basic audience manager, community search, 3 audience segments, 3 reports, 20 influencer profiles, sampled/extrapolated insights for audience personality and media affinity, limited multichannel ads activation.



Twitter Marketing, $99/mo ($79/mo, if billed annually) —

This plan is basically the original SocialBro, rebranded. Includes advanced community analytics, Tweet analytics, data exports, advanced audience manager, community search, track competitor and/or client accounts, Twitter chatbots and DM campaigns, targeted Twitter ads, in-app purchases for social listening credits, rules-based automation, 3 reports, 20 influencer profiles, sampled/extrapolated insights for audience personality and media affinity, limited multichannel ads activation.



Audience Insights, $1499/mo ($696/mo, if billed annually) —

You get everything as with the Twitter Marketing plan, plus: 100,000 social listening credits, 5 reports, unlimited audience segments, unlimited influencer profiles, precise insights into audience personality and media affinity, unlimited multichannel ads activation.
Additionally, there are a few a la carte features you can add on to your plan:
Owned twitter accounts —

Any of the above plan includes the ability to manage, track, and analyse your brand's Twitter account. With this option you can add any other social accounts you own.



Social listening credits —

As mentioned in the description of the Twitter Marketing plan, you can purchase credits for social listening. You can also do the same for the Audience Insights plan if you've hit the 100,000 limit. Not available on the free plan.



Insights/Reports —

You can purchase additional reports if you've hit the limit determined by your plan. Not available on the Free plan.
---
The Details
What made influencer marketing so quick to catch on was the low cost and efficient way it allowed brands to connect with audiences. Influencers are essentially doorways to their followers. Audiense, like most platforms that help you find influencers, understands this but takes a different approach. Other discovery tools have you search for the influencers directly: if the platform has the capability to go deep into audience insights, you can look at them and make sure the influencer is a good fit. If they don't, you can judge by other criteria, decided to work with them, and hope the audience on the other side is responsive. These other tools have you searching for a door that looks good for your brand, and then you hope that what's on the other side of that door is what you were looking for to begin with.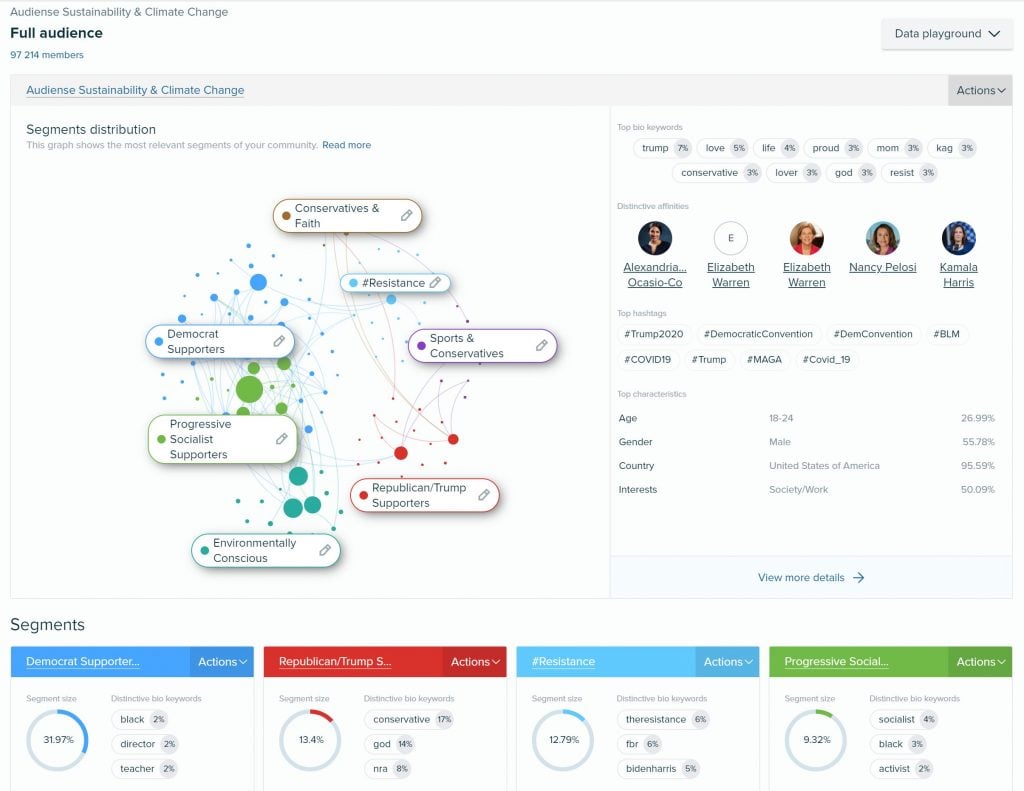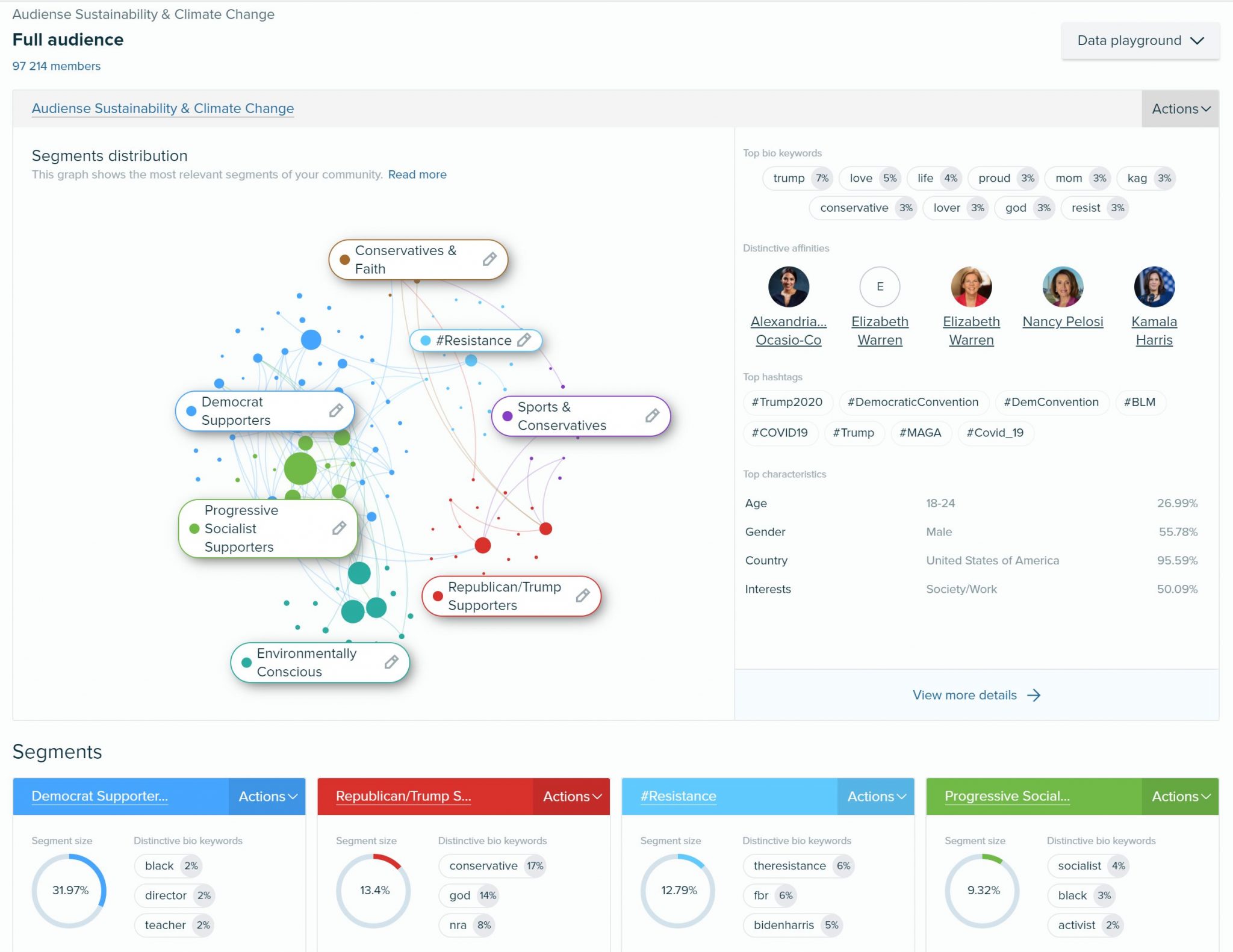 Audiense reverses this process. You start with the audience, either your own followers or just any group of people you've identified as being your target, and then you learn nearly everything you could want to know about them—including the influencers they've already got an affinity for. But the platform is much more than just a reversal of an already established process. It's not just ingesting data and spitting it back out to you: it's analyzing all that data, including the way all those data points are connected, and using AI to glean some very useful insights into these audience segments. With these insights, you're able to learn a great deal about these people you're trying to reach, including which influencers would be most effective in reaching them, and the kinds of content/messaging they'd be most open to. The data that you get back while trying to identify audiences starts where most other platforms end, with psycho- and demo-graphics, and then goes a little further by breaking the audience into precise segments.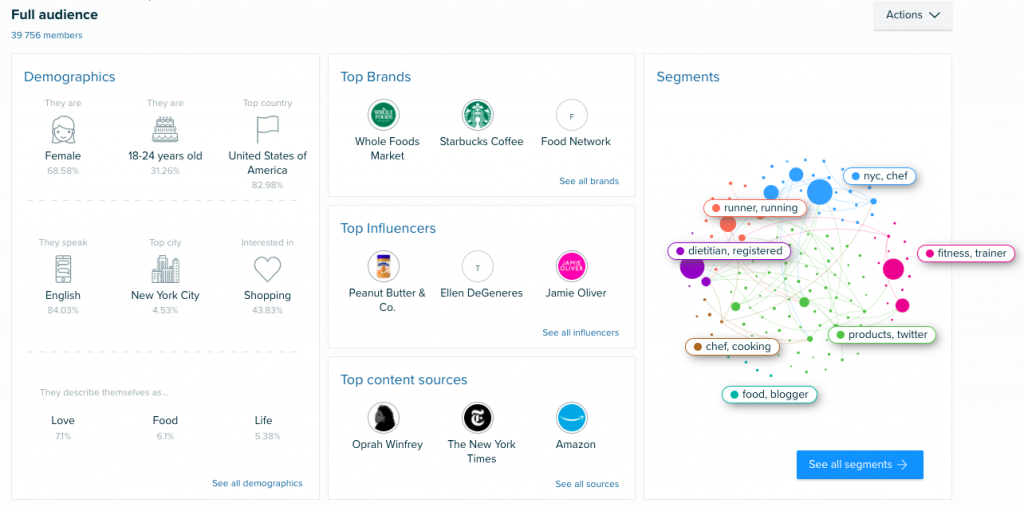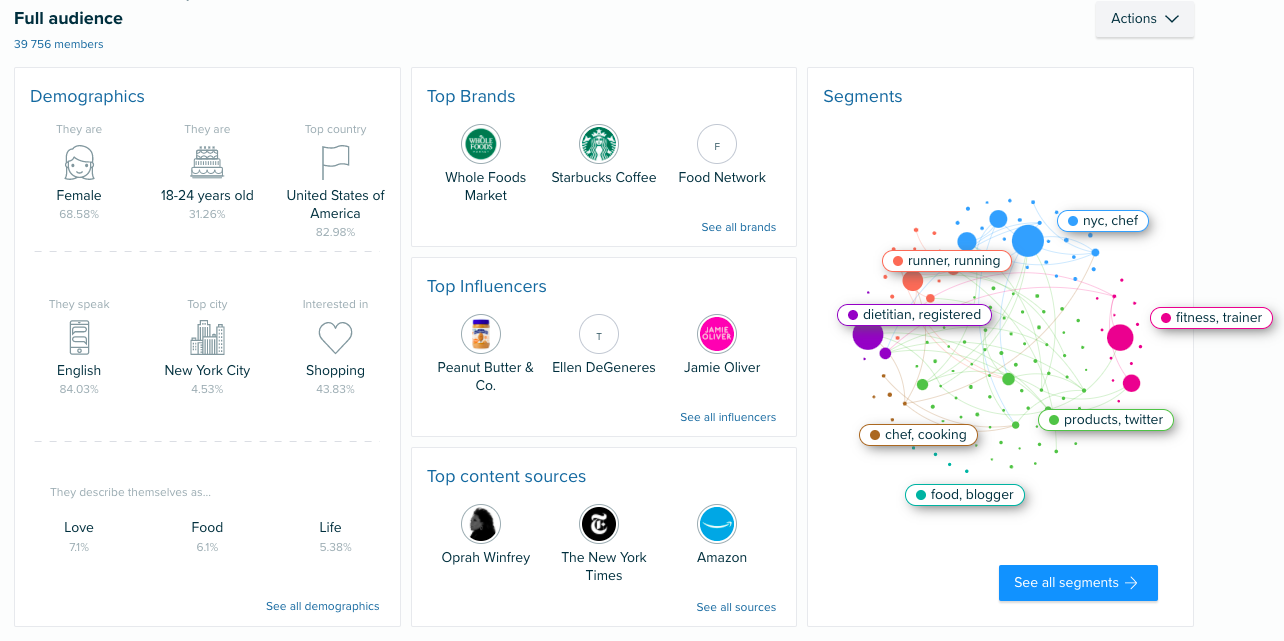 You can see that graphic depiction of the audience segments above, which gives you an idea of the relative size of each one and how they're connected. But then you can dig deeper into those segments, getting even more granular information. To understand how game-changing this level of granularity is, take note of the brand affinities in the "Full Audience." Statistical analysis deals in the significant details: check out the brands and personalities that seem to define the affinities of this group of people. But look what happens when you get into the details of each subgroup: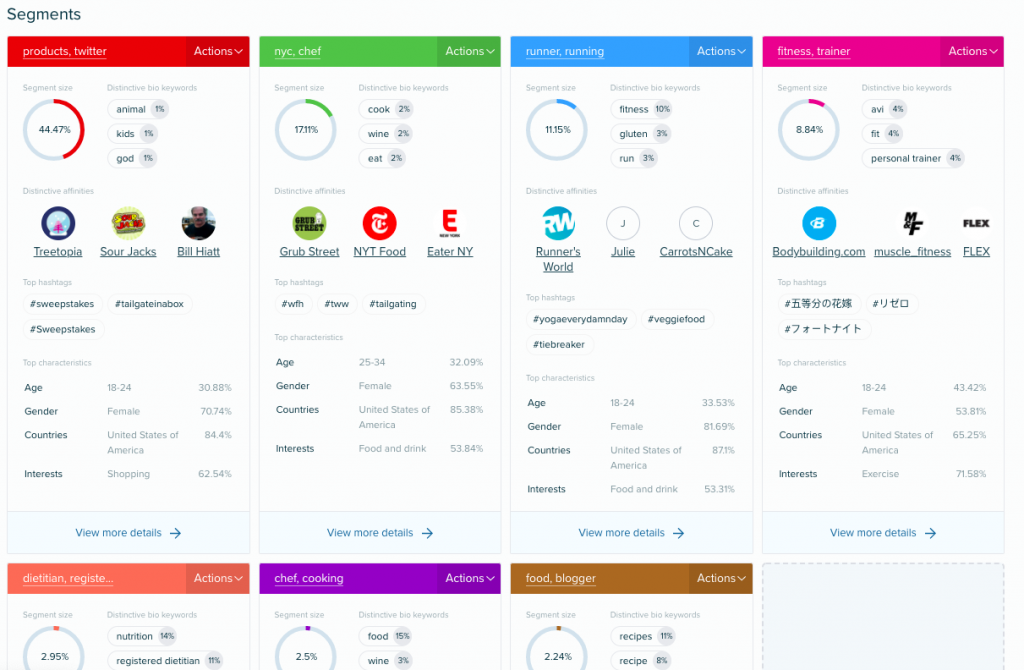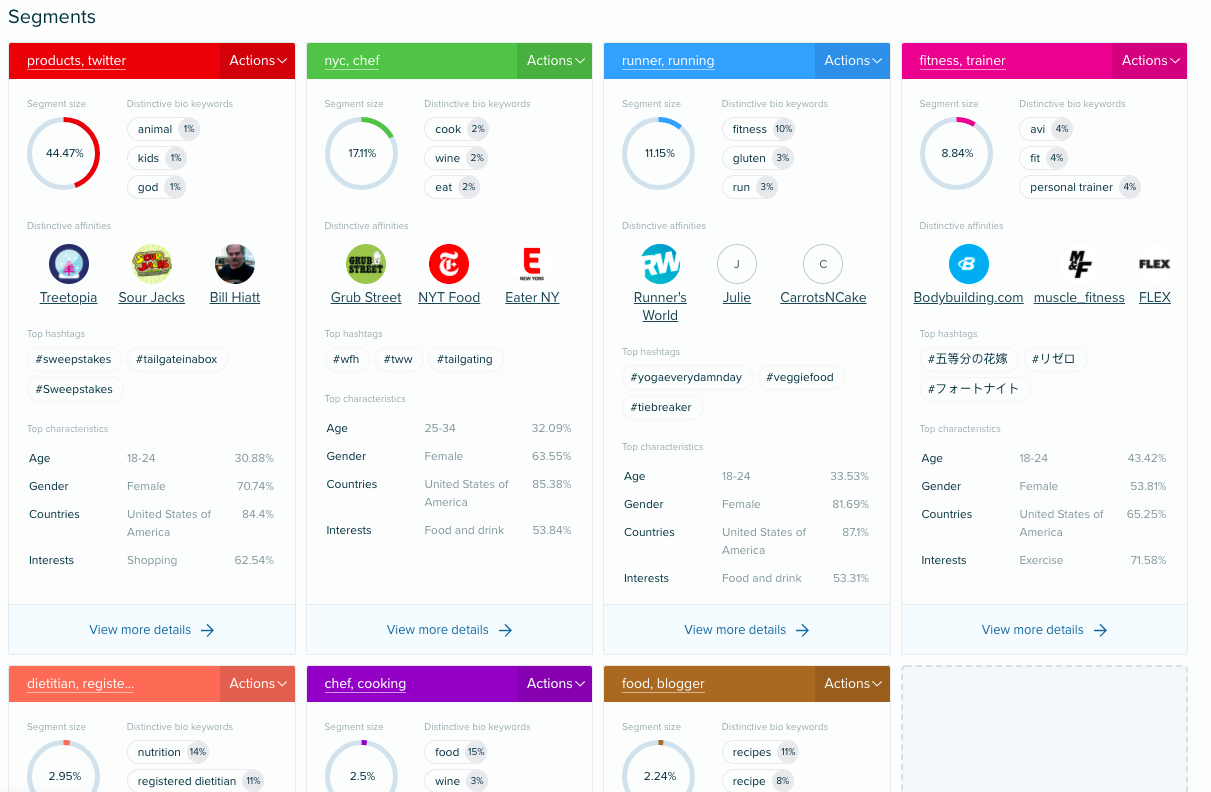 All of those statistically significant affinities are nowhere to be found. The common trait that unites all these groups turns out not to be as important when you look at each segment on its own. The full audience insights tell you that chef Jamie Oliver would be a good creator/influencer to reach this large group of people. But digging deeper shows that Jamie Oliver doesn't even make it to the top three in any group. This is the same for all the brands and personalities displayed for the Full Audience report: at best you're getting the fourth most important affinity for everyone in the audience. But what you see above isn't Audiense at its most detailed. You can dive into each of these segments and see even more granular information. You'll get detailed demographics and affinities for each segment, as well as the relevant influencers for each segment.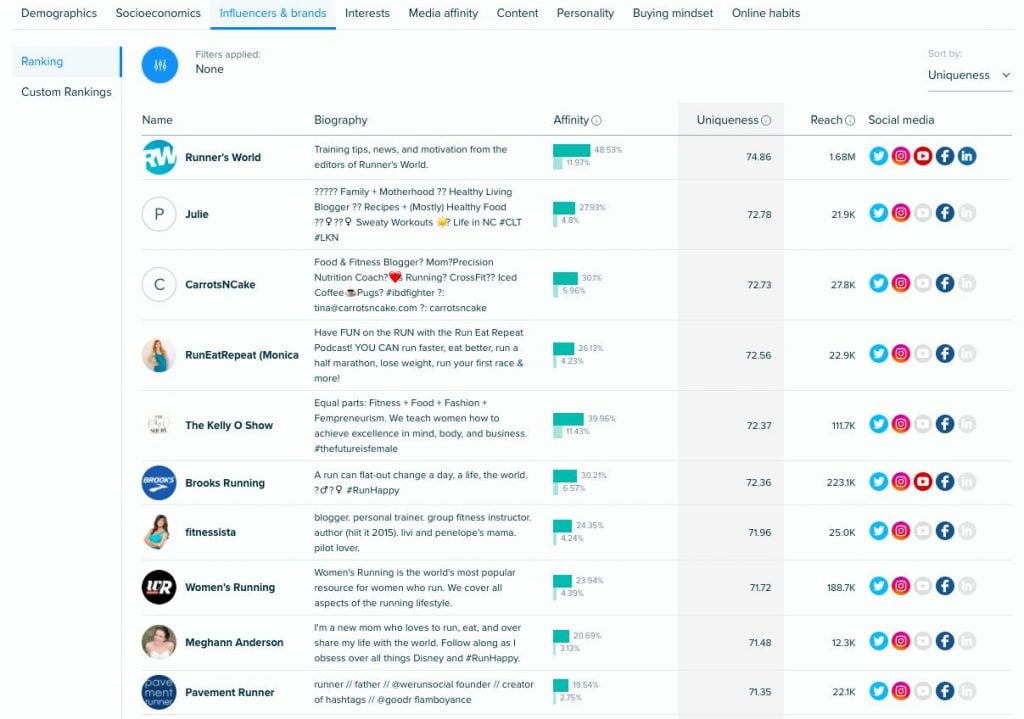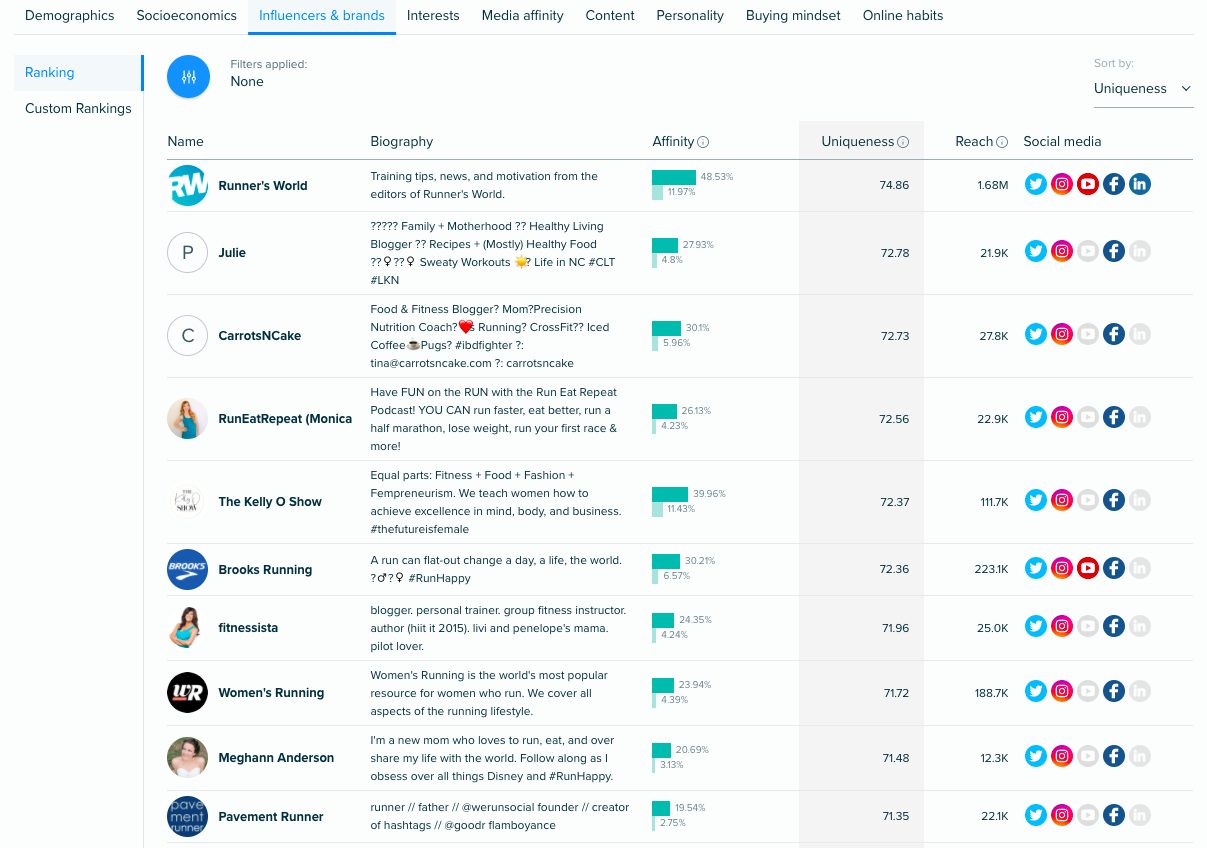 While this level of precision in the data is impressive, going far beyond what any competitors are offering—just look at the number of different categories along the top of the screenshot—it's still only the tip of the analytics iceberg. Powered by Jeopardy-champion Watson, IBM's groundbreaking AI, Audiense takes you as deep into the psyche of your audience as you can get without direct conversation and a license to practice psychology. Most important to your marketing efforts: learning each audience segment's personality and "consumer mindset," which details the factors that influence their purchasing decisions, as well as their relevant consumer behaviors.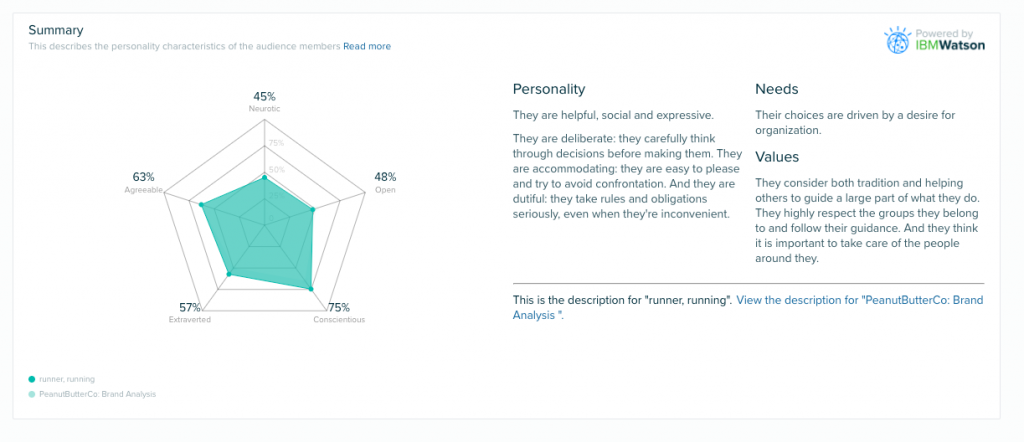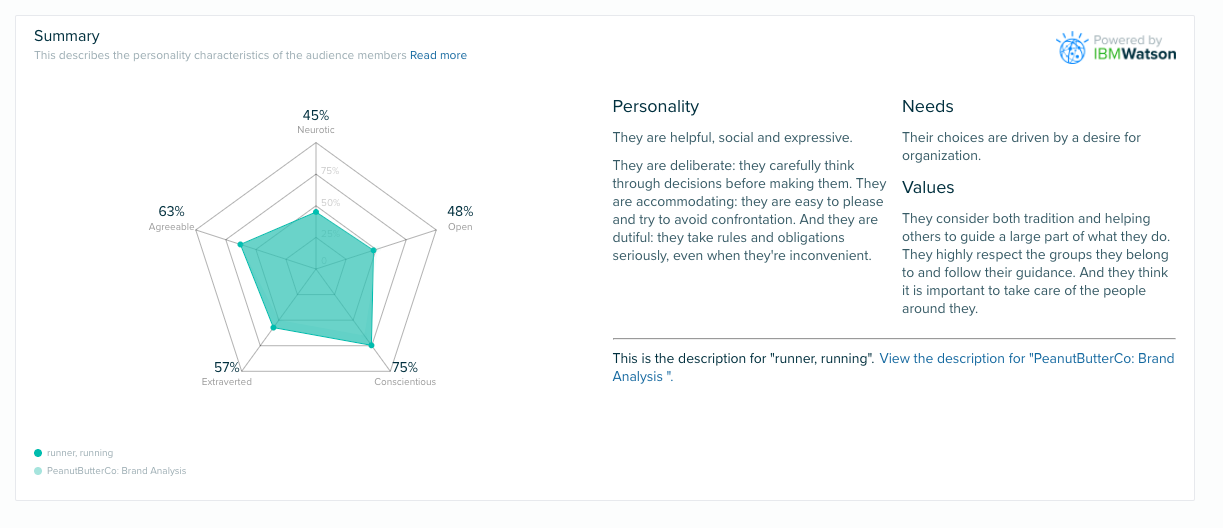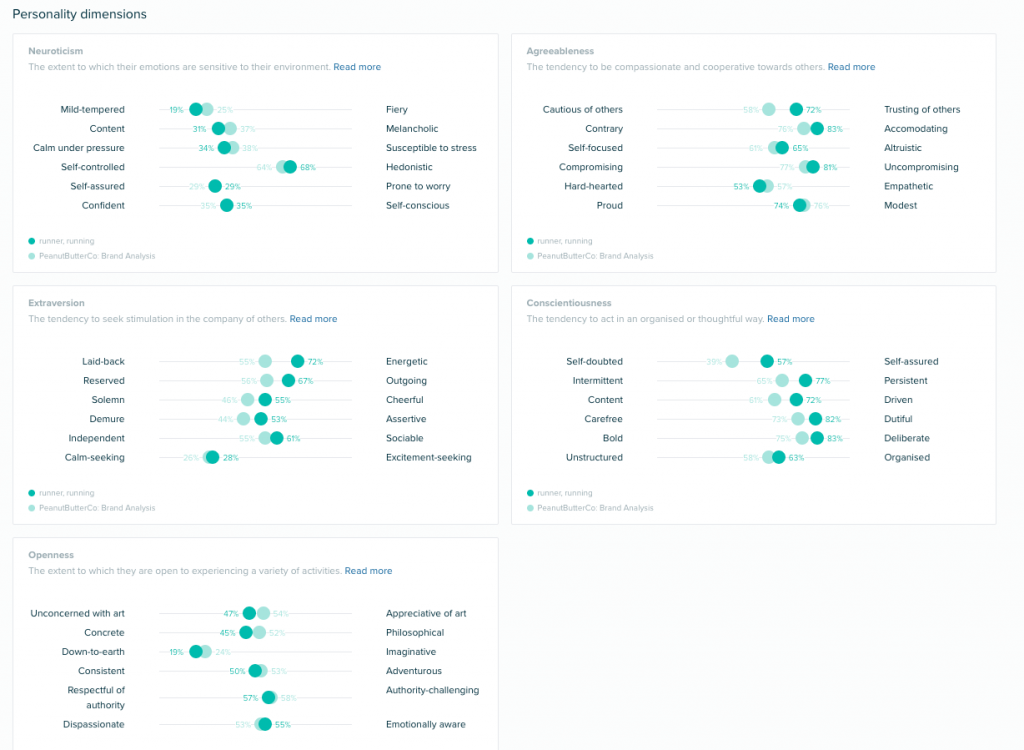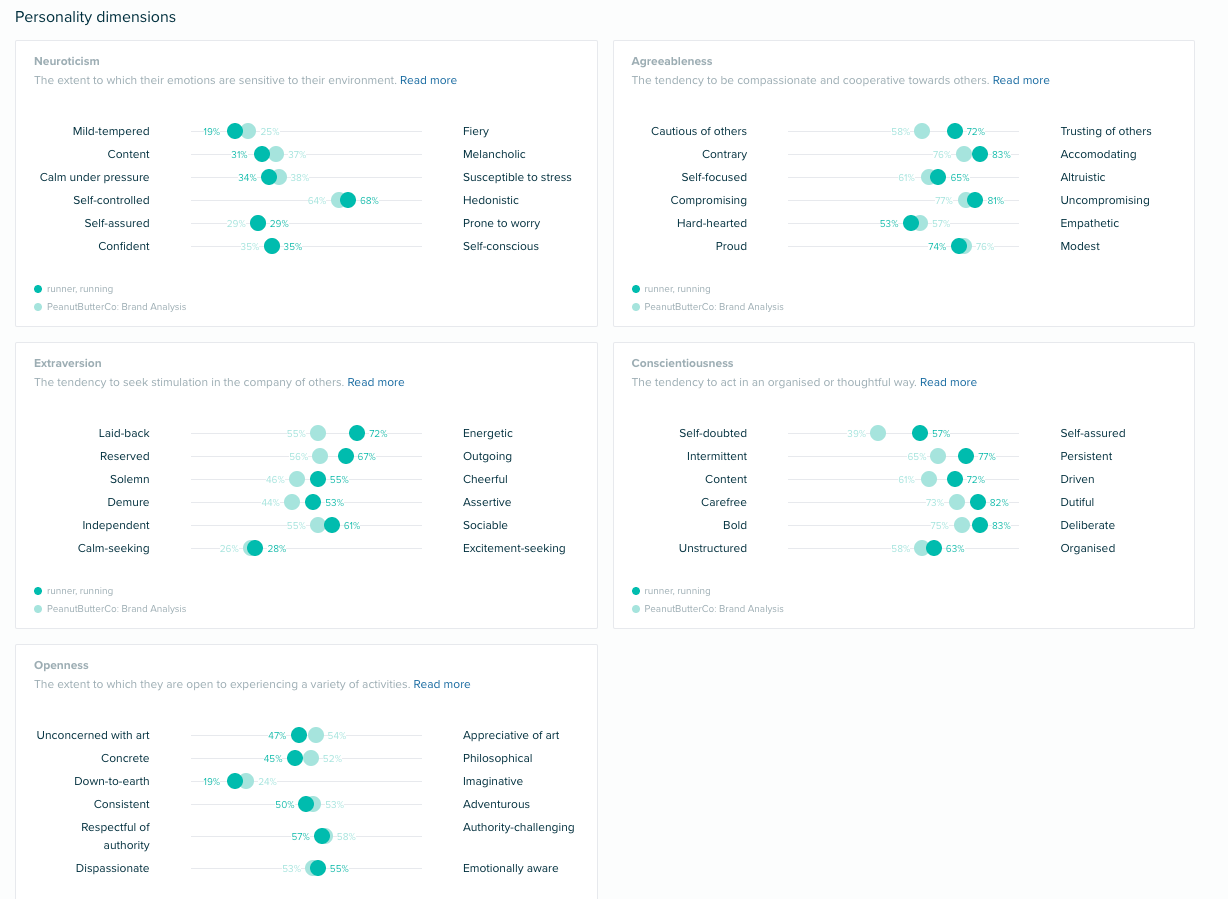 This same commitment to detail is present with Audiense's social listening tool, which helps you to manage your own community (and monitor those of other brands). Within the platform it's called "Audiense Connect"—if you subscribe to the "Twitter Manager" plan, you'll get full access to this and limited access to the insights as described above. The top tier plan gains you full access to Connect and Insights. Connect is impressively full featured, but also doesn't do anything I haven't seen before. That's not an insult, so much as it's the reason I've mostly glossed over it and focused on the Insights product, which has no equal.
---
Conclusion
With all of these insights (and all the others I didn't have the space to mention), Audiense gives marketers the most complete picture of who they're trying to reach with their campaigns. It's not strictly an influencer marketing tool—these insights are valuable for pretty much any kind of digital marketing—but it still feels tailor made and indispensable for any influencer marketer. Because of its focus on insights, and analytics—and because its social listening is only for Twitter—Audiense is the perfect complement to any marketing and/or sales software ecosystem you may already be running. No other platform has a handle on Twitter the way Audiense does, and no other platform paints as complete a picture of audiences...and that's by a very long shot. The data is so far ahead of what's available, it doesn't matter if you're already paying into another platform. It's certainly priced fairly, making it easy to exist alongside other products.
Subscribing to Audiense feels like a no-brainer for all digital marketers. If you can't make your marketing work with the insights you get from it, you're probably in the wrong career.
Audiense
Features

Ease of Use

Reporting