Influencer marketing agencies act as a middleman in the influencer marketing process. To many brands, the process of discovering influencers, contacting, and selecting the most suitable ones, and then running campaigns with them, is too time-consuming. They would rather pay a specialist influencer marketing agency to do the work for them. Many influencer marketing agencies are full-service, meaning that they help brands through every stage of the influencer marketing process, from influencer discovery, through influencer management, assisting with content creation, to analyzing and reporting on a campaign's success.
Agencies have been part of the marketing/advertising scene for many years. Dorothy Sayers even set one of her famous Sir Peter Wimsey murder mysteries (Murder Must Advertise) in an advertising agency, which she wrote more than 80 years ago. Therefore, it should be no surprise that agencies have spotted the increasing popularity of influencer marketing, with many traditional agencies widening their product offerings to embrace it.
It would be impossible to include every agency in this article. Many of the big-name agencies often include influencer marketing in their client campaigns, but don't specifically advertise the fact. Over time we will expand this list to include as many influencer marketing agencies involved with influencer marketing as possible. Below are the Top Influencer Marketing Agencies to work with in 2022.
---
Leading Influencer Marketing Agencies for 2022: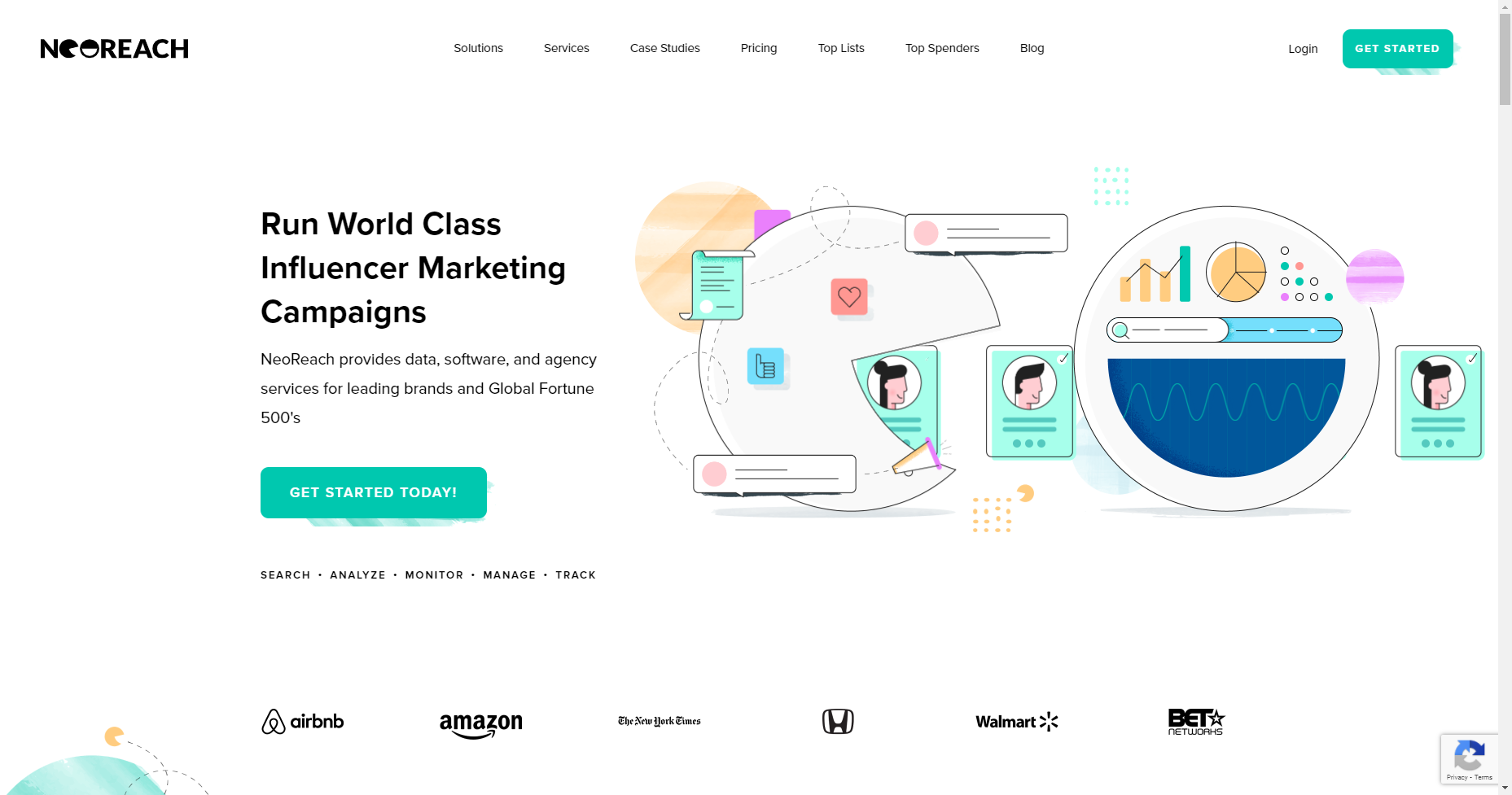 Neoreach is probably best known for its influencer platform. However, the company is a full-service influencer marketing agency that has run world-class original influencer campaigns for leading brands and Global Fortune 500s. Its team handles influencer sourcing, performance reporting, and everything in between. They reverse engineer a launch strategy derived from a myriad of data, including competitor audits, audience demographics matching, and channel-specific opportunities across all major social platforms.
They are happy to lead with all stages of the influencer marketing process from influencer introduction, contract negotiation, deployment, shipping, payments, and maintaining ongoing relationships.
They are also experts at creating in-person or influencer-specific activations designed around creative experiences that connect people, places, and events. Neoreach's experts know how to connect your brand to online and offline experiences.
Neoreach offers a fully customizable enterprise platform, with available API access, designed for large brands and agencies that need a scalable influencer marketing solution backed by experienced support.
The agency can activate campaigns in as little as seven days, depending on your requirements.
---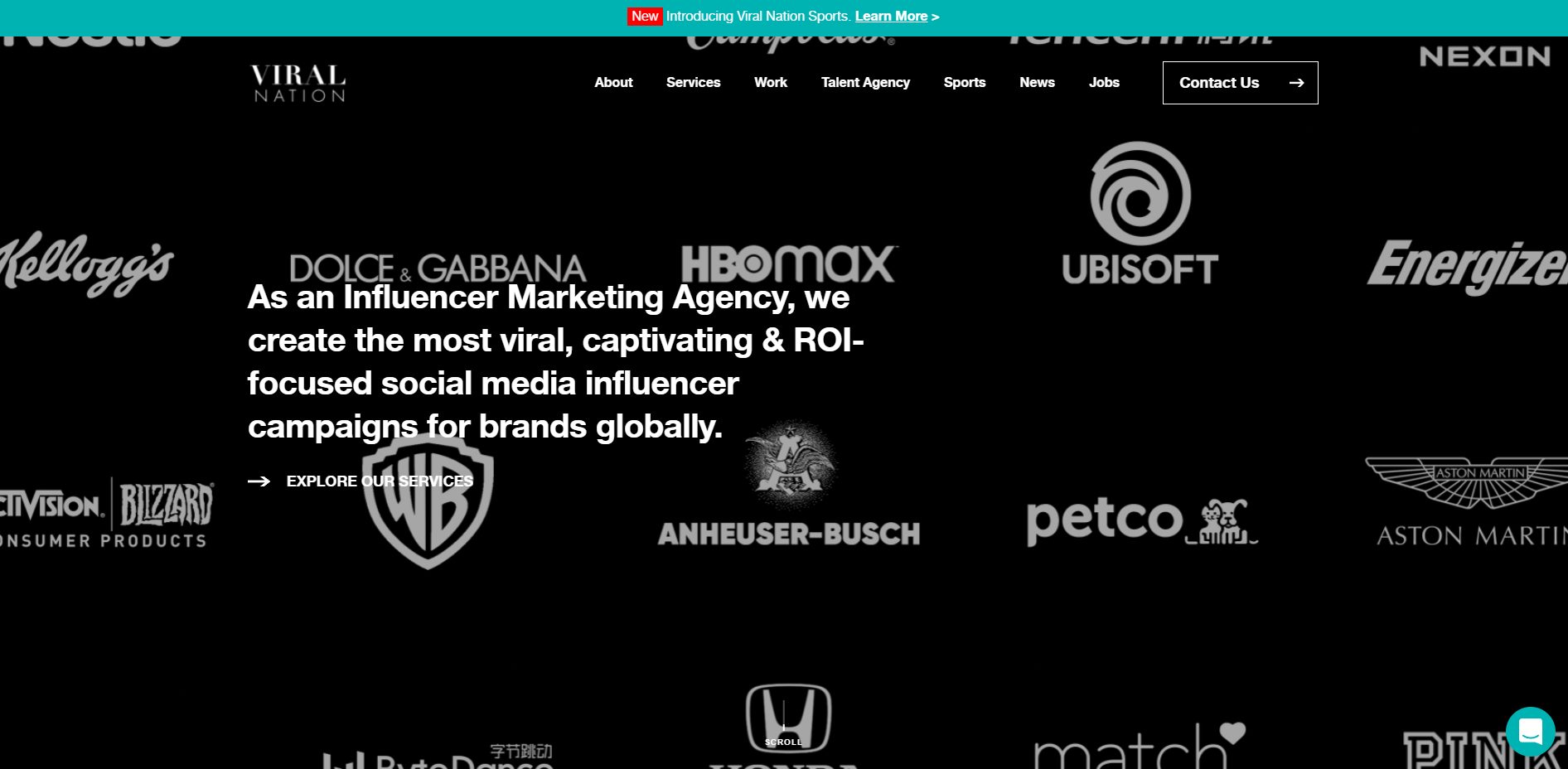 Viral Nation plays a dual role, acting as a global influencer marketing agency, working with influencers on Facebook, Instagram, Snapchat, YouTube, and Musical.ly, as well acting as a talent agency for the influencers themselves. Although they work globally, they do have physical offices in Toronto and New York.
As a talent agency, Viral Nation represents and secures endorsements for top influencers. People who believe that they have influencer status can contact Viral Nation, asking the agency to represent them. Viral Nation also reaches out to others it believes to have influencer status, offering to work with them. They provide full social media representation for their influencer clients, helping them work with brands and ensuring they receive "proper" compensation.
Brands and other agencies contact Viral Nation to assist them with their influencer campaigns. Viral Nation's specialists create campaigns based on specific goals. They then pick the most suitable influencers to tell the brand's story to their audience. They claim to have the highest level of analytics in the influencer space, to better help brands judge the effectiveness of their campaigns.
---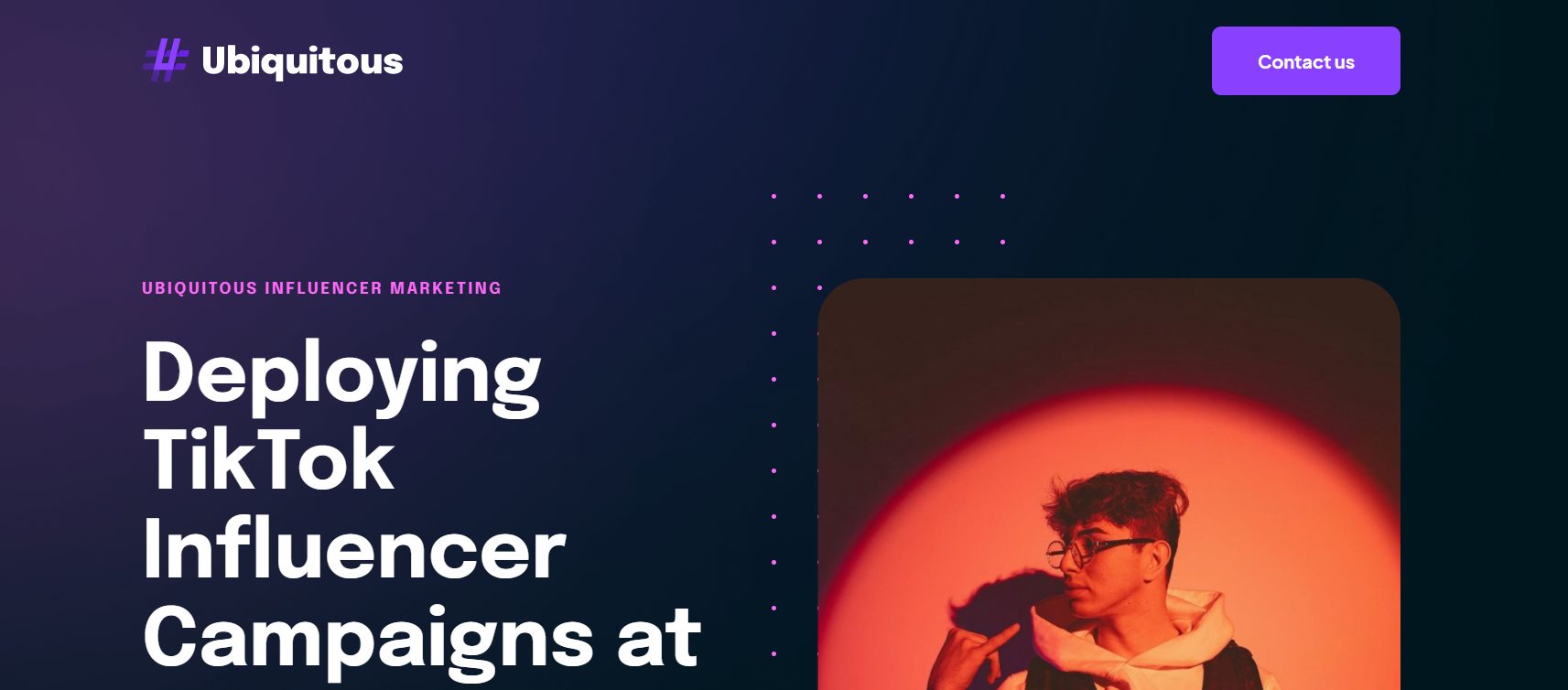 Ubiquitous has positioned itself as the first tech-driven managed marketplace. This influencer marketing agency has set itself apart from others by creating a unified platform for brands, creators, and influencers. 
The agency has a TikTok influencer marketplace that helps brands find influencers whose niche and followers are aligned with their target audience. The marketplace also opens opportunities for creators to showcase their designs and be spotted by big brands.
For brands, Ubiquitous offers full service influencer marketing. They specialize in helping brands achieve growth in three of the top platforms today–TikTok, Instagram, and YouTube. They use proprietary data to match brands with the right influencers. Brands can easily source influencers and process contracts within the platform itself. In this way, Ubiquitous becomes a convenient single point of contact for all influencer campaigns. Every step of influencer marketing can be fully automated and streamlined.
Aside from brand-influencer matching, Ubiquitous also offers content creation, full creative services, end-to-end campaign management, data analytics, and tracking.
---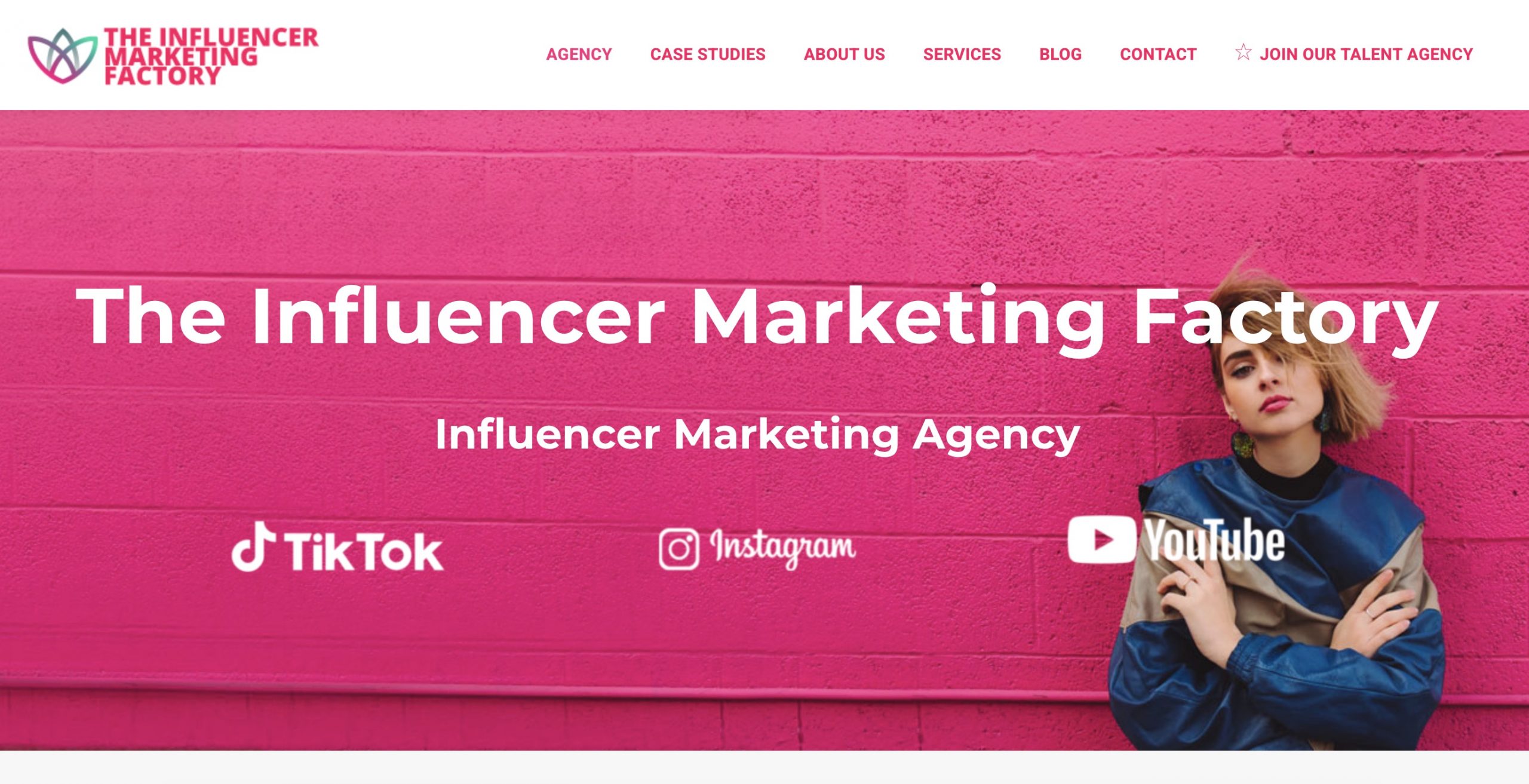 As The Influencer Marketing Factory's name suggests, they are an influencer marketing agency, creating influencer marketing campaigns that are effective. They create authentic, scalable, and ROI-oriented social media influencer campaigns for amazing brands on TikTok, Instagram, and YouTube.
Whenever the Influencer Marketing factory gains a client, they make a point of starting by understanding their KPIs, identifying the right influencers, working on the campaign narrative, managing the execution, and finalizing with tracking and in-depth reporting. Based on your company goals, they create a tailored and optimal strategy for your brand. This includes influencer identification, KPIs setup, authentic and native storytelling, management, contracting, and detailed reporting and analytics.
As well as influencer marketing, the agency creates and manages TikTok ads. They include demographic info such as gender, age, location, languages, and interests. Tell them your target audience, and they will create TikTok Ads to reach your goals. 
Also, they manage talents on TikTok, Instagram, and YouTube. They help talents, creators, and influencers get the best deals, supporting their personal branding thanks to PR activities.
---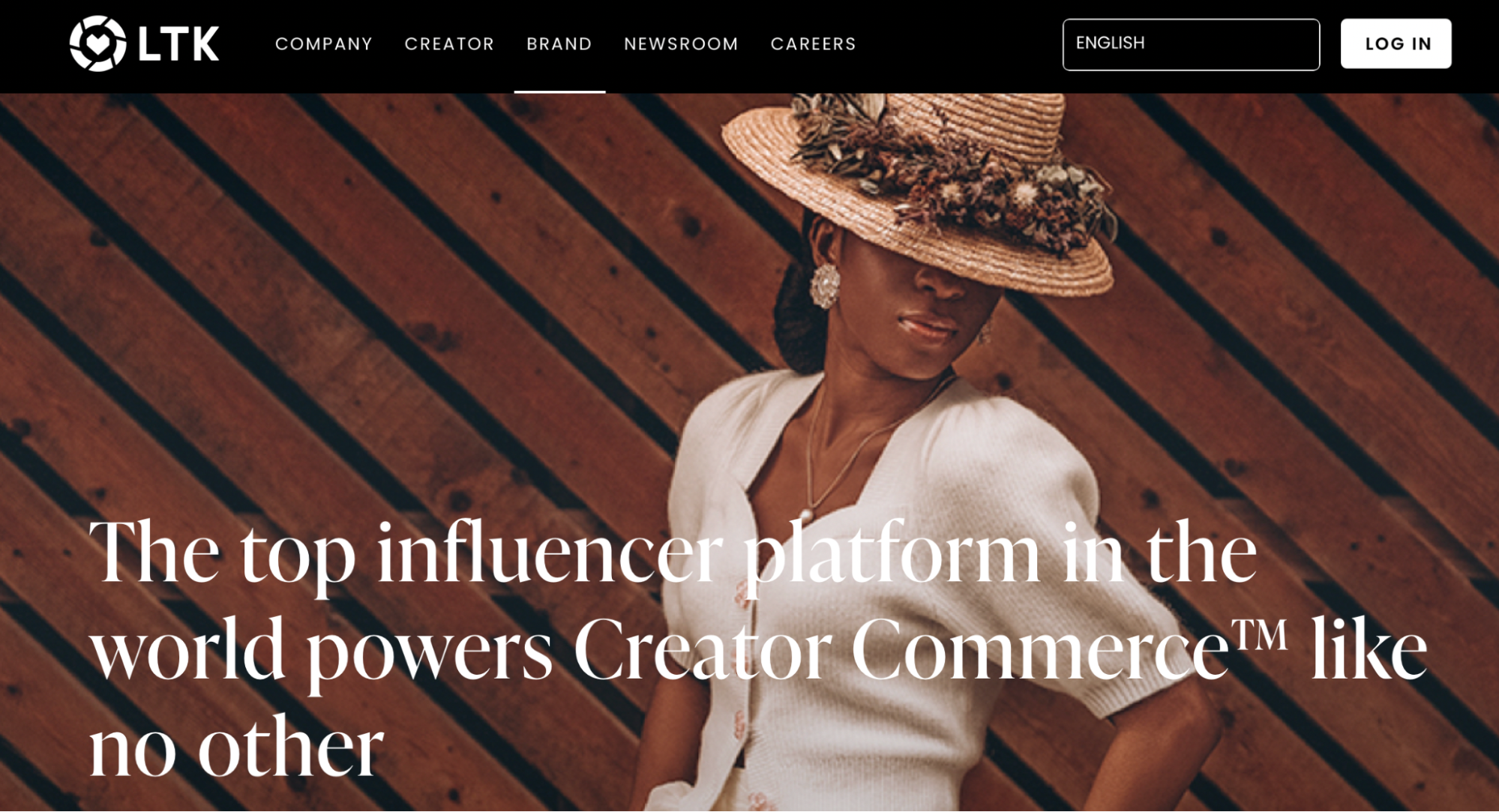 Founded by a creator for creators, LTK (formerly called rewardStyle and LIKEtoKNOW.it) helps brands of all sizes with end-to-end creator campaign management. From planning to casting the right influencer to making sense of the data, they can do it all. Not only can they help with all aspects of campaigns, but they also serve across a number of verticals. During the 11 years that they've been around, they've created strong communities of creators across all the main lifestyle categories, including food and beverage, home, fashion, travel, and family. 
One of the features that deserve special praise is their data-driven approach. Backed by unmatched curated creator data that they've gathered over 10 years, they're in the perfect position to help brands identify the best creators for their next marketing campaign. 
They also offer a consumer shopping app for sales. According to their website, the LTK shopping app attracts as many as 8 million shoppers per month on average.
---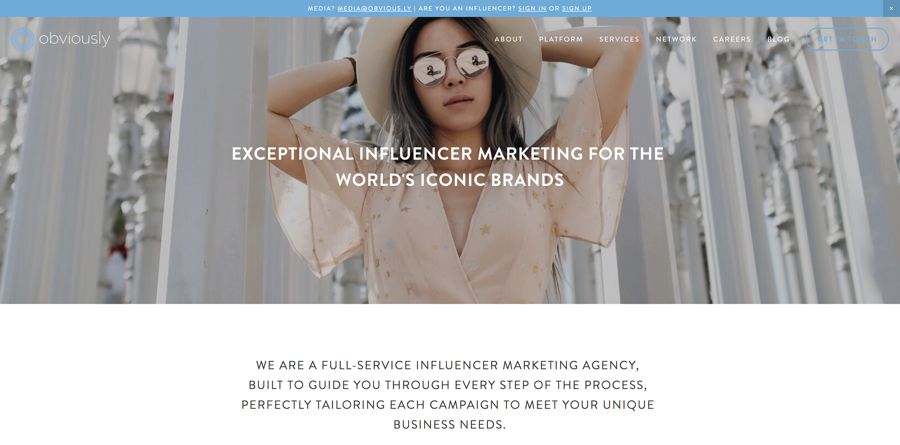 Obviously is a full-service influencer marketing agency, assisting their clients at all steps throughout the influencer marketing process. They are an international agency, operating out of New York, San Francisco, and Los Angeles (USA), Paris (France), and Sydney (Australia). This gives them a base in three continents and the capacity to run campaigns anywhere in the world.
The company was founded by CEO, Mae Karwowski, and CTO, Max Domain. Max designed a proprietary platform, Studio, to assist with influencer identification and discovery. The database currently includes over 400,000 influencers, searchable by a wide range of demographic factors.
Being full-service Obviously can help with the entire influencer marketing process. This even includes their own fulfillment center, which handles packaging, shipping, and returns. If a brand wants to send free product to an influencer, they can organize it completely from within Obviously.
Obviously's White Glove Service handles all aspects of the influencer marketing experience, from identifying influencers, all communication, shipping products, and analyzing the results of each campaign. Alternatively, you may prefer a more cut-down experience, for example, assistance with network management or creating your influencer and social strategy. They can even assist you with live events.
---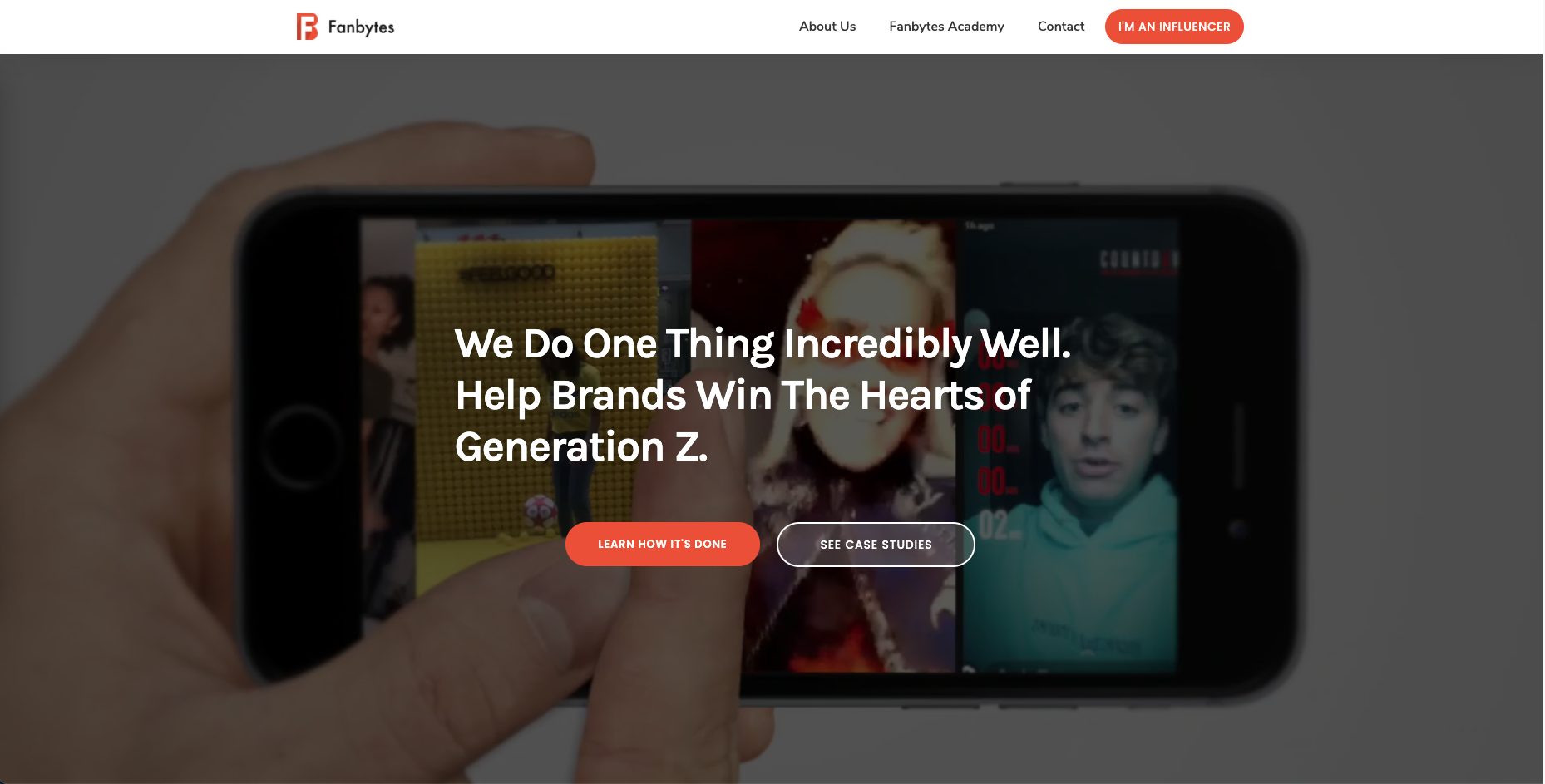 Fanbytes Agency has one primary goal – to help brands reach Gen Z. They target 13–25-year-olds who have grown up with social media as their tv. Fanbytes recognizes that the Gen Z audience interacts very differently to brands. If your brand targets that age group, Fanbytes guarantees results with every campaign they run on your behalf.
The agency's award-winning team of experts manages end-to-end influencer campaigns using their proprietary analytics platform. And they focus on the social networks that Gen Z uses: TikTok, Snapchat, Instagram, and YouTube.
They emphasize metrics that provide actionable insights, like expected clicks, installs, and branded engagement rates. They also integrate with all the main attribution partners allowing them to measure and optimize everything down to the install, subscription, or sale.
Fanbytes also creates content you can use to reach a younger audience. They help you tap into a network of Gen Z content creators familiar with the latest memes trends and have them create content for your own channels. You have approval every step of the way, creating something representing your brand…with a Gen Z twist.
---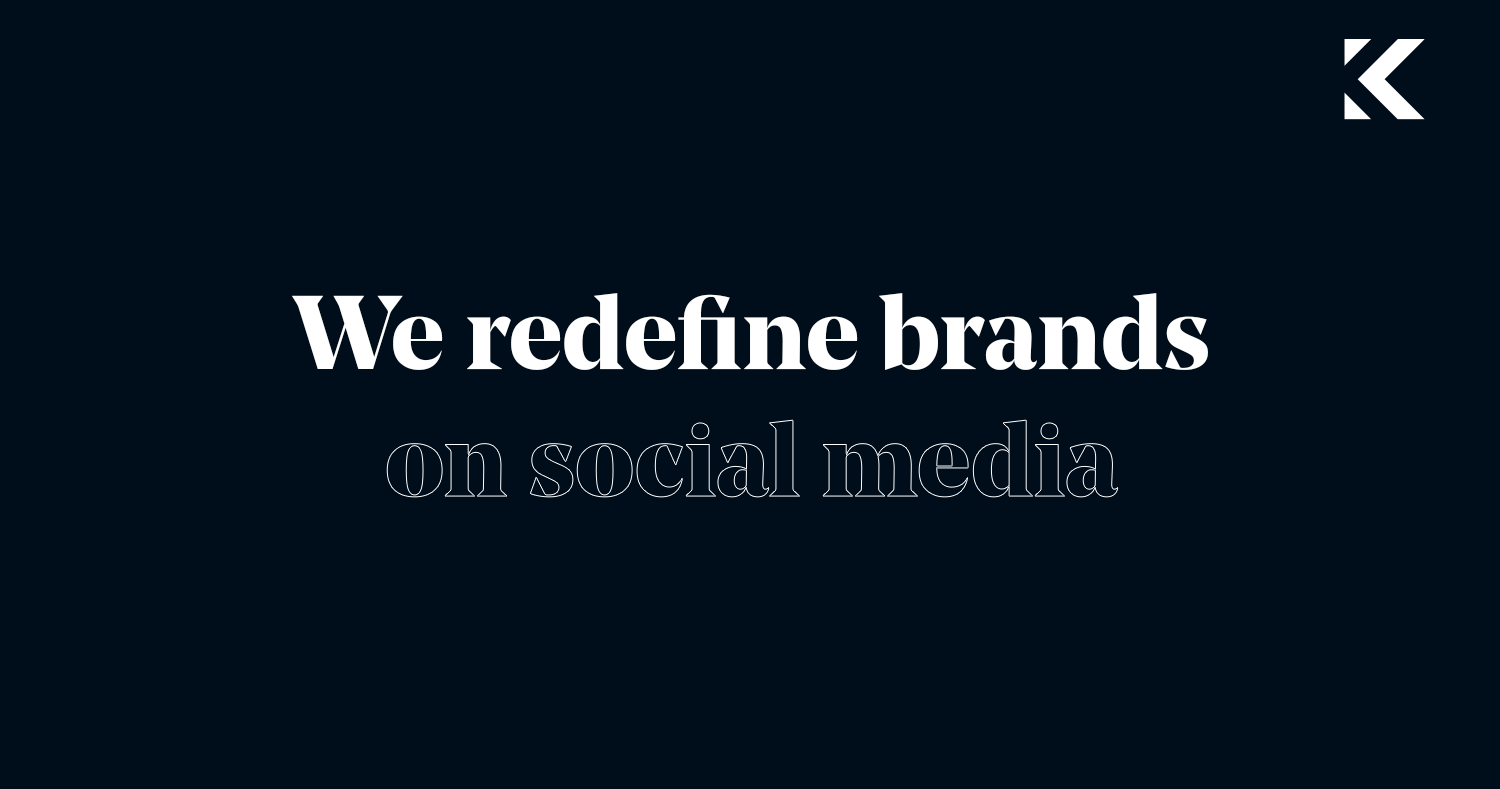 Kairos Media is an award-winning, social-first creative agency which enables brands to be seen and heard by Millennial and Gen Z consumers on a global scale. Leveraging its understanding of the social space, Kairos builds and executes strategies which see more than 5x the success of traditional media buying. 
Believing that it's not just about boosting content, it's about creating an authentic place on the internet to stand out amongst the rest, Kairos combines science (data) and art (creative work) into a unique 360-degree approach. The agency also works with over 75,000 influencers across 55 countries in 20 languages. 
Across its HQ in London, regional office in Manchester and US office in Los Angeles, Kairos Media has worked with some of the world's biggest brands across a variety of sectors including Facebook, Kelloggs, Pizza Hut, Tencent, Samsung AliExpress, Kraft-Heinz, Krispy Kreme, AMD & Gigabyte. 
Alongside its creative and strategic work, Kairos Media has also developed its own data and insights service, KLabs. Through this, Kairos uses in-house data analytics tools, fused with primary and secondary research to understand audience interests, pain points and watering holes to inform their approach.
---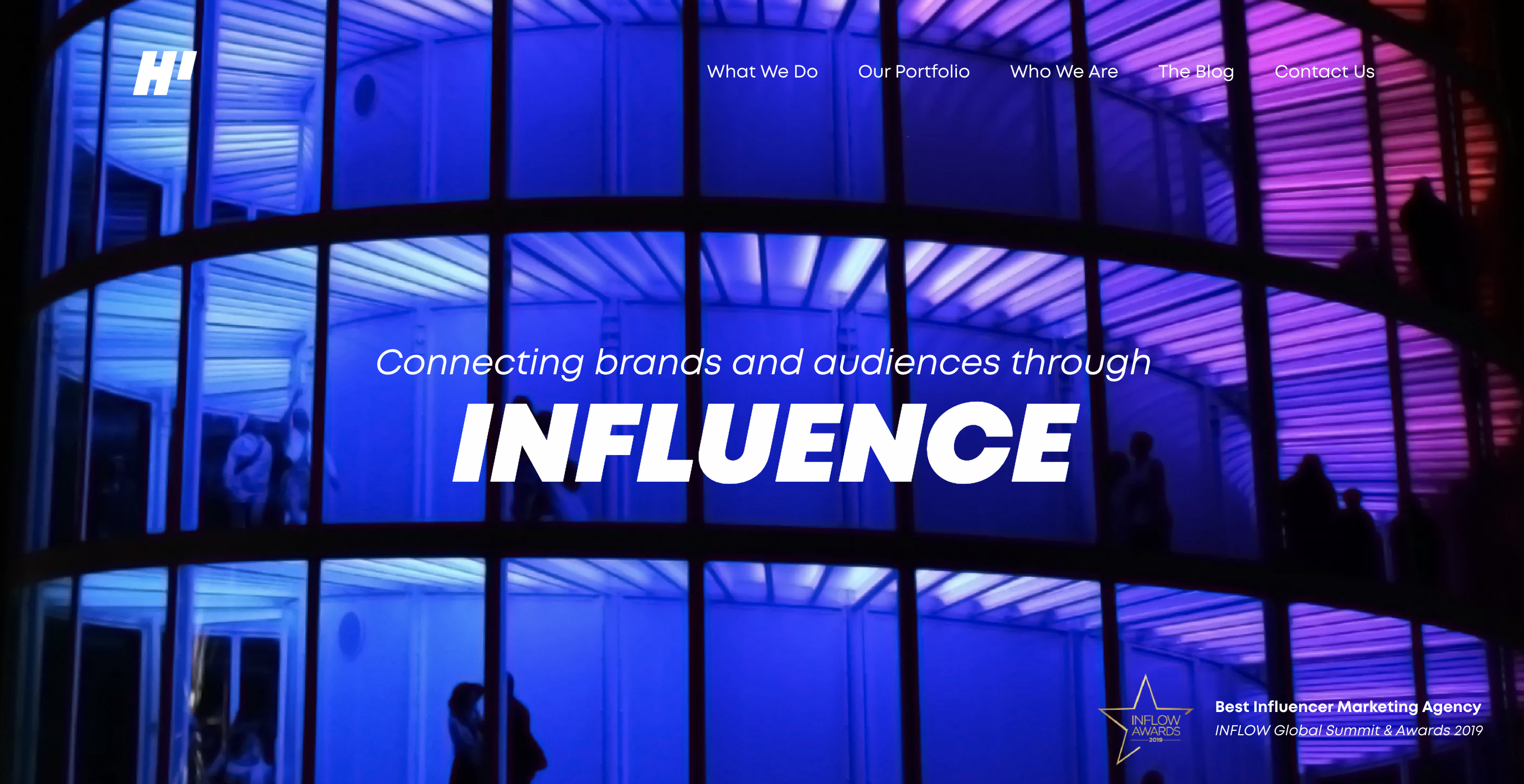 HireInfluence is an award-winning full-service influencer marketing agency for the world's most prominent brands. It has been delivering expert strategies and industry-leading results since 2011.  It is a full-service influencer marketing agency, specializing in customized promotional campaigns and consulting.
HireInfluence has become the go-to partner for Fortune 1000 brands and top creative agencies across the USA and further afield. They work with a team of influencers across 12 countries and seven industry verticals, to spread their clients' messages. They share content across most social media channels, using the best channel for each brand. They believe in fully customizing their services around each client's objectives.
They split their influencer services into:
All-inclusive content strategies

Influencer casting and placement

Event on-site engagement support

Creative influencer experiences

Ongoing UGC creation and promotion

Brand consulting and training services
HireInfluence has worked with influencers to document journeys across the Caribbean and Atlantic. Others influencers have become the center attraction at national trade events. HireInfluence's influencers have even helped to build International exposure for characters like Batman and Scooby Doo.
---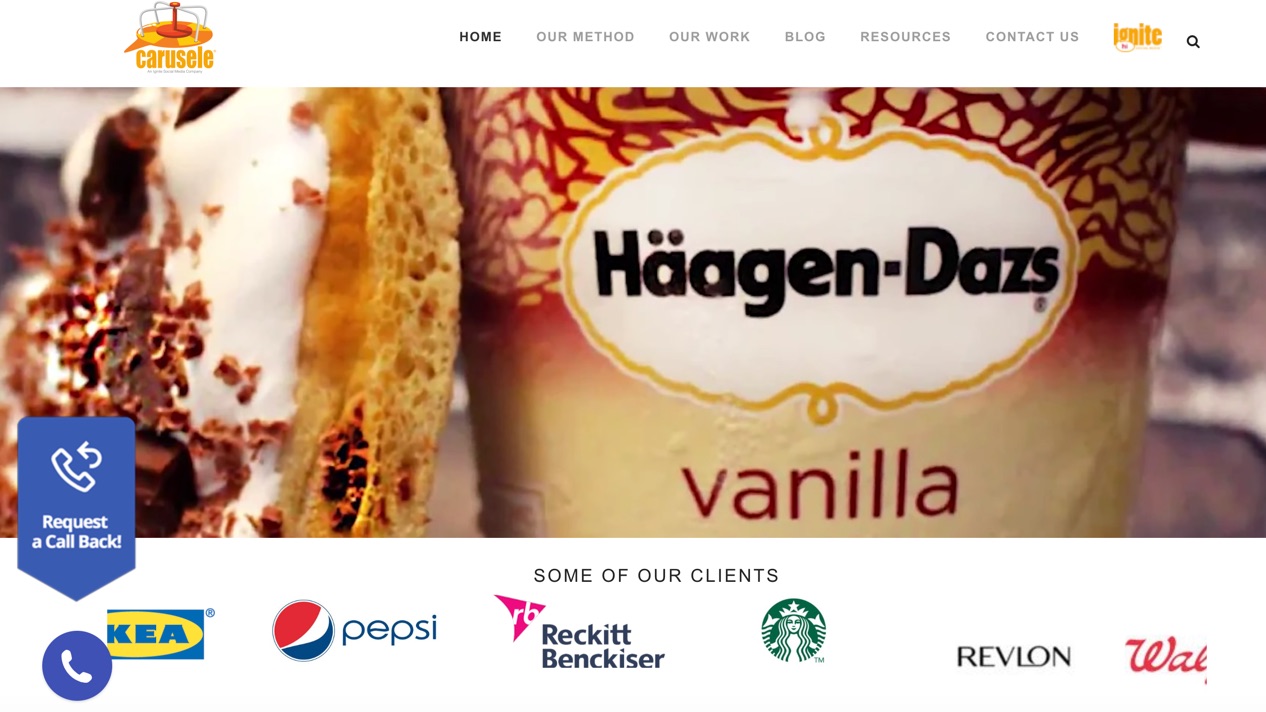 Carusele's approach to executing influencer marketing campaigns is very unique. They have created a Content Performance Index™ to provide an algorithmic ranking of the influencer-produced content in each campaign, and use their Influencer Content Targeting System to help consumer brands meaningfully engage with their target audiences via influencer marketing.
Carusele hand-selects influencers to create original content on behalf of a brand and share it with their social networks. They monitor all the posts in real time for performance, allowing them to rapidly identify the best content. They then boost proven content to ensure it reaches a brand's best customers. They work with influencers to create promotions that incentivize user-generated content, discussions and sharing by target audiences, further spreading campaign messages.
They work with a network of more than 55,000 influencers to produce authentic and original stories about brands.
---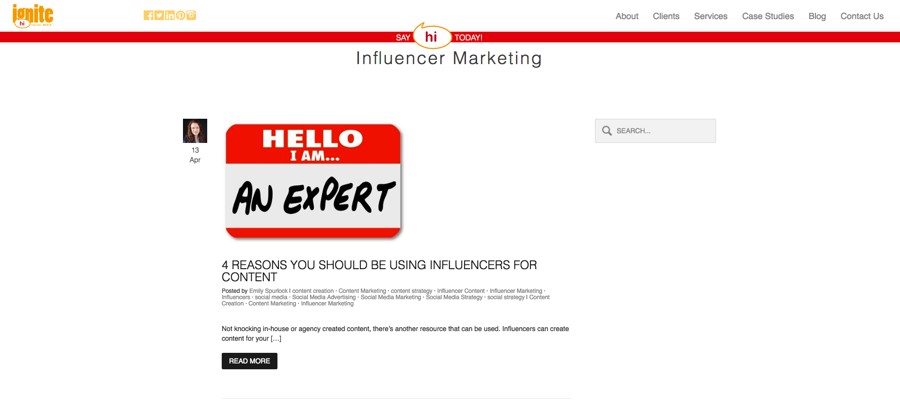 Ignite Social Media won the Social Agency of the Year award at the 2016 Incite Group's Corporate Social Media Awards. That sums up Ignite's all-encompassing social media focus.
They have a long pedigree (in social media terms, anyway) beginning as The Original Social Media Agency in 2007. They set themselves up as what at that time was a very new style of agency, with an exclusive social media focus.
They believe that social media is uniquely suited to allow brands to really connect with their customers on a deeper level and that quality content is necessary to speak to the passions of an audience.
One of the ways they do this is through using their influencer network to generate and syndicate genuine branded content that is on-message but in the influencers' voices and relevant to their particular audiences.
---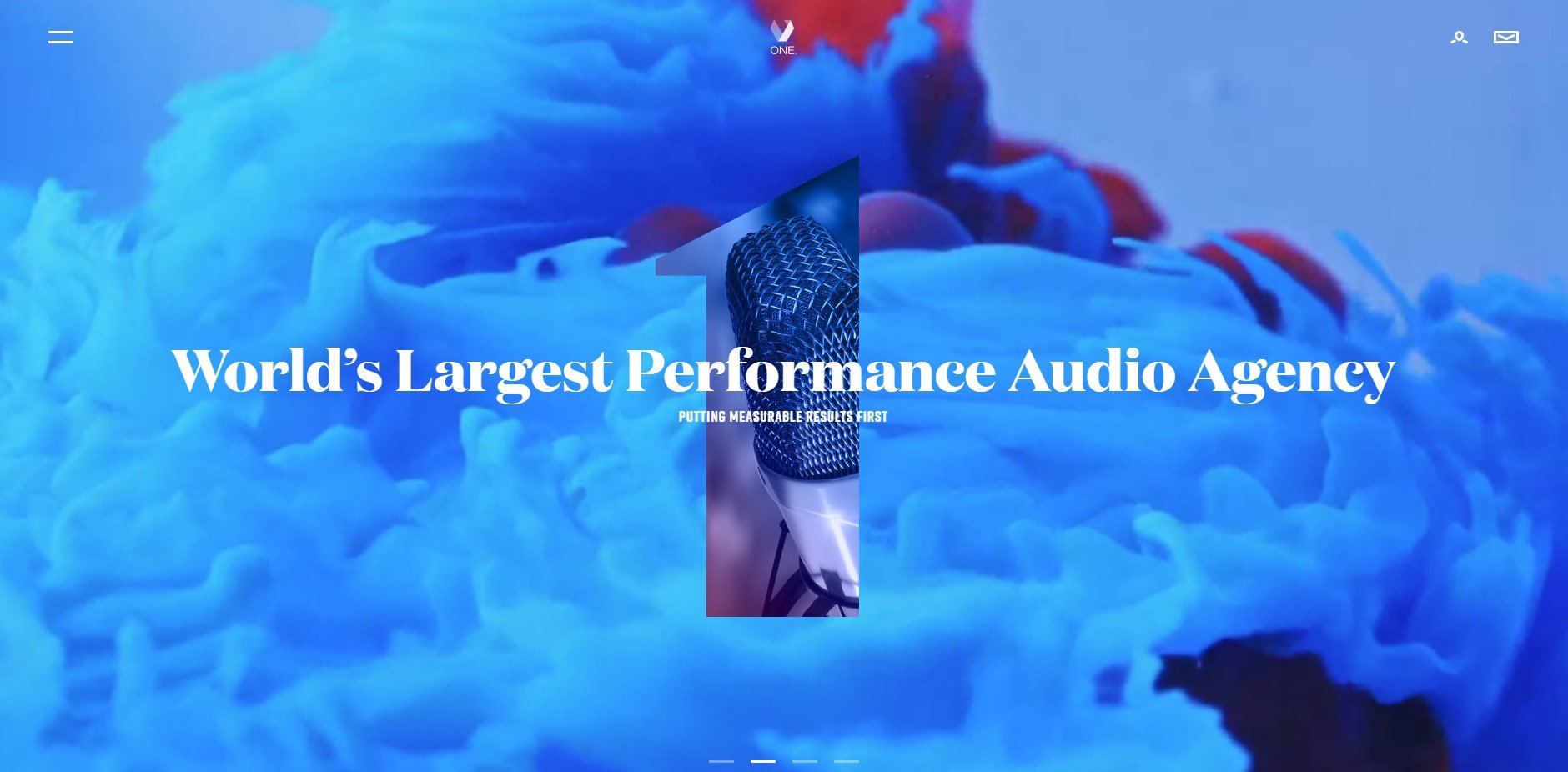 Veritone One is a full-service advertising agency incorporating podcast, radio, digital, tv, and analytics. They also claim to be the world's largest performance audio agency. Importantly, they also act as a YouTube influencer marketing agency. They claim to be the industry leader in performance-based YouTube influencer marketing.
The agency uses a proprietary discovery platform and valuable partner relationships to pair you with the right talent for the maximum return on investment.
Veritone One is powered by Veritone aiWare. This is a proprietary platform that processes and organizes unstructured audio and video data using AI-based cognitive computing. The technology helps the company collect real-time actionable intelligence to better optimize your media and brand's messaging to improve your campaign's performance.
---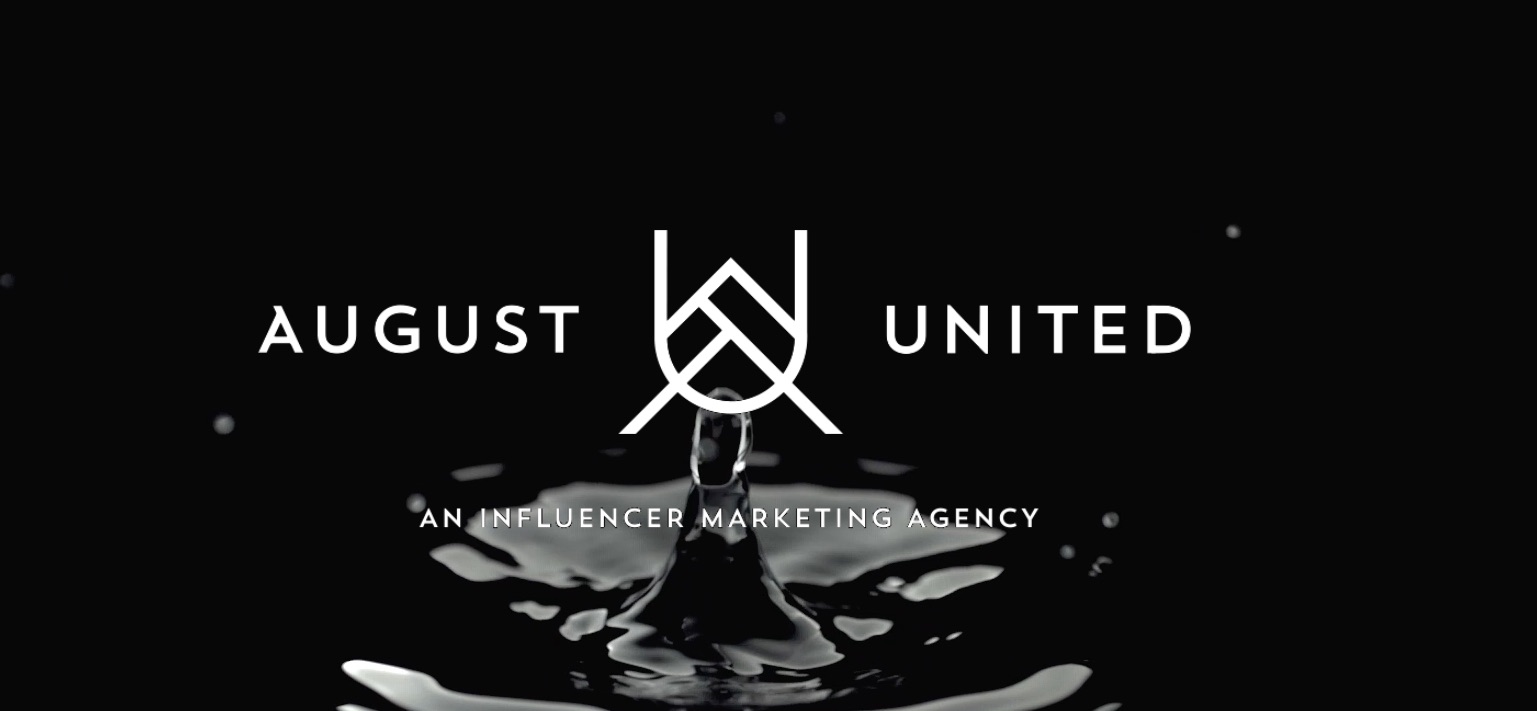 August United is a full-service influencer marketing agency. They set out to rid the world of boring marketing, and ever since, have been uniting impressive brands with impressive people.
They provide structure to identify influencers, develop campaign concepts, and maintain guardrails to create a sustainable influencer marketing strategy for brands. They also build influencer communities of passionate brand advocates, allowing their clients to leverage influencers for ongoing activations.
One of August United's unique offerings is organizing influencer brand retreats where clients can meet influencers to set up strategies for their future influencer marketing campaigns.
They include PetSmart, Persil ProClean, Ralphs, and Valley of the Sun United amongst their clients.
---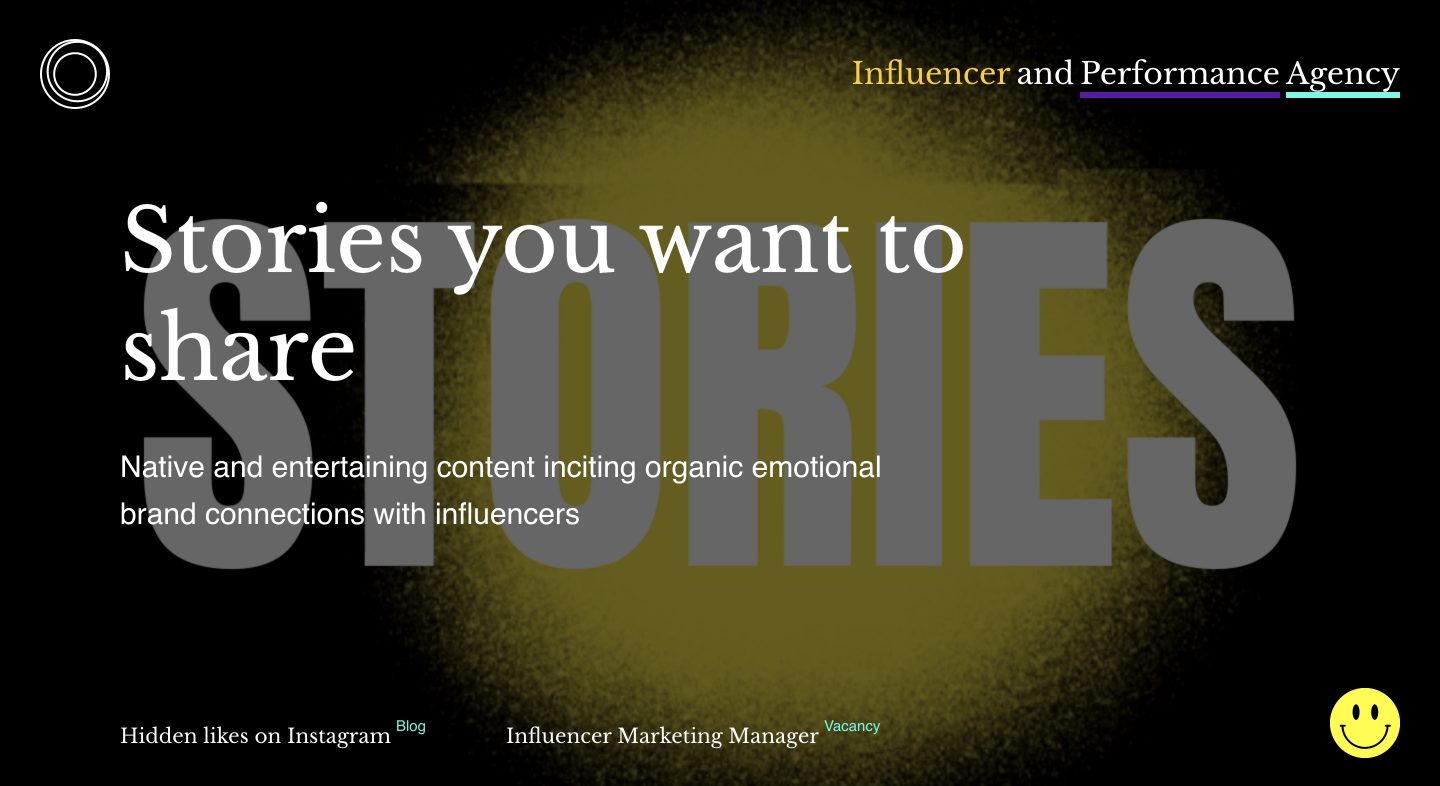 Zorka.Agency describes itself as being an influencer and performance marketing agency. They offer both influencer marketing and media buying services.
They claim to have combined the best of both worlds—a classic creative agency and a digital technology company.
They are European-based, with offices in Minsk, Belarus, Moscow, Russia, and Limassol, Cyprus.
They work with influencers to promote products over YouTube, Instagram, Twitter, Telegram, and Twitch. Zorka.Agency will find clients' audiences in more than 80 countries using a selection of the 350,000 influencers in their database. They use an in-house campaign management platform, Zorka.Video. It combines a database of content creators and a wide range of filters to pinpoint the right influencers for any audience.
---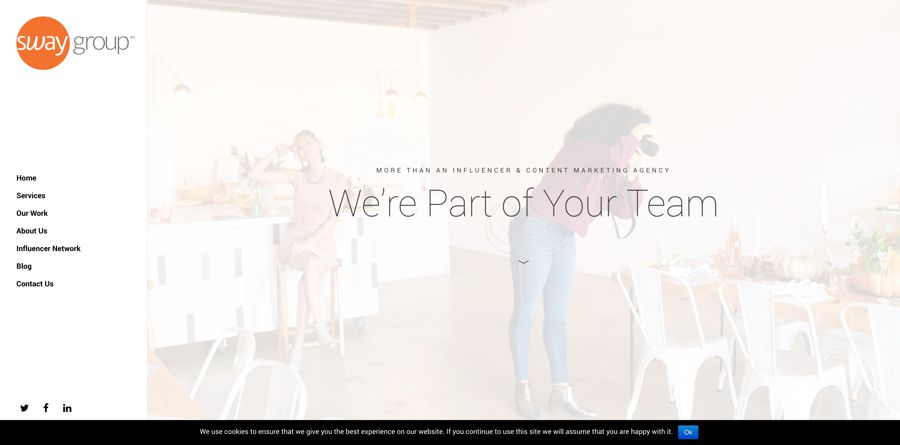 Sway Group is a 100% self-financed, women-owned company. Indeed, every manager and employee shown on their website is a woman. They offer full-service partnerships to their clients, giving them hands-on strategic service throughout the course of a campaign, with all their work designed to serve big-picture business goals.
They specialize in delivering best-in-class content for their clients. From creative services to influencer activation, every campaign starts with a customized content strategy.
Every campaign is allocated a team dedicated to the client's business goals: a typical influencer program includes 6-8 Sway professionals, from client services to quality assurance.
Sway sources influencers who specialize in the subject matter best suited for each campaign, from the fantastic food blogger to the Instagram fashionista. They demand a high level of quality from their content creators, but they also supply them with the resources they need to drive their own engagement and grow their audience. Each of Sway's shopper-focused influencer programs has 6-8 dedicated staff members managing daily tasks through completion, including a comprehensive post-campaign report.
Sway has launched its Social Content Studio to bring clients the option of securing compelling brand-owned influencer-driven content. Their skilled in-house creative team can quickly produce either photography or video assets (or both!) as needed.
---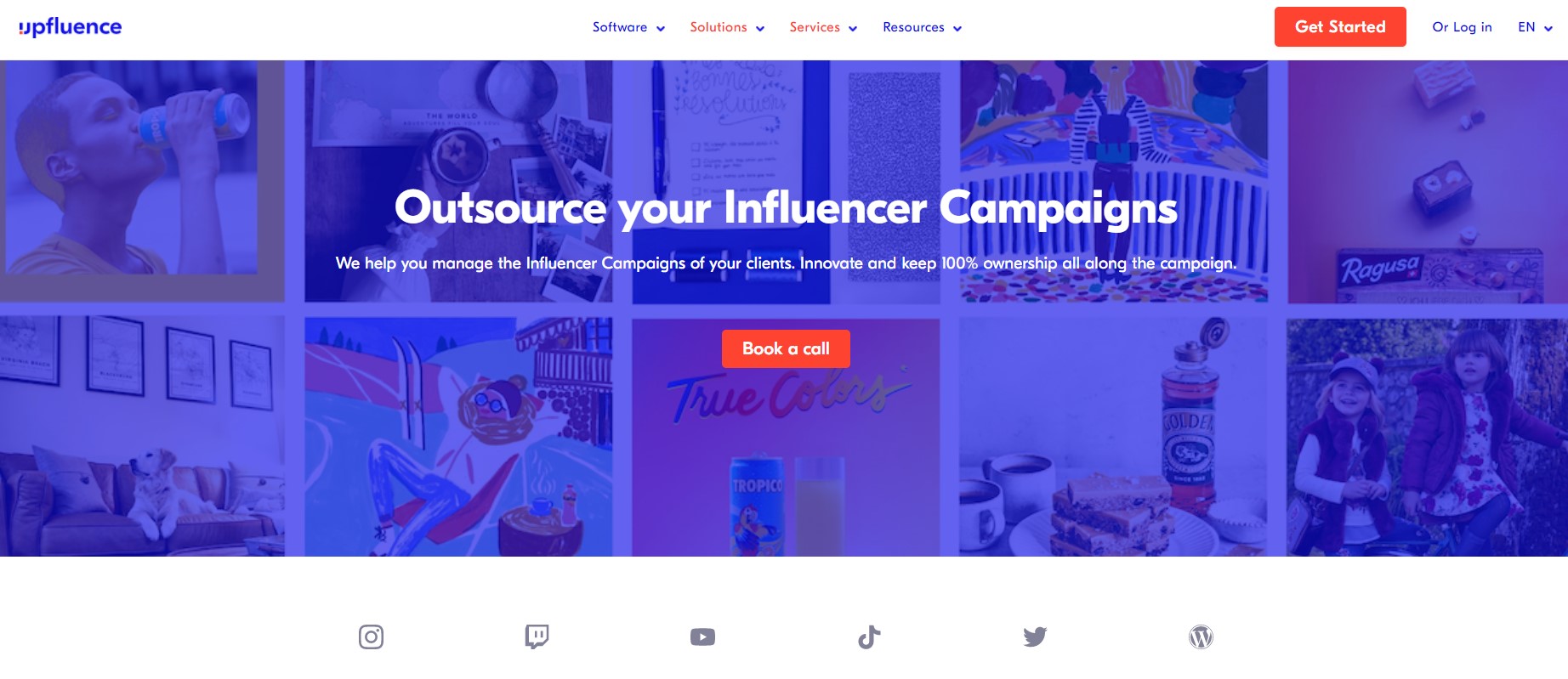 Although Upfluence is probably best known for its influencer marketing platform, it also acts as an influencer agency. Although a dedicated team of influence experts manages your campaign, Upfluence provides its agency clients with full software access to have 100% transparency on the progress.
It finds the perfect content creators where your audiences overlap: Instagram, TikTok, Twitch, YouTube, Blog. 
Upfluence is also happy to assist with influencer event management. Its content creators can match the needs of your client for any special events. Upfluence prevents no-shows by entering into long-term agreements with their influencers. They offer on-site tracking and host management.
Some of the steps that Upfluence takes in its influencer agency role include:
Discovery call – learning about client needs

Strategy design & ideation – setting up a solid plan

Campaign Kick-off – agenda, emails, dashboards

Content creator's curation – reaching out to content creators to create high-quality content through influencer marketing

Brief endorsement – highly detailed with content guidance

Influencer Marketing and partner relationship management – ensuring smooth communication and high response rates

Content creators onboarding – signing agreements

Influencer Generated Content – with drafting and approval from both Upfluence and the client

Influencer Payment – making sure that the influencers met the expected content guidelines before they pay them

Reporting and recommendations
---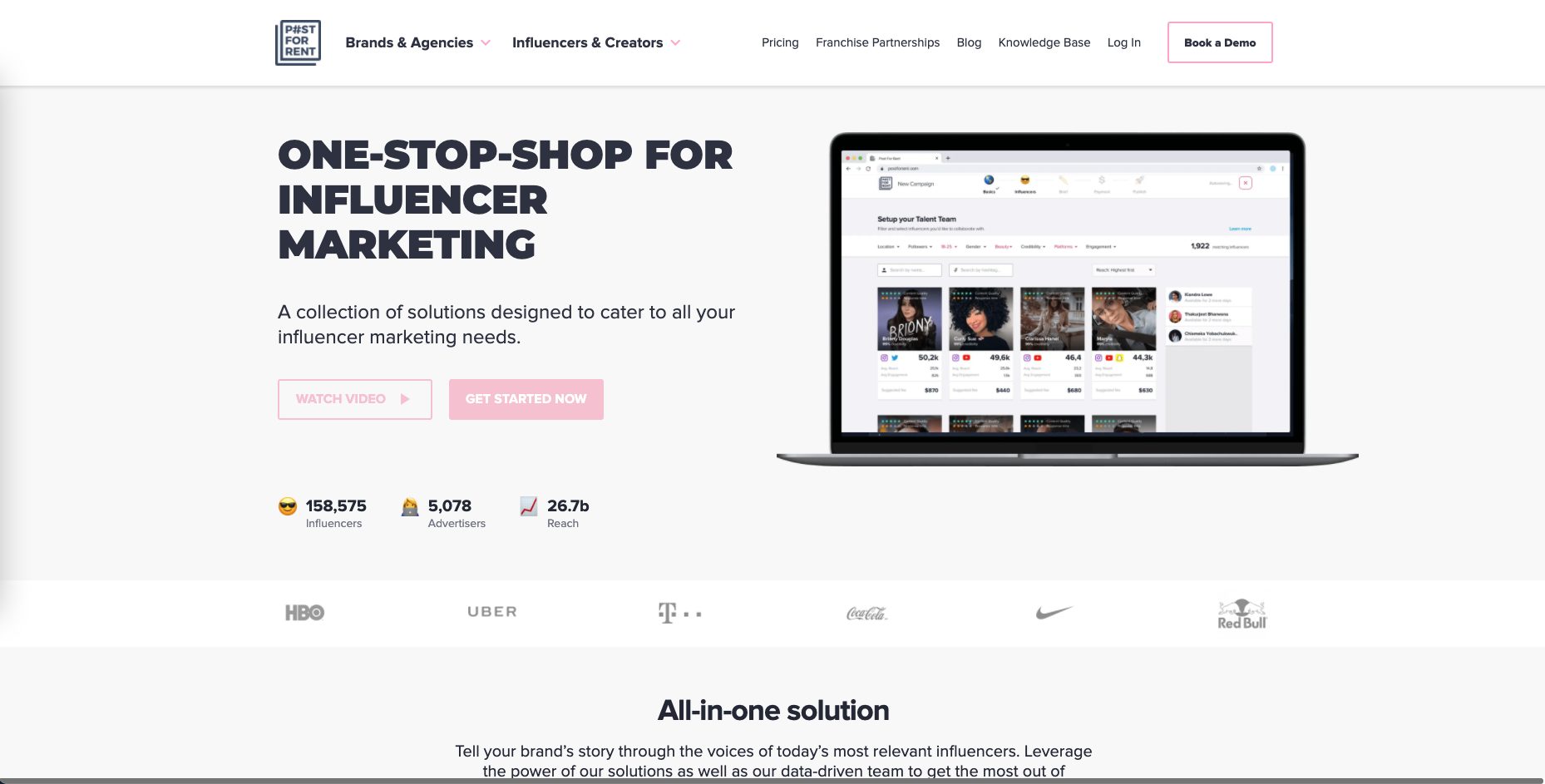 Post For Rent offers a collection of solutions to cater to all your influencer marketing needs. You can either use it as an influencer platform, searching through its extensive database of influencers, or let the company handle everything for you.
If you opt for Post For Rent's managed services, all you have to do is set your campaign objectives. They deliver you a plan that matches your brand values and tone of voice. They give you a dedicated campaign expert, prepare a competitor analysis, and come up with estimated results.
Through analysis of audience interests, behaviors, and more, Post for Rent filters, analyzes, contacts, and contracts the most suitable influencers for your campaign. Once you have a team of influencers, it's time to put your influencer marketing into practice. The agency handles all content, from formulating the original concepts to full content production and optimization.
Post For Rent's reports give clear insights into the ROI your campaigns have generated. They even provide detailed information on each piece of content posted by your influencers.
---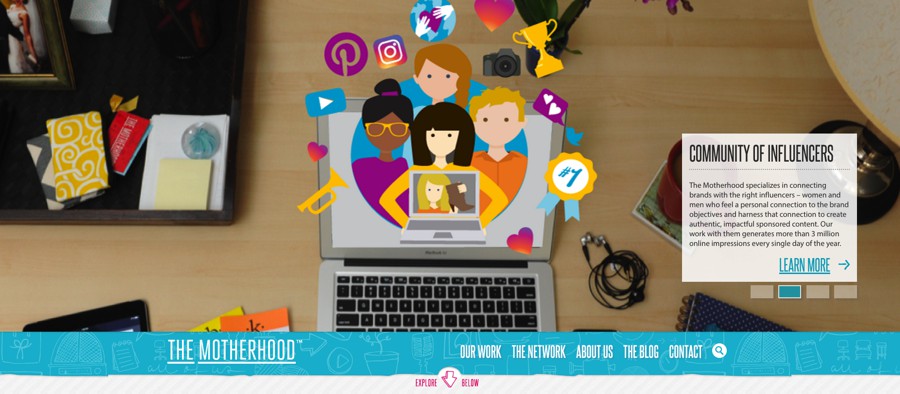 As their name suggests, The Motherhood is an all female agency, utilizing the power of women online. It was founded in 2006, on the basis that a group of women online could make a big impact. Somewhat appropriately, their first campaign was for Huggies Diapers and was strongly targeted at online moms. Since that initial campaign, The Motherhood has worked to connect prominent organizations with women.
They emphasize that they are not interested in automated influencer marketing. They consider themselves to be a boutique agency that applies the human touch to vetting their influencer lists, to the point of checking to see if a blogger's child has lactose intolerance before suggesting they blog for a dairy campaign. The Motherhood views influencer marketing as a very human, very personal discipline.
---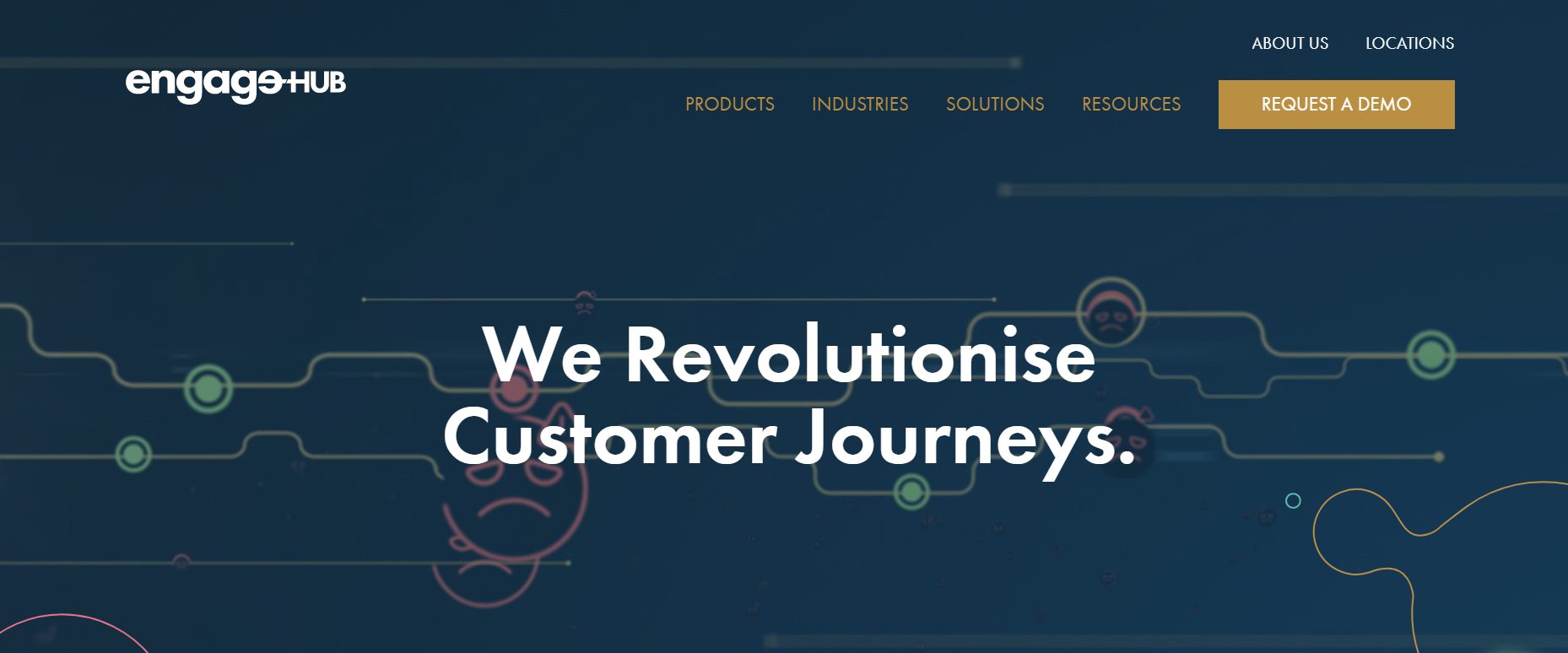 UK-based EngageHub considers itself a socially led influencer marketing agency that will take your product to market and influence the "new" generation. They offer brands a range of marketing options to reach out to busy target customers. They can assist with influencer marketing, creative & production, paid media, social commerce, and social media management.
They describe themselves as product-led creatives who plug into your brand to send your commercial, social, creative, and influencer marketing sky-high.
EngageHub delivers a full-service, integrated approach to influencer marketing, meaning they cover all the elements needed to provide campaigns that turbocharge your commercial goals. They ensure you spend your budget for maximum reach and ROI. The agency pairs your brand with influencers that will deliver maximum results, including nano, micro, and mid-level influencers with highly engaged audiences.
They work with influencers across all the popular social networks, including Instagram, Facebook, YouTube, TikTok, Twitch, Twitter, LinkedIn, and Snapchat, meaning that they should find suitable influencers for you, no matter what market you target.
---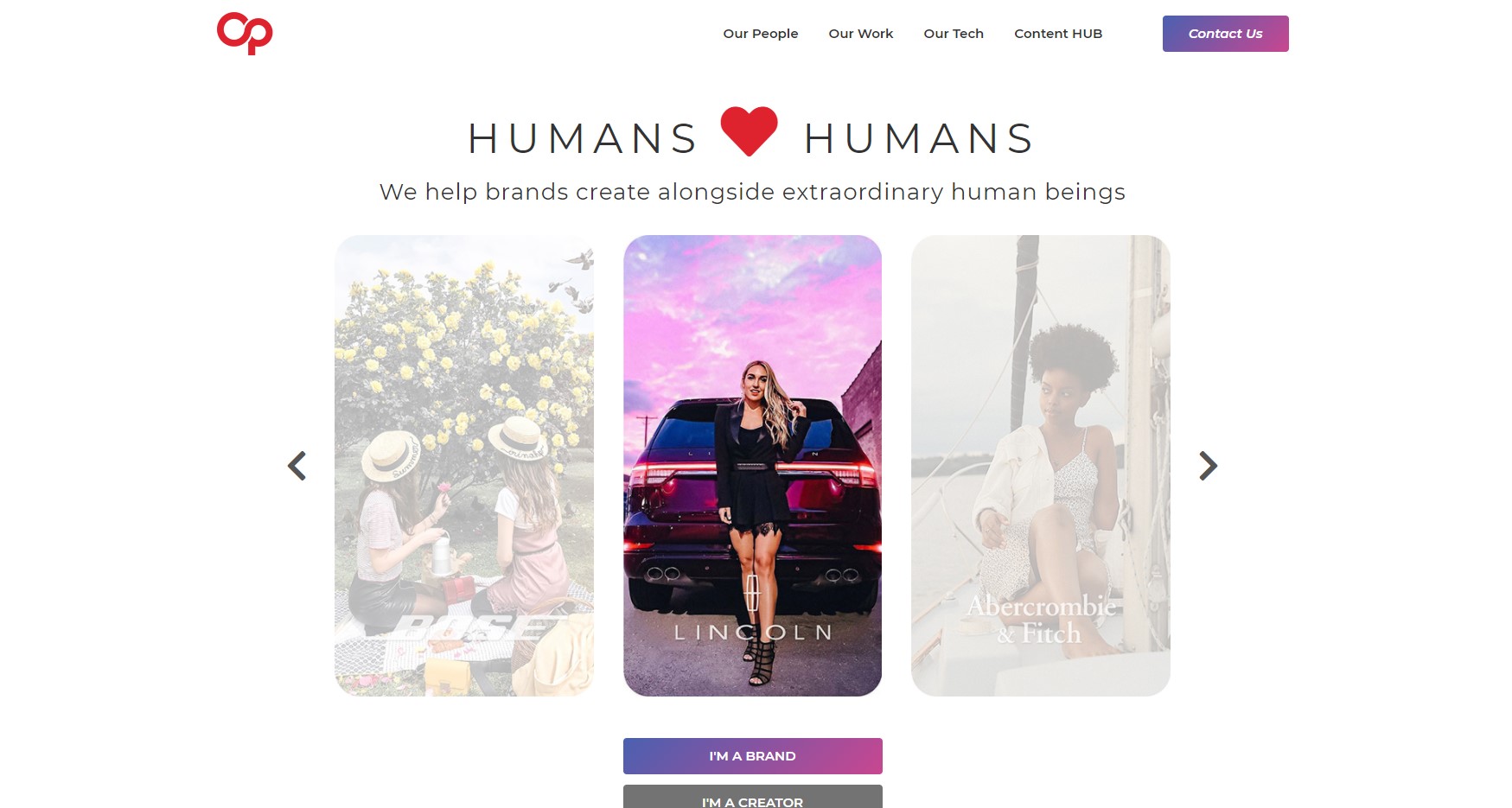 Open Influence provides influencer marketing services across the world. They have seven offices in New York, Los Angeles, San Francisco, Chicago, London, Milan, and Hong Kong, with more than 1000 premium clients.
They offer a full-service influencer solution that combines their proprietary technology platform, industry insights, and diligent processes to deliver consistent quality content and ROI.
Open Influence is committed to bringing the human element back to advertising by empowering individuals to create and share. Their mission is to scale the storytelling process through efficiency, quality, and transparency for both advertisers and content creators.
Open Influence works with clients in fashion, lifestyle, travel, automotive, entertainment, technology, consumer packaged goods, and many other industries.
The agency's in-house creative team supports brands to create impactful campaigns across every social platform.
Their influencer platform gives them access to hundreds of thousands of influencers. Once they have approved an influencer, Open Influence leverages their expertise and proprietary campaign tool to facilitate all aspects of the influencer advertising relationship, including rate negotiation, payment processing, content ownership, and messaging.
All campaigns are goal-specific. Open Influence tracks progress, measures, and reports performances and ROI, working with clients in real-time.
---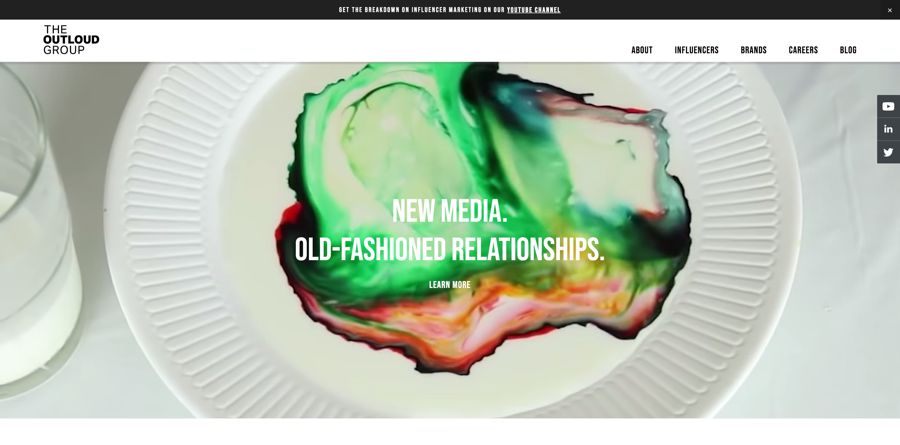 Detroit-based, The Outloud Group is a full-service influencer marketing agency that creates and executes strategic campaigns to deliver measurable results at scale. They partner with brands and influencers to deliver highly effective and authentic marketing campaigns.
They don't restrict themselves to just midwestern clients, however. They also work with clients in Los Angeles, New York, and abroad. They have worked with brands on influencer campaigns since 2008.
The Outloud Group's bread and butter is direct response ads. Brands are involved in crafting the message, but creative control ultimately rests with the influencers to ensure authenticity. The company also helps with campaigns involving branded content, using suitable influencers and their captive audience.
The Outloud Group also works with the other half of the influencer equation. They provide talent representation services to quality influencers. They bring brand campaigns to influencers they know, like, and trust.
---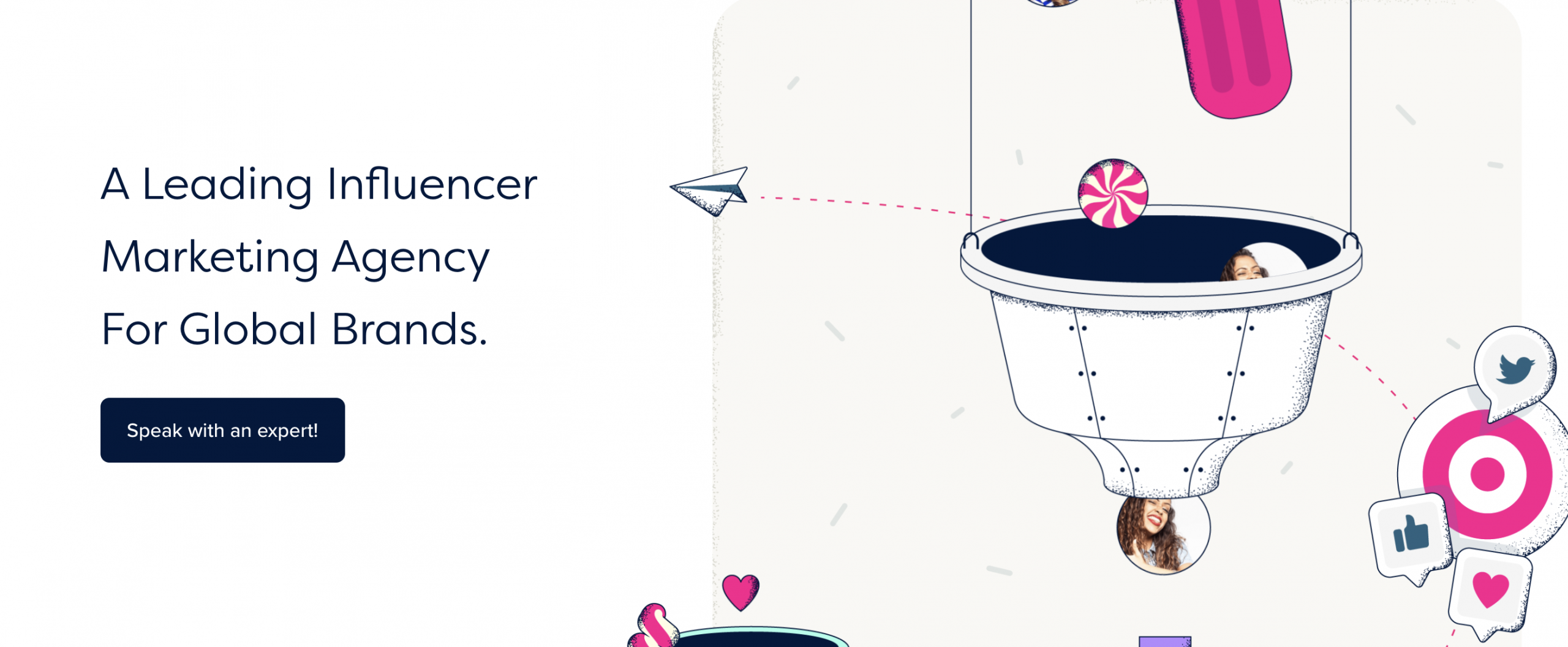 SugarFree is a diverse group of marketing professionals, social media gurus, talented creators, and data analysts, all working together with their clients to create a truly seamless experience.
Their strategies focus on telling a story that lives on well after a campaign is over. They infuse clients' core messaging into all aspects of the campaigns they create. SugarFree find influencers who fit in with a client's aesthetic and culture, distributing content to relevant audiences.
Over time, the agency has built a vast network of the best creators whose trust they have earned over time. It means that they work with fully vetted influencers and bloggers with a proven track record of success across traditional, digital, and social media. SugarFree handles all the behind-the-scenes tasks, from price negotiations that end in legal contracts, to compliance and payment. In between, they handle all the coordination of content deliverables with influencers, keeping campaigns on-time and on-budget.
They schedule every post and then stay on top of a campaign as it progresses. Their influencers don't just post and collect their paychecks. They act as ambassadors, staying engaged with their audience and keeping their content fresh and relevant.
SugarFree provides detailed reports that focus on the metrics that matter most to their clients while scrutinizing performance on an individual level.
---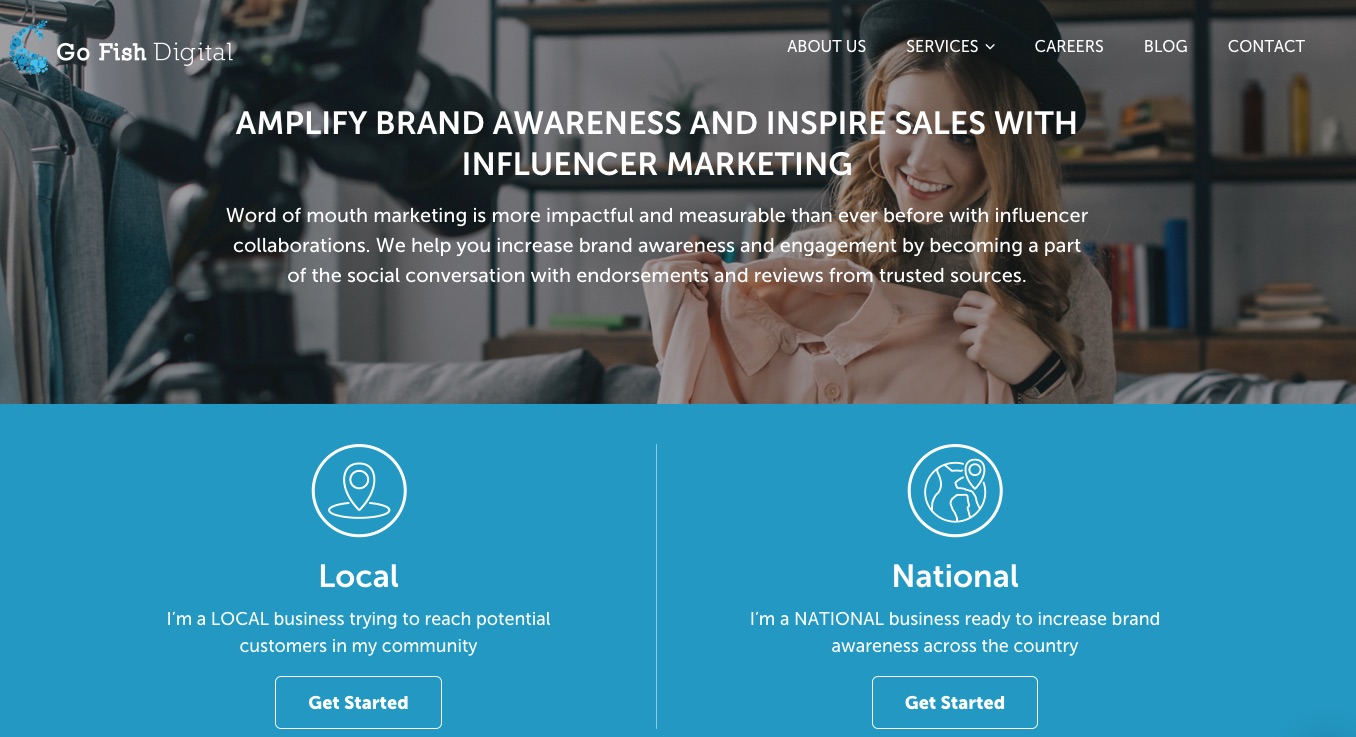 Go Fish Digital, a 15-year-old Northern Virginia-based digital marketing agency, offers a wide range of digital marketing services, including search engine optimization, online reputation management, web design & development, search engine marketing, conversion rate optimization,  and content marketing. Most importantly, in terms of this list, they also act as an influencer marketing agency.
The company consists of a team of technical marketers and creative thinkers helping companies attract more attention online, build more traffic to websites, improve their reputations, and obtain more conversions. They have offices in both Washington, D.C., and Raleigh, N.C., but take on clients worldwide.
Although Go Fish Digital works with some of the largest brands, franchises, and CEOs, they also help fast-growing small and medium-sized businesses with their digital marketing needs. Everything they do is driven around what it will take to help their clients reach their goals.
Go Fish Digital's influencer marketing agency has worked tirelessly to form and grow ongoing authentic relationships with influencers across a variety of niches. Their network of social influencers has developed engaged communities that trust their recommendations and opinions. Each influencer campaign is unique and personalized for both the brand and the tone of voice of the influencer.
---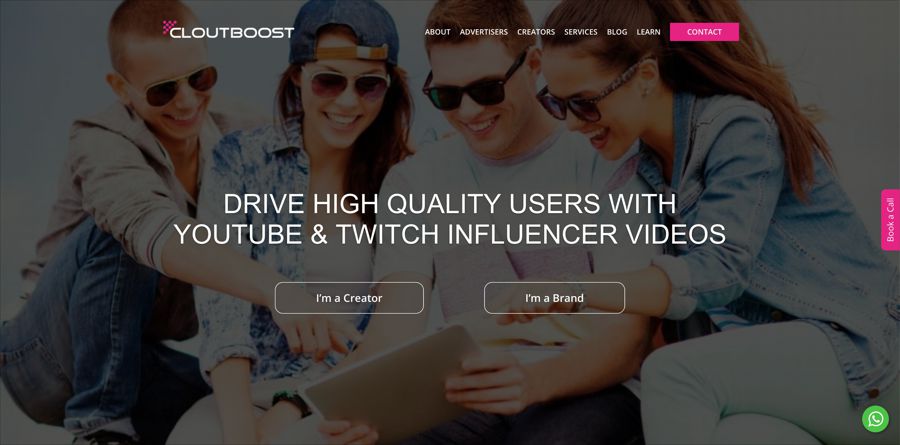 Cloutboost is a specialist gaming influencer agency. They promote brands by leveraging the power of YouTube influencers and Twitch streamers.
They offer services at different stages of the influencer marketing process. This begins with influencer targeting and analytics. They use data mining to sift through YouTube and Twitch influencer channels to find the most suitable for their clients' purposes. Cloutboost looks at a myriad of key drivers like influencer content relevance to the brand, its historical performance, and channel sentiment. From this, they predict trends and Influencer campaign results.
They offer full influencer campaign management, including reaching out, recruiting, and negotiating with Influencers. Their customer success managers are incentivized to maximize campaign performance and grow long-term partnerships with both brands and Influencers.
Cloutboost can also build a large-scale ambassador program to achieve real results. They select and recruit Influencers who prove to be the best fit for the brand. They also develop seamless ambassador program structures and engaging reward systems, while managing the entire program and keeping track of the program's results in real time.
They help brands and advertisers amplify their campaigns to reach the most relevant, engaged, and effective viewers. On YouTube, they retarget sponsored content viewers across the Google ecosystem, including Google Search. On Twitch, they get their clients' content recommended in-stream across their network of publishers.
---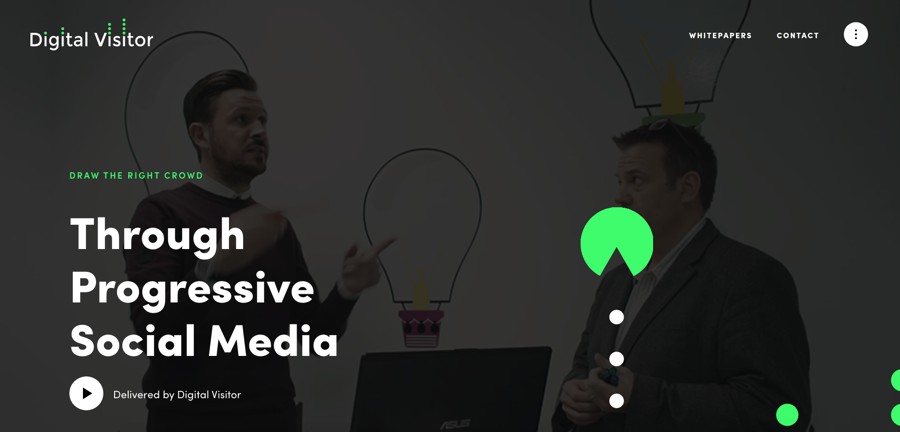 Digital Visitor is a British agency involved with social media marketing, strategy, and influencer PR. They specialize in creating digital campaigns for brands, using social media to get brands noticed.
They recognize the power of social media to amplify a brand's voice, and that influencers are in a powerful position to help with this. Digital Visitor works with a network of UK bloggers, vloggers, Instagrammers and Pinners as social influencers to amplify brand stories to the most suitable audiences.
They cover the full service for brands, providing a service for them from strategy to the influencer-based delivery.
---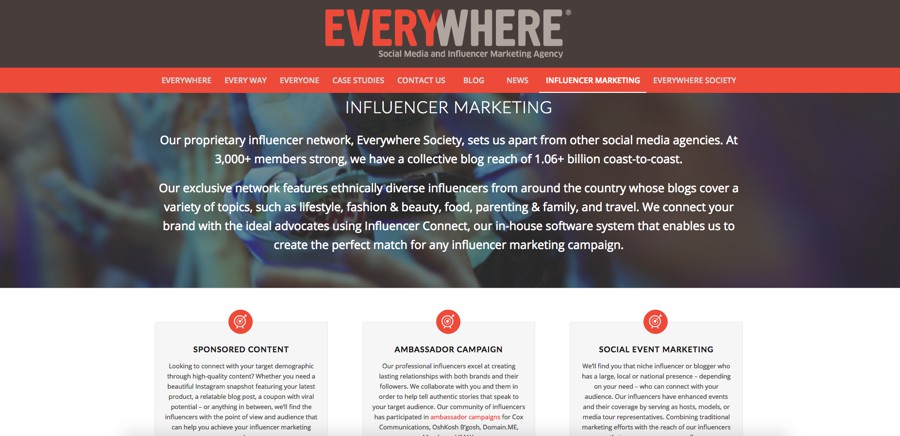 As its full name indicates, Everywhere Social Media and Influencer Marketing Agency focuses on creating campaigns promoting brands through social media, often leveraging the power of influencers for content distribution. As well as influencer marketing they provide services in social media strategy, community management, content strategy, social event marketing, social media ad planning and social media consulting.
They have their own influencer network, Everywhere Society, with 3,000 members and a collective blog reach of 1.06 billion Americans, on topics such as lifestyle, fashion, beauty, food, parenting, family, and travel.
Everywhere also uses their own software, Influencer Connect, to match brands and influencers for particular influencer marketing campaigns. They work with influencers to promote sponsored content, operate ambassador campaigns, be part of social media marketing, spread the word about contests and promotions, hold virtual Twitter and Pinterest parties, and work as part of focus groups and crowdsourcing.
---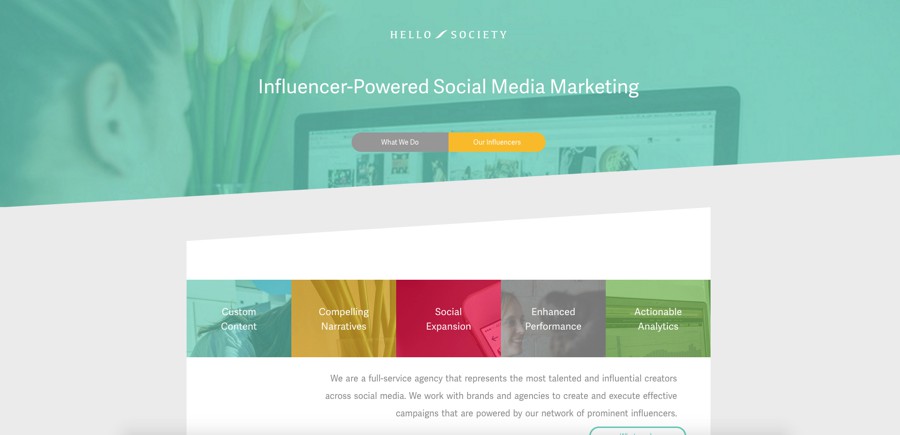 Hello Society describes themselves as being engaged in influencer-powered social media marketing. They are a full-service agency, representing talented and influential creators across social media. They work with brands and other agencies to create campaigns that they use with their network of influencers.
They have their own network of more than 1500 influencers, covering a wide range of niches. They choose their influencers on a combination of follower counts (ranging from 10K to 10M), audience engagement, and creation ability.
Hello Society makes it a requirement that every content piece must be high quality and uniquely an influencer's own so that it drives engagement and lends authenticity to the visual conversation surrounding a brand. They appear to place a greater emphasis on influencer-created content than many other agencies and platforms.
---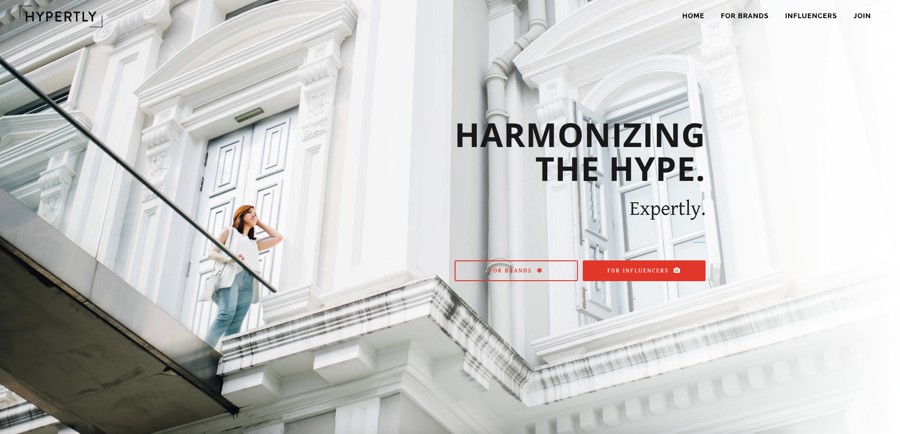 Hypertly is another company that mixes the capabilities of an influencer marketing agency and an influencer marketing platform.  They recognize the importance to brands of using micro-influencers to promote their products. They state that "Micro-influencers are the most engaging humans on the internet. We're here to give them the credit they deserve and leverage their power to help build brand credibility."
They utilize a content creator network of 100,000 micro-influencers to help meet the brands' needs. Their big focus is on video. People who think they are a social media influencer are welcome to apply to be part of their network. They work with dubdub to help video creators make better videos and to provide high-level analytics data. dubdub integrates product links into native influencer content and attributes each and every click.
Hypertly lists L'Oreal, Starwood Sports, Baxter of California, and Inglot as recent clients.
---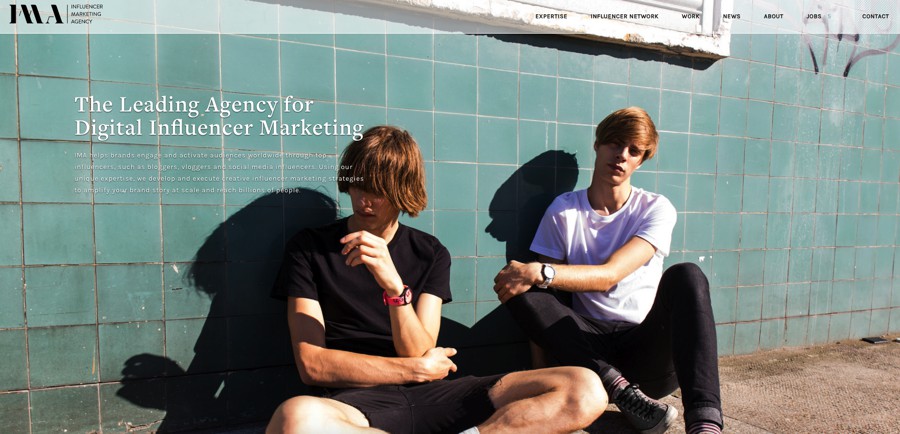 IMA makes their purpose very clear in their name. They claims to be the leading agency for digital influencer marketing. They are full service, taking a campaign from defining goals and objectives through to completing the campaign execution. IMA's Global HQ is in Amsterdam and they have a largely European focus.
They operate a network of more than 12,000 influencers, who, according to IMA"s website, has a combined social following of 6.9 billion people – although there must obviously be some duplication of followers, considering the entire world population is not much greater at 7.6 billion. Actually, the website makes the dubious statement that their influencers have the combined reach of over 6 trillion consumers, which has to be considered a case of poetic license, with the Population Reference Bureau estimating that about 107 billion people have ever lived.
IMA has a strong client roster including Diesel, Nivea, Timex, Samsung, TomTom and Calvin Klein.
---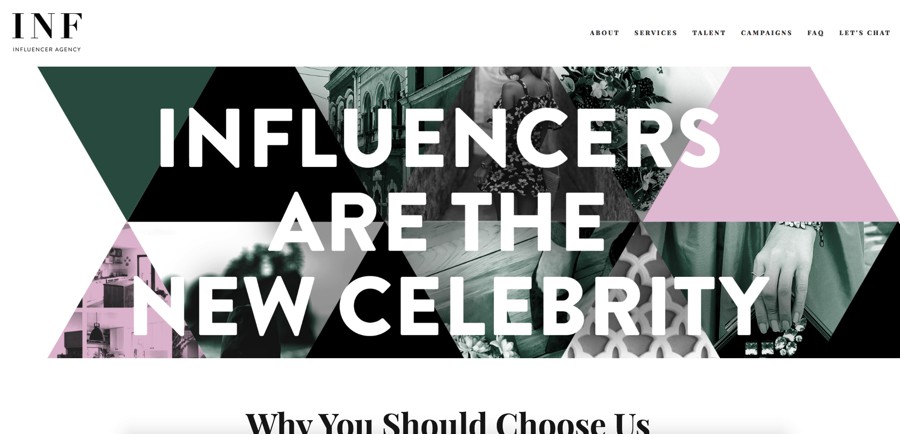 INF Influencer Agency is a Canadian agency, that recognizes the importance of influencer marketing, and has made it a business focus. They work in partnership with The Feldman Agency, a North music management group with over 40 years in the entertainment business, who handles artist representation, talent management and booking, event services and corporate consulting.
INF is more of an influencer management agency than an advertising agency, in many ways working like a talent agent. They help to grow their influencers' personal brands, develop opportunities and manage offers.
INF Influencer Agency offers a variety of services, including:
Brand ambassador – matching brands with influencers who match their core values
Content creation
Product placement
Digital, print, and on-camera campaigns
Curated collections
Organizing speaking engagements and appearances
---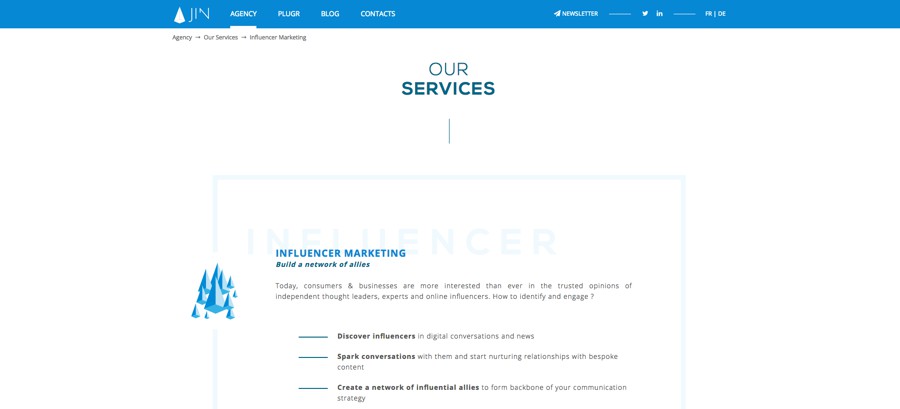 Jin is a European agency with offices in Paris, London, and Hamburg. They describe themselves as a Digital PR and Influence agency.They offer services in inbound marketing, reputation management, influencer marketing and providing insights.
Jin uses proprietary influencer discovery software called Plugr to help brands find the most suitable influencers for their audience. Plugr analyses conversations and media in real time to provide clients with consumer insights. One of its features is influencer mapping, where it maps the main digital influencers on a certain subject or brand, to understand who and what is shaping public opinion.
Jin includes Bic, eBay, Ricoh and Roche as clients.
---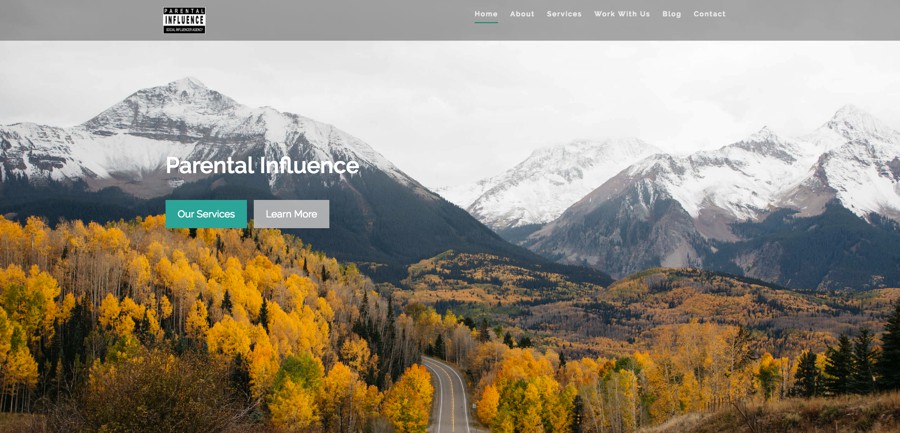 With one of the more unusual names in the industry, Parental Influence is a specialist influencer marketing agency, which focuses on influencer marketing, social media management, and digital consultancy. They continue the "parent" metaphor by describing their role as "marrying brands and social influencers together to make one big happy family".
They emphasize the human side of influencer marketing, over the technology focus promoted by some other agencies. They welcome genuinely creative influencers to apply to be part of their network.
They offer each brand a tailored solution to their online marketing needs and can walk brands through the entire influencer marketing process. They also offer brands social media management services.
---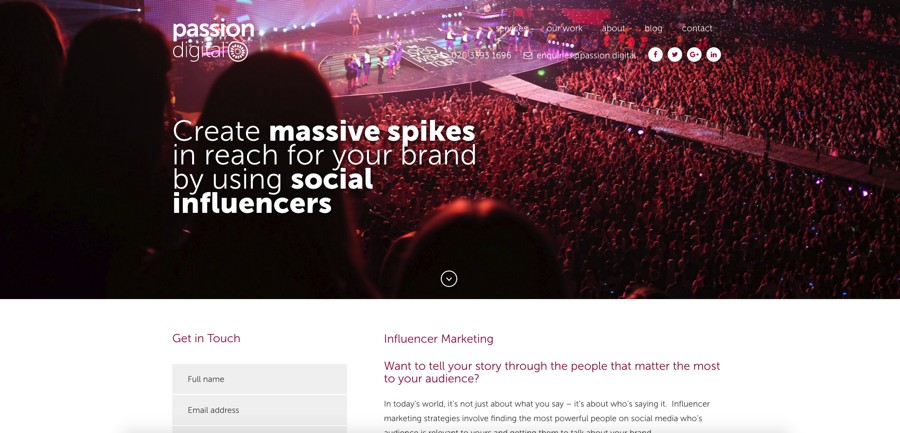 Passion Digital is a London-based digital marketing agency, which also operates in Spain. They offer a wide range of digital services, including PPC (Pay Per Click), SEO, Social Media Services, and Web Design and Development.
One of their social media offerings is Influencer Marketing. Passion Digital has access to a broad network of influencers to work with brands in spreading their message. They also use their digital research and social monitoring tools to find other suitable influencers. They then help their clients by managing their campaigns, using the bloggers, vloggers, Instagrammers, and celebrities of their clients' choice.
---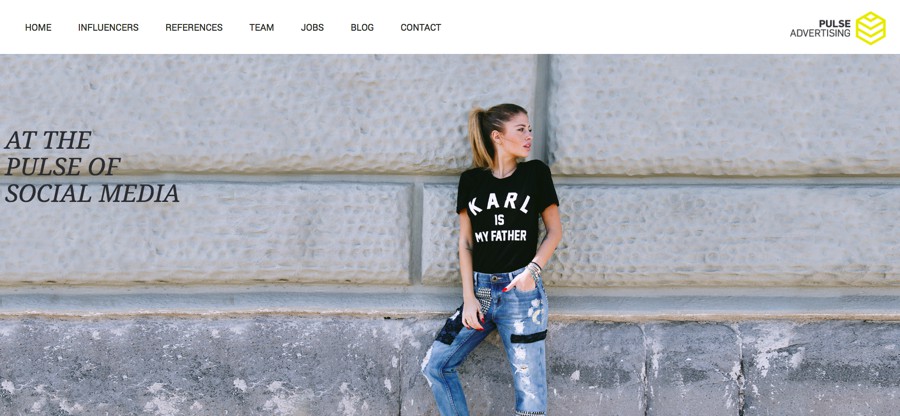 Pulse explains their name as being a result of them being at the pulse of social media. As with most of the specialist influencer marketing agencies, they have a network of influencers who they can call to assist in spreading their brands' messages.
Pulse breaks its services down into Brand Awareness, Brand Positioning, Market Entry, Product Launch, and Social Strategy. Similarly, they break their process into steps: Social Strategy, Kickoff, Campaign Concept, Influencer Selection, Content Creation, and Reporting.
They can claim quite a few high profile names amongst their clients, including Unilever, Daimler, Adidas, Puma, Gillette, Huawei, and Swatch.
---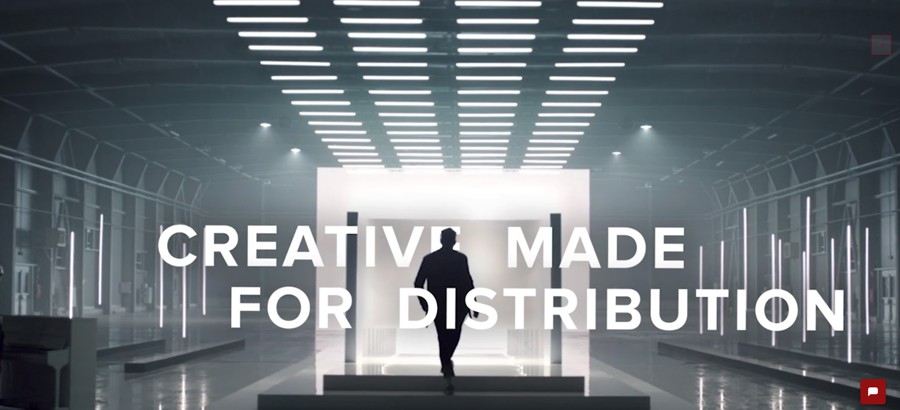 "You take the blue pill, the story ends. You wake up in your bed and believe whatever you want to believe. You take the red pill, you stay in Wonderland, and I show you how deep the rabbit-hole goes."
The above quote comes from The Matrix and takes its meaning from popular culture where the red pill represents knowledge, freedom and the sometimes painful truth of reality. London-based Redpill clearly believes that they provide consumers with campaigns that enliven them and open their minds, rather than brainwashing them. They claim to be London's leading agency for branded content and influencer marketing.
With clients like Coca-Cola, Jaguar, Samsung, and Heineken, they have clearly produced results to attract the big brands.
Redpill's clients have access to their in-house selection tool that recognizes more than 26,000 influencers across YouTube, Facebook, Twitter, Instagram, and Snapchat. Redpill has a strong creative team to help produce material for the influencers to share. They began as a production company in the early days of YouTube and grew into a full-service production house and content marketing agency.
Redpill works with over 39,000 publishers, vloggers and social influencers across 57 territories, amassing a combined reach of 3.7 billion people.
---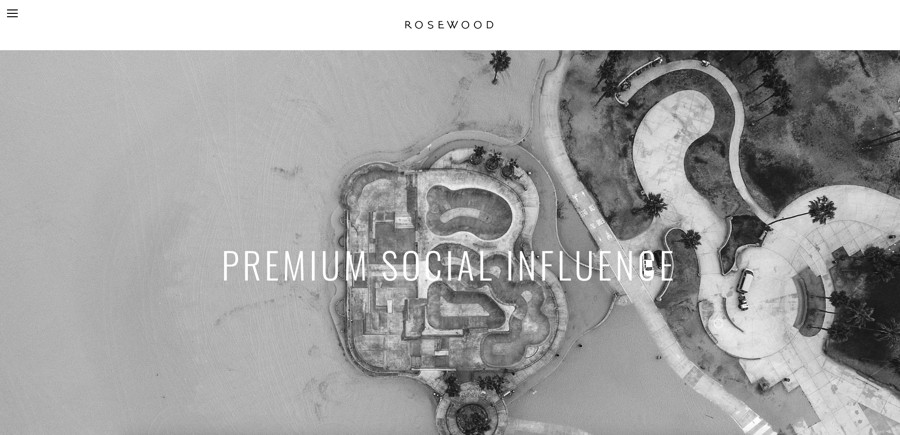 Venice, California-based Rosewood Creative believe themselves as being the new generation of social media marketing. They provide services for brands in the areas of social media management, content production, and influencer marketing, often mixing up all three streams for any particular campaign.
Rosewood calls themselves "…a collective of creative and passionate storytellers who craft premium, authentic, and strategic social media narratives that drive emotional connections with consumers, resulting in social shareability." They develop strategies, content and influencer campaigns for quite a few big-name clients, including Apple, Sony Pictures, Nike, Red Bull, Dr Dre, Lady Gaga, and Toyota.
---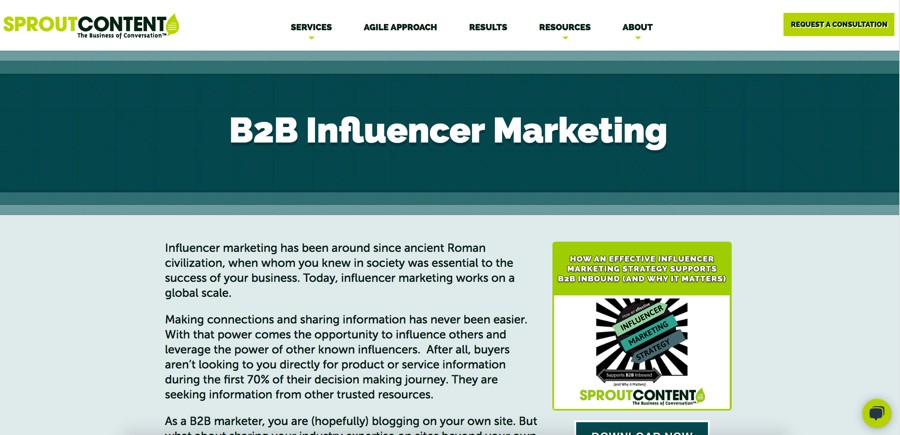 Sprout Content is a Platinum level Hubspot inbound marketing agency that, in an unusual twist, specializes in creating content for businesses in "unglamorous industries". They provide a variety of services including content marketing, inbound marketing, performance content, influencer marketing and web development.
With their focus firmly on unglamorous industry firms, their main influencer marketing impetus tends to be the B2B sector. Sprout Content recognizes that although may B2B firms blog, few have a huge reach with their content. Influencer marketing gives B2B firms a great opportunity to position their content in front of their potential clients' decision makers. They help businesses build up natural relationships with prominent business sites and people influential in their usually narrow niche.
---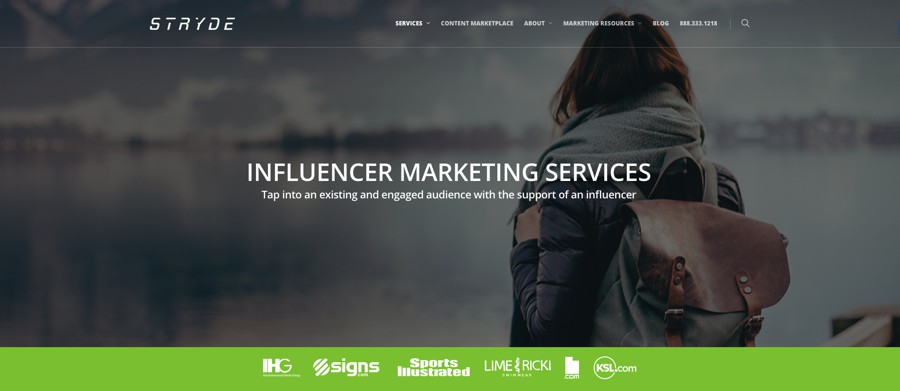 Stryde is an audience focused eCommerce digital marketing agency, based in Salt Lake City, Utah. They work with eCommerce businesses ranging from startups to enterprise sites.
Their list of services includes content marketing, SEO, PPC, social media, and influencer marketing. They believe that success isn't built on one of these areas alone, but that each of the components works to support and feed the others.
This means, for instance, that that may well build up a content strategy and create content as part of their content marketing, optimize it as part of their SEO services, and put together a social media strategy, which includes distributing it via influencer marketing.
The particular services they place under Influencer Marketing are Influencer Identification and Selection, Campaign Creation and Execution, Influencer Outreach, and Performance Tracking. They work with influencers on Facebook, Instagram, and Blogger.
---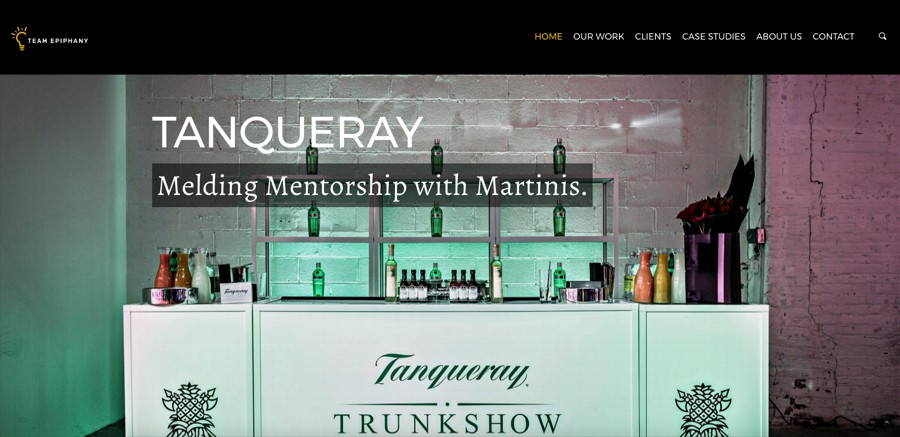 Team Epiphany's website certainly gives an eye-catching first impression of their work. Based in New York and Portland they have managed to snare quite a few big-name clients in their decade of operation. These include Moet & Chandon, Heineken, Cadillac, HPNOTIQ, Nike, Hennessy, JBL, HBO, and Tanqueray.
They describe themselves as creating specialized marketing poised for mass adoption and are about amplifying influence and leveraging the networks that create it. Their areas of focus are Creative Services, Brand Strategy, Experiential (things like special events and pop-ups) Social Media, Influencer Engagement, and Public Relations.
One example of their influencer marketing was for Cadillac. In recognition that luxury nowadays tends to be subtle, rather than flashy, Team Epiphany wanted their luxury Cadillac promotion to appear to be aimed at "the select few". Hence, they utilized influencers who appealed to those "select few", for example, fashion influencers. They also wanted to ensure that this emphasized the modern new world and ensured that they used a genuinely multicultural selection of influencers. For New York Auto Week, Team Epiphany highlighted Cadillac's ELR – an upscale electrified coupe – by utilizing four highly-influential photographers—Liz Eswein, DJ D-Nice, Jonathan Mannion, and 13th Witness to document a week with the car.
---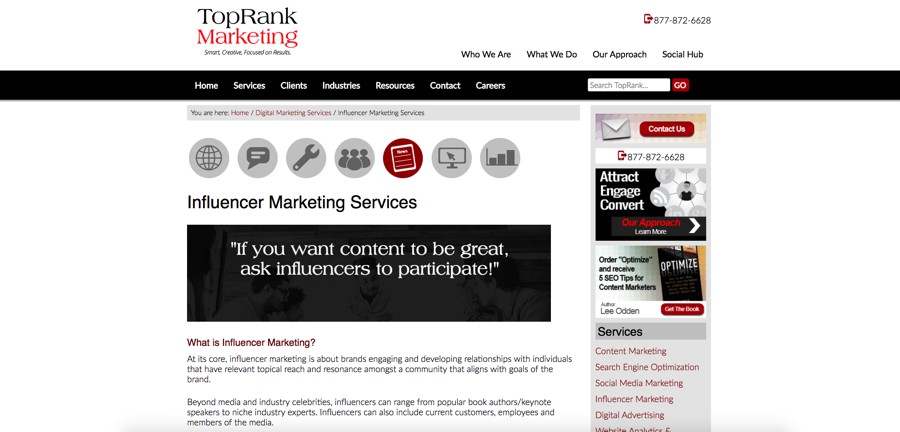 Compared to many of the agencies listed here, TopRank Marketing is positively ancient, having been established in 2001. They are a digital marketing agency, with a large emphasis on B2B companies, although they do work for B2C companies as well. Their clients range from funded start-ups to Fortune 50 brands.
They use what they call the Optimize 360 Model as their marketing approach – which is basically Attract, Engage and Convert. They place their digital marketing services into the following categories: Content Marketing, Search Engine Optimization, Social Media Marketing, Influencer Marketing, Digital Advertising, and Website Analytics & Conversion Optimization.
In terms of influencer marketing, they believe the key to ROI for brand and influencer relationships is content. They believe that by brands collaborating with influencers over content things can be mutually beneficial. They offer a variety of influencer marketing services, including:
Integrated Influencer Marketing Strategy
Content Development with Leading Industry Influencers
Influencer Identification, Recruiting & Outreach
Full Influencer Marketing Program Implementation
Influencer Content Amplification
---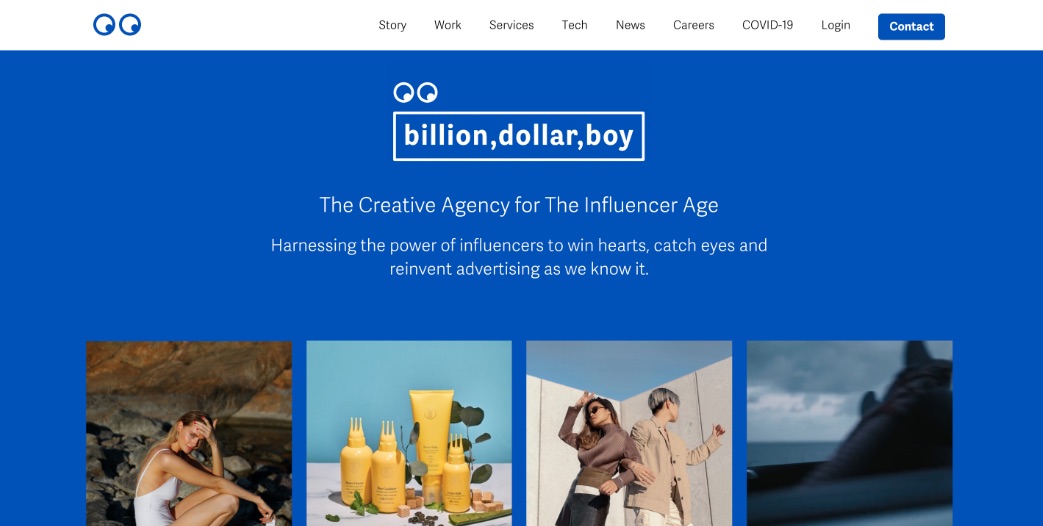 Billion Dollar Boy is a hyper-caffeinated transatlantic creative agency with 50+ employees and counting in London, New York, and New Orleans. The company actively creates campaigns across 7 continents with top brands spanning categories of beauty, fashion, retail, lifestyle, consumer goods, food and beverage, and automotive. The team is harnessing the power of influencers to win hearts, catch eyes, and reinvent advertising as we know it.
Their creative strategists work with brands to choose suitable influencers who will develop creative ideas for campaigns, and they also work with the influencers to decide on the optimal distribution strategies. Billion Dollar Boy believes in equality, diversity and inclusivity in influencer marketing. They use their software, Companion to determine the best influencer fit for any campaign and partner with Nielsen to do brand studies measuring uplift.
---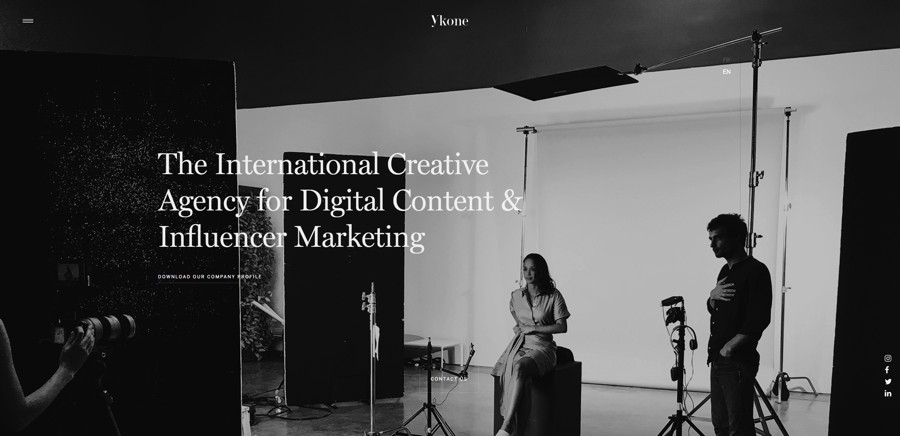 Ykone is an international creative agency for digital content and influencer marketing, with an emphasis on fashion, luxury and beauty brands. They have offices in Paris, Berlin, London, New York, Copenhagen, and Bangalore.
They develop influencer campaigns for well-known brands, such as L'Oreal Paris, Dior, Swarovski, and Marc Jacobs.
They use their proprietary software, Campaygn, to analyze the audience and universe of more than 50,000 influencers, with 1.2 billion followers, in real time. Ykone then adds additional information to the database for the top 5,000 influencers manually.
The company was founded by Olivier Billon in 2008 and claims to be the first influencer marketing agency. The "Y" in the company's name represents Generation Y, who were the young adults finding a love of fashion, luxury, and beauty at the time Ykone was created.
---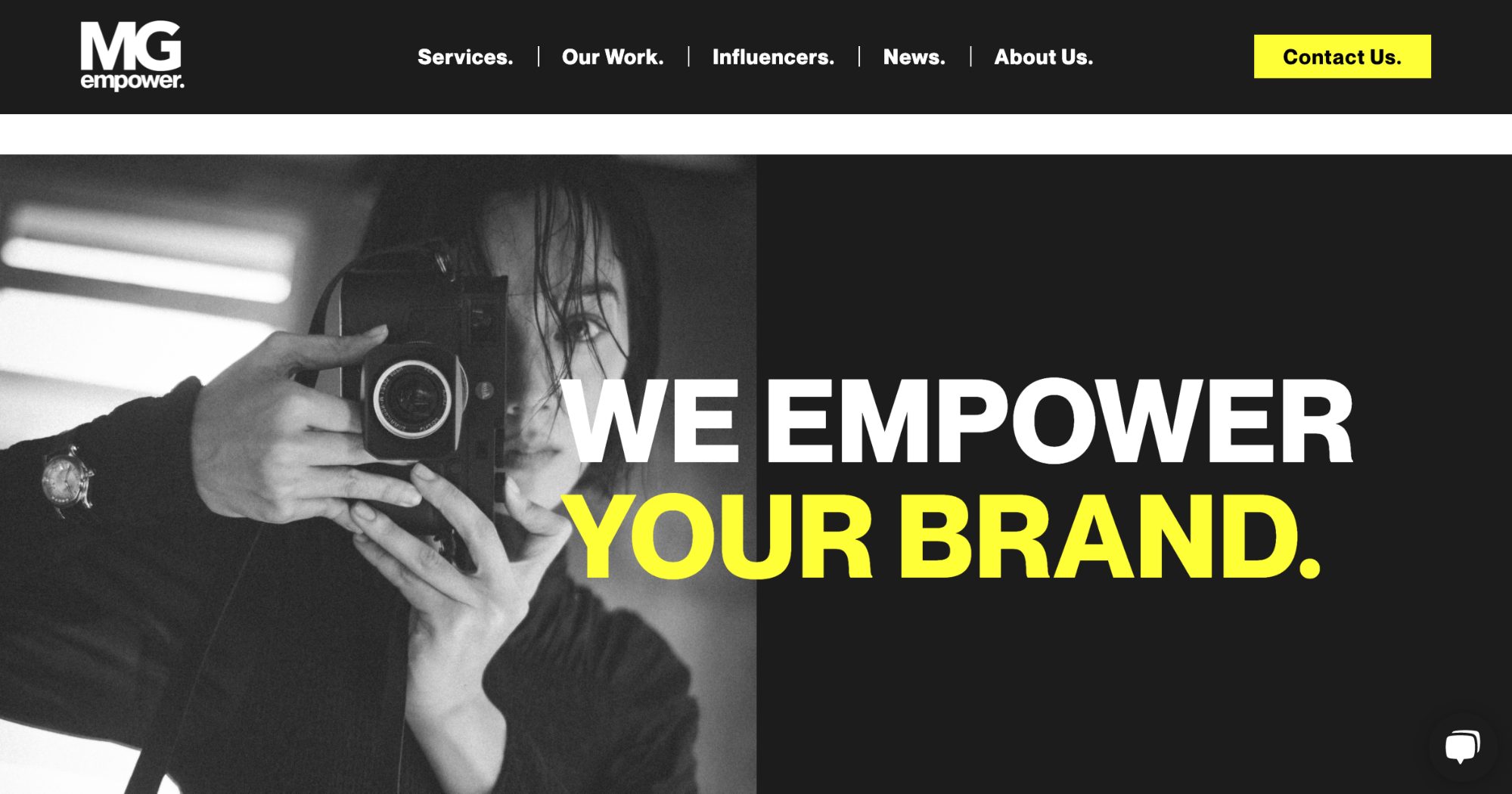 MG Empower is a global influencer marketing agency that empowers brands to go #AboveAndBeyond.
We help brands grow their businesses, reach new audiences and make an impact with digital and influencer marketing.
We believe in the power of people to drive business value through social, experiential and innovation. Our 360* approach to brand storytelling and co-creation overcomes the initial brief and encourages greater ROI.
MG Empower is present in five global markets: Europe, LATAM, USA, SEA, India and Russia. It allows us to offer a diverse team – strategic, innovative and results-driven with a personal human touch on every project.
---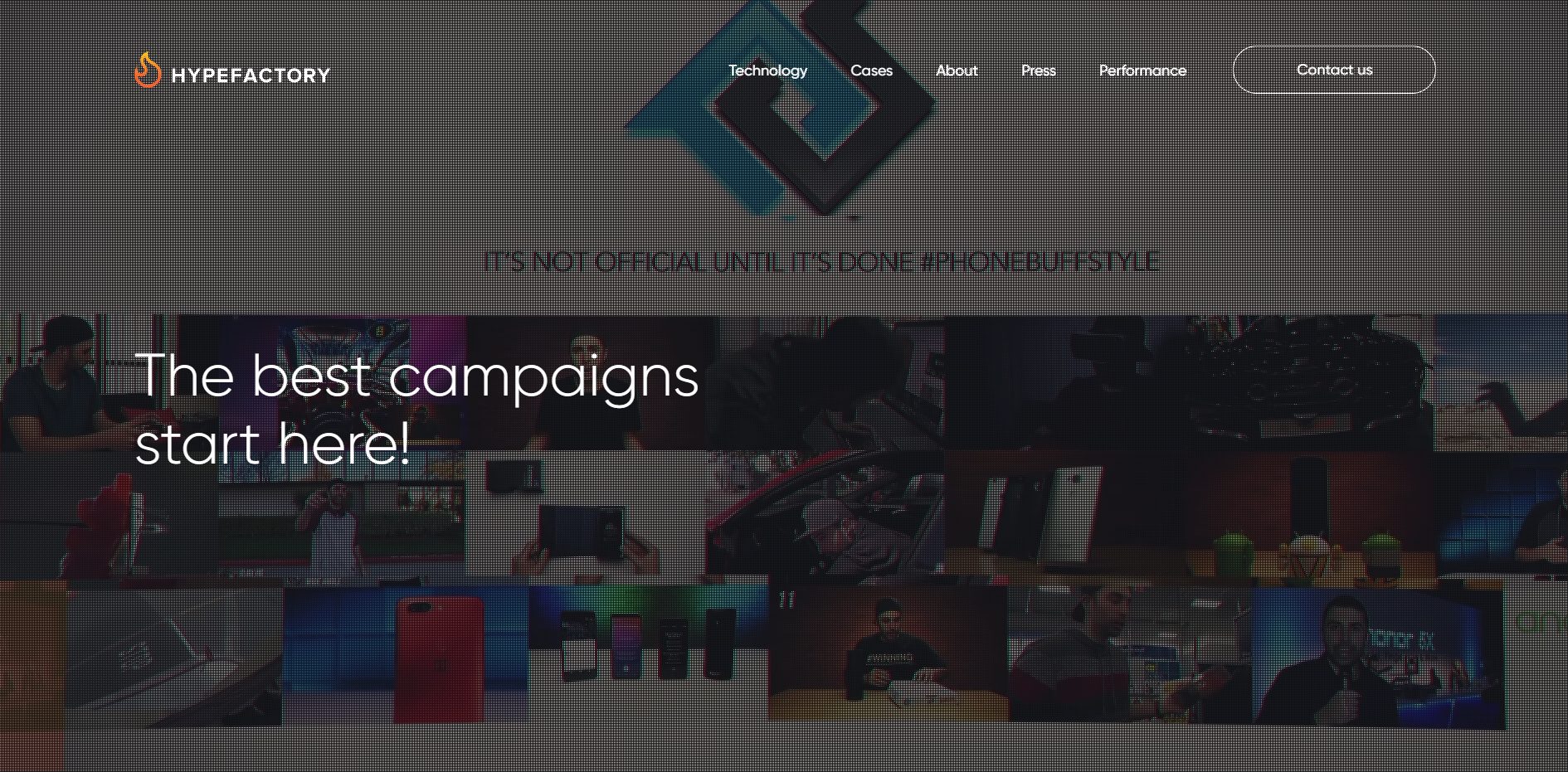 HypeFactory operates at the intersection of technology and creativity. They are a one-stop-shop influencer marketing agency that delivers your promotional goals. The agency has created the HypeAuditor tool, which they use to discover the best influencers for their clients. In addition, they use advanced artificial intelligence technologies to select from millions of influencers and find the best fit for your objectives.
HypeFactory uses comprehensive and accurate data to identify influencers best suited for your marketing campaign. They measure Audience Quality Scores, Channel Quality Scores, and many other factors. They apply a wide range of unconventional parameters to find the right audience before taking target action. As a result, they can accurately predict the outcome before a campaign even starts. In turn, the agency shares the results of its campaigns with HypeAuditor to continuously enhance analytic potential.
They adapt their campaigns to use the advantage of each social platform. With Instagram, they recognize the majority of users best interact with colorful and engaging content. So HypeFactory uses stunning images, engaging swipe-up links, as well as paid social and promo codes. On YouTube, the agency develops intriguing and engaging content to introduce your product. They make sponsored videos, game reviews, pre-roll ads, major worldwide launches, and more. They recognize that TikTok is the number one platform to run sponsored challenges. HypeFactory creates viral content to engage as many users as possible and applies promo codes. Finally, they see Twitch as the perfect choice to reach gamers and cyber athletes. They see that integrated content in streams can deliver incredible levels of engagement, with up to 30% of the audience engaging directly with ads.
---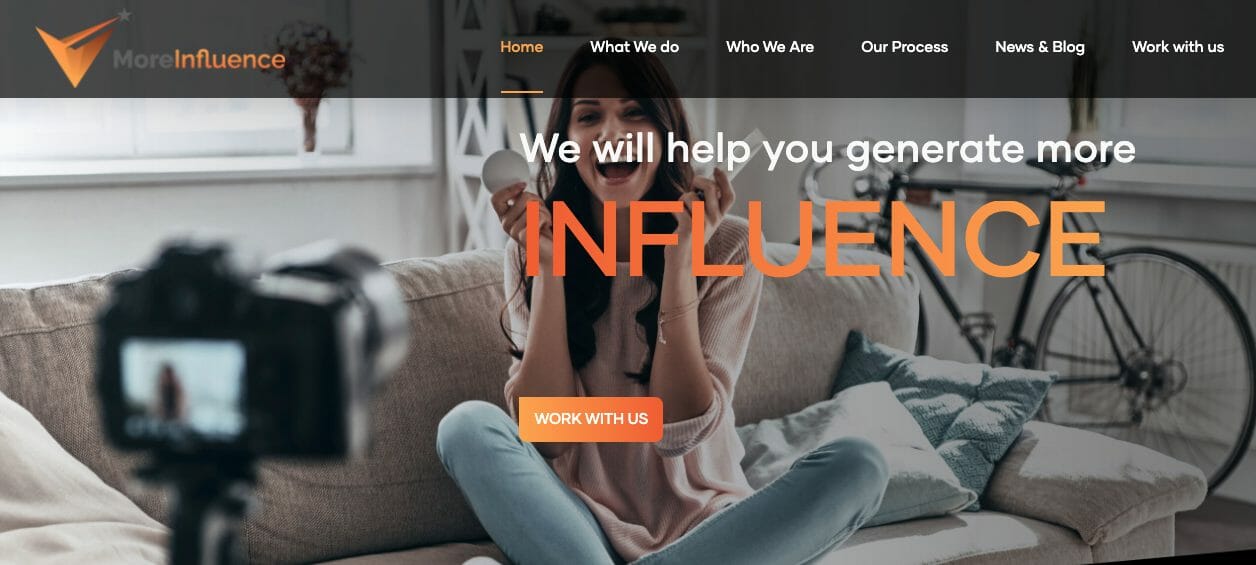 MoreInfluence aims to help you drive more sales, attain higher revenue, and have more Influence. They offer 35 years of marketing strategy experience combined with cutting-edge data analytics. 
In early 2022 MoreInfluence merged with and restructured independent influencer marketing agency Boomopolis. Their strategy involves using popular influencers to create and distribute engaging branded content across the web, giving their clients brand visibility, awareness, and increased online reach. The two agencies have grown their collective network of influencers and industry experience to create an expanded team with specialized, in-depth influencer marketing knowledge.
Their team of industry-specific social media experts offers each brand a customized solution and unique strategies. They work with influencers on Instagram, YouTube, Facebook, Snapchat, Twitter, TikTok, and other up-and-coming platforms.
MoreInfluence's data-driven internal analytics process combines with comprehensive external search platforms to ensure you team up with the best influencers to set your brand up for present and future success. They see influencer marketing as a six-step process: Discovery → Proposal → Influencer Approval → Content Approval → Posts Go Live → Data and Reporting.
---
Frequently Asked Questions
What does an influencer marketing agency do?
An influencer marketing agency acts as a middleman during the influencer marketing process. Many influencer marketing agencies are full-service and can assist brands through all the stages of the influencer marketing process. This means they can help them with influencer discovery, influencer management, content creation, and analyzing and reporting on the success of a campaign.
Is there an influencer marketing agency that specializes in gaming?
You can check out Cloutboost. It is a specialist gaming influencer agency that markets brands by taking advantage of the power or Twitch streamers and YouTube influencers. Their services include contacting, recruiting and negotiating with influencers; creating large-scale ambassador programs and predicting trends.
What are the best influencer marketing agencies in New York?
You can try Kairos Media, Obviously, Open Influence, The Outland Group, and Team Epiphany. These are some of the leading influencer marketing agencies with offices in New York. Kairos Media, Obviously, The Outland Group and Open Influence are full-service creative influencer marketing agencies, while Team Epiphany specializes in creative services, brand strategy, influencer engagement and public relations.
What are the top influencer marketing agencies in Europe?
You can check out Zorka, Jin, Passion Digital and Ykone. These are some of the leading influencer marketing agencies with offices across Europe. Zorka has offices in Minsk, Belarus, and Cyprus. Jin and Ykone have offices in Paris and Germany, while Passion Digital operates in Spain. In addition to influencer marketing, these agencies also offer other digital services that include reputation management, media buying services, web design and pay per click.
Should you work with an influencer marketing agency?
If you find the process of discovering influencers, contacting them, picking the most appropriate ones and running campaigns with your chosen influencers takes too much time, it is a good idea to work with an influencer marketing agency. Many influencer marketing agencies are full-service, in other words they can help brands with every stage of the influencer marketing process. Agencies have been part of marketing for many years and can offer valuable services.