Advertising Disclosure
Advertising disclosure:
Our partners compensate us. This may influence which products or services we review (also where and how those products appear on the site), this in no way affects our recommendations or the advice we offer. Our reviews are based on years of experience and countless hours of research. Our partners cannot pay us to guarantee favorable reviews of their products or services.
If you're a business owner in the fashion industry, then you know that influencer marketing is crucial to your success. These days, consumers do not just get influenced by the creativity of fashion designers, the quality of clothing brands, and the workings of traditional advertising; they are also heavily influenced by the people they see wearing those brands.
The importance of partnering with the top fashion influencer marketing agencies can't be overstated. Not only will these agencies have the necessary experience and networks to get your brand in front of the right people, but they will also be able to help you tap into new markets and understand the latest trends. To help you find the best agency for your needs, we've compiled a list of the top 11 fashion influencer marketing agencies that are at the top of their game and can help you take your fashion business to the next level.
---
Leading Fashion Influencer Marketing Agencies for Your Brand to Follow:
---
What Is Fashion Marketing?
When you google the term 'fashion marketing,' it is used to describe the various activities involved in promoting a fashion product or brand. This includes everything from design and production to advertising and public relations. For a fashion business to be successful, it is essential to have a well-planned marketing strategy in place.
There are many different aspects of fashion marketing, but some of the most important include:
Product development:

This is the process of creating new fashion products that will be appealing to customers. It involves research, design, and manufacture.

Market research:

Businesses that are in fashion need to know who their target market is and what they are looking for. With enough market research, you get a better understanding of what consumers want and need.

Advertising:

This is a key element of any marketing campaign. Fashion businesses need to create ads that will capture the attention of consumers and make them want to buy their products.

Public relations:

This helps to create a positive image for the company and its products. It can involve things like organizing events, giving interviews, and writing press releases.

Sales:

Ultimately, the goal of any marketing campaign is to increase sales. Just like any business, the need to generate interest in their products and eventually revenue is what keeps a fashion company afloat.
Nowadays, influential marketing has taken the top spot when it comes to fashion marketing strategies. Obviously, the aspects listed above are important, but they don't compare to the power that an influencer has when it comes to swaying fashion trends.
---
Top Fashion Influencer Marketing Agencies to Follow in 2023
An influencer network is a powerful tool that can be used by any business. Global brands in the fashion industry are not just looking at boosting their branding and image with good marketing, but they are also looking for ways to tap into the power of influencers. Below are the 11 top fashion influencer marketing agencies that you should be following in 2023:
---
---
---
---
---
---
---
---
---
---
---
Why Fashion Influencer Marketing Is on the Rise
These days, fashion is all about personal style. Consumers want to see what their favorite influencers are wearing and how they style it. This trend has led to a rise in fashion influencer marketing. In fact, influencer marketing is forecast to grow to over $16 billion by 2022. This means that more and more businesses are turning to influencers to help promote their products.
Here are five reasons why fashion influencer marketing is on the rise: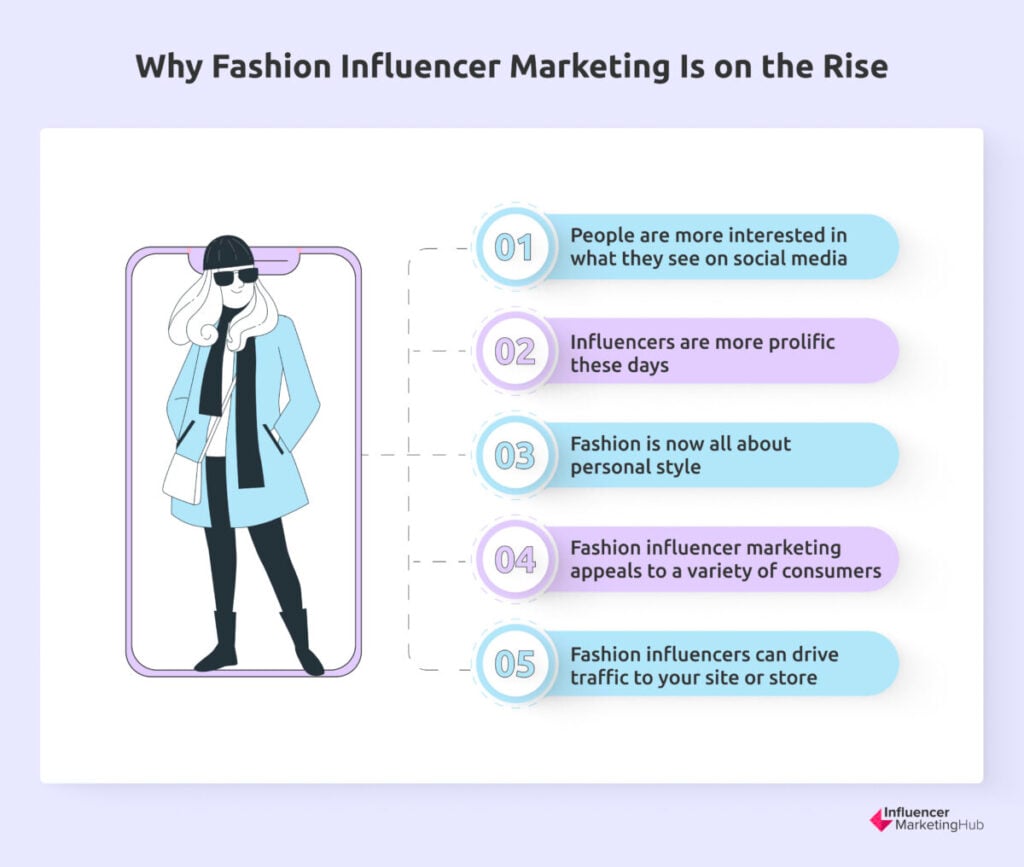 1. People are more interested in what they see on social media than ever before
Consumers today are incredibly connected, which means they are constantly monitoring what is being said online. This includes everything from politics to celebrities to fashion trends. Consequently, when you see an influential person wearing your product, it gives consumers a sense of legitimacy and trustworthiness—two key factors when it comes to purchasing anything online or in-store.
2. Influencers are more prolific these days
Back in the day, one or two influential people could make a big impact on fashion trends. However, today's influencers are more prolific and have larger followings than ever before. This means that they can spark wider fashion trend changes with just a few posts or interviews.
3. Fashion is now all about personal style
When it comes to clothing, consumers no longer feel constrained by what society dictates as "in style" or "the latest thing." As a result, there is an increased demand for fashion influencers who can help consumers embrace their personal style identity.
4. Fashion influencer marketing appeals to a variety of consumers
While some people may be interested in learning about the latest fashion trends, others simply want to look stylish and fashionable without spending a fortune. This explains why fashion influencer marketing is popular with both Generation Z and millennials, who are especially active on social media.
5. Fashion influencers can drive traffic to your site or store
One of the main benefits of working with an influential fashion blogger or influencer is the ability to drive traffic to your website or store. This can be done through posts featuring your product, interviews with customers who have purchased it, or even just general trend coverage.
Truly, engaging with the top influencers in fashion allows you to tap into this trend and reach a wider audience. Not only that, but influencer marketing is also an effective way to build brand awareness and create long-term relationships with customers.
---
Final Thoughts
Doing business in the fashion industry requires both creativity and strategic thinking. In this day and age, it is essential to engage with the top fashion influencers and tap into their vast knowledge to reach a wider audience. By doing so, you can ensure that your product or brand is seen as innovative and stylish—two traits that are surefire ways to attract customers.
The list above provides a few of the best fashion influencer marketing agencies out there. There are so many options when it comes to finding the right agency for your brand, but once you select one, you can ensure to stay updated with the latest fashion trends and marketing opportunities. At the end of the day, it is all about getting the most out of your investment and leveraging what is best for your business.
Frequently Asked Questions
Who is the biggest fashion influencer?
The most prominent and popular fashion influencers include:
Xenia Adonts @xeniaadonts with 2 million followers

Jeanne Damas @jeannedamas with 1.5 million followers

Chriselle Lim @chrisellelim with 1.4 million followers

Julia Engel @JuliaBerolzheimer with 1.3 million followers
What is the best influencer marketing platform?
These are the top influencer marketing platforms to power your campaigns:
Grin

Creator.co

Upfluence

Traackr

IMAI

LTK
Which companies pay influencers the most?
These companies pay influencers to create testimonials, unboxing videos, ads, and more:
Fabletics

Fashion Nova

Flat Tummy Co

Goli Gummy

Lululemon

Walmart

PrettyLittleThing
What channels are most popular for influencer marketing?
The best channels for influencer marketing include:
Instagram

YouTube

TikTok

Facebook

Snapchat

Pinterest and Twitter