As a brand, your goal is to get more eyes on your product or service. So you have two options: play the long game with social media marketing and hope you get attention. Or take the fast-paced route and buy the attention you're looking for.
If you're a startup or looking to get quick results, then the latter is what you'll likely choose. And who can blame you? When you need fast growth or revenue, advertising is the best route. Why else would corporations throw millions at it annually?
Thankfully, you can get amazing results for a fraction of that using tools like YouTube advertising. But is it right for you? How do you get started? And what are the best practices? That's what we'll dive into today.
---
Your YouTube Advertising Guide to Building Campaigns that Convert:
---
What are the benefits of YouTube advertising?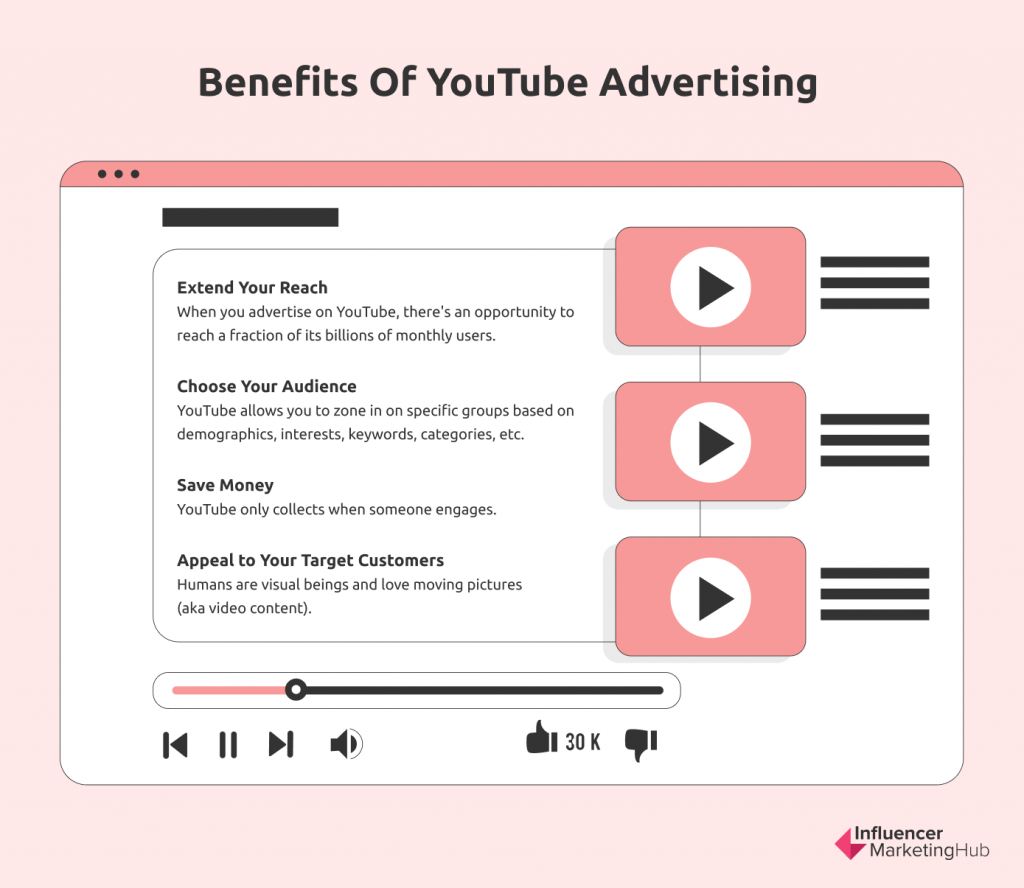 YouTube advertising gives you an opportunity to reach millions within hours. It boasts over two billion unique users monthly, so it's easily touted as the modern-day radio or television platform (without the million-dollar ad spend).
When done effectively, you can see increased sales. Here's an overview of the benefits YouTube ads offers to brands.
Extend your reach
"Like father, like son." That's what we see when we look at Google and its "child" Youtube. Like Google, YouTube sees exceptional traffic numbers each day. The only platform beating it today is Facebook, which is another channel you should invest in (but only if your audience uses it).
When you advertise on YouTube, there's an opportunity to reach a fraction of its billions of monthly users.
Nolah Mattress found this to be true in its YouTube advertising campaigns. According to Stephen Light, Co-Owner and CMO at Nolah Mattress, using video overlay ads allows them to reach massive audiences without disrupting the user's video experience. They use it to promote huge sales while spending less than the cost of a video ad.
But they didn't learn this right away:
"A mistake we made during our first campaign was using a CTA that focused on the product's experience: an excellent night's sleep. It's true, but it wasn't driving clicks. It wasn't specific enough, or attention-grabbing. When we switched over to promoting sales, e.g. $700 off, we achieved better results. The CTA offers greater value, is more succinct, and focuses on conversion rather than awareness." — Stephen Light

Reaching large audiences is great. But "everyone" isn't your target audience, which is the next benefit of using YouTube advertising.
Choose your audience
YouTube gives you access to billions of people. And its platform allows you to zone in on specific groups based on demographics, interests, keywords, categories, etc. This means you can create custom audiences that match your ideal customer base.
This increases your clicks and potential conversions (making every $1 spent worth it).
Save money
Advertising is about spending money, not saving it. But YouTube understands the plight of the advertiser that spends (slash) wastes thousands on views that don't convert. So instead of taking your money for every eye-ball that lands on your ad, YouTube only collects when someone engages.
Now, this is only true for certain types of ads (e.g. TrueView ads). There are two types—in-stream and video discovery ads. In-stream works like this: when someone watches at least 30 seconds (if your ad's longer), then you pay. If you have a discovery ad, then you only pay for clicks.
Appeal to your target customers
Humans are visual beings—as we all keep hearing. And it's true, we love images—just look at the billions of uploads and endless scrolling on TikTok, Instagram, and Snapchat. The only thing we love more than pictures are moving pictures (aka video content).
With YouTube video ads, you can capture your audience's attention (thanks to audience targeting and your amazing advertising skills) and drive them to engage.
---
How YouTube advertising works
YouTube advertising requires you to have a Google Ads account. So to start, you'll need to:
Sign up/in to Google Ads

Optimize them

Publish them
Then watch the dollars roll in. If only it were so simple. Well, it kind of is if you're familiar with copywriting (and know your target audience well). YouTube ads are the medium, giving great advertisers an opportunity to explode sales.
But before you get there, you need to set campaign goals, create a bid strategy, and select the campaign type. There are different types of YouTube ads and specifications to choose from. For instance, there are:
Skippable ads or non-skippable video ads

Bumper ads

Display ads

Overlay ads

TrueView ads

Video discovery ads

In-stream ads
Unsure which is best? Experiment consistently to see what generates the best outcomes. What works today may change tomorrow, so always be testing. And if you don't want too much control, then use Google Smart campaigns to automate your campaigns.
---
So does YouTube advertising really work?
Do you get results from YouTube advertising? Absolutely. Why else would there be seemingly endless ad interruptions on YouTube? Surely, you're familiar with the skip button by now. But wait, isn't that a sign YouTube ads don't work?
Not at all. Sometimes a YouTube ad hits home and you decide to click it. On most occasions, it's because it's in line with the content you watch. For example, an ad for sneakers on a fashion channel. Or better yet, an unboxing video for sneakers showing an ad for sneakers. Of course, it doesn't have to be that specific. If you're targeting health-conscious folks with your nut butter, then advertising on fitness channels is good enough. It's all about the right message at the right time. When you align those with a decent budget—you got yourself a winner.
Speaking of campaign budget, let's look at the advertising cost for YouTube.
---
How much does a YouTube ad cost?
It depends. Sorry, I know it's not the answer you wanted. But there's no specific dollar amount for each video ad format or type. It comes down to several factors, like the keywords you bid on and the level of competition.
If you're in a market that's hot, then expect to spend a few dollars per click, compared to a few cents for a new or untapped industry. Here's an idea of what the average youtube ad costs: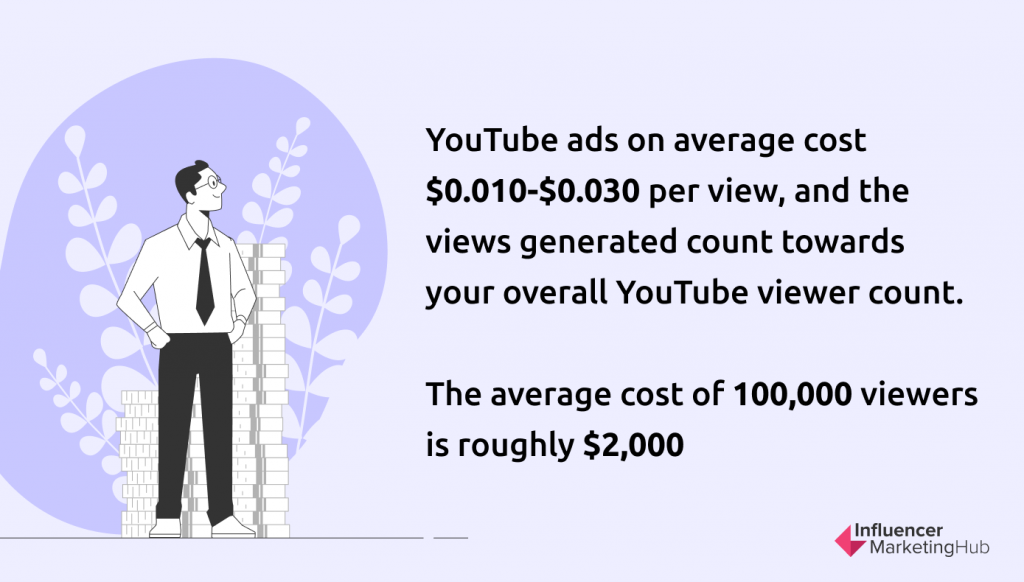 YouTube ads on average cost $0.010-$0.030 per view, and the views generated count towards your overall YouTube viewer count.

The average cost of 100,000 viewers is roughly $2,000
Of course, like gas prices, inflation and deflation can hit anytime. So you'll have to develop a dynamic bidding strategy. The good news is there's no minimum budget to begin YouTube advertising. And you can change your budget after creating campaigns.
---
What makes a good YouTube ad?
Having a sizeable daily budget will help. But you won't get far without a compelling YouTube ad. The question now is what makes an ad captivating to audiences? It comes down to several elements.
Catchy intro
The first three seconds are critical, especially if it's a skippable ad. The quicker you can capture the attention of prospects, the better. Ask a question that plagues them. Or show a scenario they're all too familiar with.
For example, if you sell bio-degradable baby diapers, then starting the ad with a dumpsite showing thousands of diapers piled up and text displaying a crazy (but true) stat like:
"Did you know disposable baby diapers take 500 years to decompose?" or "500 million tons of diapers are sitting in wastelands and will triple by 2050."
This will capture the attention of moms and dads that find this an issue, or who never thought twice about tossing a pamper into a diaper pail.
Follow up with a solution
You got your audience's attention. Now reel them in with a solution. Wait too long and you'll lose them. For instance, using our biodegradable diaper example, you can continue with the devastation this causes to the environment and how they eat up valuable space.
But wait, there's a solution: Our biodegradable diapers are made with bamboo, which breaks down within months. Not only that, it's plant-based, which means it enriches the earth, instead of killing it.
Show moms and dads using the diapers and throwing them away happily, knowing they're helping the environment.
Who doesn't want to feel like a hero—especially a new mom or dad?
Offer a deal and a link before the end of the ad
Everything sounds spectacular, but maybe they're still on the fence. Offer a discount or freebie to test the diaper. Now, you got them right where you want them. Give them the out they're looking for by displaying the link to capture the deal right now.
Then make sure the checkout process is simple with a few steps, so they don't back out.
Use high-quality cameras
If you're using videos or still-shots, ensure they're high quality. If there's one thing YouTubers hate, it's low-quality imagery. So much so, they'll click away from a YouTube video if it isn't in HD. So imagine what they'll do (or worse, not do) with an ad.
If you need help designing your ads, then consider using a video ad maker.
Include voice-over text
Some folks like to watch YouTube videos on mute—don't miss the opportunity to reach them. Include closed captions or on-screen text so they see and understand your offer.
Make the visuals eye-catching
Colors capture attention—but this isn't to say bright colors are the best option. Stay on-brand, while using tones that catch the eye. For instance, the diaper ad can begin with a black-and-white image of a dump with piles of orange diapers to bring attention to them.
Then in the visuals with the babies and parents using the diapers, it can be fresh and sunny—maybe baby blues and pastel greens, mixed with yellow, instilling happiness.
This is where your advertising savvy and psychology lessons come into play.
Be inclusive
If you're not creating variations of your YouTube ads, then make your one as inclusive as possible. In the diaper advertisement, show both moms and dads, and families of different cultures and lifestyles. Know your audience and display them in your ads, so they see themselves using your product.
---
How to optimize YouTube ads
Optimizing YouTube ads isn't a one-time task. It's an ongoing initiative to ensure you reach campaign goals. To start, you want to:
Create videos within the specifications of the video ad type

Select keywords your audience searches on YouTube

Experiment with different times and days to run ads

Test different bidding strategies

Try different audiences (you may find a hidden gem)

See if other YouTube ad formats work better
Allow each experiment to run for several weeks before making a determination.
---
Real-world example: How Custom Neon uses YouTube ads in 2022
Neon signs are the epitome of advertising. At one time, they attracted people like moths to a flame. But not anymore. Now, neon signs need their own ads to get any burn.
That's why Custom Neon started using YouTube ads to get the word out about its products. The company sells a variety of water-proof custom-designed neon signs.
So to drive business to their website, they created a range of YouTube ads between 18 seconds and approx. two minutes long. Each highlights a unique product offering. For instance, business signs:
Waterproof outdoor signs:
Wedding signs:
And even signs for kids' room and other interiors:
The advertising campaign goal: Build brand awareness and extend reach to new and existing target audiences. Having separate ads for each target audience is smart. It ensures relevance and speaks to a specific group.
As for their budget, their average cost per view is 0.14 (AUD):
"It changes based on the current campaign and our goals for YouTube advertising. Our most recent campaign started in mid-January, and we're looking at a monthly cost of roughly $25,000AUD." — Amelia Munday, Marketing Manager at
Custom Neon
Since the goal is to increase brand visibility, they're extremely happy with the views, impressions, and leads generated.
But not everything was sunshine and rainbows. Mistakes happened along the way:
"We found it's easy to target too broad of an audience—something that we eventually fixed by introducing more targeted keyword and negative keyword lists. When left to their own devices, YouTube ads often spend a lot of your budget on 'empty' impressions by targeting individuals outside of your key demographics. Using audience lists, in combination with keyword lists, ensures your ads have the best possible chance to generate results for your business." — Amelia Munday
And as a parting tip to other YouTube advertisers, Munday recommends creating multiple YouTube ads and ad groups to target audiences at different levels of the purchasing funnel.
"We set up multiple ad groups to target affinity audiences, in-market audiences, and retargeting audiences—each features their own creatives and approaches to maximize results. It's important to constantly review engagement rates, tailor creatives and experiment with new call-to-actions or product descriptions to improve view rates and better overall campaign results." — Amelia Munday
---
Build a YouTube video ad campaign that converts
There's no one way to build a YouTube marketing campaign. Like with any marketing initiative, you need to watch, learn, and apply. Reading your audience and experimenting is key to achieving better results.
This may require using different video ad content. Or something as simple as changing the colors of your CTA button. If you don't have time to play around and tweak your video reach campaigns, then consider hiring a video marketing agency.
Ready to get started? Use our guide to set up your Google Ads account.
Frequently Asked Questions
What happens when you switch to expert mode?
When you set up a YouTube ad campaign, Google Ads has "Smart Campaigns," which helps newbies make the most of their campaigns via automation. By switching from Smart Mode to Expert Mode, you unlock the full capabilities of your ads. You'll have complete control over your budget, bidding strategy, etc. and it unlocks access to different types (Video, Search, App, Display, and Shopping).
Note: Once you switch to Expert Mode you can't revert back to Smart Mode.
How do you optimize your YouTube videos for conversions?
To optimize your YouTube videos for conversions, do the following:
Include captions for those who watch videos without sound
Know your audience and make the ad relevant
Use audience targeting features
Include a clear CTA
Capture attention within the first three seconds
Wait two weeks before making changes to your ads (to allow time to see results)
What is the minimum budget to begin YouTube Advertising?
You can start YouTube advertising with any budget. Some begin bidding as low as $10/day. The goal is to see results, so do the math to see how many clicks you need to see traffic and conversions. For instance, if you only put $10/week and the CPC is $1.50, then you're only driving six people per week. Not much room to see conversions.
Can I change my budget after creating a YouTube advertising campaign?
Yes, you can change your budget after creating a YouTube advertising campaign.