Instagram Stories are a fun way to engage your followers and share content that doesn't take hours to make. But while you can use it to share unedited, in-the-moment photos and videos, it can soon get boring for your audience. If you want to keep your followers engaged using Instagram Stories, you also need to plan ahead and get a little creative.
This goes beyond just creating beautiful Instagram Stories and involves keeping the content itself fun, fresh, and interactive. Here are 29 creative Instagram Story ideas to inspire you:
---
Creative Instagram Story Ideas:
---
1. Promote a Discount with Fun Stickers
For brands and entrepreneurs, Instagram Stories are a great place to share a promotion or discount. While you may be doing this already, you can get more creative by including a fun sticker to make the offer pop. Animated stickers stand out and put a spotlight on the discount.
The Ghibli Premium Store account regularly shares Stories with fun stickers that highlight the sale.
You can even add a timer sticker counting down to the end of your sale. This is perfect for adding urgency to your Story and getting more people to grab the offer before it ends.
---
2. Introduce People to Your Team
Due to their candid nature, Instagram Stories give you the perfect opportunity to get more up close and personal. That means putting a spotlight on the people behind the business (or the social media team). This isn't just for businesses but also for content creators and entrepreneurs.
Use Instagram Stories to introduce new team members or share an employee story. You could even start an employee takeover series where each employee shares a "day in the life of" posts throughout the day. This helps to put a human face to your brand and build a closer relationship with your audience.
---
3. Create Themed Spotlight Stories
Creating Stories centered on events that your followers care about is a great way to strengthen your connection with them. You can use Instagram Stories to put a spotlight on people, businesses, and products themed around month-long observances like Black History Month, Mental Health Awareness Month, Pride Month, and so on.
For Black History Month, Apartment Therapy used Instagram Stories to create a Black-Owned Small Business Spotlight series. In this series, black small business owners like Megan of @everythineantiques shares her story to tell people a little bit about her business and take them through a day in her life as a small business owner.
---
4. Put Your Customers in the Spotlight
Instagram Stories are meant to help you connect with your audience. And what better way to connect with them than by putting them in the spotlight? Use Stories to share raving reviews, comments, posts, and Stories from your customers. You could even use before-and-after photos and testimonials in your Stories. This type of user-generated content not only helps existing customers feel appreciated but also adds social proof to win the trust of prospective customers.
Drunk Elephant, for instance, uses Stories to share customer photos featuring their products. They tag the customers in each post and even share a shopping link so their followers can get the same product.
---
5. Get Creative with Your Polls
With the option to vote between two options, polls are a great way to keep your followers engaged. Get creative with your polls on Instagram and use them as a way to understand your audience better.
If you're running out of content ideas, conduct polls and get your audience to vote for their favorite types of content. Ask them to vote what they want to see more of from you, for example. You could also get them to vote whether or not they like a new type of content that you're experimenting with.
Polls are also a great way to get a feel of consumer demand. What does your audience need help with? What are they looking for? Do they have any unmet needs? How popular is a certain product compared to another? Regularly conduct polls on your Stories to find out what your customers want.
Amorino Gelato used polls to get people to vote between different sweet treats, helping them gauge what their customers want.
---
6. Count Down to an Important Event
If you have an important event like a product release, an Instagram Live session, or a sale coming up, use the countdown sticker to build anticipation. Your followers can click on the timer and set a reminder so they receive a notification as soon as the event goes live. This is perfect to get your audience excited for an upcoming event while encouraging more participation.
Fenty Beauty, for example, shared a timer counting down to the launch of their new Fenty Icon lipstick line.
---
7. Share Posts/Stories Mentioning You
When another account mentions yours, it adds to your credibility and serves as social proof. It shows your followers that other people are talking about you and are recognizing you. In some cases, it also shows them that people are vouching for you, which can help to build trust. So whenever a customer, influencer, or business mentions you, consider sharing it to your Story.
The Onitsuka Tiger page shared Stories in which influencer accounts mentioned them, thanking them for their Lunar New Year gifts.
---
8. Show How Something Is Made
People love transparency. And Instagram Stories are the perfect place to be more transparent with your followers by showing them how your products are made. In the case of content creators, you can also show how you create your content i.e. the process of how you get inspiration, take photos, and edit your pictures.
Influential artist, @titsayy used her Instagram Stories to show her work in progress and the products she used to create the art. This is a great way to get your followers to join you in your journey whether you're a brand or a content creator.
---
9. Share a Buying Guide
While you may be using Stories to promote your products, get a bit more creative by offering a helpful buying guide instead. This works because you're gently nudging your followers to buy the products without being too pushy. Rather than telling them specifically to "buy this," you're giving them suggestions on what they could buy if they're interested.
For example, a&bé bridal shop shared a buying guide for label dresses that brides to-be can get under $2,000. This is the perfect way to inspire shoppers who are already looking to buy but aren't sure what to get.
You could also make it a themed guide, structuring your suggestions around a certain event. For example, Brit and Co. shared products from AAPI-owned brands to celebrate Lunar New Year.
---
10. Create Fun Graphics with Useful Tips
If you want to keep your audience engaged, it's important to create Stories that add value. This means providing them with something that they would find helpful in their day-to-day lives or their work. To get a little creative with these tips, share them using original and fun graphics that align with your brand's visual identity.
For example, Pattern Brands shared practical tips for DTC brands using original graphics. They kept the tips short and sweet but with plenty of actionable information that their audience will find helpful.
Pro Tip: You can add these tips to your Story Highlights so people can continue to access the information even after 24 hours.
---
11. Get People to Ask Questions
There are various features on Instagram that facilitate interaction with the audience. You can use the Questions sticker to collect questions from fans and answer them for everyone else to see. This is a great way to address frequently asked questions and better educate your audience through fun, interactive elements.
Here's BUXOM Cosmetics answering questions about their new product, the Sweet Guava Scrub.
---
12. Answer Questions Using Video
While you can answer the questions in a text format, you can keep it even more engaging by using videos on Instagram. Collect the questions first and then record a video of you answering the questions. This is perfect for tapping into the visual nature of the platform and keeping your audience visually-stimulated.
---
13. Create a Fun Quiz
Who doesn't love quizzes? Another great way to encourage interactions is by sharing fun quizzes that your followers can play through your Stories. You can use the Instagram Quiz sticker to quiz your followers on fun facts about your brand, products, or industry.
For example, Benefit Cosmetics shared quizzes to see how well their followers knew about the brand's products.
---
14. Collect Feedback Using Emoji Sliders
Whether you're releasing a new product or showcasing your work, getting feedback from your followers is a must. This can help you gauge how interested they are in your product, how excited they are for a new release, or whether they like your work. Plus, it's a way to get them involved in your business or creative process, allowing you to build a stronger connection with them.
Makeup content creator, @serenaaide used this sticker to ask her fans' opinions about her makeup look.
---
15. Share Eye-Catching Buying Inspirations
Your Instagram Stories can be the perfect place to inspire people to shop with you. Share eye-catching photos of your products in a real-world setting to entice your followers. Interior décor items inside an immaculately-decorated home, clothes worn by a style influencer, or kitchen appliances being used to make something can incite the desire to buy in consumers.
McGee & Co. creates "Get the Look" Stories in which they share photos of a room and highlight some of the products they sell within that room. This helps people to visualize how the product would look in real life.
---
16. Start a Trend Using the "Add Yours" Sticker
Another fun way to keep your audience engaged is by starting a trend they can participate in. Use the "Add Yours" sticker to give them a prompt so they can share it to their Stories. To keep things even more exciting, repost their Stories and acknowledge their participation.
---
17. Participate in a Story Trend
Is there a trend that everyone's participating in lately? Maybe people are creating content around a trending hashtag, or maybe they're sharing their old pictures for a "how it started vs. how it's going" Story. If there's any Story trend you can participate in, don't hesitate to jump in on the action. This is a great way to stay relevant and build a stronger connection with your audience.
---
18. Share a Contest or Challenge
An effective way to get people engaged is by offering a chance to get rewarded. That's why contests and challenges should make a regular appearance in your Instagram Stories. Use your Stories to challenge your followers to participate in a contest. To encourage more participation, you could offer a valuable reward such a free subscription or a gift card.
Canva created the #canvadesignchallenge and offered rewards like a 1-year subscription to Canva Pro and a $50 Canva Print voucher.
---
19. Ask for Song Recommendations
Not everything has to be related to your brand or products. Sometimes, you can just create Stories to share your life or ask simple questions. This is a great way for businesses to humanize their brand and for content creators to connect with their audience. For example, show your followers that you value their opinions by asking for song recommendations using the Questions sticker.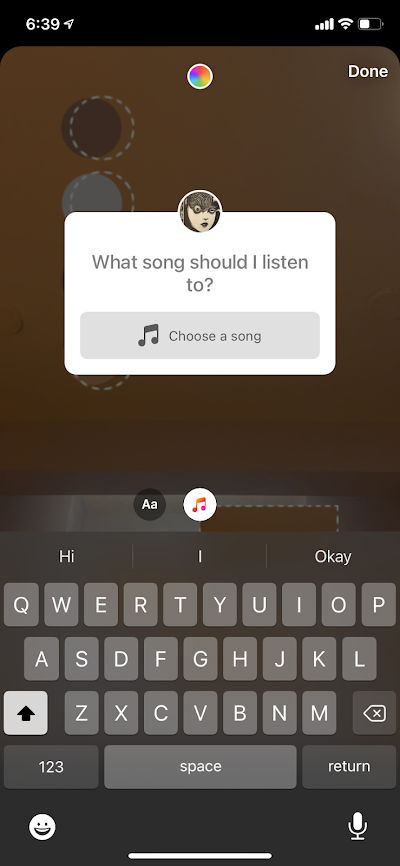 You could take this a step further by choosing a certain theme and putting these recommendations into a playlist. For example, an activewear brand could ask their followers to share their favorite songs to listen to while jogging. They can then share these recommendations as a jogging playlist in their Story highlights.
---
20. Share an Original Survey Template for People to Use
Survey templates on Instagram Stories are a fun way for users to get to know each other. Many content creators and brands create their own templates, fill them out, and share them with their followers. To keep your audience engaged and get to know them a bit better, create a survey template that they can fill out and share in their Stories. This is also a great option for creating brand awareness as more and more people create Stories using your template.
Joey, the content creator behind @shethespy, regularly shares fun templates that her followers can fill out and share with their friends.
---
21. Share Insightful/Useful Content from Other Accounts
To really bring value to your audience, your Stories need to go beyond your own content. If there's any useful or insightful content that your followers might benefit from, share it with them through your Stories. This also helps you build a connection with the content creators as well.
---
22. Highlight Your Loyalty Program
Are you looking for a creative way to engage your Instagram followers and reward their loyalty? Instagram Stories is your ideal platform. With its intimate and personal nature, Stories are perfect for showcasing the unique aspects of your loyalty program. Take inspiration from brands like Pepper, who have used a series of engaging videos in their Story Highlights to explain the benefits of their program. This approach not only informs your followers about the perks they can enjoy but also encourages deeper engagement with your brand.
Using Instagram Stories for your loyalty program also allows for real-time interaction and feedback. You can create polls, ask questions, and even feature user-generated content where followers share their experiences with your program. This not only makes your followers feel valued and heard but also turns them into active participants in your brand's community.
---
23. Offer Exclusive Bonus Content
In the world of Instagram, where content is king, it's important to strike a balance between promotional material and content that genuinely adds value to your followers' lives. This is where Instagram Stories come in handy. You can use this feature to share a variety of engaging content like educational videos, eye-catching infographics, practical how-tos, and creative templates. Brands like REI and Vegan Bowls have successfully used this strategy to provide their followers with content that is not only informative but also highly shareable.
The key to success with this type of content is to ensure it aligns with your brand identity and resonates with your audience's interests. Whether it's a quick recipe, a fitness tip, or a DIY project, your bonus content should be something that your followers find useful and engaging. This approach not only enriches your brand's Instagram presence but also helps in building a loyal and engaged community around your brand.
---
24. Feature Daily Specials and Menus
Instagram Stories are a dynamic and engaging way to feature daily specials and menus, especially if you're in the food and beverage industry. This platform allows you to showcase your offerings in a visually appealing manner, reaching your audience directly and effectively. Restaurants like Via Gelato and Juke Cuisine & Grille have utilized Instagram Stories to highlight their unique culinary creations, from mouth-watering specials to seasonal delicacies. This not only entices customers but also gives them a reason to keep coming back for more.
By regularly updating your Stories with your latest offerings, you keep your audience informed and excited about what's new. This approach is particularly effective for businesses with frequently changing menus or limited-time offers. It creates a sense of urgency and exclusivity, encouraging your followers to visit your establishment or order online before they miss out on something special.
---
25. Organize Engaging Giveaways
Giveaways are a fantastic way to grow your Instagram following and increase engagement on your profile. By promoting your giveaways through Instagram Stories, you can reach a wider audience and generate more excitement around your brand. This method allows for creative storytelling, where you can share the details of the giveaway, highlight the prizes, and create a buzz. Brands like Pinsy Shapewear and NoochPOP have effectively used this strategy, creating multiple Stories that outline the rules, showcase the prizes, and build anticipation for the announcement of the winners.
When hosting a giveaway on Instagram Stories, it's important to keep your audience engaged throughout the process. You can do this by updating them regularly, sharing entries from participants, and even going live to announce the winners. This not only makes the experience more interactive but also helps in maintaining high levels of engagement throughout the duration of the giveaway.
---
26. Boost Your Instagram Posts
Are you looking to increase the visibility of your Instagram posts? Utilizing Stories to promote your posts is an effective strategy. This approach is particularly useful for important announcements, product launches, or promotional campaigns. By creating a Story that teases or highlights the content of your post, you can direct your Story viewers to your profile for more details. Brands like Edward Blumer Paint and Blossom and Rhyme have successfully used this tactic to draw attention to their main posts, thereby increasing their reach and engagement.
This strategy works well because it taps into the audience that may primarily engage with Stories rather than scrolling through their feed. By providing a sneak peek or a compelling call-to-action in your Stories, you can encourage these users to visit your profile and engage with your posts. This not only helps in boosting the performance of your individual posts but also contributes to the overall growth of your Instagram presence.
---
27. Promote Upcoming Livestreams
In today's digital age, livestreams have become an integral part of social media marketing strategies. They offer a unique opportunity for real-time engagement with your audience. To maximize the impact of your livestreams, use Instagram Stories to promote them in advance. This ensures that your followers are aware of the event and can plan to join in. Brands like Zen Art Supplies have effectively used Stories to announce their live events, such as artist interview series, thereby increasing their viewership and engagement.
When promoting your livestreams on Instagram Stories, it's important to provide all the necessary details like the date, time, and topic of the livestream. You can also create a countdown sticker to build anticipation and remind your followers as the event approaches. This not only keeps your audience informed but also creates excitement around your live events.
---
28. Share Educational Insights
Instagram Stories offer a unique platform for sharing educational content in an engaging and digestible format. This is particularly beneficial for brands in industries like beauty, skincare, and technology, where educating customers is crucial. By sharing quick tips, life hacks, or insights about your products, you can provide value to your audience while also showcasing your expertise. Brands like Bushbalm and Paula's Choice have successfully used Stories to educate their customers about product ingredients, usage, and other relevant information.
The advantage of using Stories for educational content is that it allows for a more casual and interactive approach. You can use features like polls, questions, and quizzes to make your educational content more engaging and interactive. This not only helps in educating your audience but also encourages them to interact with your brand, thereby building a stronger relationship with them.
---
29. Promote Real-Life and Virtual Events
Whether you're hosting in-person events or virtual gatherings, Instagram Stories can be a powerful tool to increase awareness and drive attendance. By using Stories, you can provide your followers with all the necessary information about the event, including dates, times, and registration details. Additionally, tagging speakers or special guests and linking to sign-up pages or ticket sites can further boost interest and participation. Examples from Trixie Motel and Thrillist demonstrate how effectively this can be done, showcasing their events and encouraging follower engagement.
When promoting events through Instagram Stories, it's also a great idea to create a sense of excitement and exclusivity. You can do this by sharing behind-the-scenes content, sneak peeks, or exclusive interviews with speakers or performers. This not only keeps your audience engaged but also adds an extra layer of appeal to your event, making it more enticing for your followers to attend or participate.
---
Start Sharing Engaging Stories
There are tons of ways to get creative with your Stories – whether it's by using the interactive stickers or by sharing content that your audience can relate to. Use the ideas above for inspiration and start sharing Instagram Stories that your followers would want to engage with. You can even plan your content for the entire month and schedule your Instagram Stories ahead of time to stay organized.
Frequently Asked Questions
What are some good Instagram story ideas?
Good Instagram story ideas can range from showcasing your products, promoting discounts and sales, to sharing behind-the-scenes content. Engaging ideas include hosting Q&A sessions, sharing user-generated content, running polls, and creating interactive quizzes. For businesses, highlighting customer testimonials, announcing new product launches, and sharing insights about your brand's journey can be very effective. Personal users might focus on sharing daily life snippets, personal achievements, hobbies, and interests.
What should I write in my Instagram story?
What you write in your Instagram story should align with your overall social media strategy. For businesses, it could be product information, special offers, or industry-related tips. Personal users might share thoughts, experiences, or ask questions to engage their audience. Always aim for content that is relevant, engaging, and true to your brand or personality. Use a conversational tone, and don't forget to include calls-to-action where appropriate, like "Swipe up for more" or "Check out the link in bio."
What makes a good Instagram story?
A good Instagram story is one that engages and resonates with your audience. It should be visually appealing, with a clear message or purpose. Good stories often have a mix of photos, videos, and text to keep the content dynamic. They are timely, relevant, and often interactive, using features like polls, questions, and swipe-up links. Consistency in style and tone also helps in building a recognizable brand or personal identity. Above all, authenticity is key; your stories should reflect your genuine voice and brand.
How do you make a unique story on Instagram?
To make a unique story on Instagram, get creative with the platform's features. Use a mix of videos, boomerangs, and photos. Customize your stories with different filters, stickers, and text fonts. Experiment with interactive elements like polls, question stickers, and countdowns. Telling a story in a series of sequential posts can also be very engaging. Don't be afraid to show your personality or brand's unique perspective. Collaborating with other users or sharing user-generated content can also add a unique twist to your stories.