Instagram has become one of the most popular social media platforms and has a massive user base. As of April 2019, the social network had over 1 billion active monthly users. This means the platform's user base has simply gotten too big for any brand or marketer to ignore. It has become an important social media marketing platform crawling with influencers, brands, and marketers.
Luckily, Instagram is geared towards businesses and all its features can readily be used for marketing purposes, whether you're looking to buy ads or market organically. With a more youthful audience and the largest percentage of users falling in the age range of 18-34 (64%), these features are built to catch the eye of the young people who primarily use it. No wonder Instagram already has over 25 million business accounts. 44% of Instagram's active users use the platform for researching and discovering brands, making it the place to be if you have a business or are marketing a brand. And the great thing is, you don't have to spend one cent to market your business on Instagram. With all its great features that lean itself towards marketing, it's as simply as pie to do.
---
Here is a list of features on Instagram with ideas to use it for marketing:
---
Filters
Instagram's photo filters are central to its success. Their ability to turn anyone into a professional photographer is what drew people to the platform in the first place. Each one of the 40 filters creates a different look and feel so you can decide which one best represents your brand. If you are marketing a business, you want your content to be consistent in terms of brand image and style. This way, your followers will be able to identify your content and get to know your signature look.
One way to do this is to manage your preferred filters by selecting the gear icon at the end of the filter list. If more than one person manages the account, this will make it easy to identify which filters you use regularly and make sure everyone is on the same page.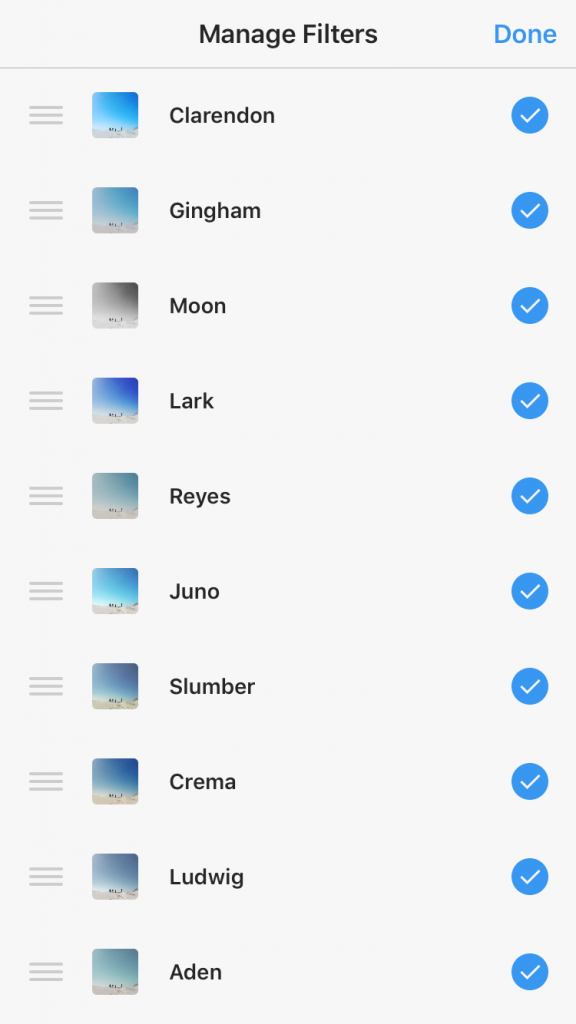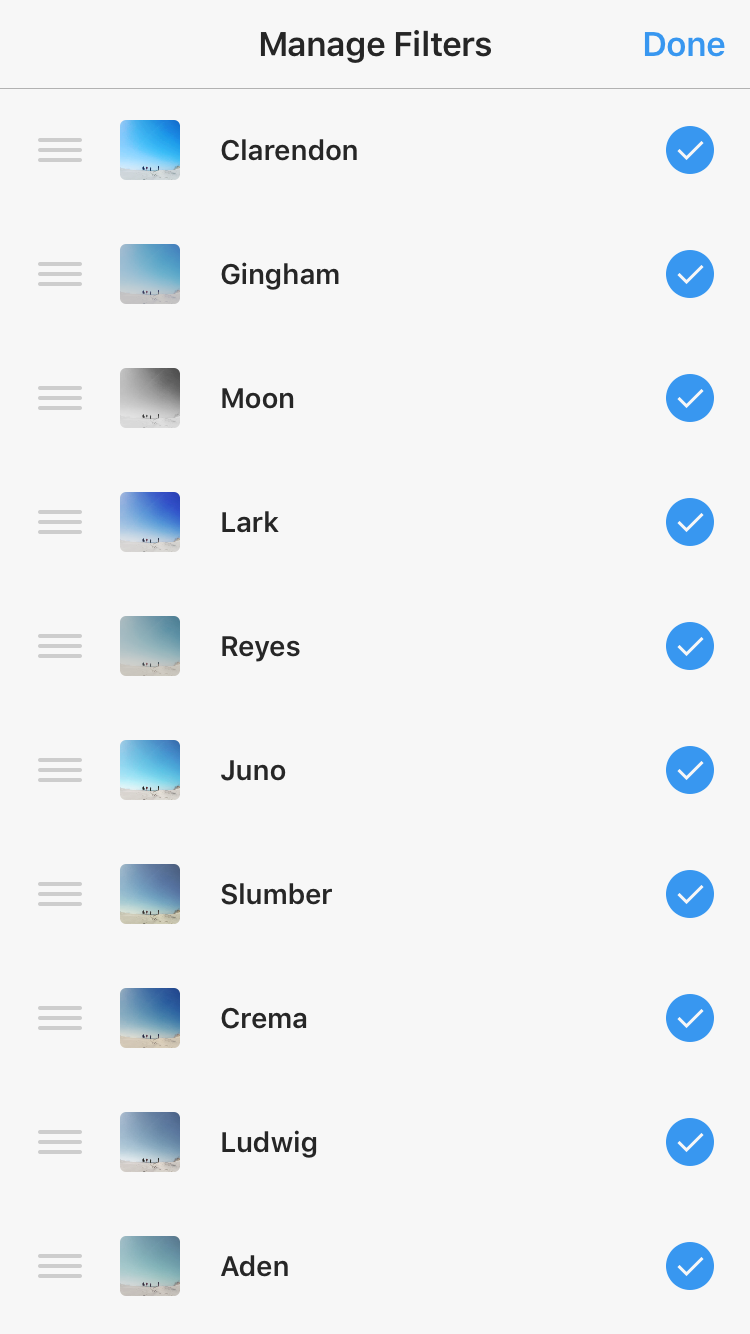 ---
Video posts
Long gone are the days that video marketing was only for companies with big budgets. Anyone with a decent camera and basic know-how is now a video marketer and an estimated 81% of businesses used video as a marketing tool in 2018. In addition, "Engagement numbers for videos posted to top media publisher accounts worldwide increased by 53% year over year in May, surpassing the 46% growth rate seen for photos over the same timeframe," according to an eMarketer report.
While video is great for increasing engagement, it also gives you the ability to share more complex, in-depth content that can't be conveyed in one image or series of Stories. Initially limited to 15 seconds, video posts today allow businesses to create long-form, high-production value videos of up to 1 minute long that leads to lots of engagement. You can also schedule Instagram videos just like regular Instagram posts, mostly using third party apps.
According to Hubspot, 64% of consumers are more likely to buy a product online after watching a video of it first. So, using Instagram video to show your products in action could be a huge way to increase the ROI of your Instagram marketing!
Instagram videos that convey your brand message or introduce your company culture are a great way to build trust with your followers and customers. Make sure to make the first few seconds of your video captivating, so you can catch people's interest before they click away.
It's also a great way to educate your audience about your business. Think of Buzzfeed's Tasty, which are short videos showing users how to prepare delicious dishes. Many Tasty videos have gone viral and have done wonders for Buzzfeed's brand awareness. Or think of makeup tutorials with beauty bloggers, who build a loyal following by giving users trustworthy beauty advice.
PRO TIP: Remember that you are trying to grab users' attention in the first few seconds of your video, so make sure they are clearly understandable even without sound! Many users watch videos in places where they are unable to listen to the sound and your marketing content should always keep that in mind.
---
Instagram Stories
The addition of Stories has been huge for Instagram. The feature, which was added in 2016, was initially thought to be a copy of Snapchat's hugely successful model. But it has since skyrocketed in popularity (In January 2019, it grew to more than 500 million daily users) and with businesses increasingly looking for tools to increase engagement with their brands without having to make massive investments in creative content, Stories, with all its features included, are gold.
Stories appear as little circles in the top of your followers' feeds and disappear after 24 hours, which makes it a fun and less stylized. For marketing purposes, Stories are particularly useful to showcase new products or releases, promotions, employees, workplace culture or team outings. A great way to encourage more people to follow you on Instagram is to offer Stories-only giveaways and promotions. Here is a list of ways to use Instagram Stories like an expert.
---
Stories Highlights
Instagram Stories are a great feature, but they disappear after 24 hours. While the transience of Stories is what made them so successful, users expressed a desire to keep some of their best stories for later use. So Instagram created the Stories Highlights feature. This allows you to save your best stories, and keep them on your account as long as you want. Instagram saves your Stories Highlights at the top of your profile page so you followers and anyone else who visits your Instagram profile is able to see your them.
There are various ways to use this feature for marketing purposes. You can create stories with promotions, information about your business or that showcase specific products or events. Stories with quizzes are also great to educate followers about your brand and gather information about their preferences. Remember to save your best performing stories as well, so that you can continue to drive people to see them and preferably take the action you want them to take.
---
Instagram Stories video
Video in Instagram Stories can be highly entertaining, and is great for building engagement, creating brand awareness and driving traffic to your website. Videos on Instagram Stories only last 15 seconds, so your clips need to be short and catchy. In 2018, Instagram introduced a workaround for the short Stories video by allowing video to run over into the next clip after 15 seconds. This opened the feature up for even more potential uses. Use it for fun and promotional content that reflects your brand's tone and style.
PRO TIP: If you want to get the most from your Stories videos, think about creating branded stories that have all have the same color, tone, style, and format. There are now design Instagram Stories templates to make your life easy in this regard.
---
Instagram Live
Instagram Live has been part of the Stories feature since its roll-out. Initially received with some uncertainty about how to use this feature, businesses and marketers have taken to it with great creativity to create hype around their products. Because of its transient nature, there is a sense of urgency among users to watch your live broadcast before it disappears. You can use this to your advantage. Offer promotions, discounts or giveaways during your live broadcast, but promote it with short clips or posts beforehand so that your followers are compelled to watch your broadcast.
Instagram Live is also great for generating leads. You can ask your followers to submit their questions about whatever topic you'll be discussing during the live broadcast beforehand. Use the "Ask me anything" sticker in Instagram Stories to easily gather questions. You can then answer them live. Your followers will love you for mentioning them and the real-time interaction is great for your brand exposure.
---
AR filters
Despite how futuristic the name might sound, AR (short for "augmented reality") is already being used in many places. AR is a technology that superimposes virtual effects (generated by a computer) onto real images and video when using a camera. On Instagram, these AR filters are known as face filters. They are whimsical, cute overlays you can add to your photos and videos via Instagram Stories.
Facebook (the owner of Instagram) recently started partnering with strategic brands to create unique, interactive camera experiences, including face filters and world effects, for their followers on Instagram. Where Instagram previously controlled all the AR filters, select brands can now create their own custom AR filters for Instagram Stories and these may soon be rolled out to all users.
One of the first businesses to create custom AR filters for Instagram was the Kardashians' youngest billionaire Kylie Jenner's Kylie Cosmetics. When you choose the Kylie Cosmetics AR filter in Instagram Stories, you can "try on" different lipsticks from Kylie's Lip Kits to see which shade you like before buying it. This is an example of how a business can use custom AR filters to market their brand. It's fun, not overly promotional and helpful if you're actually looking to buy the product. In addition, users will only be able to access your filter if they follow your brand on Instagram or visit your profile to try it out. As Instagram allows more third parties to create their own custom AR filters, brands have an amazing new tool at their disposal for advertising and promoting themselves on Instagram.
---
IGTV
The latest and arguably one of the most exciting additions to Instagram's features is Instagram TV. Launched as Instagram's first standalone video platform, IGTV is an entire new channel for businesses to grow their following, and increase their engagement. Before you can upload an IGTV video to your feed, you need to create an IGTV channel. This is easy enough and you just create an account with your Instagram account. IGTV video will now be in the grid of your Instagram profile, with the IGTV icon in the right-hand corner. While the sky truly is the limit for what you can do with IGTV, in terms of marketing it's great for promoting products, creating how product tutorials and for sharing news – think of the type of video you would see on YouTube.
Your videos don't have to be professionally shot and can be about anything! It's like an improvement from your Instagram Stories, but it doesn't have to be as perfect or curated like an Instagram post or video would be. Instagram offers analytics for your IGTV video and measures views, likes, and comments, as well as your audience retention rate, which is how many people watched your video all the way to the end. These metrics are crucial when strategizing how to make use of IGTV so it's most effective in terms of marketing. For instance, if your see viewers drop off after 10 minutes, you can take that as a sign that creating videos that are longer than 10 minutes is a waste of time and resources.
---
Stickers and quizzes
Instagram Stories are becoming more polished and elaborate by the day as it introduces new functions. One of the most popular used Stories tools is stickers. From emoji sliders, to polls and GIFs, these added extras can help you interact with your followers in innovative new ways, and increase engagement.
For example, hashtag stickers have the potential to reach thousands of Instagram users in your region and/or your industry with similar interests. They can also help reiterate a brand message, threading together a campaign. Location stickers can let Instagrammers know where your business is and question stickers are great for galvanizing your followers, and getting some insight into the things they're most interested in. The latest addition to stickers is quiz stickers, which Instagram added in April 2019.
When a user interacts with one of your stories it sends a signal to Instagram's algorithm. This signal is then used to rank your stories higher in the user's story carousel. The more engagement you get, the higher your stories will rank. Getting your followers to not just view your content, but to also interact with it, is therefore key to reaching a greater percentage of your followers. Quiz stickers can also be used to help your audience get to know you and your business. Asking questions specifically related to your business can educate your followers, and help you discover who your biggest fans are.
While all these features individually has great potential for marketing, using a combination of all of them and making them work together will yield the best results for your business or brand.