Services Offered: Influencer Search & DiscoveryRelationship ManagementCampaign ManagementThird Party Analytics
Channels: Facebook, Instagram, Twitter, YouTube, TikTok, Blogs
Influencer marketing's explosive growth happened when brands realised consumers were more likely to trust the recommendation of someone they know—and social media made it possible for everyday people to be known by increasingly large numbers of people. They weren't celebrities, but they were influential nonetheless, and their endorsements carried an authenticity that traditional advertising channels could never achieve.
Of course, the success of influencer marketing caused a boom; now IM is an industry unto itself, with more and more people wanting in. Becoming an influencer is a viable side hustle for millions of people, which means millions of people are getting into the game to chase the money. The line between authentic and mercenary is increasingly blurry, a precarious position for an industry built on a foundation of real people being real.
Founded in 2015, a little bit before the IM boom of 2016, Post for Rent is a marketplace platform with a name that literally reduces the idea of influencer marketing to its transactional basics.
And yet:
The reality is that Post for Rent effectively maintains a balance between cold business efficiency and authentic influencer campaigns, and the platform itself elevates the influencer marketplace to a new level. All the boring and tedious stuff involved in the process—finding and managing influencers and their content, poring through profiles and data, researching audiences—is effortlessly accomplished via an interface that's almost fun to use. The interface seems to have been designed with the knowledge that the people behind the scenes are just as young and mobile as the influencers on the front lines. In other words, this is a platform built for the generation that understands influencer marketing best, which makes authenticity inevitable.
Post for Rent was built to serve all sizes of brands, but it also made plenty of room for agencies and talent managers, as well. The result is something that's not so much a marketplace as an ecosystem comprising all the interconnected parts of the influencer marketing landscape. The depth and breadth of tools and data available here is astounding, and it's caught the attention of companies like Nike, HBO, Jameson, and H&M. Just don't let those big names fool you: Post for Rent wants small and medium sized companies to join in the fun, too—including solo Talent Managers and tiny startups. As you'll see in The Details, the more people from all sides of the industry that are using Post for Rent, the better the platform becomes.
---
Summary: Quick Jump Menu
---
Pricing
For brands and agencies, offers three different levels of service. Talent Managers also have three options to choose from, but their pricing is different. We'll break those up here:
Brands and Agencies
Standard, $59/mo —

Ideal for small businesses or startups, you can manage unlimited campaigns with unlimited influencers for a single brand. This is for a single sign-on: no teams or collaboration here. Otherwise, you'll also get nearly every feature offered on the other plans—the same search and campaign features (except you can't customise your Ts & Cs). You also won't be able to export reports or influencer profiles, and support is email only. The biggest place you'll feel the difference in this plan is in fees: Post for Rent charges a 10% service fee for all payments made to influencers, and a flat $20 fee if you're paying with product.

Pro, $999/mo —

At the time of this writing (May, 2019), Post for Rent is offering this level of service for $399 a month for a limited time. Assuming this review will be live for longer than the promotion, we're listing the regular price here. With pro, you get everything from Standard, plus: no services fees, unlimited brands, 5 team members, influencer and campaign report exports, and 24/7 support.



Enterprise, custom price —

All of the above, plus: 10 team members, customised Terms and Conditions for campaigns, market statistics and insights, white labeled reports, 24/7 priority support, training, and campaign consultation support.
---
---
Talent Managers
Talent managers can use Post for Rent as a front end to manage their clients (aka the influencers). To be clear, this isn't just an organisational tool for them. They can apply for campaigns on their talents' behalf, as well as monitor their progress/to-do lists for a campaign to keep them on track. Influencer profiles can be exported to PDF for use with proposals, and commissions are automatically handled by the system when the influencers are paid.
Agent, $20 per active influencer/mo —

Best for solo agents, you'll only pay this fee for influencers that participated in campaigns that month. If you manage 30 influencers, but only 10 of them got work, you only pay for the 10.

Butiq, $59/mo —

Presumably pronounced "Boutique," this plan covers up to 20 working influencers at a flat rate.

MCN, custom —

Got more than 20 working influencers? This is the plan for you.
---
The Details
Post for Rent's push for small and medium sized businesses can be seen in their pricing: At the lowest level, you're getting nearly everything the platform has to offer for $59 a month. There are, of course, the service fees—which would at most put the monthly payment in line with competitors and you're still winning on features. And the (currently offered) big price reduction on their mid-level plan is meant to entice medium sized businesses to join up. It's a smart move on the part of Post for Rent to do this, because the platform becomes more valuable as more companies sign on.
First, there's a system in place for brands and influencers to leave reviews for each other, and act as references. For brands searching influencers, they'll see these star ratings in their search results, and can click into their profiles to look at reviews left by other brands. Influencers can do the same for brands, which levels the playing field. This system can only be as strong as the number of people using it, and it's worth the price-slashing to get as many new customers on board and participating.
Post for Rent also offers a unique feature to its Enterprise customers in the form of a statistical deep-dive into influencer marketing trends that happen on its platform. As campaigns are undertaken and completed, Post for Rent funnels a variety of insights into its database, like what influencers are earning, what categories are performing well, where engagement is happening, and more. The data can be filtered in several ways for analysis, giving their top-tier customers some critical pieces of business intelligence. Every bit of data makes the information more accurate, and acquiring it through a variety of small and medium sized businesses is a great way to do that.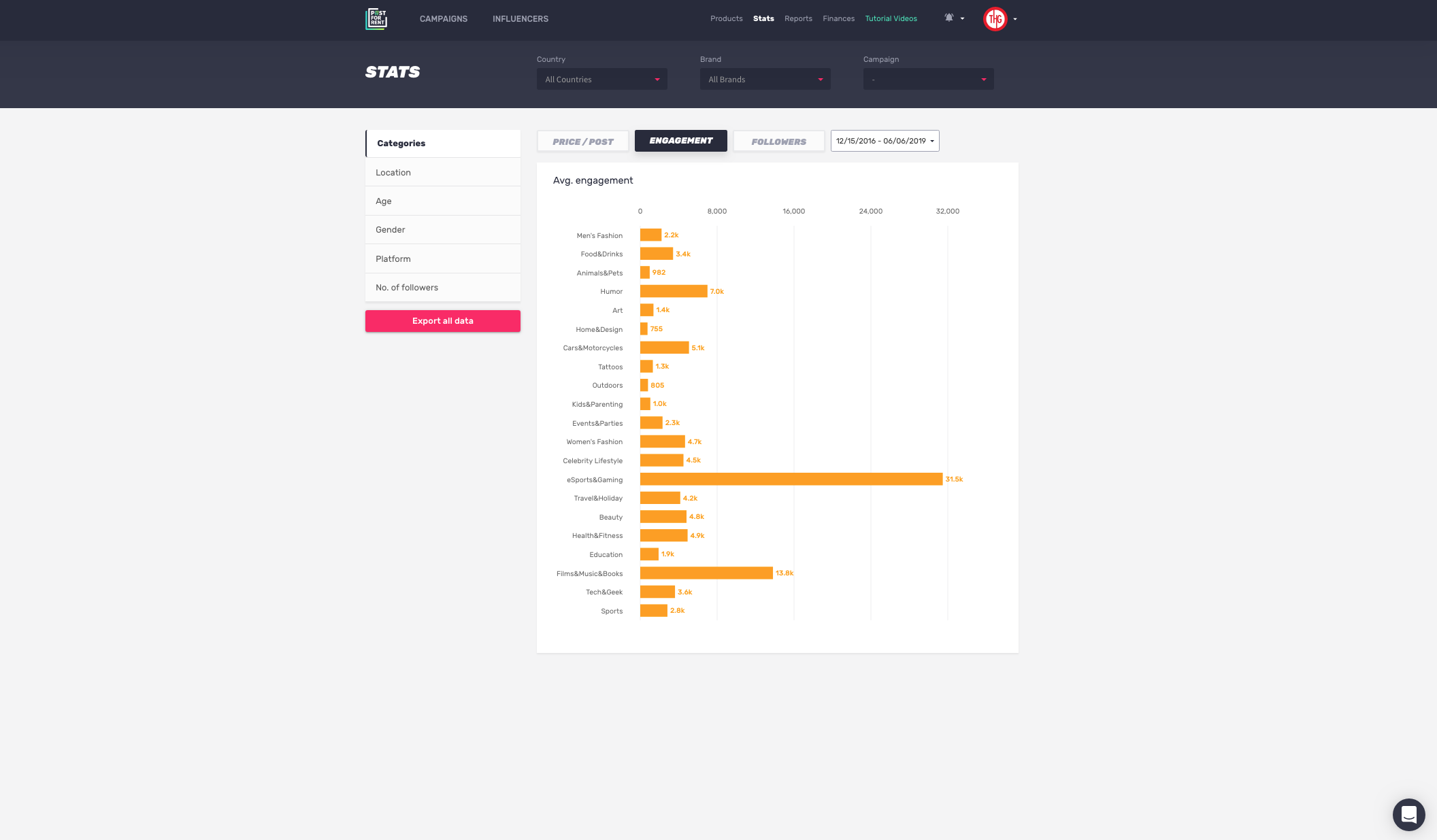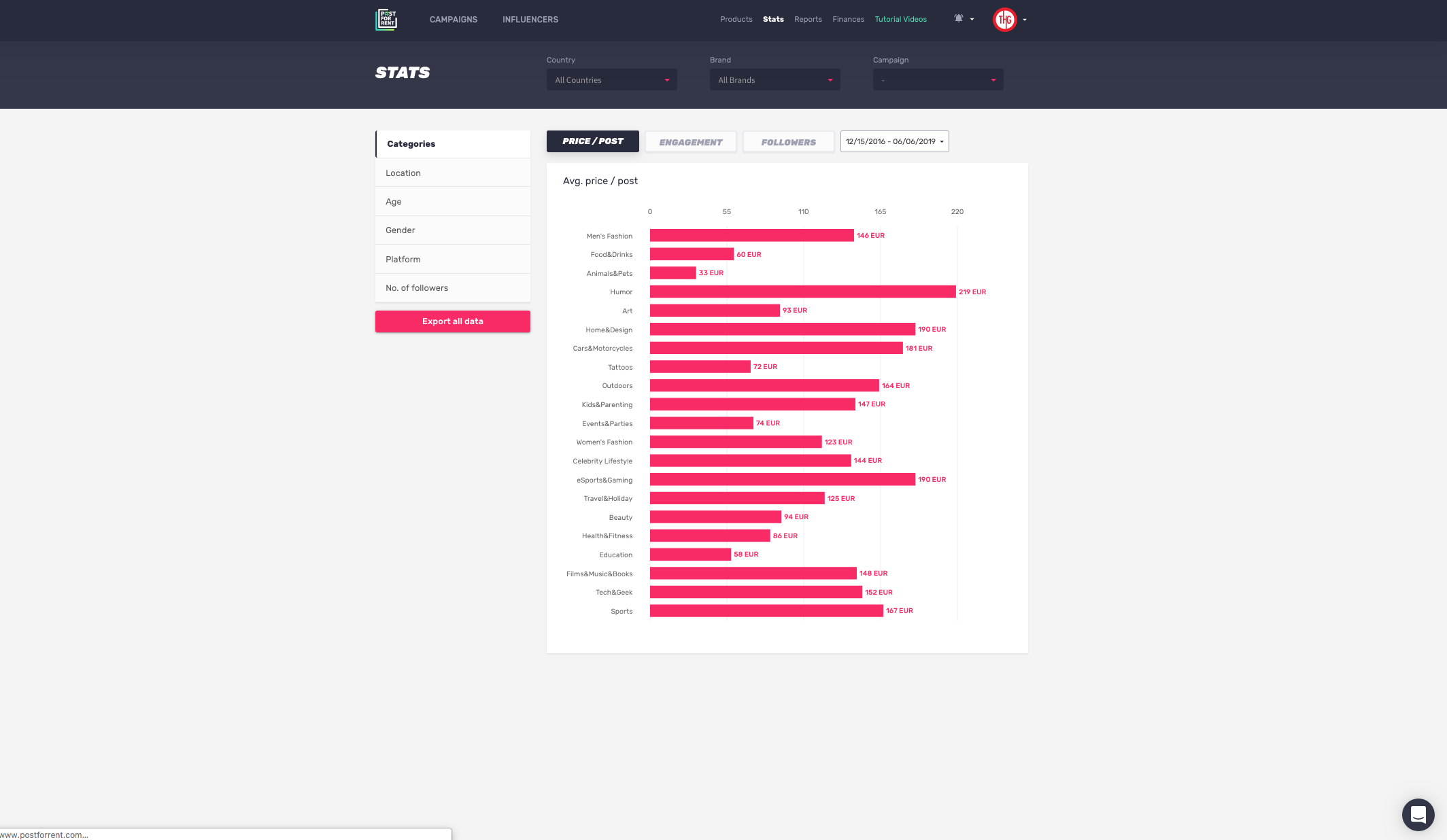 To further increase their appeal, they've made it frightfully easy to create an account and give the platform a whirl. Brands can take a 7 day free trial of the Standard plan. If you've already got a brief written for a campaign you want to do, it would take roughly 10 minutes from the point of signup to publishing your campaign. Post for Rent accomplishes this by having an exceptionally clean interface for creating campaigns. The process is broken up into discrete steps, and the platform saves the brief as a draft every time you move on to the next page. You don't even need to search for influencers before creating the campaign—in some cases not at all.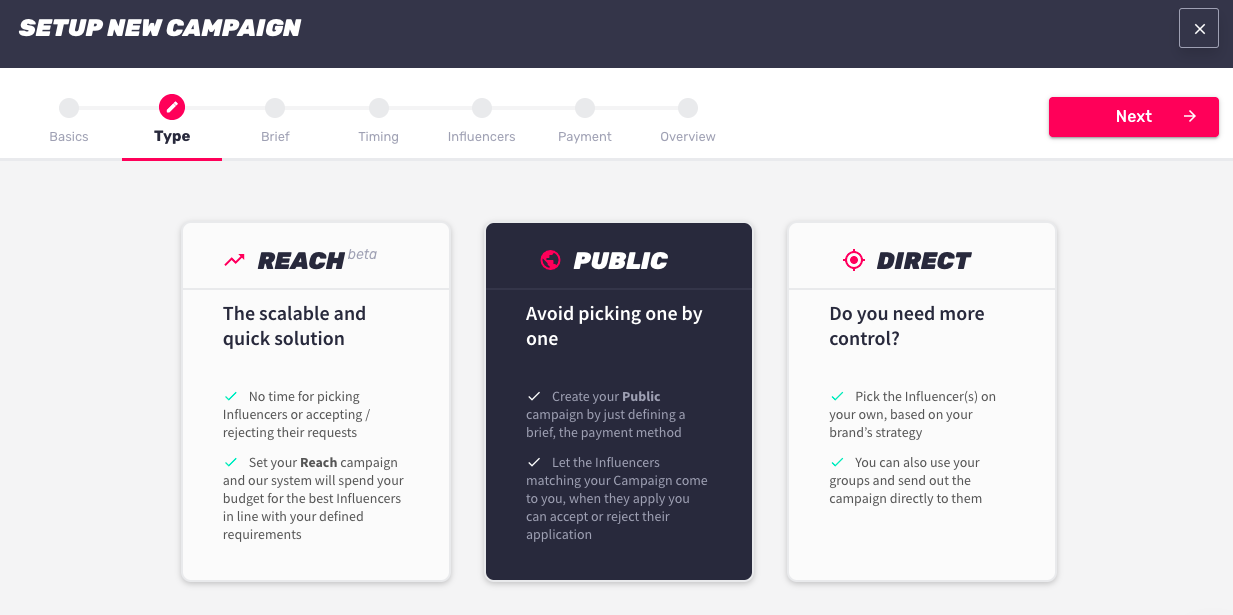 When you're creating your brief, you can specify the type of campaign you want. These options range from fully automated to strict control over every step. If you don't want to bother with searching for influencers, but still want some control over who participates, you can just publish your Public campaign—influencers who match your criteria will be notified through a mobile app, and they're interested they can apply right there. If you're going to select each influencer one by one, you'll see one way in which Post for Rent's UI really shines.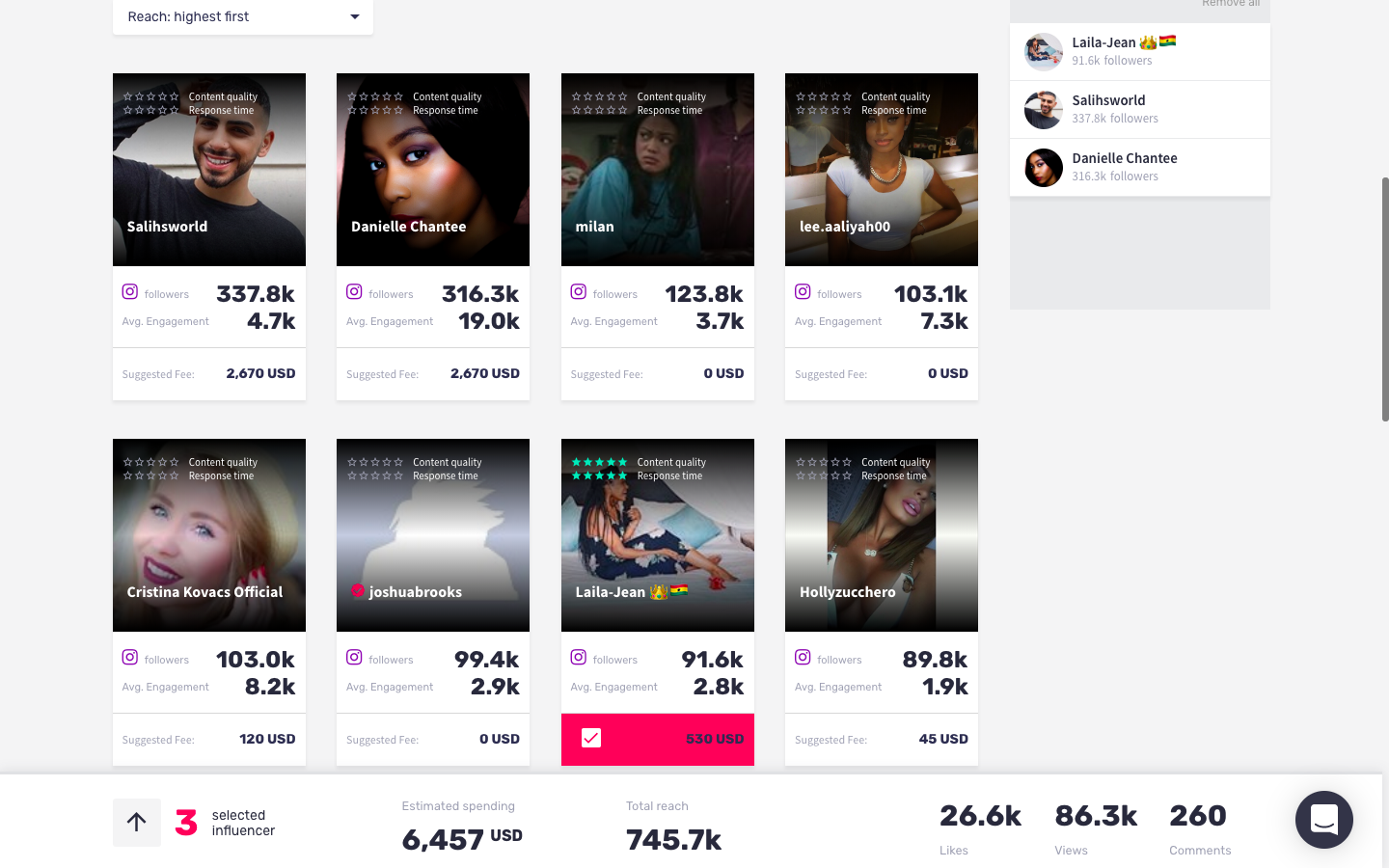 You can peruse through thumbnails of matching influencers, see their ratings (if they have them), a credibility score (a measure of their audience quality), and the basic stats you'd expect to see. As you select influencers you're interested in, a visual list populates the right side of the screen. Meanwhile, there's a stat counter at the bottom showing how your budget, reach (including unique reach), and potential engagement are affected with each addition or subtraction from that list. What's really great here is that you can keep refining your search—based on influencer and audience attribute—and the list never disappears. (On a side note, if you're just searching for influencers outside of the campaigns module, it works exactly the same, with the added option of creating a new campaign to send to the influencers you've just selected).
Once you've published your campaign, it will show as Active in your dashboard. You'll click into each one to manage and monitor its progress. You'll be able to negotiate prices, approve or reject content, and stay on top of the pipeline of scheduled content with ease. Once posts start going live, you'll start seeing in-depth stats on the performance of the campaign in real time. Completed campaigns will remain available to view, but you can also export the results—as well as a screengrab of each piece of content with its individual stats—into a PDF or PPT.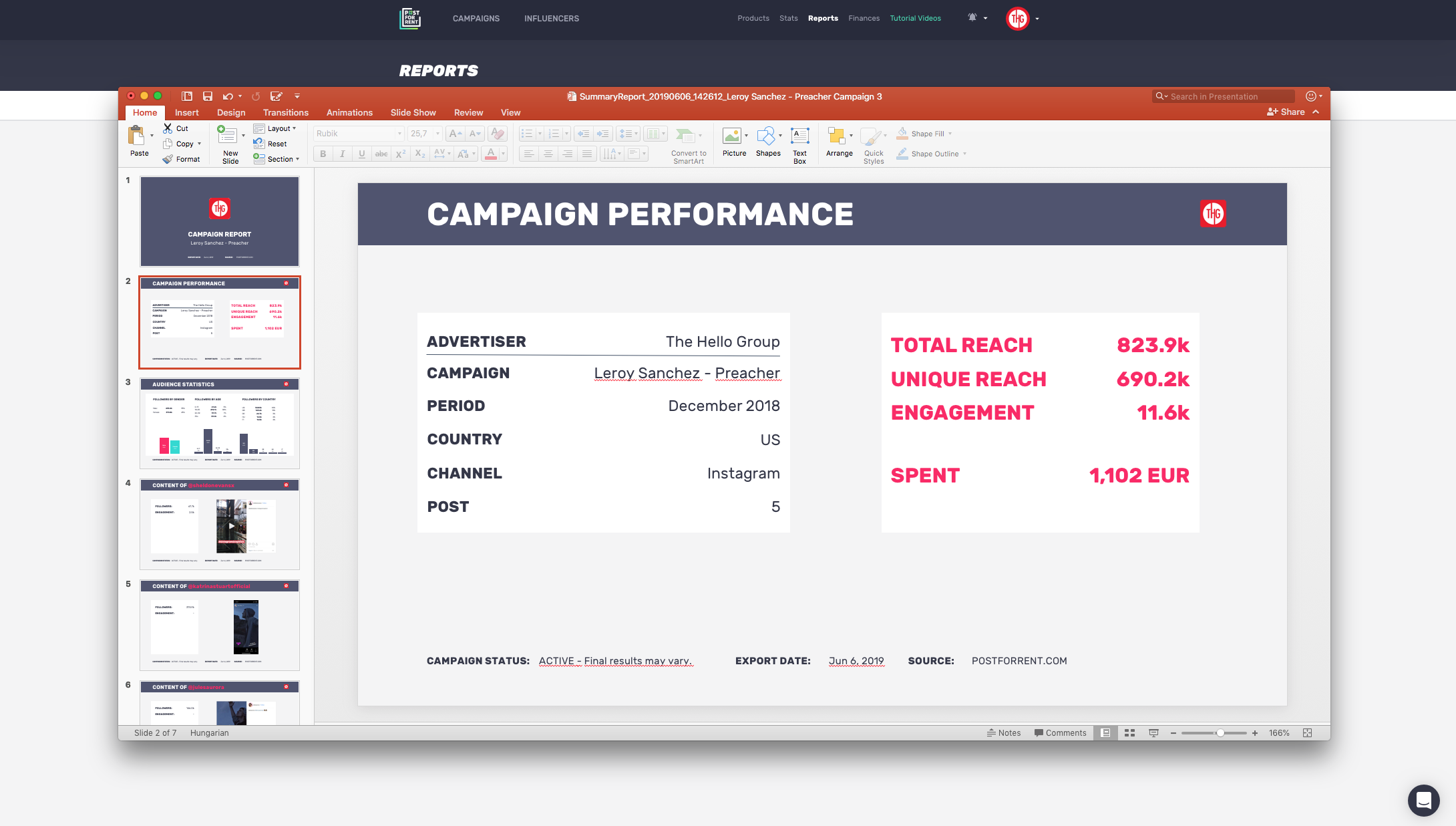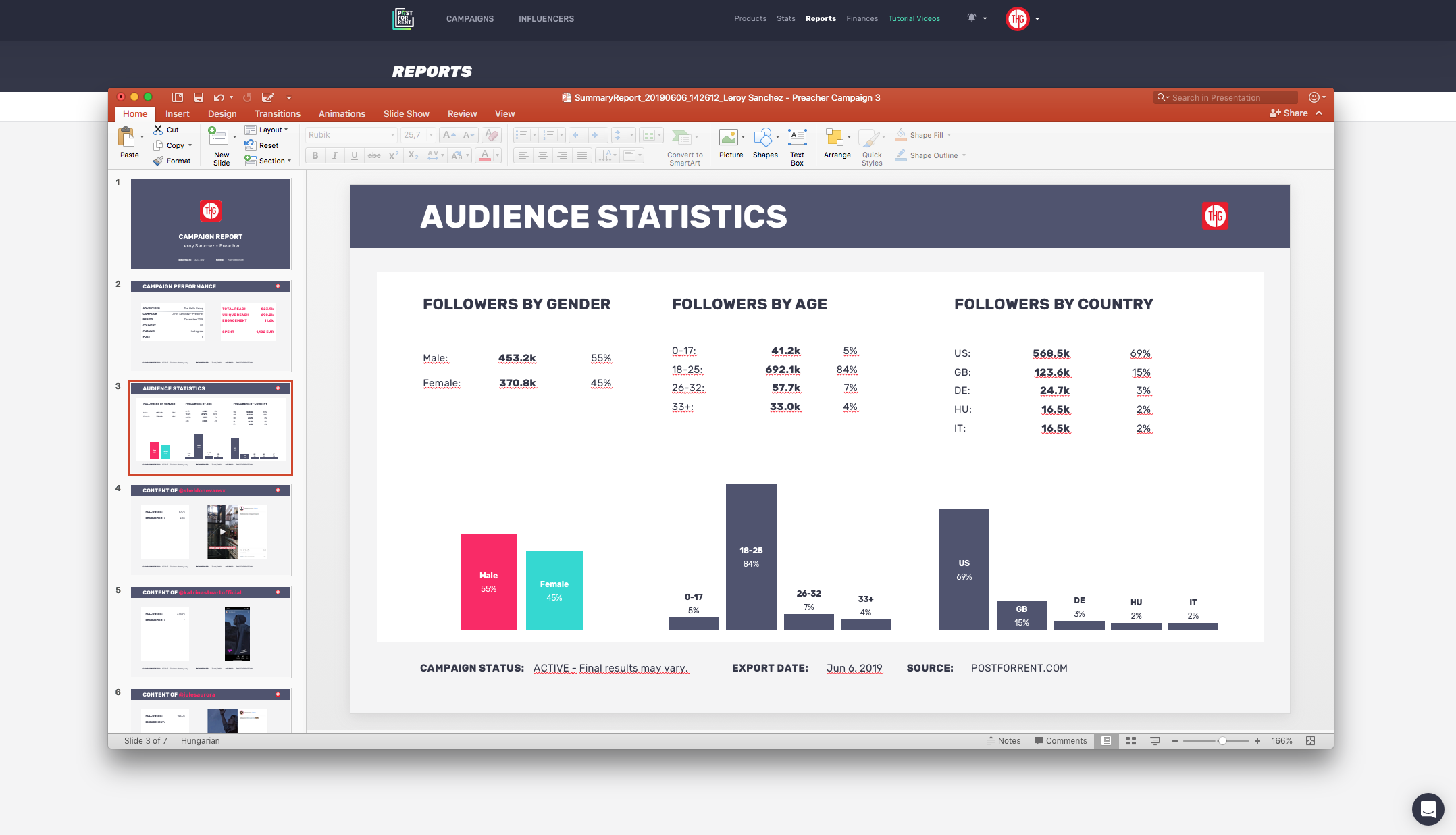 All of this is constant no matter what level of service you're using. If you're one person trying to launch a new business, or a multinational with its own marketing department, the process is the same. Of the limitations that exist on the low end, there's really only one—exporting lists of influencers—that would really be useful for a small business. Post for Rent set out to attract more small and medium sized businesses, and they should have no trouble doing that.
Update:
Post for Rent has just released an exciting new feature for influencer search functionality. You can now search for influencers based on the hashtags they have used in past content. This gives advertisers better targeting capability when planning their influencer campaigns and ensures more detailed results for niche influencer categories based on activities and affinities.
---
Conclusion
With many marketplace platforms, there's often a trade-off between efficiency and control. You want something easy to work with that takes some of the guesswork out of kicking off campaigns? You're going to have to hand most of the reins over to AI and algorithms. You want something robust, giving you precise oversight and the collaboration tools needed to ensure that happens? You should be prepared to slow down and proceed carefully.
Post for Rent doesn't require any of these kinds of compromises from its users. You have the choice to give up control—with its Reach oriented campaigns—but you also have the ability to get into serious micro-management territory, with no loss of efficiency. And with the way they've set the platform up as a kind of community of marketers, growth will mean inherent improvement of the platform for everyone.
---

Services Offered: Influencer Search & DiscoveryRelationship ManagementCampaign ManagementThird Party Analytics
Channels: Facebook, Instagram, Twitter, YouTube, TikTok, Blogs