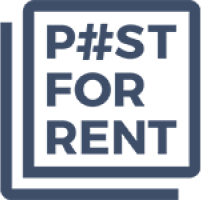 Best for:
Influencer Talent Agencies
Overview
As platforms evolve and change, we like to revisit the ones we've reviewed and see how things have progressed. We did this with Post for Rent last year as they trotted out a whole slew of new features, adding to what was an already impressive platform. Deceptively impressive, in fact: the application's name hints at the transactional nature of influencer marketing, but the platform itself was designed to encourage a focus on authenticity brands and influencers both.The new features elevated Post for Rent's platform to something far beyond its original conception, though.
At this point, it's more of an influencer and campaign management platform than the marketplace it started out as. And as their customers started to go from small and midsize brands to big names like Nike, Coke, and Uber, Post for Rent became much more sophisticated. So much so that the team behind it sniffed an opportunity to target an underserved segment of the influencer world: talent agencies. Because it's focused on management, it's more akin to an ERP platform for influencer agencies.
Apart from campaign and influencer management, Post for Rent also provides a CRM, document repository, contract creation and management tools, messaging, a content library, and reporting on campaigns—to name a few. There are still many of the features that made Post For Rent so good last time we saw it, like the XRay and Comparison Analysis tools.
It seems with this iteration, the evolution of Post for Rent is nearly complete. We say nearly because there's one last thing we think needs to happen for the platform to reach its final form: a rebrand. In the early days, the name wasn't an accurate reflection of its value—it's always been about more than just pay-for-play posting gigs. Now, though, with a target audience of agencies that presumably want to build a stocked roster of reliable talent, the idea of anything for rent here is counter to what's being offered, and actually undersells the quality of the platform.
---
---
Pricing
One of the many improvements Post for Rent has made isn't even with the software. It's with the pricing. When we last looked at it, there was a confusing array of many a la carte options and usage limits that needed to be adhered to. Now, though, it's much more straightforward.
Starter, $899/mo — 2 users can manage up to 25 influencers and run up to 5 campaigns a month. Other features/tools include: contacts, messages, media plans, content library, campaign stats, document center, contract templates, client and subcontractor management.
Boutique, $1,299/mo — 4 users can manage up to 50 influencers and run up to 10 campaigns a month. All other features listed above are included.
Full Service, $1,599 — 6 users can manage up to 100 influencers and run up to 20 campaigns a month. All other features listed above are included.
Enterprise, $Custom/mo — Unlimited users manage unlimited influencers for an unlimited amount of campaigns. All other features above are included, plus: a client portal; business intelligence around company performance, payments, cash flow, assets, and more.
For any of the non-enterprise plans, you can add additional users at $159/month each.
---
The Details
If you've been a Post for Rent user for a while, you'll have noticed changes to the interface—not so much with its aesthetics but with the items in its left side navigation menu. Discovery is dropped down near the bottom of the list of options, a reflection of its diminished importance within PFR's suite of tools. for one, several of the other options have moved around, and there have been quite a few additions, as well. At the very top is the Dashboard, and a poke around there gives you an idea of what Post for Rent is all about these days.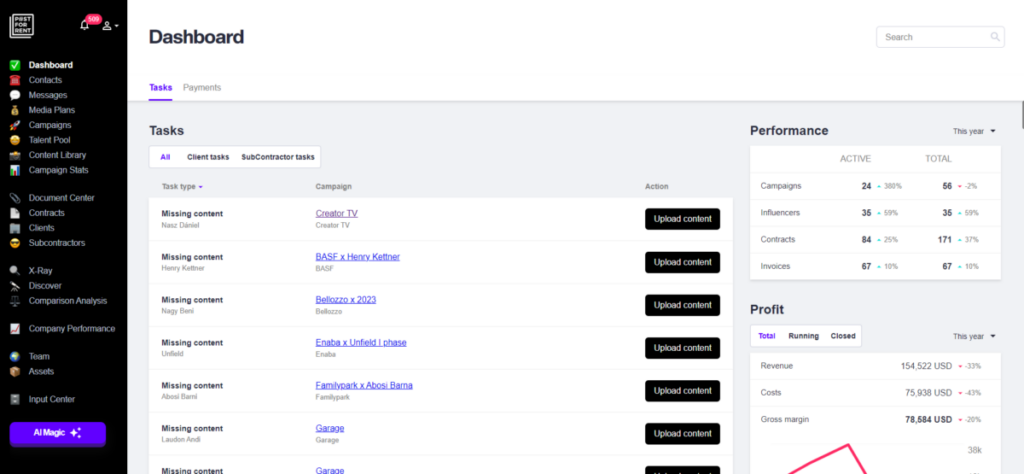 Divided into two sections—Tasks and Payments—the Dashboard gives a comprehensive overview of any and all action items across campaigns. If you've got content missing for a campaign, you'll see it listed; next to it is a button for you to click to actually take the action. If you want to see who's owed money, or who's already been paid, that's simple enough to find. Click on someone who's been paid, and the invoice comes up. The dashboard also features a few tables giving you an overview of campaign activity, along with some financial information tracking the costs and potential profit of a campaign. It's one of the more useful dashboards, for any kind of software, that we've seen: Well organized, super informative, and goes beyond simply providing a list of to-dos. It gives you the means to do it.
Beyond this, agencies will find it a breeze to manage their talent pools, and to use Post For Rent's in-depth analytics from the X-Ray feature. The Talent Pool screen itself is a list of all the influencers an agency has on its roster, along with supporting data like which channels they're present on, the number of followers across those channels, the brands they've worked with and how much revenue they've generated. Click on influencer, and you're brought to their profile, which includes all the info from X-Ray, plus a host more that's specific to your agency: what campaigns they're a part of, their rate card, etc. It's a thorough look into any influencer, giving an overview of channel metrics before going deep into their audience and content.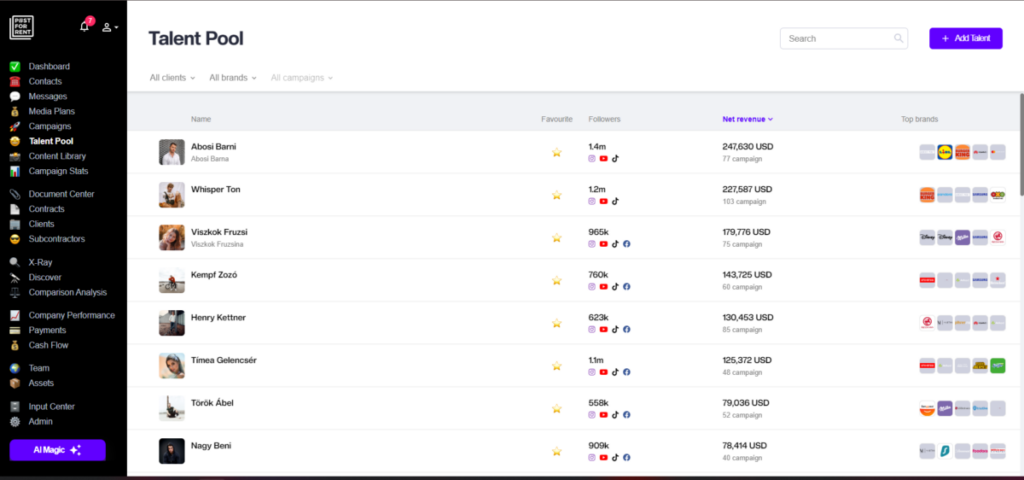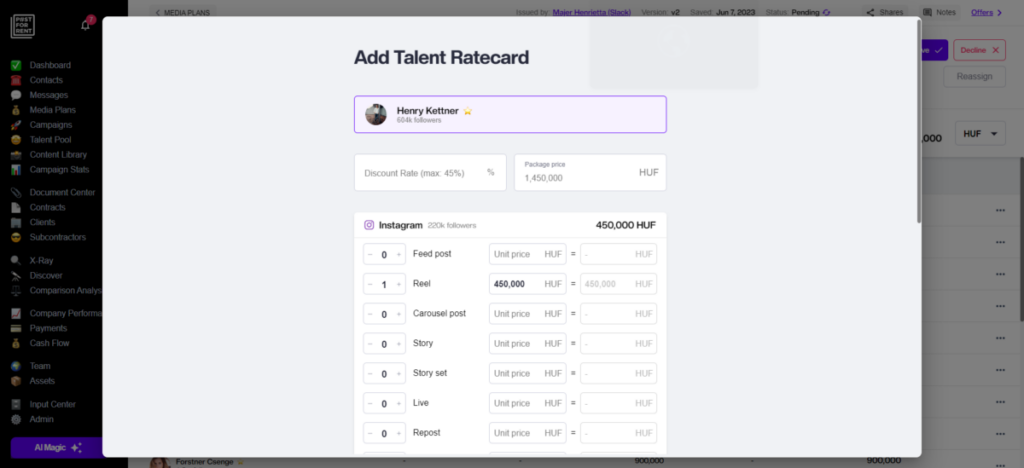 Because you get so much information out of the X-Ray tool, you'll be thankful for the Comparison Analysis, which lets you see how influencers stack up against one another, side by side, from engagement to followers, to fees, to audience demographics, and more. Post For Rent's minimalist look and feel make it easy to see the important data—nothing gets lost on the screen.
Much of the makeup of these tools (and Discovery) remain unchanged from previous iterations of Post for Rent, but with their new agency focus, they've stacked the platform with loads of new features. These are all things an agency would want. The Contacts menu item brings you to a directory of everyone you'd need to contact—clients, influencers, and subcontractors—and you're able to filter out according to these designations.
One way that you can see the thoughtfulness of the Post for Rent platform is in the way different modules play off each other. You have your contacts with all their information, but the system monitors all the other modules for times they may appear and updates their profile. As an example, if you create a contract with a client, the contract number or ID will be added to their profile. The contacts also tie in with messaging. Rather than reinvent the wheel with their own internal messaging function, Post for Rent instead integrates with top mail providers—like Gsuite or Microsoft—and seamlessly puts your entire inbox inside the Post For Rent window. Contacts can then be pulled from either the PFR platform or the one that's part of your mail service. The messages here are also synced up with the influencer profile in the Talent Pool, so whenever you're looking at a specific person you can see all their messages in one place.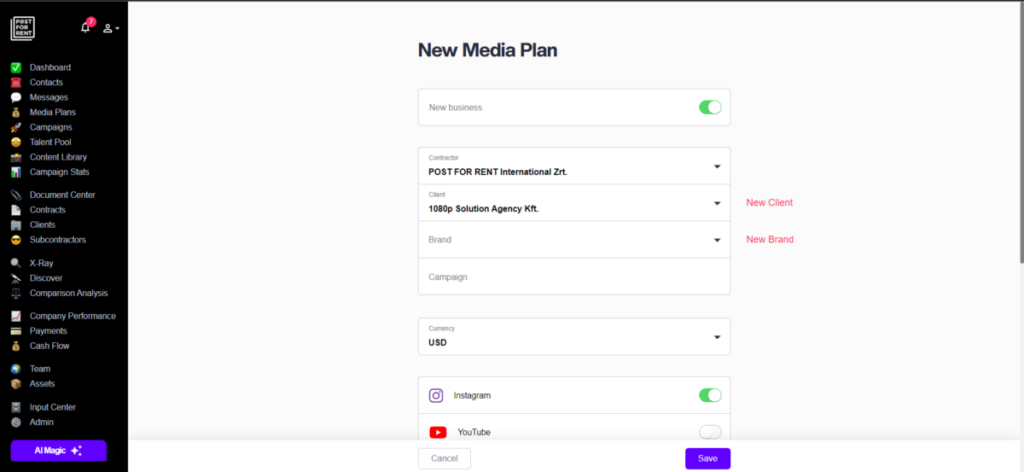 Finally, and this is one of the highlights of Post for Rent, is the Media Plan module. It's a cousin to the campaign creation tools that were part of the marketplace product, where you assign influencers to a campaign, create contracts, and define what the content should look like. But the Media Plan—designed as a tool for an agency creating and managing campaigns on behalf of a client—goes many steps further. You define a plan by first assigning it to a company, adding in any fees, like admin or consulting (which can be on an hourly basis). You add talent, and assign them content: the system brings in all the fees that you've predefined on their rate card and automatically tallies up the total budget.
All of this can then be shared to a client portal. Your client gets their own access to Post for Rent, but all they can see is what's in their Media Plans. They'll be able to see the talent you've picked, the content that talent uploaded, approve or decline influencer and content, leave comments, access documents, and monitor the performance of campaigns.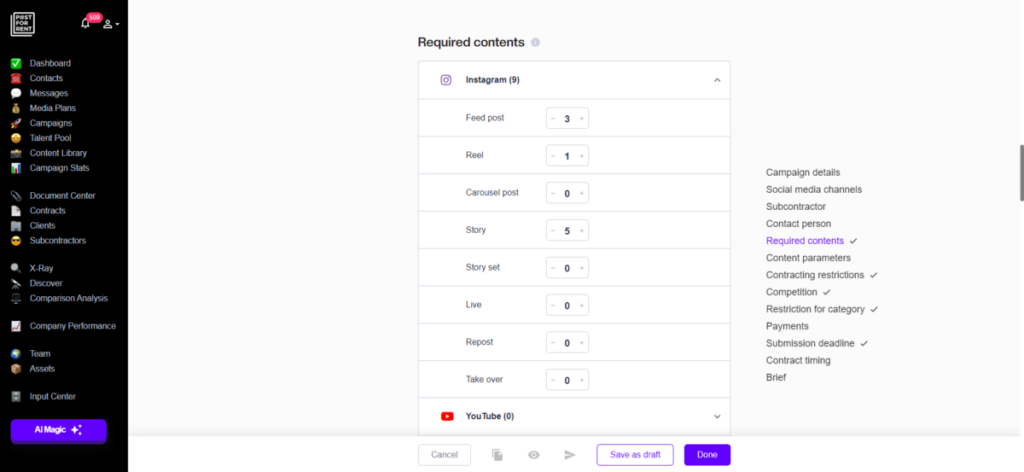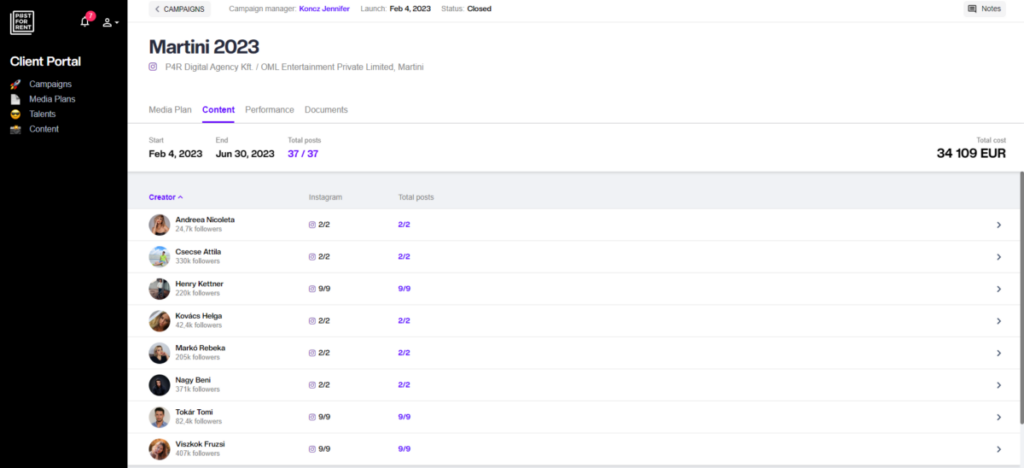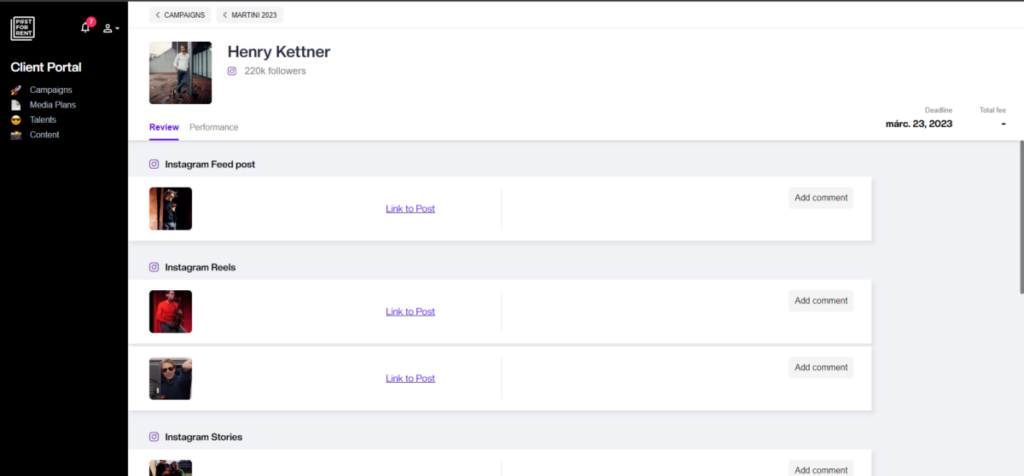 ---
Conclusion
Post for Rent has been around for seven years, which is a long time to be around and grow only to turn around and change direction. But this doesn't feel like a big change in direction, so much as the natural conclusion to the path Post for Rent has been on since its inception. At first, they managed to create an influencer marketplace that championed authenticity over quick transactions. Then they kept adding features, making it more robust, until it seemed like a sophisticated management tool for brands that just happened to have a marketplace feature. In just a year since we last looked at PFR, they've become so feature rich they've pivoted to a full-fledged software platform designed for use by agencies—though enterprise level brands and multinationals with their own in-house marketing would find a lot to like here, too. It's comprehensive, easy to use, and the result of years of evolution.
Post for Rent
Features

Ease of Use

Reporting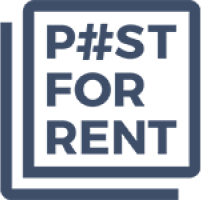 Best for:
Influencer Talent Agencies