Marketing channels refer to the platforms, strategies, and tools you use to reach your target audience. Knowing which marketing channel to use is essential for maximizing your return on investment (ROI).
It's crucial to note that each marketing channel offers significant benefits, but not all may suit your business. For example, using social media might sound like a no-brainer for companies. Still, if your target audience isn't composed of social media users and instead prefers emails, then what you spend on social media marketing won't necessarily generate as much sales as you might expect.
This article will help you by outlining the top 8 marketing channels and determining what makes them drive the highest ROI.
---
Top Marketing Channels for Maximizing ROI + How to Calculate ROI:
---
Marketing Channels that Maximize ROI
1. Social Media
LinkedIn is generally considered a social media channel, but some might argue it's a professional networking platform. Designed specifically for businesses, particularly B2B companies, LinkedIn's primary purpose isn't socializing but increasing leads. This makes it an effective marketing channel for lead generation agencies, growth hackers, industry consultants, and business-to-business (B2B) sales professionals.
LinkedIn's internal growth data shows that LinkedIn ads are perceived as 50% higher quality, 92% more professional, 74% more intelligent, and 59% more respectable. As a result, companies that place LinkedIn ads can see a 10-15% increase in short-term sales.
Additionally, LinkedIn-sponsored messaging drives twice the open rates and engagement of traditional emails.
The tech, financial services, and education industries also found marketing success on LinkedIn. Analytic Partners said tech companies' Return on Ad Spend was 2-5 times higher with LinkedIn than other social media channels. Financial services firms' incremental customer sign-ups spiked 7 times higher, and educational institutions found LinkedIn 2-4 times more effective than other display media.
According to HubSpot's Social Media Trends Report, the top three social media platforms that generate the highest ROI are Instagram (25%), Facebook (23%), and YouTube (14%).
Instagram offers opportunities to increase sales and reach through non-organic content, like ads and branded content. However, HubSpot found that posting organic content on Instagram also generates a higher ROI than Facebook, YouTube, and TikTok.
As Instagram continues to improve its eCommerce features, it's become an invaluable tool for generating business. This is backed up by HubSpot's findings, which show that 90% of users follow at least one company on Instagram, and 50% become more interested in a brand after seeing its ad on the platform.
Facebook also offers a rich environment for business-to-customer (B2C) and B2B companies, with over 200 million businesses using the platform. Marketers can advertise on the News Feed, Messenger app, and other Facebook social spaces. They can also use Facebook Lead Ads to distribute lead generation forms, which users can fill out without leaving the Facebook app.
What makes Facebook an excellent marketing channel is its segmentation abilities. You can identify your target audience based on their demographics, interests, behaviors, and interactions with your business, such as whether they've Liked your page. This allows you to target your ads to a particular audience to help maximize ROI.
On the other hand, YouTube also makes an indispensable marketing channel because it has more than 2 billion users and 34 billion monthly visits. Even though short-form videos like TikToks, Shorts, and Reels now dominate people's feeds, long-form content remains superior according to 54% of marketers—and YouTube provides the best platform for such content.
---
3. Email Marketing
Email marketing is more than just newsletters. B2C firms can also use it to send personalized marketing messages, time-sensitive announcements (e.g., sales or product launch promos), and reminders to customers who haven't checked out their filled carts.
According to HubSpot, email marketing can generate an ROI of $36 for every dollar spent. Using the best email marketing practices lets your business tap into the massive daily user base of email, which has approximately 4 billion people.
Using AI for email marketing is also shown to work. According to HubSpot's State of Generative AI, a whopping 95% of marketers sending AI-generated emails call the strategy "effective." Meanwhile, 54% rate it "very effective."
---
4. Omnichannel Marketing
Marketing on only one channel is no longer effective. Today, 92% of marketers leverage omnichannel marketing, with 81% using more than three channels. When done right, omnichannel marketing can retain 89% more customers.
Omnichannel marketing integrates various channels to create a consistent brand experience, offering consumers convenient options for fulfillment, such as online or in-store purchases. Online channels provide consumers with more options and real-time information. Omnichannel marketing also allows them to engage with brands how they want for an enhanced overall customer experience.
B2C companies often leverage content repurposing as an omnichannel marketing approach. Repurposing content has several benefits, including expanding your reach, saving time, enhancing what already works, and boosting SEO.
Repurposing content can expand your reach because it lets you diversify the ways you reach your audience. You can publish the same piece of content on different platforms, allowing it to impact a larger audience even if you have a small marketing team to support you. This can free up time for other tasks, such as experimenting with various content types.
Lastly, content repurposing boosts SEO because you have multiple pieces of content using the same target keyword, helping drive traffic to your site.
---
5. Search Engine Optimization
With 93% of online experiences beginning with a search engine, SEO has become one of the most essential marketing strategies. Gitnux found that SEO generates a 14.6% conversion rate, significantly higher than traditional outbound methods (1.7%). Moreover, 57% of B2B marketers reported that SEO generates more leads than other marketing strategies.
HubSpot's research shows that implementing a pillar cluster model in blogs makes them more effective, as reported by 35% of B2B marketers and 59% of B2C marketers. A pillar cluster model, AKA pillar pages or pillar posts, are content pieces that serve as a topic cluster's central hub. A topic cluster, on the other hand, means a group of related content pieces focused on a particular topic or theme.
For example, if you want to create a blog on marketing channels, the entire blog is a pillar page while the links to the sub topics covered are cluster pages.
Pillar pages boost SEO by building topic authority, simplifying user navigation, avoiding keyword cannibalization, improving your site's interlinking, and generating backlinks. These qualities signal your pillar page's authority to Google, giving your site a high ranking.
Other SEO tactics marketers swear by include utilizing search insights reports, optimizing various types of media for visual search engines, and optimizing load speed.
---
6. Influencer Marketing
While many marketers found success in other marketing channels, consumers seek something that ads may be unable to provide: social proof. According to Shopify's Influencer Marketing Statistics, 61% of consumers trust influencer recommendations.
A TopRank Marketing study found that 86% of B2B brands succeeded from influencer marketing, which could be why 17% of marketers planned to invest in it for the first time.
Influencer marketing doesn't have to mean partnering with the biggest names on social media. In fact, nano influencers, or those with between 1,000 and 5,000 followers, have the highest engagement rate. As such, they're more likely than mega-influencers and celebrities to encourage their followers to buy a product.
If you want to collaborate with a more popular influencer, consider micro-influencers with 5,000-20,000 followers. Micro-influencers make up almost half of all influencers and have higher engagement rates than mega-influencers and celebrities. The vast supply of micro-influencers allows you to tap into a significant audience base.
---
7. Video Marketing
Even though many marketers still swear by long-form videos, short-form videos are also becoming the go-to type of content for B2B and B2C companies. With TikTok surpassing 1.6 billion users, brands can exponentially grow their audience by leveraging the platform.
Short-form videos are a familiar trend. They first dominated social media when the app Vine was created in 2013, and today it seems short-form videos will stay in style for a while. As TikTok, Instagram Reels, and YouTube Shorts continue to amass billions of users and views, marketers plan to increase investments in video marketing, with 29% exploring it for the first time.
---
8. Podcast Marketing
Only a few marketers use podcasts or other audio content in their strategies. But among those who use podcasts, 53% state that this audio format is the most effective.
Podcasts focus on storytelling, capturing the audience's attention while allowing them to multitask. Since our brains are designed to seek out and respond to well-crafted narratives, storytelling provides that stimulation, especially when brands show and don't tell on their podcasts.
For example, a brand launching a product can talk about how their team came up with the idea behind it as well as the obstacles and triumphs they experienced throughout product development. These details show the audience what it's like to be a part of the process, increasing the excitement about the product.
---
Why are Marketing Channels Important?
Leveraging marketing channels like social media, videos, SEO, influencer marketing, and others help businesses be more effective in their marketing initiatives. A feasible marketing strategy should cover diverse marketing channels to drive engagement and achieve critical business goals. Various marketing channels enable businesses to share relevant content, market and sell their products, and provide after-sales support to wider audiences.
In addition, businesses can save time and money by spreading their message to targeted audiences. For instance, brands with a prominent social media presence can build brand awareness by tapping massive audiences. By properly communicating how a product or service can effectively meet a potential customer's needs, brands can increase their leads, sales, and profits.
---
Best Practices for Choosing a Marketing Channel
Marketers should remember that customers won't necessarily buy products because they saw a single ad. It's more likely that businesses make a sale because they utilize various marketing channels that make them more accessible.
Choosing an effective marketing channel requires tracking your customers' entire journey. This helps determine the best ads, content formats, and channels that effectively pull in your target customers and encourage them to make a purchase.
Marketers should also put branding efforts and lead-generation tactics in one silo. Although the two functions have entirely different KPIs, customers can heed your call to action more quickly if you simultaneously build brand awareness while selling a product.
A larger budget dedicated to creating ads would be ideal, but if increasing the marketing budget isn't an option, consider investing a significant portion of the budget in brand building.
Most importantly, businesses must determine their target audience before setting a budget. LinkedIn makes the most sense as a marketing channel if you are a B2B firm helping your clients grow. On the other hand, if you're a B2C brand catering to a niche group of social media users, influencer marketing may be worth looking into because those types of audiences likely get product recommendations from their favorite social media content creators.
Last but not least, study your competition. Determine the marketing channels they use as well as their unsuccessful strategies. Equipping yourself with this knowledge may give you a unique opportunity to grow your audience in the spaces your competitors cannot leverage.
---
How to Measure ROI
The simplest formula for calculating ROI from marketing is ROI = (Sales Growth – Marketing Cost) / Marketing Cost. For example, if your company's sales increased by $3,000 and your marketing campaign costs $2,500 to run, your ROI is 500%.
However, this formula assumes that the marketing campaign is the main reason for the monthly sales growth. This assumption may not always be valid because other factors, such as seasonality, market shifts, and your competitors' actions, could be at play. That's why it would help if you had comparisons to measure the real impact of your marketing campaign.
Comparing the sales data before and after the marketing campaign enables you to better isolate its effect and determine its actual ROI. Moreover, the comparison helps you identify other factors that may have contributed to sales growth, which can be helpful for future marketing campaigns.
To measure your ROI more accurately, analyze the existing sales trend using a 12-month campaign lead-up. For example, if your company has identified an average organic growth rate of 3% per month over 12 months, your ROI calculation should take out the 3%.
This would make the formula ROI = (Sales Growth - Average Organic Sales Growth - Marketing Cost) / Marketing Cost.
Suppose your company has a 3% organic sales growth, and you launch a $8,000 marketing campaign monthly. You note a $12,000 increase in sales as a result. Four percent of $12,000 is $360, so your ROI formula is: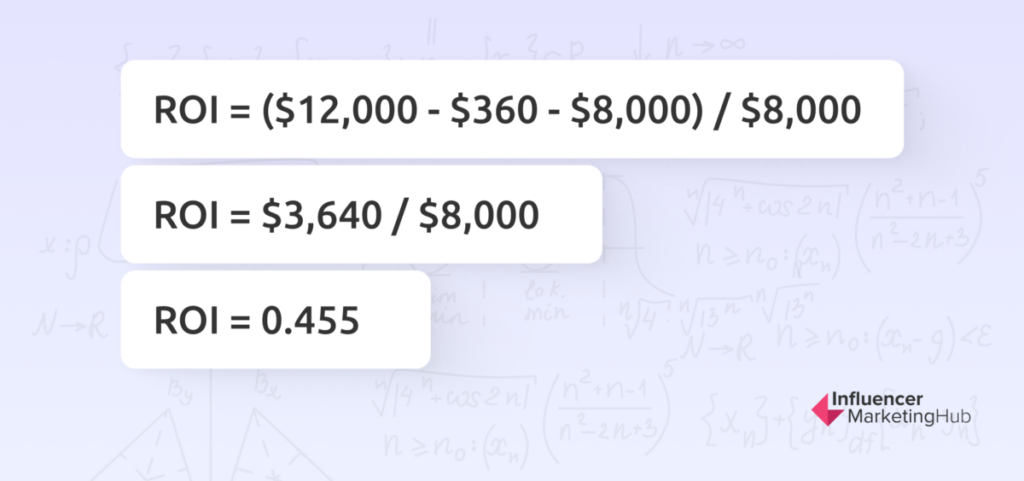 Your ROI in this scenario is 45.5%. However, what happens if your company experiences negative sales growth?
For example, if your company has an average sales drop of $1,000 for a particular month, and a $600 marketing campaign leads to a $250 decrease in sales, your ROI calculation should revolve around the $750 ($1,000 - $250) you didn't lose. You have an ROI of 25% ($750 - $600) / 600), which is still substantial.
---
Drive Success by Leveraging Top Marketing Channels
Now that you know the marketing channels generating the highest ROI, start exploring the ones that apply best to your business to reach your business goals for this year. Even though we're at the beginning of 2024, there's still time to launch marketing campaigns that can rapidly increase your sales and profit.
Don't just focus on one channel; whether you're a B2B or B2C firm, leverage multiple channels to reach different market segments and drive more engagement. Additionally, maintain a consistent brand voice in any channel you use to cement your identity and build trust.
Most importantly, always research before choosing a channel and planning a campaign. Get to know your audience and competition to develop the most effective marketing campaign and enjoy a great ROI.
Frequently Asked Questions
What is a marketing channel?
A marketing channel is a particular way of reaching your target audience. It includes professional networking sites like LinkedIn, social media, videos, podcasts, SEO, and email.
Is LinkedIn social media?
It is generally considered social media, but since its primary purpose is to expand your professional network and B2B prospects, it may more accurately be referred to as a professional networking platform.
Which marketing channel drives the highest ROI?
It depends on the type of business, but according to studies, LinkedIn, social media, email marketing, omnichannel marketing, SEO, influencer marketing, videos, and podcasts drive the highest ROI depending on your target audience.
How do you measure ROI from marketing?
The simplest formula is ROI = (Sales Growth – Marketing Cost) / Marketing Cost, but you may get more accurate results using ROI = (Sales Growth - Average Organic Sales Growth - Marketing Cost) / Marketing Cost.