Advertising Disclosure
Advertising disclosure:
Our partners compensate us. This may influence which products or services we review (also where and how those products appear on the site), this in no way affects our recommendations or the advice we offer. Our reviews are based on years of experience and countless hours of research. Our partners cannot pay us to guarantee favorable reviews of their products or services.
With podcasts gaining immense popularity, they have quickly become an essential part of the marketing mix for businesses. Podcast marketing, in particular, has proven to be a potent tool within the digital marketing space, offering a unique and personal way for businesses to connect with their target audiences.
Podcast marketing agencies play a pivotal role in this landscape, acting as the linchpin that aligns advertisers with the right podcasts. These agencies identify the podcasts that resonate most strongly with a brand's ethos and goals, ensuring optimal utilization of advertising budgets. They also aid in defining and reaching target markets, creating robust ad campaigns, and reporting on the success of these campaigns. This end-to-end service ensures that businesses can leverage podcast advertising effectively to boost their brand visibility and engagement.
---
Top Podcast Marketing Agencies
These agencies have demonstrated their prowess in harnessing the power of podcast advertising to drive tangible results for businesses across various industries. Their innovative strategies, deep audience insights, and proven track records make them the frontrunners in this burgeoning field.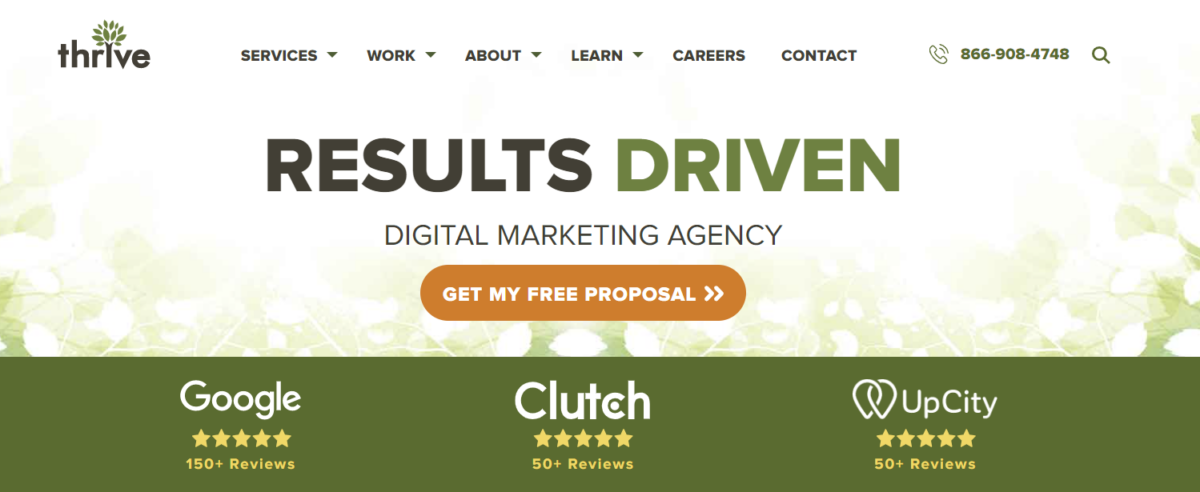 Thrive is a full-service digital marketing agency that has been aiding businesses in their growth journey since 2005. Over the years, the company has evolved from a small team into a global powerhouse with more than 220 employees across 34 U.S. states.
Thrive's key offering is their podcast marketing service, where they combine their expertise in digital marketing with a comprehensive understanding of the podcast landscape. They have a proven track record of helping clients grow their podcast reach with a cohesive digital marketing strategy. They undertake the entire production process, allowing their clients to focus on developing quality podcast content.
In addition to content creation, Thrive excels in advertising strategy. The agency employs a team of specialists who devise innovative organic and paid search strategies to promote podcasts effectively. Their proficiency in Google AdWords strategy and organic digital marketing techniques help podcasts rise above the din and attract the desired customer attention. They also offer a range of online advertising solutions, including Facebook ads strategy, social media content strategy, and SEM strategy creation.
Thrive's client-centric approach and commitment to delivering remarkable results have earned them recognition as an award-winning digital marketing company. Their comprehensive services and global presence make them a prominent player in the podcast marketing landscape.
---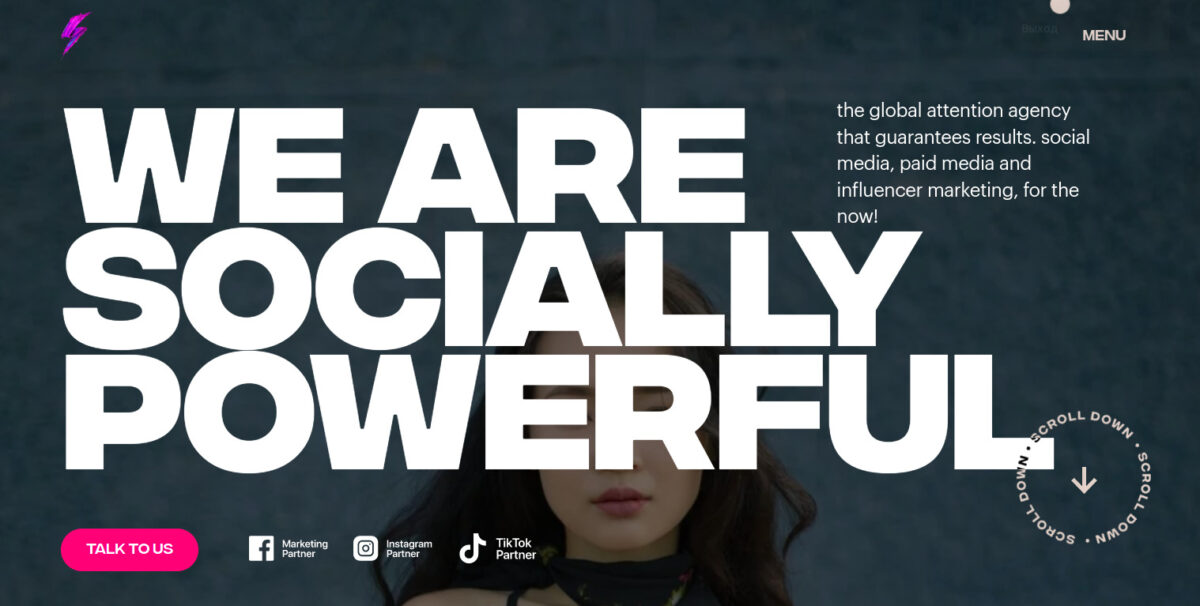 Socially Powerful is a market-leading podcast marketing agency that guarantees results. They specialize in converting brand knowledge into market-leading creative ideas, ensuring your podcast stands out. Their comprehensive suite of services spans from Podcast Creative & Strategy to Influencer & Celebrity Guest Sourcing.
Their approach to Podcast Creative & Strategy involves a deep understanding of your brand and goals, and the use of creative ideas to convert this into podcast royalty. The team at Socially Powerful is equipped to handle all aspects of Podcast Production, using the best-in-class technology to ensure the sound and visuals of your podcast stand out across all social platforms.
Socially Powerful also excels in Podcast Marketing & Distribution. They work with leading podcast providers like iTunes, Spotify, and Google, and employ bespoke podcast marketing strategies to drive users to your podcast. This includes paid media, influencer marketing, and social community distribution. The agency's ability to tap into the influencer and celebrity market gives them an edge in driving impactful performance for your brand, guaranteeing traffic and conversions.
For Influencers: If you are looking for agencies to represent you click here.
---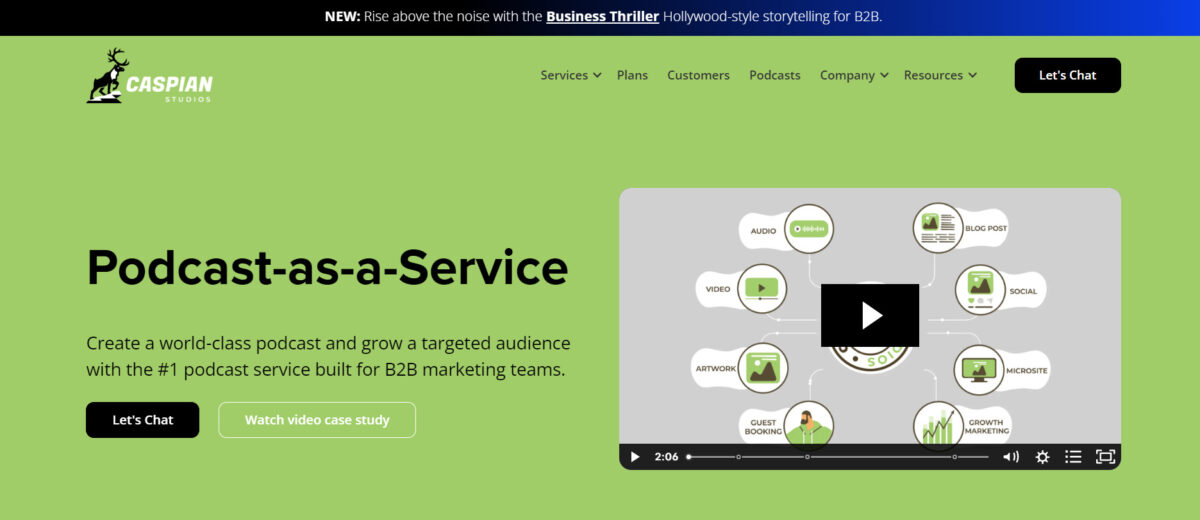 Caspian Studios, a top-rated podcast marketing agency, stands out in the field due to its comprehensive suite of services that range from pre-production to post-production. Their extensive expertise in content creation, recording, editing, and digital advertising has enabled them to aid B2B marketing teams in generating significant additional revenue.
At the heart of Caspian Studios' services is the optimization of podcasts using highly searched target keywords, a tactic that ensures your podcast garners maximum visibility. They excel in repurposing content, converting recorded audio into written formats like blog posts and eBooks, thereby extending the reach of your message.
Their team's competence also extends to sourcing and interviewing high-value guests, setting up recording equipment, and planning and scripting episodes in advance, all of which contribute to delivering a seamless podcasting experience. Moreover, they transform recorded episodes into text for blogs and other marketing materials, broadening the channels through which your content can be disseminated.
The agency has an impressive portfolio, having catered to some of the largest and most well-known brands, including Slack, IBM, and Dell Technologies, among others. Their unique pre-planning approach to each episode ensures that the content aligns seamlessly with future marketing efforts, thereby optimizing performance.
---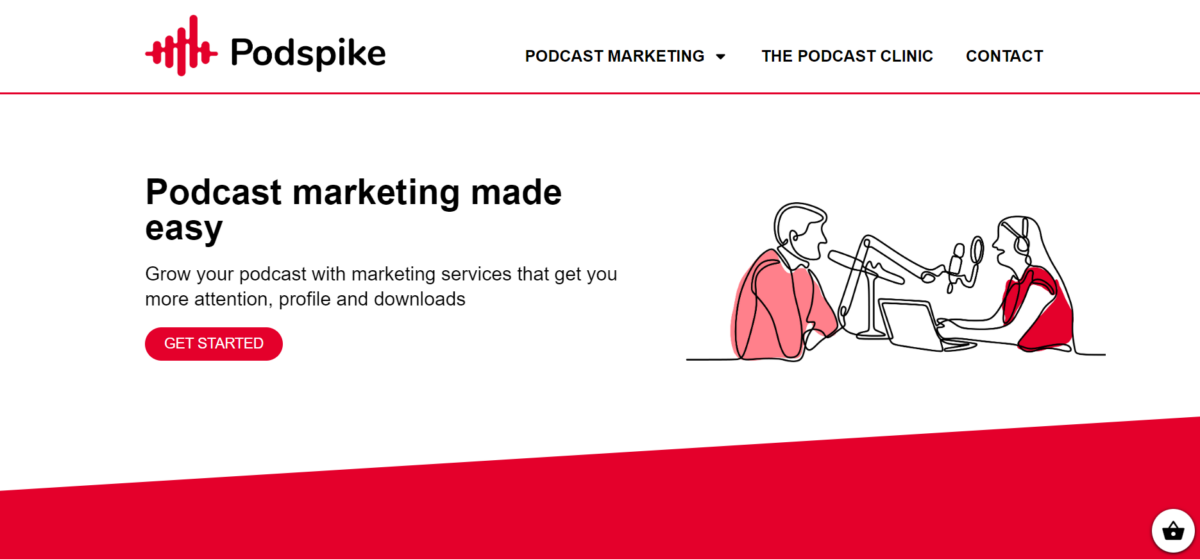 Podspike, a specialist in podcast marketing services for branded podcasts, is renowned for optimizing the packaging and presentation of podcasts, thus enhancing conversion rates and user experience. Their proficiency in raising your podcast's profile, prestige, and authority through targeted press campaigns, newsletter features, influencer support, and rich social-media assets sets them apart.
Podspike guarantees an increase in downloads and subscribers through in-app placements, targeted adverts, and cross-promotion partners. This promise of growth is substantiated by their track record of aiding numerous podcasts in featuring on the Apple Podcast charts, including "The Third Act podcast" and "The Engineering Edge podcast."
Their approach to podcast marketing is three-pronged: optimize, showcase, and boost. By refining how your podcast is packaged and presented to target audiences, they improve conversion rates and enhance the listener experience. Through targeted press campaigns, newsletter features, and influencer support, Podspike elevates your podcast's visibility and prestige. Lastly, they ensure a surge in downloads and subscribers through strategic in-app placements, targeted adverts, and partnerships for cross-promotion.
---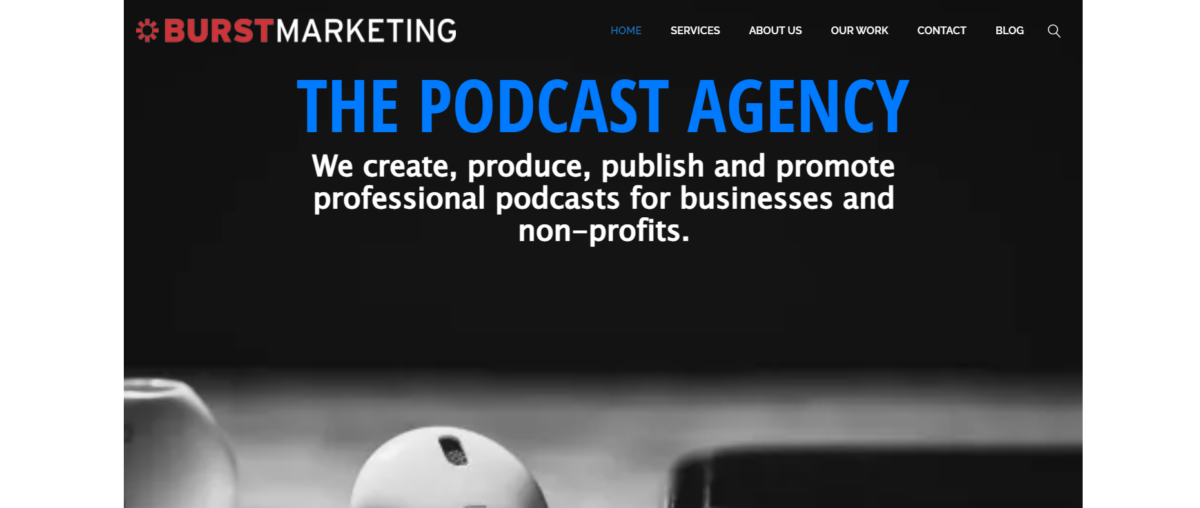 Founded in 2004 by Rob Simon, BurstMarketing has become a force in the podcasting world, with a record of over 5.5 million podcast downloads and counting. Renowned for its robust services, this agency relies on its vast experience in podcast production, marketing, and strategy to provide an all-inclusive experience for brands and non-profits seeking to make their mark in the podcasting realm.
BurstMarketing provides comprehensive podcast production services, encompassing everything from podcast strategy and concept development to hosting training and equipment provision, as well as cloud recording, mixing, editing, and MP3 tagging.
But BurstMarketing's services do not stop at production. Their promotion strategies leverage ID3 and Metatagging for optimal SEO discovery, and they help brands promote their podcasts across various channels, including websites, blogs, eblasts, and social media. They also employ a comprehensive tracking system that provides a monthly Podcast Dashboard, detailing key metrics of podcast performance, and have the ability to integrate with Google Analytics. They ensure your podcast is distributed to iTunes, Google Play, Stitcher, Spotify, iHeart, and more, managing the ongoing posting and distribution of episodes with MP3 uploading, show notes, and images.
---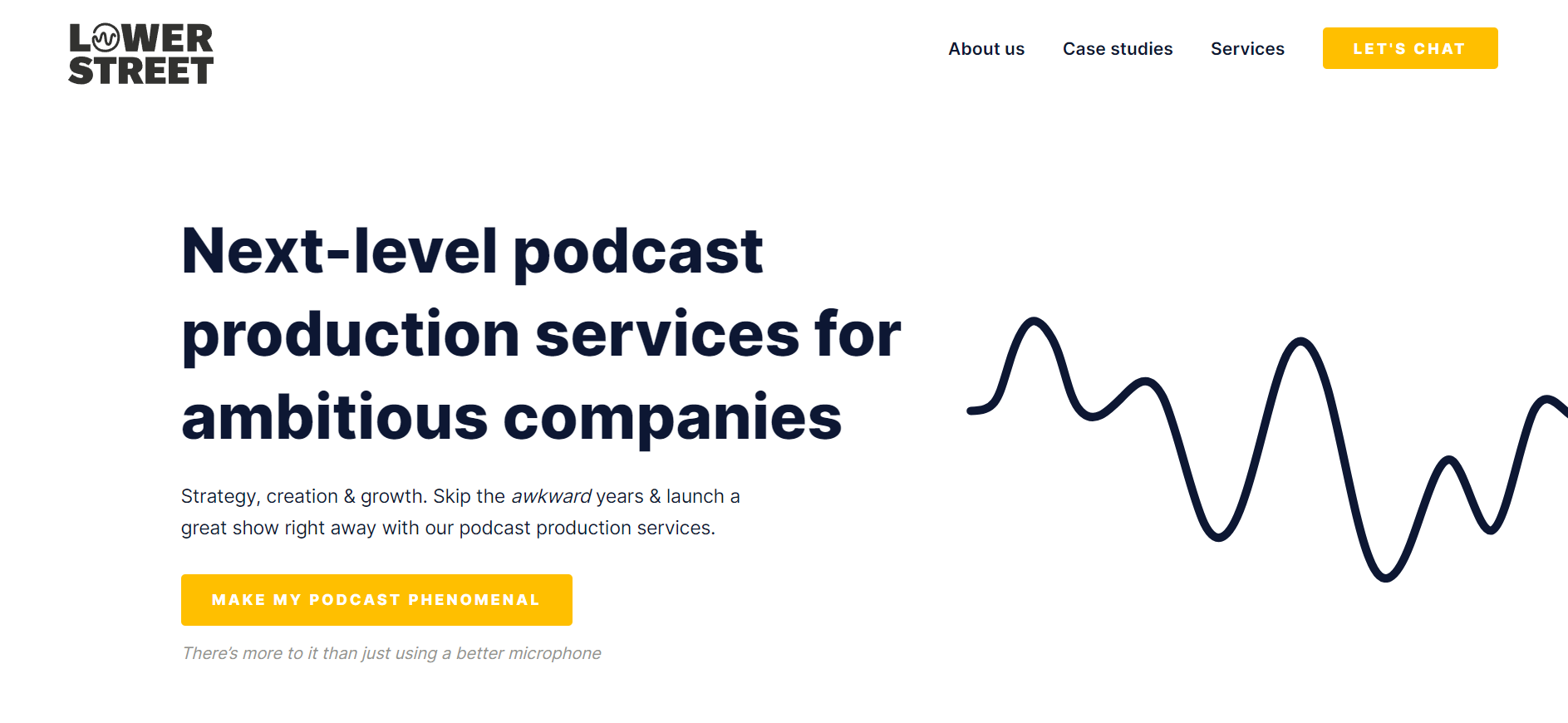 Lower Street is a podcast promotion service that prides itself on using tried and tested strategies to help quality content reach the listeners it's meant for. With a mission to ease the burden of podcast promotion from content creators, Lower Street focuses on systemized promotion, giving content creators the freedom to focus on producing high-value, binge-worthy content.
Instead of relying on short-term strategies like paid social campaigns, Lower Street focuses on programmatic ads, targeting podcast listeners while they are already engaged in listening to podcasts. This approach allows them to reach self-selected podcast listeners with relevant content, at a time when they're already engaged in the medium. This method has proven to be effective in converting casual clicks into long-term subscribers.
Lower Street also provides managed podcast marketing campaigns for those who are serious about growing their podcast listenership. They combine cross-promotion partnerships, sponsorship deals, and programmatic ad campaigns to help brands expand their podcast audience. Alongside this, they offer podcast growth consulting, providing a full strategy for brands to implement based on their objectives and goals.
---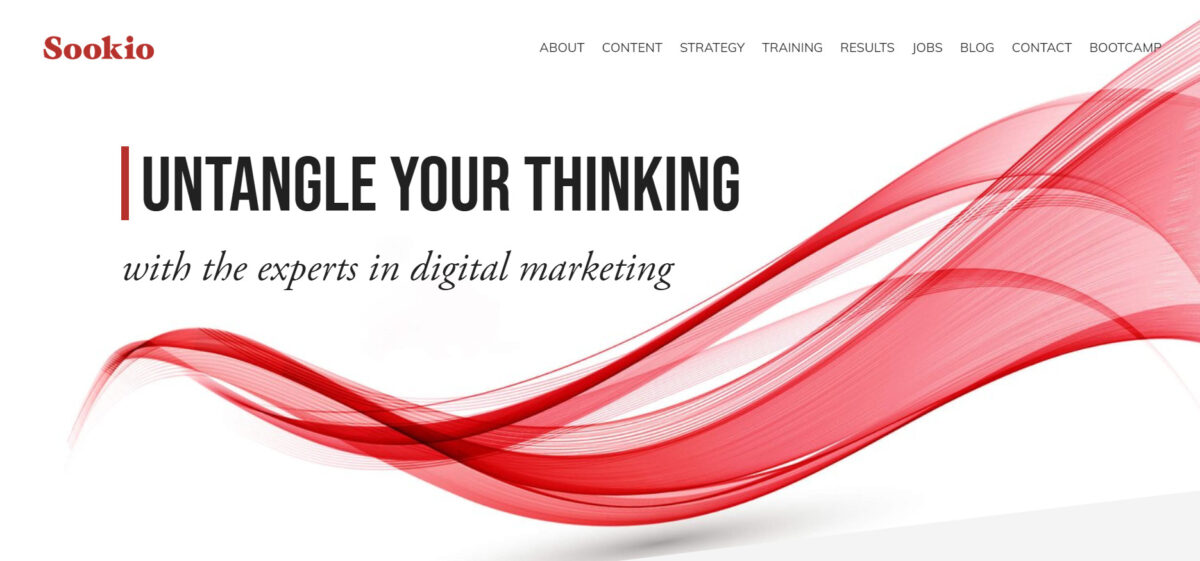 Based in Cambridge, Sookio is a pioneer in the podcast marketing sphere, offering a robust suite of services to large organizations with established listener communities.
At the heart of Sookio's approach is a commitment to amplifying your brand's message and authority, integrating podcasts into your overall marketing strategy to captivate your audience effectively. Their offerings extend to podcast consultancy, podcast editing, transcription services, podcast guest and hosting services, and content and social media strategy.
The team behind Sookio is not only experienced in producing podcasts but are also ardent podcast listeners themselves, ensuring they are well-versed in contemporary trends and formats. Founder Sue Keogh, with her rich background in broadcast media including BBC Radio 2 and ITV, provides valuable editorial and audio production expertise.
Sookio's unique selling point is its strategic approach to podcast marketing, which includes targeted campaigns and consultancy to help you plan your podcast content. They assist in developing your core topic and content plan, hosting and interview techniques, and identifying the right guests for your podcast.
---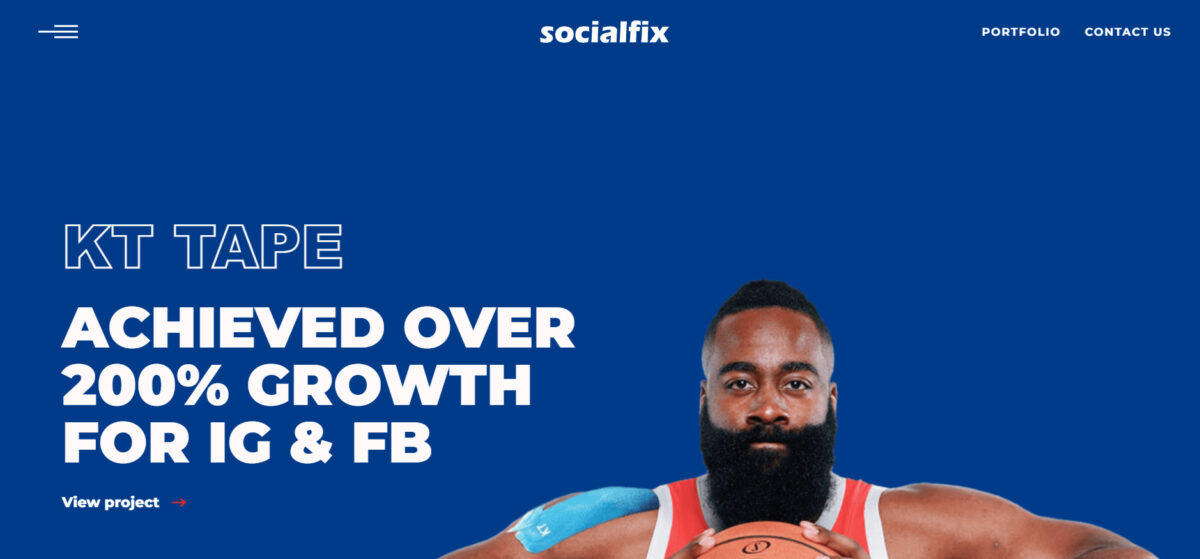 Sociafix offers a comprehensive range of podcast services, designed to connect you with your ideal listeners. Their services include podcast audio recording, podcast branding, audio books recordings, podcast video production, live-streaming & travel podcasting, podcast strategy & advisory, virtual podcasts, and sponsorship & partnerships.
What sets Sociafix apart is their emphasis on crafting podcast experiences with purpose and intent. They have specific branded podcast series for different types of content, such as storytelling, interviewing, traveling, and a hybrid option for magazines or companies. This tailored approach helps businesses connect with their audiences more authentically and effectively.
Their strategic approach to podcast production and marketing involves a four-step process designed to maximize your impact. This includes pre-launch coordination, crafting the right message for your audience, building momentum, and executing a launch plan.
Sociafix provides all the necessary gear for podcast production and marketing, including audio files, video files, transcript files, social toolkit, custom graphics, audiograms, a branded podcast landing page, sponsorship opportunities, and content strategy. This makes Sociafix a one-stop-shop for all your podcast marketing needs.
---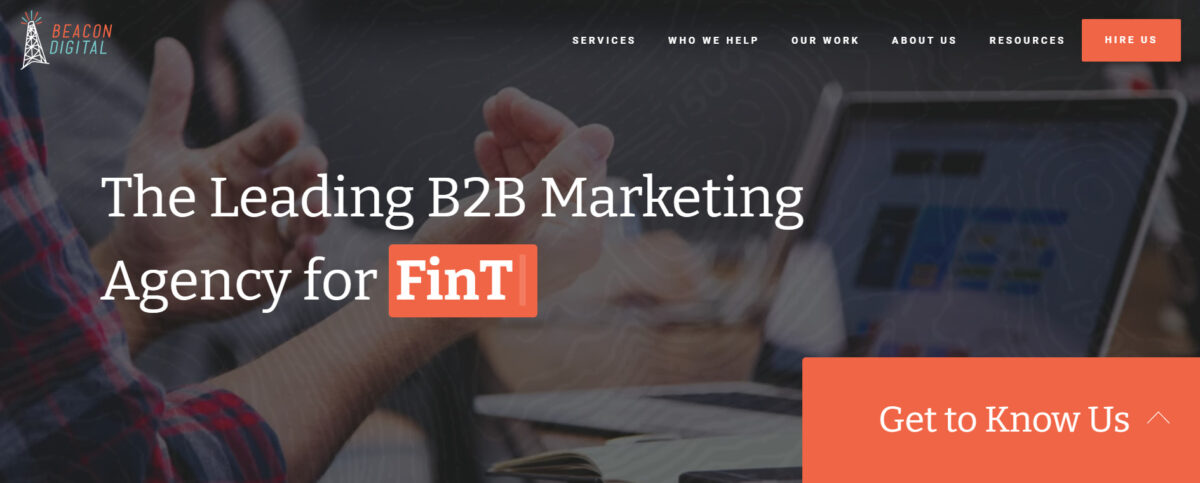 Beacon Digital is an industry leader in B2B podcast marketing, specializing in crafting, producing, and promoting podcasts for businesses seeking to leverage audio storytelling. With their expertise, they turn the seemingly intimidating process of podcasting into a powerful pillar of inbound marketing.
The core strength of Beacon lies in their unique approach to branded podcast creation. They work closely with B2B brands to help them produce educational and original content that not only raises brand awareness but also showcases the solutions they offer in a fun and accessible format.
Their process is highly customizable and client-focused, offering services a la carte or in packages. Their offerings extend beyond podcast production to include finding guest podcast opportunities for your executive team and thought leaders, thereby increasing brand awareness and lead generation.
Their "Strategy & Concepting" package is a comprehensive service designed to help define and structure your podcast program to align with your marketing objectives. This includes target audience identification, goal and KPI definition, keyword and competitive research, and logistical details on frequency, host, and format. They also help create a promotional plan that matches your budget and effectively reaches your target audience.
Beacon Digital Marketing also boasts a proven track record, showcasing projects like "The Top Floor," a podcast series for a real estate property management software company, AppFolio.
---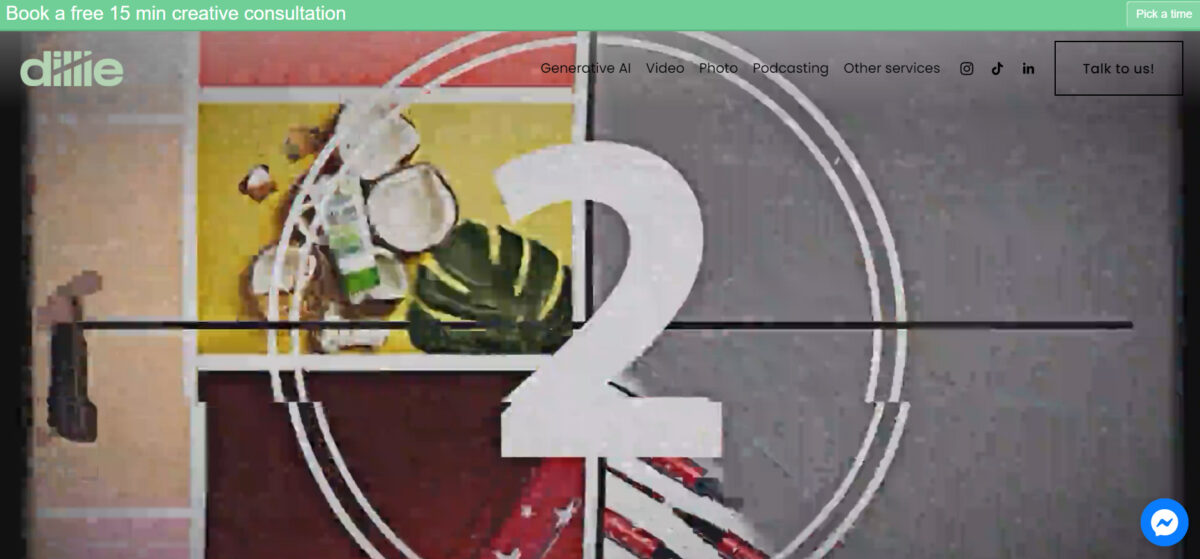 Dillie is America's premier podcast booking agency, renowned for providing unlimited bookings and a full podcast media strategy to clients across various niches. They pride themselves on offering guaranteed results, dedicated support, and niche-specific outreach.
Dillie's unique selling proposition lies in their promise of unlimited bookings. They allow you to appear on a multitude of popular podcasts that align with your area of expertise, ensuring maximum brand exposure and engagement.
Their comprehensive marketing strategy aims to address common challenges faced by brands, such as lack of media exposure, difficulty reaching new audiences, and challenges in gaining wider brand recognition. Through their tailored podcast interviews, they help brands connect organically and creatively with their target markets, resulting in high engagement rates and boosted visibility.
Dillie's process is straightforward yet effective. After an in-depth consultation on your goals and preferred podcasts, they handpick popular podcasts that align with your expertise and speak directly to your target audiences. Within one month, you start appearing on podcasts as frequently as multiple times a week.
Beyond their booking services, Dillie also promises improved brand awareness, leadership positioning within your industry, network building, and audience growth among other benefits. Their confidence in their services is reflected in their money-back guarantee if they fail to deliver.
---
---
Choosing Your Podcast Marketing Agency
As you venture into the world of podcast marketing, choosing the right agency is pivotal. Remember, the chosen agency does more than just pairing your business with podcasts – it becomes a vital part of your marketing strategy, shaping your path towards success. So, here are some key considerations to guide your choice:
Expertise and Understanding: It's crucial for the agency to be well-versed with the podcast landscape, including different genres, audience demographics, and trends that can shape a tailored advertising strategy.
Audience Identification and Reach: An agency's effectiveness in identifying and reaching target audiences is vital. This requires a profound understanding of consumer behavior, segmentation, and targeting techniques.
Successful Track Record: Look for agencies with a proven track record in planning and executing successful ad campaigns. This should involve not just creative and strategic skills, but also data analysis capabilities to measure and report on campaign success.
Reputation and Reliability: Assess the agency's reputation and reliability based on client testimonials, case studies, and industry recognition. An agency's transparency and communication style are also important for ensuring a smooth working relationship.
Given the rise of podcast popularity, with over 420 million podcast listeners globally, it's clear that podcasts offer a compelling channel to reach your audience. Choosing the right podcast marketing agency can help you tap into this medium effectively and boost your brand's reach. Remember, the agency that understands your brand, shares your vision, and possesses the capabilities to transform your goals into reality is your best pick. Navigate the exciting world of podcast marketing with the right agency guiding your journey.
Frequently Asked Questions
Can a podcast marketing agency help if I want to start my own podcast?
Absolutely! Many podcast marketing agencies provide services for businesses looking to start their own podcasts. They can help with every step of the process, from concept creation and production to promotion and audience engagement.
How do agencies measure the success of a podcast ad campaign?
Agencies use a variety of metrics to measure the success of a campaign. This can include downloads, listener demographics, audience engagement, and conversion rates. They provide regular reports to help you understand the effectiveness of your campaigns and make informed decisions about future marketing strategies.
How much does it cost to hire a podcast marketing agency?
The cost can vary greatly depending on the services you need, the agency's expertise, and the scope of your project. It's best to reach out to agencies directly for specific pricing information. Remember, the investment can offer significant returns in terms of brand visibility, audience growth, and lead generation.
How long does it take to see results from podcast marketing?
Results can vary based on several factors, including the quality of the podcast, the strength of your marketing strategy, and the level of audience engagement. However, with a solid strategy and execution, you can expect to start seeing results within a few months.
Can a podcast marketing agency guarantee success?
While an agency can employ all the best practices and strategies, the success of a podcast marketing campaign also depends on factors like the quality of the content, the relevance to the audience, and market trends. However, a reputable agency will work closely with you to maximize the chances of success and will provide transparent reporting on campaign performance.