While consumers are wired to respond to visuals, the podcast industry has grown significantly over the years. One reason for its success is the convenience that it offers. Considering that multitasking has become second nature to us, this medium allows us to get information while we continue with our daily lives, whether that's commuting to work, cooking, or exercising.
Though, it's not always used purely as a source of information. Some listeners have found a like-minded community via podcasts. As podcast hosts often interact with their subscribers on social media platforms, it's actually more engaging than it sounds.
From a creator's point of view, podcasting also presents another opportunity for making money online through sponsorships and ad revenues from the comfort of your own home. Overall, it's pretty easy to start a podcast and there are free platforms that can help you to monetize your content. Plus, as you don't have to release a new episode every single day, it can be a manageable side hustle.
If you're still not convinced that podcasting's success isn't going to be brief, take a look at the following statistics. As you'll see, for the past decade, it has only grown.
---
23 Podcast Statistics You Should Know:
---
1. There Are Over 3 Million Podcasts
As of writing, there are a total of 3,134,937 podcasts available worldwide. When it comes to individual episodes, the number reaches a whopping 169,244,762.
However, it's important to consider that these figures may not be exact due to various factors, with one of the key factors being the inclusion of inactive podcasts. An alternative source, the Podcast Index, suggests that the actual number is now more than 4.1 million.

---
2. There Are More Than 460 Million Podcast Listeners
As you would expect, there are also millions of podcast listeners. At the moment, the global community of podcast listeners is around 464.7 million people. This is roughly 22% of all internet users. Remarkably, from 2022 to 2023, the number of podcast listeners grew by over 40 million. Experts project that by the end of 2024, there will be roughly 504.9 million podcast listeners around the world.

---
3. Americans Like Listening to Podcasts
In the US, the count of individuals engaging in weekly podcast listening is anticipated to hit a remarkable 103.6 million by the end of 2023, representing roughly one-third of the nation's populace. Moreover, this trend is poised to sustain its momentum, with estimates pointing to around 109.1 million listeners in 2024, followed by 114.7 million in 2025, and an impressive surge to 119.4 million by the end of 2026.
---
4. Australians Love Listening to Podcasts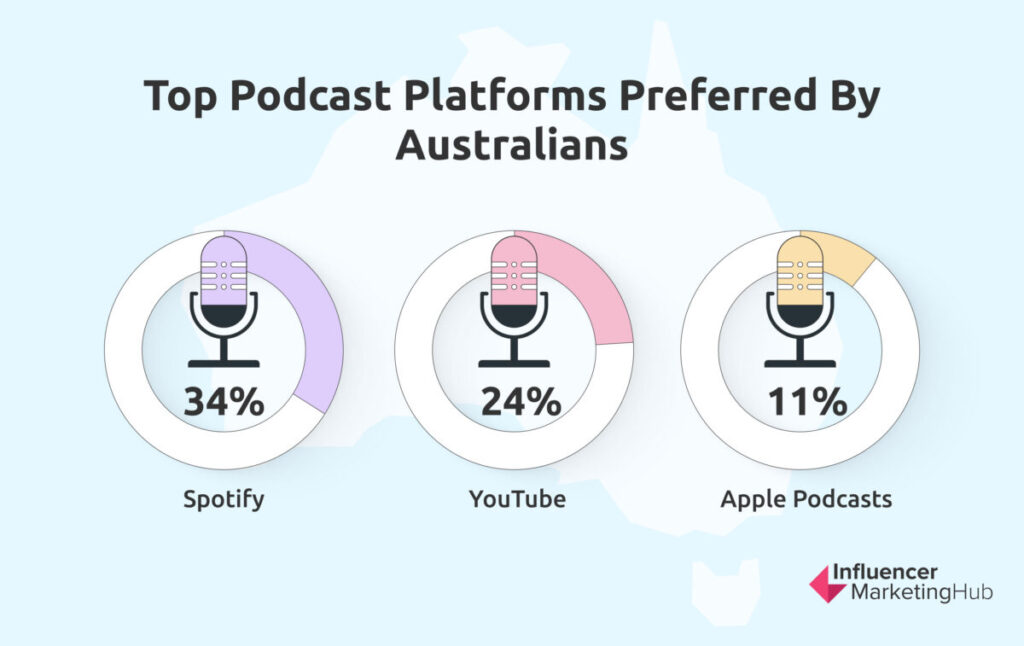 According to the Edison Research Infinite Dial 2023, Australia has emerged as the leading country when it comes to podcast consumption. A notable 43% of Australians aged 12 and above have engaged in podcast listening within the past month, while 33% of individuals in this demographic have listened in the last week. Approximately 10% of Australians aged 12 and above engage in daily podcast consumption.
When it comes to preferred platforms, Australians use Spotify (34%), followed by YouTube (24%), and then Apple Podcasts (11%). It should be noted that Apple Podcasts are inaccessible on Android devices, which is a drawback since Kantar reports that Android holds a dominant 51.6% market share in Australia.

---
5. 62% of US Consumers Listen to Podcasts
According to data shared by Statista, 62% of all US consumers listen to podcasts. What's more, the number of podcast listeners has steadily increased during the past eight years. While it only increased from 57% to 62% in the past year, it has doubled over the last 10 years.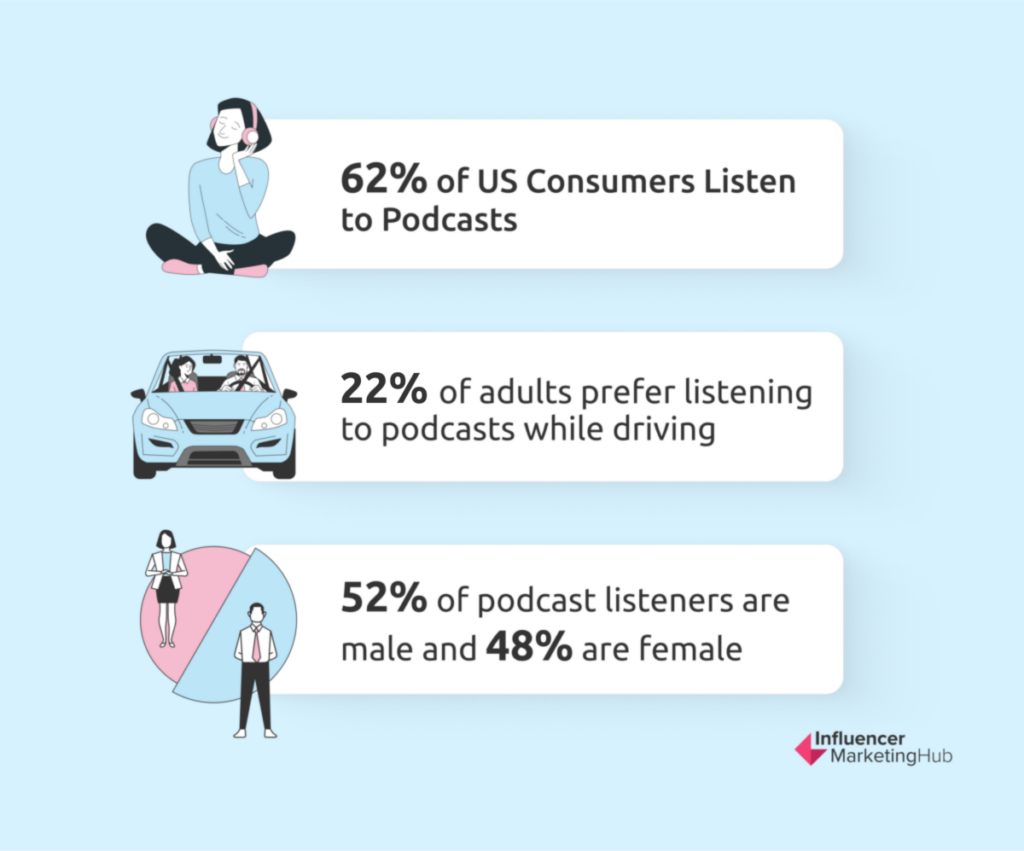 ---
6. Apple Podcasts is the Preferred Podcasting Platform, Followed by Spotify
According to the Buzzsprout Platform Stats, Apple Podcasts is the most popular platform for global podcast listeners, with a share of 41.3% and 57,784,043 podcast downloads. In the second spot is Spotify, with 30.2% of podcast users and 42,216,588 downloads. Following these two leaders are other platforms and listening apps, ranked by popularity: the Web Browser, Google Podcasts, and Apple iTunes.
In the US, particularly with the younger generation, Spotify is the top platform for podcast listening, with 25% of listeners. Apple Podcasts is next with 20%, followed by Google Podcasts at 16%. CastBox and Pocket Casts are the least used apps, with 5% and 6% of listeners, respectively.
---
7. Tech Advancements Favor In-Car Podcast Listening Despite Limited Reach
Edison Research found that an increasing number of adults (32%) prefer listening to podcasts while driving. Additionally, Podcast News Daily's survey showed that 5% of in-car listeners choose to listen to podcasts over audiobooks. This trend is supported by the rise of technology integration. DTS reports that 53% use Bluetooth and 14% utilize Apple CarPlay to enjoy podcasts through their car's audio system.

---
8. English Dominates as the Most Popular Language in Podcasts
Currently, there are over 1.89 million English podcasts, making it the most widely used language. Spanish trails behind with more than 358 thousand podcasts, while Portuguese ranks third with just over 200 thousand. Following these are Indonesian, German, French, Chinese, and Japanese as the next most popular languages for podcasts.

---
9. Society & Culture Top the Global Podcast Genre; Comedy Reigns in the US
Globally, the most popular podcast genre is society & culture boasting over 530 million podcasts. Education follows closely behind with over 480 million podcasts, and the arts take the third spot with over 350 million. Business ranks fourth with over 340 million podcasts, and religion & spirituality rounds out the top five with 320 million podcasts.
In the United States, comedy remains the most listened-to genre, followed by society & culture and news. True crime and sports claim the fourth and fifth positions, respectively.

---
10. 41% of the US Population Listen to Podcasts on a Monthly Basis
In the USA, about 41% listen to podcasts each month, and 28% do so weekly. They typically listen to around 11 episodes during their podcast sessions. Moreover, the Pew Research Center noted that nearly half of American adults (49%) have listened to a podcast within the past year. One out of every five podcast consumers is an ardent supporter who tunes in almost daily.

---
11. US Podcast Listeners Tune In for Education, Entertainment, and Diversion
88% of US podcast listeners tune in to their favorite podcasts for learning purposes, while approximately 87% do so for entertainment. 81% find it enjoyable to have something playing in the background while they're busy with other activities. And while 71% of podcast listeners appreciate the opportunity to hear diverse opinions, about 64% of podcast listeners find that podcasts help them stay up-to-date with the latest news and current events.

---
12. Vodcasts Are On the Rise
Video podcasts, or vodcasts, have gained popularity by providing a mix of audio and visual content that appeals to various audiences. Riverside.fm's Annual Report revealed that 85.4% of companies are recording video for their podcasts, with 44% of these podcasts featuring an interview-style format. The most common use of video for company podcasts is creating short clips for TikTok, followed by hosting full-video episodes on YouTube. Spotify has also witnessed an increase in its vodcast category as the company made video functionality available worldwide last year.

---
13. Mobile Phones Are the Preferred Device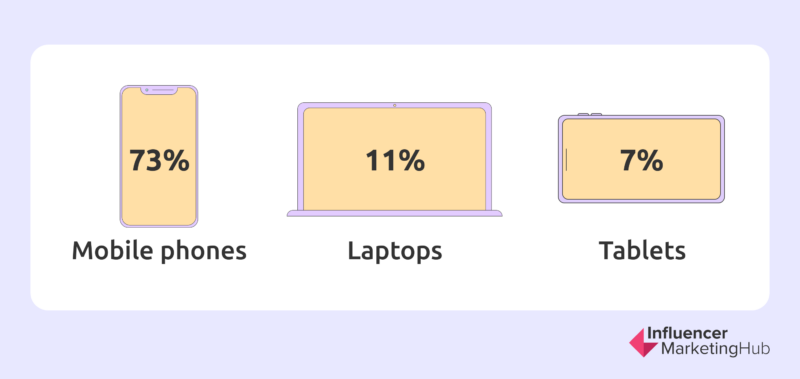 Mobile phones account for 73% of the podcast listening hours! The second most-used device is laptops (11%) with tablets (7%) in third spot.
While voice activated speakers are used for 2% of podcast listening, the increase in smart speakers is noteworthy and might change future listener behavior. In the span of four years, smart speaker ownership nearly doubled and in 2022 35% of the US population older than 12 owned a smart speaker. This gives listeners more chances to discover new podcasts from the comfort of their own home.
---
14. More Men Listen to Podcasts
In the UK, podcasting is more popular among men. The MIDAS Survey Summer 2022 found that in 2022 58% of men compared to 42% of women listen to podcasts.
In the US, the picture is the same, though the gap is smaller. According to data shared by The Women's Podcast Report from Edison Research and SXM Media, 52% of podcast listeners are male and 48% are female.
---
15. Podcasting Is More Popular Among Younger Listeners
A 2022 study on podcast consumption in the US revealed that millennials had the highest rate of listenership. In December 2022, 59% of millennials reported listening to a podcast within the past month. Gen Z also showed a strong interest, with 63% consuming podcasts in October.
Moreover, the Pew Research Center reported that adults aged 18–29 and 30-49 listen to podcasts more frequently than older age groups. Both age brackets listen to podcasts several times a week.

---
16. Spotify is the Top Podcast Publisher in the US
Spotify has become the leading audio podcast platform globally and the top podcast publisher in the United States. With over 100 million podcast listeners on Spotify, the growth has been incredible, increasing by a factor of 10. In terms of consumption, there has been an astounding growth rate of over 1,400%. The podcast content available on Spotify has expanded from 200,000 titles to an impressive collection of over 5 million shows. Notably, 165 of Spotify's Original and Licensed shows achieved the massive feat of reaching the number one chart position in 2022 across 99 markets.
---
17. Edison Podcast Metrics Ranks the Top 50 Most-Listened-To Podcasts in the US
The top three on the list are The Joe Rogan Experience, Crime Junkie, and The Daily. Hosted by comedian and UFC commentator Joe Rogan, The Joe Rogan Experience is a highly popular podcast featuring various guests and diverse topics. Crime Junkie, a true crime podcast produced by audiochunk, explores lesser-known crime cases. The Daily, produced by The New York Times and hosted by journalist Michael Barbaro, provides in-depth coverage of a single news story each day, featuring interviews with experts and reporters.

---
18. Live Radio Is Still Much More Popular
When analyzing the weekly reach of the different types of audio, live radio is still the clear favorite. The MIDAS Survey Summer 2022 found that across all age groups, live radio reached more listeners each week than podcasts. In some cases, it was as much as eight times more popular. That said, podcasts proved to reach more people each week than digital tracks, vinyl records, and audiobooks.
---
19. Podcast Ad Revenue Will Hit Over $5 Billion by 2027.
The podcast advertising market is estimated to reach a revenue of $3.46 billion by 2023. It is anticipated to grow annually at a rate of 9.77% from 2023 to 2027, reaching a market volume of $5.03 billion by 2027.
---
20. By 2024, the Industry Will Be Worth $4 Billion
The annual joint report released by the Interactive Advertising Bureau and PricewaterhouseCoopers (PwC) about the podcasting business estimates that in 2022, the industry will generate $2 billion in revenue. What's even more impressive is that according to their projections, it will double in just two years to total $4 billion by 2024.
Execs at the Interactive Advertising Bureau attribute a lot of this success and growth to the advances in ad tech. Thanks to these improvements, advertisers will be able to target their audiences better.
---
21. The Top Patreon Creator is the True Crime Obsessed Podcast
With over 47,000 patrons, True Crime Obsessed is the top Patreon creator at the time of writing this article according to Patreon statistics about revenue and users. It was first launched in January 2018 and offers four subscription tiers, with the lowest plan starting at $5 per month. While $5 per month doesn't sound like much, it adds up. According to Graphtreon, the estimated earnings per month is over $133,000 (but it could even be as high as $338,000).
Other popular podcasts on Patreon are Matt and Shane's Secret Podcast, Maintenance Phase, and The Tim Dillon Show. All these podcasts have over 40,000 patrons.
---
22. The Demographics of Podcast Listeners Are Diversifying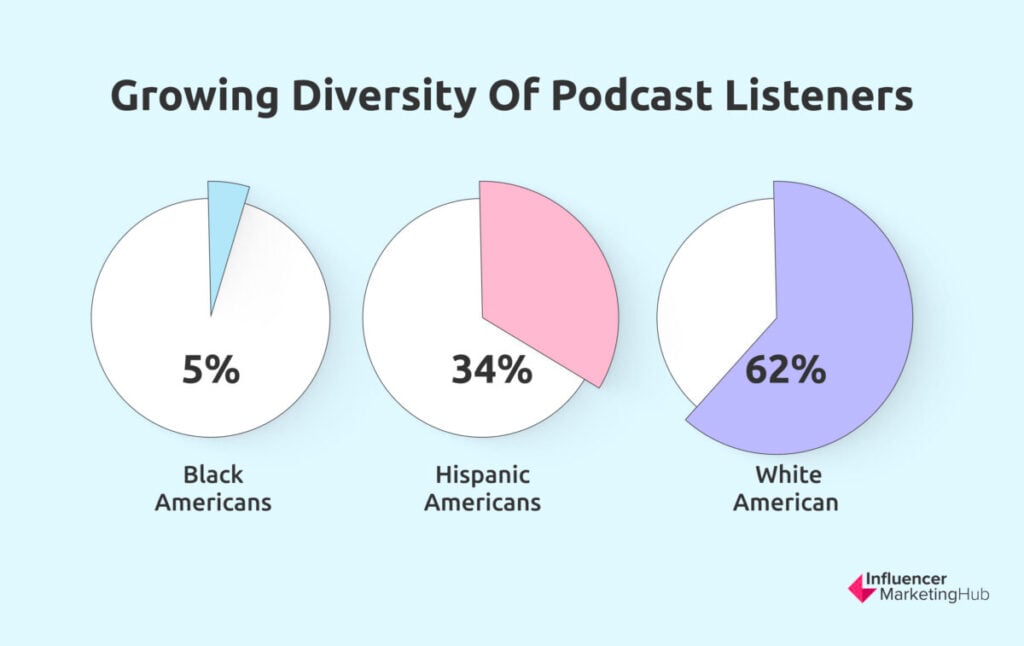 In terms of ethnicity, podcasts reach a diverse audience. According to a 2023 report, 45% of black Americans and 34% of Hispanic Americans listen to podcasts on a monthly basis, respectively. White Americans continue to dominate podcast listeners (62%).
---
23. It's an Activity That's Mostly Done Alone While Working
Nearly all (93%) listeners enjoy their podcasts when they're alone. This is mostly done while they're working or studying (33%), while 22% catch up on their podcasts when they're driving or traveling.
Multitasking seems to be the order of the day. Only 15% listen to podcasts when they're relaxing or doing nothing in particular.
That said, they don't necessarily have to be at home. Less than half (48%) listen to it when they're at home. Instead, they can be in the car (14%), at work (16%), or using public transportation or walking (19%). Considering that mobile devices are the preferred way to listen to podcasts, this comes as no surprise that most are on the move when they make time for their podcasts.
---
Key Takeaways
Podcasts aren't new. However, unlike TikTok, the industry's growth was much more gradual.
While most are familiar with the format, only about a third listen to it on a monthly basis. Quickly compare that to how many times you browse your social media accounts per day or binge-watch a show on Netflix and you come to realize that it still has a long way to go.
That being said, it's proving to be a lucrative market for content creators. On Patreon, the top creator is a podcast host.
What's more, if PwC's predictions are anything to go by, the next two years will be massive for the podcast industry. And, considering that the audience is diversifying and more young people are discovering new podcasts on Spotify, it would be interesting to see how the next few years unfold.