Advertising Disclosure
Advertising disclosure:
Our partners compensate us. This may influence which products or services we review (also where and how those products appear on the site), this in no way affects our recommendations or the advice we offer. Our reviews are based on years of experience and countless hours of research. Our partners cannot pay us to guarantee favorable reviews of their products or services.
It is no secret that marketing in today's digital world is a huge undertaking. Because of the complexity of the online and real world, companies find it much easier to find top marketing agencies to help them promote their brand. With so many competent and top-rated agencies around, it helps to know their strengths, competencies, and the type of marketing they do best.
To help you search for the best marketing agencies in 2024, we've compiled this list of 28 agencies. Some offer a full suite of digital marketing services, while others specialize in one or two marketing components. Whatever you need, you'll find a marketing agency to help you grow your business on this list.
---
Best Marketing Agencies for 2024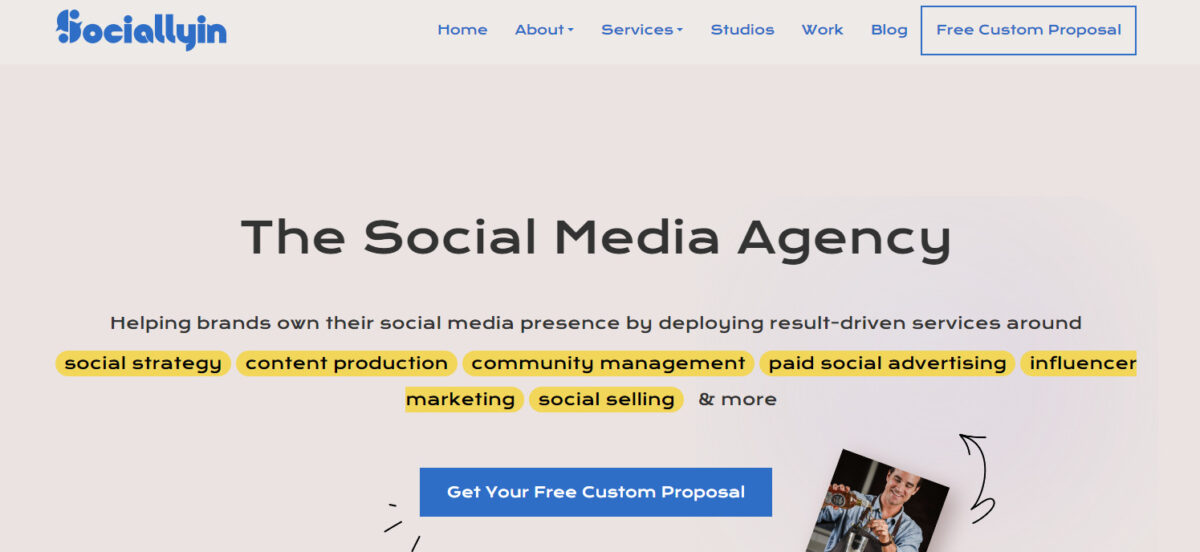 Minimum Project Size: $5.000+
Location: Atlanta, Georgia
Sociallyin is a marketing agency providing end-to-end influencer marketing services, covering every detail from contract management to campaign publishing. They focus on nurturing connections across all social media platforms, fostering a culture of diverse perspectives and innovative campaigns.
What differentiates Sociallyin from other marketing agencies is their all-inclusive approach to managing their clients' campaigns. They have a knack for optimally timing ad placements to maximize audience engagement. Moreover, their content production capabilities transform client ideas into captivating realities.
Key Services:
Paid Social Advertising
Content Production
Social Selling
SEO
Studios by Sociallyin
Influencer Marketing
Industry Specializations: Professional services, Retail, Consumer products and services, IT and Software Development, Health and Medicine, Hospitality
---
---
---
---
---
---
---
---
---
---
---
---
---
---
---
---
---
---
---
---
---
---
---
---
---
---
---
---
What Are the Factors to Consider When Choosing a Marketing Agency?
When choosing a marketing agency, rely on thorough analysis and specific criteria:
Agency Specialization
Seek expertise in your industry for more effective marketing strategies. Effective marketing in a specialized industry demands a team well-versed in its complexities, unique positioning, and alternative sales channels. A general marketing company might only scratch the surface of your needs because your product is highly specialized, serving a relatively small customer base.
Specialized agencies offer a solution by providing:
Industry-specific knowledge and language

Expertise in reaching your target audience

Corporate-level business-to-business communication

Access to industry-specific tools and software

Ensuring regulatory compliance
By working with specialists, you can better connect with your niche audience, which is crucial since 64% of consumers demand meaningful brand connections.
---
Data Analytics
Check the agency's analytics, data integration, and KPI tracking capabilities. This is crucial for your marketing campaigns and ROI. 
Examine the agency's analytics tools and platforms. Look for industry-standard choices like Google Analytics, Google Tag Manager, Adobe Analytics, or those tailored to your business. Also, consider agencies using top-tier

data tools

like Tableau, Looker, and Microsoft Power BI for business intelligence, data exploration, and visualization.

Ask about their ability to leverage third-party tools and APIs for comprehensive data collection and analysis. Ensure they can pull data from various sources, including your website, social media platforms, email marketing software, and CRM systems.

See if the agency has a robust process for establishing SMART (Specific, Measurable, Achievable, Relevant, Time-bound) goals and tracking progress. Research shows that marketers who set goals are

376% more likely to succeed

, with 70% hitting their targets.

Inquire about their use of machine learning and AI for predictive analytics, personalization, and optimizing marketing campaigns.
---
Technology Stack
Check the agency's tech stack to ensure it aligns with your current tools. Evaluate the agency's tech compatibility and proficiency in using advanced marketing tools. Incompatibility can cause data integration problems and inefficiencies. 
For example, DP Solutions helped a Baltimore-based nonprofit struggling with outdated hardware, slow servers, and unreliable IT support. They needed better data security and modernized IT infrastructure, including reliable servers, network protection, and disaster recovery.
---
Communication
Effective communication is crucial when choosing a marketing agency. It ensures your expectations are met and goals achieved.
Seek agencies skilled at simplifying complex data. Look for concise, informative reports. For example,

Marketing Charts

offers valuable data insights.

Assess their responsiveness, which is crucial for prompt issue resolution.

Choose an agency that provides regular campaign updates. For instance,

Ubiquitous

, an influencer marketing agency, offers real-time tracking of key metrics like view count and engagement rate, ensuring you're always informed.

Discuss meeting frequency and format. Some agencies schedule regular client meetings to review campaign progress and strategize based on data.

Choose agencies willing to share methodologies, data sources, and decision logic to build trust.
---
Privacy and Security
Complying with data laws is vital for safeguarding privacy and preventing penalties and reputation damage.
Check if they follow regulations like GDPR (General Data Protection Regulation) or CCPA (California Consumer Privacy Act). These regulations dictate how companies can

handle and transfer consumer data globally

.

Inquire about their data encryption methods. Strong encryption guarantees that data remains safe when stored and transmitted. 

Ask about their measures to limit access to sensitive data within the organization, like Role-Based Access Control (RBAC) systems.

See if they undergo third-party security audits. This step further ensures their dedication to data security.
Protecting customer data is now more critical than ever. Cybercriminals generate approximately $1.5 trillion in annual revenue through data system breaches, data theft, and sometimes even holding it for ransom. Therefore, prioritizing effective practices for securing customer data should be a top concern for any digital agency.
---
Budget and ROI
One of the pivotal considerations when selecting a marketing agency is aligning its pricing structure with your budget.
Look for agencies with clear pricing models. This helps you understand the costs of different services. For example, if they charge $X for an ad campaign, ensure it covers ad spend, management fees, and extra expenses.

Effective agencies customize strategies to fit your budget. They should offer options and suggestions to reach your goals within your financial limits.

Assess the agency's ability to measure ROI. They should provide KPIs aligned with your objectives. For instance, tracking conversions for an e-commerce site and linking them to specific marketing efforts.

Review the agency's real-life success stories with tangible ROI. This validates their claims and proves their ability to deliver results.
---
Scalability
This factor goes beyond your immediate needs. It focuses on how well the agency can adjust its strategies and resources as your business grows and your data requirements change. A good full-service agency can allocate resources as required. Whether you're entering new markets, launching products, or dealing with seasonal changes, they must adapt without affecting performance.
---
How Does Company Size Affect the Choice of an Agency?
When selecting an agency, the size of your business matters. Different-sized businesses have distinct needs and challenges, so finding an agency that matches your requirements is vital.
Startups
Startups seek cost-effective, agile agencies with specialized expertise to overcome resource limits and achieve growth goals.
Example: NinjaPromo specializes in marketing for startups, like their successful collaboration with IQONIQ, a fan engagement platform. Challenges included rapid press releases, 24/7 Telegram group management, explanatory videos, contests, Instagram rebranding, reaching new audiences, influencer outreach, and fresh visuals.
NinjaPromo's solutions included audience analysis, eye-catching visuals, giveaways for more subscribers, a comprehensive content plan for social media and PR, and tailored informative posts. These efforts resulted in a threefold subscriber increase, 300+ social media posts, 700,000 monthly impressions, a 200% engagement boost, and a 250% brand awareness increase.
---
SMBs
SMBs, ranging from local retailers to B2B service providers, have unique considerations when selecting an agency. They value digital agencies that understand their local audience and location. Scalability is crucial for their growth, necessitating agencies that can adapt marketing efforts. 
Example: Dandy Marketing, a UK-based digital agency focusing on SMBs, teamed up with Alphachain Academy, a London-based trading firm. At the start, Alphachain Academy had poor organic visibility. Dandy Marketing's SEO, content, and CRO strategies catapulted Alphachain to rank on Google's first page for nearly 50 keywords, leading to substantial traffic and lead growth.
Dandy Marketing's approach involved moving the site to WordPress for flexibility and control. They conducted an extensive technical SEO audit, improving metadata optimization, video schema, page loading, and internal linking. They optimized landing pages for industry-specific keywords and added new pages with internal links to support existing ones. These actions boosted the conversion rate by 29%, driven mainly by initial technical adjustments and added content and CTAs.
---
eCommerce
eCommerce businesses excel in a competitive, data-focused setting, primarily focusing on two factors when selecting an agency: conversion optimization and performance marketing. They look for agencies proficient in enhancing online shopping experiences, conducting A/B tests, and improving UI/UX. Expertise in PPC advertising and social media, particularly on platforms like Shopify or WooCommerce, is also crucial.
Example: Nuanced Media collaborated with Krush Kandy, an online boutique focusing on women's clothing, accessories, and jewelry. While Krush Kandy heavily relied on Facebook Live for sales, they realized its limitations. To ensure a more stable revenue stream, Nuanced Media created a Shopify store, revamped the logo, and ran ads promoting weekly Live videos. These efforts boosted traffic, offered sneak peeks of new products, and optimized Facebook and Instagram campaigns, guiding potential customers through a sales funnel. 
The results were remarkable: over $54,000 in sales within the initial two months, a 4.12x return on Ad Spend on social media campaigns, and an average CPC of 56¢ on social media ads.
---
Large Enterprises
Big businesses with extensive marketing needs seek agencies with specific qualities. They require global reach and expertise in multi-market campaigns, which is essential for international operations. Proficiency in data analytics and business intelligence is crucial for maximizing marketing and ROI, as data-driven strategies are highly valued. These businesses also value agencies offering strategic guidance and acting as long-term partners in achieving marketing goals.
Example: WebFX worked with HydroWorx, a company specializing in aquatic therapy pools, to enhance its SEO and online strategies. WebFX helped them implement new tactics like social media marketing, resulting in most of their website visitors originating from organic searches. This partnership also led to increased conversions and contact form submissions, along with maximizing their marketing budget. Specifically, they experienced a remarkable 236% increase in organic sessions and a 131% boost in organic contact form submissions.
---
What Should I Know About Agency Pricing Before Hiring an Agency?
When hiring an agency, pricing is crucial. Generally, digital marketing agency fees range from $900 to $20,000 monthly. They charge an initial retainer fee covering setup and ongoing services like content creation, social media management, website development, and analytics. They may also bill hourly for consulting, copywriting, video production, or event planning. Some offer different-priced packages for budget flexibility.
Marketing agency costs vary by services, scope, experience, reputation, and even the geographical location.. Here's an overview of average costs by services they offer:
| | |
| --- | --- |
| | |
| | |
| | |
| | |
| | |
| | |
| Web design and development | |
| | |
| | |
For a clearer perspective, consider the variations in average campaign sizes and hourly rates across major cities in the United States:
These numbers reiterate the importance of understanding regional cost dynamics before settling on an agency. While pricing is an essential factor, ensure that the agency's expertise and the potential ROI align with your business goals.
Hiring a marketing agency can yield significant results when it comes to ROI. For instance, email marketing boasts a 4,400% ROI.  Here are key ROI considerations to keep in mind: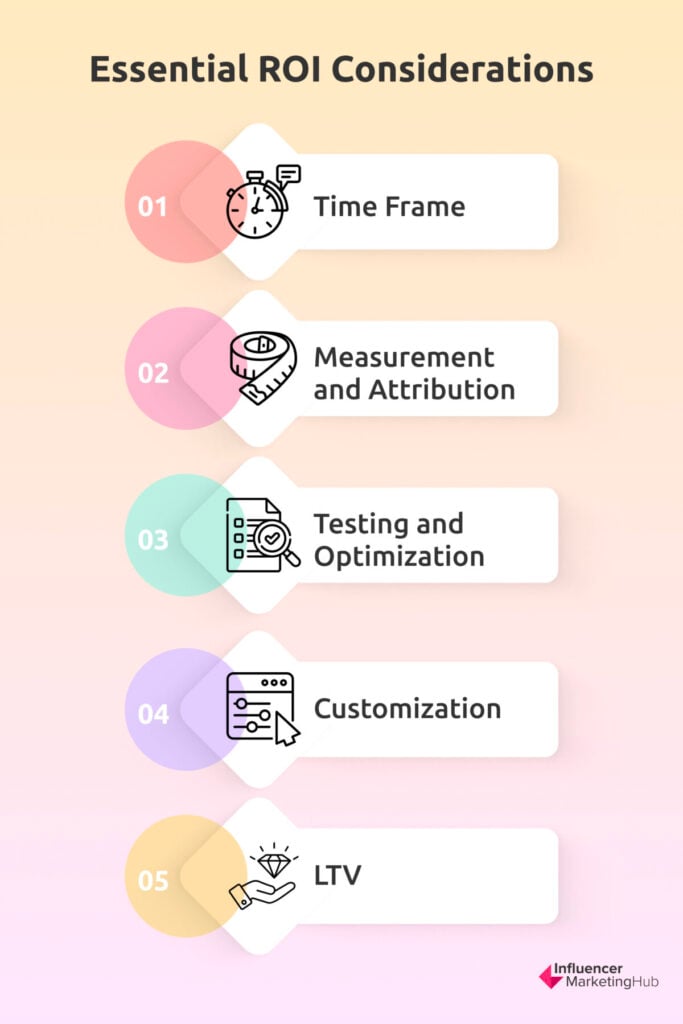 Time Frame: Results vary. SEO and content marketing take months, while PPC and email marketing offer quicker outcomes.
Measurement and Attribution: Look for transparent reporting and effective use of data analytics.
Testing and Optimization: Agencies that continually refine strategies tend to improve ROI.
Customization: Tailored strategies align with your goals and target audience.
LTV (Customer Lifetime Value): Consider long-term customer value, not just immediate revenue.
---
How Do Top Agencies Stay Ahead of Trends?
Leading marketing agencies stay ahead of trends through various strategies:
Proactive Tracking
Proactive tracking is vital for leading marketing agencies to stay ahead in their industry. They achieve this using advanced analytics tools like Google Analytics and Google Trends. These tools help agencies understand consumer behavior, emerging traffic sources, and user engagement patterns. For example, they can pinpoint high-converting channels and allocate resources wisely.
Social media monitoring tools like Brandwatch and Mention also track real-time conversations, sentiments, and emerging topics in their niche. This allows agencies to anticipate changes in consumer preferences and adjust their strategies accordingly.
---
Investing in Research and Development (R&D)
Top marketing agencies use R&D to stay competitive. They create specialized teams to track trends and technology. These teams conduct market research, attend industry events, and explore new tools, like UXPressia, to improve the customer experience. Agencies also partner with research organizations like Nielsen and follow academic psychology and data analytics studies to shape their strategies.
---
Participation in Industry Events
Participating in industry events and conferences is a vital strategy for top marketing agencies, allowing them to remain at the forefront of evolving trends. These gatherings serve as knowledge hubs where digital marketers, marketing managers, and business executives can gain invaluable insights, exchange experiences, and forge essential networks within the industry.
Events like the annual HubSpot INBOUND conference offer prime opportunities to connect with like-minded professionals, potential collaborators, and industry thought leaders. This networking can foster valuable partnerships and a deeper comprehension of emerging trends. Additionally, conferences typically feature keynote speakers and expert-led panel discussions. 
Furthermore, these events provide a platform to showcase real-world case studies of successful campaigns and innovative strategies. Agencies can draw inspiration from practical examples at conferences like Content Marketing World. There were 150+ sessions to learn the latest content and marketing trends this year.
---
Collaboration with Micro-influencers and M-Commerce
Top agencies tap into the power of authenticity and the mobile-first consumer landscape by collaborating with micro-influencers and embracing M-Commerce. These ensure they remain at the forefront of digital marketing trends and continue to deliver outstanding results for their clients.
Top agencies harness micro-influencers to craft authentic, engaging content. Glossier, a beauty brand, is a prime example, as it leveraged micro-influencers to grow within specific beauty communities exponentially.
Furthermore, with the rise of smartphones, agencies are focusing on mobile commerce, optimizing websites, creating user-friendly apps, and integrating mobile payment solutions. Starbucks' mobile app, for instance, allows seamless coffee orders and payments via smartphones.
---
Leveraging New Technologies
Top marketing agencies lead the way by adopting cutting-edge technologies like VR, AR, AI, and voice search. IKEA's AR app, for instance, enhances the shopping experience by letting customers preview furniture in their homes, driving sales. AI-powered chatbots, used by Salesforce, offer real-time support, streamline operations, and boost customer satisfaction and loyalty.
To stay visible in voice search results due to devices like Alexa and Echo, agencies optimize content, a crucial aspect of modern SEO. Additionally, agencies leverage AI-driven machine learning for predictive analytics and customer segmentation, like Netflix's recommendation system, which keeps users engaged and loyal.
These technologies enable top agencies to adapt to trends and pioneer innovative solutions, helping their clients thrive in the competitive digital landscape and achieve growth and success.
---
Related Marketing Agency Categories
Looking to explore additional categories within the realm of marketing agencies? Our platform offers an extensive array of options to cater to your specific interests and requirements. Delve into various niches, locations, or specialized agency types to discover the perfect match for your needs. Here's a curated list of related categories, organized into subcategories, to further assist you:
By Location
USA-Based Agencies
UK-Based Agencies
By Business Size
Small Business Agencies
Startup Agencies
By Industry
Industry-Specific Agencies
By Ownership
Other Categories
---
Final Thoughts
Partnering with a marketing agency can significantly enhance your brand's visibility and profitability. Each of the 28 leading marketing agencies we've listed brings unique strategies and expertise. Evaluating these agencies is vital to identify which aligns best with your business goals. Keep in mind that the right agency has the potential to reshape your brand's story and fuel business growth. Make your choice thoughtfully to see your business thrive.
Frequently Asked Questions
What do marketing agencies do?
Marketing agencies assist businesses in reaching their target audience through strategies and campaigns. They offer advertising, PR, and market research services to enhance brand awareness and increase sales.
What is the largest ad agency in NYC?
What are the most famous marketing agencies?
There are many famous and renowned marketing agencies worldwide, including Ogilvy, Dentsu, WebFX, The SEO Works, and Publicis Worldwide.
What are the best marketing agencies?
The best marketing agency depends on your specific needs. For comprehensive digital services, consider Sociallyin. If you're focused on social media marketing, Audiencly is an excellent choice. Nuanced Media is ideal if you're looking for e-commerce services, and Channel V Media is a strong option for PR.
---
About the Author: Geri Mileva
Geri Mileva, an adept storyteller and seasoned content strategist, brings a colorful tapestry of experience to the sphere of marketing. With a solid footing in technology as a former IP network architect, her transition into the realms of content strategy and freelance journalism was fueled by her passion for connecting narratives with audiences. Over the last three years, Geri has meticulously reviewed more than 690 marketing agencies, honing a deep-seated understanding of what makes a marketing agency truly impactful in today's digital landscape.
Her methodology is grounded in an empathy-based approach, ensuring a harmonized understanding with clients before delving into strategizing. By aligning marketing programs with the core emotional and rational needs of the target audience, Geri crafts personalized experiences that transcend the conventional. This bespoke approach, coupled with a keen understanding of consumer behavior, enables her to spotlight marketing agencies adept at curating resonant marketing narratives. With an unwavering commitment to two-way communication, Geri ensures that the essence of every marketing agency she engages with is accurately represented, reflecting their capability to foster growth and engagement. Her writings provide a nuanced look into the marketing agencies poised to significantly impact business growth in 2024, offering readers not just a list, but a journey through diverse marketing philosophies. Engage with Geri's insights as she navigates the marketing agency landscape, delivering value through compelling storytelling and a deep-seated understanding of today's marketing dynamics.