Email marketing consistently delivers a better ROI than any other marketing channel. Plus, it's brilliant for community building and engaging with your customers on what feels like a one-on-one level. But if you don't have the right infrastructure in place to handle your email marketing, you're not going to be able to reach your subscribers and customers in the way you need to encourage engagement, build those important relationships, generate more leads, and increase sales. That's why we've put together this list of the top email marketing platforms on the market right now. Each of the email marketing platforms on this list offers a unique set of features to explore so you can find the perfect email marketing platform to get the results you need.
---
Top Email Marketing Software & Platforms
To create and execute your email marketing strategy successfully, you'll need to find the best email marketing software platform for your business. Here's a look at the best 31 email marketing software platforms and what makes each a good pick.
---
---
---
---
---
---
---
---
---
---
---
---
---
---
---
---
---
---
---
---
---
---
---
---
---
---
---
---
---
---
---
Why Does Email Marketing Matter?
As we've already mentioned, email marketing has one of the best ROI of any marketing channel. Despite the fact that email marketing has been around for decades, it still earns an ROI of 4200%—for every $1 you spend on email marketing, you have the potential to earn back $42 in return. Some reports even put email marketing ROI closer to 54%! When you consider that about 4 billion people around the world use email (Statista), this isn't a surprise. With such a large audience spread across different demographics, it would be shocking if email marketing didn't have a great ROI. ROI aside, email marketing helps you reach more customers and subscribers, increase your sales, and improve brand recognition.
No matter your industry, email marketing will help you get your marketing message out to the right people and gives you a way to stay connected with your target audience after they've left your website. Here are a few more reasons why your brand should be using email marketing: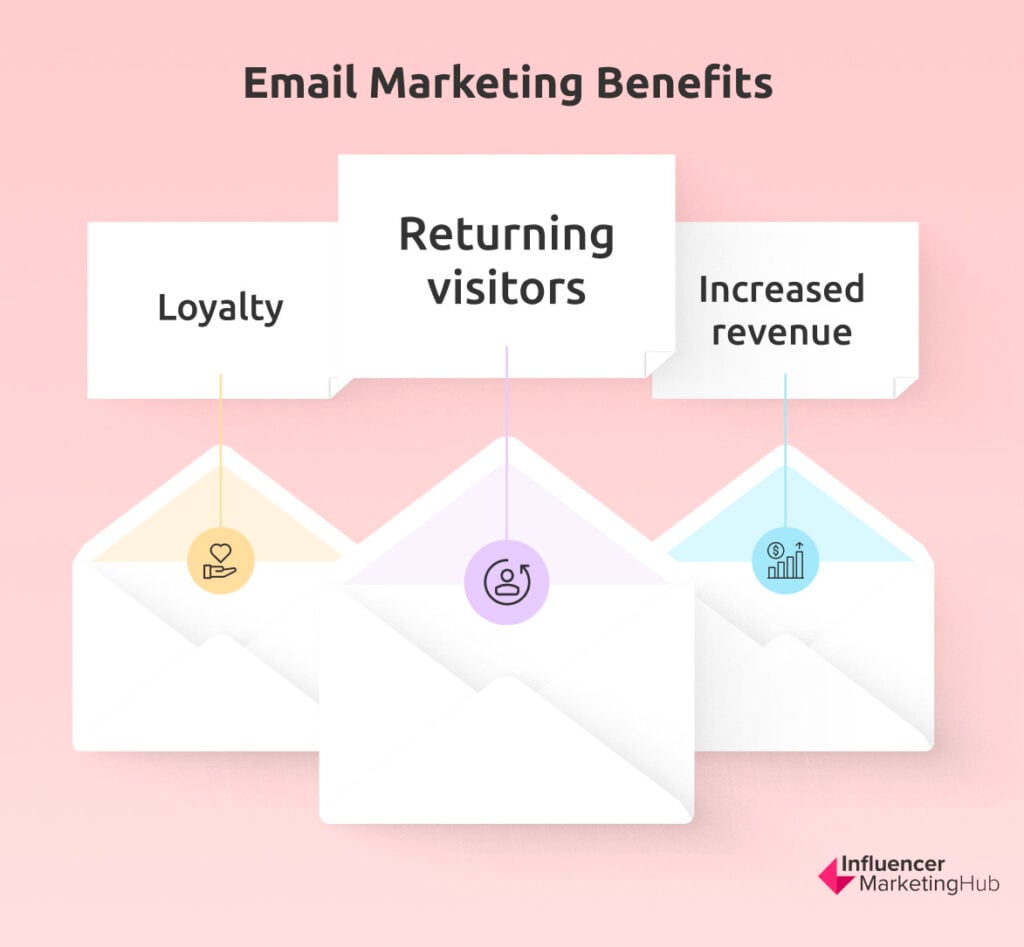 Loyalty. Email gives you the chance to get website visitors back to your site again and again. And people who come back to your website are more likely to become customers than those visiting your site for the first time.
Returning visitors. About 97% of the people who visit and leave your website will never come back. That's a sobering statistic for most online businesses. However, by building an email list, you can encourage repeat visitors (and increase our first bullet point, loyalty).
Increased revenue. Email marketing gets excellent conversion rates. Barilliance reports that the average conversion rates for email marketing in

2022

were

8.17%

. Plus, purchases resulting from email marketing campaigns tend to be larger.
---
What's an Email Marketing Platform?
Now that you're convinced email marketing is worth it, you're probably wondering what an email marketing platform actually is and why using one matters. An email marketing platform is a software that lets you create and manage your email marketing campaigns. Simple enough, right?
Email marketing platforms are typically SaaS (Software as a Service) tools that are cloud-based. A high-quality email marketing platform makes it easy for you to send out any email communication, from email newsletters to promotional emails to abandoned cart recovery emails.
---
What Should Email Marketing Platforms Do?
Your email marketing platform should ultimately make your life easier, helping you automate your emails and marketing campaigns and making it easy to create beautiful and engaging emails to send to your customers and subscribers. We recommend looking for the following features when choosing the best email marketing platform for your brand: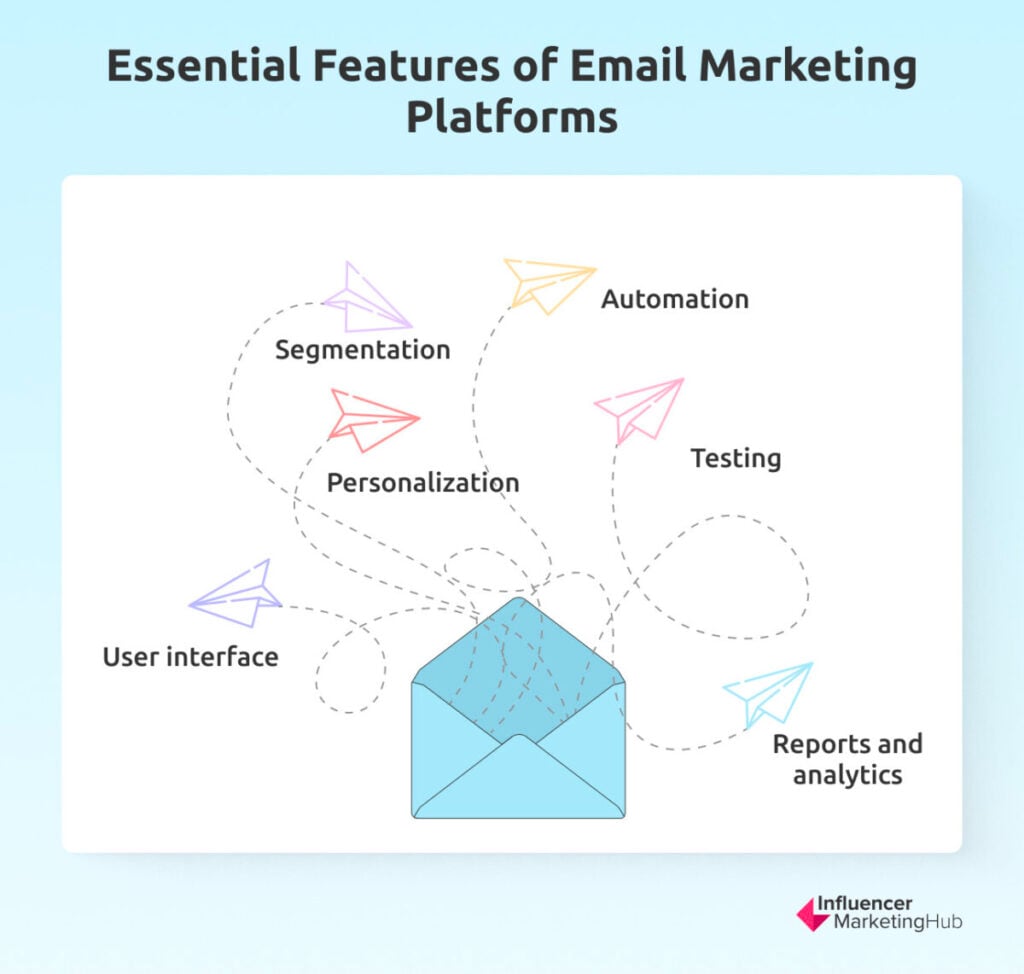 User interface
Email marketing platforms are supposed to make the life of an email marketer easier. Look for an email marketing platform that has an easy-to-use interface with a low learning curve to ensure that you're able to utilize all the features you need quickly and easily.
A drag-and-drop email editor is a wonderful feature to have. And, if you have email designers, you'll want to choose a platform that allows for HTML email templates. If you don't have people to design your emails, make sure that the email marketing platform you choose has a collection of templates you can customize to create emails that showcase your brand.
Segmentation
Email segmentation is one of the top email marketing strategies and dramatically increases the ROI of your email campaigns. You can create targeted marketing campaigns and promotional emails for the specific audiences that will be most interested in them based on demographics, location, behavior, and more. Some email marketing platforms even operate on AI and machine learning so the software can evaluate user behavior in real-time and fine-tune your email campaigns on the fly.
Personalization
Segmentation is important if you want to personalize your email marketing campaigns. And you definitely want to personalize your email marketing campaigns. Find an email marketing platform that includes merge tags to make it easy to personalize your email subject lines as well as the email copy. There are even some email marketing platforms that use dynamic content so you can create and send a single email that automatically includes certain content depending on the segment the email is being sent to.
Automation
Email marketing has a lot of moving parts, many of which are manual, repetitive tasks. Fortunately, many of the best email marketing platforms include automation features that can help you save tons of time. Email automation includes things like email scheduling, delivery receipts, engagement tracking, text analytics, role-based account access for your marketing team, and even intelligent segmentation/re-segmentation based on response to your email marketing campaigns.
Testing
One of the most important steps to take to ensure that your email marketing campaigns are getting the best ROI is testing. Many of the top email marketing platforms include A/B and split testing functionality that lets you test different elements of your marketing emails against one another to ensure that you have the best possible combination of subject lines, copy, calls to action, email design, and format.
Reports and analytics
There are several email marketing benchmarks you'll want to track to ensure that your email marketing is meeting your goals. However, tracking this information manually can be a full-time job. Choose an email marketing platform that includes reporting and analytics so you can track open rates, click-through rates, bounce rates, and more.
---
Extra features available today
Basic functionality aside, there's a new wave of features that are becoming increasingly available. When added to email marketing software, these features transform platforms from email marketing platforms and into enhanced marketing communications solutions. There's also a good chance that you've seen them promoted before. These features are: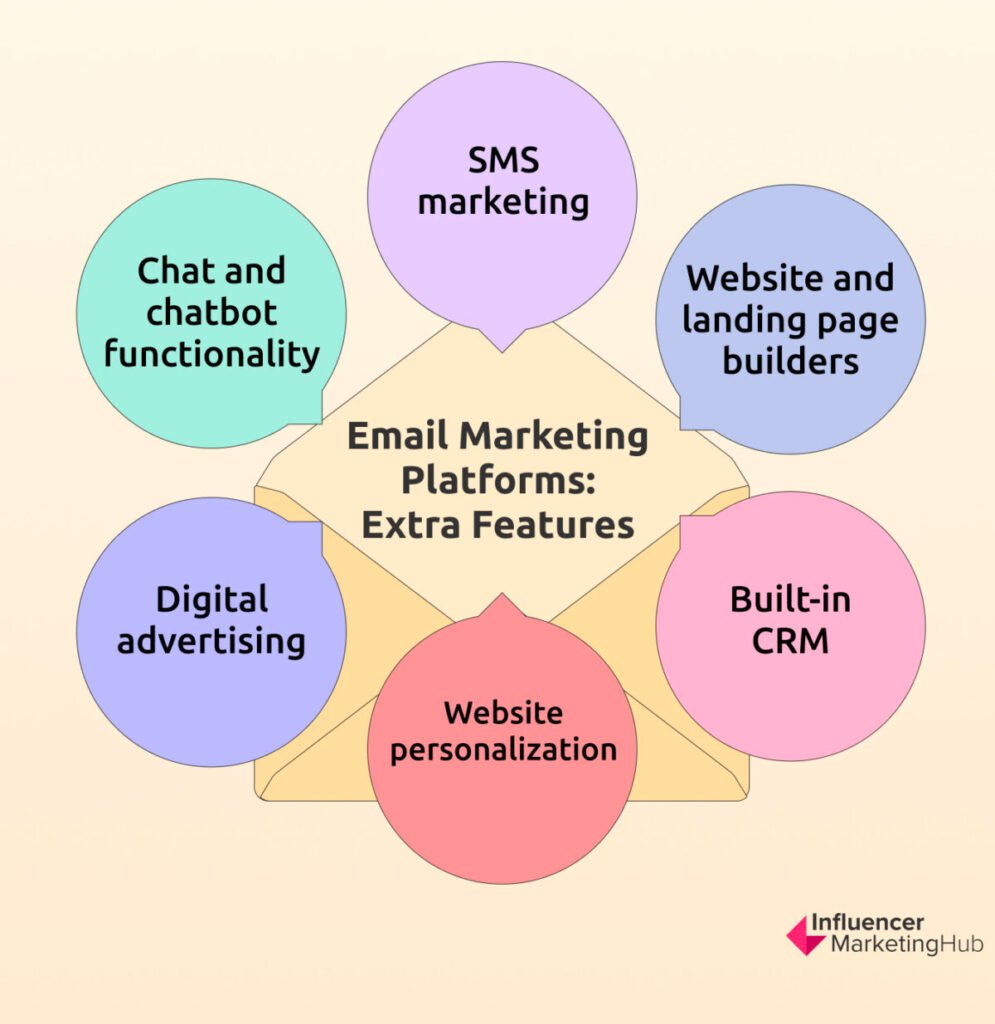 SMS marketing
SMS services woven into email marketing allow brands to engage buyers at different points in the buyer's journey. As a permission-based promotional tool, SMS marketing is also highly effective. SMS open rates can be as high as 98%, are shorter and easier to reply to, and 75% of consumers are comfortable with the idea of receiving text messages.
When SMS is paired with a strong email marketing campaign, brands can create a well-orchestrated and layered communications strategy.
Website and landing page builders
Website and landing pages are a quintessential component of online marketing. They're necessary for promoting products, services, and building email lists. And while there are third-party tools that can integrate with email marketing platforms via plugins and scripts, using one tool that does email and can build and host landing pages is better. Today, most email marketing platforms offer landing page builders that are easy to use and altogether cheaper than spending money on a third-party tool.
Built-in CRM
CRMs have always been more of a sales tool but that's changing. As the lines between sales and marketing blur, brands have started paying attention to all the data CRMs can collect. Using enriched profiles, marketers can deliver personalized emails and content, something consumers want more of.
Website personalization
Website personalization allows marketers to deliver unique buyer experiences. And this is critical today. As much as 88% of marketers have seen improvements in customer experience from personalization, while 72% of consumers will only engage with personalized messaging.
Website personalization allows brands to deliver buyer-specific content in the moment. From the right blog post to help buyers along their journey, to a discount coupon for those ready to make a purchase, you can present buyers with targeted marketing engagements that increase conversions.
Digital advertising
Paid ad creation tools streamline marketing tasks. Like built-in CRM landing page and website builders, paid ad creation tools make it easier to track and measure conversions in one platform. Today, email marketing platforms allow you to create ads for social media and search engine platforms.
Chat and chatbot functionality
Chat isn't a new technology but it's transforming the way brands engage buyers. As the idea of conversational marketing grows, integrating chat into an email marketing platform doesn't seem farfetched. With chat, brands open a door to interested buyers, and with smart email automation, those buyers can be guided along a path to a sale much quicker.
---
Which Platform Should You Choose?
There's much to consider when picking a platform. To help, we've identified a list of 14 categories. They cover small, medium and enterprise recommendations. We also dive into which platforms are best suited for eCommerce brands, which are easiest to use, deliverability numbers, and more.
1. Recommended Email Marketing Platforms for Creators and Small Business
Small businesses often have to balance affordability and functionality more than most. But that doesn't mean you have to lose out on functionality. To strike a balance between both, here are three platforms we've found to be the best for small businesses and soloprenuers.
Each platform allows you to send personalized emails, build landing pages, is easy to use, comes at a great price, and allows you to scale as your brand grows:
ConvertKit

- Perfect for driving engagement and sales

Mailchimp - Ideal for small businesses, creators and rolling out paid ads
Aweber - A smart choice for small businesses that want reliability and a clean platform to work in and automation
Here's a snapshot of key features platforms in this segment offer:
| | | | |
| --- | --- | --- | --- |
| Feature | ConvertKit | MailChimp | Aweber |
| Email Builder | Yes | Yes | Yes |
| Landing Page Builder | Yes | Yes | Yes |
| Campaign Builder | Yes | Yes | Yes |
| Automation | Yes | Yes | Yes |
| Autoresponder | Yes | Yes | Yes |
| Price* | $9/mo | $13/mo | $14.99/mo |
---
2. Medium Business Email Marketing Platforms to Use
Our research points to medium-sized businesses wanting greater reliability, functionality, and that pricing isn't a major drawback if these requirements are met.
These platforms make our list of the best for medium businesses along with features that make them good choices:
Drip - A powerful solution for small-medium eCommerce businesses, offering SMS,

segmentation

functionality, and revenue attribution

Keap

- Smart automations and CRM functionality allows email personalization based on CRM fields

SendX

- Advanced email sequences and a click heatmap
In addition to all features offered by platforms in the small business segment, here's a snapshot of key features platforms in the medium business segment offer:
| | | | |
| --- | --- | --- | --- |
| Feature | Drip | Keap | SendX |
| Built-in CRM or integration) | Integration | Built-in | Built-in |
| Click Heat Map | No | No | Yes |
| CRM Profile-Based Personalization | Yes | Yes | Yes |
| Revenue Attribution | Yes | Yes | Yes |
| Price* | $39/mo | $159/mo | $7.49/mo |
---
3. Enterprise Email Marketing Platforms Worth Testing
Larger brands require reliability, especially as they run multiple campaigns. While most platforms offer similar features, those targeted at large businesses are more robust and offer advanced features.
Here are three platforms best suited for large businesses:
SendPulse

- Includes multi-channel integrations and automation that allows for better buyer engagement

User.com

- Built with user engagement as a core function and enables personalization based in unified CRM data

ActiveCampaign - Powerful for segmenting lists and using dynamic content to customize emails
---
4. Recommended for eCommerce
eCommerce email marketing is still email marketing, but brands rely on a collection of connected features. Here's our list of essential features and the platforms that we recommend for eCommerce brands.
| | | | |
| --- | --- | --- | --- |
| Feature | Drip | Omnisend | MailerLite |
| Landing Page Builder | No | Yes | Yes |
| Campaign Builder | Yes | Yes | Yes |
| Automation | Yes | Yes | Yes |
| Autoresponder | Yes | Yes | Yes |
| Segmentation | Yes | Yes | Yes |
| A/B Split Testing | Yes | Yes | Yes |
| Revenue Attribution | Yes | Yes | Yes |
| Price* | $39/mo | $16/mo | $10/mo |
---
5. Best Overall Integrations
We live in a world where apps have to talk to each other. These email platforms offer the best overall integration and platform experience:
| | | | |
| --- | --- | --- | --- |
| Email Marketing Platform | No. of Native Integrations | Type | App Integerations |
| ActiveCampaign | 384 | Free | View |
| Drip | 108 | Free | View |
| ConvertKit | 107 | Free | View |
---
6. Top Retargeting Platforms
Retargeting isn't the first thing that comes to mind when considering which platforms to choose, but it's a powerful feature. Email marketing platforms have begun to offer pixels for major platforms to help brands remarket to subscribers. Here are platforms with the best retargeting options:
GetResponce offers a social media platform ad creation tool. It's an extension of Facebook and Google's platforms, allowing you to create ads for both platforms (including Instagram), and provides retargetting options.

Bitrix allows Google, Facebook and Instagram ad creation. These options are integrations using GA Connector. You can leverage Facebook and Instagram Lead Ads, and create Google Search Ads. Remarketing capabilities are available for each ad platform.

Mailchimp provides a tool that mirrors Facebook and Google's ad creation platform. With it, you can develop ads and pixels for remarketing opportunities.
---
7. Best Survey Tools
Surveys are a quintessential tool for businesses. Put them together with email and you've got an almost perfect combo for finding out what your buyers think and want. While few platforms offer built-in survey tools, we've found that integrations are your best bet right now. Integrations with more advanced survey apps allow for a wider, bug-free feature set.
Here's our list of the best email platforms with survey tools:
| | | | |
| --- | --- | --- | --- |
| Survey Functionality | Mailchimp | MailerLite | Brevo* |
| Built-in or Integration | Built-in &Integration | Built-in | SurveySparrow |
| Polls | Yes | Yes | Yes |
| Conversational Forms | Yes w/Integration | Yes | Yes |
| Embedded Surveys | Yes | Yes | Yes |
---
8. Best Templates and Builder Functionality
Great UI and UX are critical today. Our top three make the list for overall experience when building emails and working with templates. They each offer a clean and intuitive feel, and you'll never wonder off or get frustrated trying to get stuff done. Here's a look at what the best email marketing platforms offer in the line of templates and builder functionality:
| | | | |
| --- | --- | --- | --- |
| Builder Features | ConvertKit | MailerLite | ActiveCampaign |
| Type of builder | Drag-and-Drop | Drag-and-Drop | Drag-and-Drop |
| Number of Templates | 9 | 47 | 125+ |
| Customizable | Yes | Yes | Yes |
| HTML& CSS Access | Yes | Yes | Yes |
---
9. Best List Management
List management best practices often provide a great deal of value. But when in your platform, you need features to help identify who you're emailing to generate positive results. While not all platforms listed include features like predictive commerce insights and predicted demographics, they make the list for their ease of use and functionality.
It's also worth noting that while segmentation includes segmentation by demography, features like predicted demographics and predictive commerce insights differ. The former relates to pooled data via a large audience across an email platform's base. The latter offers predictive insights on future purchase behavior.
| | | | |
| --- | --- | --- | --- |
| List Management Features | Mailchimp | Omnisend | MailerLite |
| Tags | Yes | Yes | Yes |
| Segmentation | Yes | Yes | Yes |
| Behavioral Targeting | Yes | Yes | Yes |
| Predictive Commerce Insights | Yes | No | No |
| Predicted Demographics | Yes | No | No |
---
10. Easiest to Use
UI and UX make or break products. Email marketing platforms balance a collection of features, and often, the more they offer, the more complex it is to make a platform easy to use. We've found the following three platforms to be the easiest to use with a feature that stands out for us. They aren't just intuitive, they're also easy to use if you get stuck and need help from an online knowledge base.
Mailchimp: Easy to navigate through all features and gives you access to specific tools on your account home page.
Omnisend: Offers a clean email and campaign builder.
SendPulse: Provides an easy-to-use drag and drop campaign builder.
---
11. Value for Money
Affordability is subjective. Sure, you could opt for the cheapest solution with the most features, but your choice may not do everything you need it to do well. We've stacked all platforms and here are three we think offer the best value for money in each segment:
Creators: ConvertKit - Flexible and built with all you need to grow your business
Small business: MailerLite - Feature rich and intuitive. From $10/mo.
Medium Business: Mailchimp - Easy to use and scale with your brand. From $9.99/mo
Large businesses: SendPulse - Powerful feature set and robust platform. From $

8

/mo
eCommerce (small, medium and large businesses): Drip - Best revenue attribution and offers SMS marketing to drive campaign engagement. From $19/mo
---
Email Marketing Software Cost Estimator
---
12. Best Analytics and Reporting
The best email marketing campaigns are derived from actionable data. Today, that data changes fast. Email marketing platforms need to be able to not only gather data but also present it all in a way that's easy to understand and use. Platforms we've found to offer the best analytics and reporting are:
ActiveCampaign: Provides clean and clear results, giving you fast insights on campaign performance
Mailchimp: Offers predictive analytics on commerce customers
MailerLite: Provides all you need to track performance down to email clients your subscribers use
---
13. Best Onboarding and Support
While most platforms are not complex, some require hand-holding to get started. Good onboarding makes you want to learn more and succeed with your choice. These platforms offer the best combination of support we've found.
Service
ActiveCampaign
ConvertKit
Keap
Onboarding

Yes

Yes

Yes

Dedicated Account Manager

Yes

No

Yes

On-Demand Training

ActiveCampaign University

Free Course Library

Customer

&

Resource Webinars

,

Events

Telephonic Support

Yes

Yes

No

Email Support

Yes

Yes

Yes

Chat Support

Yes

No

Yes

Online Knowledge Base

Yes

Yes

Yes

User Community

Yes

Yes

Yes
---
14. Top Picks for CRM and Email Automation
Email automation is a given today and offered by almost every platform. What makes these stand out is how other key features compliment automation. CRM integration helps with personalization, and segmentation makes for smarter, more targeted marketing, powered by drip email marketing. Add tagging and revenue attribution, and you can pinpoint how much customers spend.
Here are our top picks for automation along with why:
ConvertKit is the perfect tool for creators who need to quickly create campaigns and let automation do the rest

Drip's revenue attribution and eCommerce-first platform design and integrations with eComm platforms makes it a powerful tool for eCommerce brands.
Keap is powered by Infusionsoft, making it a strong automation platform. You can handle everything from payments to tracking sales via a pipeline.
| | | | |
| --- | --- | --- | --- |
| Feature | ConvertKit | Drip | Keap |
| CRM Integration | Yes | Yes | Yes |
| Segmentation | Yes | Yes | Yes |
| Tagging | Yes | Yes | Yes |
| Revenue Attribution | Yes | Yes | Yes |
| Drip Campaigns | Yes | Yes | Yes |
---
How to Choose the Best Email Marketing Software Platform
Picking the right tool can be a little daunting. As you can tell, there's a lot to consider when shopping for your email platform. A smarter way to pick your next platform is to create a list of what your brand needs and wants to accomplish with email marketing.
To help, we've created this framework you can use: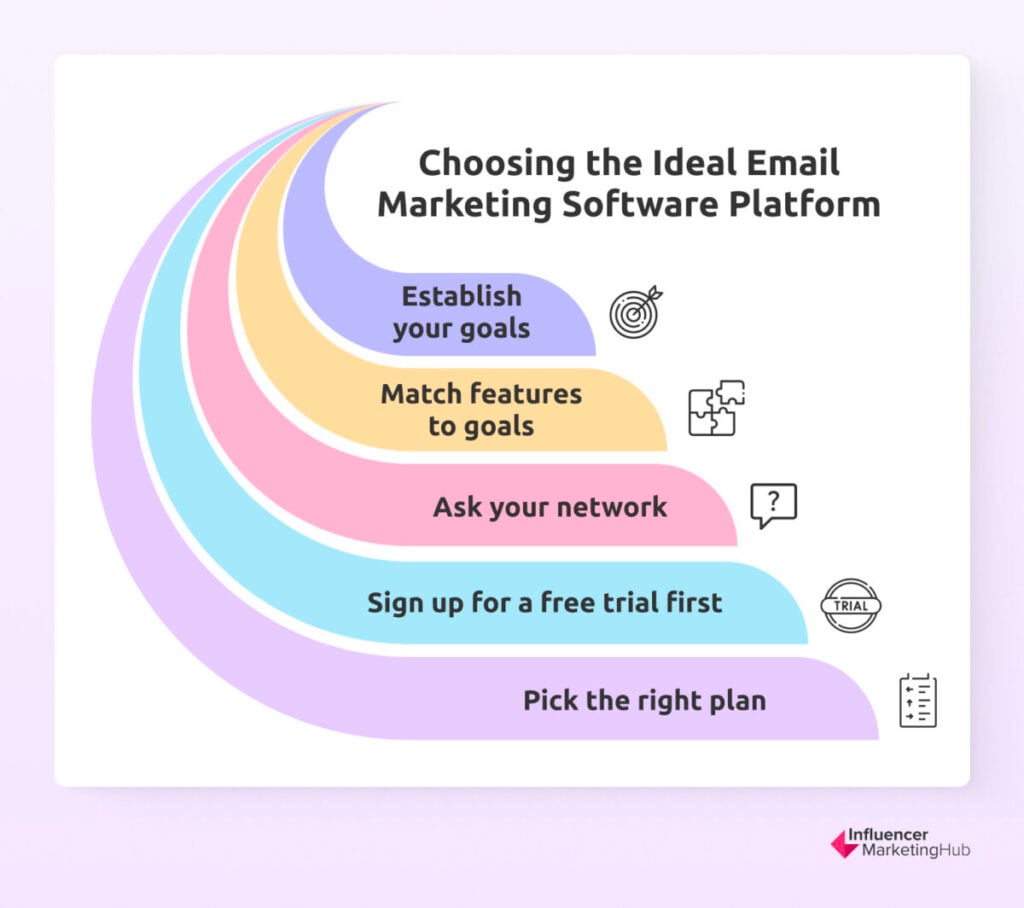 ---
Methodology
There are hundreds of email marketing software solutions available on the market. So, this is by no means an exhaustive list of tools that you can check out. However, it's a good place to start and, what we believe, the best ones at the moment.
This belief is based on first-hand experience. Combining the interactions that our team has had with the software with the personal experiences of other users, we could highlight pros and cons of each platform and make suggestions for which tool would be best suited for which use case.
Basically, you can think of this list as a summary of all the thousands of online reviews.
As the email marketing software category grows, so too will this list. So, be sure to bookmark this article and refer back to it from time to time to see which new tools you can check out and which new features established players have introduced.
---
Key Takeaways
By the looks of it, email marketing isn't going to fade anytime soon. It's still one of the most cost-effective, convenient, and user-friendly platforms. With the right approach, you can create a list of engaged followers. Plus, with some effort and strategy, you can continuously grow that list.
Hence, the need to add a robust email marketing platform to your martech stack. You'll be using it for many years to come. Email isn't like some of those social media apps that turned out to be more of a failed social experiment. From baby boomers to Gen Zers, basically everyone has an email account.
You know you get those people that aren't on Facebook or Instagram. Well, they still use email.
The point is that there's a massive audience that you can reach via email. Though, to do so effectively, you need to use one of these email marketing platforms.