Have you noticed how common videos are online now? You've probably watched a few yourself already today. The days when limited bandwidth made playing online videos impractical are well over for most. Videos are everywhere. Indeed, video made up 82 percent of all internet traffic in 2022, and 89% of internet users in the US watched online videos that year.
Of course, video usage does differ by generation. Millennials and Gen Z watch more video content than Gen X and Baby Boomers, and compared to Baby Boomers, Millennials are 150 percent more likely to use video for shopping decisions. However, that doesn't automatically mean that you shouldn't use video email marketing with older age groups. They're now used to email marketing, and even half (54 percent) of Baby Boomers watch videos online.
However, if you're targeting younger viewers with your email marketing, you should be aware that Gen Z has the shortest active attention span among all age groups, at just 1.3 seconds. It's far better to incorporate short, snappy videos into your emails than longer clips more suited to a lengthy YouTube session.
---
A Deep Dive into Video Email Marketing Strategies:
---
What is Video Email Marketing?
Let's make one thing clear. The concept of video email marketing is as simple as it sounds. It really is just email marketing, with your emails incorporating at least one video. What we are saying here is to take the already proven channel of email marketing and combine it with the ever-popular channel of video.
In reality, most people are unlikely to set their email software to autoplay emails, so unfortunately you can't just embed videos in your emails. Instead, you will need to create an engaging thumbnail in your emails, which the software will overlay with a play button. If you've made your thumbnail attractive enough (and followed other email marketing best practices such as using a catchy subject line so people open your email), then your recipients should be attracted enough to click on your play button and view your video.
---
Benefits of Video Email Marketing
As we saw in How to Embed Images and Videos Into Emails, research puts the ROI of email marketing anywhere between 3800 percent – 4400 percent. Those who think email marketing is "old hat" should have another look at their marketing strategies. Email marketing may be one of the oldest types of online marketing, but that's because it is still as effective as ever. And when you add the eye-catching sparkle of video to it, video email marketing is a match made in marketing heaven.
Video can be particularly useful for reaching visual learners. This makes video an ideal medium when you're trying to educate people, perhaps about the benefits and features of your product.
Video provides a way to attract a viewer's attention in a way simple text emails can't.
---
Strategies for Video Email Marketing
Research shows that using "video" in the subject line of an email increases open rates by 19 percent, increases click-through rates by 65 percent, and decreases unsubscribes by 26 percent. Clearly, the first strategy therefore is to use the term "video" in the subject line every time you incorporate a video into an email.
One strategy for video email marketing is to give your subscribers bonus content in a video format. You could, for instance, send out a weekly newsletter about your social content, with links to videos you've uploaded to Instagram, YouTube, LinkedIn, etc. Another common usage is to send out links to videos of webinars or training sessions.
Many of the better email marketing platforms include tools to assist you with video email marketing. For example, you can send videos within the BombBomb email platform, creating custom templates with their drag-and-drop email composer. BombBomb Plus allows you to reach your entire database at once, segment your list to reach a specific group or send a 1:1 email.
Another option is to use specialist video software that integrates with your existing email marketing software. For example, Hippo Video has a platform where you can create videos for various purposes, such as sales, communications, campaigns, customer support, or marketing, and then use their integrations with CRMs like Salesforce, HubSpot, and SalesLoft to find the relevant people to email. Hippo Video also helps you to create personalized video email campaigns. You can record and send out a single video email to multiple prospects by personalizing it with their name, email ID, company name, etc.
---
Implementation of Video in Email Campaigns
There is no consistent standard across email clients and devices when it comes to handling videos in emails. That's why most marketers tend to include thumbnails linking to videos in their emails, rather than the videos themselves.
You might be surprised to know that Apple has the largest email client market share (57.66%), although this includes email software across all of Apple's product ranges and companies using Apple's Mail Privacy Protection (MPP). Gmail (29.59%) is the second most popular client, followed by Outlook (4.18%), Yahoo! Mail (2.61%), and Google Android (1.55%).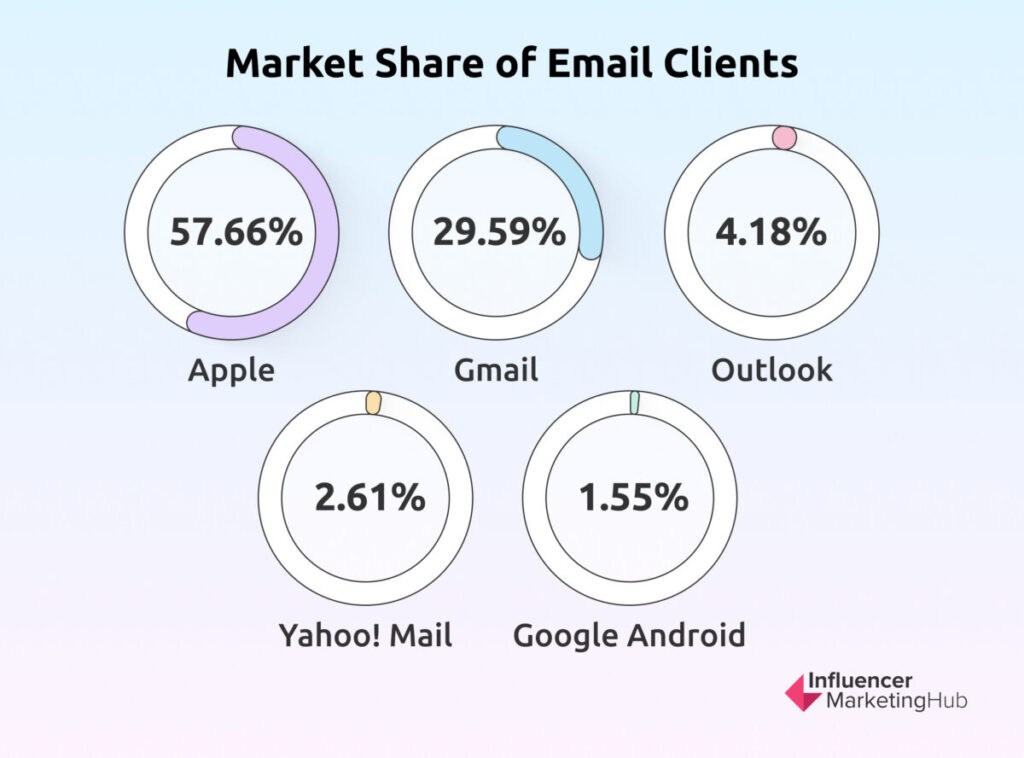 If you try to embed video directly into your HTML email you will have mixed success, depending on the actions, settings, and hardware of each recipient. As Email on Acid claims, "Can you embed videos in an HTML email? The answer is a little more complicated than a simple 'yes' or 'no.'" Embedded video may display and play in Apple Mail and some Outlook for Mac inboxes. There's also limited support for video in some smaller clients such as Mozilla Thunderbird and Samsung Mail. However, Gmail amongst others doesn't support embedded video.
You can't embed YouTube videos, no matter what email client people use. YouTube videos require JavaScript which emails don't support.
If you believe you have enough recipients using the "right" email clients, you can embed videos, but make certain that you host the content on your own server or content delivery network (CDN).
However, the only practical way to engage in video email marketing in most situations is, as we said above, to include a thumbnail from your video in your email that links to a landing page featuring the appropriate video. Many marketers include a GIF featuring a variety of images from their video in place of a traditional thumbnail. We have created a useful guide on How to Convert YouTube Videos to GIFs that can help you with this.
One option is for you to place your videos on a video hosting platform, such as YouTube, Vimeo, or Wistia. You can also share your short videos via TikTok, Instagram Reels, and YouTube Shorts.
---
What Kinds of Emails Can You Put Videos In
You can add video content to virtually any type of marketing email (unless you've chosen to send old-style text emails rather than the more modern HTML5 variety).
For example, if you're sending emails as part of a particular promotion, create a video relating to products in the promotion and highlight your video in your emails. Similarly, if you use triggered emails for certain situations (e.g., when someone abandons their cart or makes a relevant search in your eCommerce store) you could include relevant videos in each email to encourage them to go further down your funnel. You could even send them an email offering them a birthday discount that includes a video link to gain their attention.
Forrester found that when marketers included a marketing or explainer video in an email, the click-through rate increased by 200% to 300%. Some of the best kinds of videos to include in emails include:
demonstrating how a product works

highlighting new products or new features of existing products

showcasing the last edition of some event you sponsor or are involved with

customer testimonials

telling a story about your brand

a behind-the-scenes video, highlighting your staff and their activities

providing industry tips
---
Best Practices for How to Use Video in Email Marketing
In our Ultimate Guide to Short-Form Video Content, we provided a series of short-form video content best practices. These help you create attention-grabbing short-form videos, ideal for your email video marketing. We have included the relevant practices here, modifying them slightly to make them more relevant for when you use video in your email marketing.
1. Pay attention to popular trends – you may feel that this has less relevance to email marketing than the other best practices we list here. However, you need a hook in your emails to entice people to read/watch them, rather than just delete them or send them to the Spam folder. While the videos you share via email may be more product-focused than what you share via social media, you will still want to find ways to connect with your target audience. And if someone recognizes a trend happening in your video, they are more likely to watch it all the way through. You might even be able to use trending sound clips that you can relate to your brand (although be careful you don't break copyright laws).
2. Ensure any videos you include in your emails are relevant to your brand and your target audience. This may sound counter to our suggestion to create videos reflecting popular trends. However, you need to meld the two objectives together. Otherwise, you might have the recipients of your videos scratching their heads and wondering whether your emails are spam.
3. Start with a hook (and an enticing thumbnail or GIF) – no matter where you share a video you need to find some way to stop users merely scrolling past. This can be even more relevant for videos used in email marketing because they require the user to actively click on the video link button to begin playing it. So, ensure that both your thumbnail and the opening clip of your video are eye-catching.
4. Keep your video short, preferably less than 60 seconds. However, once you've enticed your email recipient to click through to your landing page, you could include a link there to a longer, more in-depth video for those wanting more details.
5. Don't just reuse your television ads. Nobody likes watching TV ads – and that includes any overtly promotional videos you link to in your emails. Therefore, you can't expect people to voluntarily click on a link to your TV ads. They simply won't make that leap, no matter how much they may like your products. People "suffer" ads when they can't avoid them, and certainly won't intentionally subject themselves to them unless absolutely necessary.
6. As we've seen, email marketing can be a powerful strategy. Therefore, you could consider using email to promote your social video channels, such as TikTok, Instagram Reels, and YouTube, and even Instagram Stories, Facebook Stories, Instagram Threads, or X (the former Twitter).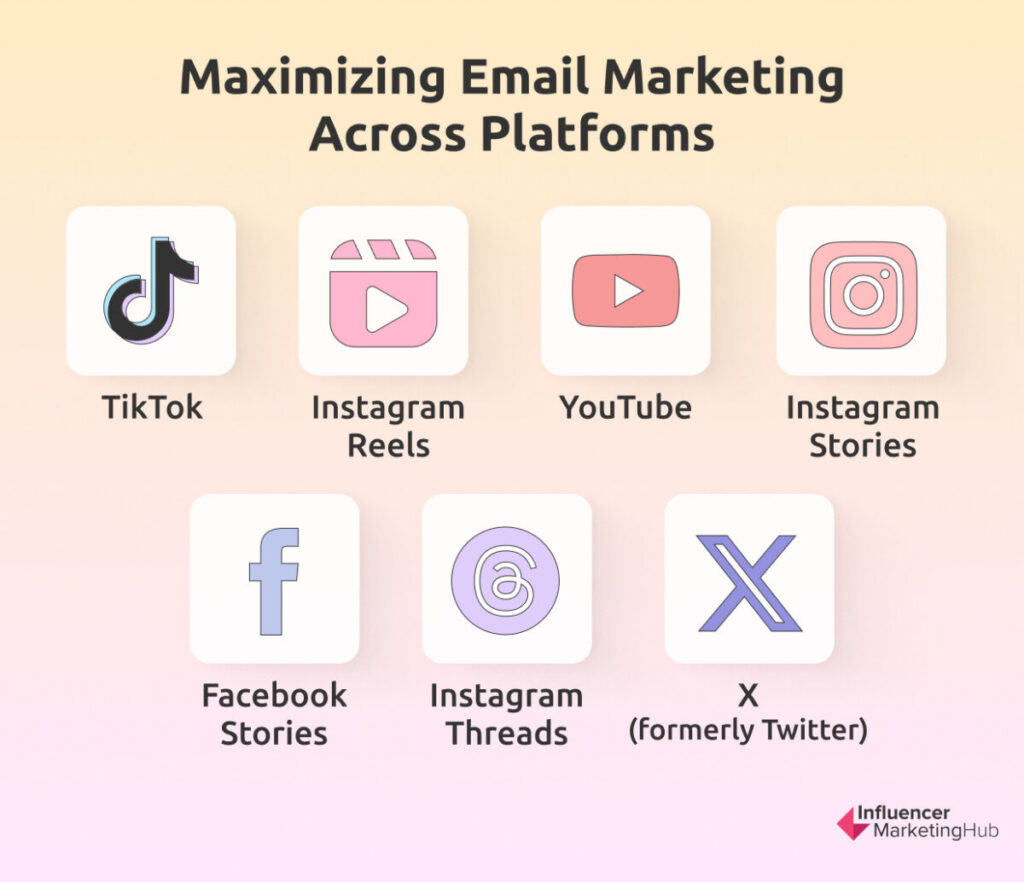 7. Consider how most users will view the videos in your emails, remembering that in most situations, users will be directed from their email apps to wherever you're hosting your videos. Traditionally, we've viewed videos in a horizontal format. People watch TVs in a horizontal orientation and have continued to do so on computers. YouTube is predominantly presented horizontally as are most of the more traditional video-sharing apps. However, the majority of online activity now occurs on mobile devices and most people look at content on these in a vertical format. TikTok videos are vertical. Therefore, you need to examine your target audience and determine whether they are more likely to click through to horizontal format videos or vertical ones.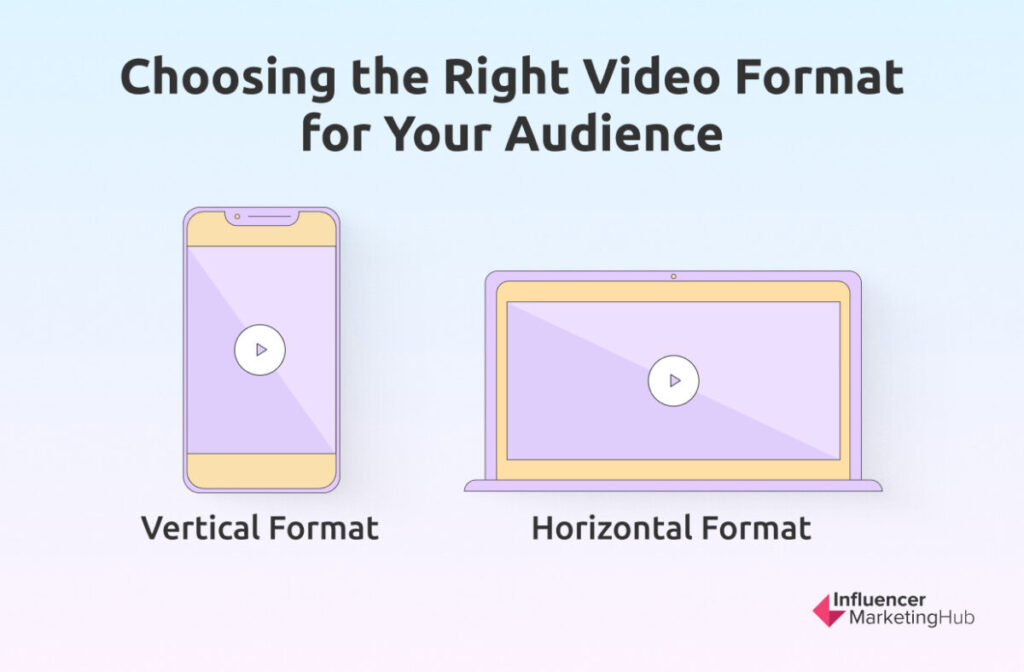 8. While most people don't think about sound when checking their emails, they are more likely to take an interest in a sound-enabled video once they click through to it. Make sure your video sound is as interesting, relevant, and non-salesy as the visual aspects of the production. Sound is one of the major factors that puts people off TV ads because many ads play at a louder volume than surrounding videos and often ad soundtracks come across as shouting.
9. Use video captions strategically. These can provide additional context to your videos. Include a call-to-action and offer links to additional relevant videos that possibly include more in-depth information.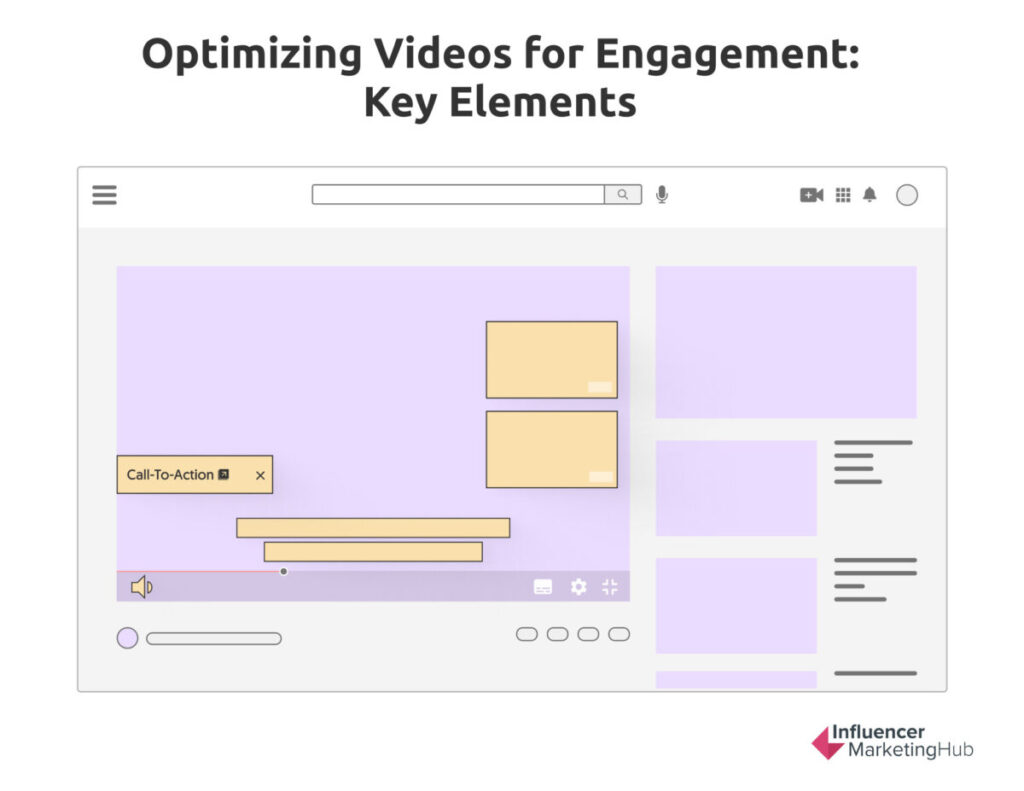 ---
Wrapping Things Up
While the concept of video email marketing sounds simple, creating emails that incorporate videos, it is not quite that straightforward. Surprisingly, most of the major email clients don't yet support embedded videos. So, you have to find alternative ways to feature videos in your emails. You can even have some action in your emails by incorporating a GIF featuring your video highlights. Alternatively include an enticing screenshot overlaid with an obvious Play button, that links to the relevant video.
However, you need to encourage your email recipients to follow through to your video. They are unlikely to do so if your video appears too much like an advertisement and if they don't perceive the benefit of following your link. You need to think very carefully about why people will want to view the videos you incorporate into your emails.