The term "metaverse" means different things to different people. Some define it as a virtual reality experience in a continuous setting, while others associate it with a technical ramble that is conceptually complex to interpret. But for many, particularly those immense in the digital world, it is the vision of the future.
In its broadest definition, the metaverse is a collection of online, interconnected experiences in which anyone can partake. The "player" linked to online infrastructure experiences live content adaptations, real-time social connections, and active monetization. The metaverse is also a living multiplicity of universes. It incorporates both asynchronous and synchronous technologies and real-time and turn-based applications.
The other "multi" factor in the metaverse is that the evolution of games and virtual worlds has become multi-disciplinary. This necessitates a breadth of specialties and skills like game design, cognitive research, behavioral economics, software engineering, predictive analysis, animations, storytelling, and advertising. In the present "Creator Era," all of these skills are crucial.
---
Top 10 Metaverse Websites :
---
The Creator Era in Time of The Metaverse
In the Creator Era, creators produce content and experiences for their audiences without being limited by technology constraints. Their competitive advantage originates from their in-depth knowledge of specific communities, creative storytelling techniques, and mastery of contemporary forms of expression.
The Creator Era is rapidly expanding, particularly in the metaverse. Some of the most exciting digital ventures have emerged during this period. Two great examples are Roblox and Unity.
Roblox made it feasible for anyone who wanted to try their hand at creating multiverse experiences and games to do so. Roblox young designers can now earn up to $10 million per year.
On the other hand, Unity has made creating 3D games more manageable. This enabled companies like Activision to build the $1 billion-plus Hearthstone franchise with a small crew and InnerSloth to create the smash hit "Among Us" with only three developers.
Not only are metaverse experiences becoming increasingly immersive, social, and real-time, but the number of creators who make them is also rapidly increasing. The creator economy encompasses all of the technologies and gears that creators use to generate consumer-pleasing experiences. Creators obtain tools, templates, and content channels that help them shift production away from a bottom-up, code-centric approach to a top-down, creative one.
---
Top 10 Metaverse Websites for Creators
Since the arrival of the metaverse, more and more companies worldwide are racing to create the best metaverse platform, and the competition is fierce. Listed below are the best metaverse websites that creators – and investors – should pay attention to.
Decentraland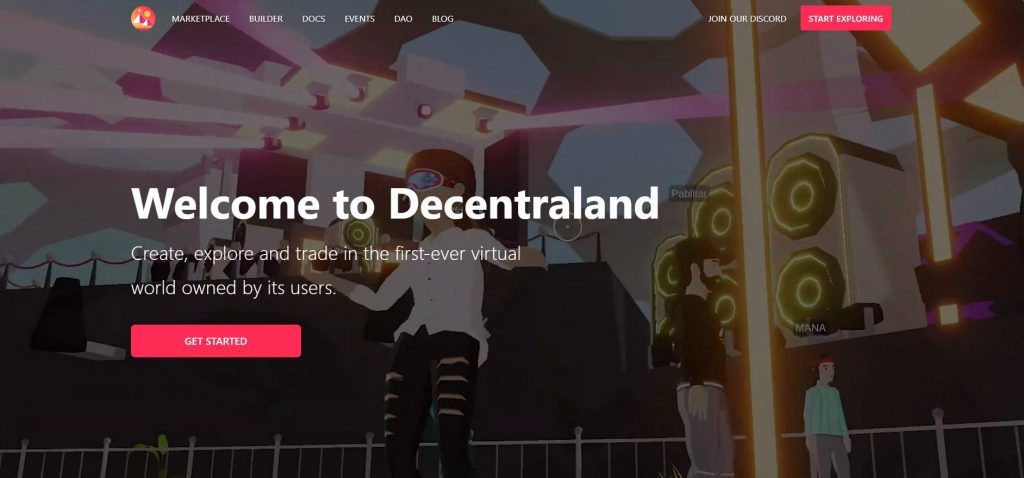 Decentraland is a virtual social environment built on the Ethereum blockchain. Its cryptocurrency is called MANA. There are grids of identical size within a single-layer metaverse, and all links are called EARTH. To expand the platform, users must create new land through the Decentraland DAO, which currently has 90,000 plots.
Users can create digital assets, including residences, galleries, concert halls, and theme parks. To facilitate the purchase of non-fungible tokens (NFTs) like LAND or collectibles, Decentraland has created an open platform where anybody can join and play games to earn MANA. It's also possible for players to adjudge economic progress, giving them interoperability in return for their in-game time.
Brands can use the Decentraland ecosystem to host conferences, create games, and manufacture virtual goods. The company recently teamed up with Samsung as the tech giant intends to build a digital counterpart of its flagship store. NBA star Stephen Curry has a new partnership with Decentraland and hinted at a new product release. Tennis Australia and Decentraland also partnered in hosting the Australian Open.
---
Sandbox
Sandbox is a leading platform in the Metaverse for its stout reliability and keen security. Like Decentraland, Ethereum blockchain runs the platform. It's possible to purchase and sell digital blocks of land (LAND) and NFTs using the SAND cryptocurrency.
Sandbox provides an assortment of games, landscapes, and experiences. Its vast ecosystem enables creators to build, own, and monetize. In addition, Sandbox provides incentives for gamers to help shape the game's environment. Even though Sandbox is still in its early phases of development, it has been able to attract gamers because of its engaging design and gameplay. It comes with a downloadable PC client with outstanding aesthetics and functionality.
Two features comprise the Sandbox network: the game creator and the platform's native marketplace. The Sandbox Gaming Maker is a tool that allows companies and developers to design 3D gaming experiences. Anyone can use the device since no prior coding knowledge is required. The Sandbox Marketplace, on the other hand, allows members to sell their digital properties to other users.
The Walking Dead, Smurfs, and Atari are just a few well-known brands that have partnered with The Sandbox. Snoop Dogg and Deadmau5 have also collaborated with the platform for virtual performances.
---
Axie Infinity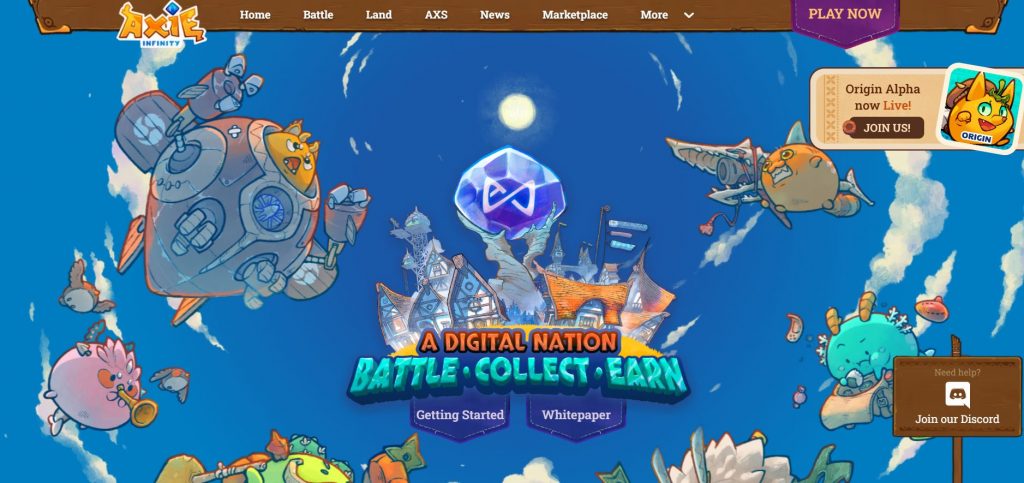 Vietnamese firm Sky Mavis designed the Ethereum-based NFT collecting game Axie Infinity. The Axie Infinity platform uses the ERC-20 token AXS. This NFT marketplace allows users to purchase and sell Axies and stake their tokens in exchange for rewards. Axie Infinity has a market cap of $9 billion, making it one of the most valuable metaverse game companies.
Axies are cute creatures that users can customize and use in battle to gain prizes. Like Pokémon, each Axie digital collectible is a specific species and has unique characteristics. And although Axie's limitless land ecology lacks the visual appeal of many Metaverse projects now accessible, the game is entertaining.
Axie Infinity has previously collaborated with Klaytn, the public blockchain project of South Korean chat app Kakao. It also maintains its partnership with VeraEsports for the GalAxie Cup 2022.
---
Bloktopia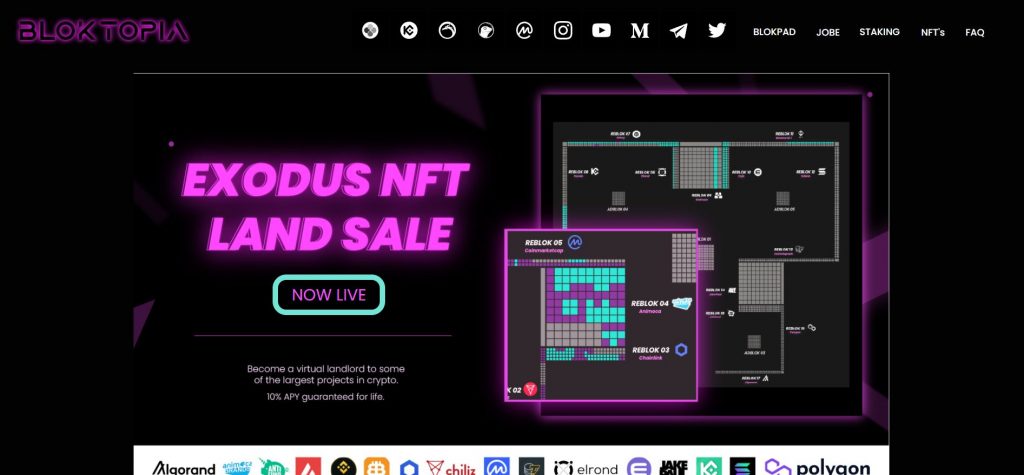 VR skyscraper Bloktopia has 21 levels, named after the 21 million Bitcoin hard cap. The cutting-edge tower is built on an NFT-based landscape and stands atop an almost extinct planet. Adverts and events that bring in revenue for users are part of Bloktopia's economy. Bloktopian, named for a token holder, can interact on a central hub tailored for people with varying degrees of crypto expertise.
Bloktopia offers a wide range of opportunities for its users, including learning new skills, earning money, and socializing with other users. It aims to be the edutainment haven for bitcoin enthusiasts of all levels. The system is analogous to a shopping center in that it allows businesses, brands, and creators to advertise their content and key products in a single place.
Bloktopia is currently in partnership with Animoca Brands, Avalanche, Polygon, and other collaborators to provide primary content for the skyscraper. Influencers such as Wendy-O and Jake Paul are among the other anchor tenants.
---
Zepeto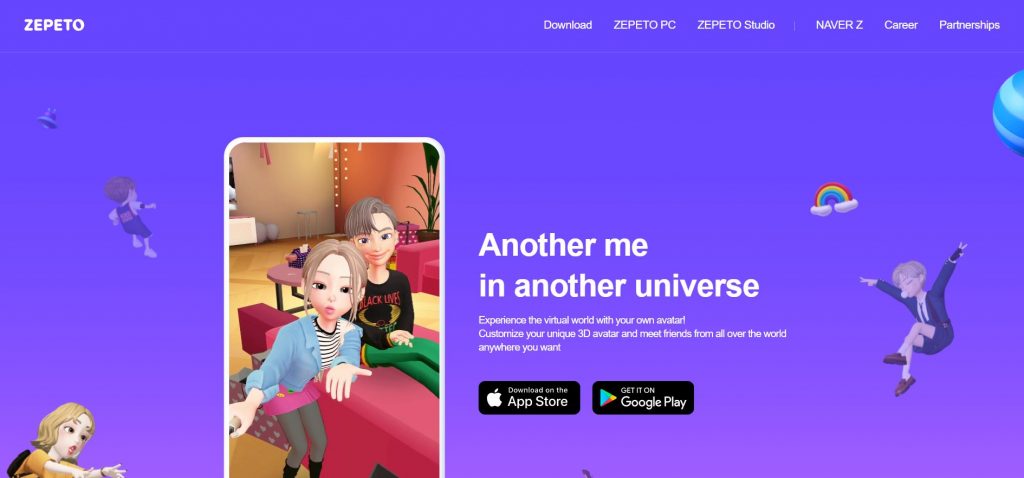 Naver Group, a South Korean online conglomerate, is capitalizing on the rise of the metaverse through Zepeto. The software has been around for four years and blends gaming, entertainment, and social networking activities. Zepeto users convert images into 3D avatars, build digital environments, and interact with others.
Zepeto is most popular in South Korea and China among female teenagers to early twenties. As of January, it has 20 million monthly active users, up from 10 million in May 2020. The average session time in Zepeto's Worlds (roughly the equivalent of Roblox's Experience) is 30 minutes.
Apparel retailer Zara has teamed with South Korean fashion designer Ader Error to create its first virtual fashion line through the Zepeto. Given its target clientele, Zepeto has already worked with several high-end fashion labels, including Gucci and Ralph Lauren. It has also collaborated with celebrities such as Blackpink and Selena Gomez to develop their own branded digital experiences for the company. Designer things that are usually out of reach for most people become suddenly more accessible in Zepeto's virtual landscape.
---
Roblox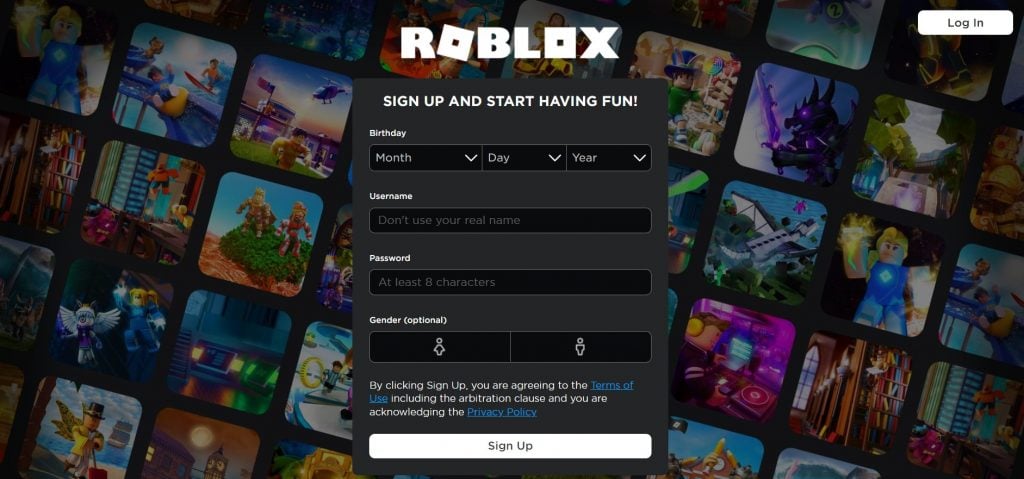 Roblox is a metaverse platform that allows users to play games created by other Roblox players. The network is a community-driven environment that enables users not just to play but also socialize. Since its launch in 2004, Roblox has expanded to 180 countries and now has roughly 50 million monthly active users. Roblox developers have created almost 20 million games to date.
Roblox is also a vanguard in terms of brand partnership. It has collaborated with major brands like Nike, Gucci, Ralph Lauren, Forever21, Vans, and NASCAR. The platform has also reconstructed the Stranger Things Starcourt Mall. These collaborations provide an immersive experience centered on Roblox's content and the brand's merchandise.
---
Nike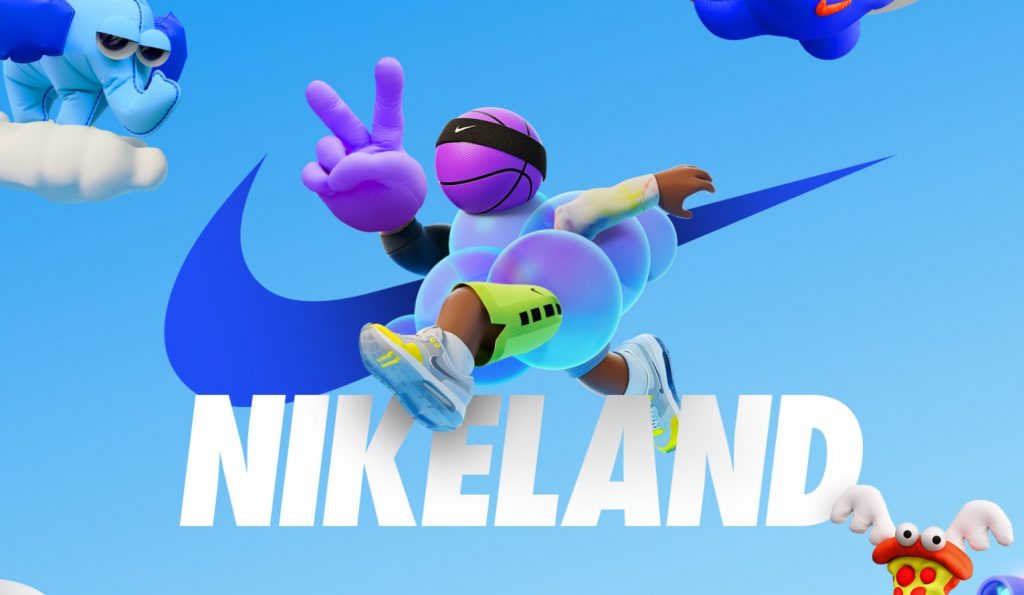 Nike is a global American multiservice brand that sells footwear, apparel, equipment, and services. The brand was also one of the first brands to venture into the metaverse, owing to a partnership with Roblox.
Nikeland, its virtual environment on Roblox, allows gamers to play games for free. Nikeland awards "blue bands" to contest winners in addition to digital avatars. It also serves as a testing ground for players to try on new footwear and a marathon run. Nike aims to replicate the real-world experience through virtual reality with this collaboration.
Nike acquired RTFKT, a prominent digital fashion site, in December 2021. Nike's only other footwear takeover was Converse in 2003. The recent acquisition advances the brand's virtual space development. Apart from Roblox, Nike has already worked with Fortnite (creating the Jordan sneakers), but this is their most significant virtual world investment yet.
---
Gather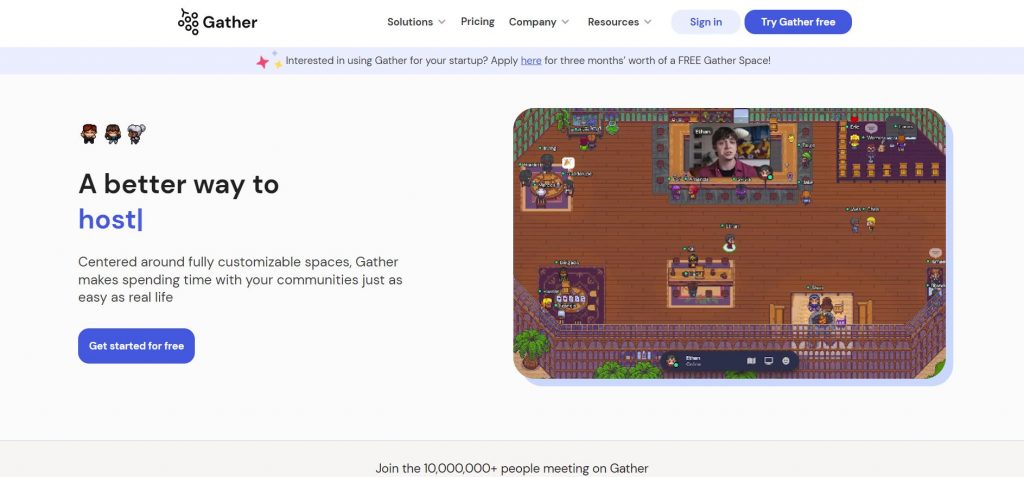 Gather is all about making it easier for people to meet and communicate online. It is a video chat network that aims to make virtual conversations more natural and intimate. It's a virtual layer that rests on top of the real world, allowing users to work, socialize, and explore. The platform's objective is to free people from the constraints of physical reality.
Users can create custom, interactive places such as virtual offices, conferences, product launches, escape rooms, birthday parties, weddings, and university campuses using the platform's creation tools. Instead of being in Zoom-style rooms where users enter and leave, Gather provides a more natural atmosphere, with users wandering throughout the venue and chatting between groups.
Above all, Gather offers fun and convenience to ward off mundane meetings and geographically-challenging get-togethers. Virtual games are on the team's next agenda.
---
BollyHeroes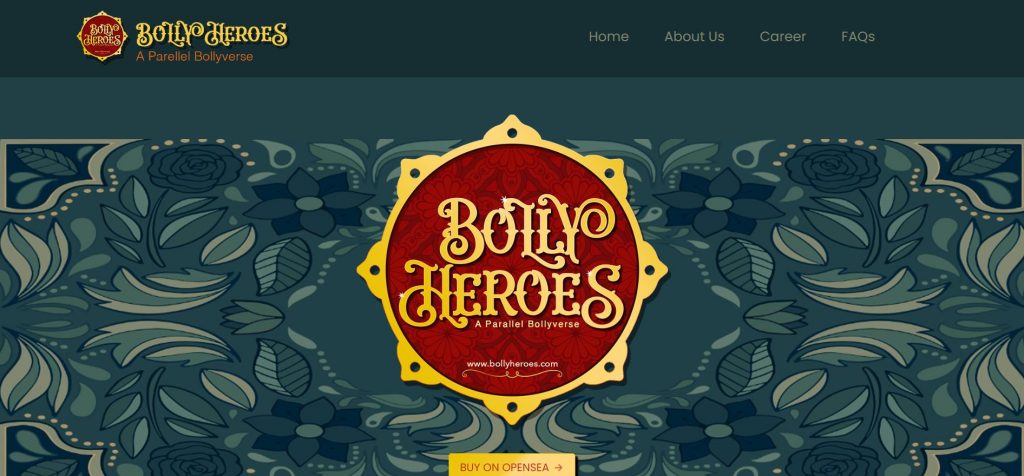 BollyHeroes is Bollywood's major foray into the metaverse to date. Bollyverse is a parallel reality where the NFT collection is only available for a limited time. Users can collaborate with production houses, music labels, businesses, celebrities, and animation studios to produce NFTs. This platform is uniquely community-driven. As a result, users can create their storylines and characters then start community-based films, games, TV programs, and animations.
There are three main types of NFTs available to users: Legend, Hero, and Celeb. Legend NFTs are created by a top animation studio and are exclusive to the BollyHeroes. Hero NFTs are a collection of 10,000 unique tokens generated by a computer algorithm. Celeb NFTs encompass incentives and rewards like working with real Bollywood artists and influencers. However, all NFT holders generally receive incentives, exclusive access, and revenue share on new goods.
---
Space Somnium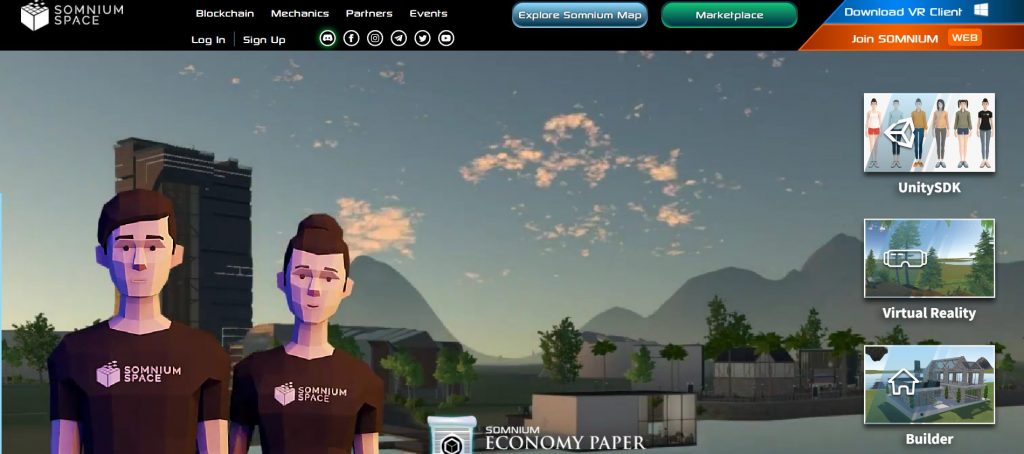 A group of VR enthusiasts formed Somnium Space with coding, engineering, and financial backgrounds. The creators' goal is always to have a working version of the platform so they can connect with the community while creating virtual spaces for concerts, sporting events, debates, and other forms of assemblies.
The terrain in Somnium Space is uneven, and it comes with an ERC20 token known as Somnium Space CUBEs. With a pre-generated map, the space comprises 5,000 land pieces that are unevenly divided among plots. New territories are released by the team regularly. Players can use a VR headset, a PC, a web client, or a smartphone to explore the landscape. Users can utilize the Somnium Builder to create their area using pre-generated resources.
Admix, an advertising platform, recently teamed with Somnium Space. Both companies aim to aid startups and creators in developing new ways to monetize their creations and marketers in leveraging the metaverse's potential for their products.
---
Final Thoughts
The metaverse is the moment, and it's time for creators to take full advantage. Creators have an enormous opportunity to flex and monetize their skills in the metaverse. With the help of these websites, they can explore and learn new ways to penetrate the multiverses of the metaverse. In this creator era, metaverse marketing is fast becoming the norm too. Companies must embrace this by being more innovative and building brand loyalty in the real world and the metaverse.